James Oxley braves a Britain on red alert from gale-force winds and flooding to test ride Triumph's new adventure tourer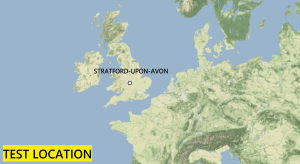 When I arranged to test ride Triumph's new Tiger Sport 660, little did I know it would lead to a newfound passion for meteorology. Within days of collecting the bike, previously alien terms like isobars, sting jets, and low-pressure fronts were tripping off my tongue.
So, what was the cause of my meteorological obsession? Well, I'd become swept up in the nationwide hysteria caused by storms, Eunice and Dudley. According to the news, Armageddon was coming to the UK in the form of 100mph winds and biblical flooding.
The consensus from grim-faced newscasters was that we'd all be lucky to survive, and venturing outdoors carried the same health implications as passing out drunk on a railway line. Instead, the advice was to hunker down indoors in the hope Noah would swing by while repeating the mantra, 'there's no place like home'.
OK, perhaps I'm getting cynical in my old age, but the wall-to-wall warnings of an imminent and blustery death all seemed a bit of an overkill for a spell of bad weather. And anyway, hiding away wasn't an option for me because there was a gleaming Triumph Tiger Sport 660 parked in my driveway and in need of a test ride before a fast-approaching deadline for this issue of ABR.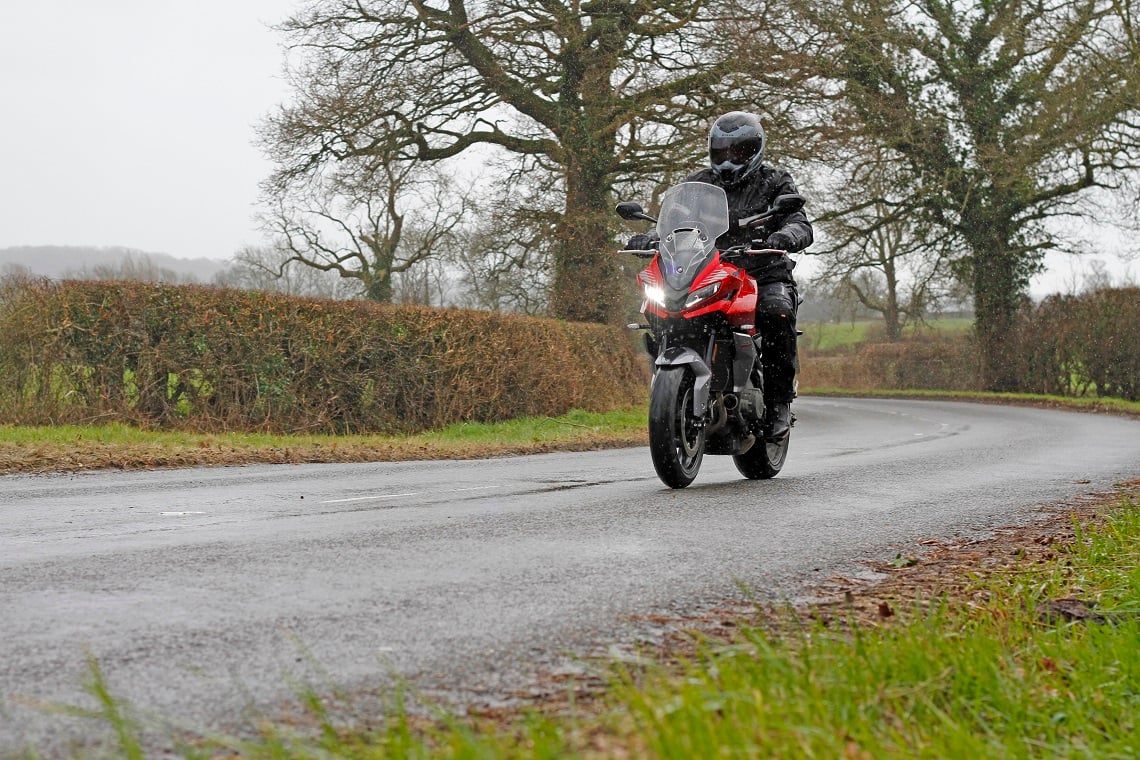 So, early one Thursday morning, I packed an overnight bag, donned my hardiest riding gear, and strode outside like Scott of the Antarctic to begin a 250-mile jaunt from the Midlands to my family home in Cornwall. There were blue skies above, but the trees opposite were putting on a menacing display of swaying in the wind.
Ahead lay a combination of snaking country lanes, town-centre traffic, fast-flowing A-roads, and plenty of motorways. In short, it was the perfect test for an adventure touring bike designed for commuting, Sunday rides, and weekend tours. As long as I survived the storm, that is.
Pack it in
My plan to safely reach my destination by lunchtime was hit by a delay when I went to strap down my bag to the Tiger's back seat. Despite sporting a pair of sturdy-looking grab rails, locations to hook bungee cords were in short supply. It took half an hour of huffing, puffing, and plenty of blue language before I figured out a secure system.
Of course, life would have been easier if I'd had use of the fetching colour-matched plastic side cases (57l combined capacity) and top box (47l) that Triumph offers as an optional extra. The side cases are attached using an integrated fastening system so there's no need to fit a luggage rack.
It's a neat design, but since my bike didn't come equipped with luggage, my Mountain Warehouse bag would have to suffice on this occasion. Bag finally secured, I pulled out the driveway onto the only road that runs through the quiet one-horse town I call home. Unfortunately, that horse takes joy in crapping all over said road, so the Tiger's low-speed slalom skills were immediately put to the test.
The bike rose to the task. I was impressed at how well balanced and nimble it was as I skipped from one side of the narrow country lane to the other to avoid piles of grass-fed excrement. Such lightweight agility is one of the joys of riding a smaller motorcycle, and the Tiger Sport 660 certainly does feel compact with its svelte bodywork, relatively narrow handlebars, and low fairing.
But that's not to say the Tiger felt cramped to a 6' tall fella like me. In fact, Triumph has managed to create a roomy riding position in true adventure bike style. My back was upright, the bars were positioned close enough to my body to allow for a little elbow bend, and the knee bend angle was quite generous. And while the scooped seat did nudge my groin towards the tank a tad, the overall feeling was one of relaxed comfort.
Sitting pretty
Further along the road, I was grateful for the bike's compact dimensions when I pulled over on slippery, uneven ground to let a tractor pass by. At 6' tall, both of my feet were planted firmly on the muddy floor with leg bend to spare, providing a stable platform as I leant the bike (and my head) away from a giant rolling tyre that passed by within an inch or two.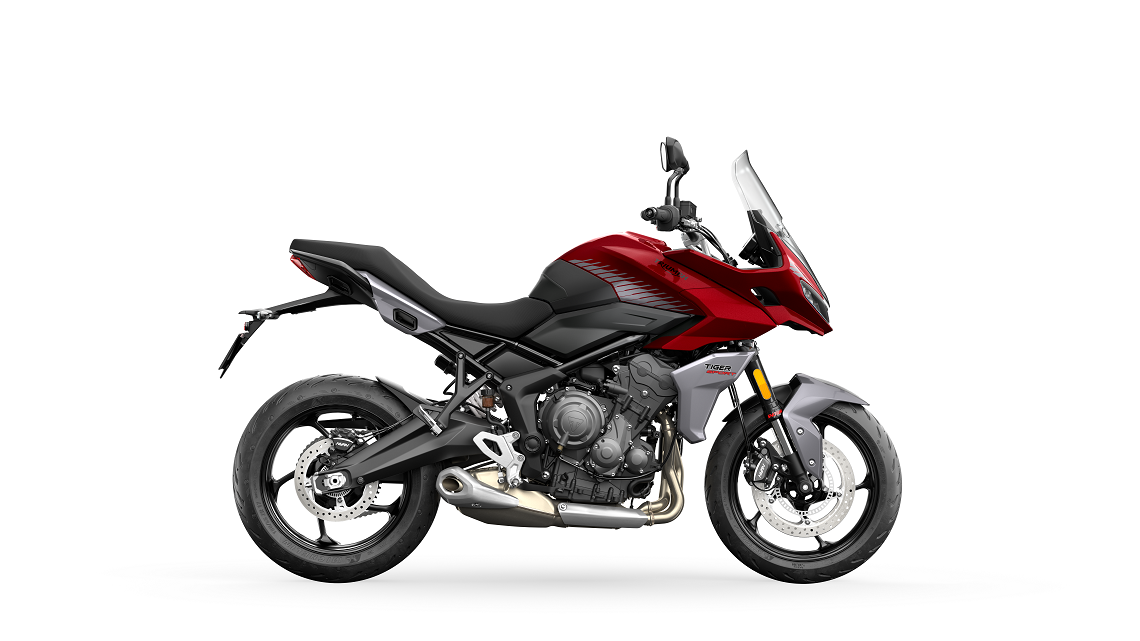 Back up to speed, I was bonding quickly with the Tiger. On some test rides, I take a 'less is more' approach during the first 10 minutes or so to get a feel for a bike before I push it harder. I've found this is a good way to avoid ending up in a bush with egg on my face, but there was no such bedding in period on this occasion.
The Tiger was proving a joyous little motorcycle to ride. Giving the bars a nudge of counter steer made the 17" cast wheels eagerly swoop into bends.
And while the steel-framed machine felt light and agile to flick between turns, there was nothing twitchy or nervous about the handling.
It held a line confidently through each bend without the need to correct mid-corner, while Michelin's Pilot Road 5 tyres provided excellent grip on the dry road.
To be honest, I didn't think I'd enjoy riding the Tiger quite this much. After all, with a price tag of £8,450, it's a mid-sized bike built to a budget with components chosen with that price point in mind.
Surely, Triumph must have cut some corners somewhere, but early impressions were that the Hinckley crew has developed a package that works exceptionally well.
Pinball wizard
After slowing the pace briefly to slice my way through town centre traffic with the precision of a surgeon's scalpel, I slipped onto a motorway and filtered into a flow of fast-moving vehicles.
It was here I was reminded I was on a relatively light bike when a powerful gust of wind blew all 206kg of Tiger (and my 100kg of muscle) across a lane. I nudged the steering and adjusted my bodyweight to compensate just as the wind blast from two lorries hit me. After recovering from a game of high-speed pinball, I nipped into the fast lane, opened up the throttle, and zoomed past those lorries, accompanied by the roar of the Tiger's three-cylinder engine.
And what a wonderful engine it is. I'll lay my cards on the table right now and say I'm a huge fan of Triumph triples having ridden a few over the years (I'm particularly fond of the old Tiger 800's buttery smooth power delivery).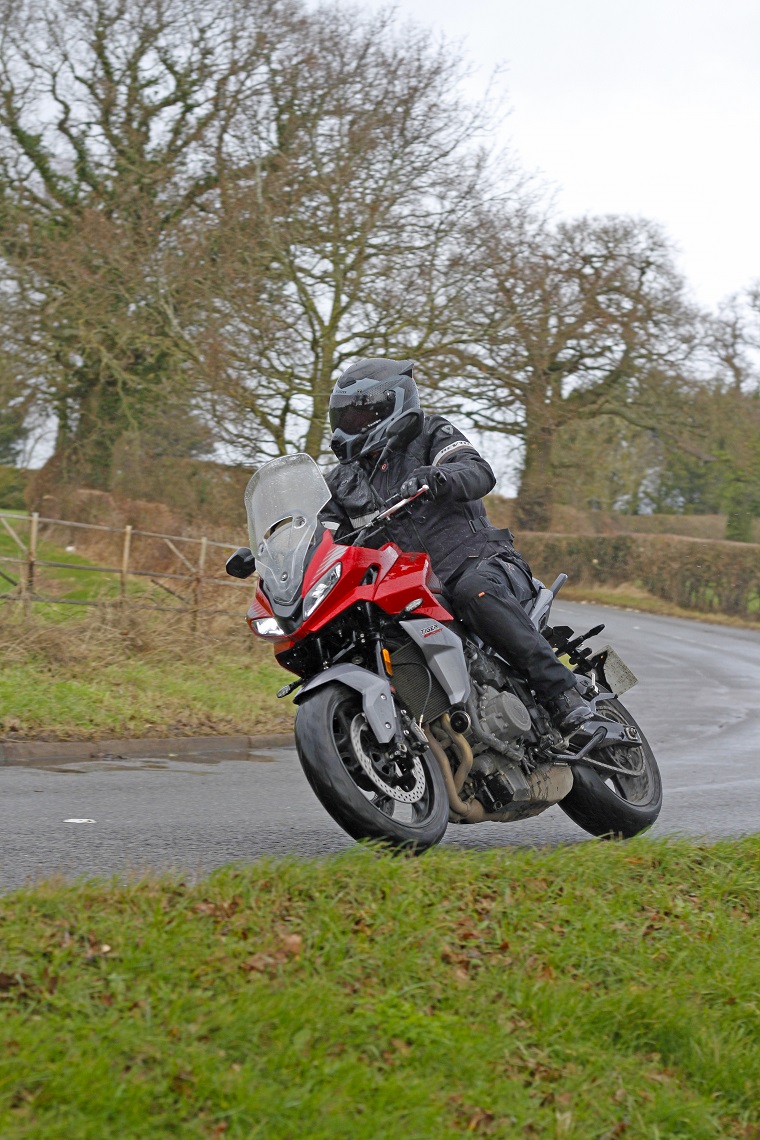 Well, the engine you'll find in the 660 Sport is an absolute peach too. As the name suggests, it's a 660cc liquid-cooled motor that produces 80bhp at 10,250rpm, and 64Nm of torque at 6,250rpm. It was smooth, revved high, and packed enough punch to propel me along the outside lane of the M5 without complaint.
Sure, there wasn't the thump of full-blooded acceleration you'll find in a more powerful motorcycle, but there was enough grunt available to ensure overtakes didn't need to be planned too far in advance (although if I was carrying the weight of a pillion, I reckon I'd need to knock down a gear for a quicker burst of speed).
And while the engine was happy enough cruising at 70mph in sixth at around 5,500rpm, it was earlier in the day, on the snaking A and B-roads, that the Tiger's powerplant excelled. It was a lively engine that was easy to ride hard. And despite playing a game of how early I could open the taps out of each bend, the bike never once got out of shape or threatened to propel me into a ditch if I got overzealous with my right wrist.
Triumph should be applauded for creating an engine that is smooth, progressive, and not at all intimidating while being feisty and fun enough to leave me grinning from ear to ear.
A chink in the armour?
I admit, as I left the M5 and joined the A30 to ride deeper into Devon and Cornwall, I was actively trying to find a chink in the Tiger Sport 660's armour. Even the twin-disc Nissin brakes up front and single-disc out back, while not being top of the range equipment, provided more than enough controlled stopping power.
In terms of suspension, there are Showa 41mm upside forks up front, and a Showa monoshock at the rear. Both give an ample 150mm of travel, and while the rear is adjustable for preload, you can't tinker with the settings on the forks. But, quite frankly, I didn't feel the need to.
On the motorway, the suspension delivered a firm yet comfortable ride, and in the twisties, the bike felt taught and precise without any wallowing mid-turn. Sure, there was some fork dive under braking, but nothing particularly intrusive.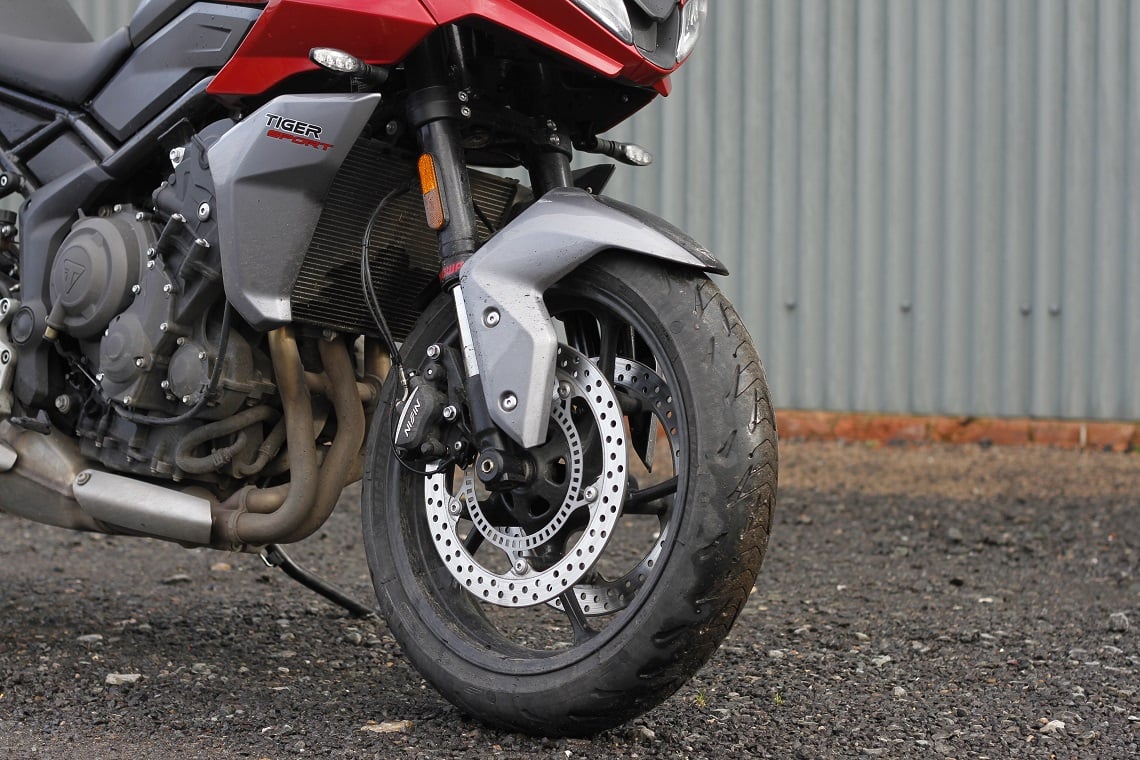 What about weather protection? Well, there's a large adjustable screen that can be lifted and dropped into various height settings with one hand while riding. And it did a solid job of promoting a smooth flow of air around my shoulders and helmet.
It's worth noting that the fairing is positioned quite low down on the front of the 660. And, while I certainly wasn't as cosseted in the saddle as I would be on an adventure bike like the Tiger 900 or 1200, I didn't feel overly exposed as I blasted through the blustery weather between storms Dudley and Eunice. However, I'd like Triumph to have included handguards as standard on a motorcycle made with touring in mind.
As I rode, I did notice the screen flexing occasionally in the wind. So, when I stopped for petrol, I gave it a tug and the whole fairing and TFT display flexed forward a fair amount. It was a reminder that the Tiger Sport 660 is built down to a price. A fact that is easy to forget.
Hi-tech?
When it comes to technology, the bike is equipped with two riding modes (Road and Rain), ABS, switchable traction control, self-cancelling indicators, and LED lights. My test bike came with heated grips (an optional extra) which I could just about feel through my thick winter gloves on the highest setting.
Other optional accessories you'll need to stump up more cash for include a quick shifter, a tyre pressure monitoring system, the moulded plastic luggage I mentioned earlier, and a My Triumph Connectivity module. This unlocks features like turn-by-turn directions, GoPro camera controls, and phone and music operation, which are all operated via the compact TFT/LCD display.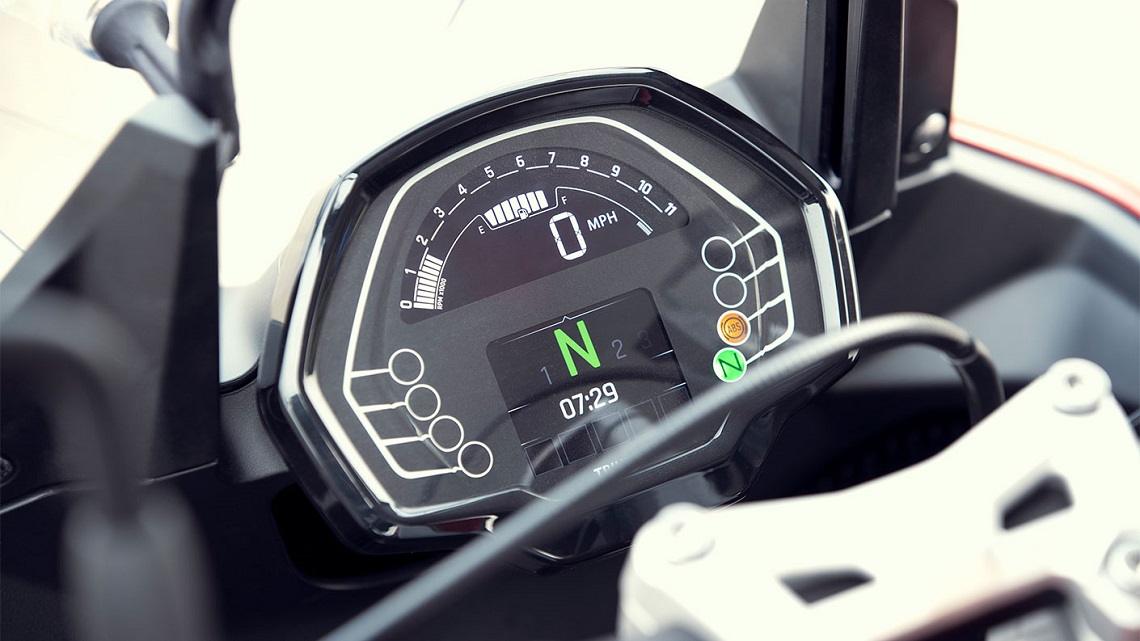 And talking of that display, on first impressions, the combination of LCD and TFT technology was attractive but not overly impressive, particularly when compared to the larger and more luxurious TFT units found on bikes further up the Tiger range. But looks can be deceptive, and the simple yet well-designed TFT was a pleasure to use. All the information I needed was clearly displayed or a nudge or two of a button away. The whole system was intuitive and easy to navigate.
The end of the road
As I neared my destination, I turned off the A30 dual-carriageway and joined the twisting road that leads to the coast. I do this journey from the Midlands regularly, and this point is always a good test of how much I've enjoyed riding a bike over the past few hours.
On some days, I arrive tired, bored, and grind along the final stretch of road with my destination and a hot cup of coffee in mind. But on other days, I revel in the last few snaking bends as I wring every last moment from the journey. On the Tiger Sport 660, it was certainly a case of the latter.
And, despite the weather warnings, doomsday headlines, and general fear-mongering from the media, I hadn't been blown or washed away on my ride. In fact, I'd had a thoroughly enjoyable time.
Triumph has created a bike that has almost everything you need and nothing you don't for a thoroughly pleasurable riding experience, whether you're commuting to work, on a Sunday ride, or heading off for a week or two on tour.
Sure, there are more powerful, better equipped, and more comfortable motorcycles out there if you're willing to dig deeper into your pockets.
But for a mid-sized adventure tourer that comes at a reasonable price, it's not far off the complete package. Nice work Triumph. Very nice work indeed.