If confirmation was needed of how important the adventure market is for the future of motorcycle manufacturers, then this is it: Harley-Davidson enters the adventure fray with the Pan America
I am the poster boy for the mantra, you can't out train a bad diet. I've known this statement to be the brutal truth for years, but I still find myself uttering: "I work out most days so I can't understand this," as I tuck a roll of flab under my waistband.
Denial is a powerful human defence mechanism and probably the number-one cause for the continuance of smoking, excessive drinking, and straining waistbands. Thoughts like 'I didn't have that much to eat today' plus 'I've a slow metabolism,' are classic denial tactics for the man who needs a larger size T-shirt and Cotton Traders elasticated chinos.
I was actually wondering if Cotton Traders had a concession in the Faroe Islands when I was asked: "So, would you like extra gravy with your salad," by a 6' 4" Viking.
"Absolutely," I replied.
You see, I'd managed to borrow a Harley-Davidson Sportster from the most remote (and unofficial) Harley dealership in the world, which was based in Helmar's living room off the main street in Torshavn, the capital of the Islands.
And just in case you're wondering, I class remoteness to be the distance from the nearest escalator, and as far as I know there's no such thing on the Faroes, which makes the nearest one a long way off.
Anyway, I was on a grand motorcycle tour of the collection of 18 rocks in the middle of the North Atlantic when I discovered that a particular Faroe fetish was to have gravy with everything, including a bowl of salad.
Surprisingly, and based purely on visual observation, there were very few overweight Faroe Islanders, so naturally I assumed gravy to be a slimming aid and I have consumed it accordingly on all subsequent weight loss marathons. Denial plus magic thinking will be the ultimate downfall of humanity.
The heavens open
The Faroe Islands shares a common meteorological feature with Wales in so much as it tends to piss down (that's a Welsh term that's been infused into the Faroe language) quite a lot. And on a day when Cecil B Demille could have filmed Moses parting the Red Sea in the Brecon Beacons, I found myself thinking 'this Pan American would have been perfect for touring the Faroes'.
The pre-launch run-in and official launch of Harley's new adventure bike both took place in Wales, and Moses should have been on the invite list for both. As it happens, he wasn't, and I was. I was also absolutely soaked through on both occasions and thoroughly enjoying every minute.
During the pre-launch run-in, we rode from Gloucester to the Brecon Beacons and back via Chepstow and Lydney, and I had not switched the Pan America Special (the 'Special' moniker indicating it is the higher spec version of Harley's new adventure bike) out of Rain mode all day. Continuous rain, flooded roads, mud, leaves, fallen debris, and wash-off covered the roads. It was so reminiscent of my tour of the Faroes, but with one huge difference.
The Sportster was a handful in such conditions, and, in truth, the ride was grim and fraught with tension, whereas the Pan America was comfortable, capable, stable and confidence inspiring. I arrived back in Gloucester with the view that for a first attempt at an all-new adventure bike, Harley has done spectacularly well, and that maybe it was time to cut back on gravy.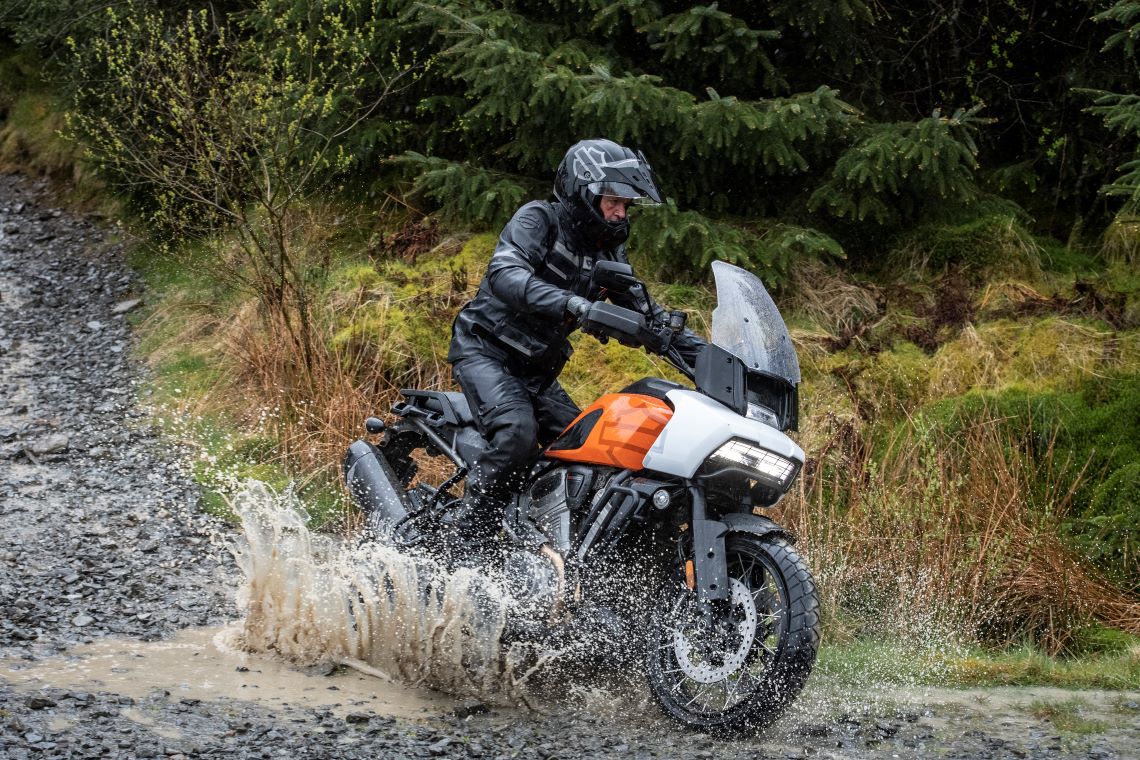 Great expectations
From the moment the Pan America project was rumoured, I can tell you, this machine has been the bike that industry professionals have wanted to see and ride. The expectation and pure curiosity of what a company more inclined to bolt on ape hangers than engine guards would come up with had been tangible.
The move into adventure bikes is a massive leap for the American manufacturer famed for its cruisers and touring machines. It demonstrates more than anything the growth, strength and profitability of the adventure segment, and that this trend is highly likely to continue well in the future.
And, discounting the quirky looks, the number one feature that caught my attention was the inclusion of a rather unique feature which tells me that Harley has gone out there and listened to potential purchasers of adventure bikes, and so has a good chance of hitting its initial sales targets.
From my experience in the adventure market, I can categorically say that the two barriers for purchase that I come across more than anything else are weight and seat height. When those two are combined, being able to plant both feet securely on the floor becomes a worrisome problem for the shorter rider.
Adaptive ride height
Whilst it's difficult to cut down on the weight of a 1,252cc adventure machine, which also must double up as a comfy long-distance tourer, the fact that Harley has addressed the height issue with its Adaptive Ride Height system is, I believe, a significant move in the direction of solving a significant problem encountered by many.
In summary the Adaptive Ride Height system automatically adjusts the seat height during the ride so that, when you come to a stop, the suspension has automatically lowered, and when you move off, it raises back to operational height.
This is a shrewd business move by Harley and a feature I can see being very attractive to a large number of riders. What's interesting is that you can also set the speed at which the adjustment takes place, and on the pre-launch ride, I could feel and see the bike rise and fall when fired up and when at a stop. On the official launch, the settings had been changed for a slower action and it was difficult to feel or see the adjustment.
If seat height and planting your feet on the floor have been a concern of yours when testing an adventure bike, then I suggest you pop down to a Harley dealer and check out the Pan America pronto.
A brave design
Moving on, all brands have their detractors in the side-lines waiting to pounce, and the bigger and more successful the brand, the more they tend to pout. And so, it was predictable that the unique front-end styling of the Pan American would see several toys ejected from detractor's prams.
I tend to view Harley as being brave with the design and applaud the fact that the company has gone for its own distinct and unique look, rather than taking the easy and predictable route by knocking out a carbon copy of what's already out there.
Mind you, I'll be the first to admit that the Pan America does not have the instant visual delight of say, a Ducati, but it has grown on me, and when you dress the machine out in wire wheels, and particularly so in the green colour scheme, it looks a tough, gritty, no-nonsense adventure machine, and I like that.
What is for sure is that looks are subjective, and no matter what I or anyone else says, you'll make your own mind up and decide if the Pan America will bring a smile to your face when you open the garage door.
What I'm more concerned about is the flimsy feel of the front-end plastics, particularly the screen and air deflectors, which wobble way too much. Plus, the screen adjuster mechanism could be and should be upgraded in version two.
Before I move on to the engine and performance, just a quick word about the comfort and ride position. In short, the Pan America is very comfortable for long days in the saddle, and I found the holy trinity of hands, feet and arse positioning to be spot on. My only niggle is with the screen which could be more protective and substantial.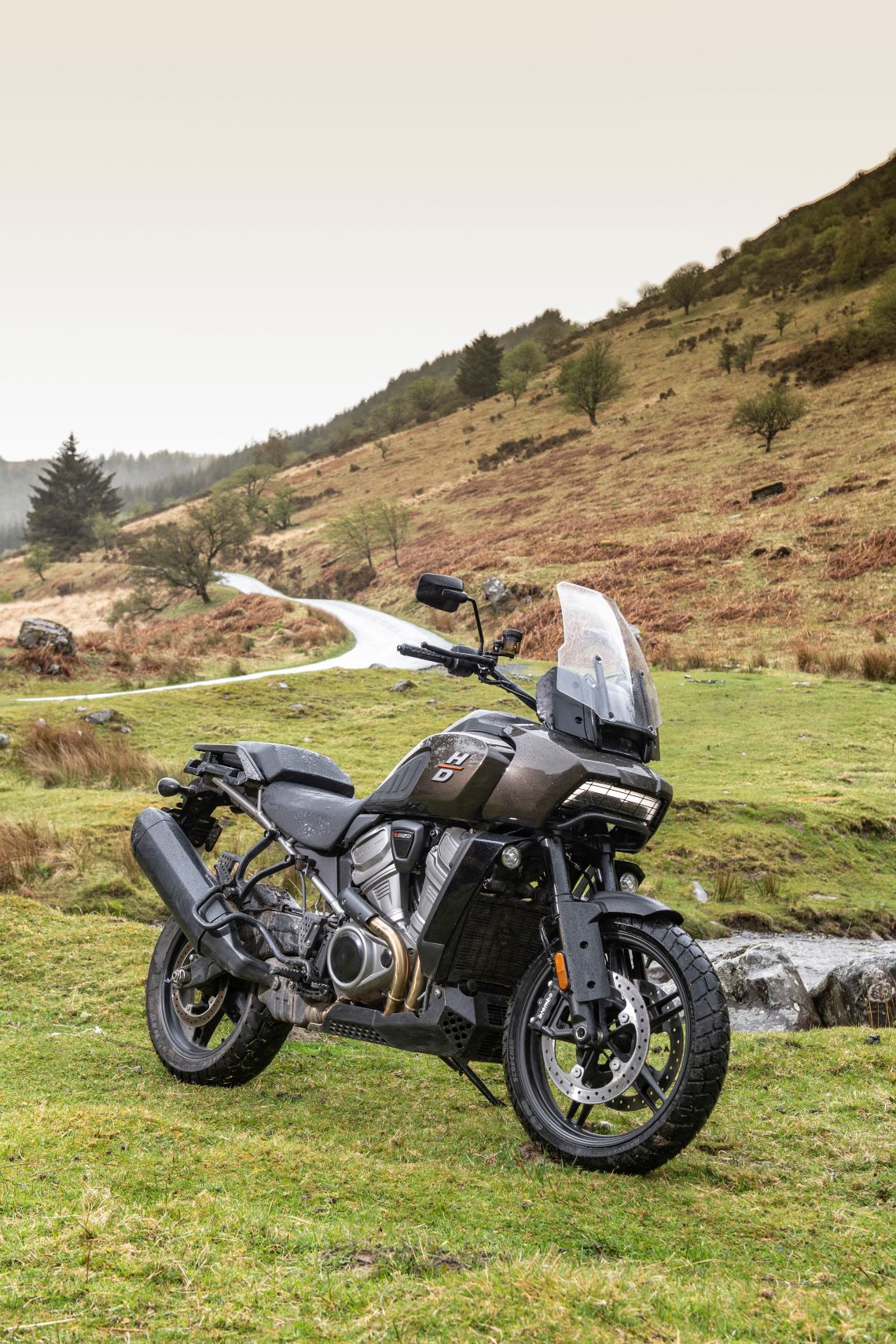 Stuck in rain mode
In days of old, that's pre-COVID, the go-to motorcycle launch destination was Spain where the combination of great weather and, away from the coast, empty roads meant you could check out the performance of a bike to the extreme.
As it was, on the pre-launch ride in Wales, I spent about five hours in the saddle and did not get out of rain mode. To put it mildly, the conditions were torrential and unrelenting. On my second ride at the official launch, again in Wales, conditions were similar, and on the wet, greasy mountain roads around Lake Vyrnwy, the power setting was again fixed in Rain mode.
So, what can I tell you about Rain mode other than it makes the bike perform at a level where, despite the 150bhp engine in tow, it does nothing to scare you or spit you off on wet, muddy, and slippery single tracks over the Welsh hills. For rain mode, think safe and tame mode.
It was starting to look as if the day would be spent tootling in low power when, just to the east of Bala, the clouds parted in biblical fashion and for the next 20 miles, we found a small pocket of Wales that had escaped the rain. The road was dry, twisty, and very quiet.
On cue, we all pressed the mode button into Sport and the effect was dramatic. The Pan America instantly changed from a plodding, non-threatening motorcycle, into a dynamic machine with enough torque and power to thrill anyone with a brain cell.
I kid you not, I've tested just about every adventure bike on the market, and no other comes close to having such a pronounced difference between engine modes. The difference in the ride and performance is Jekyll and Hyde, and this all-new Revolution Max 1250 V-Twin engine is not going to be outgunned in any company. What was also apparent and pleasing was that the Showa semi-active suspension and Brembo brakes were in tune with the increase in performance.
Whilst Harley has kept with the V-twin, I must confess that I, and most others on the launch, were disappointed when we fired up the machine to find that it sounded more Honda than Harley. Gone is the distinctive potato-potato note of the American legend, and the reason why was explained over a Zoom meeting by a technician sitting in Milwaukee. It was something to do with a 90-degree firing order.
Something special
Harley-Davidson has pulled off something special with the Pan America, and what's more, this is the company's first attempt at an adventure bike. If you're in the market and looking for something a little different then book a test ride, now.
As the Pan America is an adventure bike, then I'm obliged to comment on the off-road ability of the machine. During the launch, we were treated to a spectacular round of the easy forest trails, and the more difficult top trail, at Mick Extance's off-road school in the hills of Wales.
What I can tell you here is that the Pan America is capable of taking on terrain that 95% of purchasers are not. It's big and it's heavy, but it's also well balanced and equipped for those talented enough to go and explore.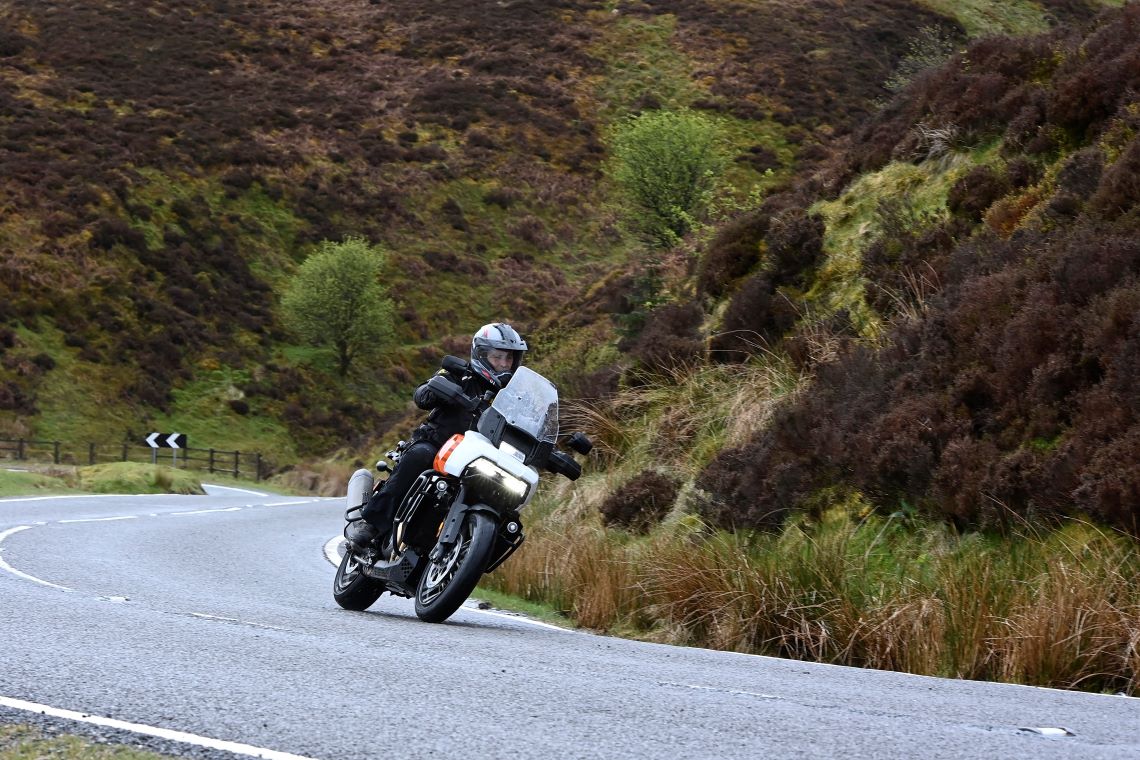 Which Pan America?
Harley has released two versions of the Pan America, a standard model (from £14,000) and the Special, which I rode, from (£15,500).
The Special gets you an extra two riding modes, semi-active suspension, and a host of add-ons such as a centre stand, skid plate, heated grips, steering damper, hand/wind deflectors, and a tyre pressure monitoring system. Adaptive Ride Height and tubeless laced wheels are factory options.
Specs at a glance
Price: From £15,500 (Pan America Special)
Engine: Revolution Max 1250
Capacity: 1252cc
Power: 150bhp
Torque: 128Nm at 6,750rpm
Suspension: Front: 47mm inverted fork with electronically adjustable semi-active damping control (190mm travel) Rear: Monoshock with automatic electronic preload control and semi-active compression and rebound damping (190mm travel) Brakes: Front: radially mounted, monoblock, 4-piston calliper; Rear: floating, single piston calliper
Weight: 258kg (wet)
Tank capacity: 21.2l
Seat height: 830mm to 850mm (low and tall seats available)
Harley-Davidson Pan America review – the ABR Verdict
As a commuter
This all depends on your commute. If you're looking for a small, lightweight, no nonsense city slicker, then there would be better bikes for the daily grind. However, if you're a bit more out in the sticks, firing up the Pan America would be an enjoyable start and finish to any day.
As a weekend tourer
The Pan America has the power and comfort for effortless fast-paced Friday evening getaways up the motorway, and it has the characteristics that would make touring on the more remote country roads in Wales and Cornwall all the more fun.
As an off roader
As with all bikes of this size and weight, off-road performance is more about the ability and experience of the rider than the performance of the motorcycle. Let's put it this way, in the right hands this bike is capable of taking on pretty gnarly off-road conditions, but I'd advise a novice to stick to gravel lanes.
As a continental road tourer
I'd like a bit more time in the saddle to confirm what I'm betting would be all-day comfort, but at a guess, I reckon the big Pan is going to be a blast riding over to the Alps, and just as much fun swooping around those Alpine Passes. However, for my needs, the screen could be better.
As an RTW overlander
It's only a matter of time until a rider with a big smile completes a circuit of this spinning globe of ours. If you can take on the Road of Bones and Trans Sahara on a Harley cruiser (and some riders have) then it can only be easier on a Pan America.
As a pillion carrier
I've yet to have a pillion on board but I suspect it's going to be a comfy place up back. I'd be more interested to see how the addition of a passenger is going to affect all other aspects of the ride and performance.