James Oxley and Bryn Davies reveal which motorcycles stood out from the crowd over the past10 years of Adventure Bike Rider magazine.
It's the summer of 2010, and Messrs Cameron and Clegg are joined at the hip in the UK's first coalition government since Churchill's war ministry, Fabio Capello's England are sent packing from the World Cup following a 4-1 defeat to Germany, and the word 'austerity' is a daily occurrence on the front pages of newspapers up and down the land. In short, it wasn't the most inspiring start to a new decade, but a glimmer of hope emerged when an adventure biker by the name of Alun Davies put the finishing touches to issue one of a new motorcycling magazine. The rest, they say, is adventure biking history.
Roughout the past 10 years, Adventure Bike Rider has striven to inspire, entertain, and inform motorcyclists around the world with a carefully crafted blend of travel features, gear tests, masterclasses, routes to ride, and of course, reviews of the latest and greatest motorcycles. The first bike to come under the microscope was the Honda XL700V Transalp which Alun declared was perfect for 'comfortable stress-free riding." A succession of new and improved machines followed in subsequent issues from an ever-growing list of manufacturers as the popularity of adventure biking exploded as the years progressed.
But which bikes stood out from the crowd as truly exceptional machines? And which left a two-wheeled shaped hole in our hearts after we handed the keys back to the manufacturer? Find out as we reveal ABR's list of the Top 10 Bikes of the Decade, starting with a motorcycle that revived two of the most iconic words in adventure biking history, Africa Twin.
Honda Africa Twin CRF 1000L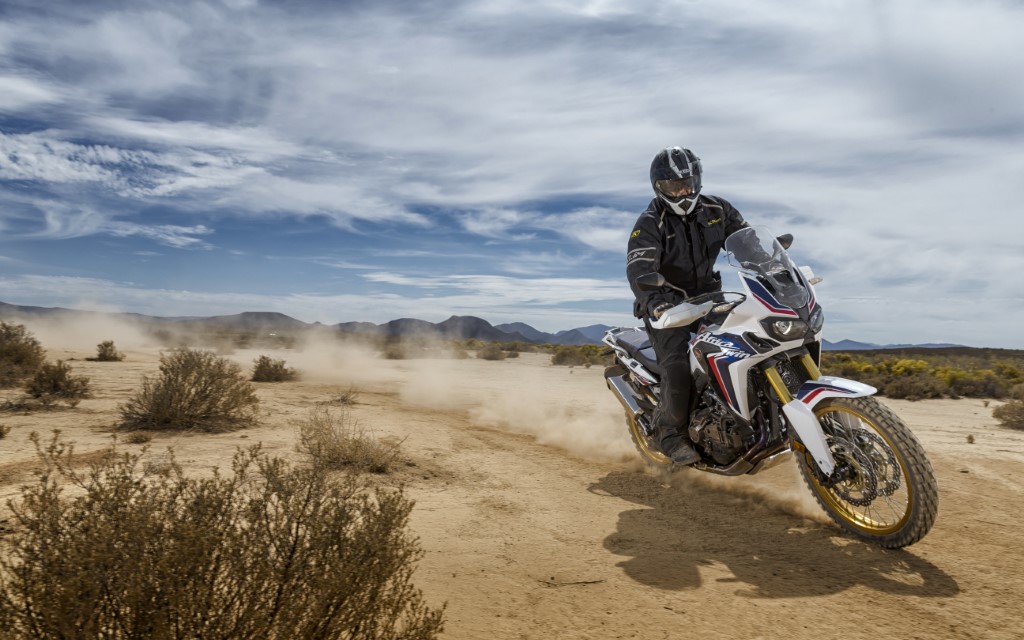 'You may be detecting a vibe I like the Africa Twin and you'd not be wrong. This is the most impressive big bore 'true' adventure bike I've ridden to date. Man, it even brought a smile to a drugged up old guy with a faltering back. Honda set out to produce a motorcycle that would do it all, and that's what it has achieved.' 
ABR Publisher and Founder Alun Davies, 2015, issue 32 
Honda awakened a sleeping giant in 2015 when it launched the all-new Africa Twin CRF1000L, the first model to hold the iconic name since the popular XRV750 Africa Twin ceased production in 2003. The new bike's 'True Adventure' concept struck a chord with the motorcycle-buying public, offering a road-going adventure bike with genuine off-road chops. The CRF1000L proved hugely popular, and while it didn't quite knock the mighty BMW R 1200 GS off its sales perch, the new Africa Twin re-established Honda as a major player in the adventure biking world once again. JO
Honda GL1800 Goldwing Tour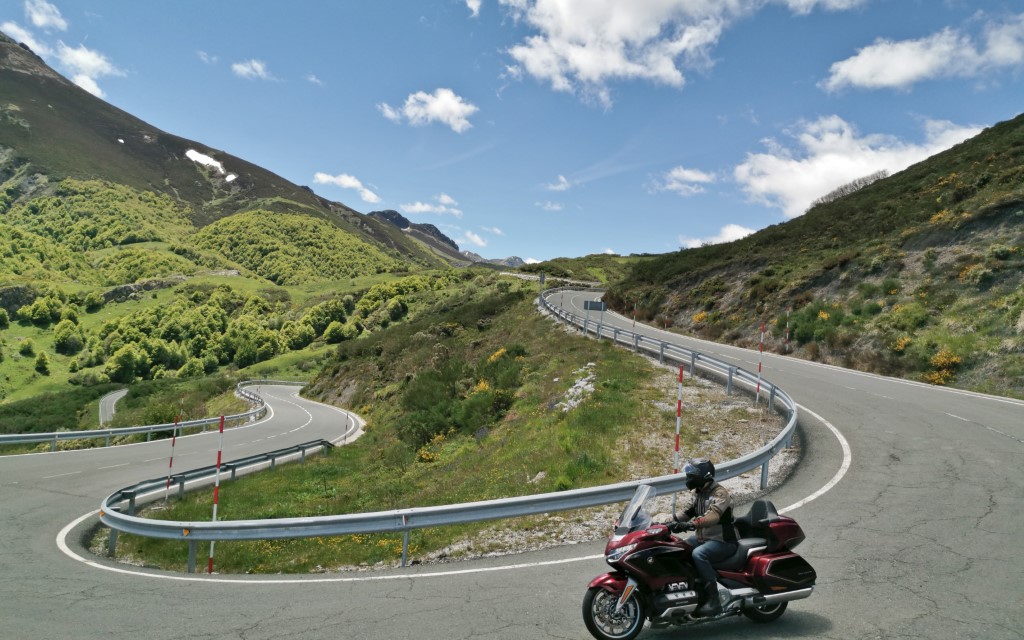 'What if you have a spare £30,000 burning a hole in your pocket? Is it worth the money? If you want the ultimate two-up touring experience that money can buy, then the answer is a resounding yes. Your pillion will certainly thank you for it.' 
ABR Assistant Editor James Oxley, 2019, issue 54 
It's fair to say the Honda Goldwing has never been the coolest bike on the block. With its huge fairing, luxury comfort seats, and built-in luggage, it's a bike designed for practicality and comfort rather than sex appeal. There's also a wholesome quality about the Goldwing that makes it catnip for retired couples, rather than… anyone else. 
Well, that's what I used to think. Aware of its image problem, Honda overhauled the Goldwing for 2018 in a bid to attract new and younger customers. The result was a sleeker, slimmer, sportier, and dare I say it, a rather sexy motorcycle (particularly in the matte black colour option that makes it look like something the superhero Batman would ride). 
I was lucky enough to spend 10 days touring Spain on the 2018 Goldwing Tour and it proved to be the most comfortable, capable, and enjoyable road touring bike I've ever ridden. It is an exceptional machine and my wife, who rode pillion for 2,000 miles behind me, wholeheartedly agrees. In fact, the Goldwing Tour is the king of two-up travel, a 'we bike' rather than a 'me bike' that glides along highways effortlessly in supreme comfort. And, while there's no getting away from the fact it's a big unit, the Goldwing proved to be more agile and fun to ride on the mountain passes of the Pyrenees than I expected. I wish I had one in my garage. JO
BMW R 1200 GS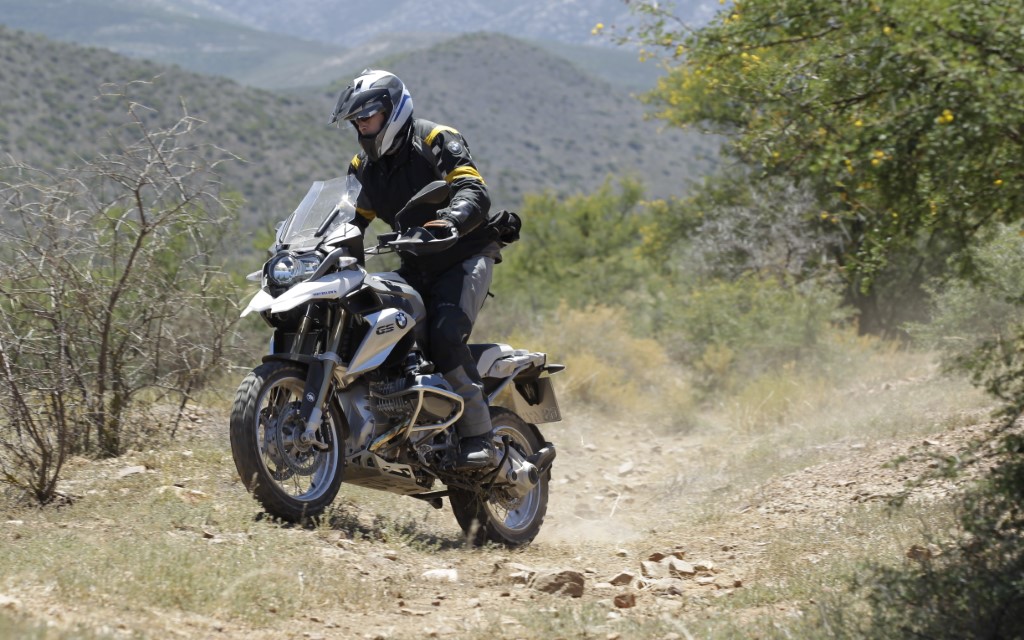 'The King has abdicated. All hail the more powerful, better looking and, quite frankly, indisputable new King.' 
ABR Publisher and Founder Alun Davies, 2013, issue 15 
Love'em or hate'em (and we love them by the way), BMW's large capacity GS bikes have had a bigger impact on adventure motorcycling than any other machine, consistently outselling their rivals over the past decade. Some of that success can be attributed to the popularity of Ewan McGregor and Charley Boorman's GS-starring Long Way Round television series, which catapulted the big adventure bikes into living rooms around the globe and inspired swathes of people go out and enjoy the pleasures of adventure biking, many of them choosing to do so on one of BMW's big adventure bikes, but as the saying goes, once you get to the top, it's even harder to stay there. 
By 2013, the king of adventure bikes was showing signs of age. The pressure was on BMW's boffins to improve a genre-defining motorcycle that could fight off ever-increasing competition from rival manufacturers. So, in the spring of 2013, BMW unveiled a completely revamped R 1200 GS featuring a partly liquid-cooled boxer engine for the first time in GS history.
Barely a part went unchanged, with the new GS gaining an increase in power to 125bhp, better handling, a more comfortable ride thanks to semi-active suspension, and ride-by-wire throttle. In short, it was a sensational motorcycle that ensured the big GS continued its reign as the king of adventure bikes. JO
Ducati Multistrada 1260 Enduro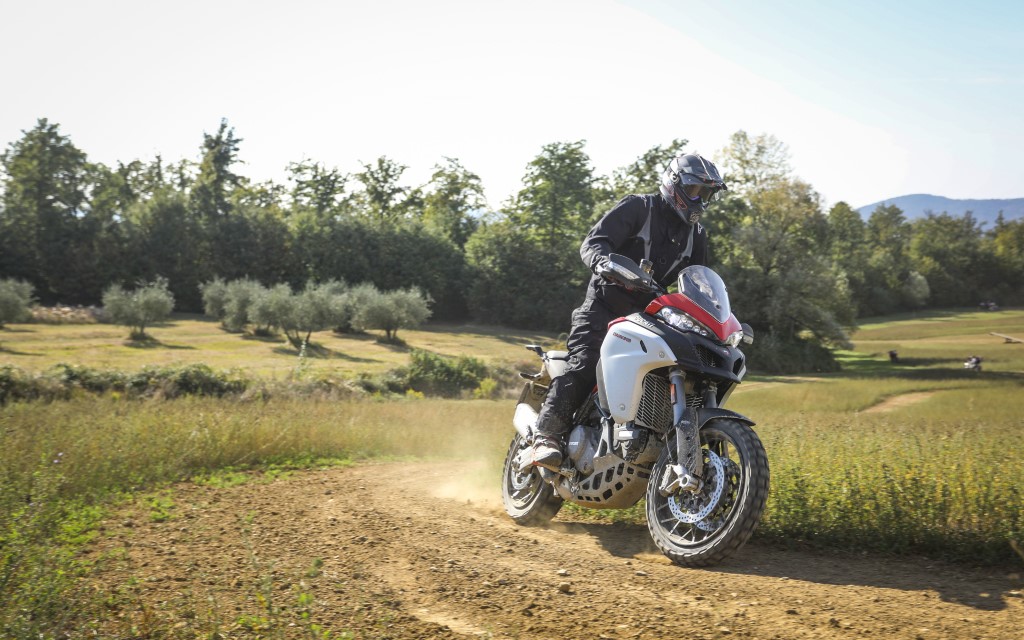 'The Multistrada 1260 Enduro is more refined, better designed, and easier to use than the 1200 on just about every level. But thankfully, Ducati has also managed to keep enough of the previous model's intoxicating power and undeniable presence to ensure there's still some of that teenager left. This bike rocks!' 
ABR Bike Tester Julian Challis, 2019, issue 50 
In 2016, Ducati launched the excellent but flawed Multistrada 1200 Enduro. It didn't sell in the numbers Ducati had hoped so its designers went back to the drawing board determined to make a bike that was more accessible and more refined. Boy, they pulled it off. With the launch of the Multistrada 1260 Enduro in 2018, Ducati released one of the greatest adventure bikes ever made and the ultimate portrayal of Ducati's 'four bikes in one' concept. 
While it was easier to use and live with than the previous model, thanks to a lower seat, pegs, and bars, as well as a lower centre of gravity, the 1260 Enduro still retained the previous bike's raw power and undeniable presence. The superb balance and ergonomics made it a blast on and off-road, long distances could be covered in supreme comfort, and the bike was refined enough to make urban commutes a relaxed affair. Perhaps most importantly, the good looking 1260 Enduro possessed a star quality that turned heads and made me feel a million dollars every time I rode it, and you can't put a price on that feeling. JO
KTM 450 EXC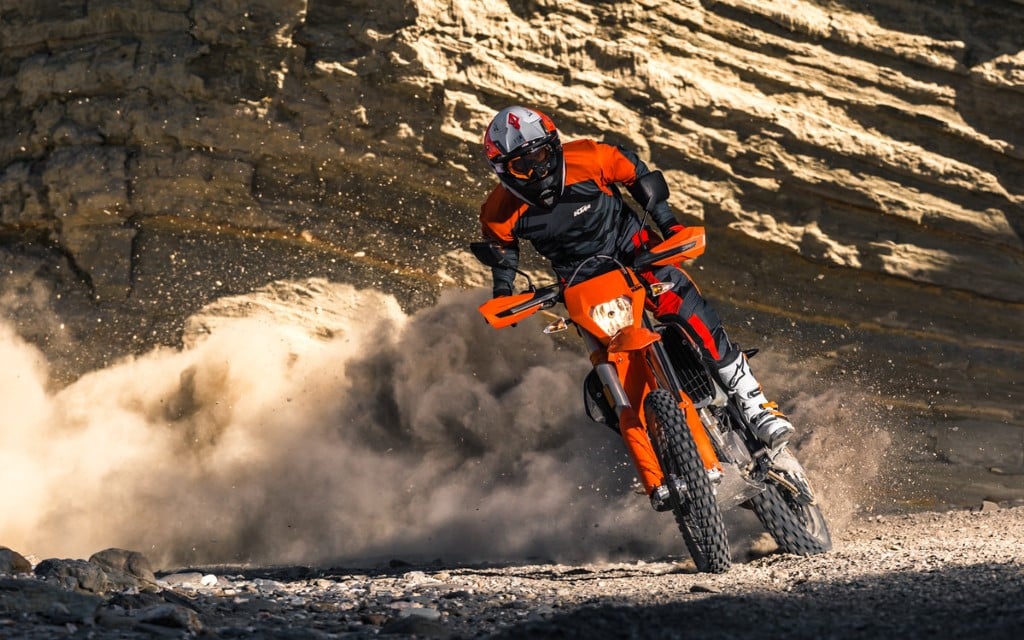 'Currently, the EXC is the king of competition 450 enduro weapons. It's fast, incredibly light, smooth and handles fantastically. It's also a full-blown competition machine.' 
ABR contributor Llewellyn Sullivan-Pavey, 2018, issue 49 
While adventure and touring bikes dominate this list, we had to give a spot to the formidable KTM 450 EXC. It's torquey 50bhp engine, light handling, and superb suspension make it a joy to ride over the toughest of terrain, and while there's plenty of power to thrill and terrify in equal measure, it's also approachable enough to make an average rider look very good indeed. 
A staple of KTM's race-ready enduro range, the 450 EXC has featured in the Austrian manufacturer's line-up since 2003 when it took over from the 400 EXC. However, KTM took the performance of the 450 up another notch in 2016 when it performed a dramatic overhaul of the bike. Redesigning everything, including a new chassis, engine, and suspension. It managed to not only trim 5kg off the weight, but also improve the ground clearance, and lower the seat height. This made the bike much more approachable for riders who wanted to put the 450's off-road prowess to the test on green lanes, rather than a track. 
The result was a bike that is as fun to ride as it is capable when the going gets tough. Whether we're churning up mud on a green lane in winter or pushing the limit on an enduro track, the KTM has certainly earned its place on our top 10 list. BD
Harley-Davidson Ultra Ltd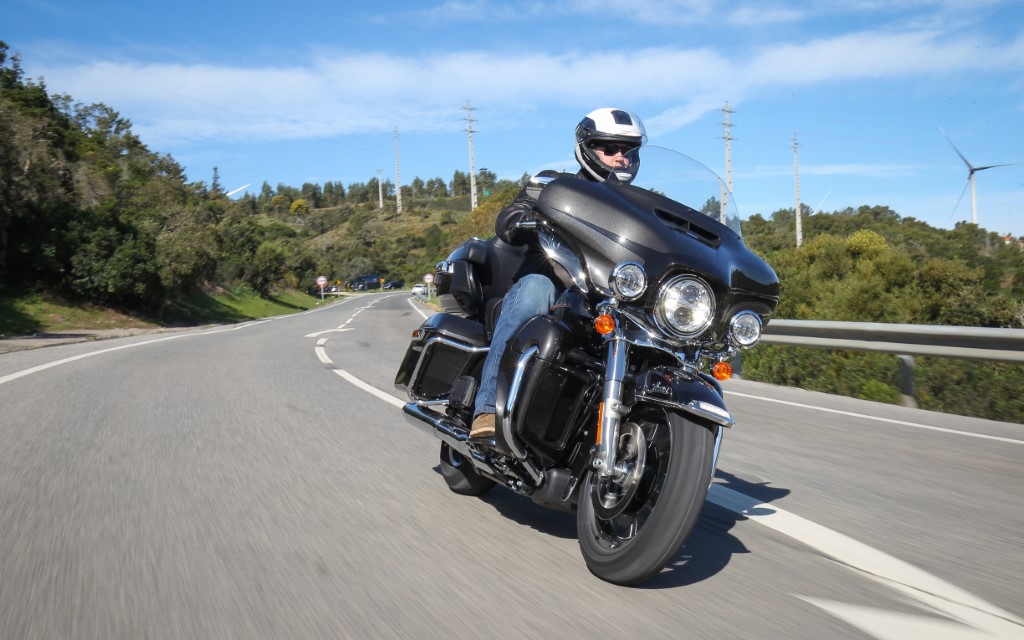 'If you regularly tour two-up and you want a bike that will keep your passenger as happy as possible, the Ultra Limited is as good a choice as any. The pillion's perch is more like a comfy recliner, and out of all of the bikes that my partner has been my pillion on, the Ultra Limited has been her favourite by far. What's that old saying? Happy pillion, happy life.' 
ABR Editor Bryn Davies, 2019, issue 52 
'Hold on a second… why the bloody hell are you including a Harley Davidson in the top 10 bikes of the decade?!' I hear you cry. Calm down, there are perfectly good reasons for the inclusion. You see, in a particular niche, the Harley-Davidson Ultra Limited is king. 
If you regularly ride long distances with a pillion, then both you and your passenger will love the Ultra Limited. Designed with the long, open roads of the US in mind, the Harley-Davidson Ultra Limited is a mile-munching monster. It's big, it's heavy and let's be honest, it's pretty ugly, but there are few bikes that are more comfortable over long distances than this (although James will fight the Goldwing's corner, I'm sure). 
Everything about it has been set up to provide the ultimate cross-country experience. The huge fairing deflects wind better than any other motorcycle I've ridden, the on-board entertainment system and speakers do wonders at breaking up the monotony of motorway miles, the luggage is well incorporated and plentiful, and that saddle… You could fall asleep on it. 
It's not the most frugal on fuel, it's not the most refined ride, and it's an absolute pain in the arse to maneuverer around tight roads and car parks, but if you take the Ultra Limited for what it is, you can't help but love the experience. BD
Triumph Tiger 885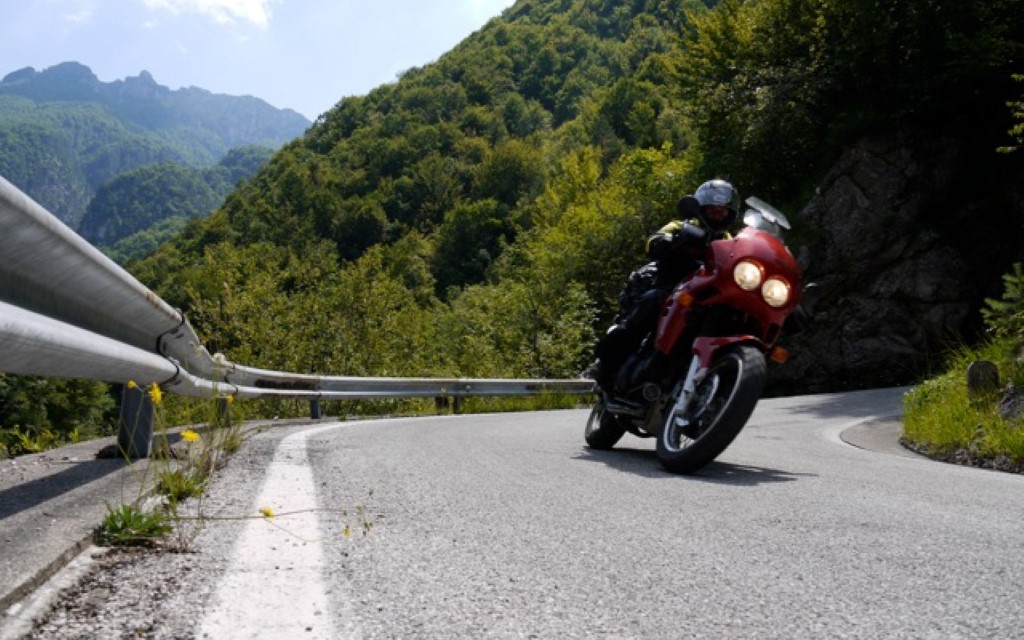 'I've fallen for singles, romanced with twins, and had a few flings with fours but the sweet, sweet triple has me for life. It's a common enough saying (and it's true) that with a triple you get a mix of all that's good about a twin and four-cylinder engine.' 
ABR Publisher and Founder Alun Davies, 2010, issue 2
Alun's regular ride was a Triumph Tiger 885 triple when he first began to think a magazine called Adventure Bike Rider might not be such a bad idea. In fact, by the time the first issue was published, he owned three Triumph motorcycles: a Tiger 885, a Tiger 955i, as well as an 885 Sprint.
In that issue, Alun affectionately referred to the old carb Tiger 885 as the 'Steamer' and revealed that it 'whipped the ass' of the KTM 990 Adventure and BMW GS 800 that his mates were riding during a trip to the Dolomites. It also gave a Honda Fireblade a run for its money on a twisty mountain pass. 
While the Tiger 885 has been superseded by new and improved machines over the past decade, it will always be the bike that Alun was riding when he had that lightbulb moment about starting Adventure Bike Rider, and that makes it very special motorcycle indeed. JO
KTM 790 Adventure and Adventure R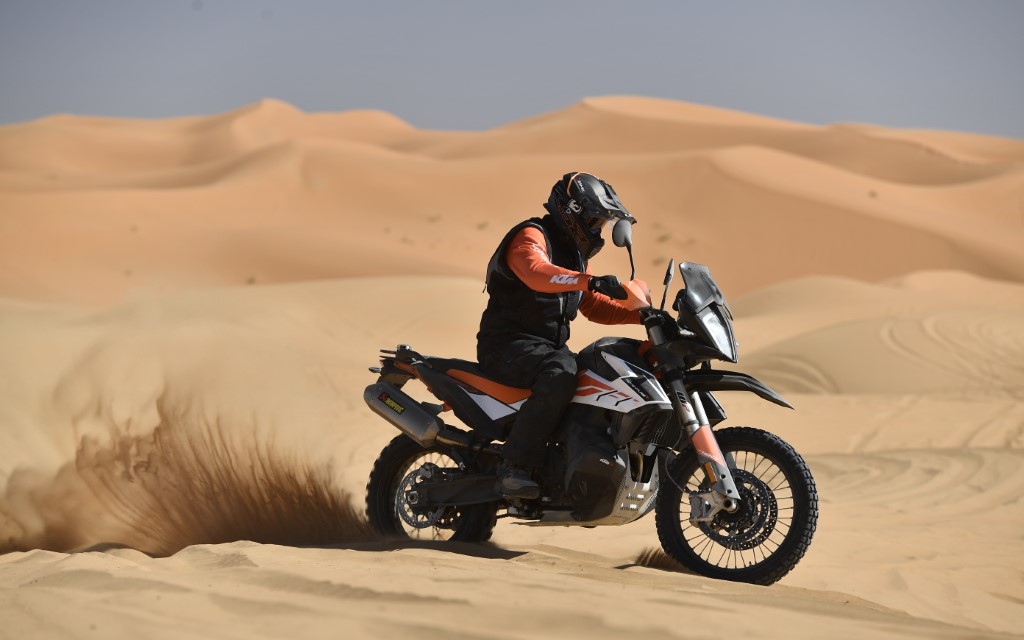 The engine is powerful and flexible, the suspension faultless, the ergonomics effortless and the technology ties it all together to complete the package, regardless of whether you are a traveller that wants to go off-road or an off-roader who wants to travel. These bikes take adventure riding far beyond what is currently available from any manufacturer and have the potential to dominate the adventure travel market.' 
ABR Bike Tester, Julian Challis, 2019, issue 52 
For years, big adventure bikes ruled the roost and motorcycle sales charts, buoyed by the popularity of the large capacity BMW GS models. Manufacturers competed for our attention (and wallets) by developing larger, more powerful, more technically advanced motorcycles. However, while big adventure bikes remain a popular choice, mid-size machines have come to the fore in recent years with a slew of outstanding bikes hitting dealerships. 
Among those were the KTM 790 Adventure and Adventure R variant. After four years of rumours, spy shots, and prototypes, excitement was at fever pitch for what became the most hotly anticipated adventure bike launch since Honda revived the Africa Twin in 2015. 
The bike was certainly worth the wait, and while it may not be the best-looking machine around, it more than makes up for it in terms of performance on and off-road. The 790 Adventure, and the off-road focussed R model, combine near-perfect balance, a low centre of gravity, a feisty 95bhp engine specifically designed for the bike, long-distance comfort, agile handling, and a suite of rider aids that integrate seamlessly with the riding experience. Personally, it's the most capable all-round adventure bike I've ever ridden and my first choice for tours that involve riding on and off-road. JO
Suzuki V-Strom 650 GT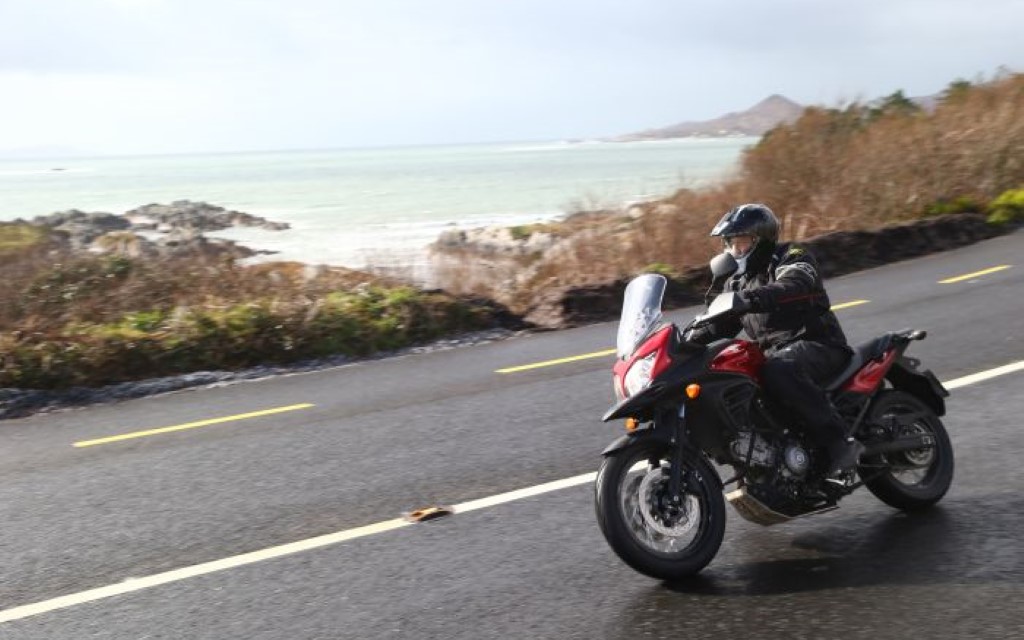 'If you're into growing a beard and spending time riding in swamps and jungles, or if you can't live without the ability to blast past traffic in the blink of an eye, there are better bikes out there for you. But if you want a mid-range road-touring adventure bike that'll make your life in the saddle a calm and serene place to be, take a test ride on a Suzuki V-Strom 650.'
ABR Publisher and Founder Alun Davies, 2012, issue 11 
As far as desirability goes, Suzuki has traditionally struggled when it comes to its adventure motorcycle range. Try as they might, the guys and girls behind the Japanese manufacturer can't seem to shake the 'steady eddy' image of both the 650 and 1000 V-Stroms. Even with 2020's offering of the 1050, which comes in a bright yellow colour scheme and is based on the legendary Dakar-ready DR Big, the Strom always comes across as more of a well-mannered accountant than a full-throttle rock star. 
So, what on earth is the 2012 V-Strom 650 GT doing on this list of ABR's best bikes of the decade? Well it goes like this: as a mid-range, road-biased adventure motorcycle, the V-Strom 650 is arguably the best of the bunch. 
Toss aside any expectations of adrenaline-filled exploits and the V-Strom 650 ticks all of the boxes as a tourer, commuter, and weekend ride whether solo or riding with a pillion. As we wrote in issue 11 of ABR magazine, it's exactly the sort of bike you'd want your son or partner to ride. It's unthreatening, it's gentle, and it encourages slower speed travel where the ride is more about the places you're travelling through than the tarmac you're riding on. Pair all of that with its manageable size and low seat height (835mm), and the V-Strom is a pleasure to ride. BD
Yamaha Ténéré 700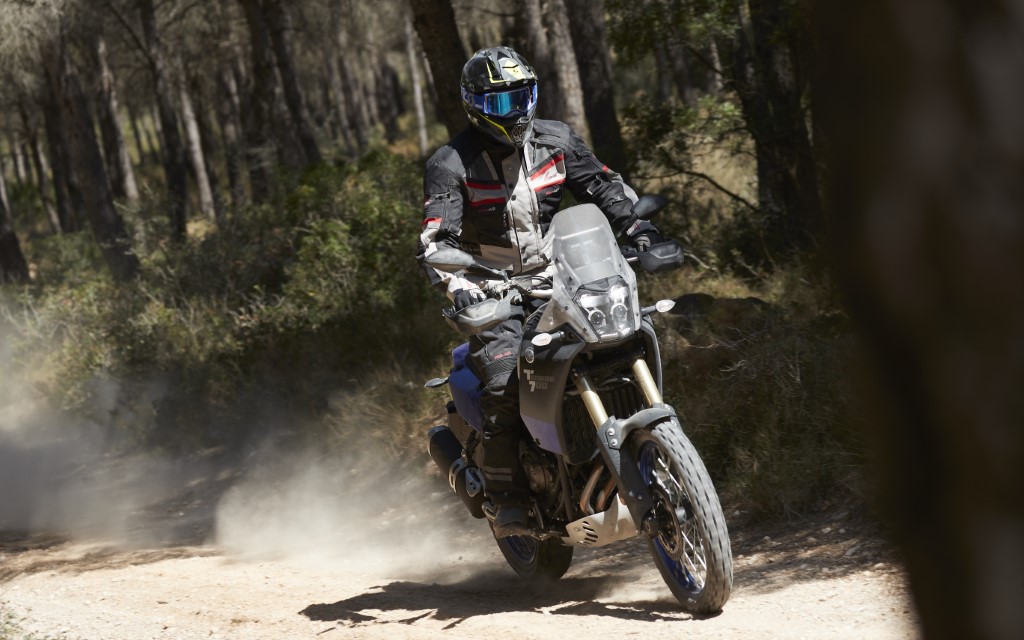 'Yamaha had stressed its desire to honour the Ténéré's heritage of almost 40 years and build the next horizon for the model. The team has achieved that and more, creating a truly impressive and enjoyable motorcycle that can hold its own against any bike within the adventure sector and beyond. The Ténéré is back!' 
ABR Bike Tester Julian Challis, 2019, issue 53 
After years of development, hype, and the odd delay, the Yamaha Ténéré 700 was revealed to an expectant public. Its predecessor, the popular XT660Z, had an almost cult-like following of loyal fans across the globe so the pressure was on for Yamaha to emulate its success. And boy, did they do it, and then some. 
Yamaha produced a motorcycle that took adventure biking back to basics, rejecting the race for ever more technologically advanced machines that its competitors were locked in. It's a simple, uncomplicated, perfectly balanced bike that performs equally well on and off the road. This less is more approach proved popular with bikers who parted with their hard-earned cash in their droves to bag a new model Ténéré. BD