After quitting his job and splitting up with his girlfriend, Ollie Rooke finds himself in hot water from the get-go on a journey through Norway.
So, would you like a massage… from both of us?" Ah, there it was. I'd sensed some sexual tension in the air. To be honest, the situation I'd found myself had seemed too good to be true. Now the proposition had been made and it hung in the fug of moist air above the hot tub the three of us were sharing. I wracked my brain for what to do next. My new friends were an older couple who had kindly offered me a spare room for the night in their house in the Norwegian hills. It wasn't that I was ungrateful. I'd drunk my own body weight in beer, gorged on pizza, and had the chance to soak my weary muscles after a long day in the saddle. But now it was time to pay the piper and they just happened to be revealing a lot of flesh in their skimpiest swimwear. How the hell had I got myself in this mess? 
The answer was a simple one. Six months before my wheels touched Norwegian soil, I was sat in a pub with my Dad when I declared, out of the blue: "I'm going to ride my motorcycle around Europe." I'd been working in London for two years since finishing University, I'd split up with my girlfriend, and found myself at a loose end in need of a serious dose of adventure. I'd never been able to dig into a trust fund to set off on a gap year, but now I'd put away enough savings to finance the sort of trip I'd dreamed about since passing my bike test a few years earlier. 
Buoyed by the excitement of the unknown, and a few Guinness for good measure, my dad helped me sketch out a plan that involved heading north all the way through Norway to Nordkapp, the northernmost point accessible by road in mainland Europe, before diving back down to encircle the continent. It would be a hell of a trip. After a few weeks making my way north, I found myself camped just outside of Oslo, my first night in Norway, and wondering what the country had to offer. At a petrol station, the social hub of solo travellers, I'd been told by a biker about a Facebook group I should join called Bunk-a-Biker Norway.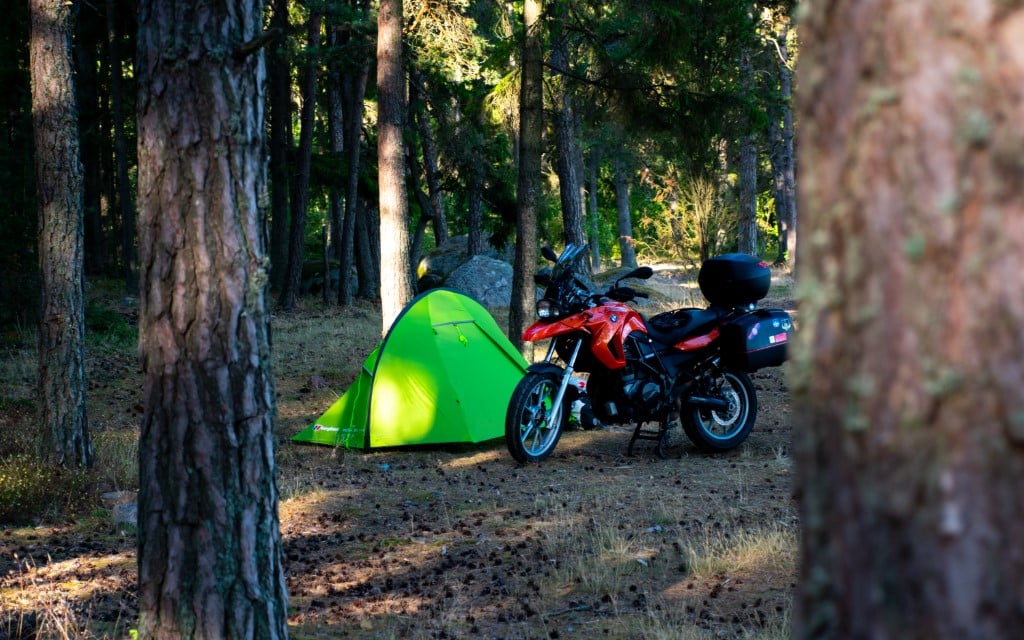 Intrigued, I posted a rough map of my route on the group's wall and explained what I was doing which had unexpectedly led to a flood of offers of spare beds to stay for a night, riders to show me the best roads as I passed through their hometown and, of course, an invite to the house with a hot tub I now found myself in. It was just the type of random, stranger-influenced occurrence that I'd dreamt of since I first read Ted Simon's famous book Jupiter's Travels. And now here I was, in nothing more than my trunks, wondering how to tactfully decline the offer in front of me, without cutting off the rich vein of beer that had been flowing all evening. I went for the Boris Johnson approach, producing a posh, bumbling English accent as I cheerfully turned down their request, acting as if I had misunderstood the intention behind the offer. I quickly excused myself from the jacuzzi and headed upstairs to bed where I barricaded my door with my panniers, just to be sure. 
The next morning, after a slap-up breakfast and no more untoward offers, I set off in the direction of Lysebotn on the couple's recommendation. A small, isolated fishing village, Lysebotn is accessed by boat up the ord, or by just one road over the surrounding mountains that is impassable in the winter. In fact, calling it a village may be an overstatement. It has a year-round population that could just about field a football team with a couple of subs for good measure. But, in summer when the road is cleared of snow and ice, the village is buzzing with tourists. It sounded intriguing and a photo of the road dropping down into the valley further cemented the idea in my head. Falling almost 1,000m, and taking in 27 hairpin turns, it looked like a length of rope had been tossed carelessly from the heavens above. It is a genuine must-ride road.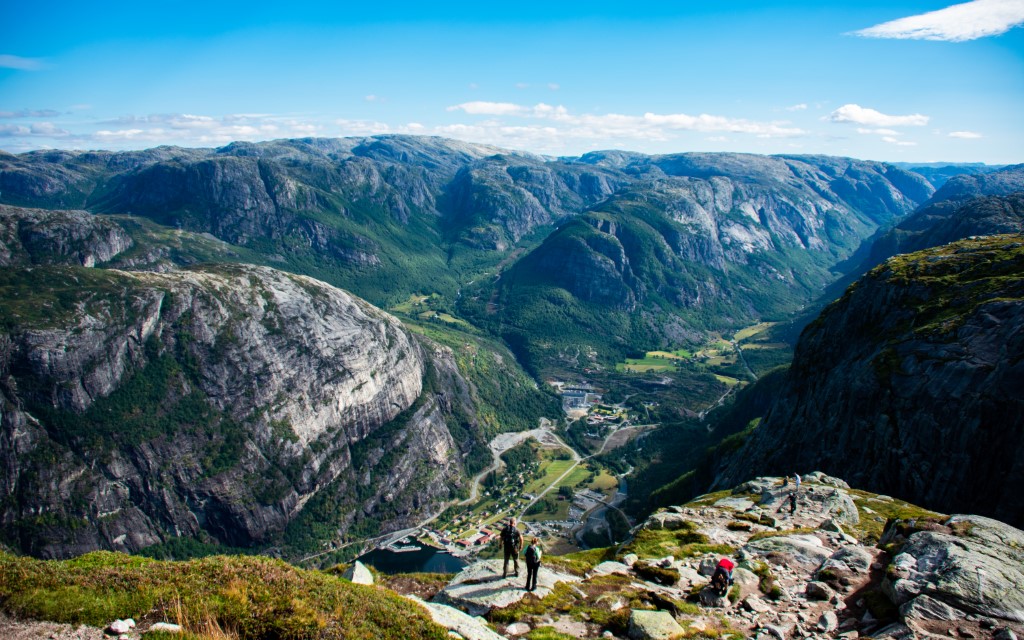 After a few days of working my way through the stunning surrounding fjords, I found myself within a few hours of Lysebotn. By this point, Norway had decided to scrunch up the European-wide memo regarding the heatwave that had been beating down across the continent and instead delivered a biblical storm that made a British yellow weather warning look like a spring shower. Hunkered down in a petrol station I checked my phone. The next day promised clear skies and sun. If I could spend the night within touching distance of the village, I could tackle that epic pass the next morning and stop at the top for a hike. 
There was one problem in my planning though. I hadn't factored in just how sparsely populated Norway was. There was nothing in sight, and as I stopped at a layby that indicated I was nearly 1,000m above the ground, I realised that accommodation wasn't going to appear until I reached the village. Naively, I'd managed to stumble onto the steep, technical mountain pass in the middle of a rainstorm. Mind you, it was a hell of a rush navigating those hairpins with torrents of rainwater streaming past me but I was relieved to roll into the village at the bottom, soggy but content after a challenging ride. Unsurprisingly, the hostel in the village had a monopoly over tourist lodgings and my bed, burger and beer set me back far more than I'd have hoped, although I'd certainly earned them.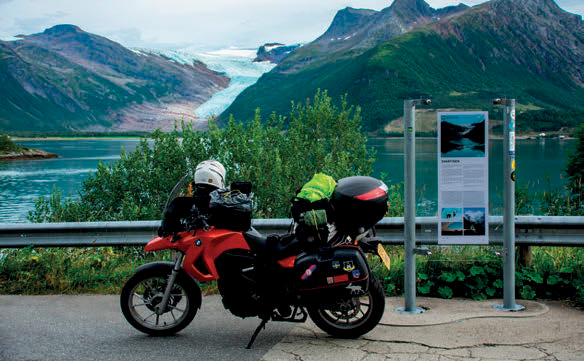 The next morning, I woke up to resplendent sunshine. Norway had sensed my plight and delivered a cracking summer's day. I stopped at the bottom of the pass briefly, watching a van ahead of me climb the hairpins. My waitress the night before said that most of the traffic would be going up in the morning, so leave enough time and I'd have a clear run of the road. She was right. It was an epic ride.
The steep drop-offs to my right giving way to spectacular views as I scraped my pegs and twisted my way up the edge of this vast, deep fjord. It was a truly memorable road, but I resisted the urge to turn around and do it again. Instead I stripped myself down in the carpark at the top and changed into my hiking gear. Leaving my riding kit draped over the bike (Norway is one of the safest countries in Europe when it comes to crime), I set off to Kjeragbolten, a huge boulder suspended between the cliffs, nearly 1,000m above the floor of the fjord.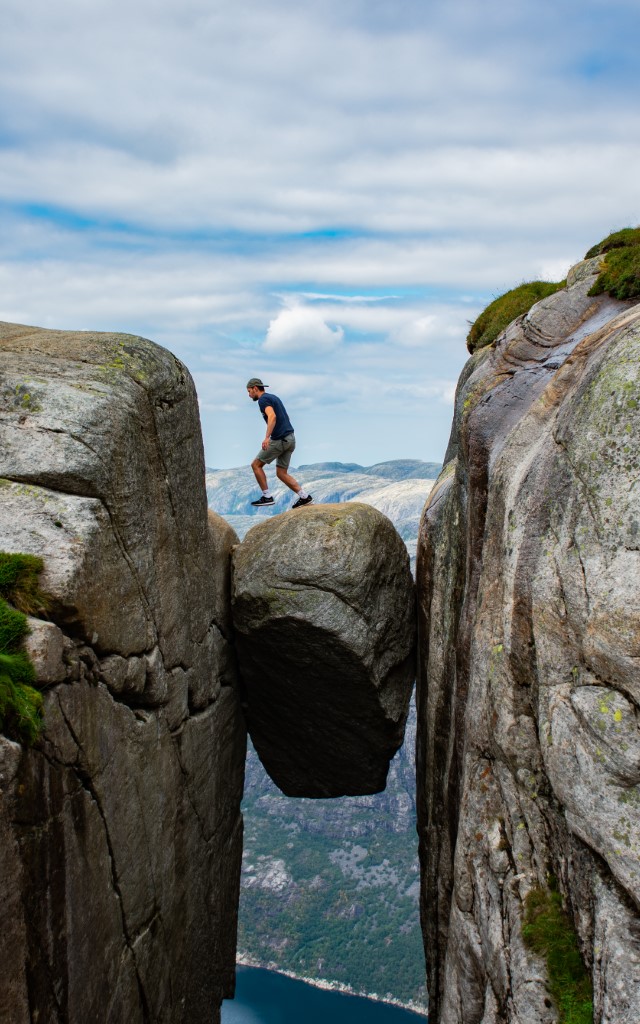 It was a beautiful day and the clear skies meant the views of the Lord of the Rings-esque country stretched for miles and miles. On the walk, I bumped into an Irish girl and an English guy who had hired a car to explore the southern fjords. We hiked together and I was grateful for the self-deprecating sense of humour we share in Britain and Ireland. Their company helped make a good day an unforgettable one. As we neared the top, we found enough snow to have a decent snowball fight and when we all came to jump up onto the iconic boulder, seen in so many Instagram feeds, I was grateful that someone could capture my wobbly knees on camera as I stood on top. 
Throughout the next three days I travelled up the west coast of Norway, but sadly, non-stop rain was dampening my mood. I'd opted to spend the majority of my evenings wild camping and cooking on my small petrol stove, which was a romantic notion, but the reality of unrolling a sodden, tiny one-man tent and spending the night spooning my wet kit had started to get old pretty quickly. During one such evening, I made a decision. There was far more to come in the north of the country and I had a long way to go yet. So, the next day I turned back inland on the highways, and before long I was out from under the blanket of storm clouds, into the sun once again. The west coast would just have to be tackled again on a future journey.
 Pushing on northwards, I started to realise I was getting into a good travelling groove. Each day in the late afternoon I'd start to keep an eye out for prime wild camping spots. Water was always a good bet and I usually found a nice spot on the banks of a fjord or lake that I could dip my feet into, music blaring out of my Bluetooth speaker, as the day wound to a close.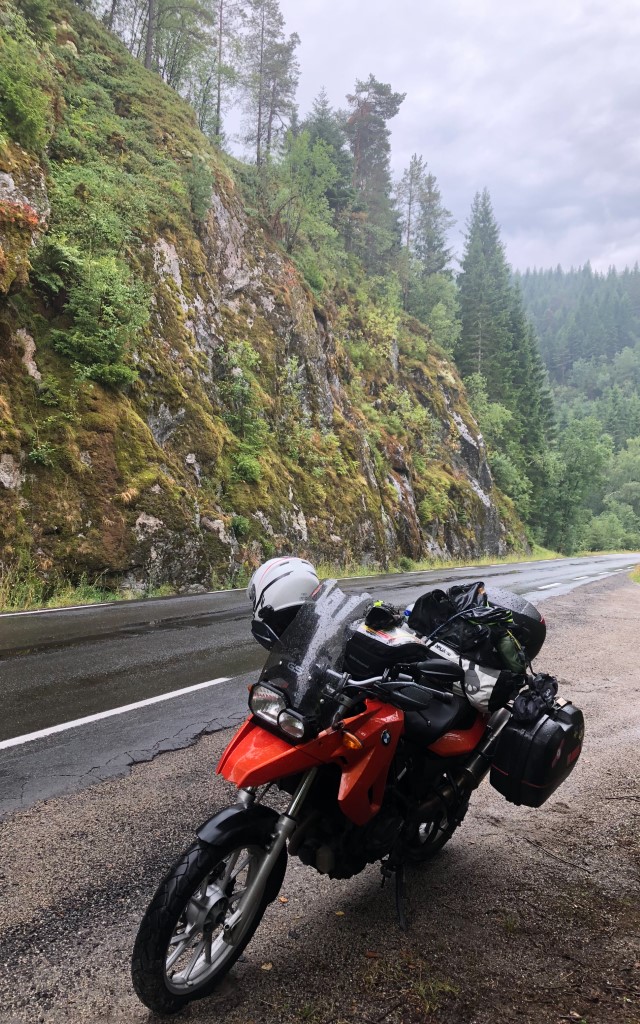 It was how I'd dreamed my journey would be before I left home but my social contact was restricted and I found myself missing people more than I'd expected. However, the biker family always had my back. There were more Bunk-a-Biker stays where my hosts would feed me slap-up meals, stuff my panniers full of instant noodles, and thankfully not suggest any hot tub threesomes. I met bikers in laybys, fuel stations, and was even invited to join the crowds at a biker festival where I was smug to see that I'd travelled the furthest out of all the attendees.
 About halfway up the coast, I found myself with a decision to make. Further inland lay the E6, the road I was told most people in a hurry took on their way up to Nordkapp. But local riders had pointed me in the other direction, suggesting I take the FV17 and travel up the coast. The route took me around three days (it would have been quicker if I wasn't so trigger-happy with my camera) and saw me island hopping on a network of small ferries, one of which would also take me across the Arctic Circle, making me an arctic explorer, in name at least. 
The coastal road was a great recommendation. With my best riding playlist blaring out of my intercom, I cruised down vast stretches of empty tarmac, the turquoise sea glinting away to my left and the land rising steeply to my right. The sun had its hat on and each ferry stop gave me a chance to break out my micro chair and catch some rays, contentedly listening to the line of traffic building up until the ferry began loading. Atlantic coastal roads always seem to deliver, but having ridden them in Ireland, Portugal and Spain, I have to say Norway's was the pick of the bunch. Wild camping spots were easy to find on these clustered islands, although reality kicked in with a rainstorm that almost had my tent floating off into the night as I camped outside of the port town of Bodo.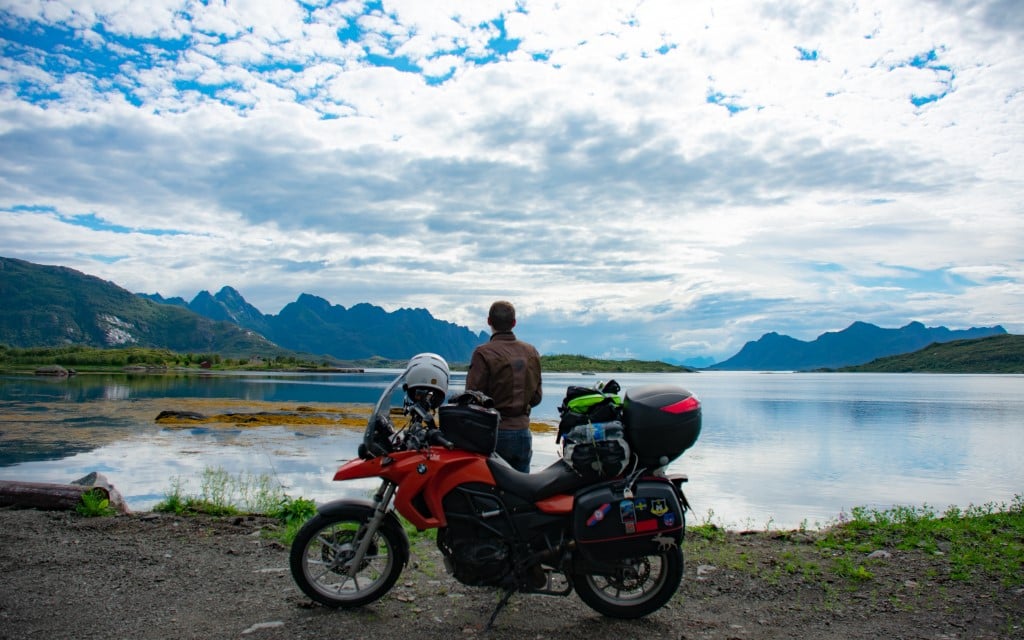 Rolling into the town utterly drenched the next morning, I felt a little sad to be leaving behind this stretch of road. However, once again there was better to come. The Lofoten Islands make up a near-mythical archipelago that stretches out into the Atlantic from the mainland like Pinocchio's nose. I caught a ferry that dropped me off at the very tip and I gave myself three days to head back. This didn't feel like enough time to explore this other-worldly collection of towering islands, but Norway's prices were eating into my budget and I knew I had to get a wriggle on. The road started at a town aptly named A, before passing through the postcard-perfect fishing village of Reine. Given enough time or patience, you're likely to catch sight of killer whales breaching in Reine's bay. Sadly, I was lacking in both, instead itching to further explore the islands. Those scenic ribbons of tarmac and bridges cutting between each island called to me in their own whale song that is audible only to motorcyclists, and it was impossible to ignore them.
 It was hard to make swift progress in Lofoten. Around each blind bend lay another postcard-worthy view that had me stopping to break out my camera. Not that I was complaining. The never-ending battle between an uninterrupted ride and the perfect capture was a nice problem to have. By the time I reached Tromso, with the Lofoten Islands behind me, I must have taken close to 1,000 photos.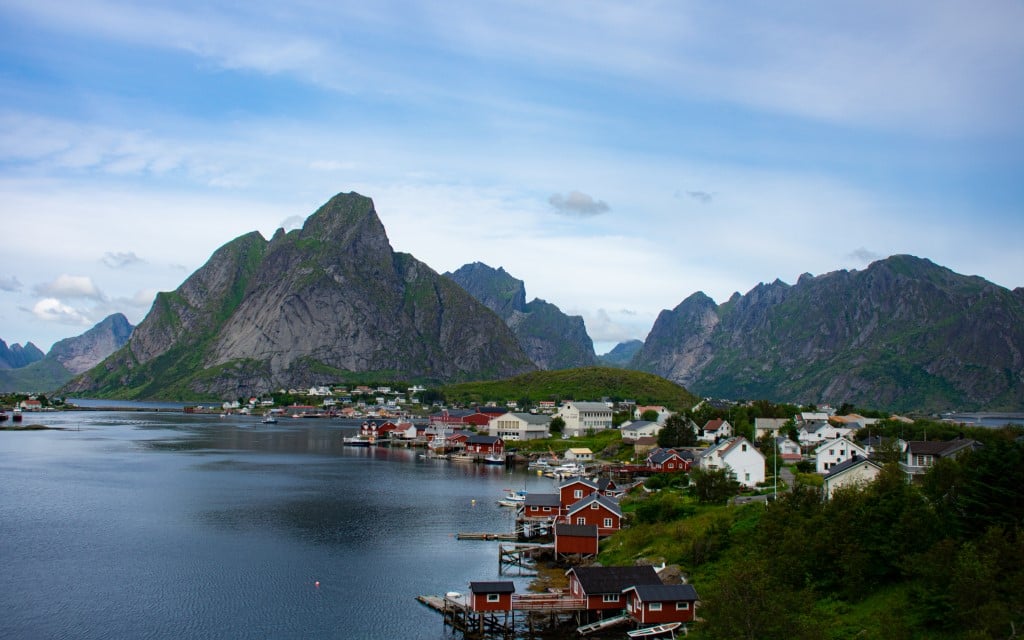 Norway presented other unique experiences too. One particular day, as I cruised along, I spotted a flash of brown to my right. It was my first sighting of a wild reindeer. I parked the bike, almost forgetting to kick down the side stand in my haste to snap a photo. He was a tricky customer though, cantering away from me as I paused to take the money shot. After making a fool of myself to any passers-by watching, I finally got the all-important photo, although my sense of triumph was short-lived as I approached Hammerfest, a reindeer husbandry centre. They were bloody everywhere. And, unlike my elusive subject from the morning, the ones I encountered weren't shy either. In fact, they seemed to relish the opportunity to spring out in front of my bike. By the end of the day, which had started with me excitedly chasing one with a camera, I was sick of the sight of Santa's helpers.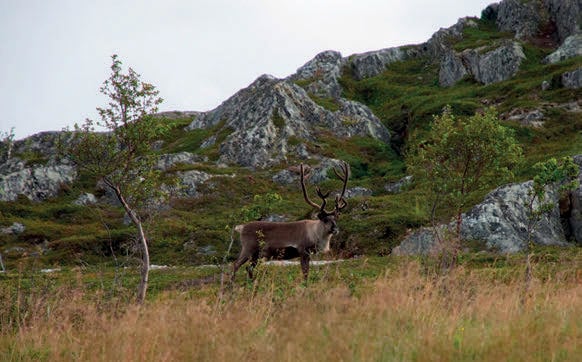 Soon enough, I was ready for the final push to Nordkapp. The road heading north, the E69, is a biker's dream. In contrast to the rest of Norway, there's not much to admire in the far north, where the landscape is barren and relatively flat. This meant I could give my full and undivided attention to the road, an absolute peach that hugs the coast and cuts through this empty land. It's an endless succession of long sweeping turns and pin-back the throttle straights. The wide-open views of the barren land ensured I wouldn't be surprised by a police speed trap. 
And then I arrived at Nordkapp. My elation was slightly dampened by the entrance fee which would have bought me another three pints in the bar the night before, but I shrugged it off as the last Norwegian price to baulk at. I snapped some photos of the iconic globe and explored the tourist centre that houses the gift shop and exhibitions, picking up those all-important pannier stickers. With my goody bag full, I headed back to my bike. Swinging my leg over my orange BMW, I thumbed the starter switch and let the bike idle while I slid on my helmet and gloves. It was a long way back down the E69 to the mainland, and even further still to Finland.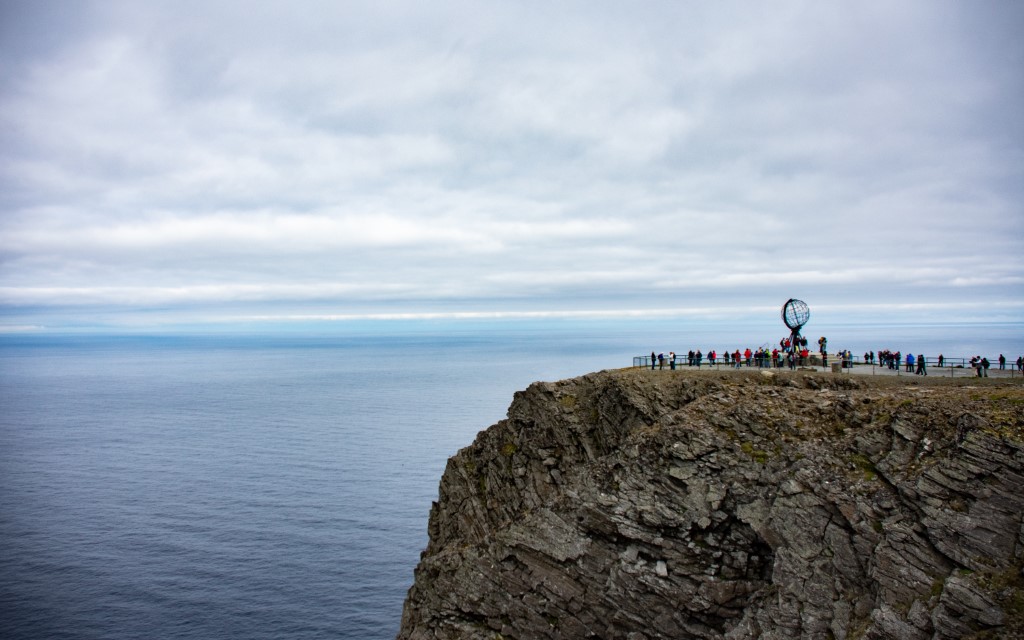 I let out a laugh. It had been seven weeks since I'd found myself panic buying GB stickers and a first aid kit at the train terminal in Folkestone, and here I was sitting at the top of Europe on my motorbike. I'd made it all on my own. And for four of those weeks, I'd had the privilege of meandering my way around Norway, an eye-wateringly beautiful country that housed some of the friendliest people I'd ever met (sometimes a little too friendly), and certainly the best motorcycling culture I'd ever experienced. 
Kicking the bike into first gear, I passed through the car park's exit and head out back onto the road I'd arrived on. It was late afternoon but the golden glow of the Arctic sun wasn't going anywhere in a hurry. I suddenly felt energised and in the mood for a another long ride through this motorcycling paradise. Norway will do that to you.
Want to ride Norway?
From the UK, I travelled from Folkestone to Calais on the Eurotunnel and then spent two two-long days on highways riding to the tip of Denmark, where you can catch a ferry to Norway. I thought, as a Londoner, I knew what expensive meant but I was wrong. Norway is eye-wateringly pricey. Despite enjoying plenty of wild camping, my four weeks set me back around £1,200.
 For fans of camping, there are plenty of well-signposted sites across Norway, while wild camping is legal and a fantastic experience. Campsites tend to feature hyttes, small wooden huts, which are an attractive proposition. If you're looking to meet and stay with locals, I'd recommend joining the Bunk-a-Biker Norway Facebook group, or checking out rooms on Airbnb.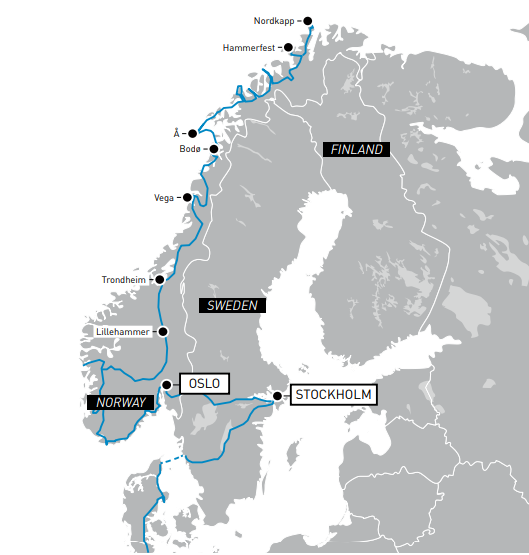 The Bike
My bike for the trip was a bright orange BMW F 650 GS twin that I'd had restricted to comply with my A2 licence. Despite struggling slightly on the long blasts up the German autobahn, it was the ideal companion for my first big tour, proving to be as reliable as a Swiss watch. It's not the best-looking machine but that meant it was unattractive to would-be thieves wherever I parked up. I've now travelled to 18 countries on my GS and it's a bike that I will never sell.