The 650 Wee Has Been Around Since 1999 And Has Generally Been Viewed As The Better Bike When Compared To Its Bigger And Now-Obsolete 1000cc V-Strom Brother. Can The Same Be Said For The New, Updated 2012 Version Of The 650? You Bet It Can
In a line: probably the best mid-range road-focussed adventure bike
Quick Spec
MODEL: Suzuki V-Strom 650
PRICE: From £6,899
CAPACITY: 645cc
MPG: 55mpg
TANK CAPACITY: 20 litres
RANGE: 245 miles
MAX SPEED: 120mph (est)
POWER: 68bhp at 8,800rpm
TORQUE: 44lb.ft at 6,400rpm
TRANSMISSION: 6 speed chain drive
SEAT HIGHT: 835mm
WEIGHT: 214kg
WHEELS: 19-inch tubeless front/ 17- inch tubeless rear
SUSPENSION FRONT: Telescopic, coil spring
SUSPENSION BACK: Link type, coil spring|
BRAKES: Twin discs front/ single disk rear
COLOURS: Orange/Black/White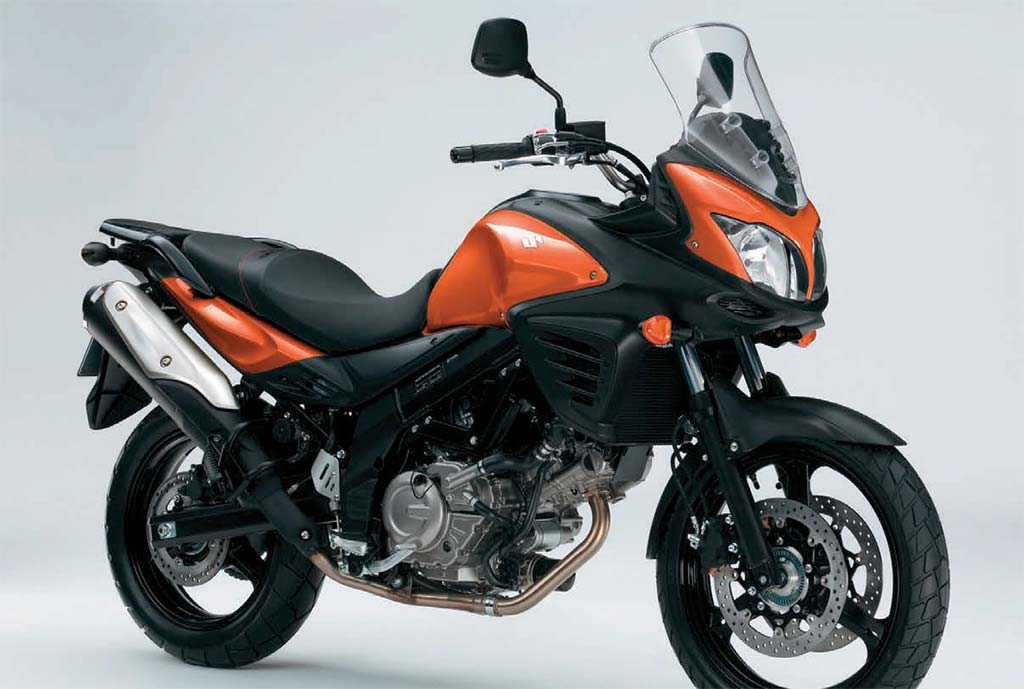 The Review
You don't have to be a professor of mathematics or have a PhD in statistics to grasp what's happening in the world of motorcycles. Father Ted's sidekick Dougal (or Father Jack for that matter) would be hard pushed not to understand the current sales figures. Overall motorcycle sales for the years to April 2011 and April 2012 have remained flat; sales in adventure bikes have increased by 41 percent in the same period.
Even more telling is that the biggest selling bike of all capacities in April 2012 is the Triumph Tiger Explorer 1200 with 283 machines sold in that month alone: that's almost 50 percent more than the next biggest seller, the Yamaha YBR125. The stats are clear. While sales of other categories of motorcycle are in decline (customs down 13 percent; sports and sports tourers down by a combined 21 percent; naked down by 7 percent) sales of adventure bikes are on the increase.
I mention the above as there's little doubt that the Japanese manufacturers have been caught with their eye well off the European motorcycle buyer during the past 10 years – the growth in adventure bikes is a European phenomenon, not just a feature of the UK market. Why these manufacturing titans of the east got it so wrong is unclear, though I suspect that it has a lot to do with an inward-looking industry and a blinkered media (especially in the UK) built on self-congratulation and little insight into a growing movement within the motorcycling community.
Whatever the reasons, Suzuki and Kawasaki have UK ranges that have long been looking threadbare in the adventure sector. While Kawasaki has recently launched the Versys 1000 to compete in the big bore adventure market and complement its mid-range Versys 650, Suzuki finds itself almost alone in having just a single motorcycle in their range, the 650 V-Strom, which falls under the heading of 'adventure bike', though there are strong rumours of a 'new' 1000ccplus V-Strom in the pipeline.
I was thinking of these sales figures as I set out on the all-new 650 V-Strom GT (the GT means it comes with a few farkles, which I'll detail later) from the office at Stratford-upon-Avon on a trip that would take me 100 or so miles south for an ABR Rally, and then up north to Blackpool and a day at a mini ruby tournament. All in all a trip of around 700 miles, mostly on motorway and fully loaded with camping gear.
Within 10 minutes of leaving the office the industry stats were history and there was something far more important going on between my ears. In short, the seven miles from the office to the motorway had induce a kind of calm in my riding style and the V-Strom was starting to win me over.
I remember a few years back attending a talk by the legendary Ted Simon (of Jupiter's Travels fame) and listening on as the godfather of RTW motorcycling told the audience that, in his estimation, the perfect speed for travelling was 50mph. Ted reckoned that, when touring at half a ton, you've far more time to take in your surroundings in safety and you inevitably end up where you were heading at roughly the same time as you would if travelling at 70mph. You also arrive less tired, less stressed and with a lot more fuel in your tank, he said.
At the time I'd been riding around on a 700 Transalp and found myself in total agreement with Ted. The characteristics and features of the Transalp had a pronounced calming effect on my riding style, and without even thinking about it, I found myself riding, on average, about 20mph slower than on previous bikes I'd owned, while somehow enjoying my riding far more. I was, as I liked to say at the time, very happy to travel like Ted.
Over the past four years I've found myself back on more powerful machines, and while I still have the occasional 'Ted' moment, my riding style has gone back to a level where I'm constantly aware of the longevity of my licence. Yet within seven miles, the 650 V-Strom had worked its calming mojo and I was back in Ted mode, even looking forward to a weekend of predominantly motorway riding.
As the smaller of the V-Stroms, the Wee, as it's affectionately known by its devoted following, is the sort of bike I'd like my son or my partner to ride. It's so easy to master and get on with, and there's nothing in its performance that's going to scare you. The seat is low enough for the average person to plant both feet on the floor, the handling is good – if you want better handling, you're probably the sort who wears knee-sliders to bed – and the power delivery is smooth and nonthreatening. And although the brakes are not going to stop you on a pixel, they're more than adequate for this mid-range machine.
But don't get me wrong here; the all-new 650 power plant – the same engine as in the Suzuki Gladius – is more than capable of shifting you and all your gear at three figure speeds and while the ride at this rate of progress isn't as relaxed as it would be on a 1,000cc-plus adventure bike, you're not going to be gripped either. Plus, as I discovered on a spirited group ride-out from the ABR campsite to the local supermarket, while you'll be left in the dust by bigger machines when the riding is of a stop-start nature, you'll be back on their tail soon enough when the V-Strom is up and gunning on sweeping A and B roads.
But enough of performance figures and pushing the bike to its limits; that's not what owning this 650-adventure bikes about. While touring on the V-Strom I start to think less about overtaking opportunities and the sweeping bends ahead and more about the form of the mountain to my left, or the ripples on the lake to my right. I guess what I'm saying here is this is a bike on which you'll find yourself knowing far more about the surroundings you're riding through and less about the strip of tarmac that's taking you through it.
Compared to the older 650 Wee, the new version comes with an all-new engine, plus the bodywork has had an update, and while beauty is in the eye of the beholder, I have to say the new V-Strom is far more pleasing on the eye than the older version. It's also lighter, and while some of this weight loss has been achieved through a reduction in tank/fuel capacity, Suzuki claims the new power plant is 10 percent more efficient than the old one.
While on the subject of fuel economy, it's possible to obtain extraordinary figures on this bike if you keep your right hand firmly under control. I've achieved approximately 68mpg at my most delicate and have regularly hit mid-50mpg in normal everyday use, and when touring within legal speed limits. With a 20-litre tank, this bike is good for a range of 240 miles or more.
There's a couple of other nice touches which come as standard with the Suzuki. First o­ you get ABS on all models; a simple clean dash that's easy to read, plus an on-board computer that provides economy figures, dual trip metres and a temperature gauge with a warning light that activates near freezing. It also comes with a clock, which I like. Best of all, though, the functions and display are changed with a toggle on the left-hand bar, so there's no stretching forward when on the move to operate buttons on the dash. The toggle may be a minor feature, but it makes life easy and it's a feature missing on bikes that cost far more than the V-Strom.
The comfort of the 650 is excellent with the position of the pegs, bars and seat in harmony, though if you're trading down from a 1,000cc bike with extra-wide, thick bars, then on first impression, you'd be forgiven for thinking that the handlebars were made for a toy rather than a motorcycle. That said, what's so pleasing about this bike is that, although it's a 650, it's about as good as it gets for this size of bike in both comfort and handling if you're going to load it up and ride with a pillion. I'd go as far as to say there's no other adventure-style bike of this capacity which is more suitable.
I'd even take the above claim further and state that as a long-distance, midrange, road-based adventure tourer, the 650 V-Strom is the best out there right now as long as you've no aspirations to stray of­ the tarmac. The Wee really is a comfy, economical, mile-muncher that's very easy to like and live with, and if the reliability of its predecessor is anything to go by then you'll be smiling for years to come.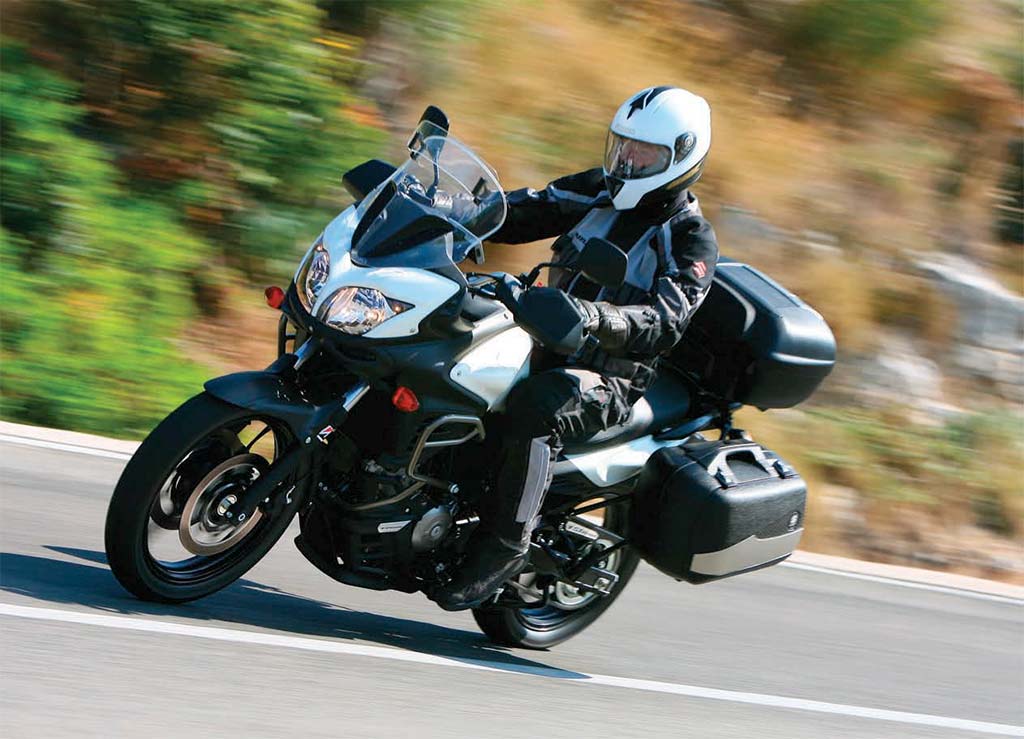 Accessories
Screen: If you find yourself riding this bike like Ted then the performance of the Suzuki screen is fine. Increase the speed, however, and you'd more than likely bene fit from an additional wind detector. As it stands the stock bike comes with an adjustable screen, though very curiously no tool to make the adjustments, and even at the highest setting there's a fair level of wind turbulence for anyone over 6ft. Stock Luggage: The plastic, side-opening panniers that come with the GT version are stamped up as being made by Hepco & Becker, and so presumably are the frames. For what they are I've no complaints, but the width they add to the bike is extreme to the point that the Wee becomes considerably wider than a BMW GSA. Don't even think about filtering on this bike if you purchase the stock luggage
Off­-Road
If you have any serious or semi-serious off­-road ambitions then it's fair to say – and I'm sure Suzuki would echo this – you'd be better o­ looking elsewhere, say, in the direction of the competent Yamaha XT660Z Tenere. With the above in mind, it is possible to battle-proof the V-Strom with bash-plates and the like, and venture o­ the beaten track. I've yet to take the V-Strom on a trail with any venom but I've ridden far less capable bikes than the Wee on technical off­-road routes and would have no qualms about taking on terrain such as the pistes of Morocco, or the gravel trails of Namibia, or the Stella Alpina on this bike. There are, as we speak, many riders undertaking world tours on 650 V-Stroms. Not that you're ever going to ride this bike at an o­-road pace, or in the conditions where it's likely to matter– if you do you've seriously bought the wrong bike or you're a Dakar champ on someone else's Strom – but it's worth pointing out that you can't switch o­ the ABS.
The Range
V-Strom 650 ABS £6,899
V-Strom 650 ABS Tourer £7,398
V-Strom 650 ABS Adventure £7,898
V-Strom 650 ABS Grand Tourer £8,198
Conclusion
With some bikes it's dicult to come to a sharp conclusion, but not so with the V-Strom 650. Put simply, based on my limited use, this is the best mid-range roadgoing adventure-style bike I've checked out. It's comfortable for long days in the saddle, has great mpg efficiency, a good tank range and cruises e­ffortlessly at legal speeds and above. The engine is perky enough for some fun on A and B roads, it carries a pillion and gear better than any other bike in its class, and it looks good. If you're into growing a beard and spending time riding in swamps and jungles, or if you can't live without the ability to blast past traffic in the blink of an eye, there are better bikes out there for you, but if you want a mid-range road-touring adventure bike that'll make your life in the saddle a calm and serene place to be, take a test ride on a Suzuki V-Strom 650.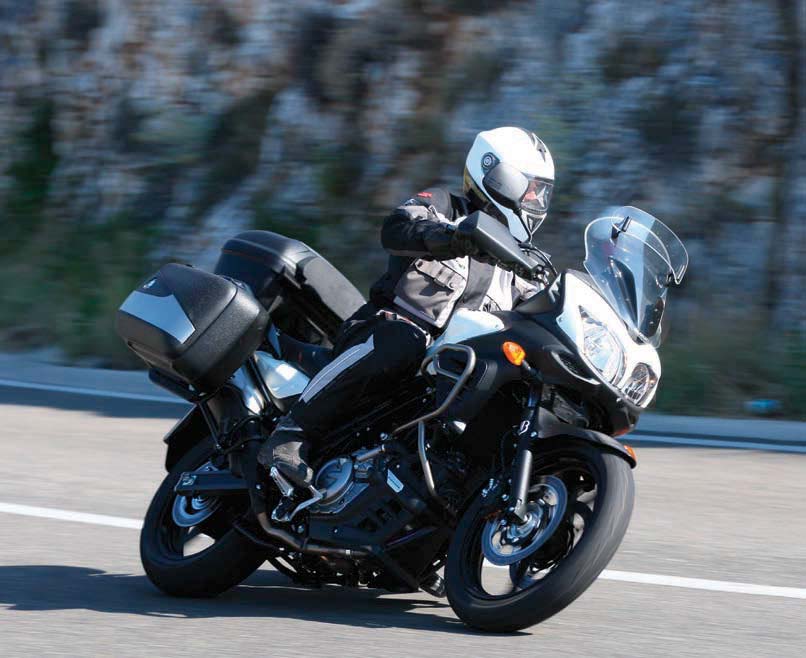 HOW VERSATILE IS THE V-STROM…
AS A COMMUTER?
Economical, comfy, and with a commanding view of the road, there are few better adventure-style commuters on the market. However, a 650 V-Strom fitted with the manufacturer's panniers is wider than a fully loaded GSA, so you'll not be doing much filtering with the standard luggage attached
AS A WEEKEND TOURER?
A weekend away on the 650 V-Strom will be a gentler a­ air where you'll find yourself automatically travelling at a slower, more relaxed pace and enjoying the surroundings more than on a bigger, more powerful machine. More chill less thrill will be perfect for some
AS AN OFF­ROADER?
In its standard form there are far too many exposed parts to contemplate taking the Strom on anything more rugged than a well-manicured lawn. Beefed up with aftermarket protection, forest trails and gentle off roading would be fine, but this is not a machine for serious or even semi-serious o­ -road play
AS A CONTINENTAL ROAD TOURER?
Excellent fuel economy, great comfort and it'll cruise at a relaxed 90mph on the autobahns even when fully loaded. Some will miss the extra punch of a more powerful adventure bike on the Alpine twisties, but then you don't buy a 650 V-Strom for hairpin heroics. The more relaxing nature of the Strom will mean you'll get to see more of your surroundings, though
AS AN RTW OVERLANDER?
I can't think of any reason why I'd not take a 650 V-Strom on a RTW trip with the proviso that I'd be sticking to tarmac or the gentler graded pistes. The excellent fuel economy would be a very welcome feature over such distances
AS A PILLION CARRIER
We've been hugely impressed with the carrying capacity and pillion comfort of the 650 Strom. It's never going to be as impressive as the big 1,000cc-plus beasts, but it does the job very well, albeit at a slower pace