The ABR team reveal their ultimate rides from the past 10 years of Adventure Bike Rider magazine. How many have you ridden?
Combe laval, VERCORS, FRANCE 
Alun Davies, ABR Founder and Publisher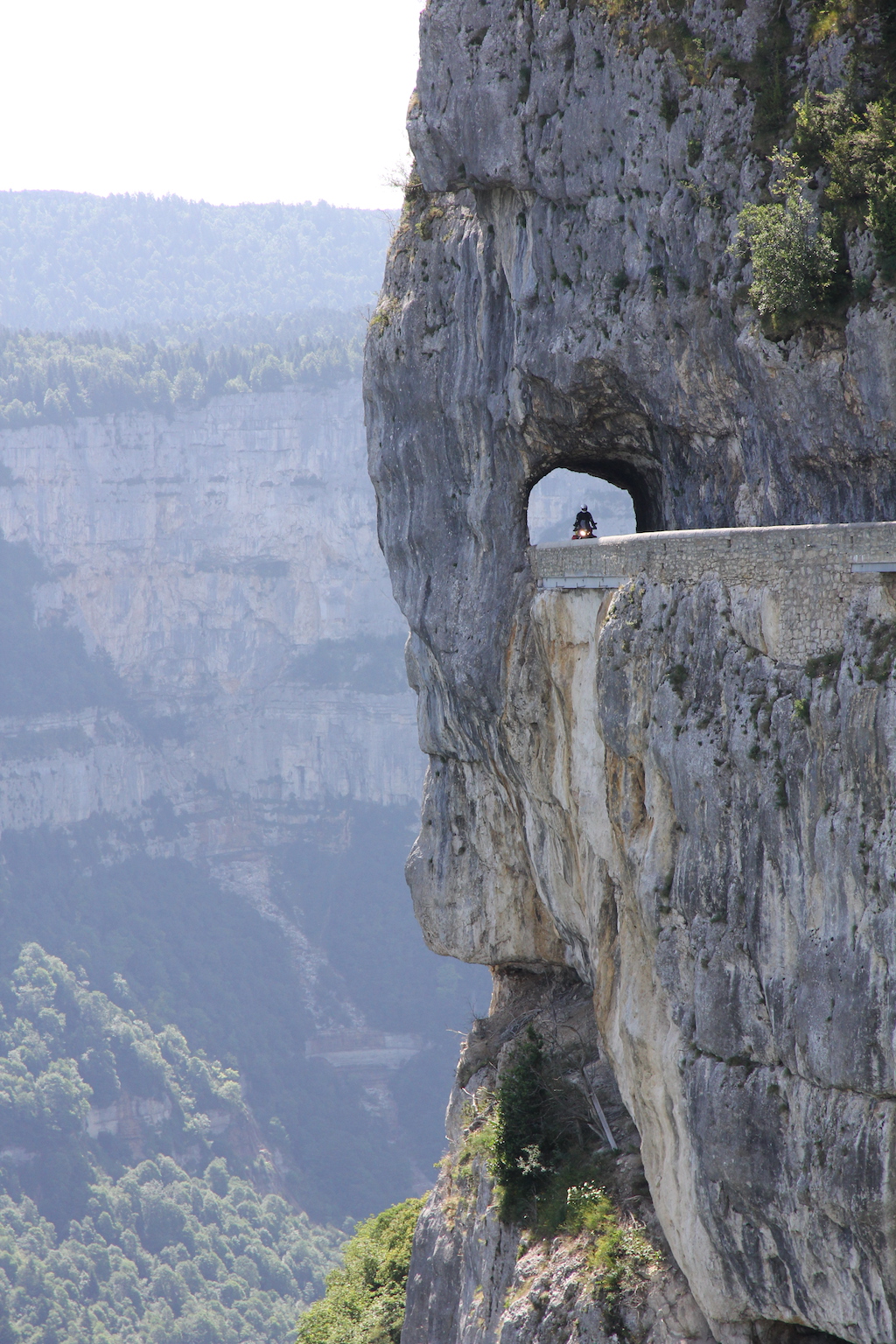 Years ago, when I fancied myself as a mountaineer, I came across a photo of a guy walking on an incredibly exposed Via Ferrata route in the middle of an enormous rock face in the Dolomites, Italy.
The image was so dramatic I just had to go there and walk that ledge. In fact the route was amazing and I ended up climbing every Via Ferrata route in the Dolomites, writing about them in just about every national newspaper in the UK.
Anyway, years ago I came across a photo of a guy riding a pushbike on the incredibly exposed 'Combe Laval' road in the middle of an enormous rock face in the Vercors region of France. There wasn't much information about the place online, so I knew that I had to go there, see it for myself and get the same picture but with a motorcycle instead. Within a month of seeing the photo, I took the shot to the left of Bryn riding through the now famous archway on the Combe Laval.
Just go and ride it, the experience is breathtaking and so is the rest of the Vercors.
Denver to LA, USA 
Bryn Davies, ABR Editor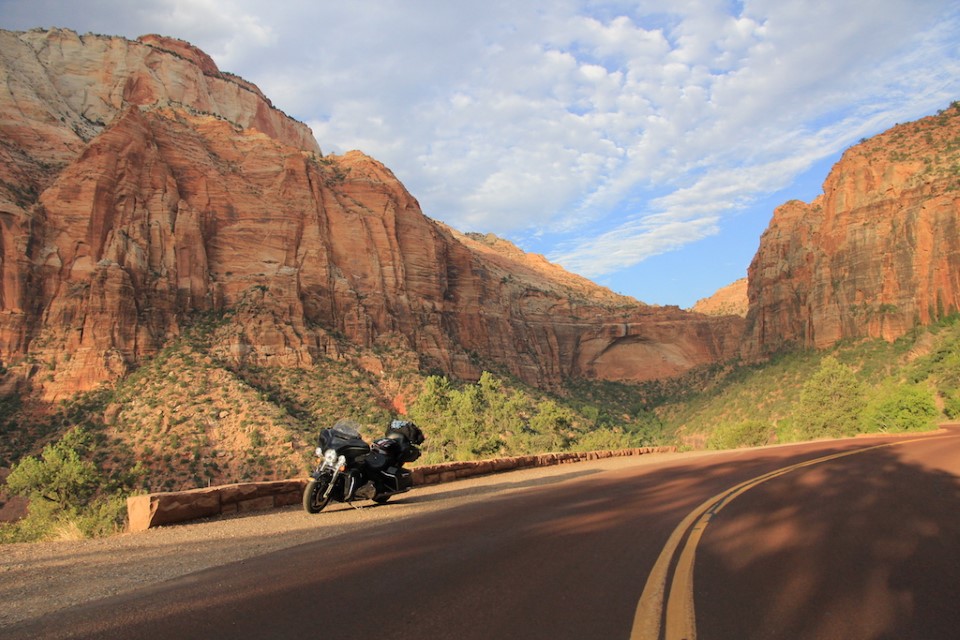 After an incredible eight days of riding the off-road mountain passes of Colorado with John Hax of 106West Adventures, I picked up a Harley- Davidson Ultra Ltd in Denver and pointed my front wheel west. I had no plan and no accommodation booked, the only certainty was that I had to be in LA in four days' time to catch a flight.
For the next four days I shot across the wild and rugged landscapes of Colorado, Utah, Arizona, Nevada and California, eating my weight in breakfast burritos and seeing some of the most visually impressive and emotionally stimulating scenery I've come across. Monument Valley, Bryce Canyon, Death Valley, Yosemite… Each and every place left me in awe.
I met great people, I threw away $100 in the slots in Vegas, and tested myself in the 47.5C heat of Death Valley. I had an unexplained run-in with a non-human spectre in the pitch-black American wilderness (no, really), experienced the kindness of strangers when I was offered a couch to sleep on, a safe place to park my bike, and a crate of beer to drink in Fresno.
There have been more extreme trips I've been on, and there have been more adventurous, but this ride is one that will stay with me for the rest of my life, and I'll always be thankful that a love of biking allowed me to experience it.
B500, Germany 
James Oxley, ABR Assistant Editor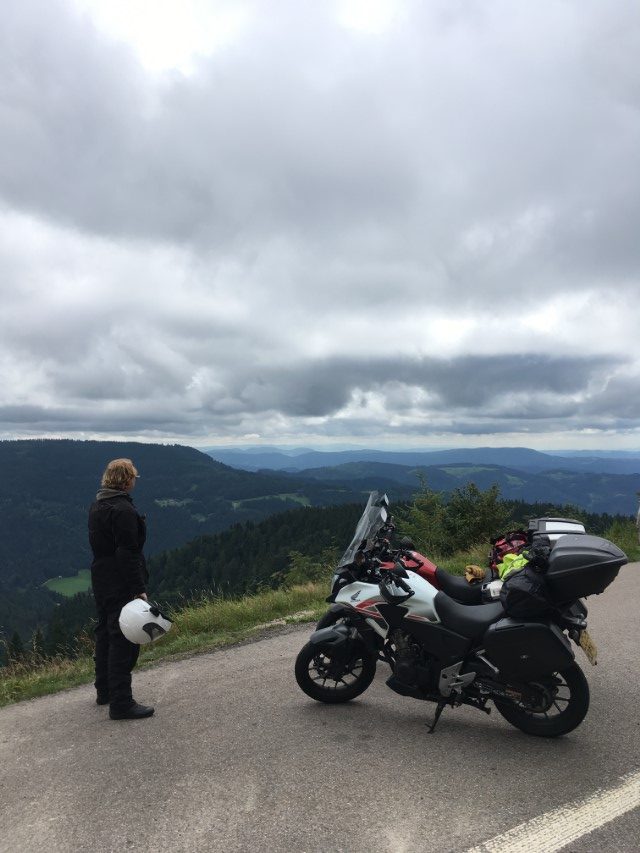 My best mate was having a hard time. He was slap bang in the middle of a messy divorce and it seemed like the world was closing in on him from all sides. Of course, my solution to ease his woes was to take a bike trip.
We set off to the Alps and along the way crossed into Germany to ride the fabled B500 through the Black Forest, and boy am I glad we did. We discovered a sensational road that snaked its way for 40 miles from Baden- Baden in the north to Freudenstadt in the south.
We carved through long, sweeping curves for endless miles, our bikes dancing from left to right, and back again in tandem, while our tyres gorged on the obscene levels of grip offered by the smooth road surface. There is something special about the way the B500 unfurls like a ribbon of silk across the landscape that creates a rhythm to your riding, as we passed through postcard-perfect meadows and pine forest. Riding the B500 still ranks as one of my most enjoyable experiences on a motorcycle.
But best of all, when my mate and I pulled over after an hour of glorious riding, he lifted off his helmet to reveal a beaming smile, the first I'd seen on his face in months. So, while the B500 hadn't fixed his problems, it had certainly provided a welcome respite from them. Motorcycling has a habit of doing that for you.
Connemara National Park, Ireland 
Ollie Rooke, ABR Staff Writer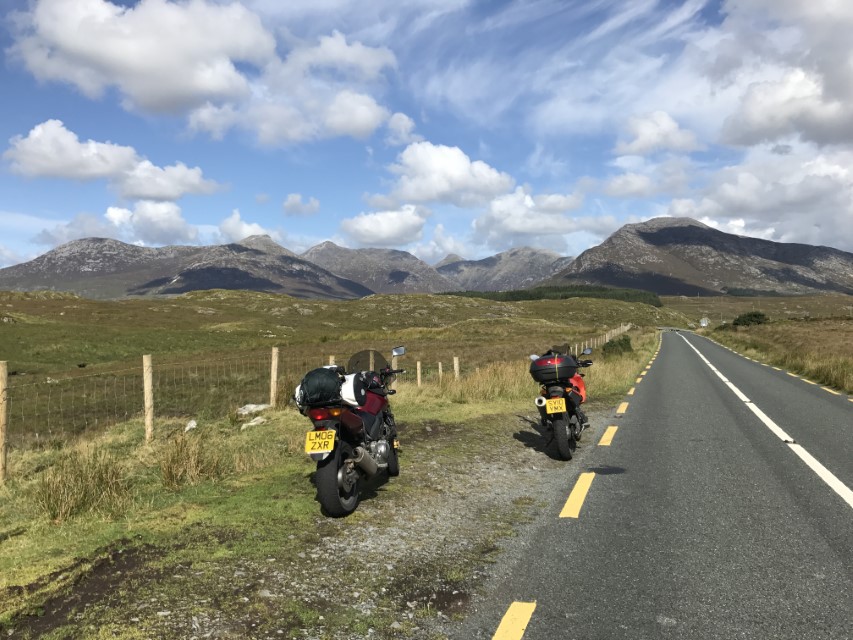 My dad and I ventured into the Connemara National Park on a stretch of the N59 during a father-son bike trip to Ireland. We started in Galway and curled our way west for 89 miles along a glorious stretch of tarmac to Westport. The road features everything a biker could desire including tight bends, long sweeping curves, and easy-going straights that allow you to soak up the vast Irish countryside. 
The joy of riding such a stunning road was multiplied by the fact I was sharing the experience with my Dad. After some tumultuous years that featured me leaving home and my parent's divorce, our two very different worlds were once again joined through a shared passion, in the most breathtaking of surroundings.
 I'm always struck by how many letters and messages we receive from parents and their children who explore the world together by bike, and it's touching to see how many reference ABR as their inspiration for getting into (or back into) the saddle. All I can say is, if you're looking to make memories that last a lifetime, a bike trip is the way to go. I've had some amazing days behind the handlebars since then, but none will beat the memory of sharing that perfect stretch tarmac in one of my favourite countries in the world with my old man. 
Strata Florida, Wales 
Julian Challis, ABR Bike Tester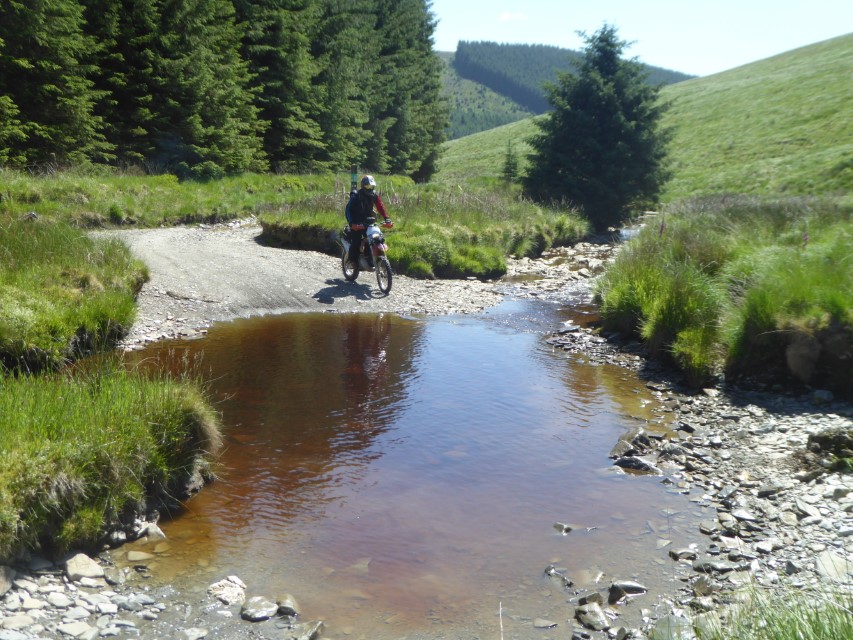 Although I've ridden some incredible roads, from the Ho Chi Min Trail in Laos to the Khardung La Pass in the Indian Himalayas, my favourite road is much closer to home, the Strata Florida in Wales. It is, without doubt, one of the most challenging, wonderful and life-affirming routes I have ever ridden. 
Riding it for the first time, it's hard to imagine many things more intense. The route begins with a fast and undulating track following the Towy Valley, before diving into forestry and emerging into the first of some 20 or so rock-strewn river crossings and enormous puddles.
This drowned-out track runs alongside and through the forest on the way to the Abbey some 10 miles away. On my first time, I saw bikes and riders literally disappearing beneath the water in front and alongside me, but somehow, I managed to stay upright and perhaps more miraculously, emerge with a grin that would barely fit in my helmet. 
Since then I've ridden Strata Florida numerous times in subsequent Welsh Enduros, on trial rides with my mates from the Bristol TRF and more recently on the Welsh section of the Trans European Trail. But nothing can compare to that incredibly first time and I'm convinced that the experience is solely responsible for my love of adventure motorcycling. 
Govedartsi to Sapareva Banya,Bulgaria 
Mike Beddows, ABR green lanes contributor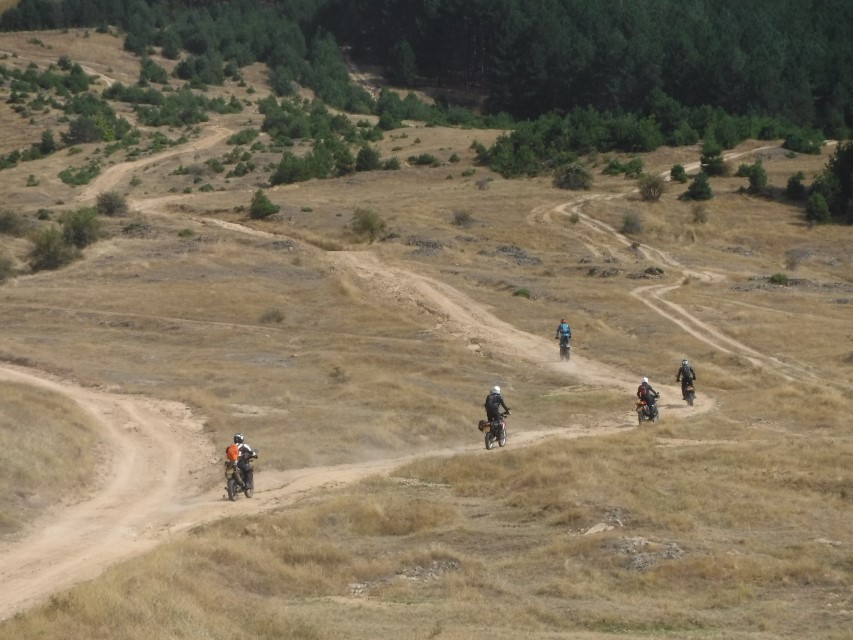 Back in 2016, I was fortunate enough to have my Husqvarna TE449 shipped to Bulgaria. After years of trail riding in the UK on legal routes, it was a culture shock arriving in Bulgaria, because you can literally ride wherever you want to. 
One of the best rides I did was to a village called Govedartsi. A dirt track wound its way along the valley floor in front of us but it was the rest of the valley, including the sides, that were the best riding I have ever done. A river flowed through the valley floor which we forded so many times. We'd take a quick blast up some steep logging tracks and then try to pick the best route back down. There was fast riding across short grassy sections and a few jumps thrown in for good measure. We could make it as hard or easy as we wanted. Fast or slow, it was our choice. 
To top it off, after an hour's ride, we arrived at our destination, the spa town of Sapareva Banya. For a few quid, we had access to the luxury spa with its many hot pools and jacuzzis. It was simply amazing, and to top it off, we had the ride back to look forward to.