After two months of ownership, Bryn Davies takes a look at BMW's big adventure sports bike to see if it's worth the cash
In the last issue of Adventure Bike Rider magazine, my long-term review piece was about me welcoming the BMW S 1000 XR to the family. I took delivery of the bike just before we went to print, so I didn't have too much time to get to grips with the machine or indeed do anything else on it other than ride back and forth to work. 
Fast forward a few months and here we are. The bike's now got over 1,000 miles on the clock and I've had the great pleasure of riding it in a number of scenarios and conditions which the average owner will face on a day-to-day basis. From slow town riding on a commute to work to blasting down the motorway, the only thing I haven't had the pleasure of doing with the XR yet is covering serious miles on a jaunt over to Europe. 

With all that in mind, I decided that, for this issue, I'm going to take a bit of a deeper look into the 2020 BMW S 1000 XR – a bike that's part superbike, part adventure, and part tourer. But keep in mind that I'm referring to the top-spec S 1000 XR TE model… 
When BMW introduced the original S 1000 XR back in 2015, the adventure sports sector was almost exclusively owned by Ducati and its Multistrada. Back then, manufacturers were only just cottoning on to the fact that there was a large chunk of the market who wanted the neck-jarring performance of a sports bike but the comfort and practicality that adventure bikes have become so popular for.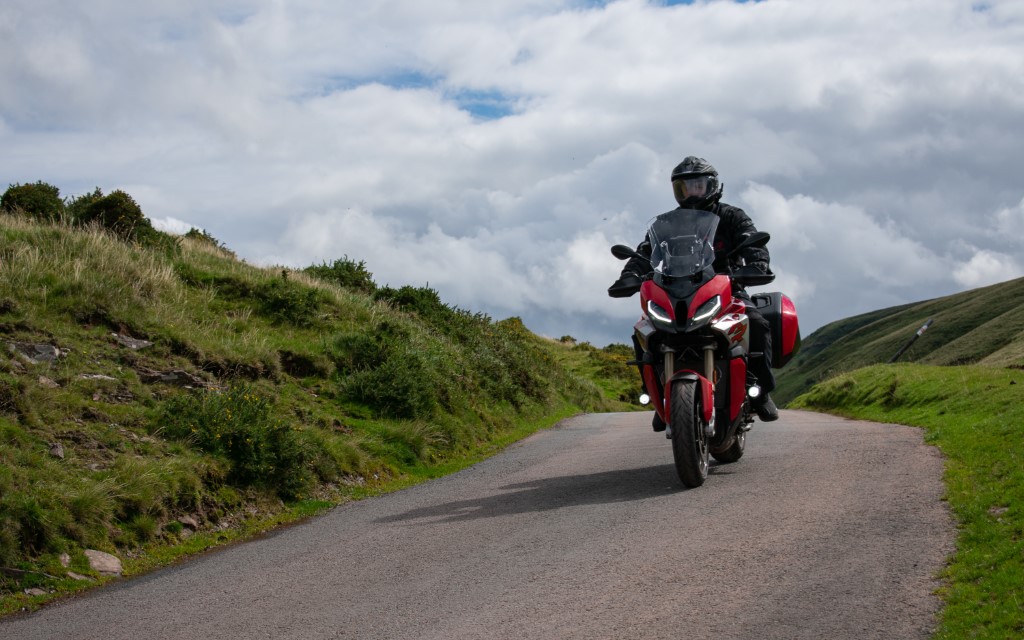 There was an increasing realisation that most adventure riders didn't sleep in ditches and cross the steppes of Mongolia on their weekend rides. Likewise, it was becoming apparent that, despite a desire to look like leather-bound sex gods with knee sliders worn to the bone, the average sports bike rider was part of an ageing demographic which couldn't continue to sustain the chiropractor bills every time they hunched over for a ride. 
With this, it was amazing that it took so long for manufacturers to catch on that combining the best of the 'adventure' and 'sports' world would prove to be a popular decision. In the years after it was launched, the S 1000 XR became BMW's best-selling four-cylinder model in the UK. Likewise, when Yamaha followed suit with its Tracer, that became the best-selling motorcycle in the UK for the first few months of its existence – quite an achievement. The appetite for blistering performance and all-day comfort was clearly there. 
After four years of the S 1000 XR remaining pretty much unchanged, under the glitzy lights of the Milan Motorcycle Show the lads from Bavaria were proudly showcasing a new and updated model for 2020. You'd be forgiven for missing it though. Also revealed at the same time was the smaller, more affordable and brand-new baby brother of the big litre bike, the F 900 XR. If the 1000 was Malcolm Young of AC/DC playing on stage, the 900 was Angus peacocking around in the front, soaking up the limelight. 
The same story was true at Motorcycle Live a month later, though this time, rather than pouring over other journalists' images, I was there staring at the bikes in the flesh. I'd been invited to the BMW stand for breakfast, and despite understandable best efforts to draw my attention to the all-new 900, I just couldn't take my eyes off the 1000.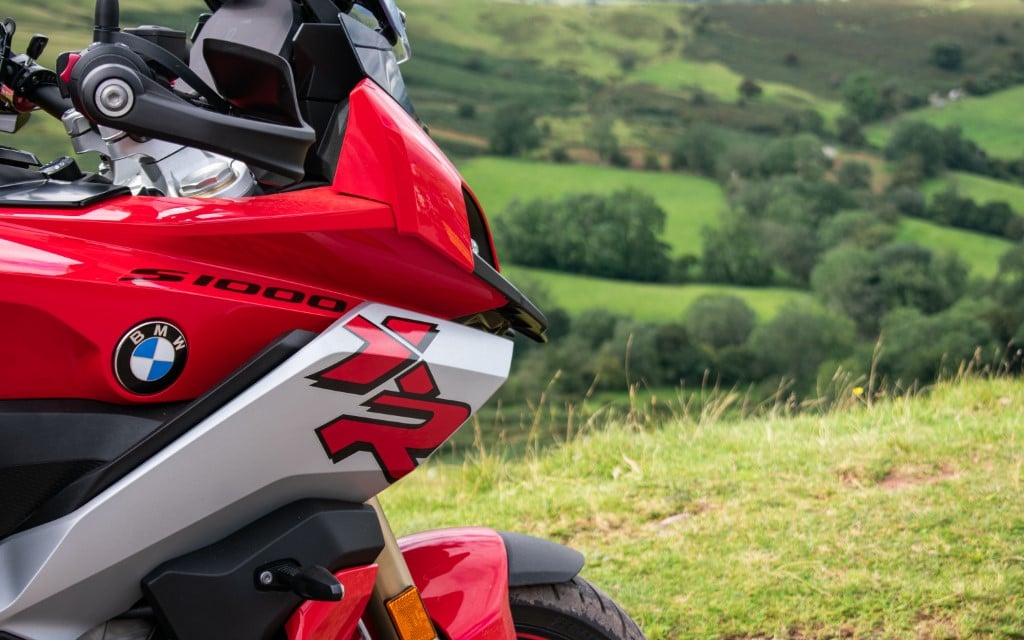 It had been almost five years since I had last ridden the S 1000 XR. That was on a two-week-long trip to the Alps where I discovered the pure unadulterated joy of a sports bike in adventure clothing and, staring at it in Hall 3 of the NEC, my mind was whisked back to memories of that incredible trip. 
There are some bikes that you just can't help but fall in love with. For me, that S 1000 XR was the one. It made me feel like a naughty schoolboy again. It made me feel alive, and it was oh so fun to ride on the mountain passes. It didn't matter that the bike vibrated so viciously at motorway speeds that my wing mirror fell off on a French autoroute, or that I walked into hotel lobbies hobbling around like I'd eaten nothing but vindaloos for a week (the seat lacked cushioning), the bike's intoxicating on-road performance had me hooked. 
The smell of greasy Phil's burger van brought me back into Hall 3 of the NEC with a thud, and I took a closer look at the new-for-2020 S 1000 XR. A lot had been changed for 2020 and it'd be worth you reading BMW's spiel about the bike to find out exactly what (I could spend the rest of this review reeling off the changes). 
Amongst those updates is a newly developed version of the 999cc in-line four-cylinder engine that offers the same power output as the previous model but with more usable power throughout the rev range. The gearing has been adapted, with the fourth, fifth, and sixth gears being longer to help improve fuel economy, and there's a whole host of electronic wizardry that's included as standard now to help you keep such ridiculous amounts of power on the road.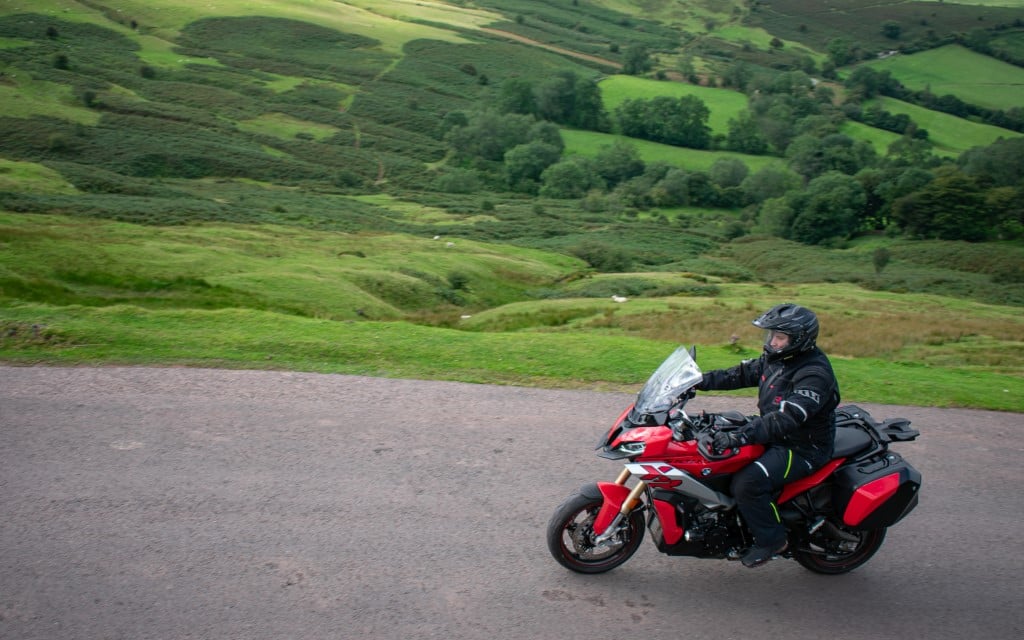 A new frame and the reduction in size of some components has lead to a weight saving of 10kg, and the looks of the bike have been completely modified to create a more modern, sleek appearance. In fact, the new facelift makes last year's model look decidedly dated. To further bring it up to date, the bike also features the same 6.5' TFT dash that you'll find on the new GS range of bikes. 
Before we go on, I just want to touch on the fact that the engine of the S 1000 XR is based on the high-performance engine of BMW's RR, a bike that was originally made to compete in the Superbike World Championships. Amongst other things, that means that it's an incredibly well-refined powerplant that's absolutely bonkers when you let it loose. 
The first rides 
Six months later a van pulled up outside the ABR offices, a BMW logo on its side hinting at what its cargo might be. I'd been waiting for this day for a long, long time. Like most things, delivery of my long-term loan bike for the year had been impacted by the global pandemic.
Despite having the desire to disappear over the Channel for a few weeks and test out the bike on the mountain roads of the Alps, my first ride (and first month or so of rides) were characterised by the back and forth hustle to the office. Thanks to our old pal Corona, the roads were unusually quiet on my commutes and I had them almost to myself. 
When you take the S 1000 XR out for a test ride you'll immediately notice a few things. The first being the seating position. It's definitely more 'upright adventure' than 'leaning forward sports', but you will find yourself with a slight bend at the hips and noticeable weight going through your shoulders and elbows. Initially, it's a comfortable position to be in, so no complaints from me. 
You'll also realise how the scooped seat decides where you'll be sitting. There's no room to slide back or forward. Fortunate then that the position, along with the knee bend, seemed to be just right for my 6'2 frame.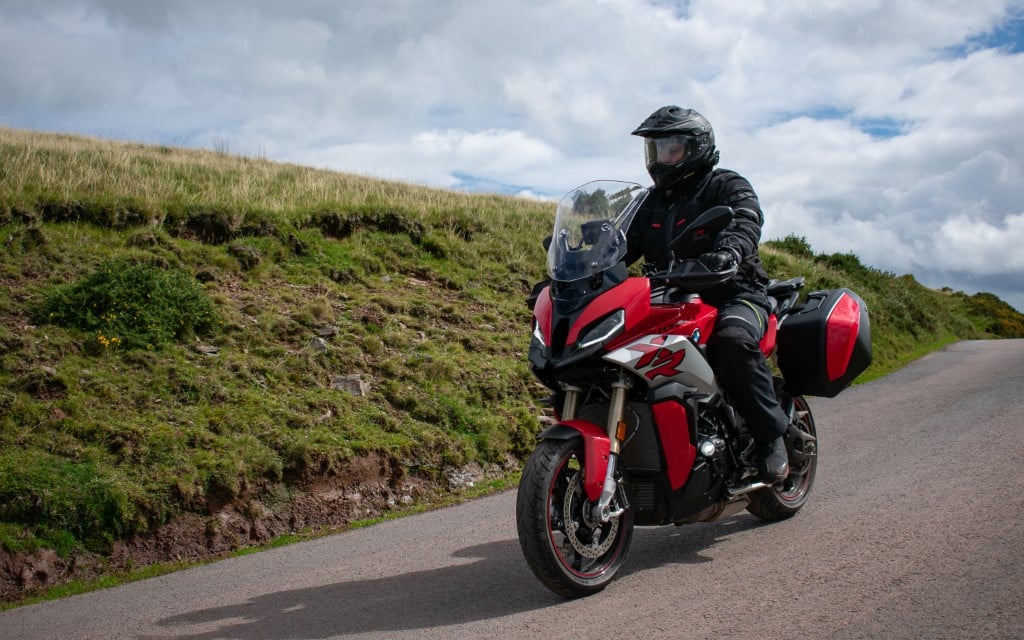 I set the mirrors (which are nice and big) to the right angle and fiddled with the screen (which has two positions: low and high). Here, I discovered that the S 1000 XR has possibly the easiest to adjust screen I've come across on a bike. There's no fiddling, just a simple push or pull and it clunks satisfyingly into position (though the handle is annoyingly on the right-hand side, meaning you have to reach across or use your throttle hand if you want to adjust it in on the fly). 
A quick press of the ignition button (the TE model that I have comes with keyless ignition, a feature which I've come to love on motorcycles) and the TFT dash comes to life. If it looks familiar, it's because it's identical to the one that's found on the 1250 GS, which is a great thing because it's crystal clear and easy to read in all situations. Information is displayed clearly and aesthetically, and the menus are easy to navigate thanks to the excellent Wunderwheel on the left handlebar. For those who don't know, the Wunderwheel is a dial on the left-hand handlebar that's integrated with the dash of the bike. It allows you to navigate through settings and menus without having lift your hand, and it's the gold standard for on-bike menu navigation.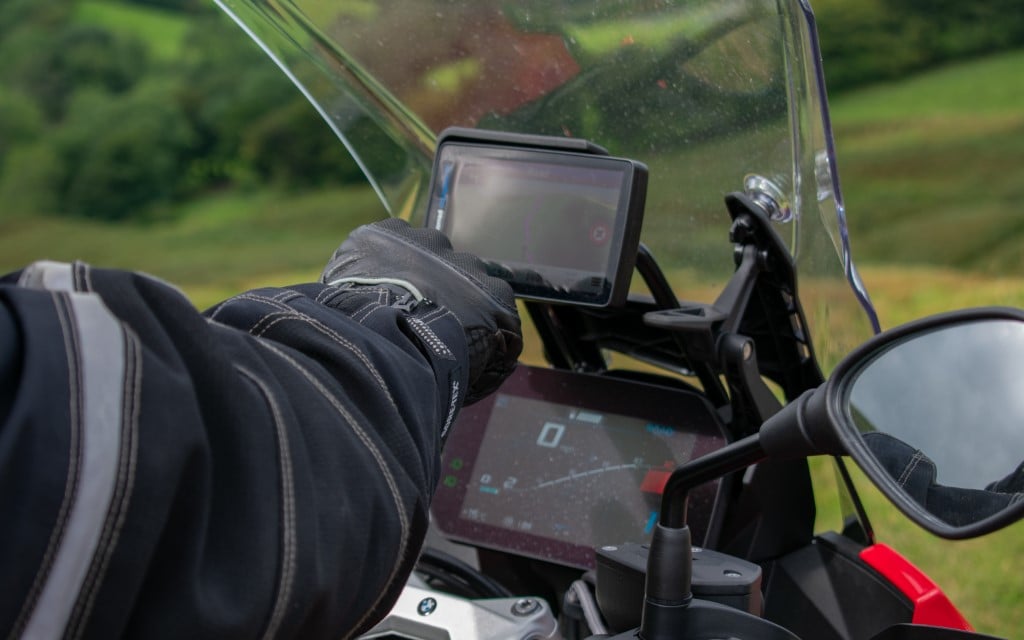 There is one annoyance though, and that's how little information is actually visible on the 'main' dash screen. I like to see how much fuel I have at all times, but I also like to see how many miles I've covered on my trip amongst other tidbits of information. You can only view one bit of this information at a time, which is a niggle I had with the GS as well. 
After familiarising myself with the controls and playing with the various options (it comes with two suspension settings and four riding modes (Road, Rain, Dynamic, and Dynamic Pro. The latter can be customised completely, with the rider choosing how much assistance they want from the computer, including how restrictive they want the wheelie control to be.)), it was time for the main event – turning the bike on and awakening the 999c in-line four. 
I take great pleasure in firing up a bike for the first time and discovering what it feels and sounds like. The S 1000 XR didn't disappoint. Without any effort it roars to life like a lion showing off its brutal power, before settling into a smooth-sounding idle.
I took a brief moment to paddle the bike around and to shift the weight of the machine from left leg to right leg. At 226kg it feels heavy, but the low seat height of 840mm makes it easy to move around and, at 6'2, I can easily put both feet flat on the ground. 
Riding through town, the slow-speed handling and manoeuvrability was surprisingly impressive. The GS is often praised for its slow-speed balance, a trait that's credited to the low-down weight of the boxer engine, but I actually felt more stable at crawling speeds on the XR. is made dawdling through town in stop-start traffic bearable and more enjoyable than I would have thought.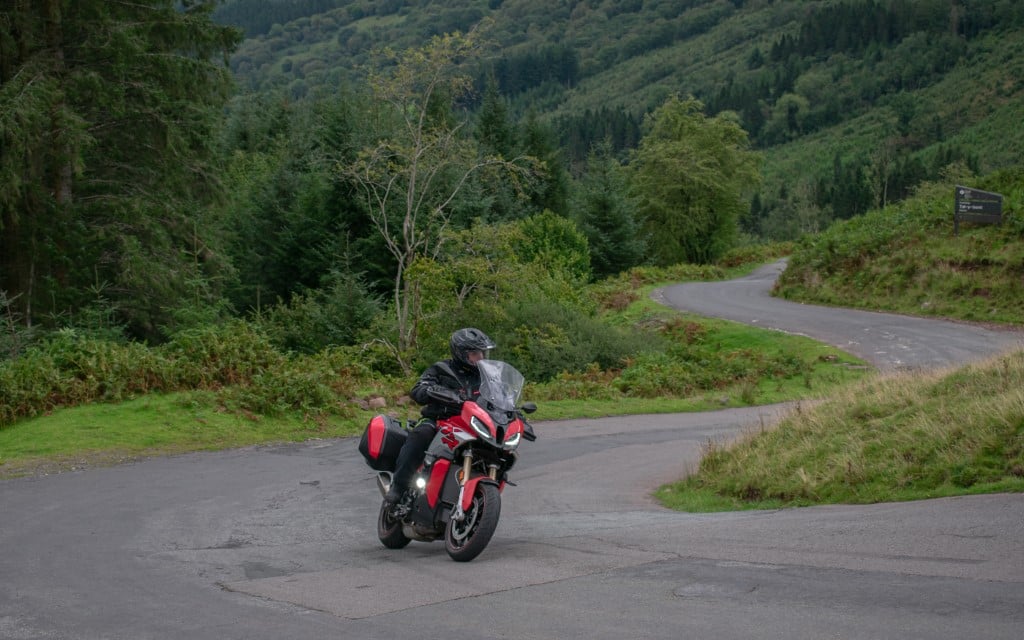 While bumper-to-bumper traffic is easily negotiated, it's when you have an empty road ahead of you that you run into trouble. The XR wants to fly. Riding this beast at 30mph is like telling Usain Bolt he has to jog the 100m rather than sprint it. While there's usable power throughout the rev range, there's no denying that the bike's happiest when it's screaming its tits off. It's here that you realise that you'll have to have the wrist restraint of a celibate monk if you want to keep your license. 
After a few weeks of back and forth to work, I joined James and Ollie on a ride to Wales to take on the 10 highest roads in the country (read about that on page 52). It was the perfect opportunity to test out the long-distance credentials of the bike, including how comfortable it would remain after a long day in the saddle. A 6 am start meant that we were on the road as the sun was rising and before long stopping for coffee and a breakfast bap. 
Onto the motorway
We finished up our coffees, slipped into our gloves and helmets and set off for South Wales. Joining the M5 at Tewksbury I had my first chance to experience the bike's capabilities on the motorway. Blasting down the slip road introduces you to the rest of the motorway users by way of a howl, and there's enough power to slot in between traffic without having to plan your entry too much. 
With the bike in sixth, motorway speeds are smooth and effortless… in fact, the bike just wants to go faster and faster. I whacked the bike in cruise control to eliminate the temptation to keep increasing the speed. 
With my mind free from the battle of wills with my right wrist, I was able to take stock of the bike and how I was feeling. The speedo was showing 70 though it felt like I could have been doing 50. The S 1000 XR's stability and smoothness at speed is impressive. The redesigned fairing also does an exceptionally good job of shielding the rider from buffeting wind, while the screen is surprisingly effective at its job, directing oncoming air up and over my helmet (I'm 6'2).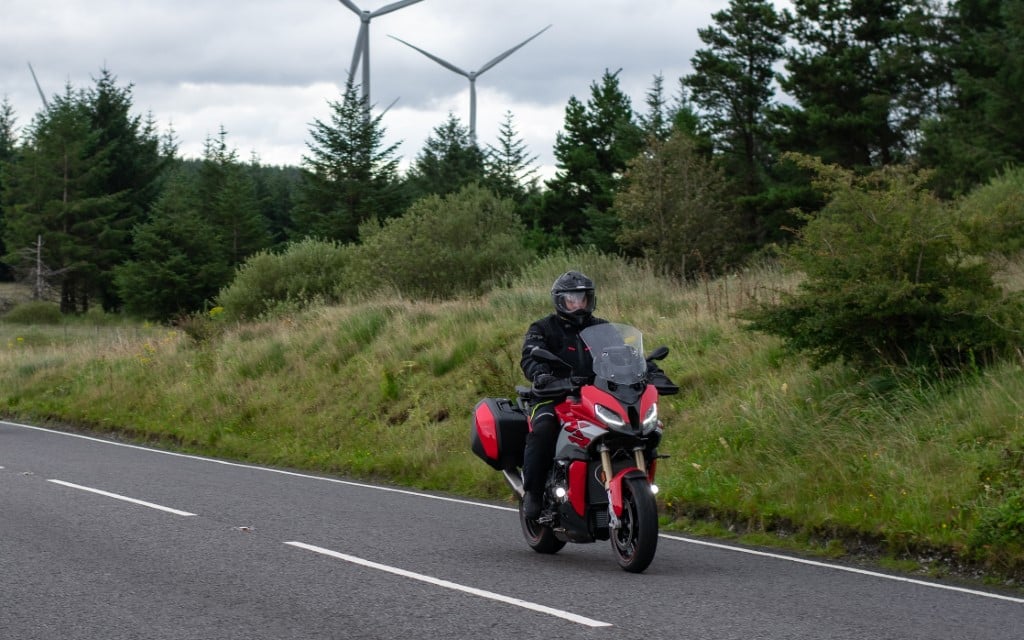 The seating position remained comfortable and all in all, I was in a happy, content place. What was slightly concerning though was that, after about 15 minutes of riding, I had already gone down a blip of fuel. BMW reckons that by lengthening the fourth, fifth, and sixth gear they've managed to improve fuel economy, but the reality is you'll get up to 200 miles a tank. Looking at the bike's computer now, I'm averaging 37mpg – a figure that I'd expect to get from an SUV, not a motorcycle. Of course, I haven't been riding with fuel economy at the front of my mind, it's very hard to when your bike just wants to go, go, go.
Within two hours we'd reached the mountain roads of South Wales and the bike's mannerisms flicked from poised road tourer to psychotic superbike in an instant. For such a large machine, the S 1000 XR is remarkably easy to flick around. Reading the road ahead and working with the bike to dive into bends before grabbing a handful of throttle and shooting out the other side provides a hit that's as potent and addictive as any drug around. This bike makes you want to do bad things. 
In many ways, I was relieved when we swapped the sweeping mountain passes for the tight, nadgery single-track lanes. Here, it was impossible for me to ride like a hooligan and so I pottered around blind bends and over pot-holed roads. The S 1000 XR's electronic suspension offers two settings; Road and Dynamic. On both, you'll find the ride on the firm side if you're comparing it to an adventure bike. On well-groomed roads, it's excellent and keeps the bike in shape when you're gunning it, but poorly made roads will shake your bones. The XR isn't designed to be taken on the routes less travelled. 
After 500-ish miles, our wheels were pointing towards home… and I must admit, I was thankful for it. My arse was getting sore and the slight forward bend in the seating position meant that my back was starting to ache. I've been in this position before with the old XR. The first few long days are uncomfortable. But after you've put in the time, your body breaks into the mould of the bike and the second half of a week-long tour is as comfortable as any. 
Conclusion 
As we cut through the sunset on our way back to Stratford upon Avon, I started to sum up my thoughts about the new S 1000 XR. Do I love the bike? Hell yes. Would I buy one if I had the cash? You betcha! Do I think you should buy one? Well, it depends who you are. 
If you have no interest in off-road riding and you're keen to experience the thrilling performance of a sports bike with the comfort and road presence of an adventure bike, there are few motorcycles in the same league as the S 1000 XR. It's such an exciting machine to ride and every time I've thrown my leg over it, the miles that follow are both fun and life-affirming. As I sit here typing this review, there's nothing I want to do more than fill up the panniers and head off towards the Alps.
 On the other hand, if you regularly ride two up and you value comfort over performance, and if you like to dabble in green laning, the S 1000 XR isn't the bike for you. But even then, take one for a test ride – it'll leave you with a smile on your face.
ABR Verdict
As a commuter
It depends entirely on what your commute is like. If you're filtering through city traffic and restrained by a constant 30mph speed limit, this isn't the bike you'll want to be riding. If you have the fortune of great roads to ride on your way to work, each journey will be a delight. Frugality isn't the order of the day here either (I returned under 40mpg average consumption), so if you're concerned about how much time you're spending at your local garage forecourt look elsewhere. 
As a weekend tourer 
Oh yes. There would be few things more pleasurable than leaving work on a Friday on an S 1000 XR with its panniers loaded up and nothing but two days of glorious riding ahead of you. The bike will eat up the motorway miles that you'll inevitably have to endure (though your arse might not), and once you get to the fun roads you'll be in your element. 
As an off-roader 
I'm sure you could take the S 1000 XR down the gravel forestry tracks like the Kielder Forest Drive… But why the hell would you? This isn't an off-road bike, nor does it claim to be, and I doubt anyone will be considering it with those uses in mind. 
As a continental road tourer 
This is a toughie. My heart says absolutely! My head says, 'hold on a second…'. You see, this bike would be an absolute dream to ride on the mountain passes of the Alps, it's just the getting there that would be a pain. There are other bikes that are more comfortable in the saddle, and the short fuel range means you'll be stopping every two hours for fuel… Then again, European services tend to have good coffee. 
As an RTW overlander 
Of course, there's no reason why you couldn't ride around the world on the BMW S 1000 XR if you stuck to the tarmac. You'd have a blast doing it, but that fuel range would be a pain in the arse, likewise the saddle and the medley of electronics.
As a pillion carrier 
If your bike is a 'we' bike rather than a 'me' bike, your pillion isn't going to be too pleased with you. The S 1000 XR will hold a passenger, but there are far more comfortable and secure feeling perches to sit upon (like a GS).