Julian Challis travels deep into the jungles of Cambodia for 10 days of motorcycling mayhem, but will he emerge from the toughest ride of his life unscathed?
Boy, that was intense. We've just completed nearly 20 miles of the tightest, gnarliest, and most challenging trails that any of us have ever ridden. We've ducked underneath hanging vines, wrestled our bikes over fallen logs, climbed rock-strewn gullies, splashed through jungle rivers, and dodged hundreds of bamboo spears that line the track.
We've broken gear levers, suffered punctures, and even holed a fuel tank on a frantic yet life-affirming traverse along the infamous Tiger Trail. When we finally emerge into a clearing at the end of the trail, we're dripping with sweat and covered in dust, but the grins on all our faces cannot be hidden. This is the type of adventure we came to Cambodia for and we're loving it. 
I'd last ridden in Cambodia back in 2016, teaming up with the tour company Ride Expeditions for a 13-day rambling adventure that took me from the bustling capital of Phnom Penh, all the way round to the party town of Siem Reap. Now I was back to ride a similarly sinuous route, this time in the west of this incredibly beautiful country.
After 14 hours of travel trying not to worry about coronavirus, I eventually touch down in Siem Reap's tiny airport. Fellow rider Patrik from Sweden joins me, and we set off into the bustling streets, heading for our hotel. The rest of our riding group have been in the city for a day or so already, and from the look of some of them, have found the infamous Pub Street on a number of occasions. 
The main party is a group of lads from New Zealand who have known each other since primary school. There's Dan, accompanied by Jack, Luke, Darren, Mike, and four brothers: twins Gered and Dayle, along with Mitch and the youngest Jayden. Bringing up the rear, metaphorically and, as it will later transpire literally, is Pete who's come all the way from Chicago. Oh, and Ian the tour company's video guy is joining us too.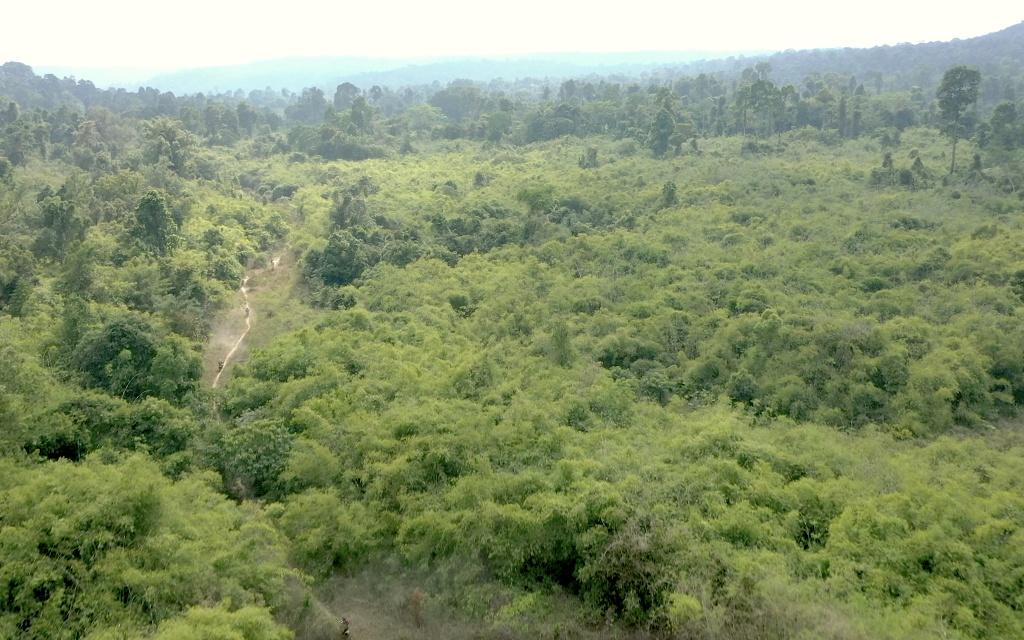 A bloody history 
We sling our bags into our hotel rooms and then pile into four tuk-tuks to see the world-famous temples of Angkor Wat. Our official visitor guide isn't the best, immediately informing us that he'd phoned in sick with a hangover but nobody was available to cover his shift. But Angkor Wat more than makes up for it.
The enormous and intricately carved temple complex soars towards the sky and the gods that they celebrate. rough somewhat stilted English, our slowly improving guide relays the long and often horrific history of the sites we visit. Cambodia has been bullied, pillaged and brutalised by every one of its neighbours over its turbulent history. And if it wasn't the neighbours, it was colonial invaders or, in more recent times, their own people that have done the damage. It's a wonder that anything has survived here at all. 
Bright and early the next morning, we head down to the bikes which are sitting resplendent outside the hotel. The base bikes on the tour are Kawasaki KLX 300s, although some of the group have upgraded to a selection of Yamaha WR250Fs and WR450Fs. I've got a WR250F and I could not be happier.
Once we're given a safety recap and introduced to the team of sweeper riders, mechanics, and our legendary run leader and Cambodia Rally hero Vut, we are swiftly out on the roads. Just 10 minutes into the trip, Vut dives off to the left to pick up the first trail, a beautiful and sweeping sandy track that cuts through a series of tiny villages surrounding the city.
Half an hour later we call in at a Buddhist temple for a blessing from the monks who splash us with holy water and give us all a little red cotton wristband to bring us luck on the journey. And it's not a moment too soon for Dayle, as mere minutes after leaving the temple he nearly takes an early bath in our first water crossing.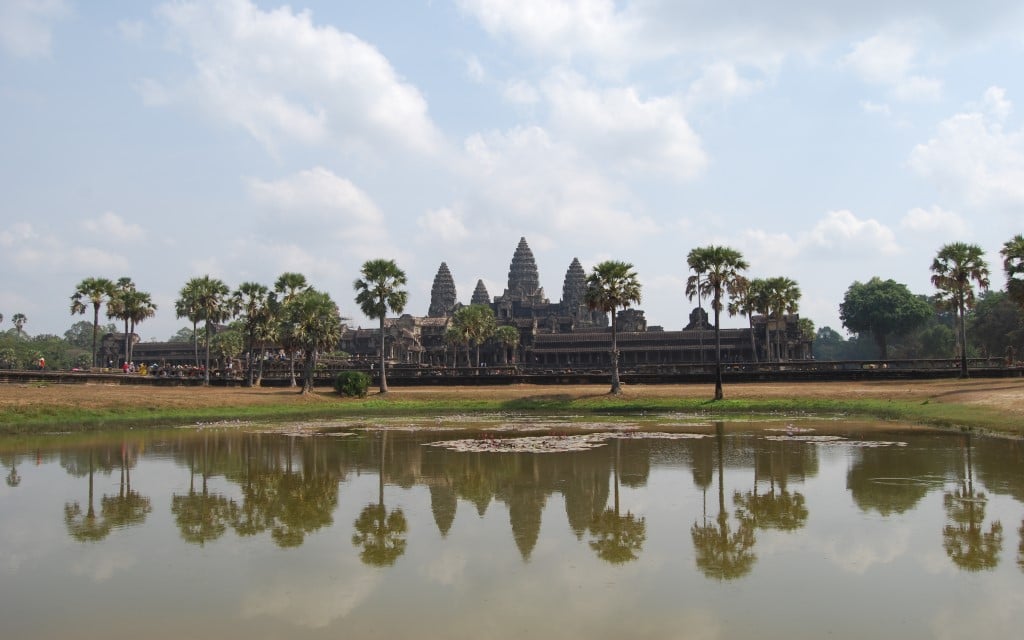 Barbecued rat 
After lunch, we pick up a long straight trail that slices through arable land and it's a flat-out blast. The track has enough potholes and unexpected dips to require your attention but getting it right and pulling back to wheelie through the obstacles at 60 mph feels so good. We then take a path across fields that are still burning as farmers clear stubble. The heat is intense and it's good to get through and pick up a winding road that leads us to a large village and a drink stop.
There are also a selection of stalls selling what looks like the buffet from hell. We all try a bit of the fare on offer and can conclude that barbecued rat is pretty tough and awful, snake is even worse, and deep-fried spicy crickets are surprisingly good if a bit crunchy. We didn't touch the fermented duck foetus. Dubiously refreshed, we continue with a mixture of trails and roads to reach Battambang and our first stopover in a riverside hotel, where showers, a sumptuous meal and clean sheets are waiting. What a great first day. 
The following morning, our first stop is a visit to the truly horrific Killing Caves, an underground complex within an enormous rock outcrop. During its brutal rule that began in the late '70s, the Khmer Rouge slaughtered hundreds of its fellow citizens here, throwing the bodies of men, women and children into the caverns below.
It's a chilling reminder of the awful history of this country. Back to the bikes and we drop back down to the flat plains and onto a series of fast, wide dusty trails, so we need to keep spread out to actually see what we're riding on. A bit later, we have to negotiate a worryingly rickety rope bridge, a process made trickier when we meet a guy and his wife coming the other way on a heavily loaded scooter. Thankfully, we make it over unscathed and follow a lovely section of winding single track that slices through the woods for mile after mile.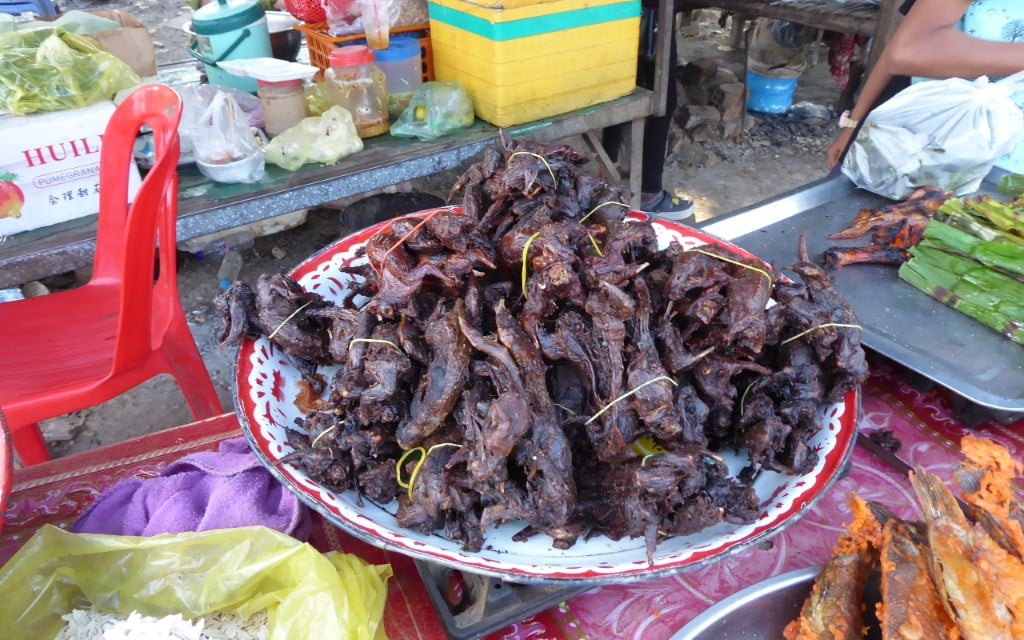 A scary ferry crossing 
After a lunch stop to fill up and try to cool down in the 32C heat, we leave the hills for a long and fast dirt trail heading south. I'm out front with Vut and we ride alongside each other for a glorious 12 miles of flat out dirt riding heaven. We later arrive dusty but happy at our massive guest house complex around 4 pm and the support truck is waiting with cold beers ready for us. After showers and a change of clothes, we wander into the tiny town for Nom Pows, a type of steamed dumpling, and then back for a barbecue and boules. 
The following morning, we embark on a massive 25-mile dirt road blast to blow away the cobwebs and take us to the Ossam region. We refuel at a tiny roadside stall, a young girl decanting fuel from a massive container into an impossibly small watering can, while we seek out the ice-cold espressos and Cokes in the cooler.
We then face the task of making a 'ferry' crossing across a lake. I say ferry, but that may be somewhat over-egging the seemingly random selection of planks and wood that has been lashed to the top of a couple of canoes and then fitted with an outboard motor. Riding onto the craft is perhaps the scariest bit as you have to ignore the huge potential for disaster, but once loaded up, it is surprisingly stable as the smiling boatman chugs us over to the other side of the lake. Riding off the ferry, well, that's almost as worrying as getting on.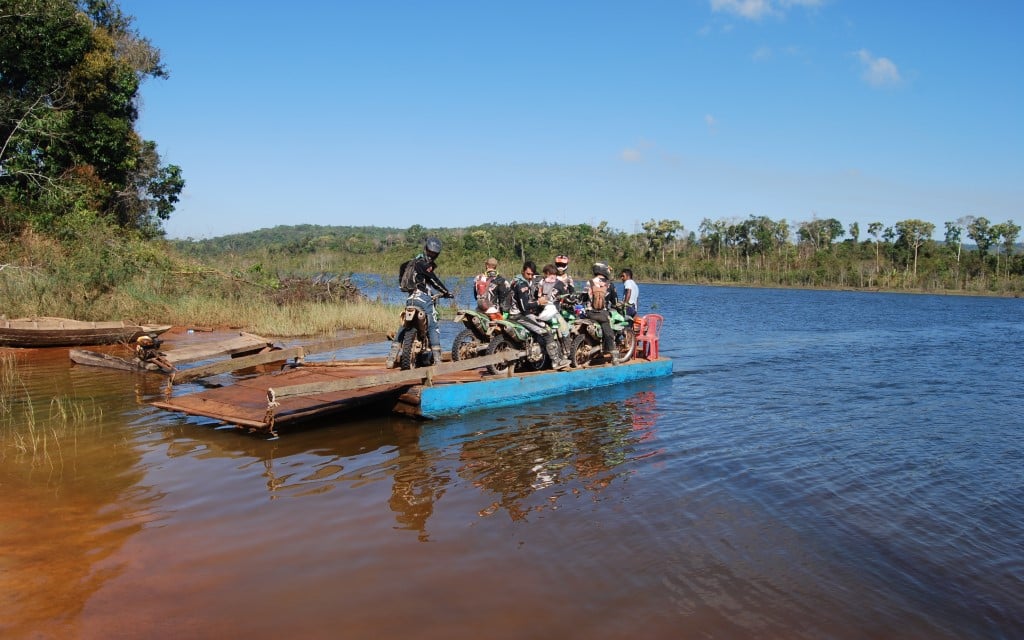 The Tiger Trail 
Once on the other side in two boatloads, it's a brief sandy climb away from the river and onto a forest track. An hour or so later we pick up the infamous Tiger Trail, an 18-mile narrow and sinuous route that was never really intended for motorcycles and at times this is pretty damn obvious.
We muscle the bikes left and right through undergrowth, forest streams, and up steep, rocky climbs deep in the jungle. To add to the difficulty, the trail is often lined with sharp bamboo stems where locals have cut through them with machetes, while overhead vines loop over the trail at the perfect height to catch our visors and drag us off in a classic clothesline move.
It's tough riding, especially for Luke whose unscheduled foray off the trail holes his fuel tank and drenches his crotch in unleaded. When some three hours later we finally emerge from the trees, the sense of achievement is delicious, as is the meal at the surprisingly well-stocked café we reach 10 minutes later. 
With lunch eaten, we head off and I become temporary sweeper rider and fixer, a duty that I'm immediately called on as Jack's throttle cable snaps. As we're in spitting distance of our evening stop at Koh Kong, he's good enough to improvise by pulling the bare cable as he rides. We arrive at the riverside hotel half an hour later, and with a free day tomorrow, we start on what turns out to be a fairly alcohol-fuelled evening.
Day six dawns and we head south for an hour on a series of blacktop and dirt roads. We hang a right in a village where alongside the road is a middle-aged man singing awful karaoke through a massive sound system, his near deafened children sitting obediently next to him looking suitably embarrassed.
The loud noise has clearly interfered with our video guy Ian's balance as on the simple water crossing that follows he falls in totally immersing himself, the bike and his camera bag. Luckily the bag protects the tech but we have to stop at a handy local mechanic to change the oil and dry out the electrics while Ian sits steaming gently in the morning sun. 
With the bike back to health, we're off again and this time it's the Smugglers Trail, although quite what you could smuggle down this incredibly tight and twisty route is not clear. Ian is clearly getting tired as first he falls on a rocky descent and then he whisky throttles into a ditch, holing his radiator hose and smacking himself into the ground. I manage to repair the hose and refill the rad with my camelback before the mechanics arrive and we press on to a river crossing.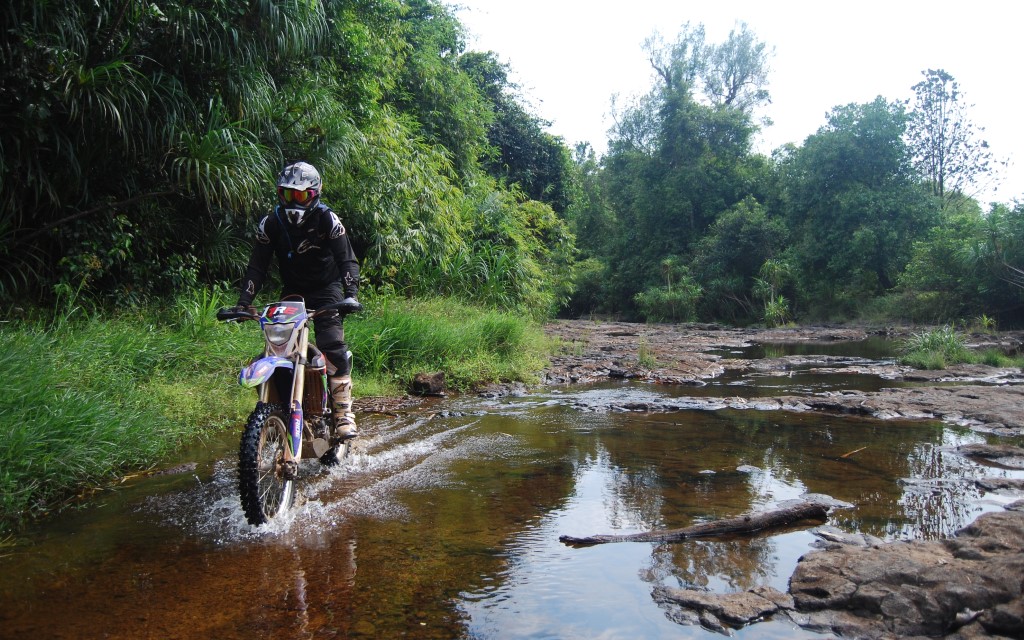 Time to relax 
Toby points out the best way through the slippery rocks which I stupidly believe and go first, slithering off the bike and into the water like a pro. Half an hour later we reach our wonderful eco lodges in Chi Phat, and after dumping kit and donning shorts and flip flops, we head down to the river for a swim where Vut and the team have been busy constructing a zip line for motorcycles for a quick and a rather heart-in-mouth crossing.
While not necessary at this time of year, tours later in the year often face deep river crossings, so Toby is keen to try out the hardware and technique to get both riders and bikes across without getting wet. However, before we can fully test it, a tropical storm starts, the heavy rain lashing down onto the roofs of our huts in the fading light.
The next morning, after an hour or so of fiddling, the zip wire eventually works, propelling the fearless Dan and his bike across the river while the rest of us ride through like the locals. Pete has rejoined the group after a day off, and with the trails beautifully damp from last night's rain, we're ready for action. Of course, the rain has also swelled the rivers and the crossings get very tricky as we negotiate water lapping well over the wheels with varying degrees of success. 
OK, so Ian and Pete fell in, but at least the water was warm. Some two hours later we finally emerge from the jungle and spend the rest of the day riding a superb selection of dirt trails and twisting tarmac roads, scaping footpegs as we go. Our wild campsite for the night is perched at the top of an enormous cliff. We're above the cloud line and the view is absolutely stunning. As the sun fades, we enjoy a chilled-out evening of barbecued food and beers around the campfire before we turn in for the night. 
Puppy sushi 
I get up early the following morning to watch the sunrise from the edge of the cliff, while below me the jungle resounds with the sound of tropical birds and tree frogs. It's a magical moment. We soon leave camp and wind our way out of the forest along narrow tracks and over some alarmingly sketchy wooden bridges.
The track turns to road and eventually leads us down into the bustling town of Trayueng where we refuel before riding a track with plenty of water splashes, during which Dan rather unsportingly soaks me with a deluge of brown fluid. That afternoon we snake across the flat landscape towards Kampot. There are plenty of hazards to negotiate in the many villages we pass through, but the heart-stopper is when two tiny puppies tumble out into our path. I'm convinced that Jack's Kawasaki is going to make them into instant dog sushi.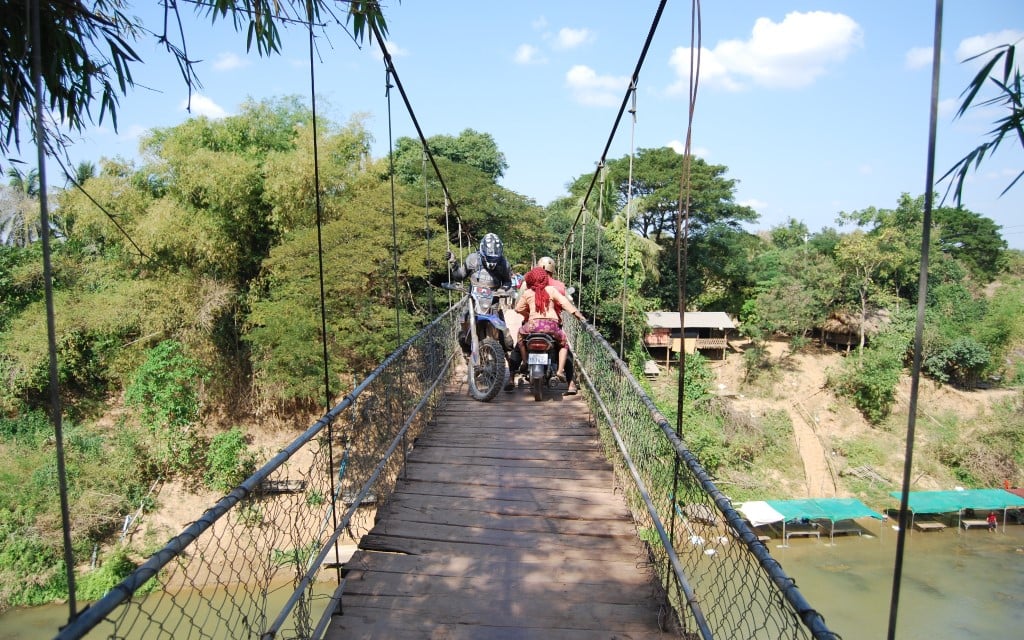 Puppies avoided, we eventually reach Kampot around 4 pm. It's a big riverside town popular with tourists and backpackers with a plentiful supply of cool bars and shops. Sunday starts with Ian and I taking the bikes into town for some delicious banana pancakes and great coffee, and once we catch up with the other guys, we take a joyfully winding road up to the top of the Preah Monivong Bokor Nature Reserve.
A few hours later, we emerge onto the road and follow it down to the coastal town of Kep, home to the famous Crab Market. It's an assault on the senses, but with dubious hygiene standards in this chaotic mess of vendors, I play it safe with a couple of sarongs for my daughters and a Cornetto for myself. 
We leave the market and head for the jetty a bit further down the coast where we leave the bikes for a boat ride into the Gulf of Thailand. We're heading for Rabbit Island, the tropical paradise where we will spend our penultimate night. Despite a complete lack of bunnies, it's a truly stunning place with a narrow ribbon of beach bars and cabins sitting on the edge of the soft white sand and the unfeasibly warm water. We spend the afternoon swimming and chilling before enjoying a beach barbecue as the sun slips toward the distant horizon. It doesn't get much better than this. 
Somewhat sadly, we wake up to our last day of the trip and, once we've taken the ferry back to the mainland, we start our route towards Siem Reap. However, Vut still has a few surprises in store. We peel off the highway and, after some sweeping dirt tracks, he leads us onto a sensational 12-mile section of sandy trails through tunnels of trees where riding flat out is simply the only option.
When we eventually emerge into open land, there are massive grins all round, but all too soon, we need to head towards our final destination and we somewhat reluctantly make our way to Phnom Penh and Ride Expeditions' Cambodian HQ. When the bikes are finally silenced, it's high fives and beers all round. It has been an astounding trip on some of the best and most challenging trails I've ever ridden. The company was great, the riding wonderful, and I wouldn't have missed it for the world. Cambodia rocks!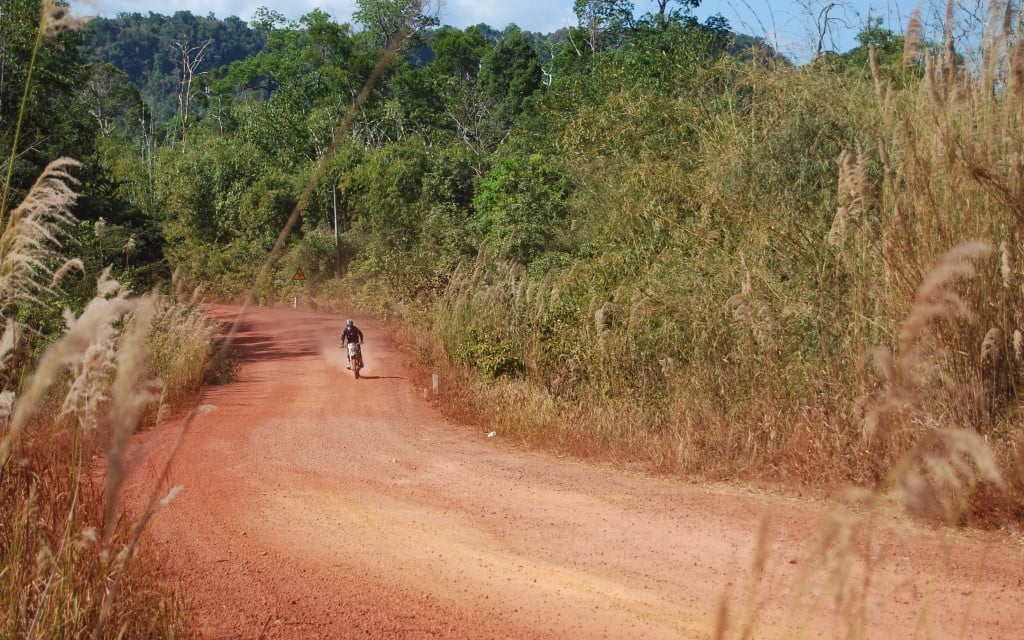 Want to ride Cambodia?
I flew with Thai Airways from London Heathrow to Bangkok, and then on the short hop to Siem Reap. Although costs may have changed considerably since February 2020 when this trip took place, flights were readily available at between £500 and £600 depending on connections. 
Local currency is Cambodian riels with an exchange rate of around 5,300 riels to the pound. As with most places in Asia, US dollars are welcome almost everywhere, so it's always sensible to take plenty of dollars in small denominations with you. Cash machines are common in the bigger cities but on this type of trip you won't find one in the jungle. 
Similarly, while English is spoken in the larger places, you will have difficulties in the more remote areas. Luckily Ride Expeditions trips are largely inclusive of most costs, so you won't need much cash, and its staff and English-speaking Cambodian guides and mechanics sort everything out for you. Check out the tours at www.rideexpeditions.com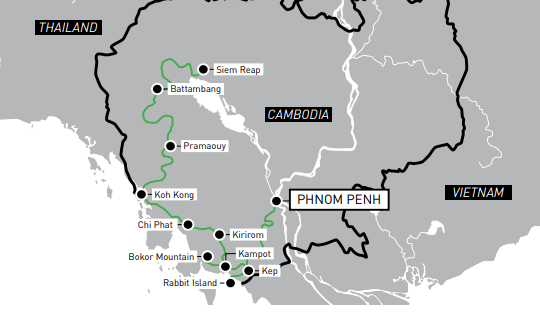 The Bike
I was riding a Yamaha WRF250 which proved the perfect bike for the riding and terrain in Cambodia. The little WR had always been a solid performer on the trails but the upgrade in 2012 took it to the next level, with Yamaha using not only the sublime aluminium perimeter frame lifted straight out of their championship-winning motocross bikes, but also used the same truly exceptional reverse-angled DOHC motor, with only a few minor tweaks to make it enduro friendly. 
The result is just what off-road riders had wanted, a competent and enjoyable machine that was fast enough to compete in top-class competition, but still flexible enough to ride trails all day long. The handling is precise and effortless, the suspension on the firm side of plush, and that motor is one of the best you'll find. 
Although many road riders coming into off-road riding will think they need to be on a 450, on the trails, the 250 is perhaps the ideal balance of power, weight and handling. If you can ride this bike without smiling, there's something wrong with you.