Ollie Rooke discovers the secret to achieving a cool, dry backside on a motorcycle during a visit to cool covers headquarters.
For John Small, founder of motorcycle accessories company Cool Covers, fiddling around with an old sewing machine wasn't quite what he'd expected from the adventure biking lifestyle. As a GS Trophy finalist and a successful adventure tour operator, he suddenly found himself sat in his garage at home getting closely acquainted with the art of stitching as he made his first batch of Cool Covers in 2018. 
He laughs as he tells the story: "I was self-taught as I looked at how to strip the needles and clean it all. Luckily, I don't mind getting stuck in, but I've got these big hands and I was fiddling around with these little tiny screws." 
Despite the challenges, it's safe to say John learnt quickly, and Cool Covers went from small beginnings to a successful brand with a dedicated headquarters in Ledbury, Herefordshire. But what exactly is a Cool Cover? The concept is simple enough. It's a mesh seat cover that slips over a stock motorcycle seat and allows airflow to keep your backside cool when the temperature rises. It also allows rainwater to drain away, keeping your bum dry in the wet.
John says: "The Cool Cover is custom-designed to fit your seat well. It's 98% permeable so you're sat on a barrier which is allowing ventilation to provide the cooling effect in hot weather. If it's raining, you get the water running through so you're not going to get a wet arse. We also get a lot of feedback from people saying they can go big distances without getting fatigue which is due to the massage effect and dampening system (of the mesh)."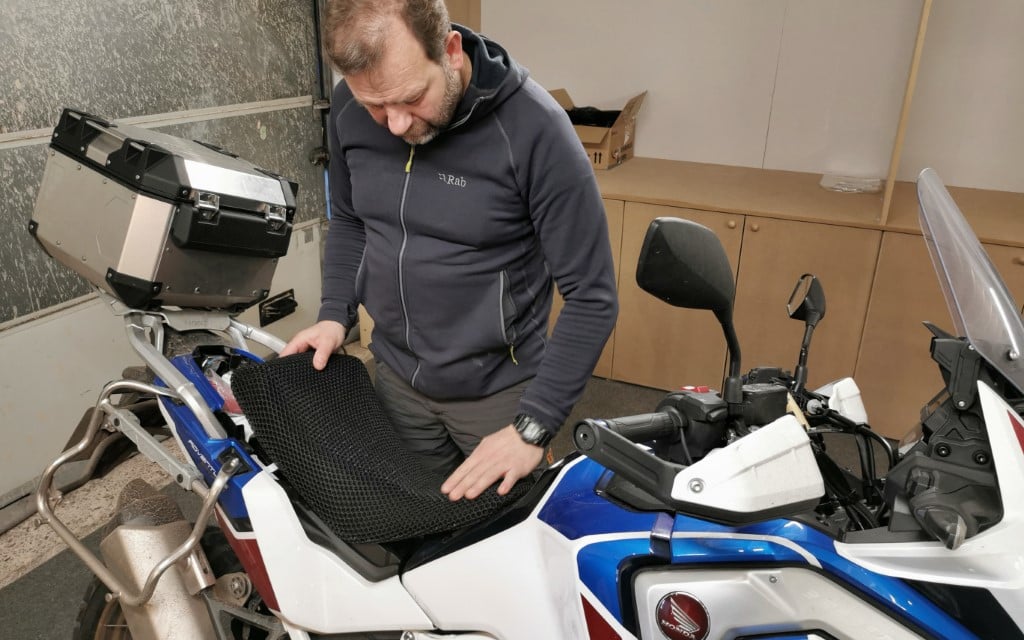 John added: "I initially felt it was just an endurance product for the adventure bike rider. At that point, I didn't particularly see it on your other bikes. It was there to help you do 200-300 miles in a day, sometimes without a stop, and that's where we saw that it really worked." 
However, those first few adventure biking customers found their riding friends were becoming jealous of their cool, dry backsides, while they contended with heatwaves and British storms. It's this word of mouth that has been key to the growing success of Cool Covers, with John recently signing a deal with KTM for Cool Covers to be sold as an official KTM Powerpart throughout the world. 
John recalls a conversation with one customer: "This guy called and said his mate had bought a Cool Cover from me. They were from Dover so you can imagine, wherever they wanted to go in the UK, it's going to be a long ride. His mate was always the one who wanted to stop first, but since he bought the Cool Cover he never wants to stop, so the guy I was talking to wanted to buy one for himself! 
"Ultimately, that's why I started Cool Covers two years ago. As a biker myself, I'm promoting and selling something that people genuinely see as benefiting their motorcycling experience." 
A quick glance at the comments on Cool Covers' website tells you that John isn't the only one to feel that way. I have to say I agree, and I've been loving having a cool, dry bottom thanks to the Cool Cover on my bike this summer.