JOHN HAX leaves civilisation behind on a journey through the USA's wild and remote Great Basin
The Great what? The Great Basin. This remote area of the USA isn't likely to feature in many Instagram feeds or bucket lists of destinations to visit before you die. Let's hope it stays that way because its remoteness is what makes the area so special. So, where is the Great Basin you might ask? If one were to overlay a map of the worst cell phone coverage in the United States with the darkest skies, it would yield a pretty accurate map.
Geographically, the Great Basin encompasses the region between Utah's Wasatch Mountains in the east and the Sierra Nevada in California to the west, meaning it covers almost the entire state of Nevada. It is 200,000 square miles of desolate isolation, 3,000m peaks, dry lakes, volcanic craters, and hot springs.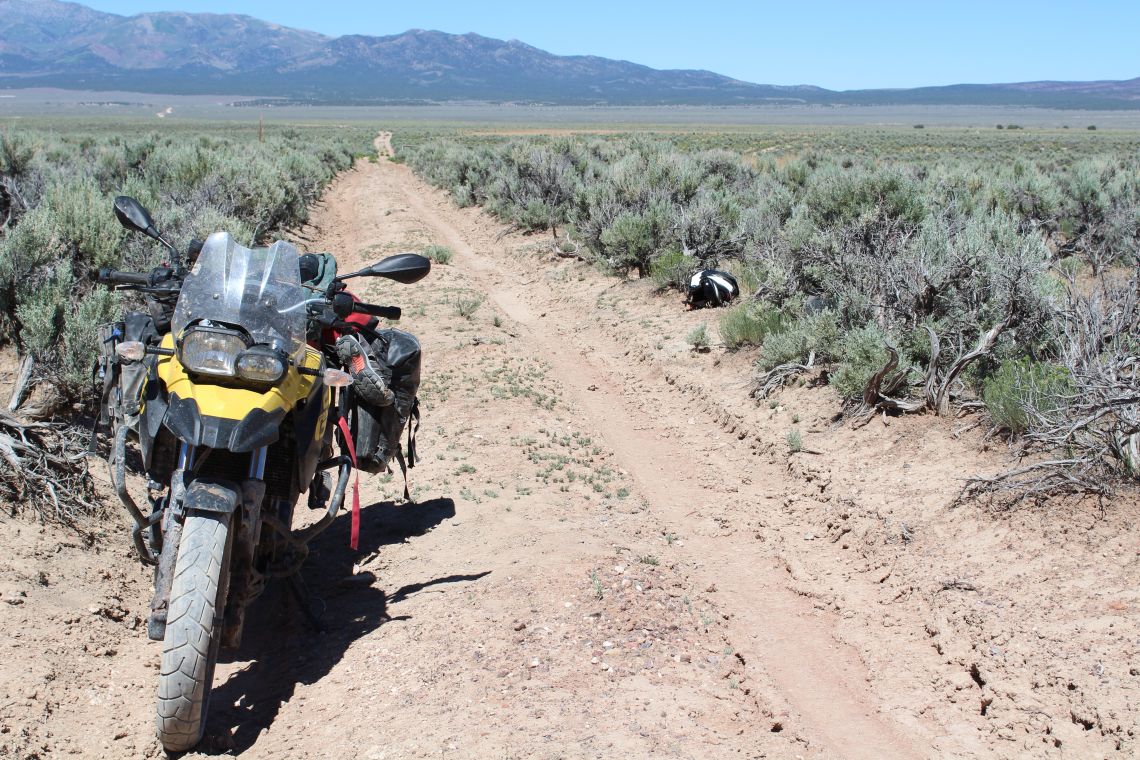 While the Great Basin does not have the stunning beauty of the Rocky Mountains, or the amazing landscapes of Utah's Canyon Country, it does have thousands of miles of the best two-track adventure riding roads in the country. All in a region with fewer than one person per every 100 square miles. In fact, Nevada has more ghost towns than real towns, with most of the backcountry roads originally meant as wagon train supply routes to small towns and the mines in the mountains. This remoteness means spare fuel, water, and food is a must for riding the Great Basin, plus the ability to read a map and not be GPS reliant.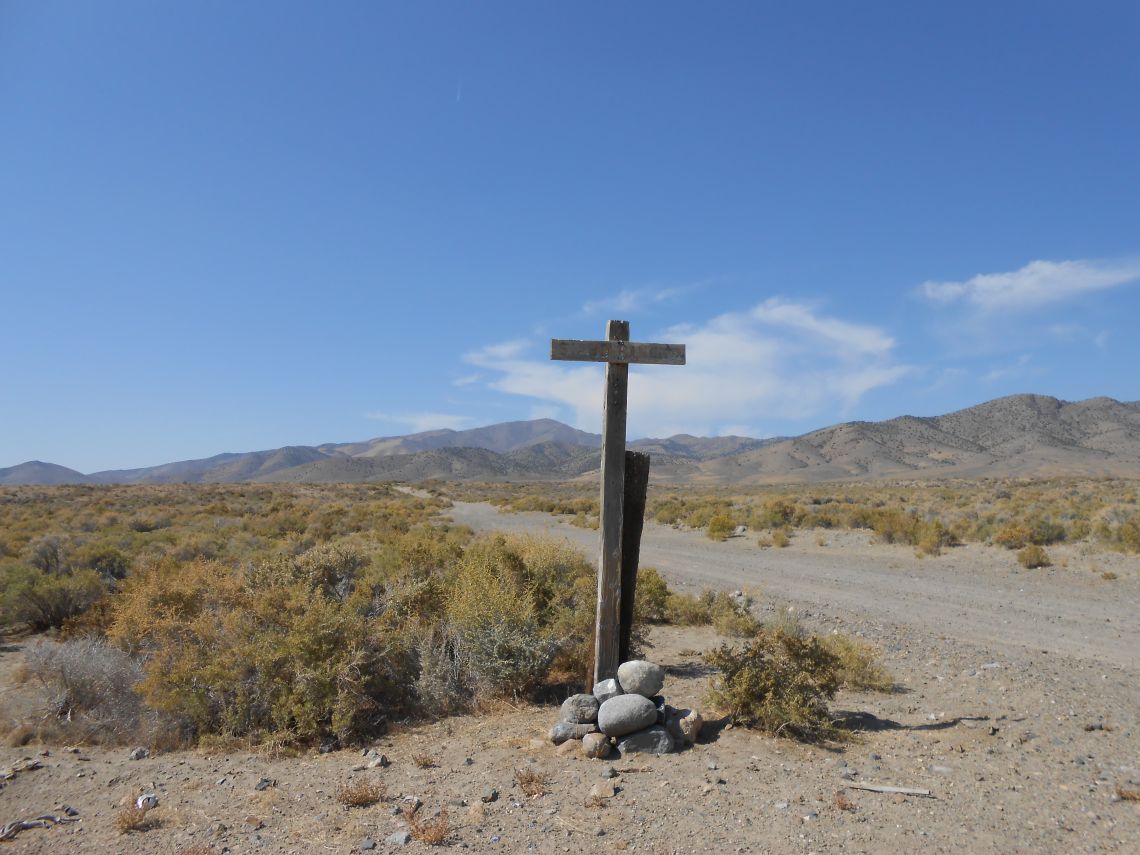 I begin my latest Great Basin ride by trailering my bike 500 miles on Interstate 70 from Denver, Colorado to Cove Fort, Utah. My first stop is Crystal Peak, a freak of geologic nature composed mainly of quartz crystals. I heard about Crystal Peak from a one-legged Harley rider I met at a bar in Ely, Nevada on an earlier ride.
The guy was quite a character, a Vietnam veteran who had returned from the jungles and drove a water truck around the Nevada desert filling water troughs for cattle. He lost his leg in a motorcycle accident and had a metal table post for a right leg, but he still rode. When a man with this kind of history says you should go visit something, you visit it.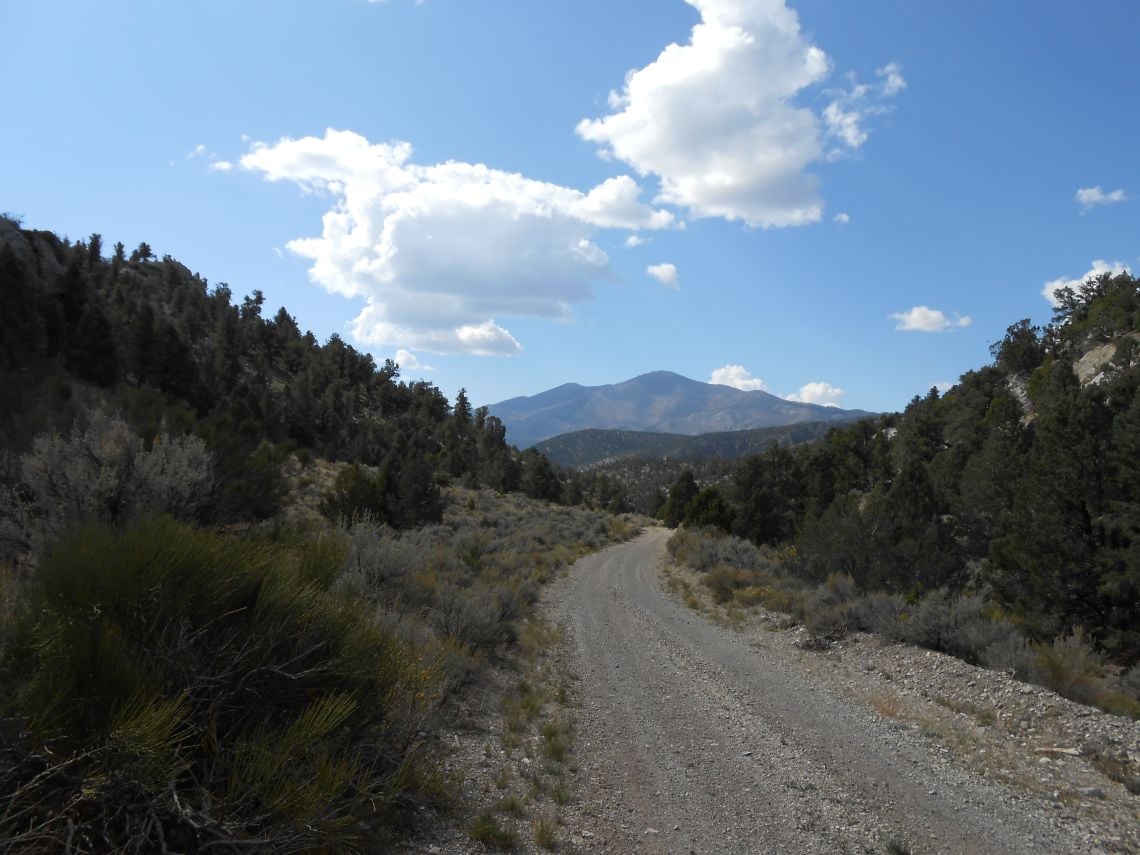 Within the surrounding black volcanic rock of Western Utah, Crystal Peak stands out from 50 miles away like a healthy tooth in a coal miner's mouth thanks to its quartz-rich rock reflecting the sunlight. I reel off the miles at a conservative 35mph, and an hour later, I am at the base of Crystal Peak. I can't help but think how this massive white mountain looks so out of place. Some 65 miles to the west, I see my destination, Wheeler Peak, which stands around 4,000m tall. The ride to the base of the mountain is fun but it's the 12-mile, 1,500m, exhilarating ascent that gets the blood pumping around my body.
I camp at 3,100m and I'm grateful for my -15C sleeping bag.
My mind is torn between wanting to sleep and wanting to stay awake. With no lights to obscure the heavens, I can see everything from shooting stars to the slow, steady cruise of low-earth satellites. I get up to take some pictures and then quickly climb back into my bag and fall asleep under the immensity of the Milky Way. Waking at dawn, I make some coffee, grab some energy bars, and climb up Wheeler Peak. The view from Wheeler is of snow-filled crevasses and 150 miles of mountain ranges. Needless to say, it was well worth the hike but I am eager to get back to the bike and continue the ride.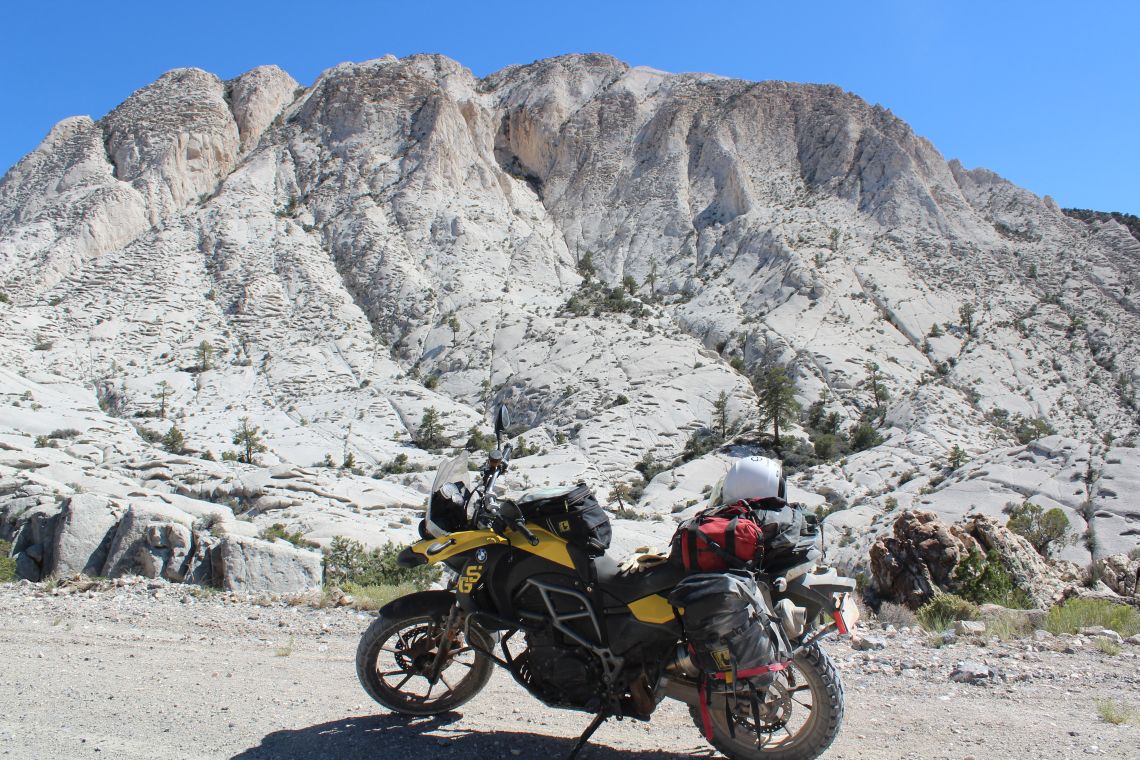 Day two takes me into Ely, Nevada, via Patterson Pass, with great views of the remote beauty of the Mount Grafton Wilderness Area. It was easy, relaxing riding with only a few hunters on ATVs to interrupt the solitude. I rolled into Ely and saw that my normal crappy motel was fenced off with no-trespassing signs attached.
I can't say I was particularly surprised it had closed and I rode off to find an equally run-down roach palace. Fortunately, Ely offers no shortage of $50 (£40) motels where you can park in front of your room's front porch. I attempted to buy a few beers off some neighbours but they refused the money and offered me a couple of cold Budweisers. Being fluent in about six languages in thanking someone for a beer, I offered a heartfelt "Muchos gracias" and sat in front of my room on a rusty metal chair beside an empty flowerpot. I always tell myself that at least the rooms are clean, but of course, there are different levels of cleanliness.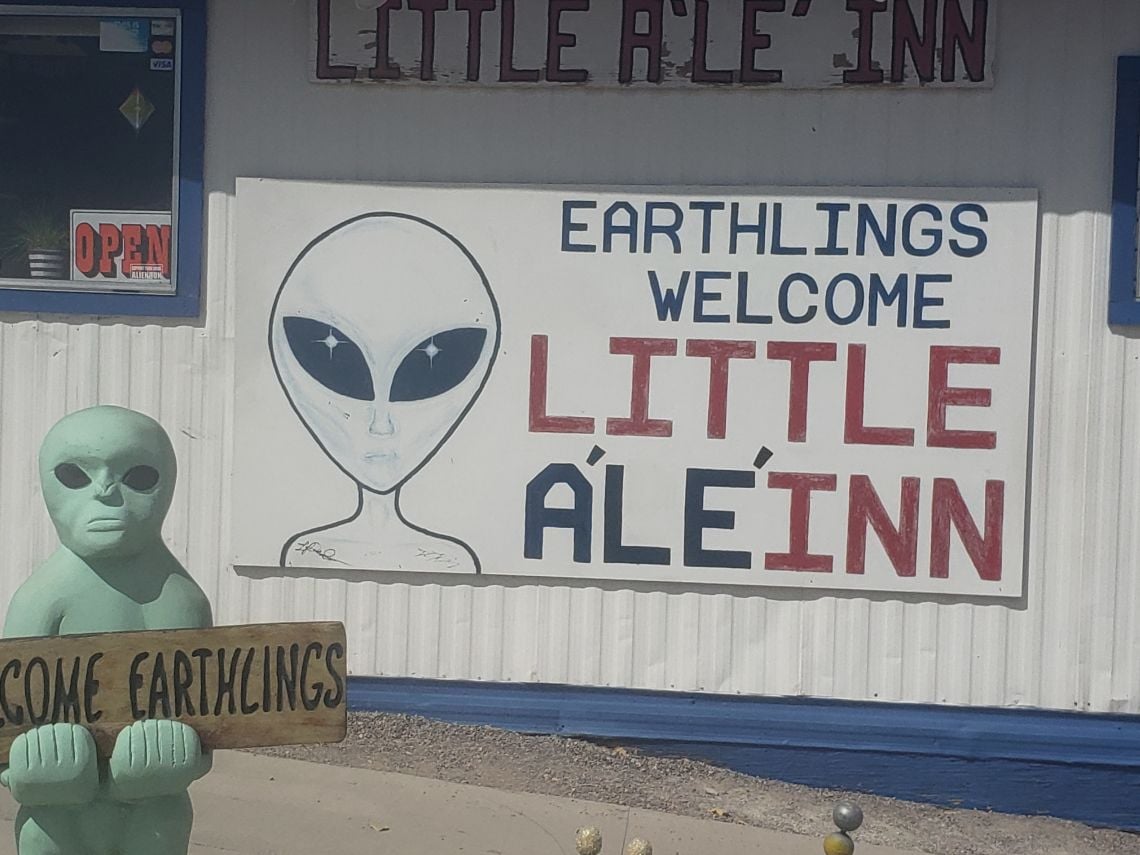 Leaving Ely, I follow a smooth dirt road with a 30-minute diversion signposted to the abandoned town of Ward. What they neglected to mention is that, when they abandoned Ward, they also moved all the houses with them. So, the townsite is an empty field. I found it ironic that they create signage for an empty field. I follow the old Hamilton Stage Route to Cathedral Canyon and revel in five hours of uninterrupted two-track riding.
The road through Cathedral Canyon disappears and, after a mile of scouting, I find it has been washed out. I was a bit bummed as the canyon is beautiful. The alternate route looks sketchy on the map but unexpectedly becomes a super fun road that takes me above the canyon and down into the completely desolate Upper Newark Valley. I see desert pronghorn and deer but no people as I stumble upon the completely abandoned and aptly named Green Spring Ranch.
The ranch is probably 120 years old and looks to have been vacant for 50 years or so. I explore the abandoned buildings and take a moment to ponder how families managed to live together in such a remote location. I mean, I can't get on with my family and we are a thousand miles apart.
I finally pick up some blacktop and aim for the town of Currant, hoping to top up on petrol. Well, Currant turns out to be an abandoned cafe with piles of tumbleweeds crowding the entrance. I see lights in the distance and start thinking a beer and bed sound good. My entire riding life has been a battle every evening between having a beer at some run down western bar and crashing at a cheap motel, or sleeping out under the stars.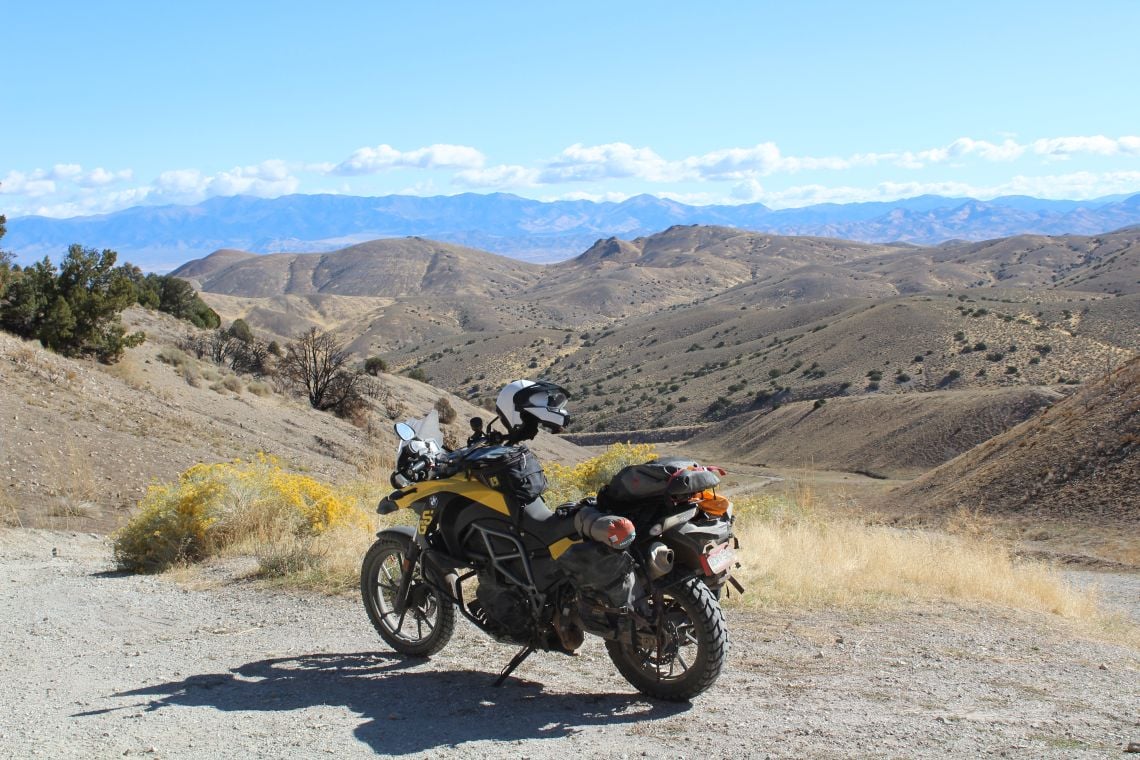 Usually, the beer wins out but the next morning I regret not waking up and having a cup of coffee in some desolate valley. In this case, I have no choice because the next town is 130 miles away. The stink of an oil processing facility propels me down the asphalt and I ride for about 30 minutes, climbing over a pass before turning onto the small dirt track that leads to Lunar Crater volcanic field.
The headlight on my BMW has the luminosity of a mobile phone and I have the strange sensation of riding through a small tunnel. I can see the bright stars above me but I have no idea what is on either side of the road. The wind is ferocious and I am hoping to find a bit of shelter. Finally, I give up and stop. Using my riding gear and bike for a wind guard, I manage to light my stove and have a glass of wine. The strong winds are an indication of the storm up north and I am glad I headed south for this ride. The southern Great Basin stays pretty mild and at this point I am only 150 miles north of Las Vegas.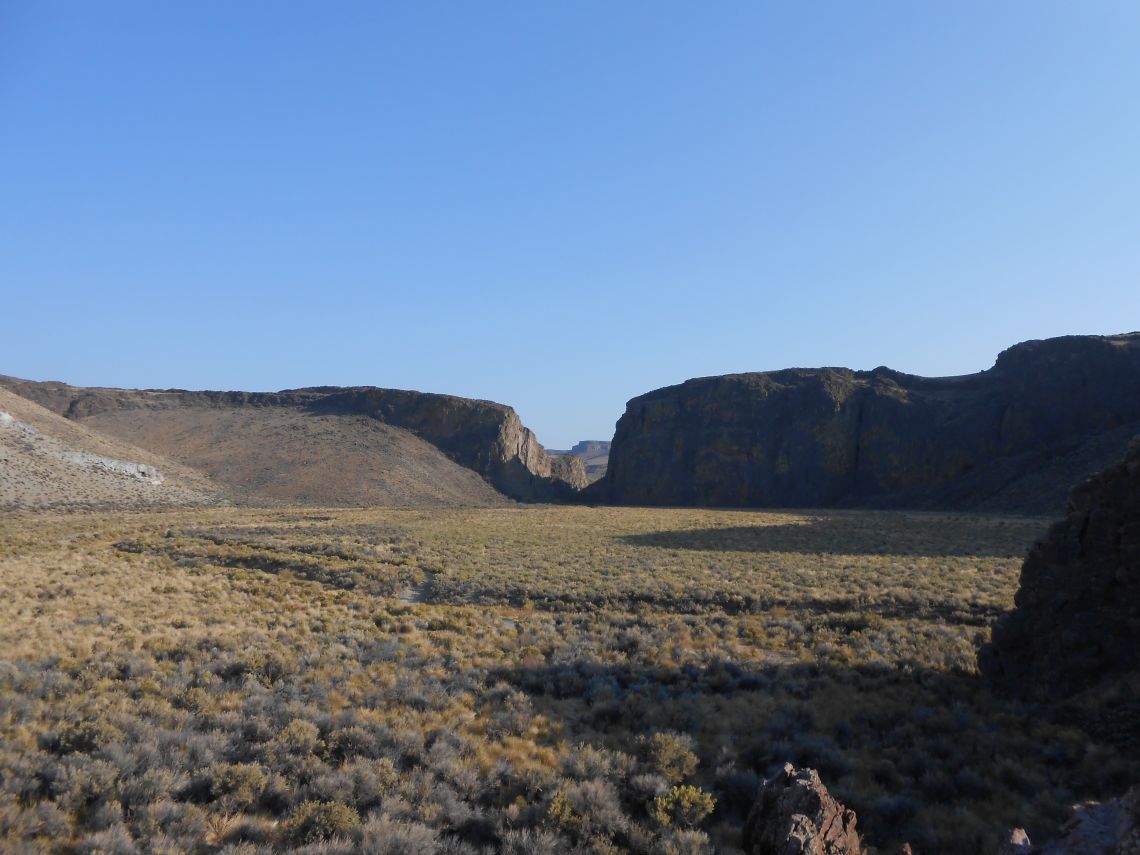 The wind picks up and I have to remove my riding gear from my bike before it blows over. There is not another sign of humanity. Climbing into my sleeping bag, the only two sensations I have are of the wind and the stars. I wake at dawn to see the sun rising between two massive rock ridgelines. The wind has died down and I make my coffee under a sky half-lit with stars in the west and a red glow in the east.
I skip breakfast and head off down a nice two-track trail, circumventing Lunar Lake before climbing a rocky slope that takes me to the lip of Lunar Crater. It was formed by violent volcanic eruptions in times past that created a 130m-deep crater and is part of the 100 square-mile Lunar Crater National Landmark.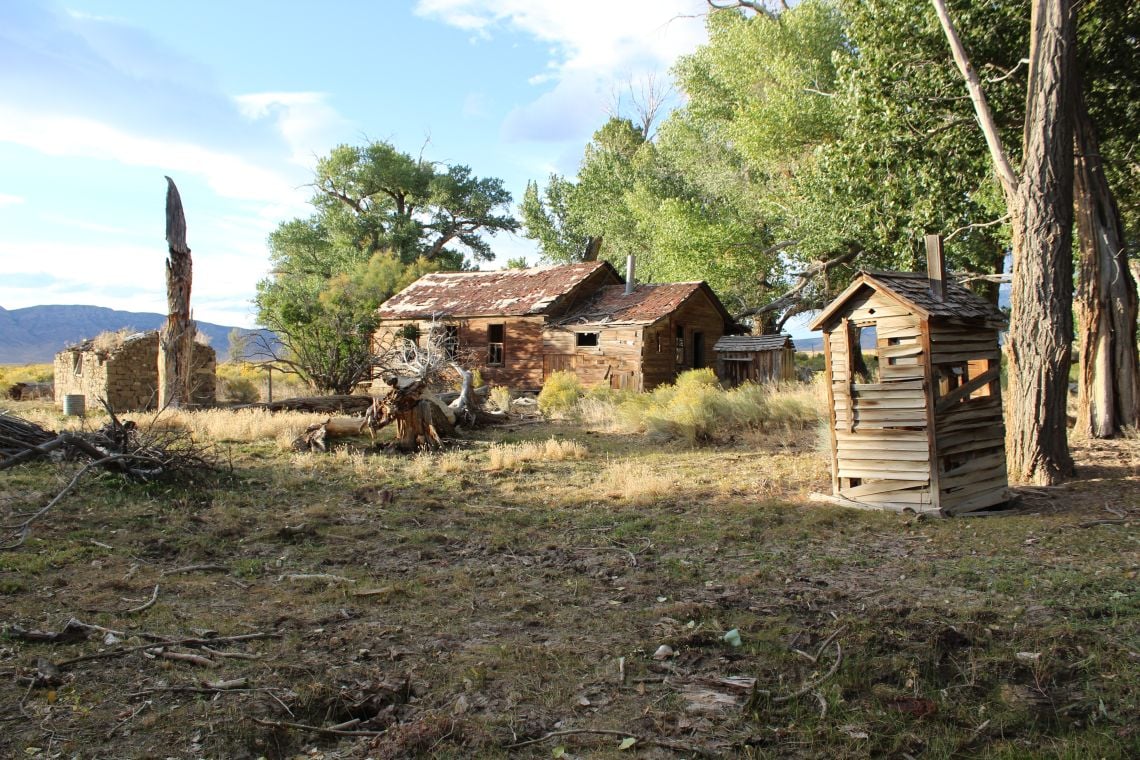 My intended route south has been washed out so I work my way past volcanic cinder cones and fissures north to Highway 6 on a very sandy track. Picking up another decent dirt road, I head south to the Extraterrestrial Highway. It runs through an area of Nevada famous for sightings of aliens and includes Area 51, a secretive government airbase which features in plenty of conspiracy theories about aliens.
I don't find any ETs but I do devour an out-of-this-world green chilli omelette at the Little A'Le'Inn in Rachel (population 54, no petrol). I eat at the bar, chat with the barkeeper, and listen to locals and tourists. Some of the tourists do shots of the custom Little A'Le'Inn tequila. Some of the locals sport guns on their hips, this could be fun. The bartender, Robin, is friendly and says she moved up from Vegas about six years ago. What keeps her there? Well, the money and interesting people. Does she believe in UFOs? Yes, but she has never seen one.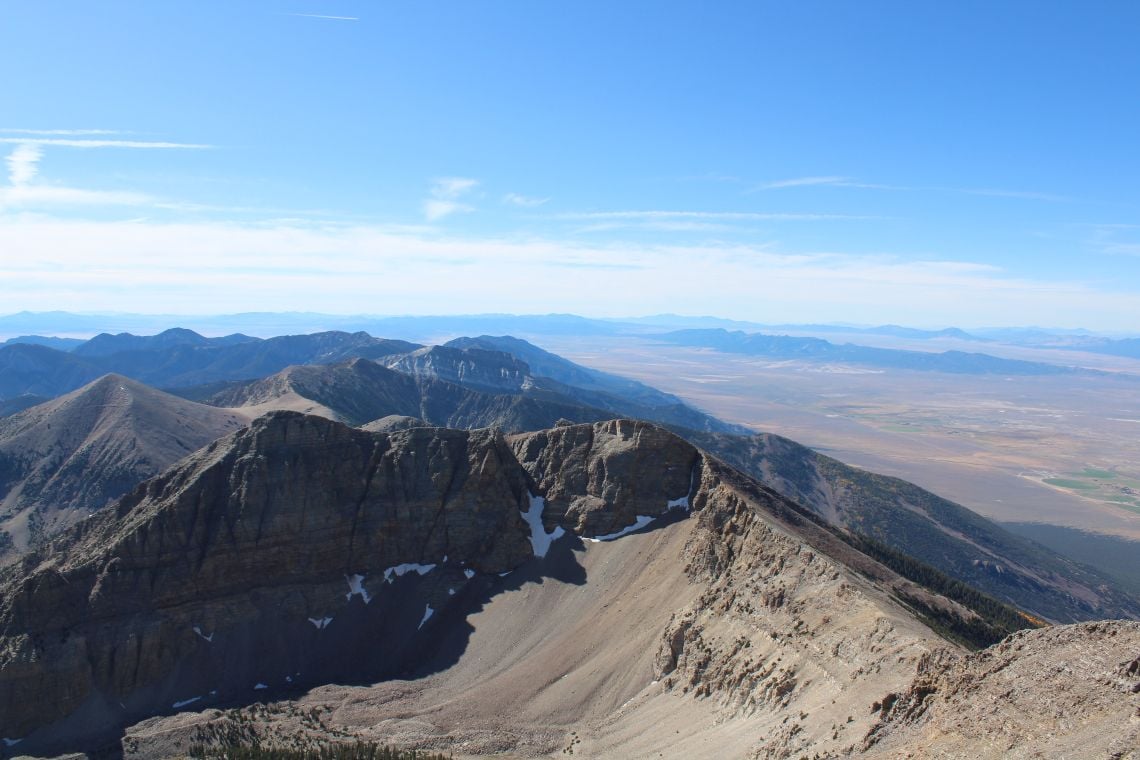 I listen while she gives instructions to some Californians on how to view Area 51. I assume they are off to spot a UFO but their chances are slim. The view of Area 51 is the same as most of southern Nevada, a desolate valley of sagebrush. Seriously, it's about 60 miles to any buildings and UFOs are not lined up by the perimeter fence. I jump back on my bike and head north. It's not long before the sand gets deep.
The big shallow valleys of southern Nevada have a lot of washes and pretty soon my fan is blowing as I slog through the deep sand. My real worry is petrol. Normally I get about 52mpg on smooth dirt but I watch as my numbers drop to the mid-twenties as I work through the sand. I have a Camel Tank on my bike so my range in smooth riding is about 340 miles.
I arrive in Caliente, Nevada with a third of a gallon to spare. Like many small towns in the Great Basin, Caliente is struggling to survive, but it seems to have found a niche for refugees from Vegas. It has a beautiful mission-style railway station built in 1923 and a place that serves good food, a rarity in Nevada.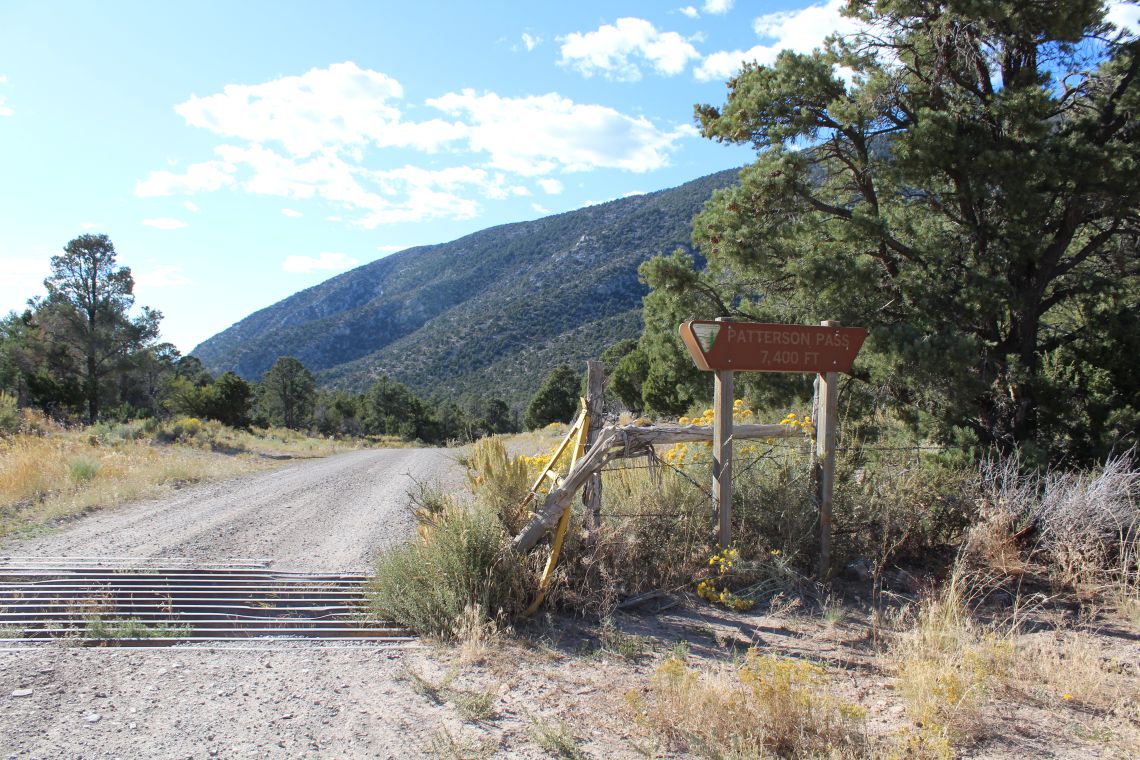 That evening, some locals told me of a train wreck not too far from Caliente at Rainbow Canyon, in Kershaw-Ryan State Park. The next day I take a ride out there to look for the wreck. The head of the canyon is filled with a natural spring and the canyon walls are covered in desert grape vines. About 30 miles up the canyon, I come upon the otherworldly site of 26 twisted and torn rail cars strewn about the canyon floor.
Leaving the train wreck, I head south down Rainbow Canyon with a strong urge just to keep going to Las Vegas 90 miles away. However, the lure of the unknown turns me east towards Lime Mountain with the intention of staying in Pioche. The road quickly narrows to a fairly smooth dirt road running like an arrow through the yucca trees with an occasional drop across a sandy wash.
I stop at Bunker Pass to catch the sunset and roll into Pioche just past dark. Pioche was a typical fading Nevada mining town. Lots of potential but one empty hotel that serves no food. The only bar in town serves frozen pizzas and chicken strips, so I head back to Caliente for a proper meal.
My last day of riding begins with clear skies and low temperatures. Code words for hanging out at a diner counter drinking coffee and talking with the locals until the weather warms up. In Nevada, this invariably leads to listening to someone bitch about the Government regarding gun laws or environmental regulation, not fun but certainly enlightening.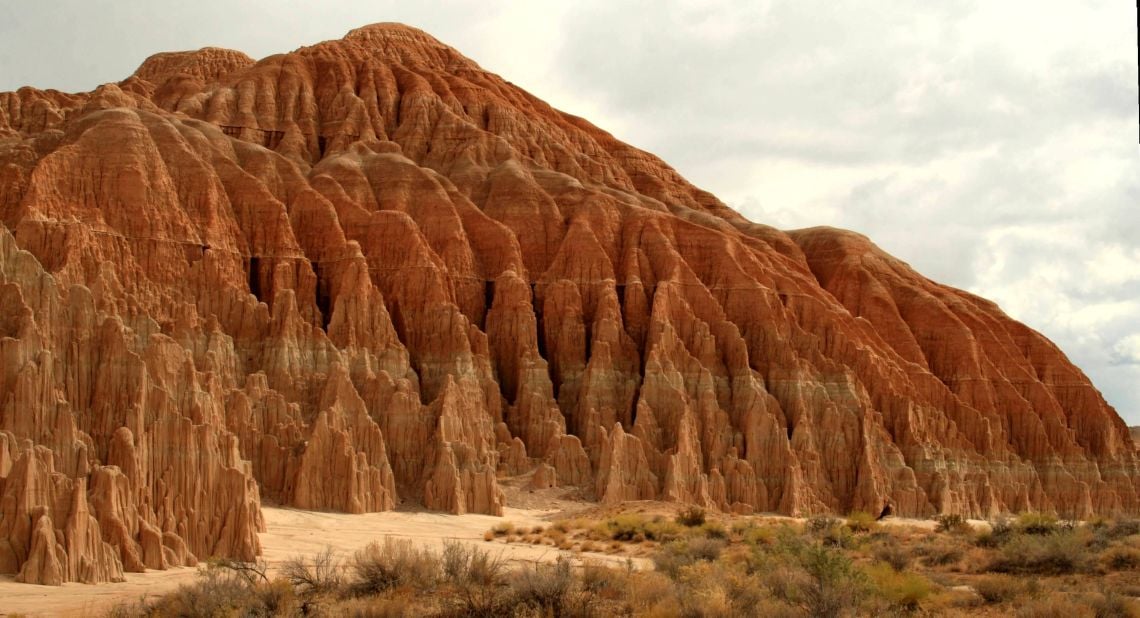 I silently thank the Government for maintaining the thousands of miles of dirt roads I have enjoyed, finish my coffee, and leave the unhappy locals behind. I have a long ride ahead, followed by a nine-hour drive back home to Denver. I plan to take the pavement but first I stop by Cathedral Gorge State Park where erosion has carved dramatic shapes and patterns into the rock.
It feels good to stretch my legs among the spires and caves. It's an alien landscape straight from the set of a science fiction movie. I am still debating following a section of the Old Spanish Trail but the pragmatic side of me says it is already going to be a very long day. Even so, as I see the marker for the trail, I slam on my breaks and turn off the pavement. Like an ageing retriever chasing a ball, I just can't help myself.
However, on this day the motorcycle gods have other plans and, as I start accelerating, I hear a cracking sound from the back of my bike followed by a loud snap as metal components go flying past me. I look down to see parts of my rear brake lying on the ground in pieces.
It's not exactly how I want the ride to end but it appears my mind has been made up for me. I pipe some music up to my helmet and ride out to Cedar City, Utah where I pick up Interstate-15 and ride the last 120 miles to Cove Fort where my trailer is parked up. The nine-hour drive back to Denver gives me time to reflect on my ride. It is difficult to describe in words the beauty of riding the Great Basin and the remoteness and solitude are not easily captured on camera.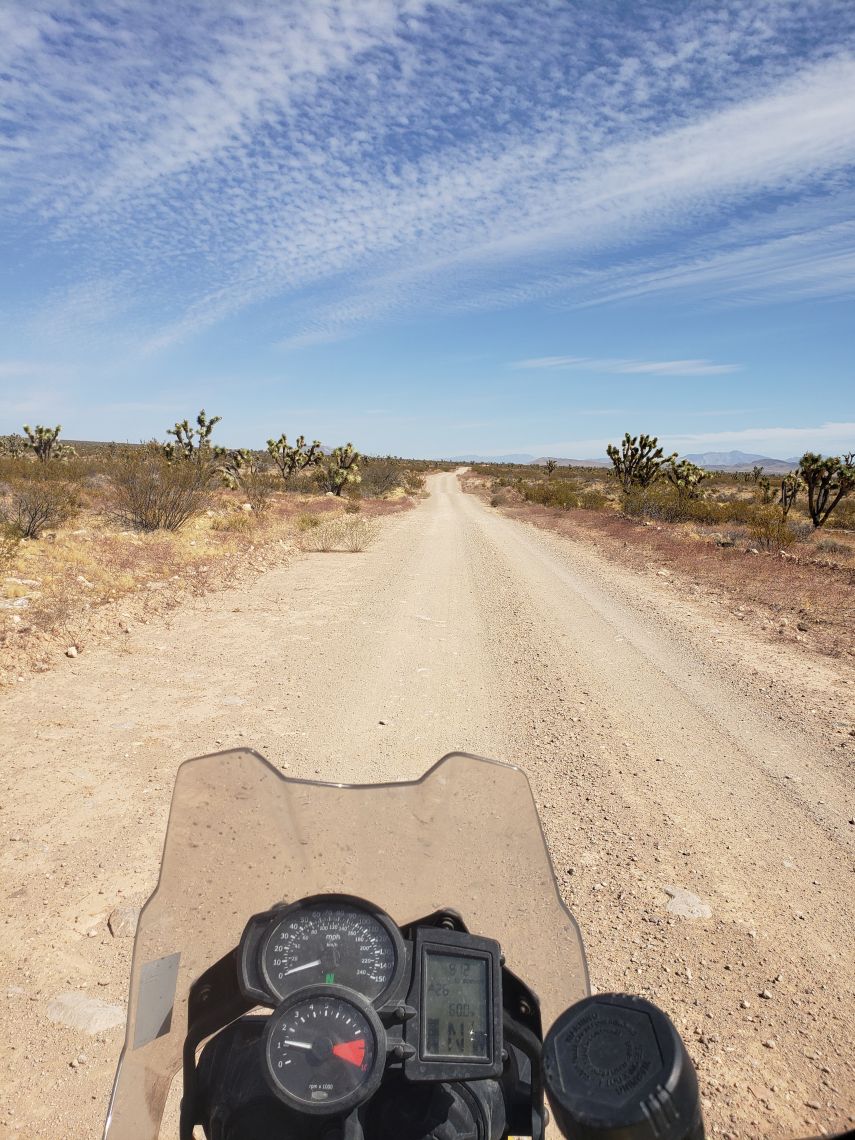 How do I describe the feeling of camping in an empty valley without another light in sight, or startling a golden eagle from the brush right beside the small dirt road I've been riding for hours without seeing another human? Riding the Great Basin always makes me feel alive, connected to both my bike and the surrounding environment. I think the phrase 'it's about the riding, not the destination' best describes the Great Basin. I get back home around 1 am feeling a bit knackered but still wired. I unload my gear and bring my map bag into the house before laying it on the kitchen table.
Grabbing a beer, I sit down at the table, my eyes drawn irresistibly back to the map bag. I won't be touring for another six months but I slowly pull my Nevada atlas out, my finger exploring a route across the northern Great Basin. The Pony Express Trail, north towards Winnemucca, then the Black Rock Desert and the Emigrants Trail to Sheldon National Antelope Refuge. Then, across the Owyhee Desert to the 3,000m to 4,000m peaks surrounding Jarbridge, followed by beers at the In-N-Out Saloon. From there I have no idea, but that is all part of the adventure.
The Bike
I ride a BMW F 650 GS twin with a 25-tooth front sprocket and Heidenau K60 tyres. I love the tractor gear for long, steep, loose, rocky roads. I ride the Heidenau's out of habit. I get a lot of miles out of them but the reality is they are pretty useless in sagebrush and sand, which are two dominant features of the American West. I ride by myself a lot and it is imperative that I can pick up my bike in all conditions. I weigh 68kg and won't chance riding a heavier bike. I love the versatility of the mid-range adventure bikes for riding out west. I also have a Camel Tank auxiliary fuel tank.
Want to ride the Great Basin?
The Great Basin is a huge area with the closest large airports being in Reno, Salt Lake City, and Las Vegas. Pre-coronavirus, Moto Freight offered airfreight of a BMW F 650 GS-size motorcycle from London to Las Vegas from £1,195. Airfreight rates have risen lately but are likely to return to normal once travel becomes safe again. Visit www.motofreight.com. On the road, extra fuel, food, and water is mandatory. Hotels cost around $50 (£40) per night. They aren't posh. Plan on camping some nights and pack a lunch as there are few places to stop and eat. Dining is pub fare and greasy spoon breakfasts, but it's cheap.