James Oxley and Ollie Rooke put 12 pairs of riding shoes to the test to help you stay safe and look stylish on and off the bike.
Whether you're climbing a twisting mountain pass or cruising along a picturesque coastal highway, there's no doubting the joy of motorcycling. Even scything through traffic on a busy A-road brings a sense of satisfaction only a biker can know. Personally, motorcycling has opened up a world of possibilities, new friends, and adventures I simply wouldn't have experienced if I hadn't made the decision to take my bike test.
 However, on a day-to-day basis, motorcycling can also be an absolute faff. In the mornings, by the time I've packed a change of clothes for work, put on all my bike gear, and wheeled my motorcycle out of the garage, I could have driven halfway to the office already. Then there's the awkwardness of meeting friends and family in a pub or restaurant while stomping around in sweaty adventure boots and a thick textile riding suit. 
If these scenarios sound familiar, you'll likely welcome anything that makes your biking life more convenient and comfortable. With this in mind, in the previous issue of ABR we reviewed 14 pairs of riding jeans, and in the making of this issue, we have put 12 pairs of casual riding boots under the microscope to pair with those jeans. 
What are casual riding boots? 
The term 'casual' may sound wide-ranging but we've focused on footwear specifically made for motorcycling, with all the safety elements you would expect in a pair of riding boots, but which have been designed with casual use off the bike in mind too. We're talking about a pair of boots you'd be comfortable wearing with jeans to a pub, restaurant, or a dress down Friday at the office, as well as on your bike. Unsurprisingly then, the majority of boots on test wouldn't look out of place on your average high street shoe rack, with manufacturers like Oxford Products and TCX producing classic leather lace-up boots. Others, like Ducati and Alpinestars, have gone for a sportier look by designing lightweight racing-style footwear, while REV'IT!'s entry into this group test stands alone as an ankle-length adventure touring boot with rugged good looks to match. 
Style icon 
So, you've made the decision to invest in a pair of casual riding boots, but what specifically should you look for? There are three main qualities to keep in mind. Style, comfort, and protection. Let's begin with style. We all want to look good when we're riding which is one of the reasons we buy casual riding gear in the first place, whether it's a pair of boots, jeans, or a jacket. If it doesn't look good, we're not going to get much wear out of it. 
With this in mind, give some thought to the style of boot you're looking for. If you'll be wearing them on weekend rides with mates, a pair of casual riding trainers like BMW's Dry Sneakers could be perfect. However, if you're planning to wear them to the office, smarter-looking footwear like Oxford Product's Digby boot would be a better choice. 
If the boot fits 
Once a pair of boots has caught your eye, it's time to figure out how comfortable they are to wear. You can buy the most expensive, feature-laden footwear available, but if the boot doesn't fit, your feet will suffer on and off the bike. Keep in mind that people's feet come in all different shapes and sizes, and so do motorcycle boots. Sizing varies between manufacturers considerably, with footwear made in northern Europe often being wider at the bridge of the foot than boots made in southern parts of the continent. 
Try on plenty of pairs, ensure they fit the shape of your foot, and keep in mind your feet will swell up when it gets hot, so leave room for this. You'll also spend more time walking around in a casual boot than you generally would in full-length touring or adventure footwear, so it's important that they feel light and flexible. If they don't, travelling on foot will soon become a chore. However, they also need to retain enough rigidity to protect you in the event of an accident on the bike, but more on that later. 
Make sure you give some thought to the fastening system you'd like to use on your new boots. Spending time bent over double while lacing up a hiking-style boot adds to the faff of motorcycling (and we're looking to avoid this). However, many of the boots on test combine laces with a zip opening, so once you've set the lace tension to your liking, you don't need to touch them again. Other footwear we've tested utilises a Velcro fastener which scores top marks for ease of use but won't give you the classic styling of a leather lace-up boot. We've also tested boots with buckles and even a BOA system with stainless steel laces. Which fastening system you choose will depend on your personal preferences when it comes to style and convenience, so try out a selection before you buy to find out which you prefer. 
These boots were made for riding 
So, you've found a pair of boots that look good and fit perfectly, but what about safety? These boots were made for riding after all so they need to offer protection in the event of a crash. From the start, it's important to understand that you're going to be sacrificing an element of safety for style and comfort. Casual riding footwear won't offer as much protection as a full-length adventure or touring boot, so I wouldn't recommend wearing them on long-distance motorway journeys or venturing off-road. Most of the boots on test were designed for riding around town at lower speeds, and the amount of protection they offer reflects this, aside from REV'IT's more adventurous Pioneer H20. 
Despite this, the boots you buy should have a CE safety certificate and feature certain protective features you'll find in any riding footwear. They should have ankle protectors, as well as a heel cup and a toe box. As a rule, a stiffer boot will offer more protection so look for a reinforced sole that's difficult to bend and twist, but keep in mind they need to be flexible and comfortable enough to walk around in. 
Generally speaking, casual riding boots tend to be worn in the warmer months, but riding in the UK means you need to be prepared for a downpour at any time of the year. A boot with a waterproof membrane, like Gore-Tex, is the most effective way to keep the rain out but this will lead to them feeling stuffy when the mercury rises. Manufacturers like to make a song and dance about the breathability properties of waterproof membranes, but the reality is a waterproof boot will feel warmer than one that isn't. However, I'd prefer warm, dry feet than cold, wet ones. 
Two other features to look out for when you're browsing for new boots are a gear shifter pad, to protect the leather or textile material of your boot, and a lace cover that will stop your laces unravelling and getting tangled in the workings of your motorcycle. 
The right balance 
As with any new item of motorcycle clothing, there is plenty to consider when buying a pair of casual riding boots. Style, comfort, and safety all need to be balanced with the type of riding and activity off the bike you're going to be doing. Over the coming pages you'll find reviews of 12 boots to help you enjoy faff-free motorcycling while looking good on and off your motorcycle.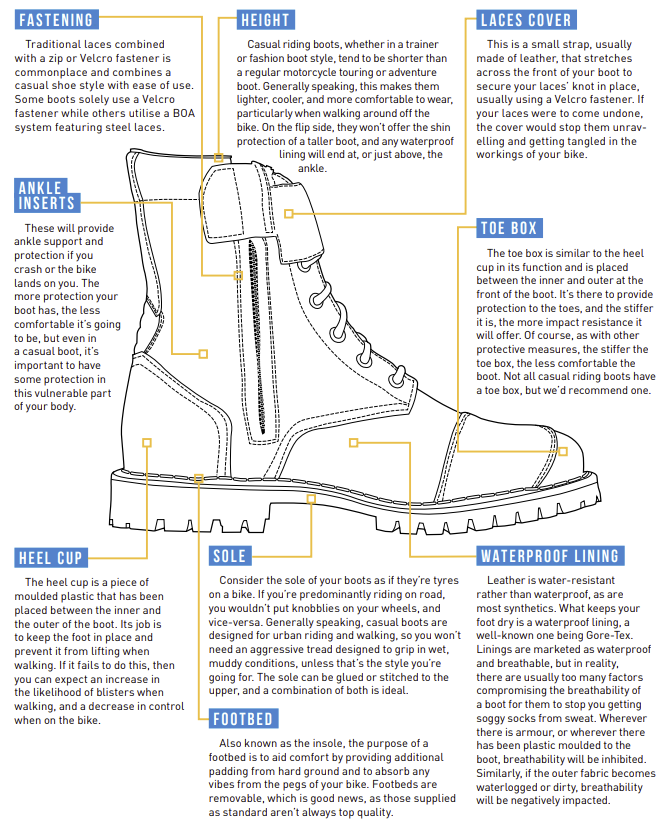 AKITO CITIZEN BOOTS
£69.99 | www.jsaccessories.co.uk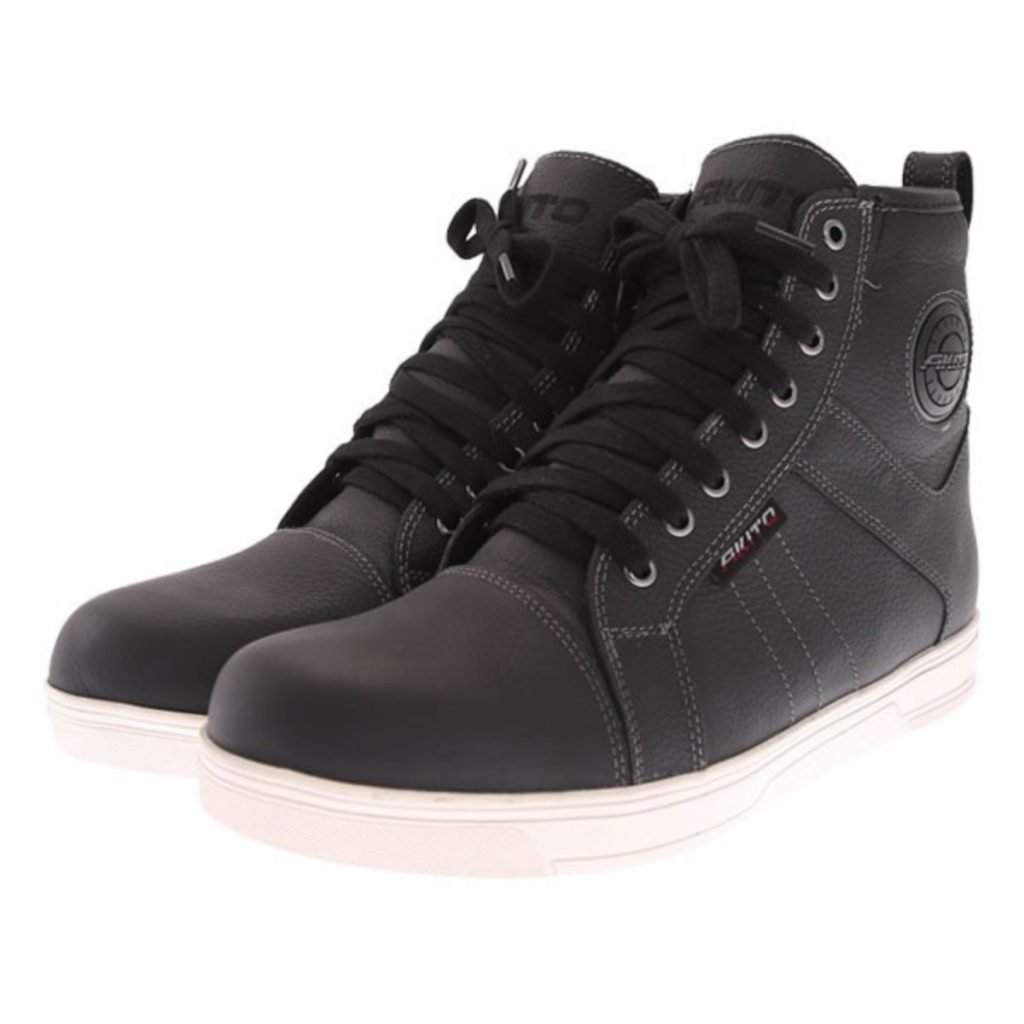 British brand Akito specialises in producing motorcycle gear for riders on a budget and its entry into this group test, the Citizen boot, is the least expensive on test at £69.99. Can it punch above its price tag? Let's find out. 
The Citizen is a mid-height, lace-up, trainer boot made from nubuck leather, and it looks like it would be at home on any high street shoe rack. In fact, there's nothing to suggest this isn't a 'regular' casual boot apart from branded ankle protectors. On looks alone, I'd be happy to combine it with a pair of jeans while zipping around town at the weekend. 
The Citizen slipped on easily, but once it was on, it somehow managed to feel tight and loose at the same time. Let me explain. As I walked around town, or placed my feet on my bike's footpegs, my heel raised up inside the boot substantially but the boot also felt tight around the bridge of my foot and toes. It was a rather uncomfortable experience exacerbated by an ankle protector that dug into my skin. With all this in mind, I certainly recommend trying the boot on before you buy to ensure you don't have the same issues. 
The Citizen is advertised as being fully waterproof but one of the boots I tested leaked water during a submergence test. In terms of protection, the Citizen feels stiffer than the other trainer-style boots on test, the BMW Dry Sneaker and the Alpinestars J-6 Waterproof Shoe, with a sole that's relatively hard to twist and bend, at least for a trainer boot. However, the limited protection provided by trainer-style boots in general means I wouldn't want to wear them for anything other than low speed riding around town, and I would fear for my feet if I was to come off a bike while wearing them at high speeds. 
With this in mind, if you're comfortable sacrificing an element of safety for style and comfort, the Citizen is an affordable and good looking option for riders on a budget. JO
ABR Rating: 6/10
Style – 7
Comfort – 5
Protection – 6
Value for money – 6
IN A LINE: A lightweight, trainer-style boot at a budget price, with some comfort issues.
LINDSTRAND'S DRIZZLE
£129 | www.lindstrandsmc.com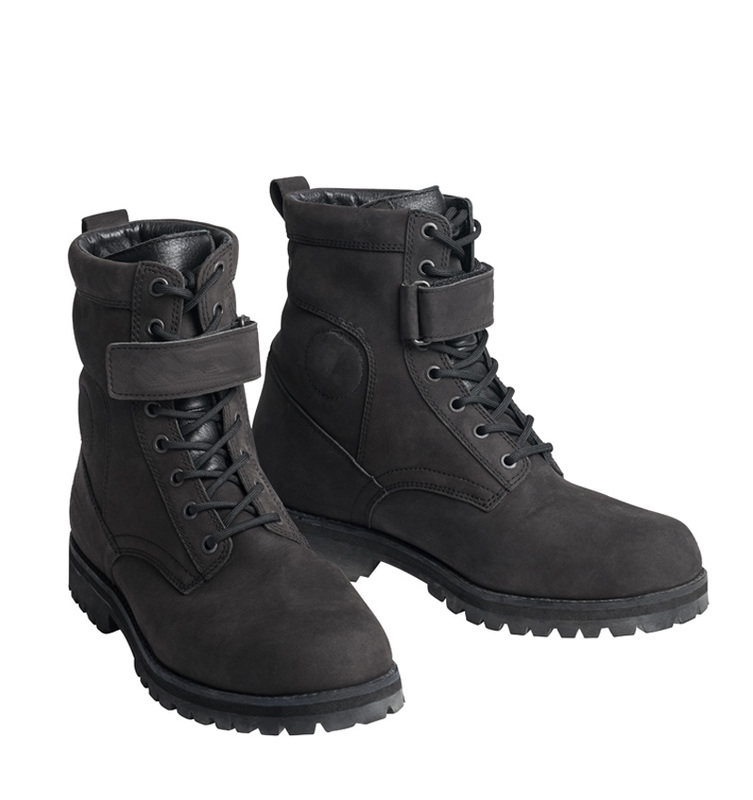 Lindstrands began making motorcycle clothing back in the '50s and it knows a thing or two about producing high-quality bike gear that can withstand the notoriously severe Scandinavian climate. However, it could do with having a rethink about its naming policy. 
Drizzle may well be the most uninspiring name for a piece of motorcycle clothing I've ever come across, but don't let that put you off Lindstrands' entry into this group test. Despite the dreary moniker, the Drizzle is a damn fine-looking piece of motorcycling footwear. In fact, I'd go as far as saying it's the best-looking boot on test thanks to its use of nubuck leather to produce a brushed, almost velvet-like surface, on a classic good looking lace-up boot. 
But the beauty of the Drizzle isn't only skin deep. Put them on and they feel soft and flexible to walk around in while proving stiff enough to provide plenty of support for your feet on the bike. The chunky, aggressive tread on the sole also gives plenty of grip on the pegs, as well as on the pavement. 
The Drizzle boots are fastened using laces which meant they weren't as quick to slip on and off as many of the other boots on test that use a combination of laces and a zipper. They also have a rather narrow entry point which meant I had to give them a good tug to get them on, but once they were on my feet, they felt great. The laces are held in place by a Velcro cover to ensure they don't get tangled in the workings of your motorcycle if they come undone.
To keep you dry when it rains, the boots feature a waterproof and breathable Dryway membrane which enabled the Drizzle to pass our submergence test. Protection comes in the form of toe and heel cups and ankle protectors, as well as a steel shank sole insert which resulted in the boot being reassuringly difficult to bend and twist. 
Overall, the Lindstrands Drizzle is a stylish, comfortable, and well-made piece of footwear that I've enjoyed wearing on and off the bike. JO
ABR Rating: 9/10
Style – 9
Comfort – 8
Protection – 8
Value for money – 9
IN A LINE: A good looking boot with the comfort and quality to match. At £129 it's a bit of a steal. 
RST ROADSTER II WATERPROOF BOOT 
£129.99 | www.rst-moto.com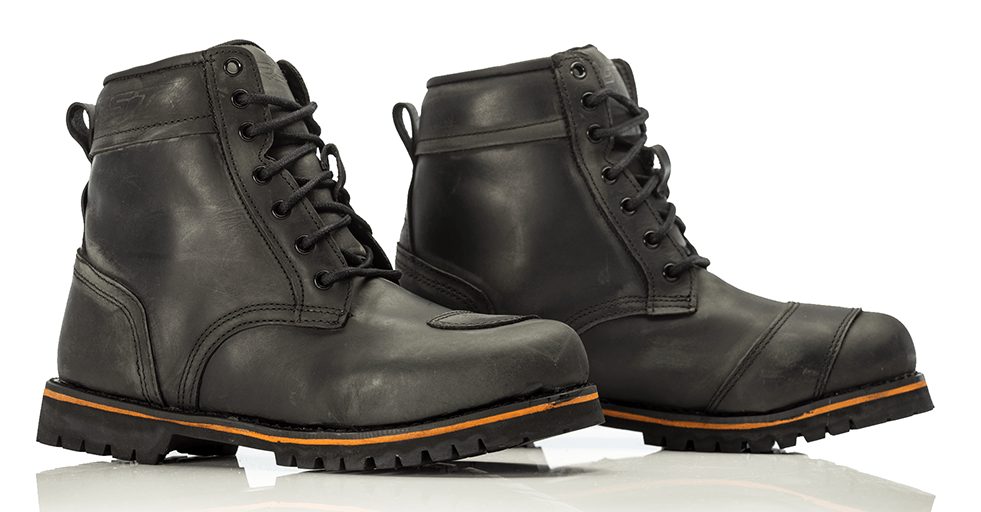 Harking back to an era when Harringtonwearing skinheads were bopping along to Northern Soul, RST's entry into this group test, the Roadster II Waterproof Boot, comes with a familiar British style that will perform as well around town or in the office as it will in the saddle. 
British-based itself, RST has been producing competitively priced gear for more than 30 years and frequently performs well in ABR group tests. With this in mind, I was intrigued to see if the Roadster II continued that trend. 
Like many other mid-height boots on test, the Roadster II disguises its true function as a motorcycling boot, with the gear-shifter panel present on each toe the only obvious sign it is designed for motorcyclists. The Roadster II is made from full-grain cowhide and features a rugged look similar to that of a work boot. 
It also features a reinforced toe-box, plus heel and integrated ankle protection, as well as a polycarbonate anti-twist shank to ensure there is as much protection as you can expect from a casual boot. The deep tread and anti-slip sole will help you paddle the bike around tarmac and gravel carparks with ease. The boot also features a Hipora waterproof lining, although it did leak slightly when put through our submersion test. This is particularly disappointing considering RST chose to use the word 'waterproof' in the name of the boot.
 Despite this, the Roadster II was comfortable to wear from the off, requiring little breaking in. However, after wearing these regularly over the last few months they've aged pretty poorly, scuffing up against my bike's gear lever and brake pedal around the toes, which is disappointing to see. The laces are also a slight annoyance. I know other RST boots feature a side zip and I wish it was present here, so I didn't have the hassle of lacing them every time I put them on. OR 
ABR Rating: 7/10
Style – 8
Comfort – 7
Protection – 7
Value for money – 7
IN A LINE: Rugged looks, solid protection, and a competitive price, but let down by lack of waterproofing.
OXFORD PRODUCTS DIGBY SHORT BOOTS 
£129.99 |  www.oxfordproducts.com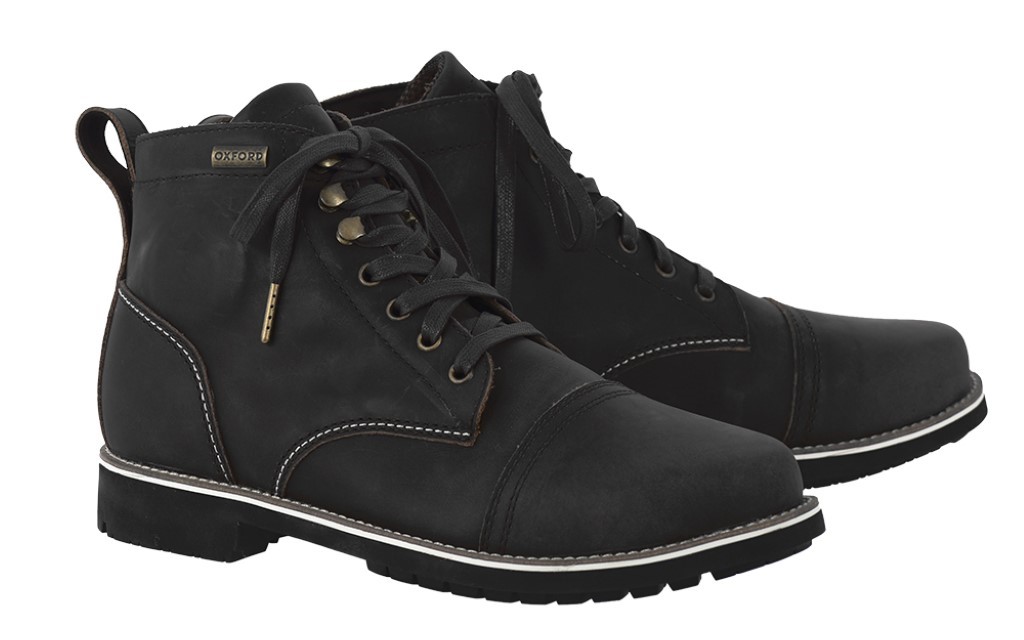 Oxford Products began life in 1973 when owner and chairman Alec Hammond began selling top boxes out of the back of his car. Almost half and century later the British firm is now a hugely popular brand, selling in 90 countries. Its product line spans pretty much every motorcycle accessory you can think of, helping Oxford Products build a reputation for consistently making good quality gear that punches well above its price tag, offering great value for money. 
Its entry into this group test is the Oxford Digby Short Boot and immediately it stands out as the most formal piece of footwear on test. In fact, on looks alone, there is nothing to suggest this is anything other than a 'regular' short, lace-up, leather boot, apart from a slight bulge at each ankle where protective inserts have been placed. It's a piece of footwear I'd be happy to wear with a suit to work or with jeans at a restaurant. 
The Digby does feel stiff when you slip it on for the first time, but wear it in over a few days and weeks, and the leather will soon loosen up. There's enough flexibility in the sole to make walking around comfortable enough but I did find that one of the metal lace hook dug into the top of my ankle which proved rather uncomfortable on and off the bike. Opting for a size up may solve this problem, but it's worth keeping in mind. 
The boot is waterproof thanks to the presence of a Hipora waterproof and breathable membrane which passed our submergence test with ease. Inside the Digby is a cushioned inner sole with an antibacterial treatment designed to reduce pongs. The boots are fastened with laces and nothing more which helps give their classic styling. Protection comes in the form of toe and heel cups as well as a reinforced sole. The result is a reassuringly stiff boot that's hard to twist and bend. However, the fact this is a short boot means your ankle will be at greater risk of injury than if you were wearing something taller with more support. That said, if you're in the market for a short, formal riding boot, the Oxford Digby is worth considering. JO 
ABR Rating: 7/10
Style – 8
Comfort – 8
Protection – 6
Value for money – 7
IN A LINE: Good looks make it ideal for formal wear but not the most comfortable. 
DUCHINNI CANYON 
£139.99 | www.thekeycollection.co.uk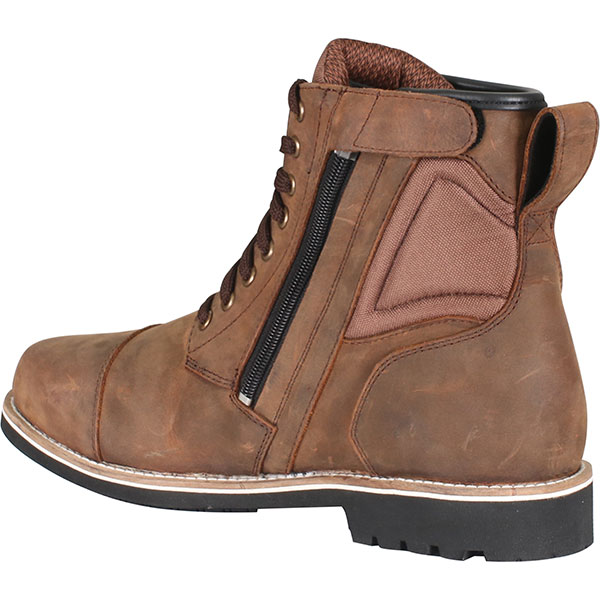 Duchinni may have a distinctly Italian sounding name but it is in fact a British-based brand which launched in 2004. It specialises in designing and selling motorcycle boots, gloves, helmets, jackets, and trousers at affordable prices. 
It's entry into this group test is the Duchinni Canyon casual riding boot. It's a leather, mid-height, lace-up boot, that reminds me of a hiking boot and comes in just one colour, a rather fetching brown. 
The Canyon is fastened using laces and a zipper so after you've set the lace tension you desire, you can slip the boot on and off using the zipper, which cuts down on faff time. Once on my feet, the Canyon felt soft and flexible thanks in part to a cushy padded inner liner. However, the boot did feel baggy around my ankle which resulted in my heel lifting further off the inner sole than I would have liked when walking. My feet also heated up very quickly while off the bike, even when I was simply sat down in the office. 
Duchinni market the boots as waterproof but our test pair didn't pass our submergence test, with water leaking throughout the boot. The leather also remained saturated for a number of hours after the test, which means if you ride for any length of time in the rain, you're going to get soggy, cold feet. I also have some concerns about the Canyon's build quality as, on both left and right boots, the sole began to peel away from the upper without too much encouragement. 
In terms of protection, the Canyon features heel and toe cups, as well as ankle inserts. However, the boots are easy to bend and twist by hand which would concern me if I was to have a high-speed crash. 
Overall, I was disappointed by the Duchinni Canyon. At this price point, I would expect to see better build quality and proper waterproofing. JO 
ABR Rating: 6/10
Style – 7
Comfort – 5
Protection – 5
Value for money – 5
IN A LINE: A good-looking casual riding boot but lacking the build quality or comfort to match the price.
DUCATI CORSE CITY BOOTS
£149 | www.ducatiuk.com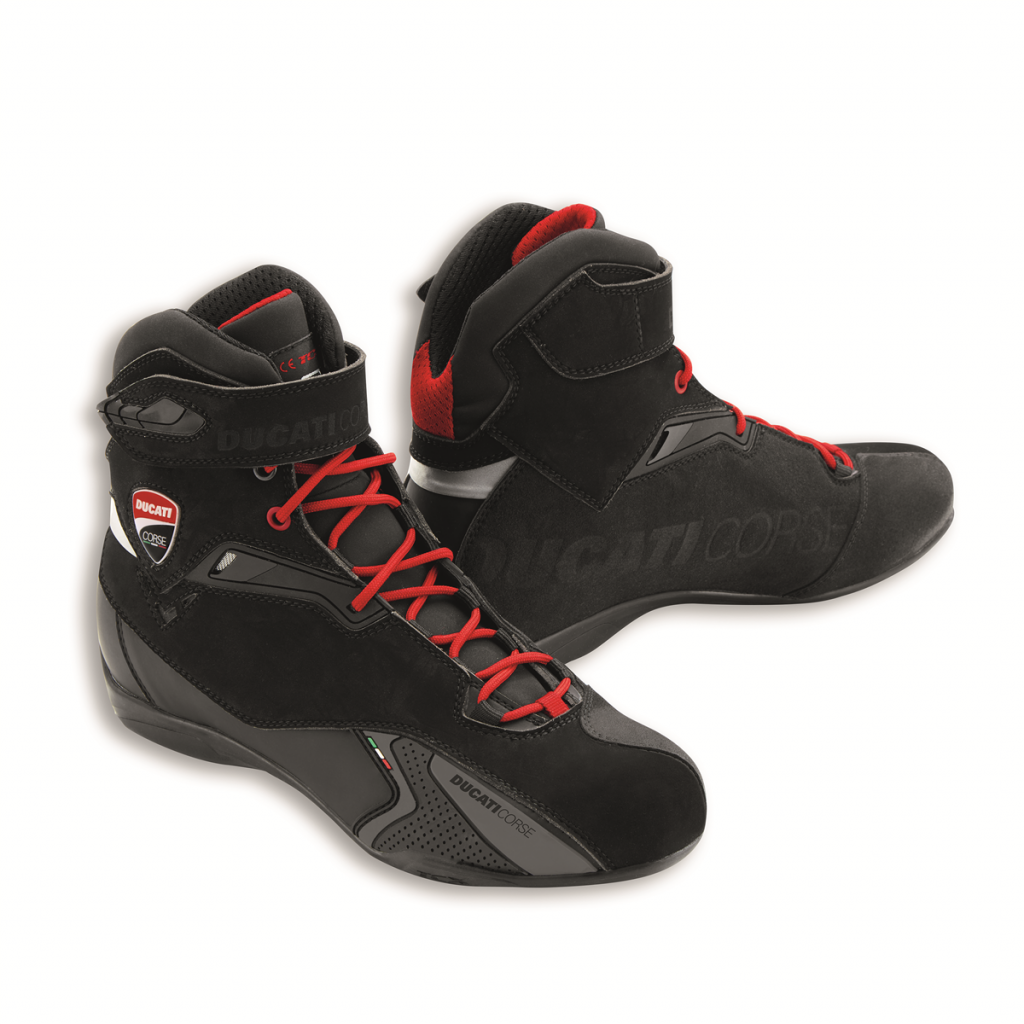 Ducati's DNA is steeped in motorcycle racing history and even its popular adventure bikes, the Multistrada 1260 and 950, are on the sporty end of the adventure spectrum. So, it should come as no surprise that the Italian manufacture's entry into this group test has a sporty look. 
The Corse City Boot is actually made by TCX and branded with Ducati logos, but despite the racing look, it's been designed with urban riding and short weekend blasts in mind. However, there's no disguising it is made for motorcycling, and for Ducati enthusiasts in particular. 
The Corsa City is predominantly made from chamois leather and features a soft inner lining, including a plush mesh fabric around the ankles which feels nice and cosy. The boots are lightweight and comfortable to wear although they are on the stiff side. Personally, I prefer the support a stiffer boot provides while riding, but the Corse City is just about flexible enough to make walking a comfortable experience, although I wouldn't want to venture too far. 
I was also a fan of the non-slip rubber sole, which was so grippy, it was almost sticky and provided excellent grip on the pegs. However, it does have an extremely shallow tread pattern so be sure to take extra care if you walk around on loose surfaces. The boots are easy enough to slip on although it would have been nice to see the inclusion of a zip opening to avoid the hassle of lacing them up. 
In terms of protection, the Corse City features a reinforced heel and toe cups and the boot felt stiff enough to reassure me my feet would be well protected if I was to crash at low speeds. There are also sliders on the front left of each boot for those of you who like to scrape their pegs on the way to work. Your feet will also stay dry on rainy days thanks to a waterproof lining that had no problems passing our submergence test. 
If you ride a Ducati and want a casual riding boot featuring plenty of branding in a sporty style, the Corse City will do a good job, but I'd recommend taking a change of shoes to the office. JO
ABR Rating: 7/10
Style – 6
Comfort – 7
Protection – 7
Value for money – 7
IN A LINE: A lightweight and comfortable boot in a sporty style for Ducati enthusiasts.
ALPINESTARS J-6 WATERPROOF SHOES
£149.99 | www.alpinestars.com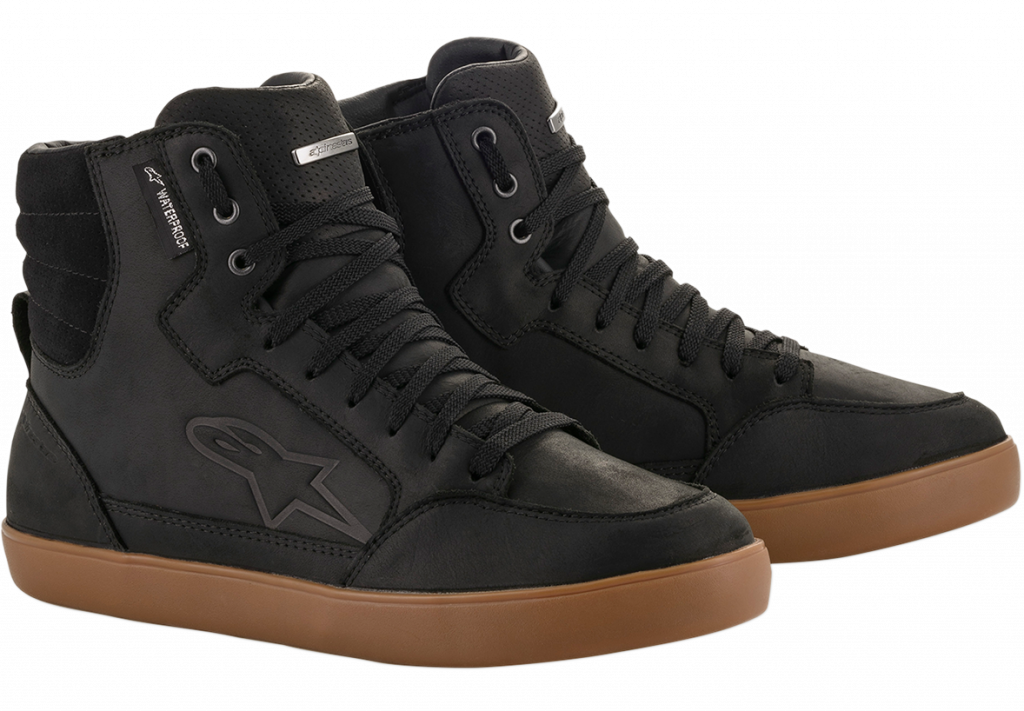 In 1963, Sante Mazzarolo, a leather craftsman by trade, turned his attention to the rapidly growing motorcycle industry and began making motocross boots. Some 60 years later his company, Alpinestars, has diversified its offerings to cover a huge range of motorcycle clothing. 
Its entry into this group test is the J-6 Waterproof Shoe. It's one of the most casually styled boots on test and will appeal to those who don't want to look as if they've arrived at their destination by bike, but still require the protection a riding shoe will bring. Having said that, the trendy styling is best suited for trips to town or relaxed evenings out and would look out of place in a formal office.
You'll have no regrets if you do decide to wear them all day though, as they are extremely comfortable. In fact, they excel compared to some of the more rigid leather boots on test, thanks to padding on the plush leather tongue and in the heel, as well as featuring a soft footbed. 
The boots also boast a waterproof membrane which was up to the task of keeping my feet dry during a heavy deluge and passed our submergence test. However, much like other trainer-style boots on test, the J-6 does fall a little short when it comes to protecting your feet. 
While the reinforced midsole feels robust and substantial, the dual-density padding on the ankle and heel doesn't, and the internal toe box is so small it failed to cover my toes. They are also easily bent and twisted. With this in mind, I'd be uneasy wearing the Alpinestars J-6 on anything other than low-speed trips.
All in all, these boots would be a good choice for riders who are prepared to compromise over protection to own a comfortable and stylish riding trainer for urban rides that disguises its true purpose as a piece of motorcycle clothing. OR 
ABR Rating: 7/10
Style – 7
Comfort – 8
Protection – 6
Value for money – 7
IN A LINE: A comfortable waterproof trainer, the J-6 is at home around town but lacks protection for other types of riding. 
DAINESE DOVER GORE-TEX SHOES
£179.95 | www.dainese.com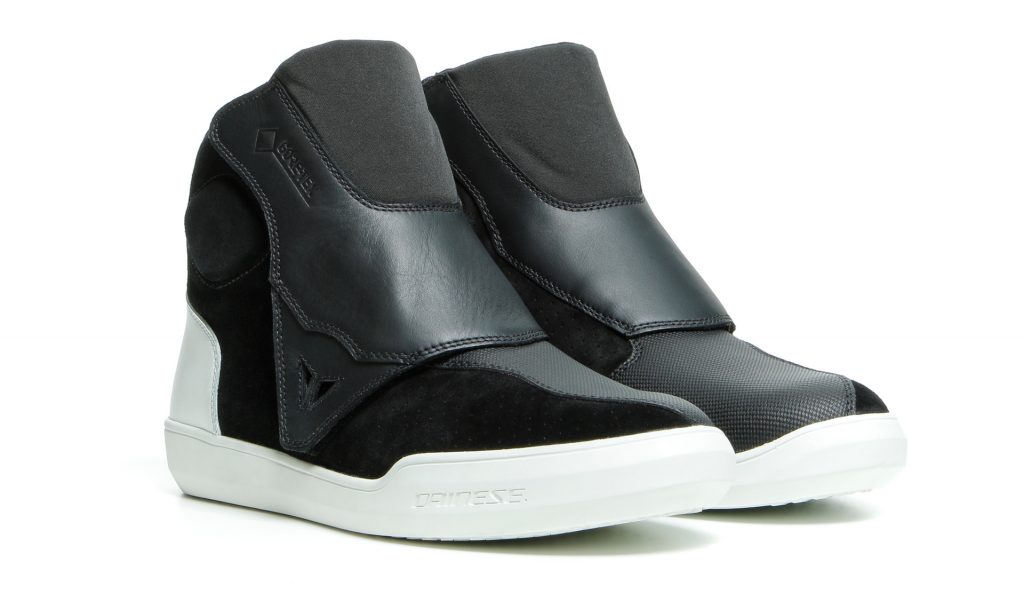 In 1968, Lino Dainese travelled to London on a Vespa and caught site of the leather-clad ton-up boys on the city's streets. Inspired by what he saw, he produced his first piece of bike clothing four years later, a pair of riding trousers. Since then, the Italian manufacturer has become one of the world's leading motorcycle brands, famed for producing high-quality, protective clothing with plenty of Italian flare. 
That flare is on display in the Dover GoreTex Shoe which is a trainer-style mid-height boot made of cowhide suede. I'd suggest the trendy styling is aimed at younger riders and, as someone nearing my 40th birthday, I fear I may have a few too many wrinkles to pull them off. 
However, if the look does appeal to you, you're in for a treat because there is a lot to like about the Dover boots. Slipping them on is a quick and easy affair thanks to a large Velcro fastener which combines with a nifty speed lacing system. Simply pull a tab and it tightens the lace without the hassle of tying a knot. Inside the boot is a soft inner liner with padding around the opening which makes the Dover very comfortable to wear. The sole is flexible enough to feel like you're walking around in a regular pair of trainers, but there was still enough support for the boots to feel comfortable on the pegs. Waterproofing is provided by a breathable Gore-Tex membrane which passed our submergence test. 
You'll be compromising on safety in favour of style and comfort with a trainer boot, so riding at motorway speeds isn't recommended. The Dover does feature ankle inserts but I would like to have seen a toe and heel cup for added protection. The skate-shoe style sole has an extremely shallow read pattern which was fine on the pavement but take care if you end up paddling a heavy bike on slippery or loose surfaces while wearing them. 
Overall, the Dover Gore-Tex is a very well made and thoughtfully designed piece of footwear. If you think you can pull off the look, it's a riding trainer worth investing in. JO 
ABR Rating: 7/10
Style – 7
Comfort – 8
Protection – 6
Value for money – 7
IN A LINE: Comfort, quality, and ease of use combine with distinctive styling for urban use. 
BMW DRY SNEAKER
£185 | www.bmw-motorrad.co.uk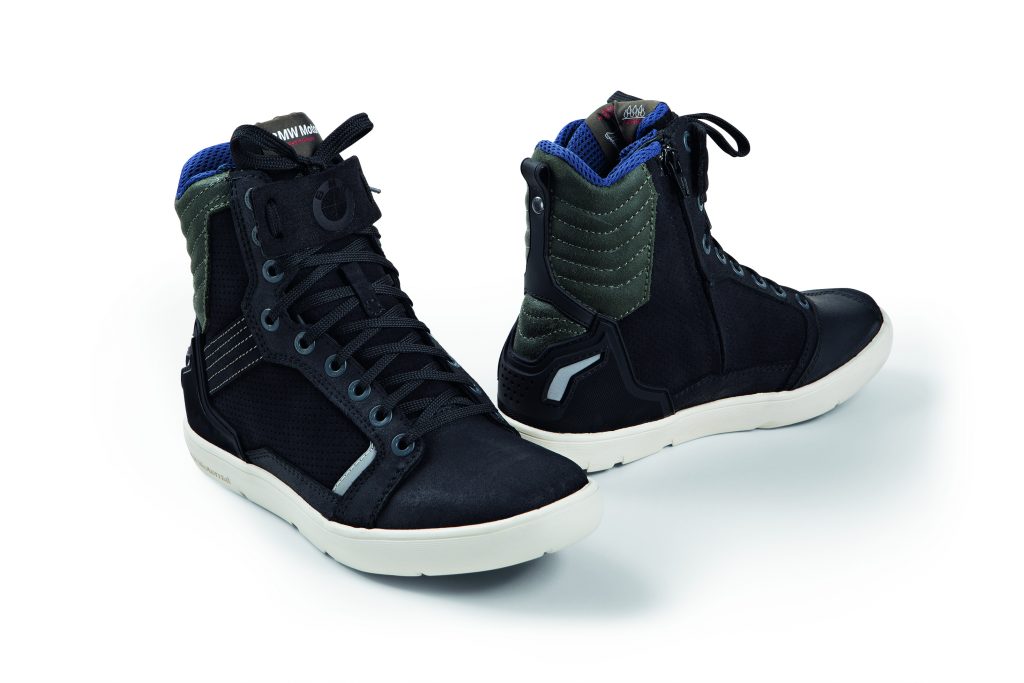 It's well known that BMW is a purveyor of some of the world's finest motorcycles, but did you know the German manufacturer also sells a range of branded bike gear? Over the past few years, BMW has scored consistently highly in group tests for style, comfort, and protection in ABR reviews and it is looking to continue this trend with the Dry Sneaker. 
As the name suggests, this is a trainer style boot and a stylish one at that. The white rubber outsole combined with black and green roughened leather results in a good-looking piece of footwear that could easily be mistaken for a 'regular' trainer boot. Only the gear shifter pad and the combination of laces and a discreet zipper giveaway the fact this boot was made for riding, along with the subtle BMW branding. 
Just like a 'regular' trainer, the Dry Sneaker also feels lightweight and comfortable to wear. Inside is a plush padded liner, and outside, the supple leather is more than flexible enough to ensure walking around off the bike is a comfortable experience. On the bike, I would have preferred more support on the pegs to aid comfort, particularly for longer distance rides, but the Dry Sneaker was designed with short urban journeys in mind, and for this use, they felt fine. However, the shallow tread pattern on the soles resulted in my feet slipping off my bike's pegs in the wet. BMW's own waterproof and breathable Climate Membrane lining kept my feet dry in the rain and the boot passed our submergence test. 
In terms of protection, there are reinforced heel and toe cups, as well as ankle guards. However, this all feels rather lightweight and flexible for my liking. While all casual riding boots, and trainers in particular, require you to compromise on safety in favour of style and comfort, I wouldn't want to come off a motorcycle wearing the Dry Sneaker at high speeds. 
Overall, this is a stylish and comfortable boot that offers the safety features I would expect to see in a trainer style boot, but if you want the security of having more protection, I'd look elsewhere. JO 
ABR Rating: 7/10
Style – 8
Comfort – 7
Protection – 6
Value for money – 6
IN A LINE: A lightweight and stylish motorcycle trainer for urban riding.
TCX HERO GTX 
£229.99 | www.nevis.uk.com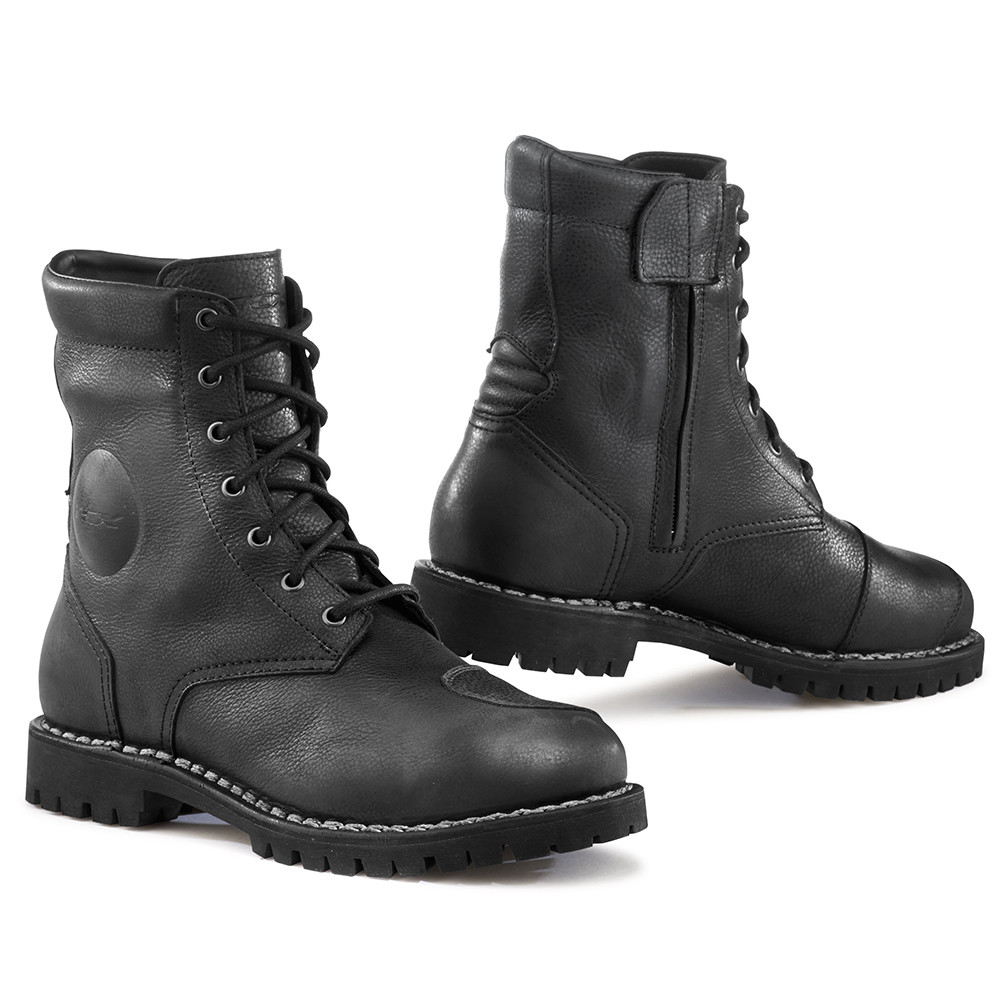 Based in the small town of Montebelluna, Italy, TCX has been specialising in the design and manufacture of motorcycle boots since 1999. In fact, it does very little else. Unlike many other clothing manufacturers, TCX focuses almost entirely on boots and that dedication has helped the Italian firm gain a reputation for making high-quality motorcycle footwear among riders throughout the world. 
TCX boots may be made in the company's own factory in Romania these days, but there's still plenty of Italian style on show throughout the range, including in the mid-height Hero Gore-Tex boot I've been wearing for this group test. It looks like a classic lace-up work boot with a touch of vintage styling. Apart from the subtly placed gear shifter pad and ankle inserts, the boots resemble a piece of fashion footwear you'd find on any high street. Pair them with riding jeans and no would know you're in motorcycle gear. 
However, the real joy of the TCX Hero Gore-Tex is reserved for when you slip them on. They are incredibly comfortable thanks to a supple full-grain leather construction, a cosy inner lining, and a rubber sole that is flexible enough to ensure they feel like a pair of 'regular' boots when walking. An aggressive tread also provides plenty of grip. However, despite a breathable Gore-Tex lining, the TCX Hero soon heat up on foot. 
The fastening system combines laces with a zipper. I simply set the laces to my preferred tension and didn't touch them again, instead using the zipper to slip in and out of the boots. That breathable Gore-Tex lining I mentioned earlier also means the TCX Hero is waterproof, and it passed our submergence test without a hitch. When it comes to protection, the boot features reinforced heel and toe cups, as well as protectors at both ankles. The sole walks the line between being flexible enough for comfort but stiff enough to ensure it withstands a good amount of twisting and bending. 
Overall, the TCX Hero Gore-Tex is a high-quality boot that looks and feels good, while offering a decent amount of protection. JO 
ABR Rating: 9/10
Style – 9
Comfort – 10
Protection – 9
Value for money – 8
IN A LINE: Style and comfort combine to make an excellent casual riding boot. 
REV'IT! PIONEER H20 
£299.99 |  www.revitsport.com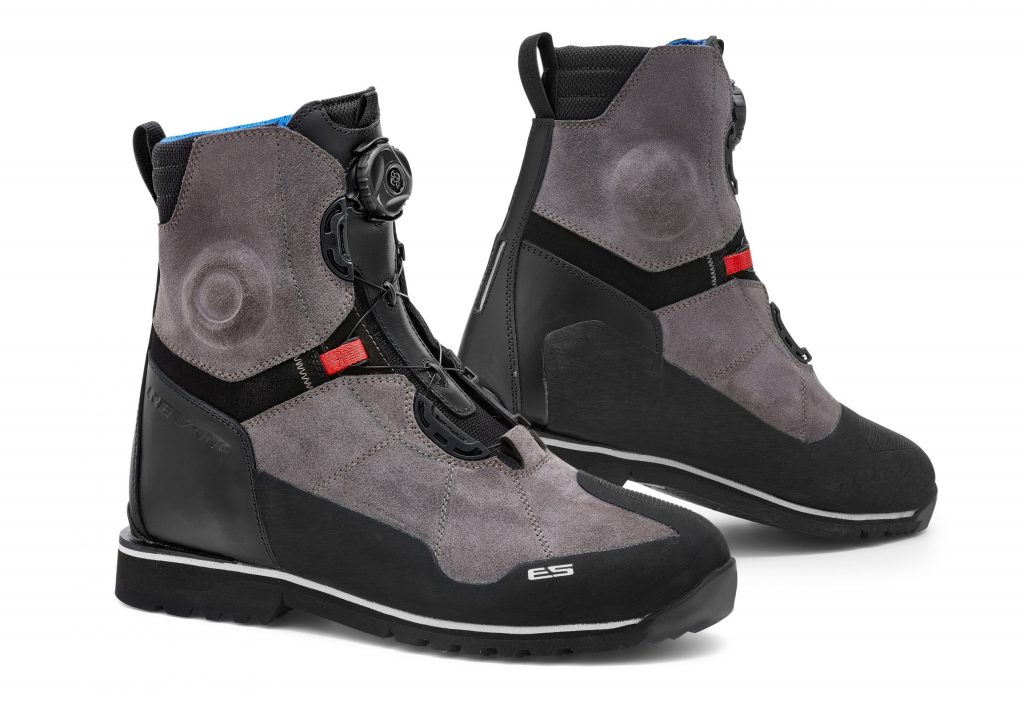 Dutch company REV'IT! has been designing and manufacturing high-quality, stylish motorcycle clothing for the past 25 years and that trend continues with the Pioneer H20, even if it is the odd one out in this group test. 
Unlike the rest of the boots we've reviewed, REV'IT!'s offering is styled and built as a midheight adventure boot rather than a piece of casual riding footwear, but don't discount it just yet because, as a casual boot, it's got a lot going for it. It also stands out as the only footwear on test with a BOA closure system, rather than laces or Velcro. But let's start with style. 
While the café racer crowd won't be enamoured with the Pioneer H20's rugged looks, I rather like the adventure styling with its blend of grey full-grain cowhide and black rubber. Tucked under my riding jeans, they look less obtrusive than a fair number of trainers I've worn in years gone by and they didn't look too out of place during casual use around town, including trips to cafes and pubs. However, if you're looking for a boot to wear in more formal settings, say in an office, you'd be better looking at something like the Oxford Digby. 
In terms of comfort and ease of use, the Pioneer H20 excels. In fact, I've been so enamoured that they've become my first choice of riding footwear for months now. Call me lazy, but I love the fact I don't need to bend over or sit down to put them on. Instead, I simply slip my feet inside while I'm stood up, like a pair of slip-on shoes, and give the BOA dial a twist to tighten the stainless-steel laces. They are basically faff free! 
Once on, the Pioneer H20 is stiffer than your average casual riding boot, such as the excellent TCX Hero Gore-Tex, but it is still flexible enough to make walking around town a comfortable experience. And, that added stiffness does provide extra support, particularly around the ankles, which aids with comfort on the bike. 
REV'IT! says the rubber Vibram Apex sole, which offers plenty of grip on the pegs and pavement, was designed to provide the comfort of a trekking boot in a piece of motorcycle footwear. This sums up the experience of wearing the Pioneer H20 quite well, although the boot does heat up relatively quickly on foot, so I wouldn't be keen to hike up the likes of Kilimanjaro in them, but they'd be great for walking around on tour. 
Where the Pioneer H20 also excels compared to other mid-height motorcycle boots is in terms of protection. It features reinforced heel and toe cups, chunky ankle protectors, and even a SEESOFT protector on the tongue to soak up the impact from flying debris. And, that stiffness I mentioned earlier gave me every reassurance my feet would be protected in a crash. When it comes to weather protection, the Pioneer H20 features REV'IT!'s own Hydratex waterproof membrane which is laminated to the boot and enabled it to pass our submergence test with ease. 
On paper, a mid-height adventure boot without shin protection may not make sense, but in reality, it works exceptionally well for everyday use. And, while the Pioneer H20 maybe the odd one out in this casual riding boot test, it offers an alternative for those of us who want the convenience and protection it offers and are happy with its adventure styling.
 At £299.99, REV'IT's offering isn't cheap, but it is an exceptional piece of footwear. If there were enough mid-height adventure boots on the market to do a group test on, I'd be tempted to give the Pioneer H20 10 out of 10. However, in this casual riding boot test, it can't help but lose marks for a lack of casual styling. JO 
ABR Rating: 9/10
Style – 8
Comfort – 8
Protection – 10
Value for money – 8
IN A LINE: Top-notch protection, quality, and comfort in an adventure-style boot, but it loses marks for lack of casual styling in this test.