Honda set out to bring the world 'True Adventure' with a do-it-all motorcycle. Alun Davies heads down to South Africa to check out the all-new Africa Twin
It wasn't so long ago that journalists were denied food, water and welfare on press trips. Those were the days alright when the publishing world was awash with lean, mean scribes penning honest to goodness reviews inspired by bouts of punishing solitary confinement and tortuous episodes of sleep deprivation on harrowing corporate events.
I was lamenting those heavenly days gone by as the warm glow of an early morning African sun chased the last nip of cool air from the balcony of my luxury bedroom. We were staying at the Aquila Private Game Reserve in the mountainous Boland District of Western Cape Province, South Africa. Best known for its vineyards and as the birthplace of the Afrikaans language, it was also the setting for the conclusion of the longest motorcycle pre-launch media hype known to man.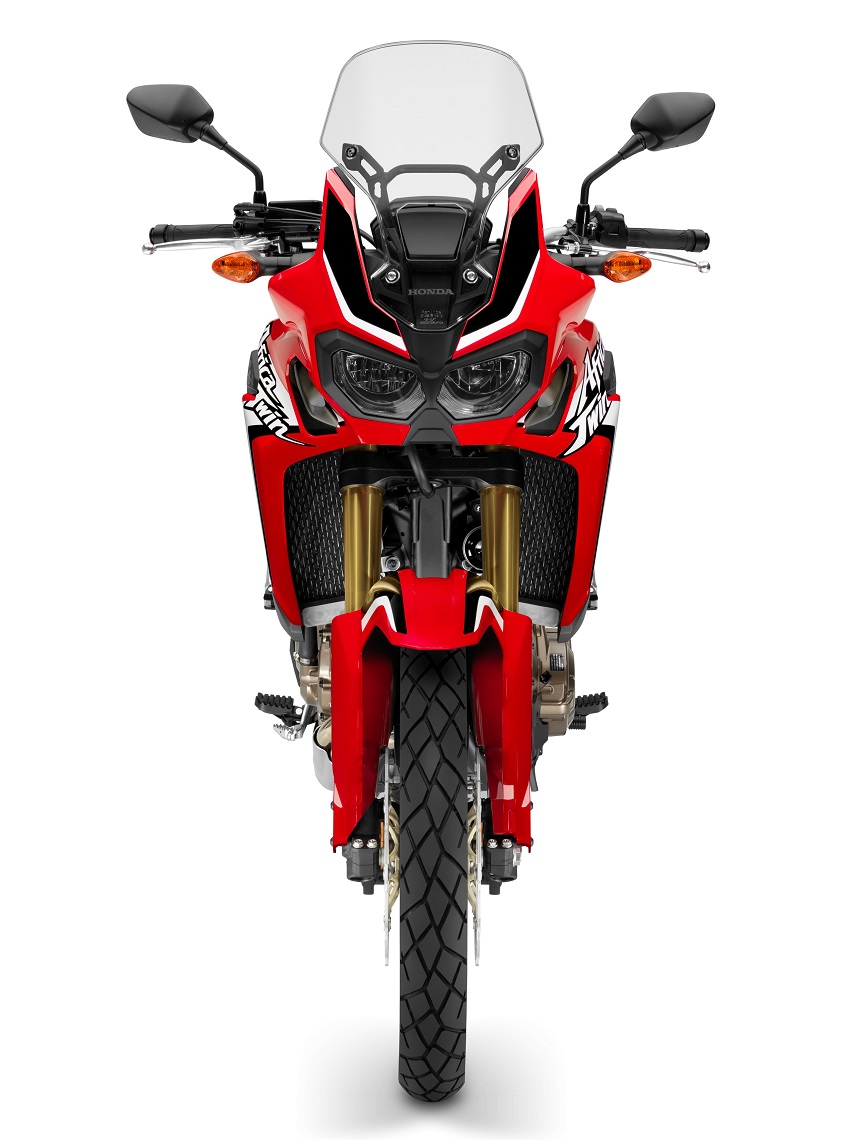 Finally, having survived a Honda PR campaign that appeared to be following a biblical timeline, I was hoping to swing a leg over the new Africa Twin. I say 'hoping' as standing on that balcony I was struggling to lift a leg over the glass of freshly squeezed orange juice at my feet. As men of a certain age are prone to do, I'd sustained a serious sock injury on the flight over to Cape Town.
I'll explain. We were cruising somewhere over the spectacular Hoggar Mountains of southern Algeria when I made the cataclysmic decision to lean forwards and change into British Airways comfort socks. In the process, I managed to over-extend my lower back.
Had I been sat in the straightjacket pen known as the economy there'd have been no room to wiggle my toes, let alone take part in extended stretching of the lumbar region. However, with all that extra legroom in business class and following a couple of large single malts it was a spine herniating disaster waiting to happen. Beware, flight attendants, banning soft cotton socks is the hard-fought lesson here. By the way, sympathy cards can be sent too…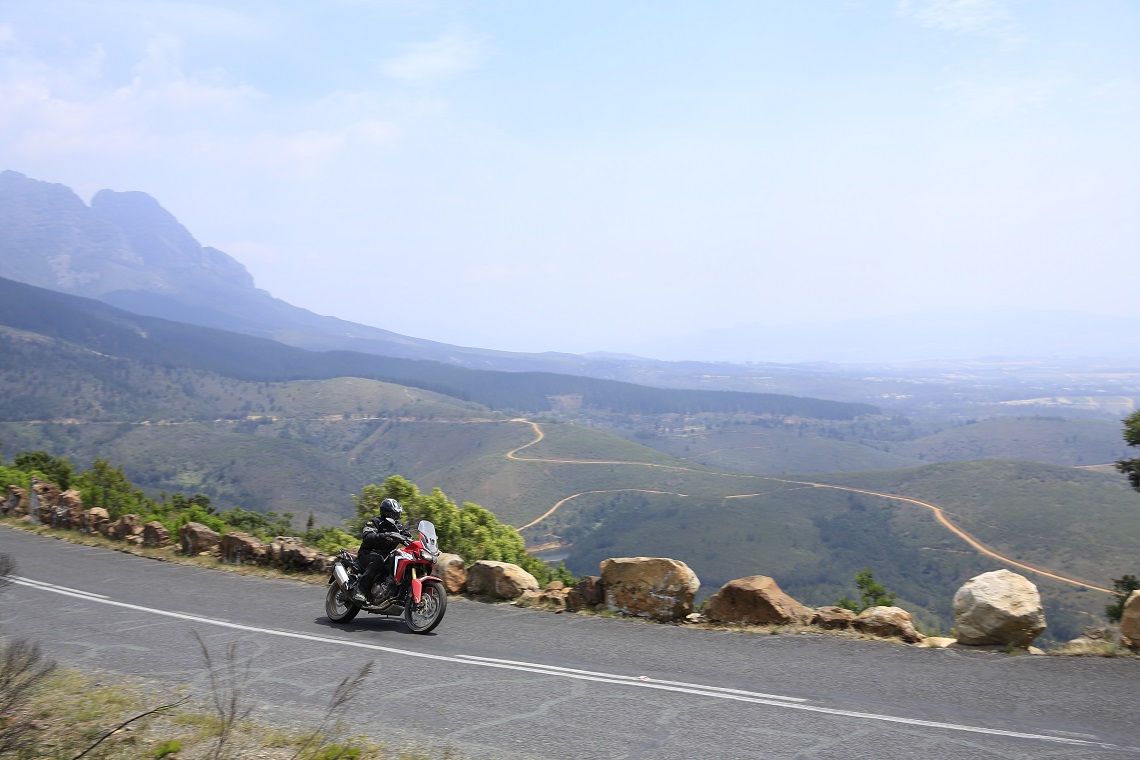 Anyway, let's get back to business and luxurious press launches. Following a complimentary breakfast of full-strength ibuprofen and paracetamol, it was out to the sun-scorched paddock and an introduction to the long-awaited new Africa Twin.
The project team at Honda had been well aware from the time of conception that a bike inheriting the name 'Africa Twin' and entering the booming and highly competitive adventure bike market needed to be something special. They simply could not get this one wrong.
Starting with a two-word concept of 'Go Anywhere' the new bike would be built from the ground up to possess all-round ability. The vision was a rider feeling at home when commuting in a busy city, scratching around A roads, continental touring or setting off on a round the world escapade. In addition, the bike needed to excel in off-road conditions. In short, Honda was working on a wish list of Holy Grail proportions.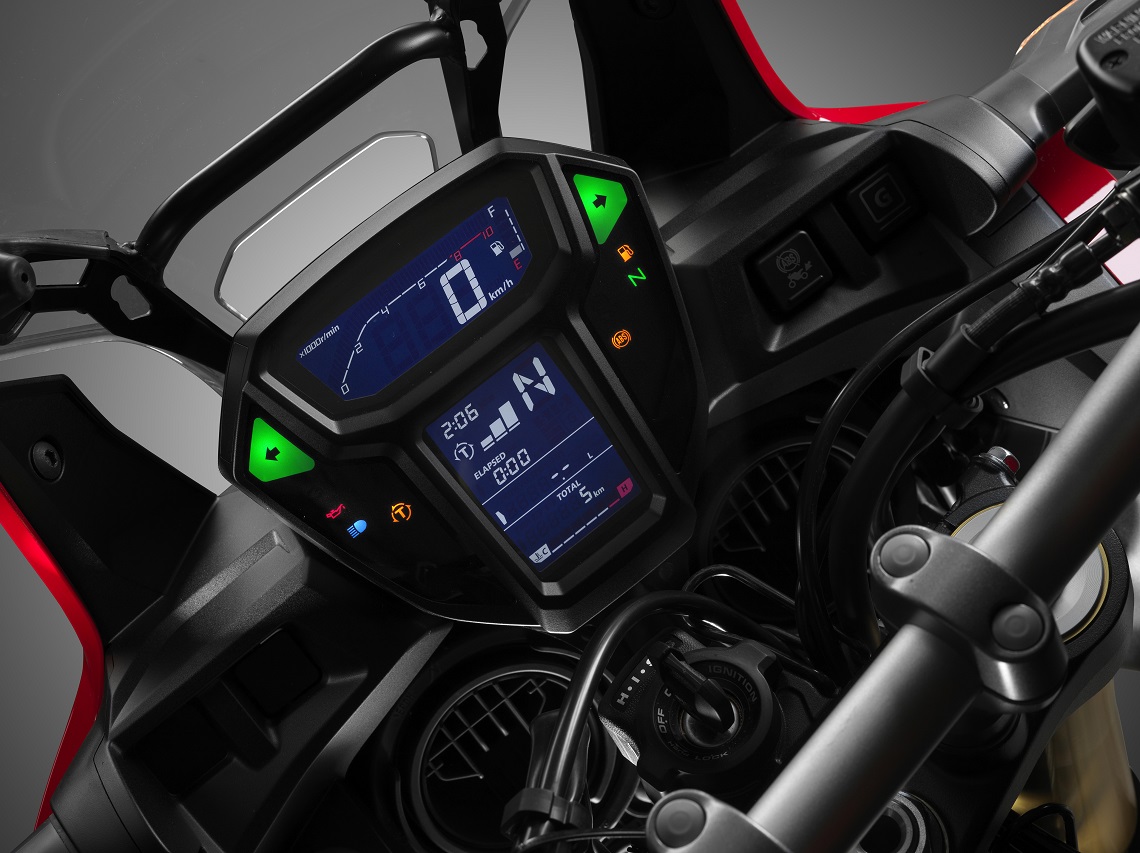 What grabbed me from the outset was how small and lightweight the new Honda looked for a 1000cc adventure bike. In reality, it's not that small or lightweight, it's just that the design and construction combine to create the illusion of being less of a bulbous battleship and more of a dashing destroyer.
It's also quite obvious that the smaller capacity off-road CRF model has played a major influence in the looks department, a fact that's been confirmed by the inclusion of the 'CRF1000' moniker in the full title. In my book, the new Africa Twin looks more like the big brother of the CRF450 than the son of a 2003 XRV750 RD07A (the last motorcycle to carry the name Africa Twin). That's no complaint, I'm very much a fan of the sleeker, more modern appearance.
With the painkilling drugs in full operational mode, I swung a complaining leg over the saddle with just the hint of a grimace. I would start this game and with no sub on the bench, it was going to be a case of gritting the teeth I've got left until the final whistle.
The running order of the next two days read like this: day one would be a road ride with the morning spent on the DCT version, switching to the manual gear change in the afternoon. Day two would be offroad with a similar halftime change over.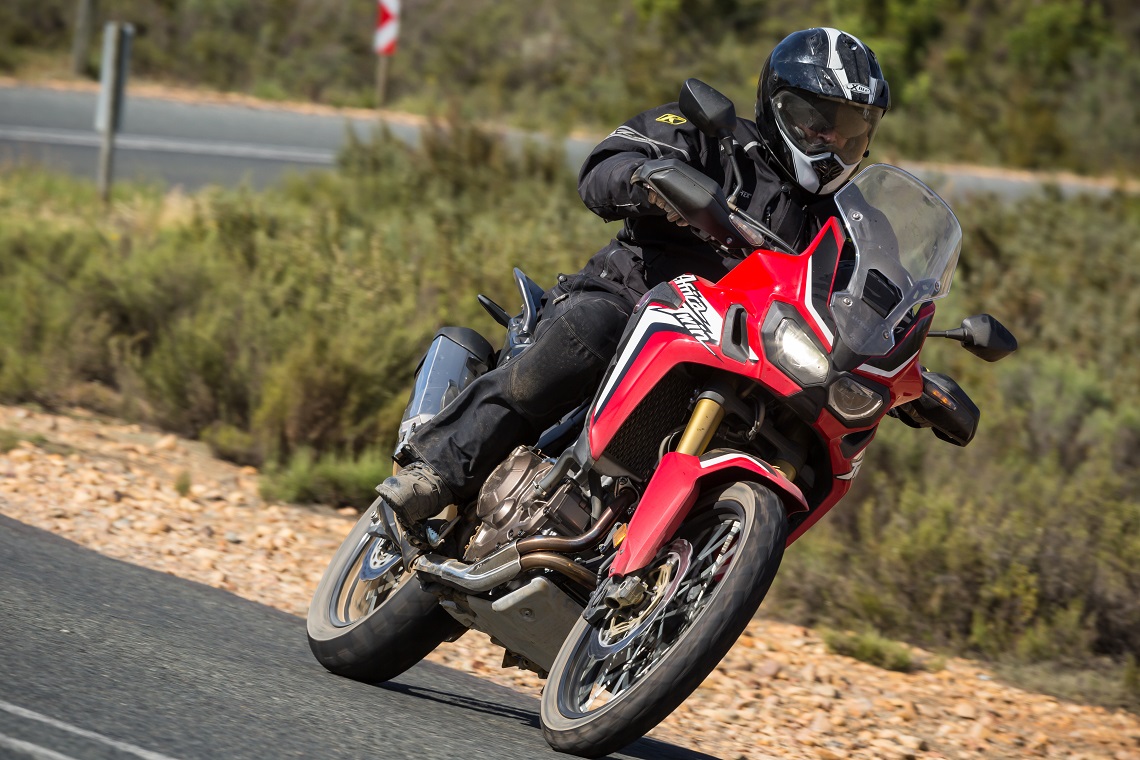 One of the major advantages of attending a new bike launch with stabbing back pains is that the ergonomics and seat height are of brutal significance in real-time rather than something to casually address with a retrospective keyboard flurry back in the office.
And so the good news with the Africa Twin begins in that I (6ft 2in) was able to get both feet, from heel to toe, planted on the floor. No tip-toeing whatsoever and even the shortest rider of the group (5ft 9in) was able to plant two boots on terra firma from the standard seat height of 850mm.
Sticking with the seat height, Honda has pulled off a bit of an engineering whiz with the new Africa Twin: you get the coveted combination of a reasonably low seat and good ground clearance (250mm) on the same bike. Historically, 'low seat, high ground clearance' has been the ultimate motorcycle oxymoron.
In highly technical engineering terms the seat/clearance objective has been achieved by stuffing essential bits and pieces (oil tank and pump) which would normally add to the height of the engine in the crank. Essentially then, what Honda has managed to achieve is an adventure bike that is going to be manageable and comfortable for both tall and shorter riders. Full marks.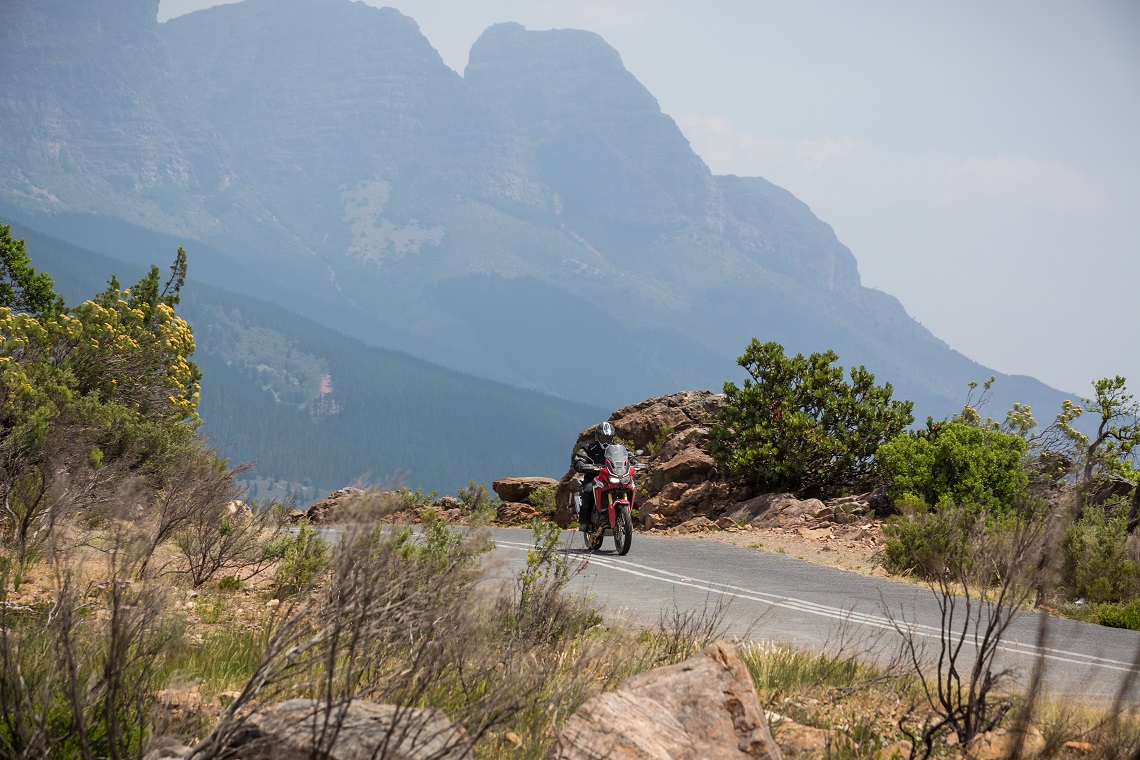 And the ergonomics are spot on too with a foot, butt and hand triangle that's both comfortable and commanding in layout – and that applies when standing or sitting down. A big additional aid to this control and comfort is the narrow design at the front of the seat, where the rider's knees are not forced out whilst sat down and it's easy to leg grip when standing up.
Looking down at the control layout on the DCT version is a daunting first experience and a precursor of information anxiety. The buttons and controls are numerous to the point where a Boeing 747 control panel looks like an early learning pegboard from Mothercare. When I tell you that there are a possible 80 different riding mode combinations on the DCT bike, you may start forming a complex and complicated picture. And, in the first instance, there's no getting away from it, you'd be right.
However, it's not as mind-numbing as you may think and once the thing between your ears understands the various combinations of traction control (four including off ), sports modes (three), drive mode, MT mode, ABS on or off plus the 'G' switch. It quickly becomes, er, less complex.
Essentially you can dial in any combination of the above to achieve a custom setting that suits your particular riding style and/or the terrain you're riding on. On the other hand you can ignore all the buttons, look straight ahead, twist the throttle and ride with nothing more to do.
In reality, Honda has managed to make switching between the multitude of modes pretty damn easy, in fact, a lot more user friendly and logical than some bikes with just an on/off traction control switch. Within the first 15 minutes, I'd mastered the layout and combinations and was happily changing modes on the fly – with the exception of ABS where you need to be stationary.
The problem with incorporating all these modes and info into a motorcycle is that to get the best use of all the functions they need to be displayed clearly and understood instantly without the aid of a co-pilot. Honda's solution is a multiple split-screen set-up where the essential need to knows are kept apart from the nice to knows and it has done a good job.
If I have a complaint, then it was certainly highlighted by the intense sun of South African summer. On quite a number of occasions, I found the displays difficult to read whilst on the move. I felt there needed to be more contrast between the screen and data, or more powerful back-lighting, or more probably a combination of both. Th at said the conditions for screen legibility were as extreme as it gets.
The first section of the road ride was on high-speed straights with the occasional long sweeping bend. With visibility as good as it gets and the riding non-technical, it was a great opportunity to get to grips with all the modes and concentrate on the form and function of the bike rather than the tarmac ahead.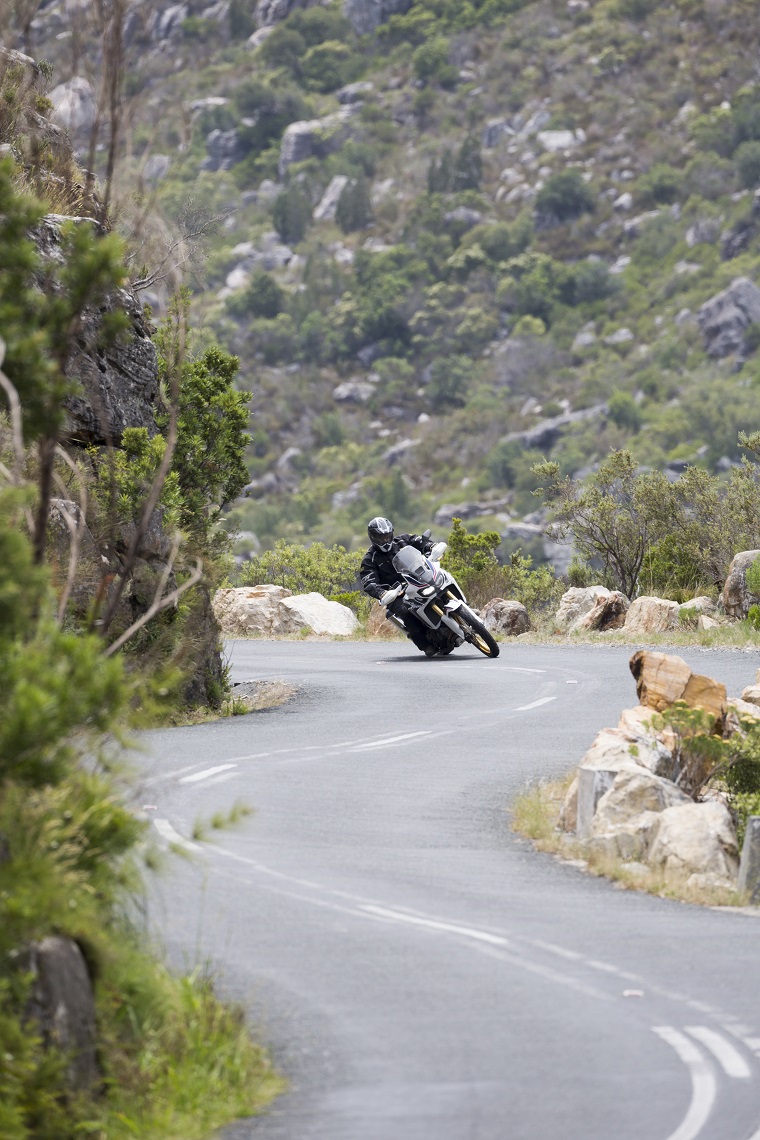 With a 1000cc parallel twin pumping out 98bhp the new Africa Twin was never going to be the sportiest of adventure bikes. The performance felt more akin to the current crop of 800cc machines rather than one that was going to compete with the 1000ccplus brigade. There is nothing like the bottom end catapult effect of the BMW GS1200, nor the arm ripping higher rev thrill of the KTM 1190. The power is delivered in a smooth, non-threatening linear fashion right through the rev range.
Nevertheless, cruising at autobahn speeds is a no-stress experience: stability is good, the seat is comfy and the small front screen does such an effective job that buffeting and wind noise are not distractions. What you do get is quite a significant front fork dive under heavy or unexpected braking.
After a short stretch of non-technical graded dirt road, we set off up the spectacular Bain's Kloof Pass. This 19-mile section of road was completed in 1853 under the guidance of South Africa's most famous road engineer. Andrew Geddes Bain was born in Thurso, Scotland, before emigrating to Cape Town at the age of 19 where he started constructing roads with a vengeance.
The pass was arguably his finest achievement, linking the south to the interior of South Africa via a snaking, precipitous route through the Limietberg Mountains. The road is such a fine spectacle it is now a national monument.
Bain's Kloof Pass proved to be the perfect testing ground to establish the good points and limitations of the Honda DCT automatic clutch. This twisty, uneven, spectacular Alpine-style strip of tarmac is one that has the ability to empower your teeth-grinding speed-king persona or engage with your more relaxed open-jawed tourist nature. It's a prime location for the schizophrenic biker.
I've been a fan of the DCT automatic dual-clutch since first riding on the Honda Crosstourer a few years back. In essence, it turns a motorcycle into a twist and go scooter, where the bike makes all the gear selection decisions and you concentrate on the ride. However, issues can arise when you engage warp speed on multi-personality routes where you quickly establish that the DCT algorithm does not work in tandem with the right side of your brain.
When your red mist is swirling the DCT will not hang onto a gear like you would between or on bends, nor does it change down as rapidly and aggressively as you may wish when approaching a high-speed corner.
More often than not I found myself entering corners at overrun speeds that pushed my comfort level to the limit. The DCT would also change up at inconvenient points when I would have held onto the revs. I could have overridden the system by self-selecting gears through the paddles on the left-hand grip, or I could have engaged 'manual' mode and made all the decisions, but my objective was to check the limitations of DCT.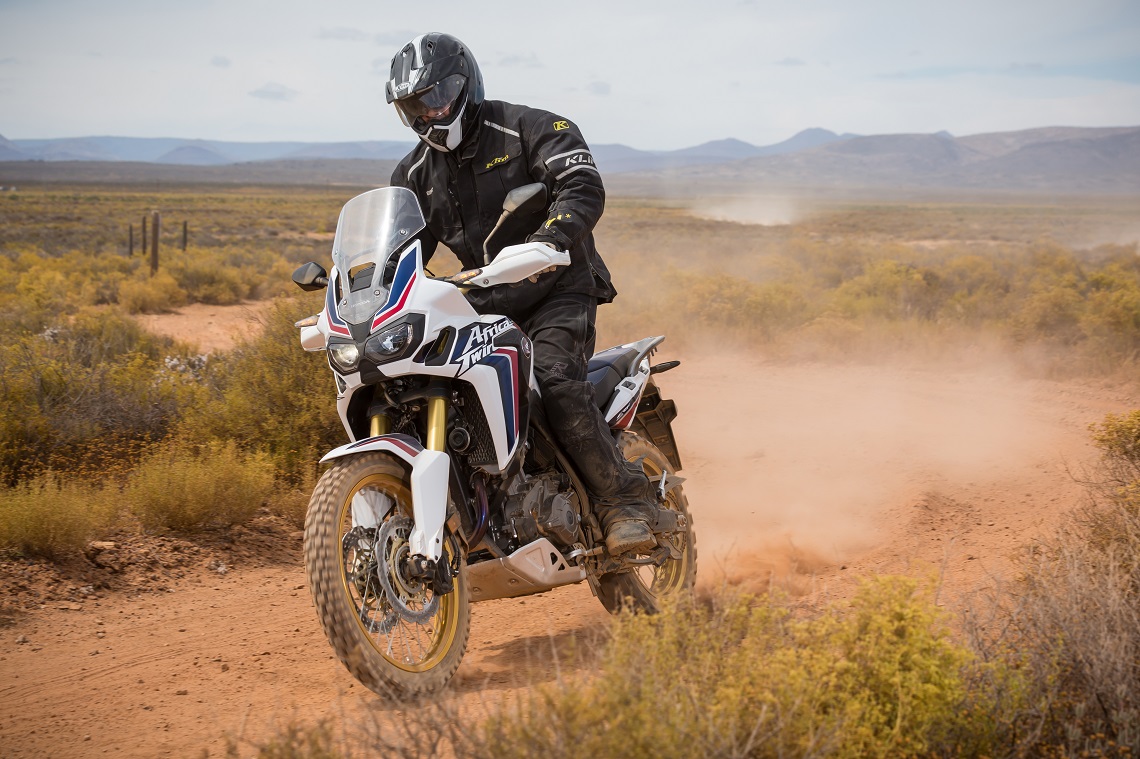 At the crest of the pass I engaged tourist mode for the ride down to the lunch stop and this is where the DCT came into its own. At a leisurely or relatively fast-paced ride, the DCT is superb. Automatic gear changes are so smooth and unobtrusive I was constantly checking to see which gear the bike was in. This was touring at its finest where I could concentrate on the road ahead and the scenery and let the Africa Twin make all the decisions, which it did with impeccable manners and choice.
After lunch and a nosebag of painkillers, it was back up the pass at warp drive on the manual version of the Honda. I don't for one moment think that anyone's going to buy the new Africa Twin for ultra fast-paced Alpine road scratching, but if you are then this is the only occasion where I would favour the manual version over the DCT.
The only other point I'll add here is that I doubt many Africa Twins will be pushed at the sort of speeds and with the level of aggression witnessed on the test ride. And whilst it's not as sure-footed under those conditions as some adventure bikes, in the right hands it'll take on and compete with the sports bike crew. In other words, the handling, braking, performance and superb traction control will not leave you wanting should the spirit take hold.
Early morning of day two and I was back on the balcony when I noticed some movement 40 metres away in the bush. A male rhino was chomping his way through a small portion of the 200lb of grass and leaves he'd consume in the next 24 hours. I'm sure he noticed I was busy doing something similar with the Nurofen.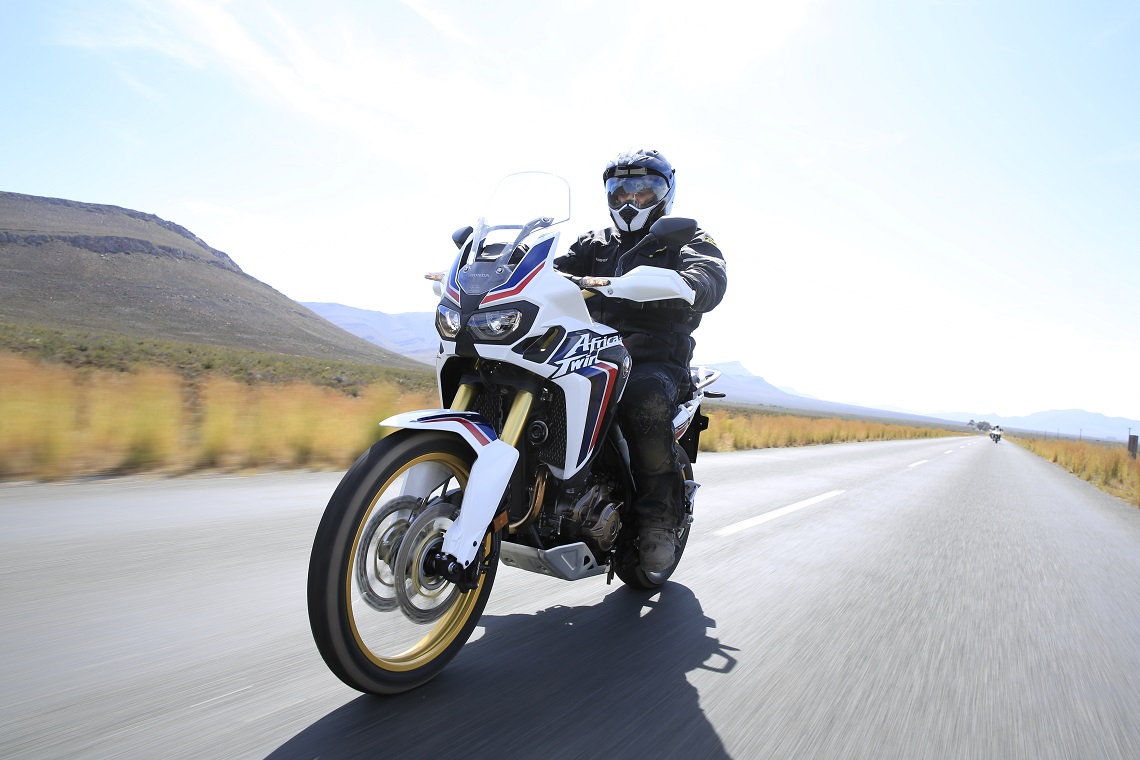 Day two was going to be interesting. In over five years of attending adventure bike press launches on behalf of ABR, only BMW has devoted any extended time for test riding its machines in off-road conditions. On some new adventure, bike launches the gnarly activity is limited to riding through a photogenic hard-packed gravel car park. So, with that in mind, a big thumbs up to Honda for letting us ride its bikes as the marketing brochures suggest they should be ridden.
The route for the day was not the level, hard-packed, graded roads that are common in South Africa but 50 or so miles of genuine technical trails. We were promised sections of deep sand and ruts, loose rocky trails, gnarly hill climbs and fast-paced undulating piste with unexpected drop-offs and water cuts. The sort of conditions that would make all bar the off-road elite very edgy on a bike over 400cc.
It was here that this heavy 1000cc bike showed its true adventure colours. The suspension performs to the point that I could forgive the front end dive which occurs under heavy braking on-road. The stance, smooth power delivery, balance, excellent fuelling and throttle control, low seat height, high ground clearance, 21in front and 18in rear wheels, effective traction control and an ABS system that allows you to switch off at the rear whilst remaining on at the front all combine to produce a bike that defies its size and bulk.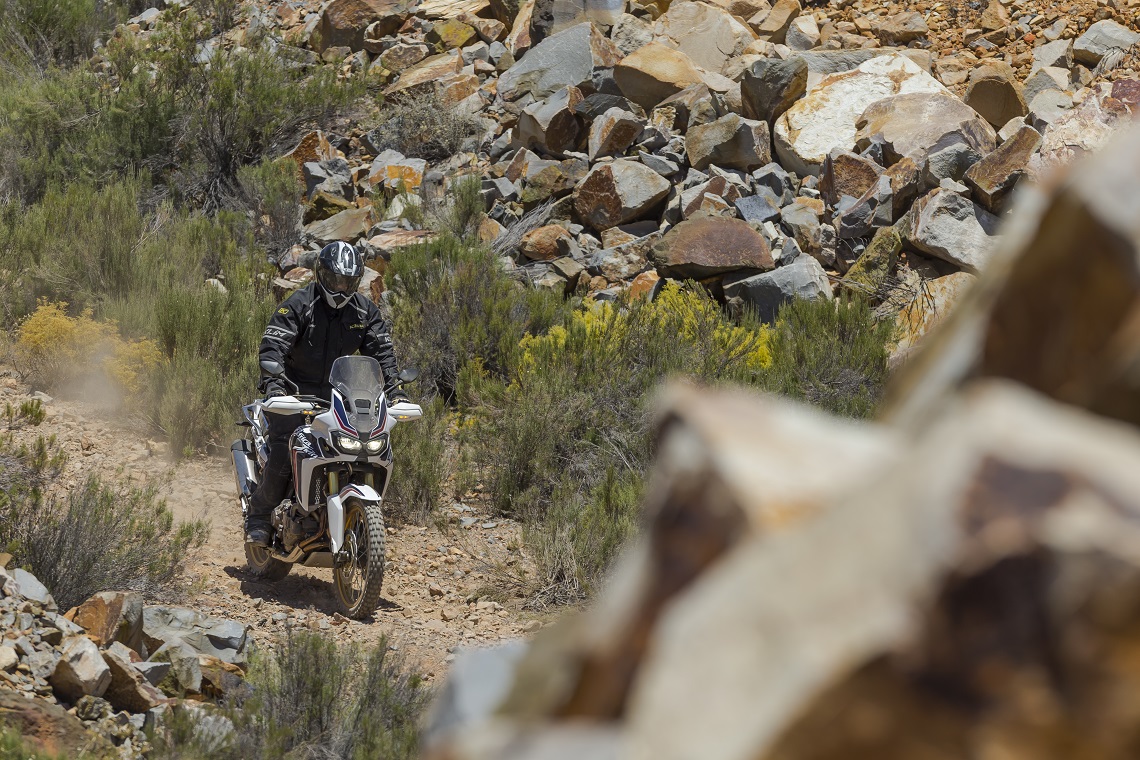 Make no mistake, the manual version of the Africa Twin has raised the bar in big bike off-road performance. And even the bar starts getting vertigo when you add on the excellent DCT.
I'm well aware that at 232kg (fuelled) a motorcycle should not be taken seriously by the masses as an off-road machine. But there's now an exception and Honda has achieved it through a combination of clever design, engineering and features.
Size-wise, sitting or standing on the bike, it feels more like being on a lower version of a Ténéré 660 than on, say, a GS1200. The exception is whereas the Ténéré feels, and is, top-heavy, the Africa Twin does not and is not. Honda has worked hard at centralising the mass of this bike, placing all the heavy items as low as possible. The effect is a low centre of gravity and balance which had us riding these bikes in technical conditions more like you would an enduro than an overweight adventure bike.
I can say with confidence that the novice or average off-road rider will not feel anywhere near as intimidated by the Africa Twin as they would with any other 1000cc bike should they choose to head off in the dirt. And when you throw in the DCT which works near perfectly in off-road conditions, you can forget having to find the gear lever when standing up or trying to work out which gear you need to engage to work through the deep mud or sand up ahead – the Africa Twin will do it all for you. All you need to do is pick the line and enjoy the experience.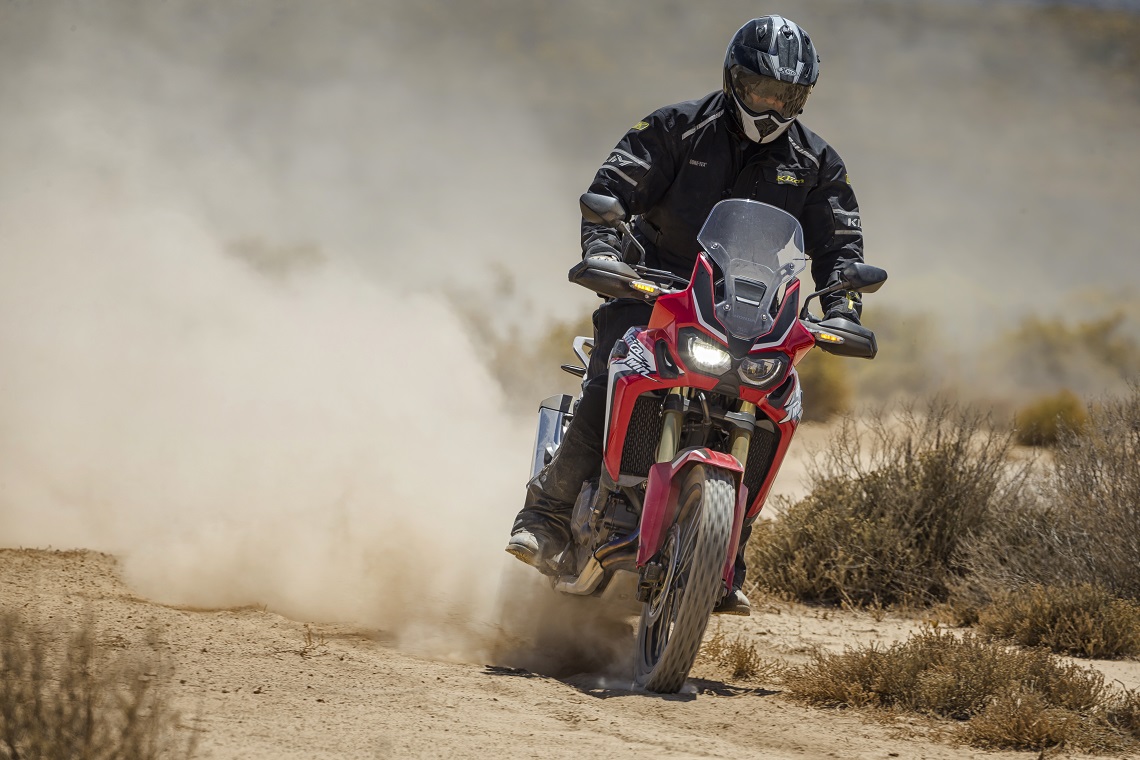 Even the experienced off-road riders on the trip were reluctant to hand over their DCT equipped bikes at the change around. It is nothing other than superb, period.
And it doesn't stop there. The traction control is so precise that select level one, find a dusty loose corner and whack open the throttle and you too can be a back wheel drifter of epic proportions whilst the ECU will keep you rubber side up.
You may be detecting a vibe that suggests I liked the Africa Twin and you'd not be wrong. This is the most impressive big bore 'true' adventure bike I've ridden to date. Man, it even brought a smile to a drugged up old guy with a faltering back.
Honda set out to produce a motorcycle that would do it all. And that's what it has achieved. Given the choice, I'd go for the DCT version.
---
DCT Operational Modes
ABS: On or off. When switched 'off' the front is still on but the back wheel is free for you to slip and slide at will.
HSTC (Traction Control): There are three levels of traction control plus 'off'.
Drive: Less snappy than sports, ideal for wet conditions and tootling.
Sports: Three increasingly aggressive 'sports' power levels. More aggressive than 'Drive'.
MT Mode: Manual gear change mode.
G Switch: With the 'G' switch off the clutch allows a little slip so you get smooth engagement with less snap and helmet banging with a pillion on board. With the 'G' switch engaged there's no clutch slip and instant drive, best for off-road conditions.
---
Quick Spec:
| | |
| --- | --- |
| Price: | £10,499; DCT version £11,299 |
| Engine: | 998cc liquid-cooled parallel-twin with a 270-degree crank |
| Power: | 98bhp @7500rpm |
| Torque: | 68.6ftlb @6000rpm |
| Kerb Weight: | 232kg; DCT version 242kg |
| Tank Size: | 18.8L |
| Fuel Consumption: | Honda claims 61mpg |
| Tank Range: | Honda claims up to 250 miles |
| Seat Height: | Options between 820mm-880mm |
| Frame: | Steel semi-double-cradle |
| Suspension: | Front 45mm fully adjustable USD fork, 230mm of travel. Rear fully adjustable shock with 220mm of travel |
| Brakes: | Front: twin 310mm wave floating discs, four-piston calipers. Rear: single 256mm wave disc. |
| Wheels: | Wire-spoked 21in front and 18in rear |
| Tyres: | Dunlop Trailmax front 90/90-21, rear 15/70-18 tubed |
| Colours: | Tricolour: black: silver: victory red |
---
ABR Verdict
As a commuter
Great balance with a good turning circle. A low seat for stability whilst still retaining a commanding view plus good fuel consumption figures. The Africa Twin will make you a very happy commuter.
As a weekend tourer
A fast-paced road bike that'll bound you down motorways in stress-free comfort and offer you the option of taking on twisty A and B roads plus gnarly green lanes at the destination. What more do you want?
As an off-roader
The best off-road capability of any 1000cc adventure bike on the market. The ergonomics, suspension, design, balance, wheel size and especially the DCT will have you enjoying the dirt like no other. Do bear in mind it's still a heavy lump to go lifting.
As a continental road tourer
More than capable of high-speed motorway cruising in comfort and a hoot on Alpine-style roads. One thing I noticed on the test ride was the lack of riders stretching legs and standing towards the end of the day – always a good sign of long-distance comfort.
As an RTW overlander
The true adventure bike for the RTW overlander. Road, piste or rocky trails, this is the do it all bike. And we're not expecting reliability issues, it's a Honda after all.
As a pillion carrier
If the Africa Twin has a slight weak spot then this is it. In our limited experience, there are better pillion carriers than the Honda. If your plans include a passenger as a permanent fixture then you may need to look elsewhere.
---
The History of the Honda Africa Twin
1988/9
Honda Africa Twin XRV650 RD03
Based on the Honda NXR-750 which won the Paris-Dakar Rally four times in the late 1980s. It featured a softly tuned V-twin engine and a look that has become synonymous with adventure motorcycling.
1990-1994
Honda Africa Twin XRV750 RD04
1992 (upgrades)
Trip master added (digital clock and trip console above speedo)
1993 (upgrades)
New frame, bodywork plastics, fuel tank, engine mods and lower seat by 15mm to 860mm
1994–2003
Honda Africa Twin XRV750 RD07
1995 (upgrades)
Improved seat, clutch, larger silencer, modified upper fairing and a luggage rack. Rear shock lost some of its adjustability.
1996
Introduction of the RD07A
While the majority of the bike stayed the same the fairings were redesigned to feature a new headlight design and higher cowl. The seat was also improved for more long-distance comfort.
2015
Honda CRF1000L Africa Twin
After 12 years Honda releases an all-new Africa Twin in what was one of the most eagerly anticipated adventure motorcycle launches in history.