As an agent and producer to motorcycling celebrities such as Long Way Round star Charley Boorman and comedian Ross Noble, adventure biker Billy Ward spends most of his time behind the camera. For his first foray into the limelight he wanted to do something big, so he decided to go to war…
Like so many of the best adventures, the idea came over a few beers. Billy Ward, known as Billy Biketruck, was having dinner at a Turkish restaurant in Battersea, London, last year with his mate Claudio von Planta. Yes, that Claudio, the cameraman from Long Way Round, Down, and soon to be (presumably) Up. 
The biking banter was flowing back and forth to the point where Billy laid down a drunken challenge over the dinner table. 
"I said to him, 'I can go anywhere. You name where we go, and we go'. I had in my head the jungles of South America or Brazil or something, and he said 'let's go to Mosul'. F**king Mosul!" 
The pair shook hands there and then and celebrated the proposed adventure with more drinks. However, over the next two weeks Billy's hangover faded and with it, the idea of riding in Iraq. That was until an email arrived in Billy's inbox.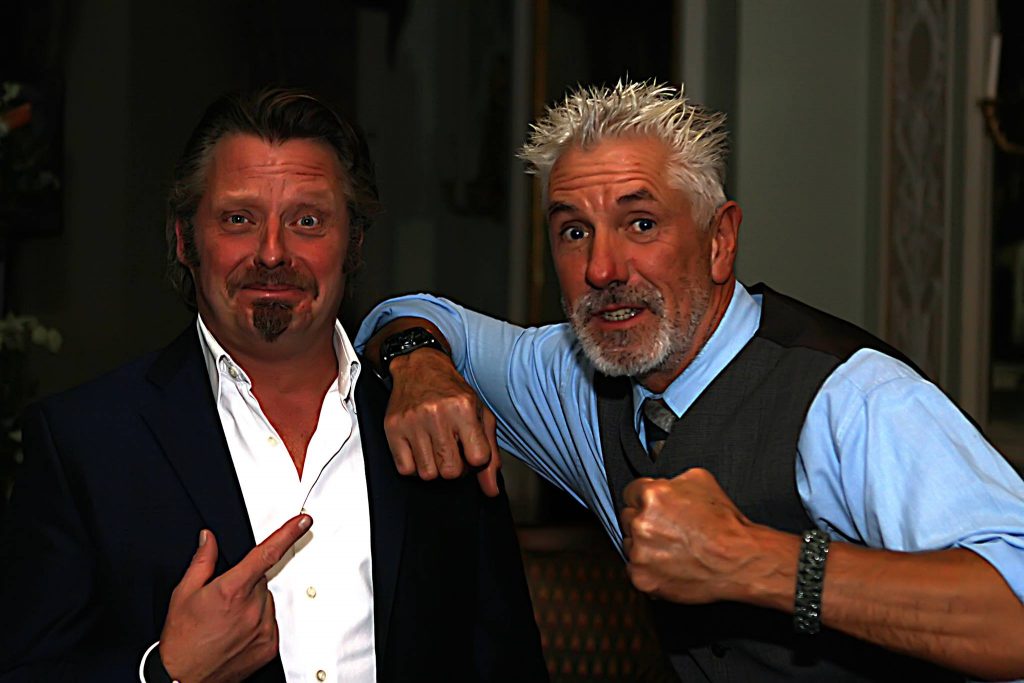 "I hear a ping on my laptop, and there's an email from Claudio." He tells me. "Typical Claudio, in his madness, there's no subject line, not even a sentence, no 'Hi Billy'. There was just a ping and an empty email with an attachment. So, I clicked on the attachment and it's a return flight to Iraq booked for two weeks' time. Within four weeks of that sit-down inebriated dinner, I was in Iraq." 
Billy and Claudio's plan was to film themselves exploring Kurdistan, an autonomous region in northern Iraq. They wanted to show how humanity still thrives among ordinary people, even in war torn areas where there is a daily struggle for survival. It's a message that will resonate with any adventure motorcyclist who has felt the warmth of human kindness in remote or troubled places around the world. 
First of all, Billy and Claudio needed to enter Iraq, a task that proved problematic. The trouble began when Claudio revealed he was trying to smuggle a banned military drone into the war-ravaged country. 
"Claudio told me, 'when we land, if there is any trouble, we split up and I meet you at the hotel in three days'. Whoa Claudio, what the f**k? I'm not a spy!" 
The result was an interrogation by armed airport guards in full military uniform. They had discovered the drone and were confused as to why two men were essentially holidaying in a war zone.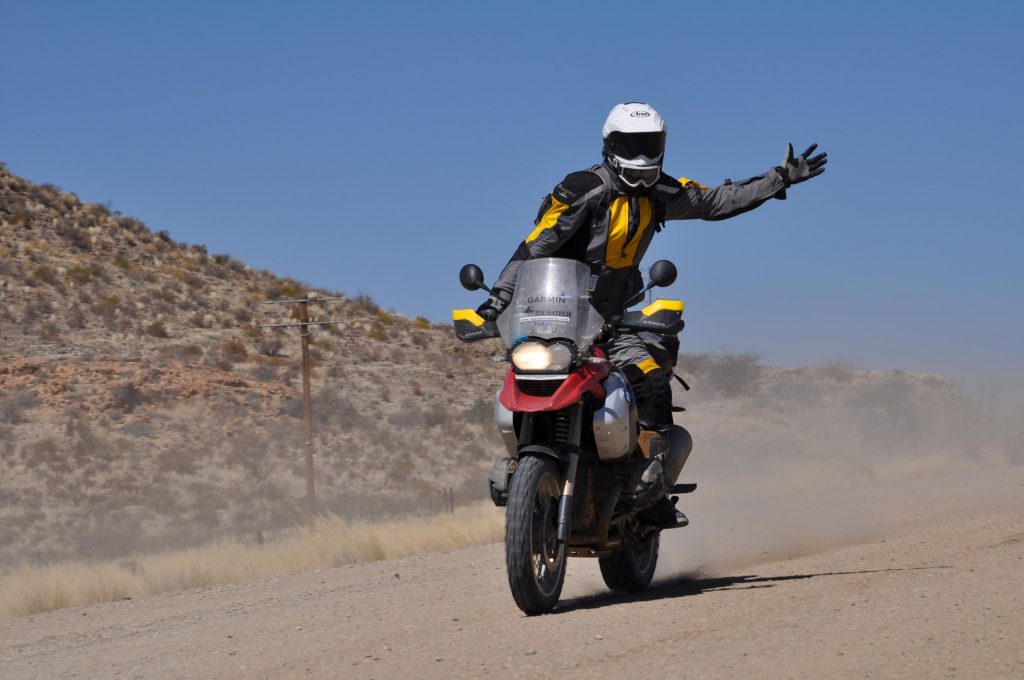 "I explained we wanted to go around Iraq, and we wanted to meet other bikers and we wanted to have fun. And the guy said, 'you want to meet bikers and have fun? Is this a gay thing? Are you gay?' I told him no, no it's not a gay thing!" 
The pair were eventually allowed into the country, but before they could start their adventure they needed to find motorbikes. It was through a chance meeting with the Mayor of Erbil (the capital of Iraqi Kurdistan), who helpfully put them in contact with the head of the Iraqi secret police, that led to the offer of two Honda VRF800 police bikes. 
The motorcycles featured the usual police accessories including blue lights and sirens, but there was also a holster with a gun nestled inside on each machine. "I told them 'no, we don't want the guns, honestly'. So, they took the guns out of the rifle holster.
When we were leaving the guy said, 'I have for you a tip. When you go into trouble, you see the trouble, and I know you would want to film. Don't. Turn the bike around, put the blue lights on and the siren, and ride as fast as you can away from the trouble. When you ride, duck down, keep your body down low, low, low, then keep riding'. That was day one!" 
Billy and Claudio's plan was to stay under the radar, meet local people and immerse themselves in everyday life. The trip was entirely self-funded. 
They travelled from the Iranian border on the eastern side of Iraq, across to Mosul, zig-zagging the area to cover around 2,000 miles in two weeks by motorbike. They also visited Halabja, the site of a chemical weapons attack by Saddam Hussein's military in 1988 which killed thousands of people.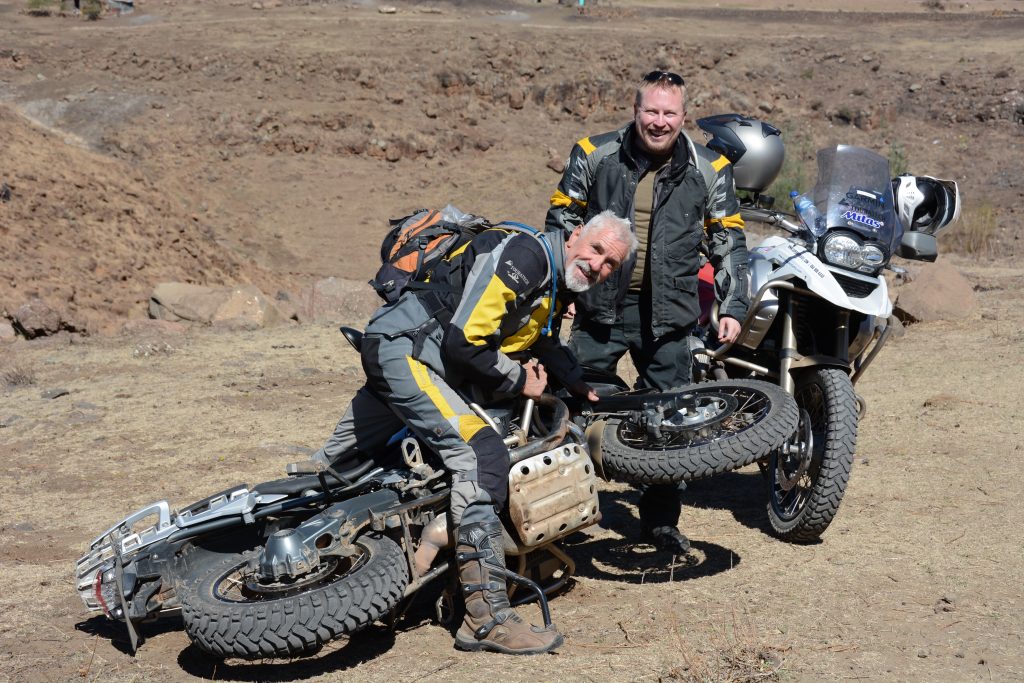 Despite Billy and Claudio's plan to keep a low profile, word soon spread that two westerners were riding around Iraq on police bikes and they found themselves becoming minor celebrities. 
People waved and cheered in the towns they rode through and local dignitaries wanted to meet them. They even took part in a live interview on Iraqi TV, during which Billy was asked to give a message to ISIS. It was a rabbit in the headlights moment as he tried not to say anything that would prompt a murderous reaction from the militants. 
"Wow, f**k me!" Billy says as he remembers the interview. "I came out with some absolute bollocks. They wanted me to say something because they hate ISIS. Everyone we met, everyone hated ISIS. The majority of people we met were Muslim and they all despised ISIS. They feel that people like ISIS have dragged their religion through the mire." 
Managing to navigate the tricky question with an answer about people living together as one community, Billy and Claudio hit the road even more aware of their newfound celebrity status. 
Asked whether there were times when he felt they had bitten off more than they could chew, Billy replied, "all the time", but he highlighted the time spent on the frontline with the Peshmerga, the Kurdish fighters in northern Iraq battling ISIS, as the only time he was "proper scared".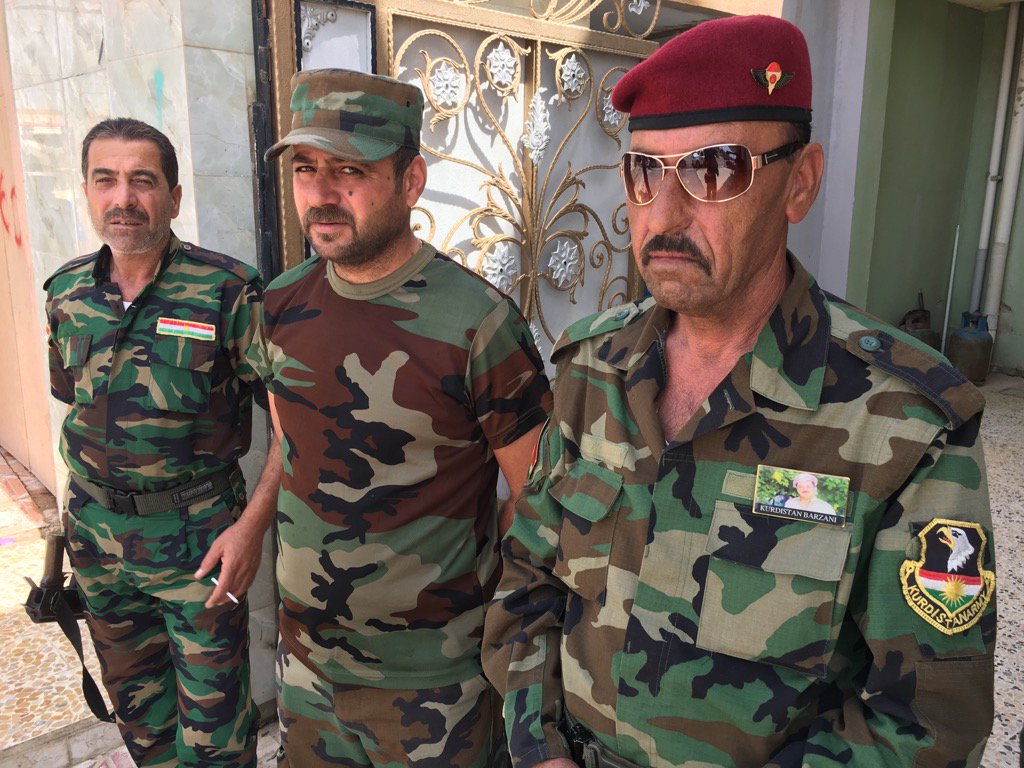 The pair stayed in a building that had recently been retaken from ISIS and the sound of gunfire and bomb blasts were a constant accompaniment. They shared a room with Peshmerga fighters who offered them a loaded machine gun each. 
"I said no, I don't think I'll be using that," Billy recalled. "And he said, 'trust me my friend, if ISIS come through the window in the middle of the night, I think you'll use it'." 
"I didn't sleep much when I was on the frontline," Billy added. "When I look back now at the images, I can see big bags under my eyes. When we were on the frontline side of things, I just wasn't sleeping. Not that I was laying there terrified, but you can hear the drone of the bombers going on overhead of a night time." 
Despite the danger and devastation that formed part of daily life in Iraqi Kurdistan, Billy and Claudio unearthed a thriving underground motorbike scene in a country where large capacity motorcycles are frowned upon by the authorities. It featured a wide variety of motorcycles from choppers to sports bikes, as well as highly-skilled street stunt riders. 
It was after receiving a warm welcome from so many of the bikers that Billy and Claudio decided to arrange a parade ride through Erbil. The aim was to bring local riders together on their last day in the country. They put the message out through the biking underground and at local bike shops.
"We arranged it for the Friday morning and then we got a call from the secret police. These are the guys that arranged ourbikes for us. They said 'don't do it because everyone knows you now and you'll be an ideal ISIS target'.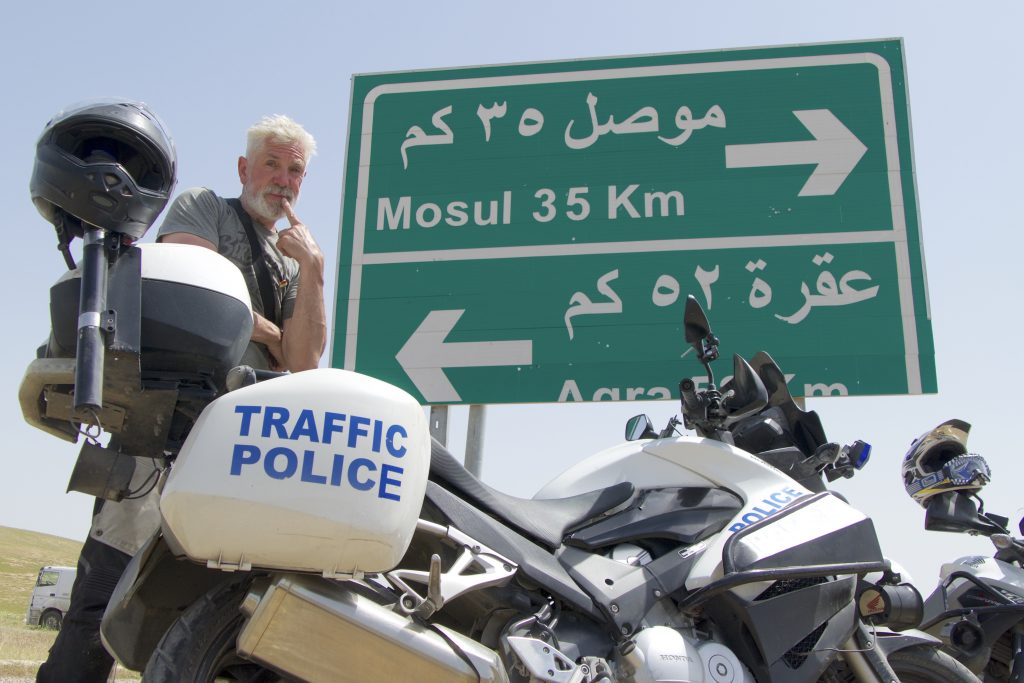 "We never thought of that, we just thought how cool it was that we'd met all these bikers. Let's give them something to enjoy, a parade through the city. We ummed and ahhed, and then said, 'let's just do it, if it goes wrong, it goes wrong'. We just felt we couldn't pull out now because we'd got so many people excited by it all." 
A text message in the middle of the night from the secret police informed Billy and Claudio an agent would be placed in the parade the next day. If ISIS attacked, the agent would do what he could to save them. 
"We got to the market place. It was mayhem. There were bikes everywhere, 50, 60, maybe more and all different sizes. Suzukis, sports bikes, choppers, Harley-Davidsons, it was amazing. And there were a few ex-pat people that we'd bumped into on the trip. We thought let's just do it. All of the worry just went out of the window. 
"Off we go and everyone's beeping and revving and they're all doing wheelies. They're doing burnouts and they've got airhorns, and we've got the police sirens."
The local police arrived on motorbikes and provided the parade with an escort, stopping traffic at junctions and waving the riders through as people cheered from the side of the road. The parade finished in a car park in the centre of Erbil where the local street stunt riders put on a display of their skills.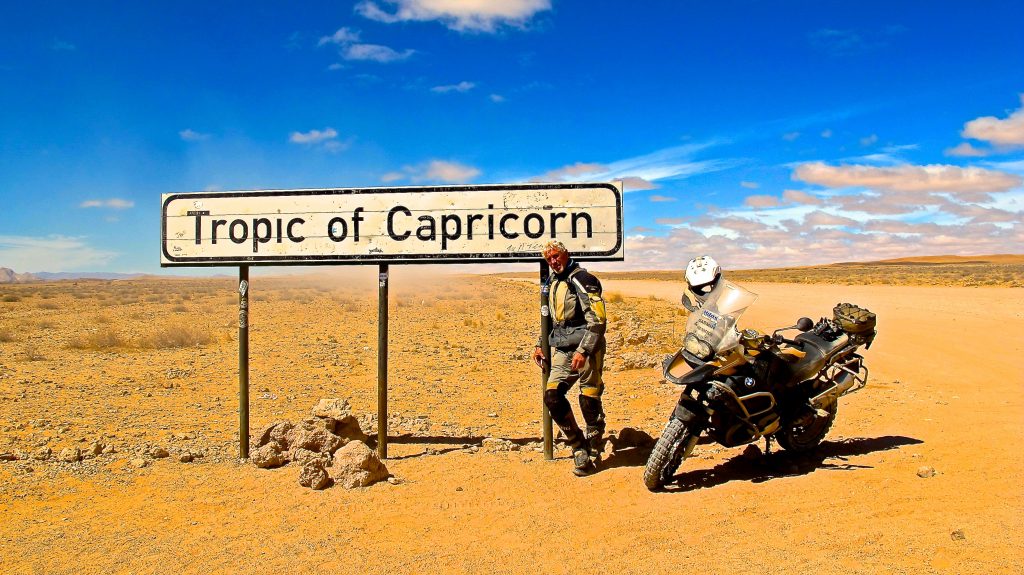 Despite the jubilant atmosphere, the threat of an ISIS attack was never far from Billy's mind. 
"In the parade there was this guy, this weird looking guy with gold teeth who seemed to be about eight bikes away from me. He seemed to want to get close and ride with me. I pulled alongside Claudio and said, 'have you seen this guy, he keeps coming close to me and he's scaring me'. If I've ever seen ISIS on a motorbike, that is ISIS on a motorbike. 
"He smiles at me this big smile with all these gold teeth. I thought 'this is it'. He's right next to me and gives me full-on eye contact. He gives me this big smile and then he pulls open his robe and I think, 'this is it, it's going to be a big bomb suit full of dynamite, like in a cartoon'.
"On his body he's got a rifle, a pistol, he's fully militarised (sic) up. He was one of the insiders that they put into the crowd and he was just connecting with me. When he revealed all of his weaponry, it was meant to make me feel more comfortable, but it actually s**t me up big time." 
The parade went off without a hitch, finishing Billy and Claudio's journey on a high. They both returned home with fond memories of Iraqi Kurdistan's warm and welcoming people who live life to its fullest, despite the ever-present threat of ISIS. 

Next up for the charismatic adventure biker is a trip to Australia with Charley Boorman to help lead a motorbike tour. And then in May, Billy will lead his own tours through Morocco, using knowledge gained from many years of riding in the country. You can join Billy by visiting the Wheels of Morocco website (www.wheelsofmorocco.net). 
Meanwhile, talks are ongoing with television companies to turn the journey through Iraqi Kurdistan into the first episode in a series featuring Billy and Claudio travelling to extreme motorbiking destinations throughout the world. 
If the project gets the green light, it could be aired next year. That may well be around the same time another charismatic adventure biking duo are on our television screens, riding the long way up from South America to Alaska.