Alun Davies test rides the all-new BMW R 1200 GS in South Africa
The press launch for the new water-cooled BMW R 1200 GS ended abruptly at approximately 3.15pm on 22.01.2013 on a remote, dusty road in the Little Karoo region of South Africa. I picked myself up off the floor, staggered a few steps towards the rider lying prone 30 or so metres down the trail, before collapsing in pain. It would be 24 hours later, while recovering in hospital, that I'd be told the other rider, Kevin Ash, was dead.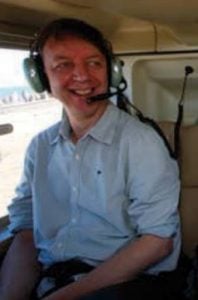 I've been agonising over the past few weeks on how or indeed if I could write a review based on a motorcycle test that ended so tragically. Even now as I type away at the keyboard I'm not 100 percent sure I'm capable of fulfilling the task of providing you, the reader, with a practical, objective and informative write-up on the much-awaited water-cooled BMW R 1200 GS. You'll have to be the judge on that.
More poignantly, I'm finding it very difficult to think back to any aspect of the launch and test ride without images of Kevin and the accident coming to mind, quickly followed by a wave of sadness that at times has touched on despair. On a more practical note, having lost control and crashed while swerving to avoid Kevin and his bike, I also have one arm in a sling and the fingers on the other are either bust up or badly bruised. Writing isn't the pleasure it used to be.
However, what I am sure of is this; I could not type a review without mentioning the events that took place on that gravel road in South Africa and in so doing pay respect to the man who in my view was the finest writer and journalist in the motorcycle industry.
Kevin Ash was the only established motorcycle journalist I actively pursued (without success) prior to the launch of Adventure Bike Rider magazine. In my view he was without doubt the most knowledgeable, enthusiastic, incisive and controversial writer about all things two-wheeled.
Kevin was a 53-year-old husband and father of three, who lived in the Midlands market town of Stratford upon Avon. I too am 53, and a father. I also reside in Stratford upon Avon, so it was only natural and practical that we shared a car to travel to Heathrow for the flight to South Africa and on to the launch of the 2013 BMW R 1200 GS. Our friendship was far too short. RIP Kevin Ash.
Kevin Charles Ash was born in Ilford, Essex, on 10 December 1959 and married Caroline Quanjer in 1990, after he had met her at Imperial College's Motorcycle Club. She survives him with their three daughters, Laurien (20), Kirsten (18) and Ingrid (10).
About The Bike
In a Line: The King has abdicated; all hail the more powerful, better-looking and, quite frankly, indisputable new King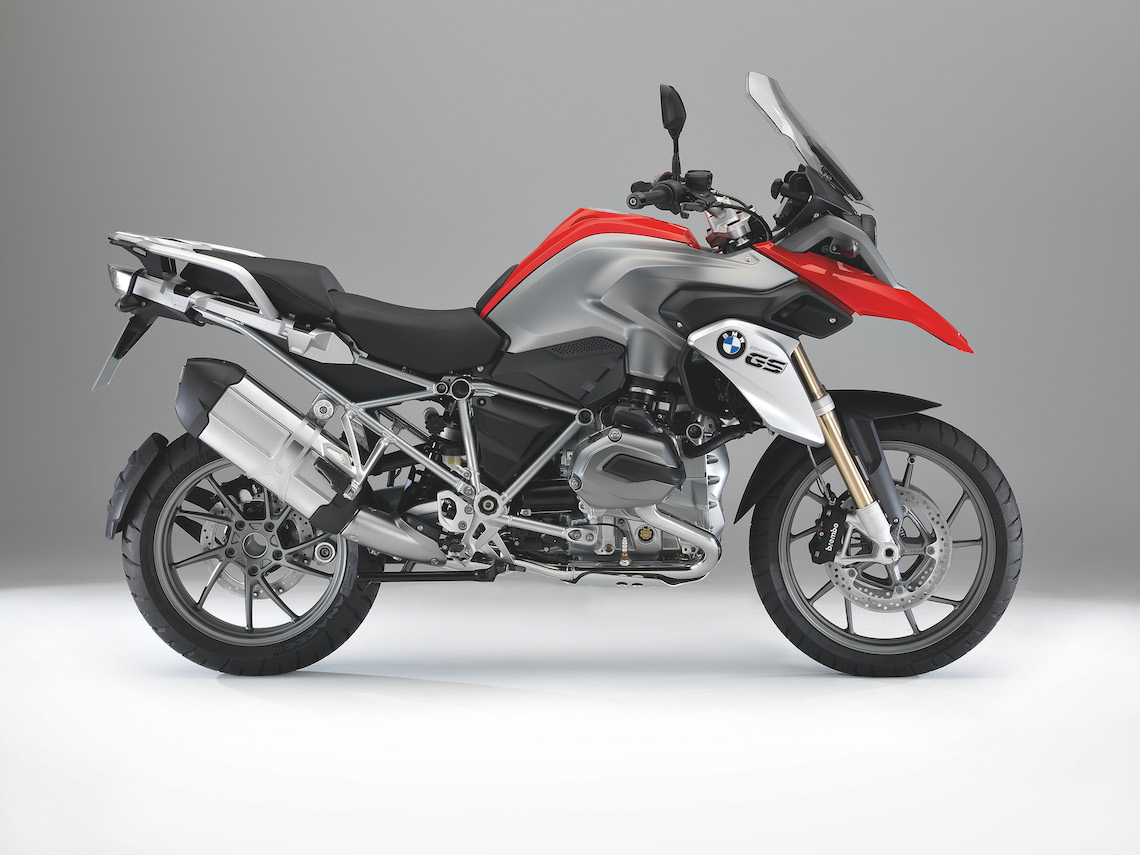 The test
The economic doctrine of supply and demand had placed us within chomping distance of the world's most feared sea-dwelling predator. By that, I mean it had been cheaper for BMW to book tickets to Cape Town two days early and pick up the bill for 48 hours of adventure activities than fly us out on the launch day of the all-new water-cooled 2013 R 1200 GS. A win-win or more to the point, a swim-swim situation, especially if you were one of the privileged UK motorcycle journalists invited over to South Africa.
And for any reader who thinks that these new bike launches are just lavish lotus-eating freebies where writers kiss the arse of Mammon, let me dispel those notions by letting you know that when we weren't dunked in a cage strapped to the side of a boat and floating within touching distance of Great White sharks we were taking helicopter flights over Cape Town, quaffing fine wines and dining on superb food. Jealous? You should be. Let's move on.
George is a coastal town approximately halfway between Cape Town and Port Elizabeth on the world-famous Garden Route in South Africa. On paper the location looked perfect for the launch of a bike that BMW hoped above all would take the adventure bike crown from its best-selling predecessor.
Spectacular coastal and mountain scenery with sweeping high-speed alpine-style passes would lead us up and into the semi-arid region known as the Little Karoo. The Karoo is the world centre for ostrich farming and also blessed with fantastic gravel roads where we'd be testing out the all-round ability of the new Beamer. And if that wasn't enough, the company had laid on an optional, and tougher, enduro course where we'd be expected to thrash the all-new water-cooled GS through the South African bush.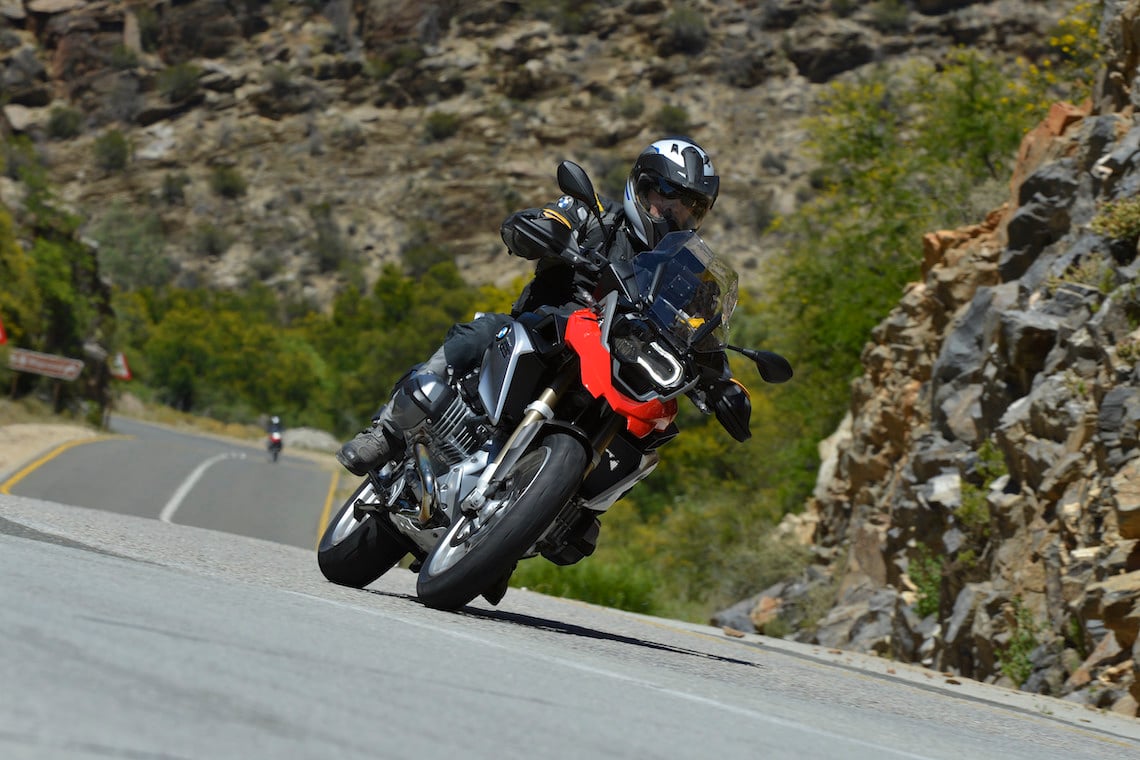 What's new?
As I've mentioned 'all-new' it's worth pointing out that off the top of his head even project manager Antonius Ruhe could not think of one part of the new bike that was shared with the previous incarnation. 'All new' it is then, but not that you'd notice if you ran past one. The design team has worked a small miracle in encompassing so much change and yet keeping that familiar best-selling GS look, and depending on which particular fetish you subscribe to you'll either find it the ultimate in adventure erotica or a bulbous carbuncle on wheels.
Personally speaking, I found the looks of the old 1200 very appealing – I was going to say 'stimulating' but then you'd think I'm some kind of weirdo – and although other manufacturers have tried to lavish adventure styling on their steeds, only the Yamaha Tenere in its World-crosser dressing comes close to satisfying my 'adventure bike' bent. However, having now met the younger 2013 GS my fickle eye has definitely wandered. The new Beamer looks sleeker, sharper, fresher… in GS World, it's the new object of my lust and desire.
The launch kicked off with an evening of presentations by company staff. Anyone who is anything to do with BMW and the new GS was in attendance. I can tell you now, after five years in the making and when you consider that this bike is being handed the baton from the best-selling (and probably most profitable) adventure bike in the world, this is a mission critical piece of two-wheeled engineering for BMW.
Even a quick back-of-a-fag-packet assumption based on 180,000 GS 1200s sold (BMW quoted figures) at an average of, say, £12,000 makes £2,160,000,000 at retail. Take out taxes, a margin for the dealer and assume a 20 percent margin for BMW and we're talking a profit of around £300 million on a single model. If I'm out by 50 percent or even 100 percent, that's still enough to send a few journos shark-diving for a day or two and have a few bob left in the kitty.
That engine
With the world and his dog swinging a leg over adventure bikes and the competition hotting up, BMW could not afford a slip up on this one; it had to be better than the old R 1200 GS and give the competition a run for its money in areas where it was moving ahead, most notably in engine performance.
For 2013, BMW has given the distinctive 90-year-old Boxer Twin engine the sort of makeover that's sure to induce palpitations in air-and oil-cooled Boxer groupies from Tunbridge Wells and have them penning 'disgusted' letters by the cartload. This new model is partially water-cooled (35 percent water/65 percent air), plus the gearbox and clutch are now integrated within the engine housing. Shock-horror, eh?
And that's only the start; BM's engineers have been on an extended internal combustion expedition where they've altered or changed just about everything they could fit a spanner on or connect a computer to. Stuff like inlet curves, outlet tracts, optimised injection ports, vertical flow-throughs, dedicated exhaust cam shafts and all the other mechanical details I hope I never have to confront in the real world.
So, what does all this change mean if you're thinking of buying one to ride rather than strip down and assemble ad nauseum? It means that the bearded hardcore explorer now has the option to tap into the new radiators for a nice hot cuppa in the wilderness and all the rest of us will be weak at the knees with the increase in performance.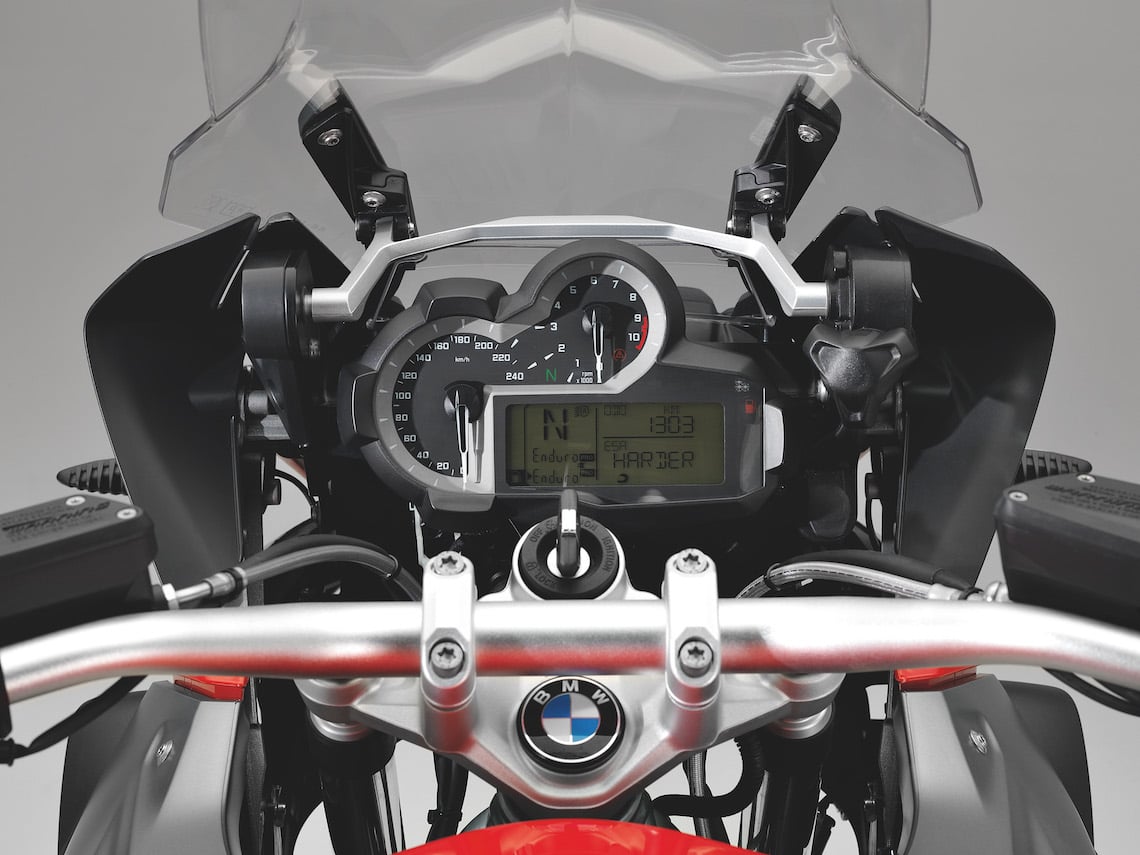 I've said this many times before, and now, thankfully, this will be the last time; in my view the previous GS 1200 lacked that 'think-and-go' level of performance and acceleration that would see you overtaking the car in front in a no-sweat instant. Not anymore. This 125bhp 2013 version comes with enough acceleration and usable power that'll satisfy all but the most rabid knee-scrapping adventure bike rider. This is the bike, and more specifically, the engine, that the last 1200 should have been. In addition, the integrated gear box is smoother and the wet slipper clutch nice and light. Where there was weakness, now there is strength.
More importantly for BMW, the old oil/ air-cooled boxer would have struggled to comply with up and coming EU emission regulations but then this red tape quagmire could have been bypassed and gained huge public support if they'd carpet bombed the Brussels Mafia rather than calling in the Bavarian plumbing team.
The other bits
Anyway, before moving on to the test ride, let's stay with the 'all-new' theme for a moment and check out the electrics, riding modes and suspension. For what it's worth, I've been riding motorcycles for 35 years but know less about how they work now than I did as a 17 year-old with a dodgy mullet. Back then I knew that a carburettor was a cylindrical thing about the size of a mini coke can and it had a couple of screws you could turn to adjust. These days having a masters degree in computer science would be a good starting point when it comes to fuelling and the ability to recognise a screwdriver would be overkill.
In time, and judging by the technical advancements within the 2013 GS, I've little doubt that motorcycle test rides will not be conducted by windblown veterans charging over alpine passes and across dusty piste but by latte-supping metrosexuals with horn rimmed glasses salivating over beautiful binary code via a wifi connection in Starbucks.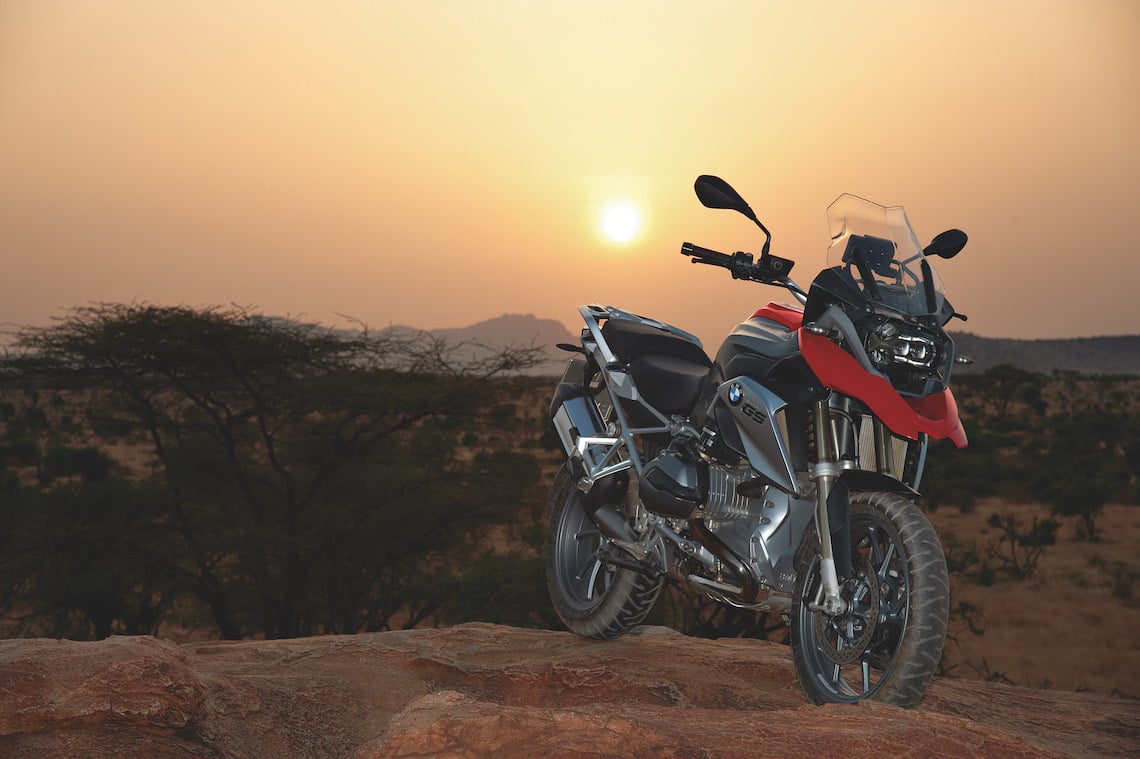 In short, the technology incorporated into the 2013 GS is impressive and way over my head when it comes to evaluating in any way more advanced than what happens when I press a button, open the throttle, grab the brake and, Lord forbid, go for a ride.
First off, the new Beamer comes with fly-by-wire throttle control, which means when a rider twists the hand grip that action is interpreted and then acted upon by electronic sensors and micro-chips rather than cables. For all practical purposes, other than the throttle feeling a little lighter than previous models, you'll be unaware of any difference.
However, if you choose to buy the optional Automatic Stability Control (ASC) the clever parts are to be found on the circuitry between the throttle and engine and they allow you to select one of five riding modes. The modes are: Dynamic; Road; Rain; Enduro; Enduro Pro; and depending on which mode is selected the brains of the BMW will act accordingly.
For example, a handful of throttle in 'Dynamic Mode' will have you charging away in a full-power frenzy whereas that same handful in 'Rain Mode' will see you pulling away in a less frantic manner and more in tune with safe riding on wet roads. Throw in the linked ABS (ant-lock brake system) and traction control and this bike offers the rider a high level of engineered safety. It's also good to know that both the ABS and traction control can be switched off should the off-road need arise. And talking of off-road, more about the 'Enduro' and 'Enduro Pro' modes later.
BMW has also added a more advanced suspension system which it's labelled up as D-ESA (Dynamic Electronic Suspension Adjustment). The previous ESA system had been an optional feature on past GS 1200s and far from being a gimmick I've found it to be one of the more useful and certainly most used features on my 2008 GSA. Essentially, the ESA allowed you to alter the suspension set up from hard to soft while also offering options for riding solo, two-up and/or with luggage. The beauty of this system was that you could alter the settings by pressing a button when stationary or on the move, and in my opinion I've yet to experience a big adventure bike that offers a better and more user-friendly set up.
With the new D-ESA system, you press a button to select the harder or softer suspension setting as with the previous model. What happens next is as follows: when you're out on a ride the 'dynamic' part is fed road surface information through a series of sensors, which evaluate the conditions (taking into account the riding mode, braking, acceleration and fast changes of direction) and auto adjust to optimise the compression and rebound while you are busy having fun in the saddle. So, if the road surface takes a turn for the worst mid corner the new system will kick-in and adjust in 30 milliseconds, that's about a 10th of the time it takes for the human eye to blink.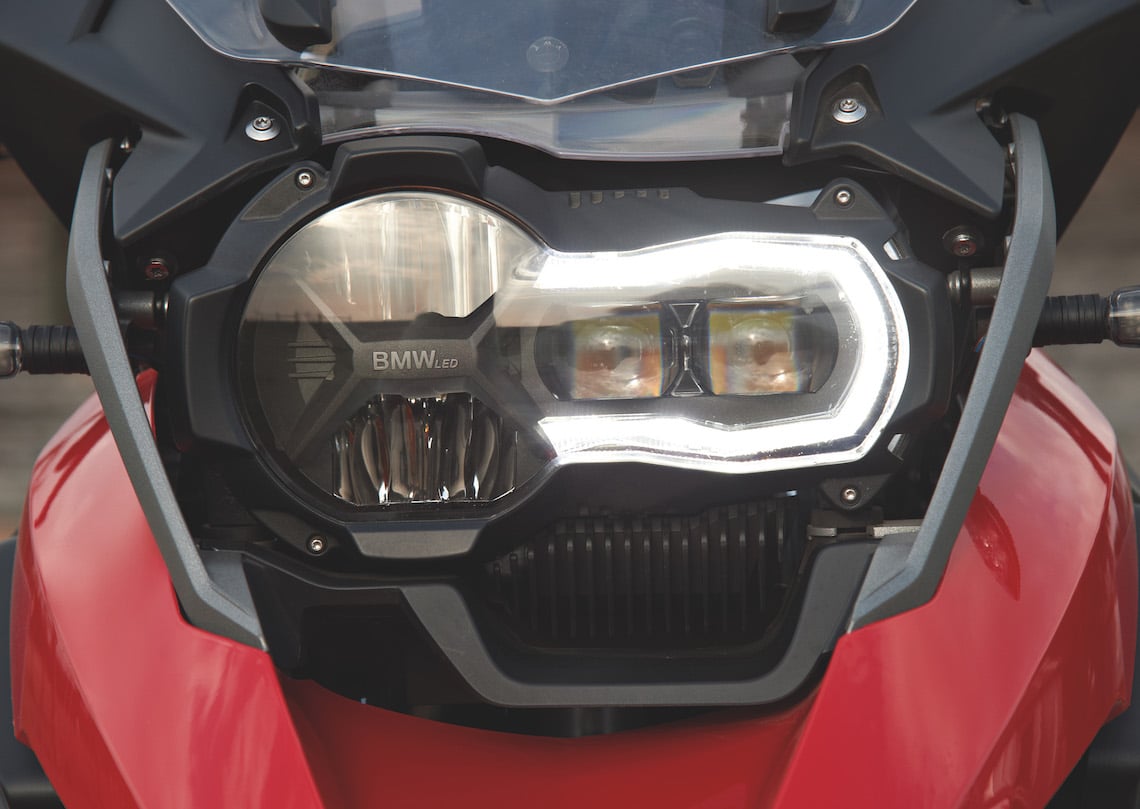 The road ride
From the off, and I mean while crossing the car park, the more free revving nature of the new GS, along with the slicker gear box and lighter clutch, were apparent. These changes are not just a case of tinkering backed up with a huge PR splash, the difference between the old and new GS is vast.
By the time we'd passed through the outskirts of George and were blasting around the high-speed alpine sweepers of the Outeniqua Pass leading from the coastal plain to the Little Karoo I was convinced that the company had hit the proverbial nail smack on the head with all the new improvements.
At 6ft 2″ tall I found the ergonomics to be as stress free and spot on as the previous model and with a narrower mid-section more riders will now be able to plant two feet firmly on the floor, even without the optional low seat. The new cockpit is well laid out, all controls are easy to reach and the various systems (modes, suspension settings etc) are logical and simple to operate, which is a big compliment to the BMW tech team when coming from a reviewer who gets into a sweat when handed any device with more than one button.
At cornering speeds in excess of what the average rider is likely to attempt, this bike handles very, very well even at the point where boots are leaving signature marks on the tarmac. At which juncture I'd better doff my cap to the all-new Metzler tyres (120/70 * 19 front; 170/60 * 17 rear) and the extra rigidity of the new chassis, which no doubt contributes to the heightened feeling of stability and accuracy. In short, the new power plant, ABS, traction control, ride modes, frame, tyres and D-ESA work together with a level of precision that I found faultless and I'm equally sure so will the legions of buyers who are sure to snap up this machine.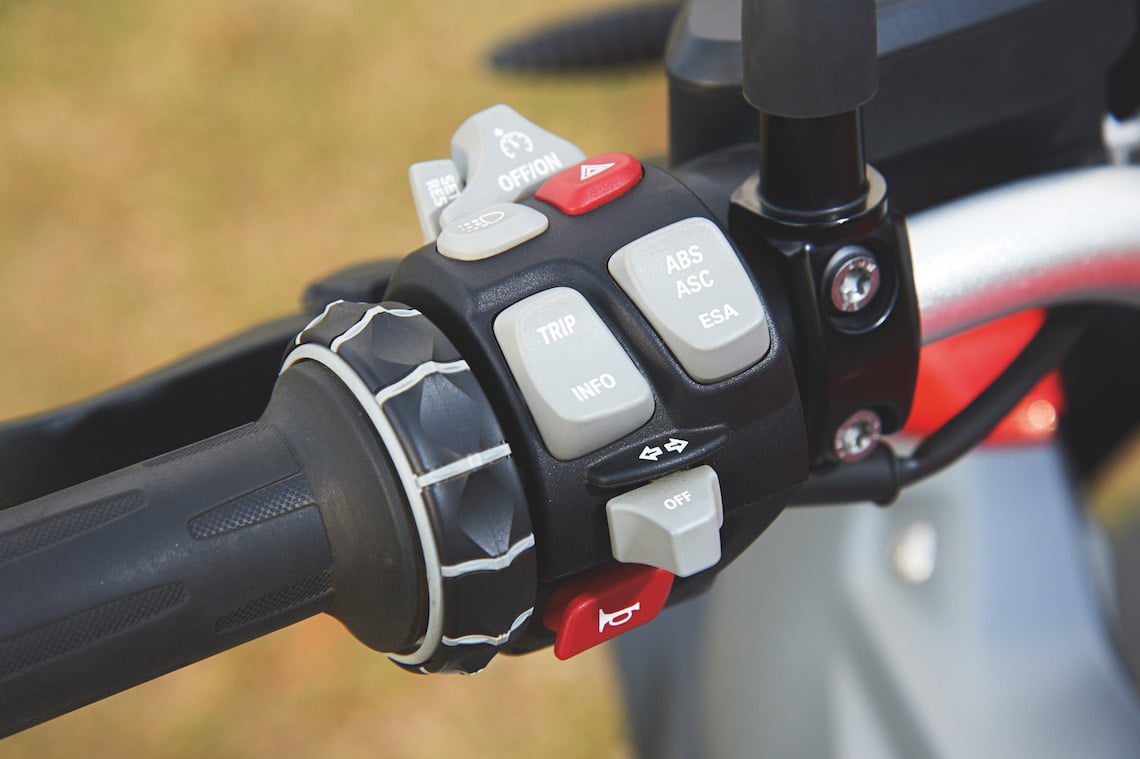 When ridden at a more realistic touring pace the wind protection from the standard screen was as effective as the barn door fitted to my 2008 GSA (the new screen is also easily adjusted with one hand), the seat was comfortable, instruments easy to read in bright sunshine, and the ride quality (with the suspension set on soft) as magic carpet-like as it's ever been on a GS.
Let's put it this way; I'm struggling to find anything I did not like about this bike.
Off-road ride
We arrived at the enduro course to be greeted by a whole new set of water-cooled GSs ready and waiting in full off-road battle dress – engine bars, single seats, Metzler Karoo tyres etc – and equipped with the optional 'Enduro Pro' mode.
The basic 'Enduro' mode is relatively benign and nicely set for the less experienced off-roader with both the ABS and ACS engaged (they can be switched off ) and a gentler fuel mapping programme. On the other hand, the 'Enduro Pro' mode comes with ABS and ACS disengaged and full-on power from the off, which on a bike of this size and weight turns it into a bit of a beast for the occasional or novice green laner. With the Enduro Pro mode engaged there's a wheel-spinning ferocity on tap that'll have rough stuff fans whooping with delight and the less experienced thinking, 'I want to go home'.
Following a narrow, rocky track through the dry Karoo scrubland with Enduro Pro selected it required little effort to spin the big GS through a tight 180 left hander using the power driving through the back wheel and hardly a second thought to zip up a steep, loose climb.
That said, the GS is a huge (and expensive) lump to be riding on anything tougher than graded piste and you'll need to be competent in off-road techniques and confident in your ability to get this bike performing anywhere close to its potential in a tight, tricky (enduro) environment. This bike performs best off-road when it's pushed a little faster than most people are going to be comfortable with, while at slower, more tentative speeds it tends to becomes just another big, tall, heavy monster.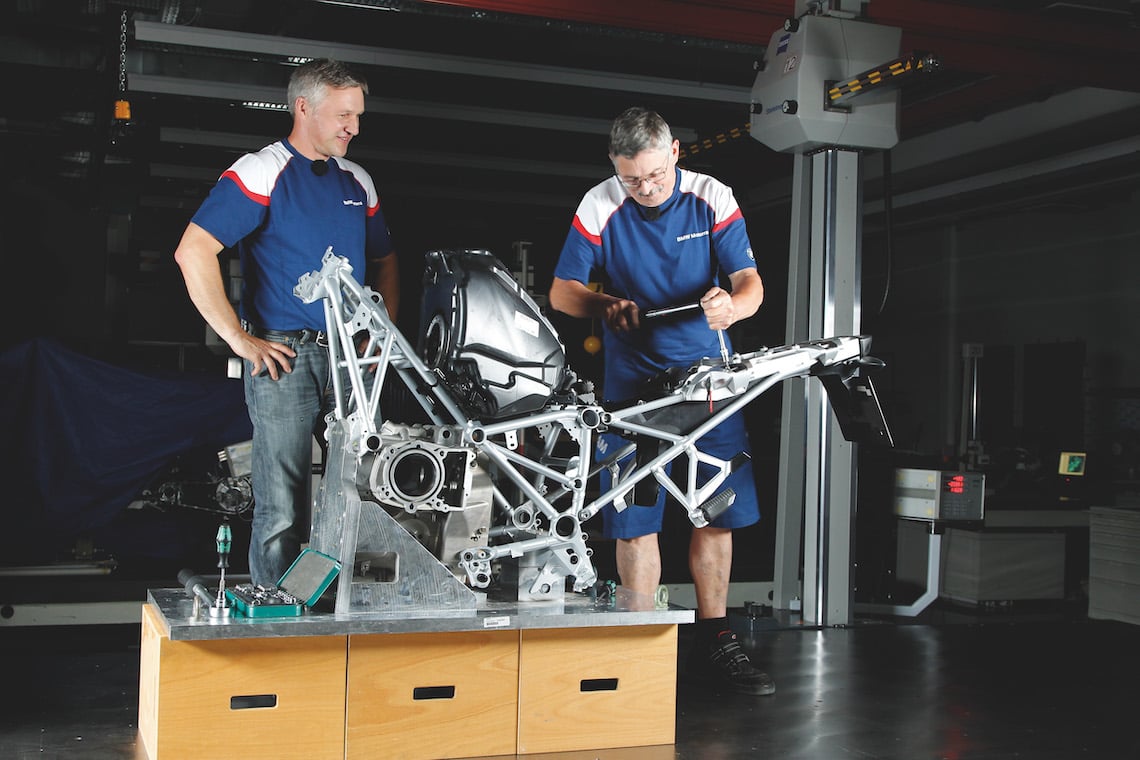 In summary it never ceases to amaze me how well these big BMs perform off-road, especially so when it's someone else's bike I'm riding. However, and on a far more practical note, I doubt if more than a handful of new bike purchasers are going to go anywhere near rocky enduro courses on a brand spanking new £12k-plus GS, but isn't it nice to know that you could?
Conclusion
Ask a random motorcyclist to draw an outline of an adventure bike and it would probably look like a GS, beak and all. For the past 30 years, and more specifically PEC (Post Ewan and Charley) the GS has been the flagship of the adventure bike revolution and for the most part has had a clear run with little competition. But not so now; the other manufacturers are knocking out cracking adventure bikes with the Triumph Explorer, Honda Cross-tourer, Yamaha Tenere and the new KTM Adventure all excellent rivals.
However, if you're looking for an all-rounder it's getting very difficult to think of any bike which would score higher than the 2013 BMW R 1200 GS. I am of course basing this judgement on a single-day trial and on the assumption that the bike is going to be at least as reliable as its predecessors.
It has to be said though, with all the improvements on this new model, the only reasons I can think of for not buying a 1200 GS is that you like the look of the competition more or you just simply don't want to park your backside on a BMW.
Quick Spec
MODEL: BMW R 1200 GS
PRICE: £11,395 (standard), £12,345 (Enduro Spec) £13,815 (Touring Spec)
POWER: 125bhp @ 7,700rpm
TORQUE: 92ftlb @ 6,500rpm
ENGINE: 2-cylinder Boxer Twin, water/ air-cooled
TRANSMISSION: Six gears, shaft drive
SEAT HEIGHT: 850-870mm
WET WEIGHT: 238kg
TANK SIZE: 20 litres
WHEELS: 19″ front/17″ rear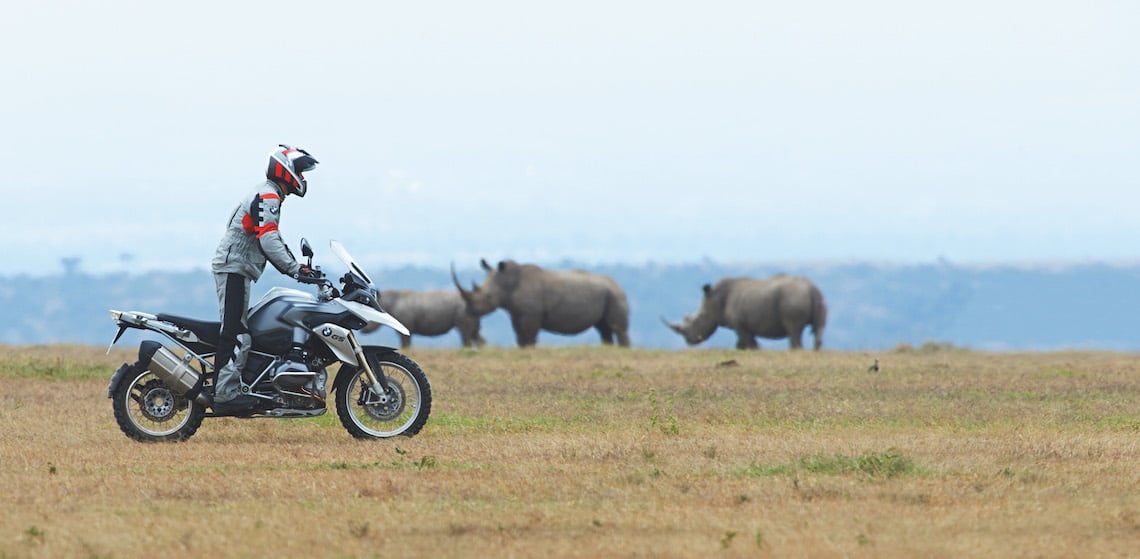 Running Costs
The bike might be all new but the servicing intervals remain the same as its predecessor; 6,000 miles for the small service and 12,000 miles for the biggie. We've not had official confirmation of fuel consumption nor did we have the opportunity on test to get a feel for MPG but if you think mid-40s you'll not be far out.
How Much?
All models are available in Alpine White Metallic, Thunder Grey Metallic, Blue Fire Metallic or Racing Red Metallic
Base Model 2013 BMW R 1200 GS: £11,395
Which includes: BMW Motorrad partially integral ABS (switchable) as standard
Touring Spec 2013 BMW R 1200 GS TE: £13,815
Which includes: Dynamic ESA (semi active suspension system)
Enduro ASC with Enduro ABS, Rain, Road, Dynamic, Enduro and Enduro Pro riding modes
LED Headlight with Daytime Riding Light and twin bar rear light
Heated Grips
Tyre Pressure Control
LED White indicators
On-Board Computer Pro Preparation for GPS
Chrome plated Exhaust system Cruise Control
Enduro Spec R 1200 GS E: £12,435
Which includes: Enduro ASC with Enduro ABS, Rain, Road, Dynamic, Enduro and Enduro Pro-riding modes
Daytime Running Lights Cruise Control
Cross Spoke Wheels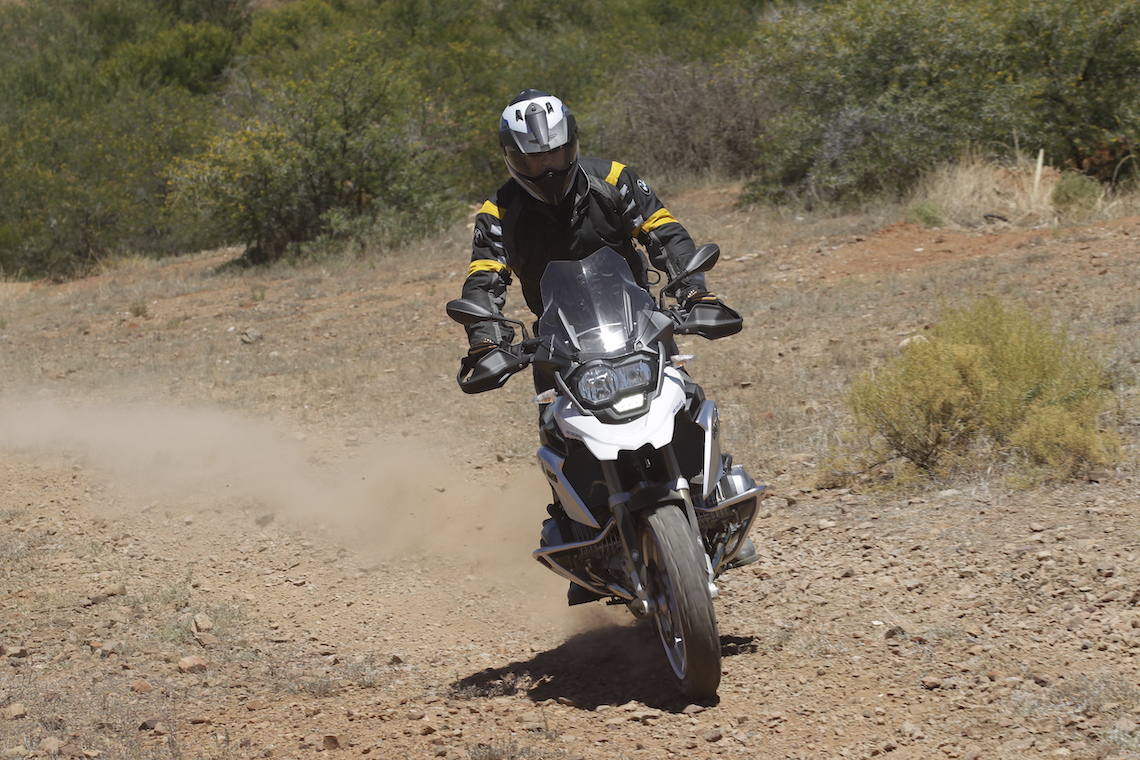 Other things I like about the new GS
1 Cruise control
Possibly the most simple-to-operate cruise control system on the market but the switch is exposed and feels a little flimsy. No doubt Touratech is knocking up a heavy duty replacement as I type.
2 LED lighting
Apparently the 2013 1200 GS is the first motorcycle in the world to offer LED main headlights. They're white, they're bright and the side-on horse-shoe daytime running light is distinctively cool.
3 New frame
A new bolt-on rear sub frame should help with repair bills if you have a spill. Plus the more compact engine size means a longer swingarm provides added stability and sharper steering with no increase in the wheelbase of old.
4 Multi controller
The new multi controller is a superb feature attached to the left-hand side of the handlebar, which allows you to control the BMW Navigator 1V satnav system without your hand leaving the grip.
5 Adjustable screen
The level of protection from the new screen is excellent and it's easy enough to adjust with one hand.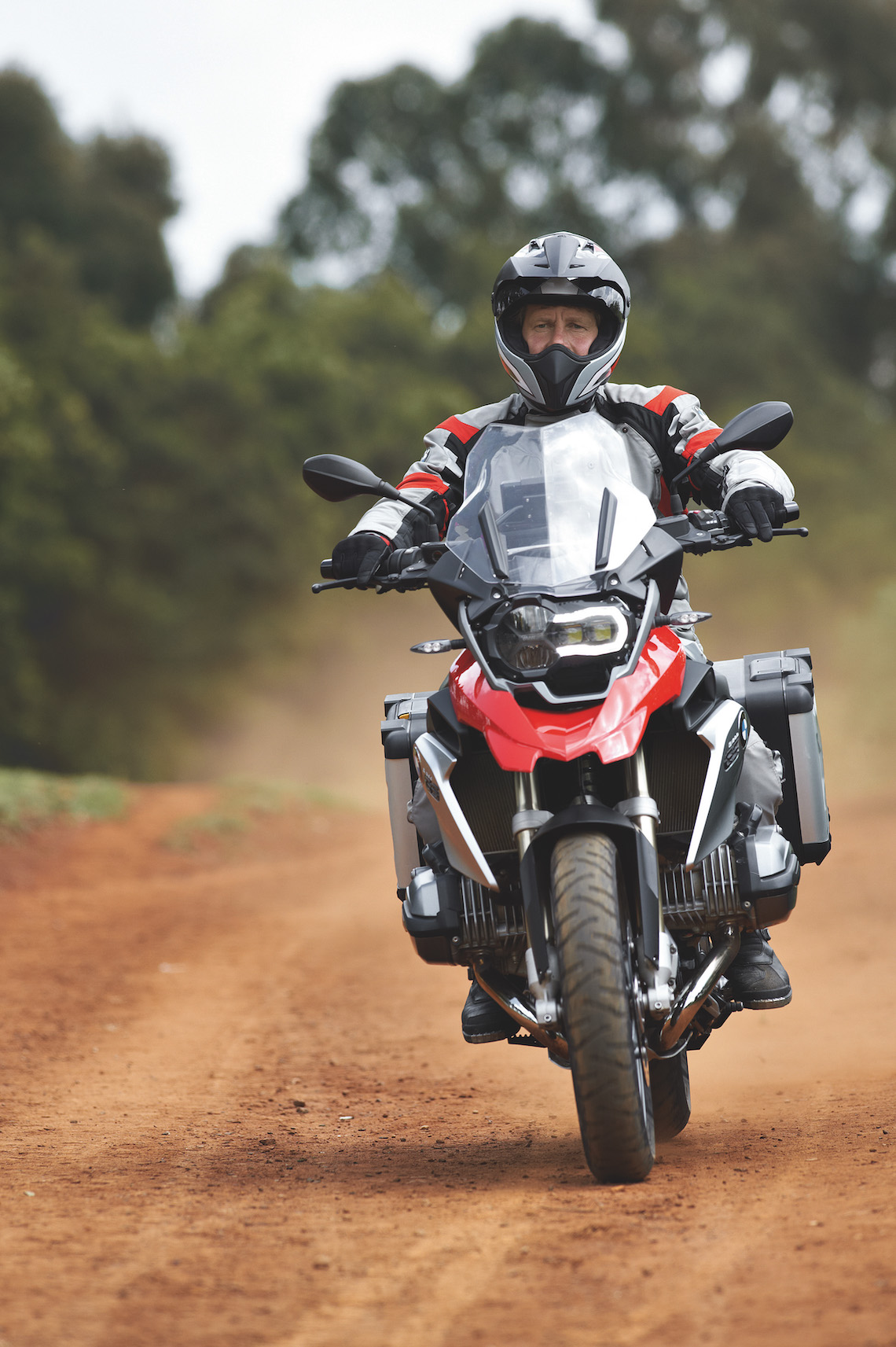 How versatile is the 2013 BMW R 1200 GS
AS A COMMUTER?
It's on a par with the best big adventure bikes around town and it's sure got road presence. Changeable riding modes, ABS and traction control should help keep you safer in grim weather conditions and when the sun's out you'll be looking for a second job a couple of hundred miles away to extend the commute.
AS A WEEKEND TOURER?
This bike will become your weekend mistress and have you plotting, scheming and thinking up all sorts of reason as to why it's essential that you travel up to Scotland, down to Cornwall or over to France for 52 weekends a year.
AS AN OFF-ROADER?
It's big, it's heavy and in the perfect world you'd have a second smaller, lighter bike to go play on the rough stuff. That said, in the right hands the GS is capable of taking on terrain you'd struggle to walk over, but in the long run it'll be a lot cheaper and safer to stay on milder trails.
AS A CONTINENTAL ROAD TOURER?
The old GS 1200 was a top draw long-distance tourer and the all-new 2013 version has just raised the bar to a higher standard. We were not supplied with official fuel consumption figures but with a 20 litre tank I reckon a range of around 200 miles between stops wouldn't be far out.
AS A RTW OVERLANDER?
It's a big old boy to get stuck in the muddy depths of a trail through a West or Central African jungle, but isn't that part of the adventure? Just looking at this bike has me dreaming of a life on the road to nowhere, and I'm sure it would get me there.
AS A PILLION CARRIER?
I've yet to experience riding the new GS with a pillion and luggage on board but having owned a GSA for a few years and spent the past 12 months riding the previous GS, I've seen nothing to lead me to conclude the comfort will be anything less and that means a happy, smiling partner. The extra oomph from the new engine will be welcomed.