by Ian Lloyd Neubauer
At first, I think it's a willy-willy – a dust cloud thick enough to block out the sun. But as I ride closer I see the culprit, the rear end of a 4×4, the first of many I will need to contend with on the heavily corrugated roads of Cape York, that fire and flood-prone crocodile-infested peninsula on the very northern tip of Australia.
Dropping a gear, I skip across to the right-hand side and prepare to overtake when I see death incarnate, two faint headlights charging through the dust storm on a collision course with my life. I retreat into my lane only moments before a second dust storm, with another dreaded 4×4 at its centre, roars past in the opposite direction.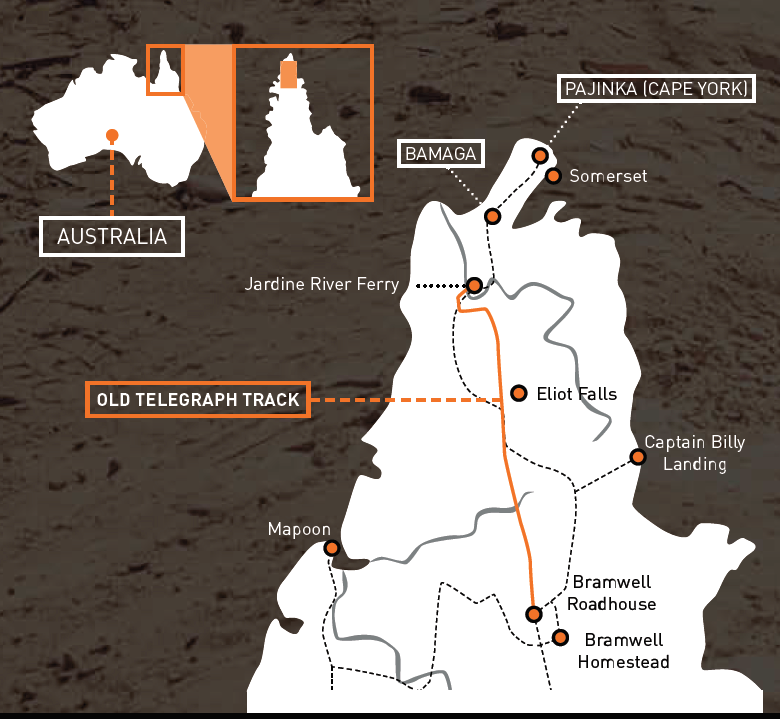 The experience is so rattling I can actually feel my heartbeat in my hands. Yet it's just one of a series of countless challenges the Australian Outback will throw at me over the next three days during a marathon backcountry sprint from Seisia, the northernmost deepwater port in Australia, to the city of Cairns, 870 miles to the south.
And it'll begin with a face-off with one of the gnarliest and historically rich thoroughfares in the country: the 130-year-old Old Telegraph Track.
Roy's Toys
When the telegraph arrived in Australia in the mid-1800s, it changed everything. Where it once took three months for mail to reach England, the telegraph could send a Morse code message in seven hours. Outback towns and stations previously accessible only by camel were suddenly linked to cities and the outside world as a vast web of telegraph lines spread across the continent.
Because of its remoteness, Cape York was one of the last places in Australia to get the telegraph. The last few hundreds of miles of lines were laid in the mid-1880s along a straight-ish line from Cooktown on the east coast, right up to the northern tip of mainland Australia, along with a service road.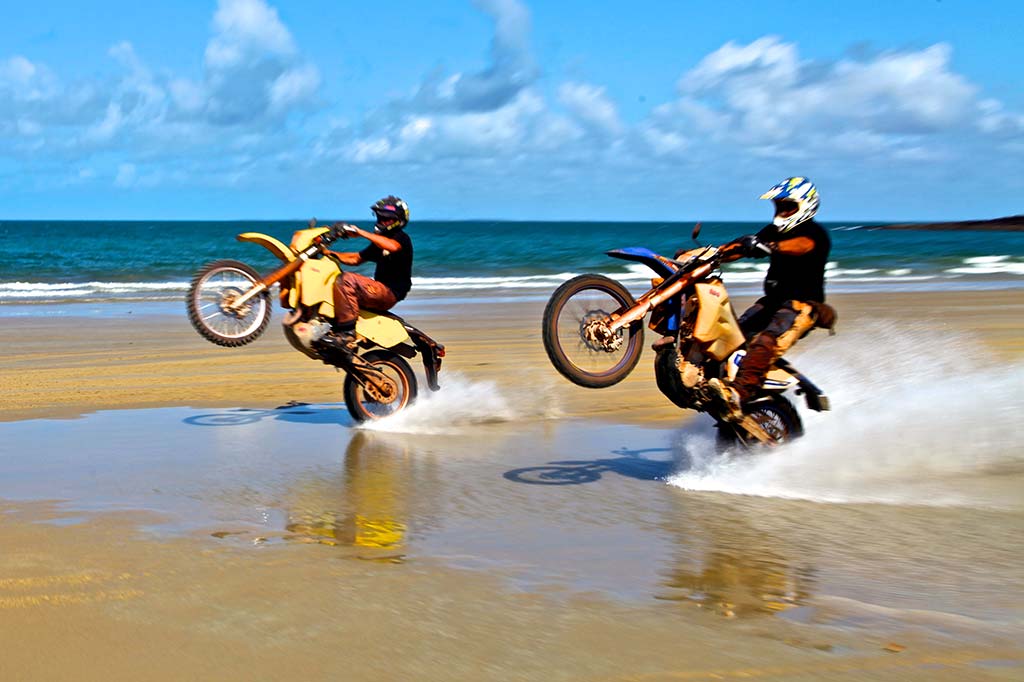 But straight lines aren't the ideal way to build roads because things like cliffs, rivers and hills will ultimately get in the way. It's, for this reason, the remaining 60-mile stretch of the Old Telegraph Road has been reinvented as the holy grail of bush-bashers in Australia.
Getting to the 'Tele' is a mission in itself. In my case, the journey involves a three-hour flight from Sydney to Cairns, an overnighter at an airport hotel, an early morning flight to Horn Island in the Torres Strait and a ferry to Seisia. There I rendezvous with Roy Kundra of Cape York Motorcycle Tours, a fast-riding, fast-talking northerner who's been showing this Mad Max part of the world to visiting riders for 25 years.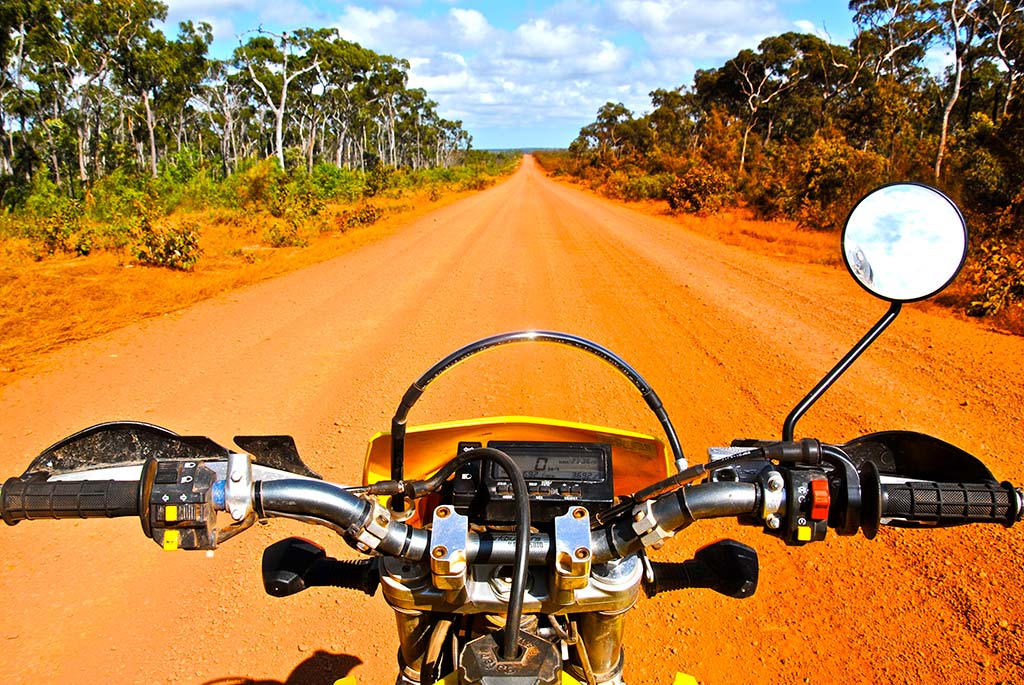 Roy is riding a formidable Husaberg FE501. For me he's brought a Suzuki DR-Z400E, a mass-market tractor he rents to riders on his company's trophy eight-day tour from Cairns to the tip of Cape York. Attempting to do it in three days, I thought, would be testament to my mettle, until I learn Roy once did it in 10 hours and 45 minutes.
I have difficulty imagining how such a record is even possible when, an hour after leaving Seisia, I spend 10 minutes stuck behind the aforementioned dust-encased 4WD until I can safely overtake. Not a minute after making the pass, I see Roy waiting patiently for me at an unmarked goat track.
"Have you had much experience on sand?" he asks before we get stuck into it.
"Heaps," I reply, lying through my teeth.
"Sweet. Then follow me."
And so the pain begins. The sand is foot-deep in parts and there are tangles of roots sticking out of the ground, any one of which will cause total carnage if it catches one of my boots. The DR-Z has enough grunt to churn through the muck at any gear I choose, but the sheer weight of the thing and the awkward seating position mean I have to work twice as hard to keep my lines.
Ten miles into it I'm already feeling the strain when I see Roy parked by a sign that marks the start of the Old Telegraph Track. "This is where it gets interesting," he says, shooting roost into the air.
Sand Traps & Fruit Bats
Interesting isn't the word I'd use to describe the road ahead. It has the deepest rut I have seen in a decade on the trails, a muddy groove that sinks a metre deep on one side of the track. On our bikes we simply ride along the top half, but any 4X4 coming this way would end up tilted on a 45-degree angle.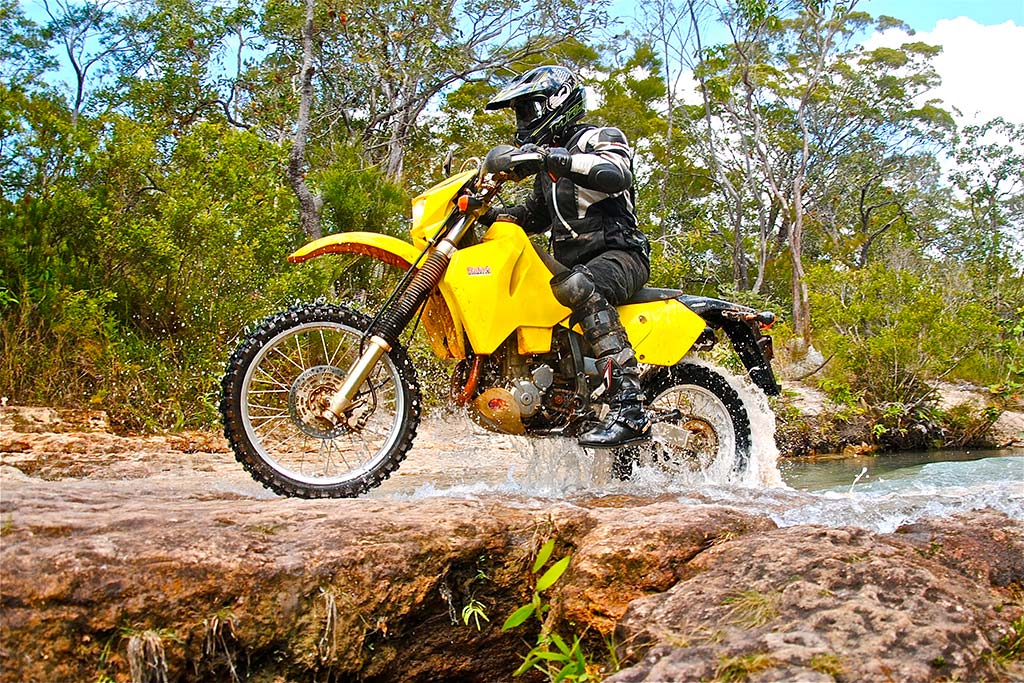 A few minutes later we reach Nolan's Brook, the first of dozens of creek crossings intersecting the track. There are no crocodiles here but the water is too deep to cross on our bikes and we have to wheel them across a log bridge. Not a bridge made of logs, but two everyday logs Roy has placed across a steep section of the bank. One for the bike and another for the rider, a solution that leaves no room for error.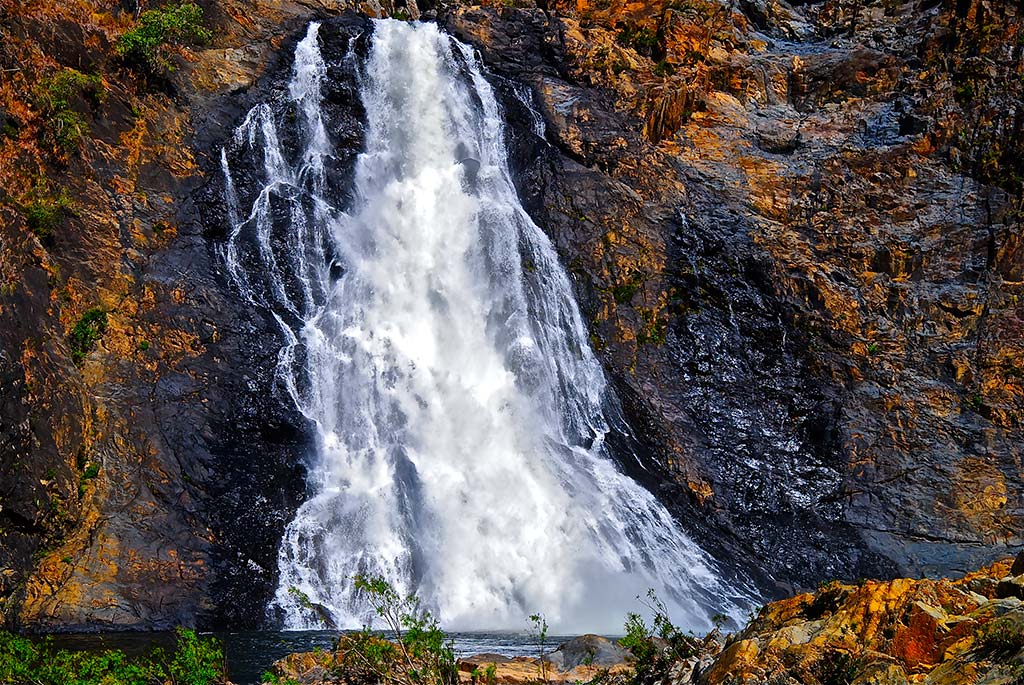 Then there's the sand, endless reams of the stuff that make the front end of my Suzuki shake like mad. After Roy sees me struggling with it, he pulls over to offer me a few points. "When the front end starts wondering, the only way out of it is to accelerate," he explains. "Even though your instincts tell you to decelerate. Once that becomes second nature, the sand will get a lot easier."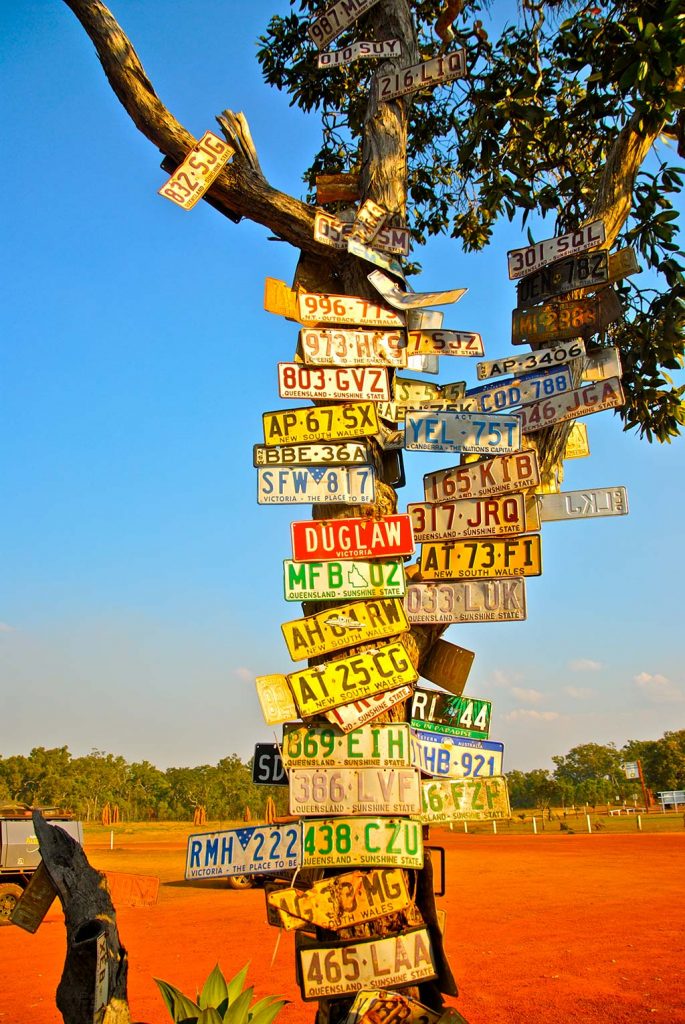 After 15 miles of sandy hell we reach a section of the Tele linked by a gravel bypass road. It has detours leading to three popular attractions on the Jardine River: Eliot Falls, Twin Falls and Fruit Bat Falls, the latter of which is often described as the best swimming spot in all of Australia.
Set under the edge of a large semi-circular cascade with gin-clear water and a sandy bottom, Fruit Bat Falls is almost too beautiful to be true. We jump in for a quick swim, refill our Cambelbaks in the pool and in no time whatsoever we're back on the road.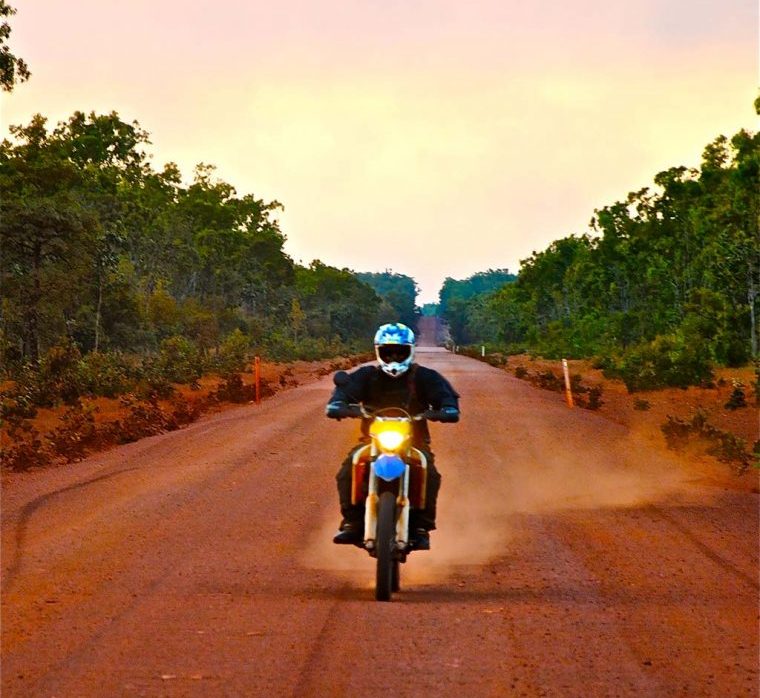 We follow it for 10 miles before meeting the second and most difficult section of the Tele: a straight-as-piss, 40-mile line centred by the most infamous off-road obstacle in all of Australia.
The Gunshot Crossing
As we stand there looking at it, I find it hard to believe that any 4X4 can actually surmount Gunshot Crossing. And by the look on the faces of the bush-bashers whose vehicles are lined up benignly to our rear, neither, apparently, do they.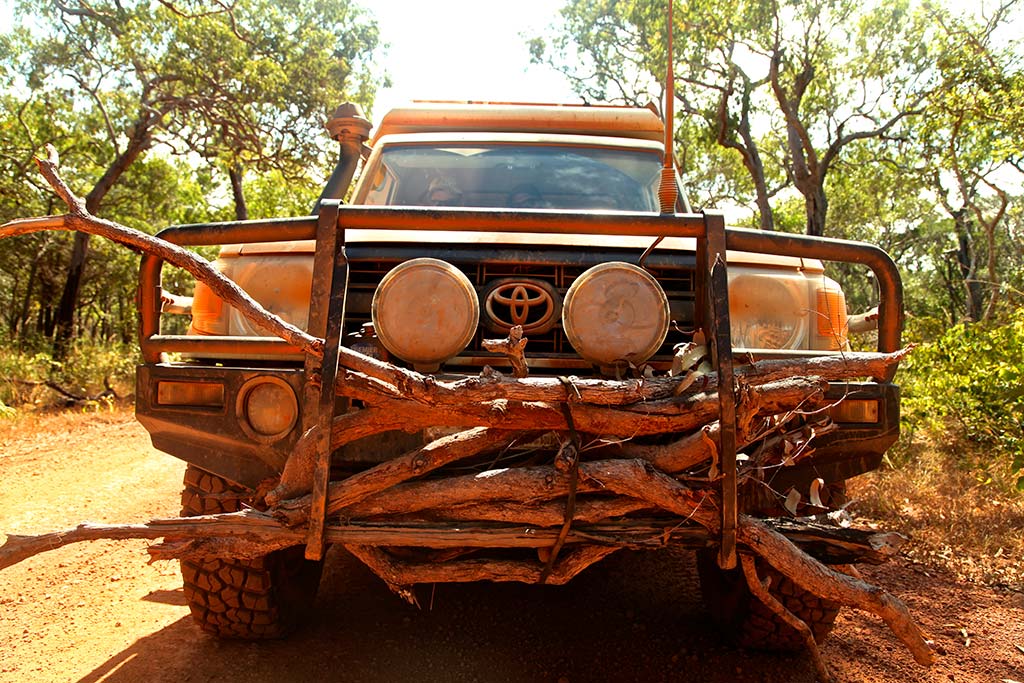 If one puts aside for a moment the fact that what we are dealing with is a four metre-tall, 60-degree clay wall covered with the scars of what look like unsuccessful attempts to winch cars up its craggy, slippery face, one still has to contend with the deep muddy bog in front of it.
The mud is soggy, wet and grey, and you can be assured it'll wipe away the inertia of any vehicle that approaches, as Roy discovers when he tries to get his Husaberg through it. He doesn't get far and we spend the next 10 minutes waist-deep in slimy lukewarm mud wrestling the thing out.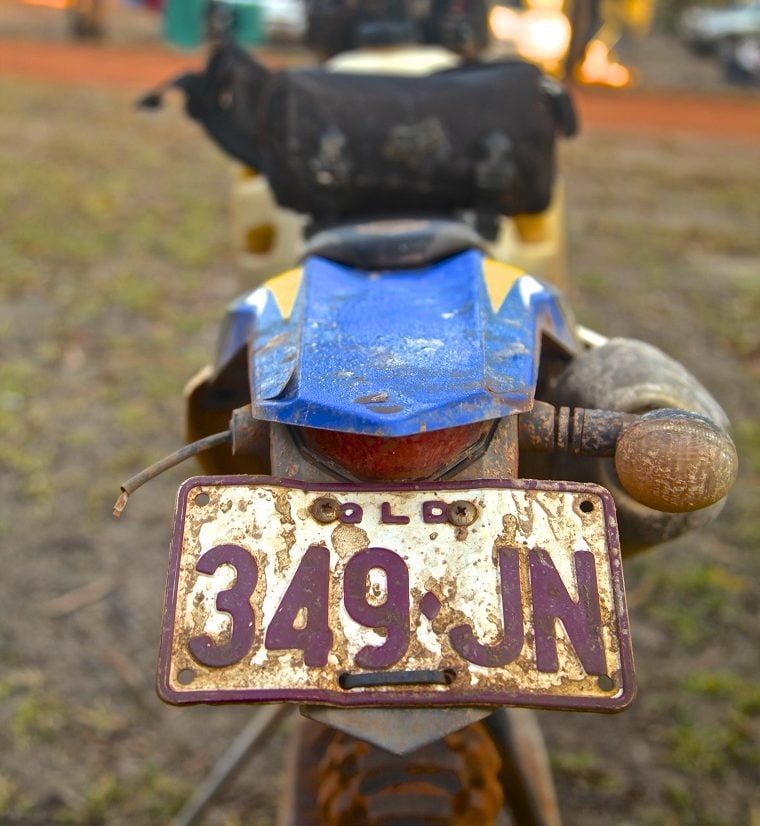 After a short breather and much encouragement from our 4X4ing spectators, Roy attempts a different crossing – one of half a dozen different crossings that have been cut into the river bank over the years. A shallow gravel-bottomed section of riverbed makes for a much easier run-up and he makes a good start.
But the incline is covered with huge bulbous bumps and when his Husaberg's bash plate hits one, he flies over the handlebars and the bike gets jammed in a groove in the wall. With his rear tyre now spinning hopelessly in thin air, there's nowhere to go but back down to the bottom of the river bank.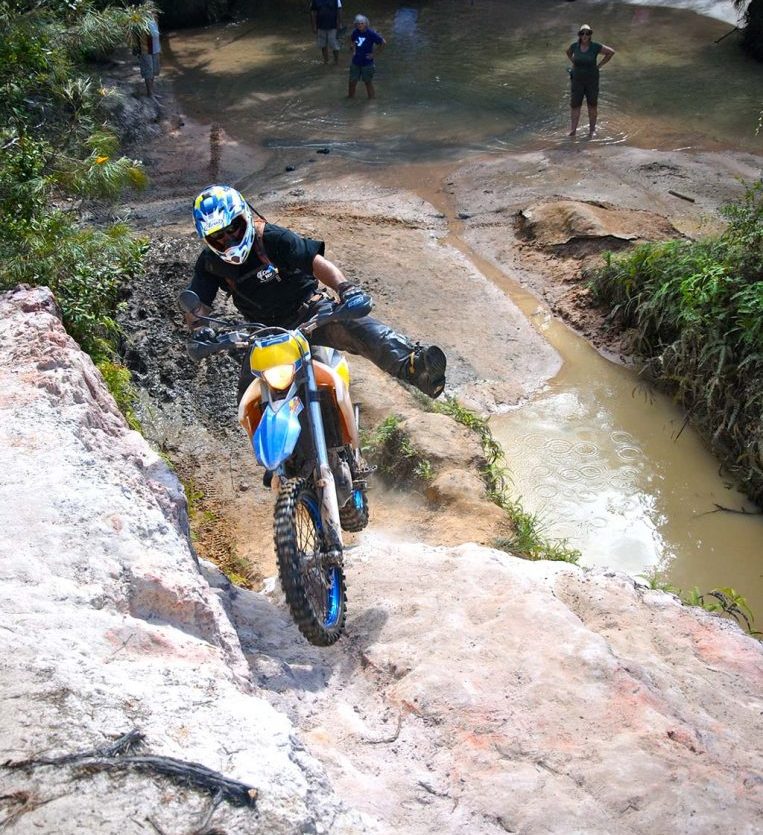 Not one to be defeated, Roy tries a third time, this time on an incline with a slightly less punishing gradient. Fanging it in first, he races up the slope and over a lip that slingshots him into a hairpin bend edged by eucalyptus trees. Coming to a halt only centimetres before impact with a very hard trunk, he looks at me and says: "Your turn, mate."
If I were a better rider, this would be where I tell you how I cleared Gunshot Crossing on my first attempt. But I'm not, and journalistic integrity requires me to admit that Roy did it for me. I did, however, over the next 30 miles, become increasingly confident while churning through the sand.
I had a couple of close calls and came off on one occasion, but it didn't take away from my sense of achievement when we pulled into Bramwell Junction Roadhouse late in the afternoon.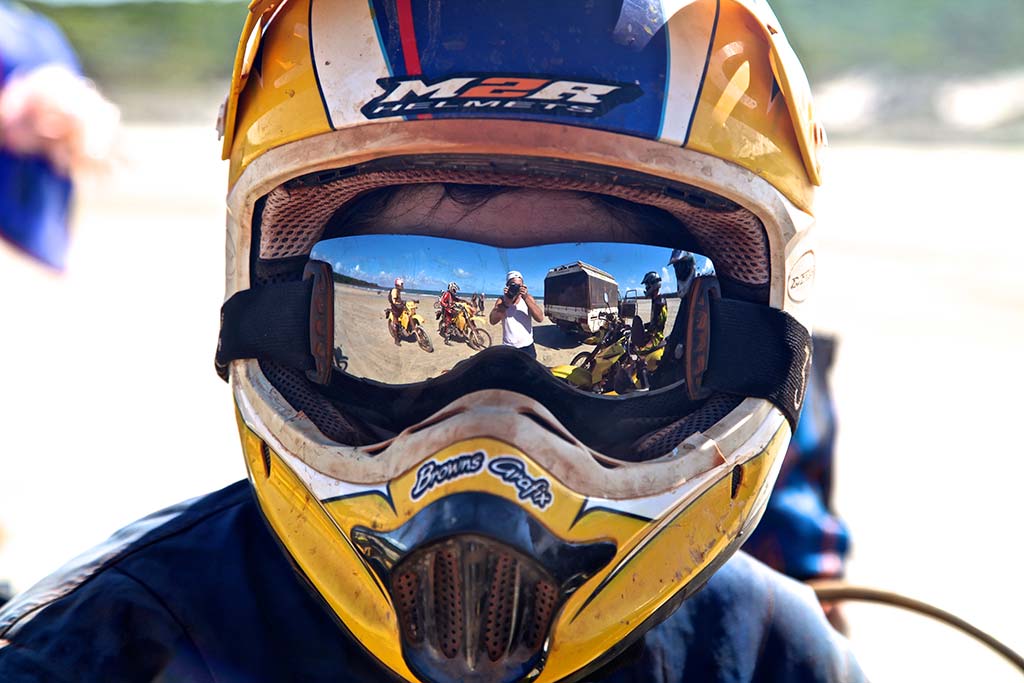 Bramwell is an iconic Outback service station, known for its big juicy hamburgers, expensive fuel, and for being the last redoubt of civilisation for northbound bush-bashers gearing up to tackle the Tele track. Covered in red dust and grey crusty mud, we draw inquisitive looks from these folk.
But we have no time to tarry as we still have 100 miles of gravel road to cover to reach our camping spot at Arthur River. And after that we have two more days solid riding to reach the finish line in Cairns. So, after refuelling our bikes, we shove a couple of meat pies down our throats and ride off into the blood-run sunset of Cape York, that tropical wonderland on the tip of Australia.
---
Don't miss – The Great Barrier Reef
When US President Barack Obama visited Australia for the G20 Summit last November, he lamented not having time to visit the Great Barrier Reef. Don't let the same thing happen to you and be sure to factor in at least one extra day to your holiday in Australia to visit the largest living organism on Earth.
A breathing, growing mass of coral one a half times the size of the UK, the GBR is home to countless species of tropical fish, molluscs, starfish, turtles, dolphins, sea cows, whales and sharks.
The easiest way to see it is on one of the many high-speed ferries that leave Cairns Marina every morning and take you out to the reef for a guided snorkelling safari or, for a little extra, an introductory scuba dive. Visit cairnsvisitorcentre.com or call +617 4036 3341 for a list of accredited operators.
---
Want to ride the telegraph track? Here's how you can…
Guided tour
Ian rode the Old Telegraph Track while completing a concentrated three-day version of Cape York Motorcycle Adventure's eight-day, 870- mile trophy tour from Cairns to the northern tip of mainland Australia. Tours run from May to November and cost £2600.
It includes the use of a Suzuki Dr-Z400E, riding gear if required, food, accommodation, national park permits, ferry and barge rides, a tour of Thursday Island and a return flight from Horn Island to Cairns. There are another half a dozen companies in Cairns that do the same thing, some for a bit less money, but CYMA are the original.
They've been doing it nonstop for 25 years and their tours run like well-oiled machines. See capeyorkmotorcycles.com.au or call Renae on +61 7 4055 0050 to book.
Ride your own bike there
To ride your own motorcycle in Australia, it's recommended you obtain a Carnet de Passage organised through the RAC. At current prices, Motofreight offers sea freight from London to Australia from GB £880 per motorcycle, including arrival charges. Visit www.motofreight.com for more information.
Get there
Qantas, British Airways and Emirates fly from various UK airports to Sydney via Dubai or Singapore for £1,100-£1,500. From Sydney, domestic airlines like TigerAir and Jetstar will fly you to Cairns and back for £150-£200. Airport hotels cost around £100 in Sydney or £50 in Cairns.