Extra storage space on a motorcycle comes in very handy, especially when you're on tour. This explains why tank bags are a popular choice among adventure bikers. JAMES OXLEY put 11 of them to the test
A tank bag is one of the most useful accessories you can add to your motorcycle for one important reason, convenience. It provides a handy spot to stash cameras, wallets, phones, and other road trip essentials that you want within easy reach from the saddle.
I assure you, the convenience of whipping out your credit card at a toll booth, or laying your hands on your waterproofs by the roadside, without needing to spend time rifling through pockets or panniers, isn't to be underestimated.
But for me, the most convenient aspect of a tank bag is reserved for when I walk away from the bike and leave it parked up. I simply pop my valuables inside, unhitch the bag, and take it with me wherever I go, whether that's to a coffee shop, the office, or while I'm checking into a hotel.
It takes away the worry of a local miscreant breaking into my luggage and pinching something essential while my bike is unattended. Some tank bags in this test even double as backpacks, which makes seeing the sights on foot, while keeping your valuables close, even easier.
So, you've decided you want to enjoy the convenience a tank bank brings but which one should you buy. While they all fundamentally perform the same task, a quick browse online reveals plenty of different shapes and sizes of bags with various features, such as map pouches, phone compartments, and carry straps. So, while you're browsing, it's important to keep three key aspects of a tank bag in mind: Size, features, and usability.
Does Size Matter?
Let's take a look at size first. Tank bags come in a range of sizes, from compact designs made to carry the bare essentials, to expandable towers that offer as much storage space as some top boxes. Which size is right for you will depend on how much you plan to put inside and what other luggage options you have on your motorcycle. Try making a list of the items you plan to carry in your new tank bag to help you decide.
For example, when I'm on tour, I have most of my kit stored in metal panniers already. Up front, I only need something large enough to ensure my wallet, phone, keys, a map, and a snack are easily accessible.
However, when I commute to work, I leave the luggage at home to make filtering through traffic quicker and easier. This means there needs to be room for a tyre plugging kit, pump, torch, and waterproofs, along with my packed lunch. Ultimately, my tank bag needs enough storage capacity for both of these scenarios, so I use a relatively large one.
Also, take a look at the materials a tank bag is made from. It needs to be rugged enough to survive the rigours of life on the road.
With this in mind, most of the bags on test are made from durable forms of nylon which are resistant to rips and tears. Keep an eye out for the material's denier which, in simple terms, tells you its thickness. As a rule, the higher the denier the tougher the material, although this isn't always the case so it's best to use this as a rough guide only.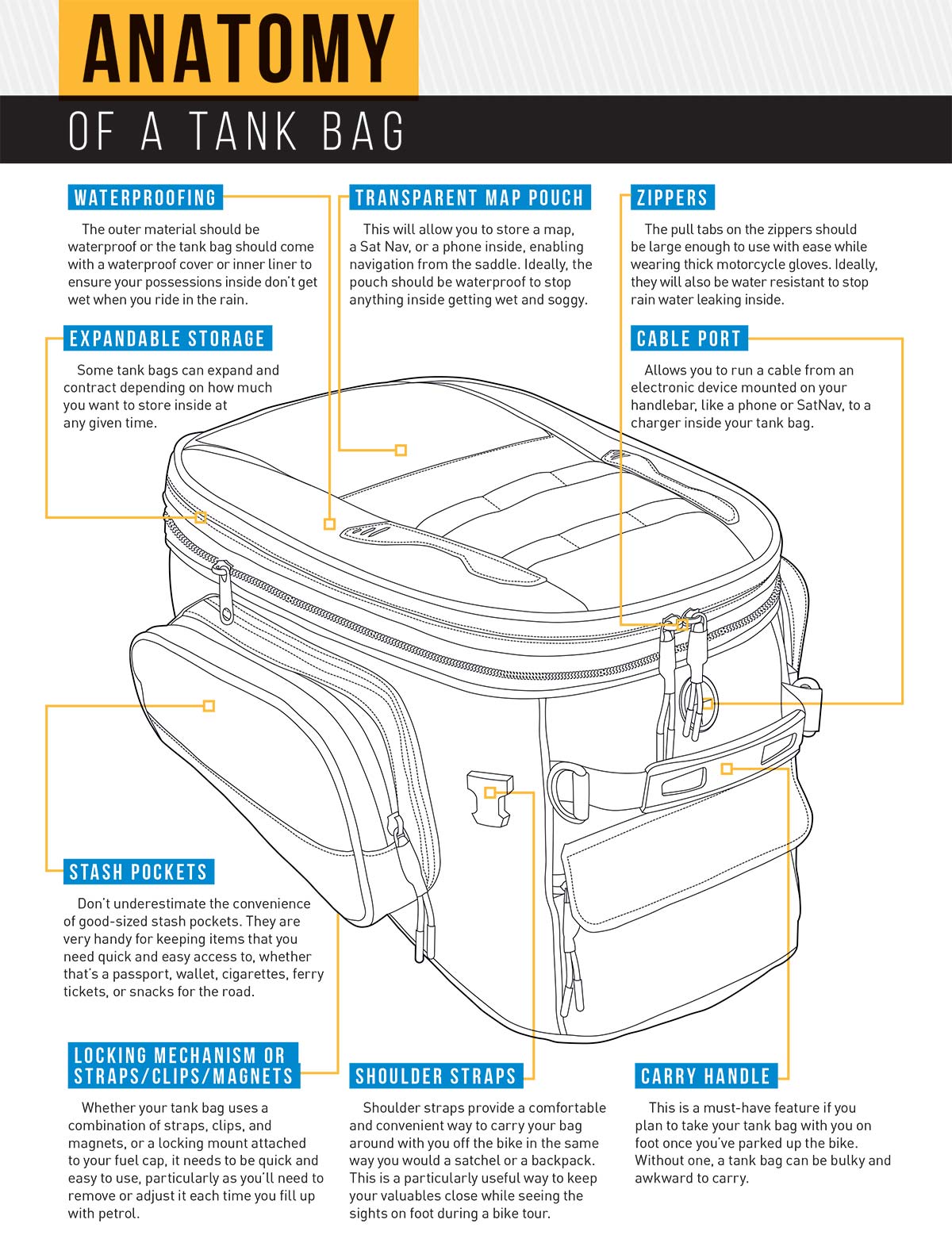 Extra Features
Once you've decided which size tank bag suits your needs, it's time to take a look at what features it has. When we review motorcycle gear and accessories at ABR, we usually have one eye on how it will perform on tour, whether that's on a weekend away or travelling the Pamir Highway. We are adventure bikers, after all. With this in mind, there are a number of touring friendly features to look out for which also prove handy on a daily commute.
Be sure to look for a tank bag that is either waterproof or comes with a rain cover to keep your valuables to dry. You don't want to whip out your fancy new DSLR camera or phone by the roadside only to discover they've become water damaged by a leaky tank bag.
A map pouch you can read from the saddle will make navigation easier, a carry strap ensures a bag is comfortable to cart around off the bike, and outer storage pockets provide quick access to essential items like your passport, credit cards, and of course, a packet of Jelly Babies. Internal compartments will also stop your possessions getting jumbled together.
Taking It Easy
It's also important to examine a tank bag's useability, or to put it another way, how easy it is to live with on a daily basis. After all, if you're spending your hard-earned cash on something to make your riding life easier, you don't want to be wrestling with stubborn zips or locking mechanisms. Remember, most motorcycles have a petrol cap on top of the fuel tank, so you'll need to move your tank bag every time you fill up. If this isn't a simple process, you'll be left cursing.
When it comes to securing a tank bag to your bike, they tend to use either straps or magnets (sometimes a combination of both), or a quick-release locking system that attaches to a ring on your fuel cap. If you plan on taking your bag with you when you leave your parked biked up, a quick-release system is your best bet.
Some tank bags feature a universal fit and can be used with a wide selection of bikes, while others are made to fit a specific make or model of motorcycle. It's certainly worth looking at products made by the manufacture of your own bike, as well as those produced by the large number of motorcycle accessory specialists out there, such as Oxford and Givi.
Finally, weigh up how a tank bag will look when it's fitted to your bike. While they're not the most stylish of accessories to adorn your pride and joy, you don't want it being an eyesore either, especially as it will be firmly in your field of vision as you ride your bike.
LOMO MOTORCYCLE TANK DRY BAG
£54
www.lomo.co.uk
Lomo is a brand more commonly associated with water sports clothing and accessories than bike gear. However, after selling a popular range of dry bags, the Glasgow-based company decided to use its knowledge and expertise to enter the world of soft motorcycle luggage.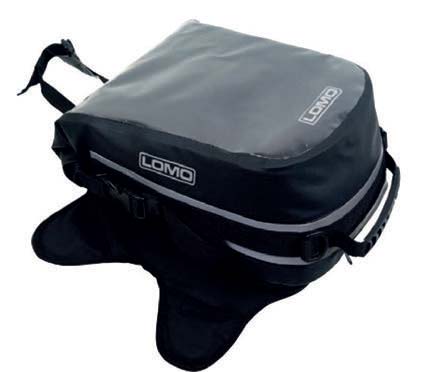 Its entry into this group test is simply called the Motorcycle Tank Dry Bag. As the name suggests, this is a 15l dry bag adapted to be used on a motorcycle, so you can trust it will cope with the worst Mother Nature can throw at it. It is made from PVC tarpaulin with welded seams which helped it to pass a shower test without a hitch.
However, those dry bag origins have resulted in a tank bag that isn't particularly convenient to use from the saddle. For example, it features a roll top and clip closure system. While this is excellent at keeping the rain out, it's a faff to undo and access what's inside while you're on the bike. This isn't ideal if you're sat at a busy toll crossing hunting for your wallet with an ever-increasing queue of impatient motorists behind you.
There also aren't any handy side pockets or stash pouches to place items that you want within quick and easy reach. There is a transparent map pouch up top, but again you'll have to undo the bag to access what is inside.
Attaching the Lomo bag to a bike is a simple task thanks to four magnets that cling to the tank, along with a strap that loops around the steering column. This is all very quick and easy to attach and release. If you don't have a metal fuel tank, you can buy a version of the bag which uses straps and clips instead of magnets.
Off the bike, the bag can be used as a backpack thanks to two padded shoulder straps that unfurl from a back pocket. There is also a carry handle.
It's clear Lomo has tried to offer a different kind of tank bag for riders who value keeping their kit dry above anything else. It performs this task very well, but in doing so, its designers have sacrificed some of the convenience and ease of use associated with using a more traditional tank bag. However, if you simply want a dry bag that attaches to your bike's tank, it will do a good job.
IN A LINE: It'll keep your gear dry but lacks common tank bag features.
ABR RATING 6/10
STORAGE 6
FEATURES 6
EASE OF USE 6
VALUE FOR MONEY 7
OXFORD PRODUCTS Q20R QUICK RELEASE TANK BAG
£99.99
www.oxfordproducts.com
It has been almost 50 years since UK-based Oxford Products entered the motorcycling industry with a range of top boxes for bikers. Since then, it has grown into a global brand selling just about every accessory you can think of, including a selection of tank bags.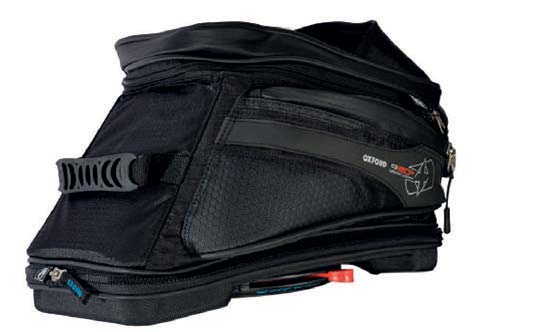 Oxford Products' entry into this group test is the Q20R Quick Release Tank Bag. It's made from 420-denier ripstop nylon which is a lightweight yet durable material resistant to rips and tears.
To keep your valuables dry, the Q20R comes with a removeable, waterproof, inner liner. This actually acts more like an inner bag which can be quickly lifted out using a hook and loop fastener, a handy feature if you want to take your valuables off the bike without removing the tank bag.
Not that removing the Q20R is an issue. It's a simple process thanks to a quick release system that attaches to a mount on your bike's petrol cap. The bag fastens into place with a reassuringly secure click and is then released using a chunky lever that is easy to reach and operate. The bag can be removed and fastened within a second or two.
The QR20R is packed full of so many pouches, pockets, and nifty features, it feels a bit like a Transformer (remember the cartoon back in the '80s?). Undo a zipper at the top of the bag, and it will expand to give you 20l of storage space. This provides more than enough room for a DSLR camera, iPad, wallet, phone, snacks, and more.
The bag's lid, which is unfastened by a water-resistant zipper, also doubles as a map pouch with a transparent cover and a handy sun shield.
The QR20R also features two sizeable zipped side pouches with enough room to store a glasses case and a phone in each, and there is a cable port to connect a charger to a SatNav mounted to your handlebars.
So far, so good then, but there's more to this impressive tank bag. Unzip its base and you'll discover two adjustable, padded, shoulder straps which transforms the bag into backpack. There is also a carry handle featuring a rubber grip, rounding off what is an extremely useful and user-friendly piece of kit.
IN A LINE: Lots of storage space, well made, easy to use, and offering Oxford's usual excellent value for money.
ABR RATING 9/10
STORAGE 9
FEATURES 9
EASE OF USE 9
VALUE FOR MONEY 10
HELD TURANO II LARGE MAGNETIC TANK BAG
£113.95
www.held-uk.co.uk
It has been 75 years since professional glove makers Bruno Held and his son Edgar founded their company. Back then the focus was on making gloves for fashion and driving. However, by the '70s, the firm turned much of its attention to the needs of motorcyclists, and today, it designs a wide range of bike gear including luggage.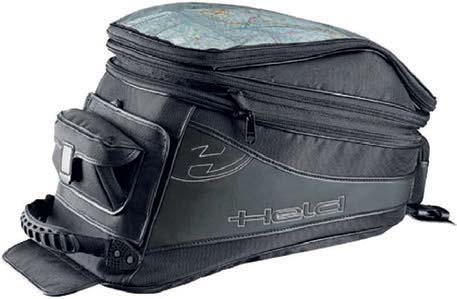 The German company's entry into this test is the Turano II, a 12l nylon tank bag that can be expanded to 20l, making it one of the larger bags on test. Inside is a single compartment large enough to store your gym kit, including a pair of trainers, although there are no inner pouches or pockets to tidy away smaller items like your wallet of phone. If you're anything like me, this will soon lead to a jumble of possessions.
However, the lid flap does feature a large, transparent map pouch entered by a zipper, which is big enough to store a large area of map or a tablet. Held has also provided storage pockets at the front and rear of the bag. Both are large enough to keep a pair of sunglasses inside.
The Turano II attaches to a bike via a set of six magnets embedded in the base of the bag, along with a strap that loops around the steering column. While this doesn't feel as secure as a quick release system mounted to a petrol tank, the magnets are spread widely, so even if you have an unevenly shaped tank, like the Honda Africa Twin I tested the bag on, it feels secure.
Magnetic tank bags are also very quick and easy to remove. It's simply a case of unclipping the steering column strap and li.ed the Turano II upwards. Once off the bike, Held has provided a handle with a rubber handgrip to carry it around.
While the Turano II doesn't boast wide variety of features found on the likes of the Mosko Moto or Givi bags on test, it is a simple and effective tank bag with plenty of storage space. If you can't be bothered to install a quick-release system on your bike, and you want a no-frills tank bag that gets the job done, the Held is a good bet.
At a smidgen over £100, it also offers good value for money, although the Oxford tank bag on test will give you more features for a similar price.
IN A LINE: A simple and effective design at a reasonable price.
ABR RATING 7/10
STORAGE 7
FEATURES 7
EASE OF USE 8
VALUE FOR MONEY 7
Italian brand Kappa can trace its beginnings back to 1956 when it was launched under the name Cappa, spelt with a C instead of a K. However, in 1991 it was bought by the founder of fellow Italian company Givi and renamed Kappa. This explains why some of the brands' motorcycle accessories look so similar.
It's entry into this group test, the RA315 tank bag, comes from Kappa's Inspiring Adventure range. While the name isn't particularly inspirational, the bag itself immediately grabbed my attention among the line-up of products in this group test. The reason being, it doesn't look much like a tank bag at all, but instead resembles a rather fetching backpack.
This was intentional, with Kappa setting out to design a dual-purpose bag to use on and off the bike, rather than simply giving a traditional tank bag some shoulder straps.
As a motorcycle backpack, the RA135 is a good-quality piece of kit, but as a tank bag, it falls short of the competition when it comes to ease of use and features. The main reason is the fact, like the Lomo bag on test, its closure system combines a roll top and clips. This makes it a faff to access what's inside when you're sat in the saddle.
However, as bag to use on a daily commute, when quick access isn't such a priority, the RA315 has a lot going for it. It is a made from a stylish, grey polyester canvass which is water repellent, and features 20l of storage.
On the front of the bag you'll find a transparent pocket for a smart phone. At the back, there is a pouch which stores two nicely padded and wide shoulder straps for use as a backpack.
Inside that same pouch sit four magnets which cling to your fuel tank when you want to use the RA315 as a tank bag. For added security, or for those of you with plastic motorcycle tanks, straps are also provided to secure the bag to your bike. It's simple to attach using loops and D-ring fasteners, similar to those found in motorcycle helmets. This all only takes a few seconds to attach and li. off when you want to remove the bag at a petrol station.
IN A LINE: A good looking and versatile piece of motorcycle luggage, but lacking in tank bag features.
ABR RATING 7/10
STORAGE 6
FEATURES 7
EASE OF USE 6
VALUE FOR MONEY 7
TRIUMPH RUGGED TANK B AG
£157
www.triumphmotorcycles.co.uk
At the start of the year, ABR took delivery of a Triumph Scrambler 1200 XE as a short-term review bike, and I was lucky enough to get my hands on the keys for a few days. It proved a blast on my daily commute but it didn't come with any luggage, so I struggled to carry all my work gear.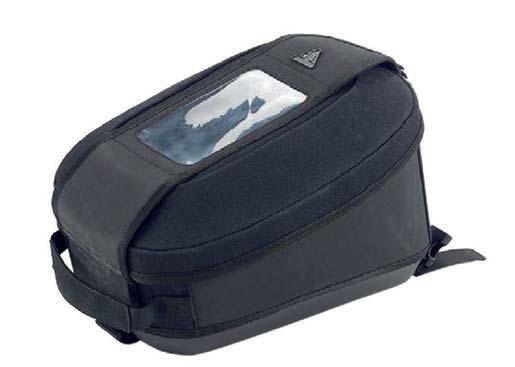 I'd end up stuffing my jacket pockets and a bulging map pouch with everything I needed for the day ahead, which proved cumbersome and uncomfortable. I wish I'd had the Triumph Rugged Tank Bag back then.
With 12l of storage, this rigid bag is designed for use on Triumph's Street Twin, Street Scrambler, and Scrambler 1200 models. These are all bikes known and bought for their retro styling, so any luggage that adorns them needs to look good.
On this front, the Rugged Tank Bag delivers. It's curved lines and lack of side pockets or pouches make it one of the most simplistic but stylish bags on test. However, that minimalist approach also means there isn't anywhere on the outside to store items you want quick and easy access to without rummaging around inside.
Internally, you'll find a single storage compartment containing a waterproof lining that is sown into the bag. The lid is fastened using a hook which is a simple as it gets. On top is a phone pouch with a transparent cover so you can navigate using Google Maps while you ride.
The Rugged Tank Bag secures to a motorcycle tank using a combination of straps and clips, and it only takes a few seconds to remove or attach. Triumph has provided a handle to carry the bag around with you on foot, although it is on the tight side and feels awkward to use.
Triumph's tank bag is one of the simplest on test and it doesn't possess too many features to get excited about. With this in mind, I'd say it's better suited to daily commutes or Sunday rides rather than summer tours where having plenty of pockets and pouches to stuff your possessions in comes in handy.
However, if you ride a bike with retro good looks like a Triumph Scrambler, I imagine style is just as important as functionality when it comes to choosing a tank bag. In this scenario, the Rugged Tank Bag would make a decent choice.
IN A LINE: A simple and stylish tank bag.
ABR RATING 6/10
STORAGE 6
FEATURES 5
EASE OF USE 7
VALUE FOR MONEY 6
MOSKO MOTO NOMAX TANK BAG
£162.34
www.moskomoto.eu
Adventure bikers comes in many different forms, from those of us who enjoy gliding along twisting Alpine passes, all the way through to riders who are happiest toughing it out in scorched deserts or rugged backcountry. American company Mosko Moto firmly aims its range of clothing and luggage at the latter.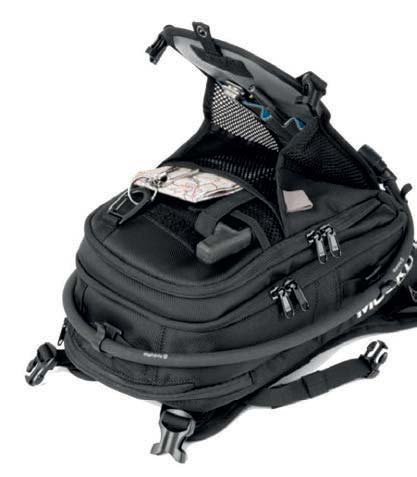 Despite only launching in 2013, it has already earned a reputation for producing rugged motorcycle gear that can survive the harshest of environments. The company's entry into this group test, the Nomax Tank Bag, is no exception.
The main body of the bag is constructed from a hard-wearing 800 denier ballistic nylon, although the top flap (called a beavertail) is constructed from an even more rugged 1,680 denier ballistic nylon. In short, this in one tough tank bag.
The standout feature is the inclusion of a 2l Hydrapak water reservoir that allows you to drink while you ride. It's a handy feature that negates the need to wear a hydration pack on your back. However, if you do want to wear the Nomax, there are two shoulder straps tucked away neatly in a cubby hole that can be unfurled to turn the tank bag into a backpack.
Fitting the Nomax to your bike involves a selection of straps and clips. One strap loops around the steering column while two others attach to the frame using zip ties. Once installed on your bike, the tank bag simply clips into place within a few seconds and it's just as quick and easy to remove.
While the Nomax's 7l capacity is relatively small, remember it's designed for lightweight trail riding in mind where so. luggage and minimal packing is common. And, when you hit the trails, you won't be short of pockets, pouches, and straps to take a plethora of tour essentials, along with a cable port to charge your GPS.
There are actually six storage layers inside featuring a multitude of compartments to keep items like phones, wallets, waterproofs, a drinking bottle, tow straps and a trail saw. There's even a fleece-lined sunglasses pocket. For wet weather riding, the Nomax comes with a waterproof rain cover.
IN A LINE: A rugged, thoughtfully designed, and detailed adventure tank bag.
ABR RATING 9/10
STORAGE 8
FEATURES 9
EASE OF USE 9
VALUE FOR MONEY 8
KTM motorcycles need no introduction to most adventure bikers, but did you know the Austrian manufacturer also sells a range of accessories called Powerparts to help you get your bike tour ready? One of those accessories is the KTM tank bag which came attached to my 790 Adventure long-term review bike at the start of 2020. I covered around 5,000 happy miles on that motorcycle and the tank bag came along for many of them.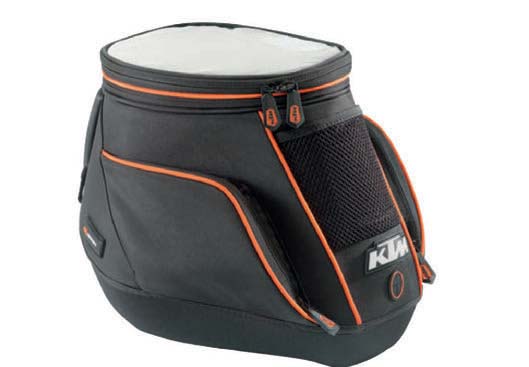 The bag is constructed from nylon. Although KTM doesn't list the material's denier, it has certainly stood up to the rigours of life on the road over the past year without suffering any rips or tears, and it still looks as good as new.
The material isn't waterproof, although my possessions inside stayed dry during light rain. For more prolonged wet weather, a waterproof rain cover is provided and it works effectively.
Inside the KTM Tank Bag, you'll find one 13l storage area which can be expanded to 16l. There is enough room to store a DLSR camera inside, plus essentials like waterproofs, a puncture repair kit, wallet, phone, and a bottle of water. However, there are no internal compartments which means items can get jumbled.
On each side of the tank bag there is a side pocket with a zipper fastener. These are narrow but provide enough room to slip in slimmer items like a passport or sunglasses in a so. case. On top, the lid doubles as an oval-shaped map pouch with a transparent covering. There is also an elasticated stash pouch sitting above a cable port.
The KTM Tank Bag connected to my bike using a quick release system mounted on the petrol cap. It locks into place with a reassuringly secure click and is released by pulling a cable. It's a hassle-free system and, once you've taken the bag off the bike, it can be carried around using a handle with a plastic grip.
KTM's offering is one of the more stylish on test with its curved design, subtle branding, and black and orange colour scheme. It certainly looked very smart mounted on my 790 Adventure. If you're looking for a simple yet good-looking tank bag for your KTM motorcycle, it's certainly worth close consideration.
IN A LINE: Good looks, a simple design, and a decent amount of storage space.
ABR RATING 7/10
STORAGE 7
FEATURES 7
EASE OF USE 8
VALUE FOR MONEY 7
As well as making some of the world's best motorcycles, BMW also sells a range of bike clothing and accessories which have a habit of regularly scoring highly in ABR reviews. Often the gear is subtly branded and comes highly recommended whether you ride one of the German manufacturer's machines or not.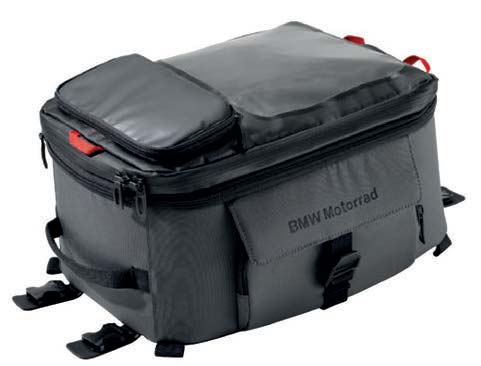 Its entry into this test is the BMW Tank Bag Large which is made from polyester, although BMW doesn't list the denier. Inside you'll find an 11l main storage compartment, which can be expanded to 16l, along with four elasticated stash pouches.
There's also a detachable waterproof liner that can be lifted out of the bag and carried away. Inside, there is plenty of room for tour essentials like a bottle of water camera, phone, and wallet, with room to spare.
The tank bag's lid doubles as a transparent, waterproof map pocket. Below this you'll find a small outer compartment which is large enough to store a phone or keep a pair of sunglasses within easy reach. BMW has also provided a second, larger, waterproof map pouch which can be attached using Velcro fasteners.
Either side of the tank there are two pockets which are fastened by a zipper and hook strap. I found the hook was fiddly to use while wearing gloves and I ended up permanently unfastening and solely relying on the zip instead.
The bag has been designed to sit on top of a bike's tank or on a pillion seat and is attached by a combination of straps and hooks. This isn't particularly fiddly but it certainly isn't as convenient to use as some quick-release systems on test.
Like much of BMW's accessories range, the Tank Bag Large has an understated design that manages to look both functional and stylish, its rectangle shape and pocket flaps giving it something of a retro look.
At £188, this is among the more expensive bags on test, and I suspect some of that cost is the price you'll pay for having the manufacturer's subtle branding on your tank bag. However, if you're a BMW fan and you're looking for a functional piece of luggage to perch on your pride and joy, it will serve you well.
IN A LINE: Function and form combine in a stylish tank bag.
ABR RATING 8/10
STORAGE 8
FEATURES 8
EASE OF USE 7
VALUE FOR MONEY 7
GIVI UT810 TANKLOCKED TANKBAG
£195.50
www.givi.co.uk
Italian company Givi began life in 1978 when its founder and former Moto GP rider, Giuseppe Visenzi, quit bike racing to start a motorcycle accessories company. Today, Givi is a hugely popular luggage brand worldwide which is used by a number of major motorcycle manufacturers. If you've bought Triumph or Yamaha aluminium bike luggage recently, chances are it was made by the Italian firm.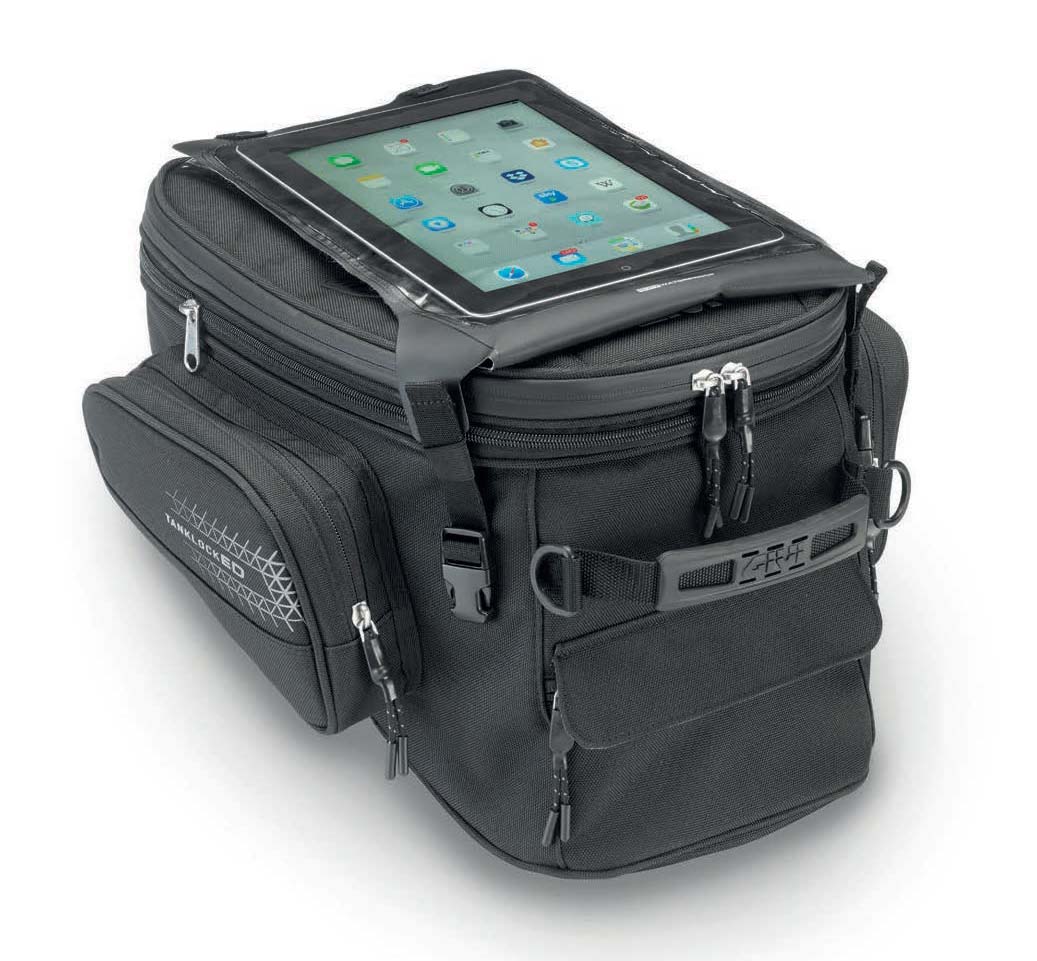 Givi's submission into this group test is the UT810 Tanklocked Tang Bag. It's quickly apparent this is a very impressive piece of kit packed full of design features to make life on the road simpler and easier. As the name suggests, the bag can be locked to stop someone from pinching it from your bike.
Simply twist a key in the tank-mounted quick release system and the bag cannot be removed. That release system is supremely quick and easy to use. The bag clicks securely into place and is released with the nudge of the substantial lever in less than a second.
The UT810 is made from rugged 1,200 denier polyester which is tough enough to stand up to the rigours of the life on the road. For wet weather riding, a waterproof cover is included featuring a transparent top panel, as well as a removable waterproof inner liner.
In terms of features, the UT810 has pretty much everything you could wish for in a tank bag. Undo a zip and it expands to provide a whopping 25l of storage space, the most on test. I've managed to fit my gym kit inside, including trainers, as well as wallet, phone, and a packed lunch.
Up top is a small transparent map pocket, but if this isn't large enough, GIVI has also included a bigger, fully waterproof map pouch which is attached using clips.
On the outside there are two, large storage pockets with zip closures, and a third smaller front pocket pouch. All zippers have substantial tabs and are easy to use while wearing gloves. There is also a cable port allowing you to charge electronic devices while you use them.
For use off the bike, GIVI has provided a padded shoulder strap which enables you to carry the tank bag like a satchel. There is also a rubber handle with an ergonomically designed grip.
The UT810 is an excellent tank bag I wouldn't hesitate to take on my next motorcycle tour, although at almost £200, you'll have to dig deep into your wallet to buy one. Make sure you search around online though because discounts are available.
IN A LINE: A superb tank bag, packed full of features to improve life on the road.
ABR RATING 9/10
STORAGE 10
FEATURES 9
EASE OF USE 9
VALUE FOR MONEY 8
SW-MOTECH EVO 2.0 CITY ELECTRIC TANK BAG
£218
www.partseurope.eu
In 1994, adventure biker Jurgen Swora constructed a homemade tail tank for his Africa Twin to take on a tour of Libya. It prompted plenty of interest from fellow bikers which led to him starting SW-Motech five years later with two biking friends. Today the German company employs 300 people and sells a wide variety of accessories in more than 70 countries worldwide.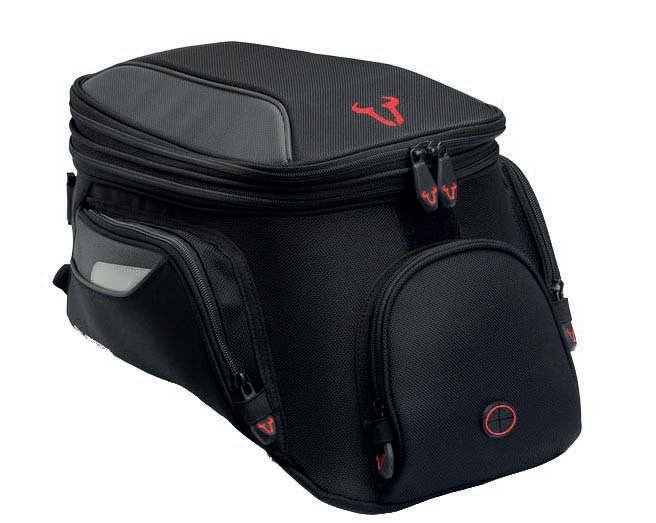 Its entry into this group test is the Evo 2.0 City Electric Tank Bag. As the name suggests, the product's distinguishing feature is the fact it connects directly to your bike's battery so you can charge electronic devices inside without having to carry a charging brick.
It's a neat and convenient way to ensure your phone or SatNav never run out of juice.
Electric hook up aside, SW-Motech has produced a high-quality, mid-size tank bang with stylish good looks. It's constructed from a robust 1,680 denier ballistic nylon, so it will withstand the rigours of the road, and it comes with a rain cover for wet-weather riding.
Inside you'll find an 11l storage space, that can be expanded to 15l, along with a selection of elasticated storage pouches and zipped pockets. This isn't as generous as the likes of the Givi bag on test, but's there's enough room to store a DLSR camera plus waterproofs, a phone, and wallet.
On the outside of the Evo 2.0 City you'll find three slim outer pockets which aren't particularly large and are best suited to slipping your passport or ferry tickets into.
The bag is attached using a quick-release system that mounts to a petrol cap. Simply pull a cable and li. it off before carrying the bag over your shoulder with the strap provided, or in your hand using the carry handle.
SW-Motech has a reputation for making premium bike accessories and the Evo 2.0 City lives up to this billing. It looks and feels like a quality item, and the inclusion of a charging function makes it stand out.
However, if you're looking for a mid-size tank bag with a charging capability, it'll do the job well, but at £218, it is rather expensive.
IN A LINE: Charge your phone as you ride in this stylish midsize tank bag.
ABR RATING 8/10
STORAGE 7
FEATURES 8
EASE OF USE 8
VALUE FOR MONEY 8
I've had the pleasure of riding a Ducati Multistrada 1260 S Grand Tour over the past few months. It's a sensational motorcycle that comes fitted with two side panniers for touring. This aerodynamically curved plastic luggage looks great but the storage capacity isn't quite large enough for me, especially when I'm travelling two-up with my wife.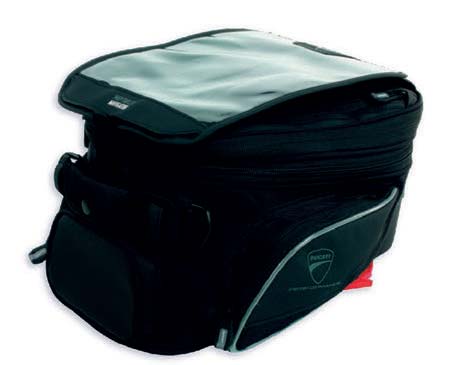 Step forward the Ducati branded, but Givi manufactured, Tank Bag. With 13l of storage (expandable to 15l), it provides enough room to hold my DLSR camera, waterproofs, puncture repair kit, and other roadside essentials, freeing up room in the bike's side cases.
On the outside, there are two slim side pockets large enough to take a glasses case each, and there is a third smaller pouch at the front which is the perfect spot to store credit cards, or a sneaky Mars Bar. The tank bag's lid also doubles as a transparent map pouch.
Thoughtfully, Ducati has also included a second transparent and waterproof pouch which is large enough to hold a folded map or a tablet to help you navigate from the saddle. A cable port to connect electrical devices to is also included.
The main bag attaches to a bike via a quick-release system that is mounted on the petrol cap. This is the same mechanism found on the Givi UT810 tank bag in this group test, which is simple and easy to use, releasing or locking the bag into place within a second or two.
A rain cover is provided for when the weather takes a turn for the worse, and there is also an internal waterproof lining attached to the inside of the bag to keep your possessions dry. For use off the bike, Ducati has provided a padded shoulder strap and a carry handle.
Overall, the Ducati Tank Bag is a well-made and useful piece of kit, with plenty of features to make you're riding life easier. However, it is expensive compared to the other bags on test and no doubt you'll be paying a premium for the inclusion of the Ducati logo. Whether that's worth the extra cash will be down to how passionate you are about the brand.
IN A LINE: A quality midsize tank for Ducati enthusiasts.
ABR RATING 7/10
STORAGE 7
FEATURES 7
EASE OF USE 8
VALUE FOR MONEY 6