The Pan-American Highway is one of the most iconic and diverse overland routes in the world. Veteran of the Pan-Am and author, LOIS PRYCE, reveals what it takes to ride the length of the Americas
The Pan-American Highway. It's a name guaranteed to stir wanderlust in any red-blooded adventure rider. What other road trip transports you from the top to the bottom of the world while scaling 15,000ft mountains, cruising the coolest coastlines, traversing dense jungle, and riding the world's driest desert?
It's the ultimate iconic ride but it's a commitment. At approximately 16,000 miles, you're in for the long haul. It's not one to be rushed, so pack your panniers, brush up on your Spanish, and settle in for the ride amigo.
First off, I should point out that the Pan-American Highway is not really one official road but more of a concept. In practice, it's a network of national highways that link together to make a viable route from Alaska to Argentina (well, except for the Darien Gap but we'll get to that later).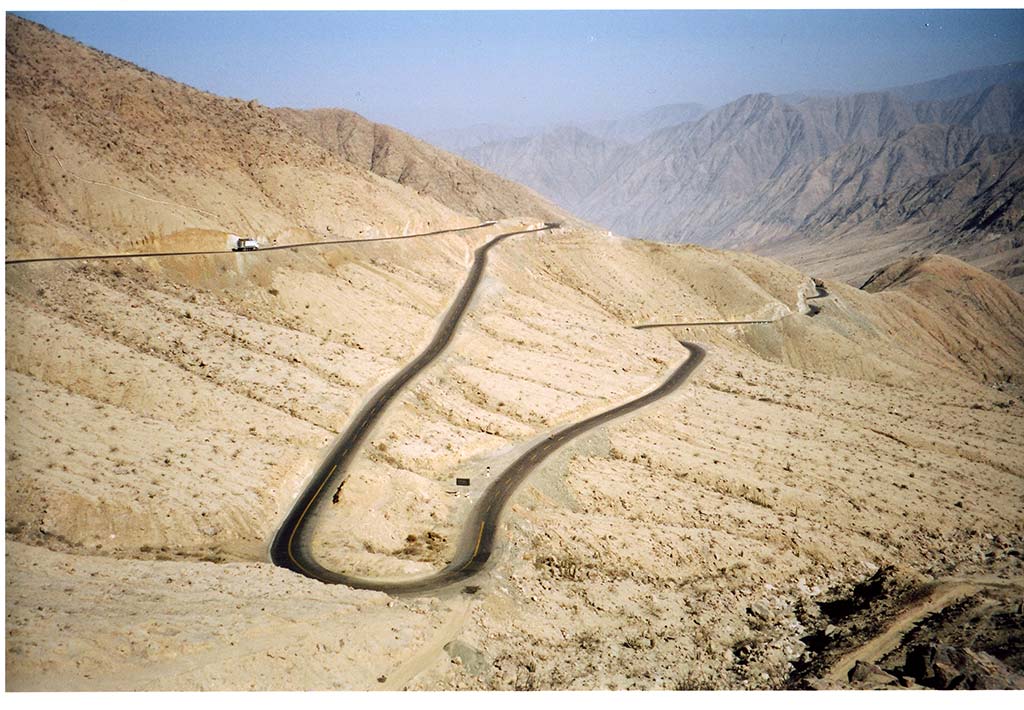 The Beginning
The idea for an overland route running the length of the Americas was first mooted in 1923 at the Fifth International Conference of American States, but it wasn't until 1937 that a convention was signed, and it wasn't until the '50s that the first section, in Mexico, was completed.
Now the route is universally recognised, if not officially marked, in each country. If you want to be a completist, your starting point is Prudhoe Bay in Alaska and your endpoint is Ushuaia in Argentina, the southernmost town in the world that can be reached by road.
In the early part of the 20th century, around the same time that a Pan-American Highway was being proposed, motorcycles were becoming widely available to the general public. Naturally, it was only a matter of time before a few adventurous souls put the two ideas together. In 1959, American thrill-seeker, Danny Liska, set off from his home in Nebraska, headed up to Alaska, and then made the long journey south, chronicling his expedition in his book, Two Wheels to Adventure.
More riders followed, and in the '80s Ed Culberson wrote the classic, Obsessions Die Hard, about his own incredible adventure which went on to inspire an entire generation of adventure bikers. Of course, since then, many thousands have ridden the Pan-Am and it is now so popular that you'll find yourself bumping into motorcyclists from all over the world on a daily basis, including Ewan McGregor and Charley Boorman as they filmed the Long Way Up in 2019. But the good news is there's still plenty of wilderness, side trips, and back-country exploration to be found away from the main highway.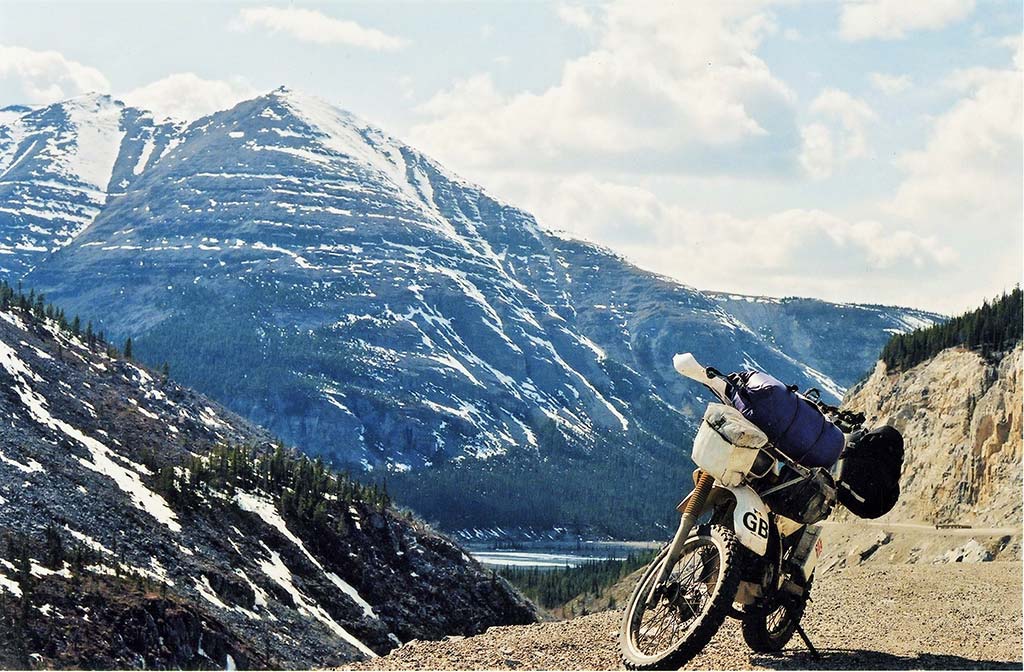 Lois on the Loose
I rode the Pan-American Highway back in 2003 as my first solo adventure, which became the subject of my first book, Lois on the Loose. Until then, I'd barely ridden outside of the M25 so I can legitimately state that the Pan-Am is suitable for beginners. There were various reasons I chose this route as my first big trip.
Firstly, by riding the Pan-Am north to south I would begin in English-speaking countries and could easily obtain any spares, tools or mechanical assistance before I entered the less developed nations of Latin America. My second reason was that once I crossed the US-Mexico frontier, there was only one language to get to grips with: Spanish (assuming I didn't venture into Brazil). Thirdly, for British passport holders, the paperwork relating to visas and bike importation is straightforward. And finally, it looked freaking epic!
The Pan-American Highway is the longest and most geographically varied route in the world because it runs north to south. In contrast, if you travel east to west across Russia, for example, you will essentially ride at the same latitude for 10,000 miles, through largely unchanging scenery and climate. But riding the Americas is like travelling through a real-life geography lesson, encountering every type of terrain and climate you can possibly imagine.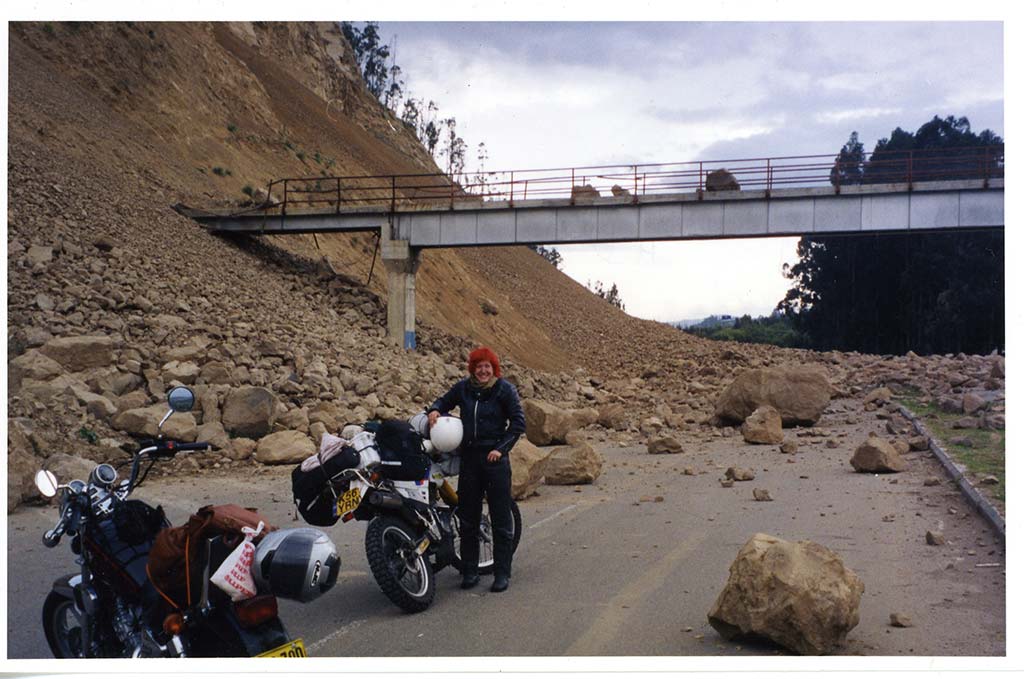 North America
Starting at the top, in the majestic mountain wilderness of Alaska and the Yukon, you head into the lower 48 states via Washington State and North America's only rainforest, followed by the grand redwood forests of Oregon and Northern California. Once you're in the Golden State, the legendary Pacific Coast Highway transports you on one of the most spectacular rides of your life. And, if you're craving some urban action, you're spoiled for choice along the way, with Seattle, Portland, San Francisco and Los Angeles all vying for your attention.
By the time you're in Southern California and heading for the Mexican border, the snowy peaks of Alaska are just a distant memory. Technically, the Pan-American Highway crossing into Mexico is in Texas but this is where a detour is most definitely recommended. Stay on the west coast and cross at Tijuana. It may have the dubious status as the busiest border crossing in the world, but, woah… you've got a treat awaiting you on the other side, the Baja Peninsula.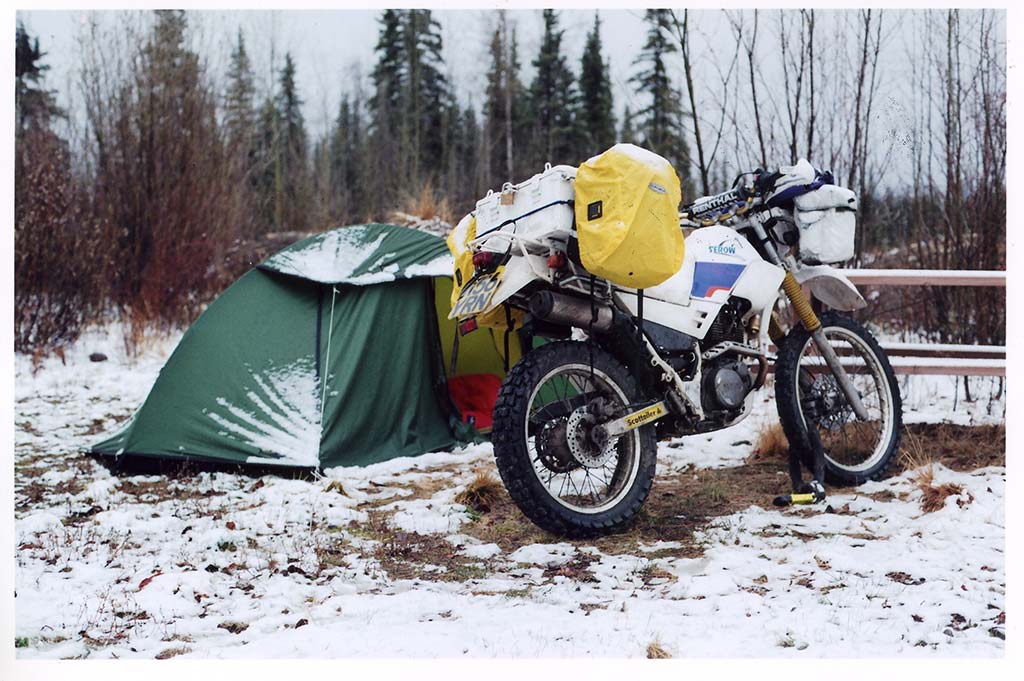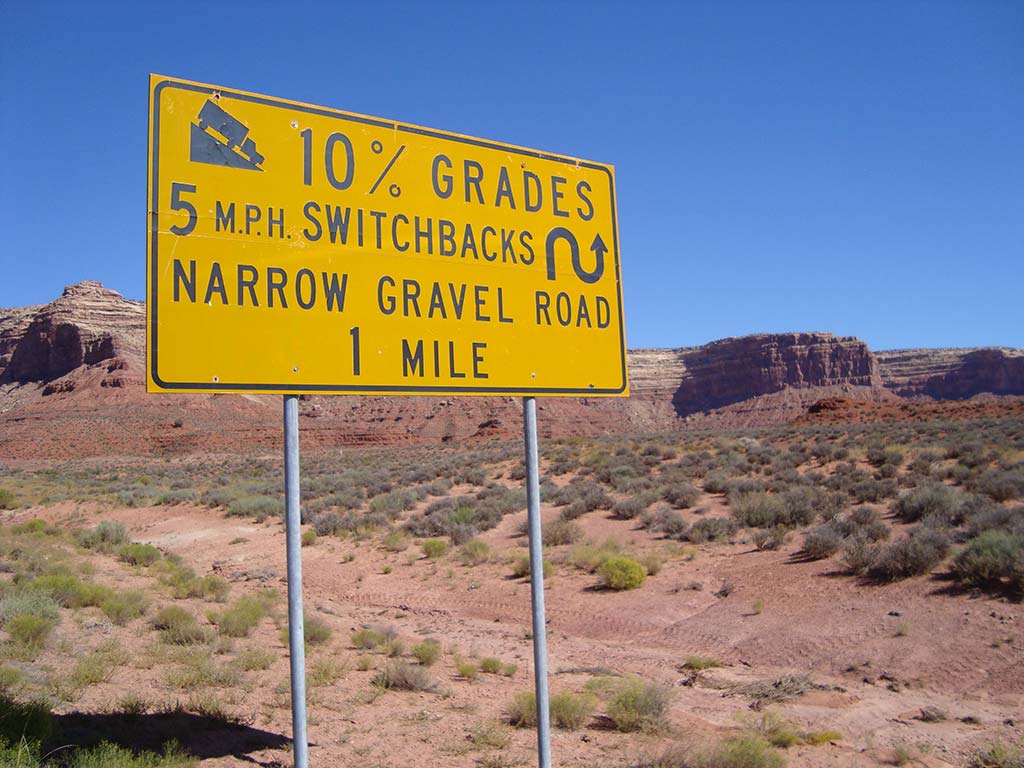 Mexico
I'm often asked what the high point was of my Pan-American journey, and although there are a multitude of moments to choose from, the crossing from North America into Mexico is the one that stands out. This is where the real adventure begins. Suddenly, everything changes. The language, the food, the culture, and the action starts.
The Baja Peninsula is famous for the Baja 1000 off-road race but you don't need to be a hotshot desert racer to enjoy the wonders of this magical sliver of land. In theory, you can ride the entire 1,000 miles on tarmac along Mexico's Federal Highway 1 but that would be a terrible shame.
Even for the novice dirt biker, Baja's network of tracks and trails across high-desert mountains and through wide open plains dotted with saguaro cacti will be one of the defining experiences of your Pan-American adventure. Come the evening, cool off in the turquoise waters of the Sea of Cortez knowing you're living the dream.
Mexico is a marvel in itself and really deserves a tour all of its own, but if you're intent on sticking to the Pan-Am, you will find it by its local name, the Inter-American Highway. Over the years it has sprouted various spurs and side shoots, so this is your chance to freestyle it on your way south. From Baja you take a ferry to the mainland and then Mexico is your oyster. Head to Copper Canyon for some world-class dirt biking, to the Yucatan for paradise beaches and Mayan ruins, or make a detour to Mexico City or Oaxaca for a shot of culture and cuisine.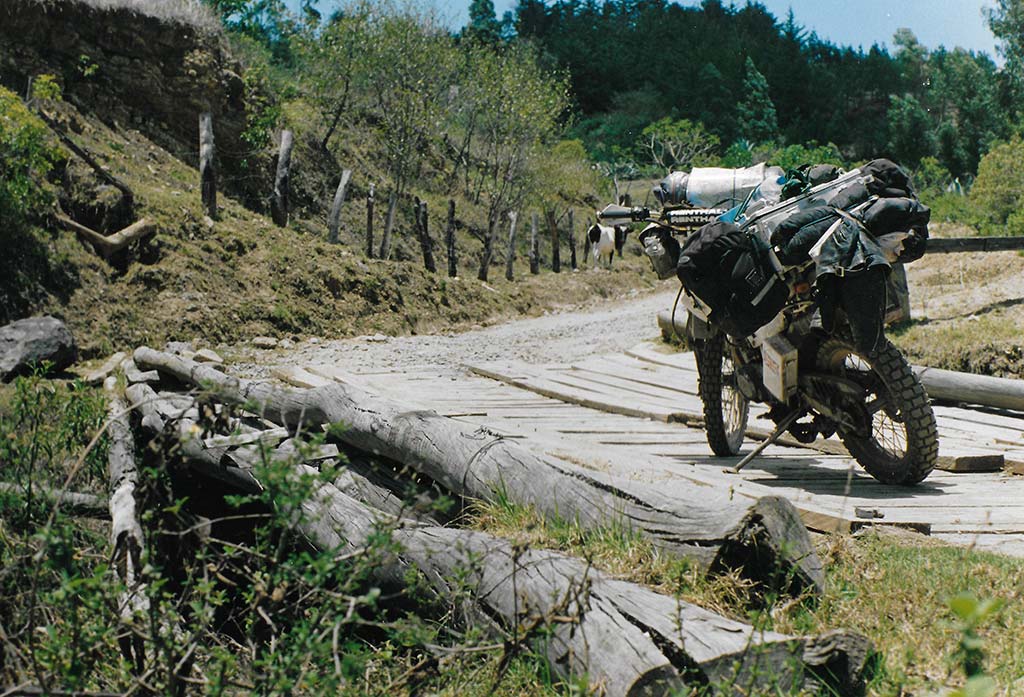 Central America
Bidding adios to Mexico, you're officially in Central America now. If you're on a mission, you'll be crossing an international frontier every few days as you travel through Guatemala, El Salvador, Honduras, Nicaragua, Costa Rica and Panama. Each one is just a few hundred miles from border to border.
Due to their size, the Central American nations often get lumped together as a single entity but they each have their own distinct character, and it's well worth breaking away from the Pan-American Highway to explore their hidden corners. Off the beaten track, you'll find ancient Mayan temples, crumbling colonial cities, active volcanoes, white-sand beaches, and jungles brimming with parrots, monkeys, and even jaguars.
By now, with Mexico under your belt, you'll be fully versed in the vagaries of the local drivers and the variable road conditions. By the time you enter Central America, you're deep into the tropics, and depending on what time of year you're travelling, you will likely become acquainted with the region's intense downpours.
These tend to occur in the style of a short sharp shock, usually in the late afternoon. But they can cause localised flooding and transform a perfectly rideable dirt road into a hellish muddy swamp. The only good news is that it rarely gets cold in this part of the world, so at least you'll be both wet and warm.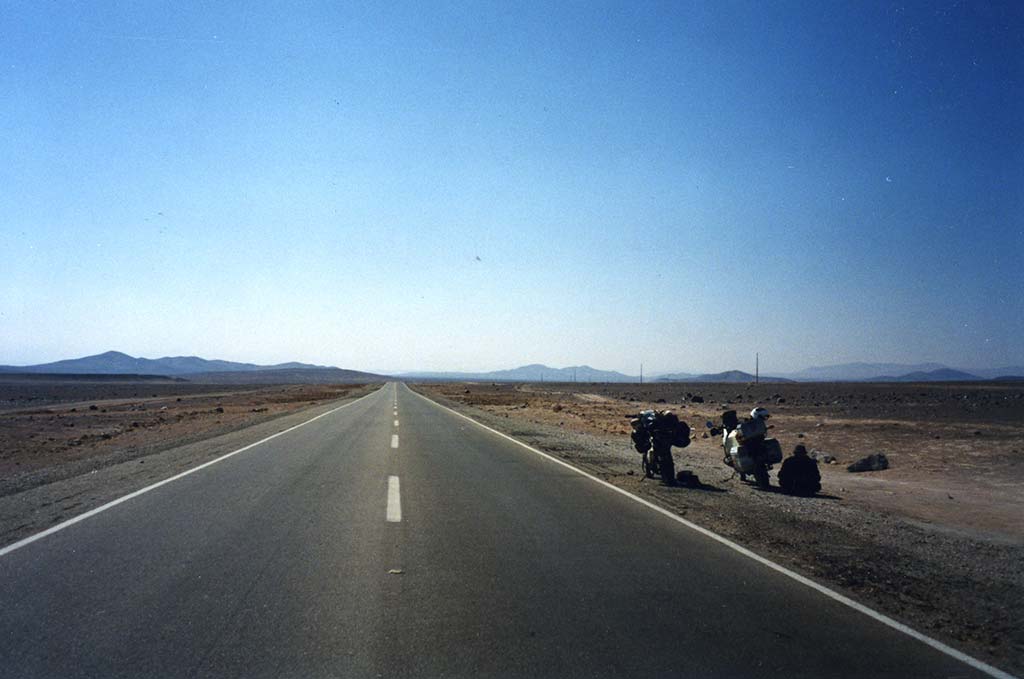 Borders and Bribery
My biggest headache throughout Central America were the border crossings. Even with the relatively straightforward paperwork for Brits, it can often take hours to navigate the maze of offices and collect all the necessary rubber stamps and zillions of photocopied documents. But the main pain are the hordes of fixers that descend upon you as soon as you arrive. It is easy to feel intimidated when you are surrounded by a crowd of yelling, haggling men offering you their dubious services to help you across the border.
Some travellers take a pride in negotiating the formalities themselves and, if you're fluent in Spanish, this is viable. But the fixers do make the process easier for a non-Spanish speaker. My modus operandi was to pick one out of the crowd (based on whether he had a biro and some command of English) and then follow him around from office to office.
Obviously, you pay for this service so make sure you set a price upfront and if one of them offers to guard your bike for a couple of dollars, take them up on it, especially if you're travelling solo. You'll be leaving your bike and luggage unattended for hours so it's a price worth paying for peace of mind.
Border posts are often sketchy places to be and it is normal to feel paranoid and wonder if you're being ripped off. The truth is that sometimes you are and sometimes you aren't. On occasion, I had to slip the odd $10 (£7.50) note to a policeman, but it's often easier to accept that this is simply how the wheels are oiled and not take it personally.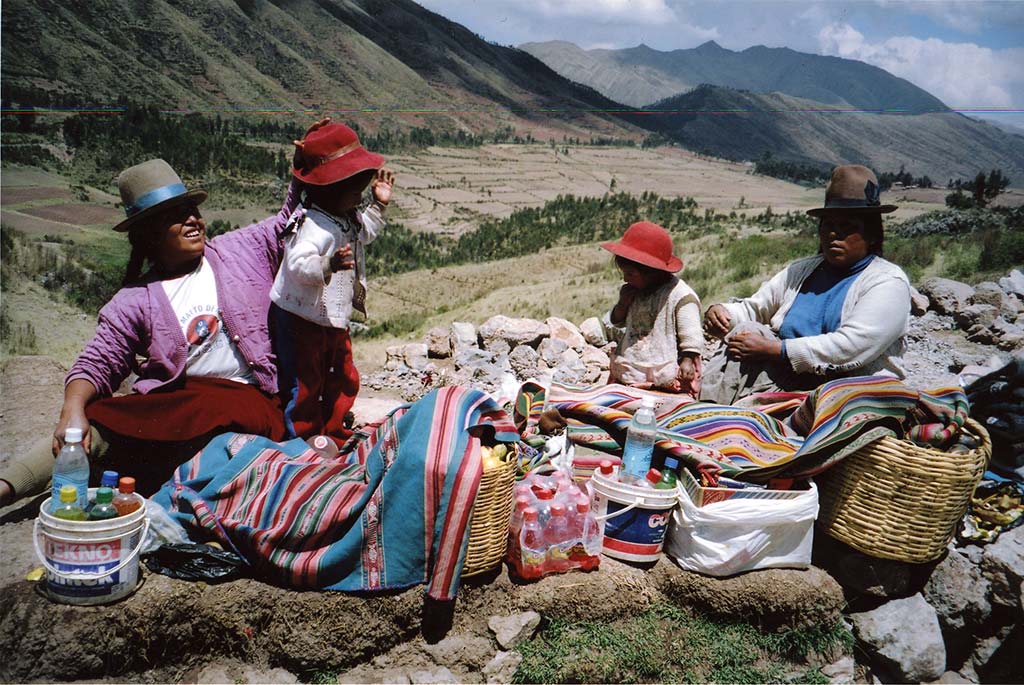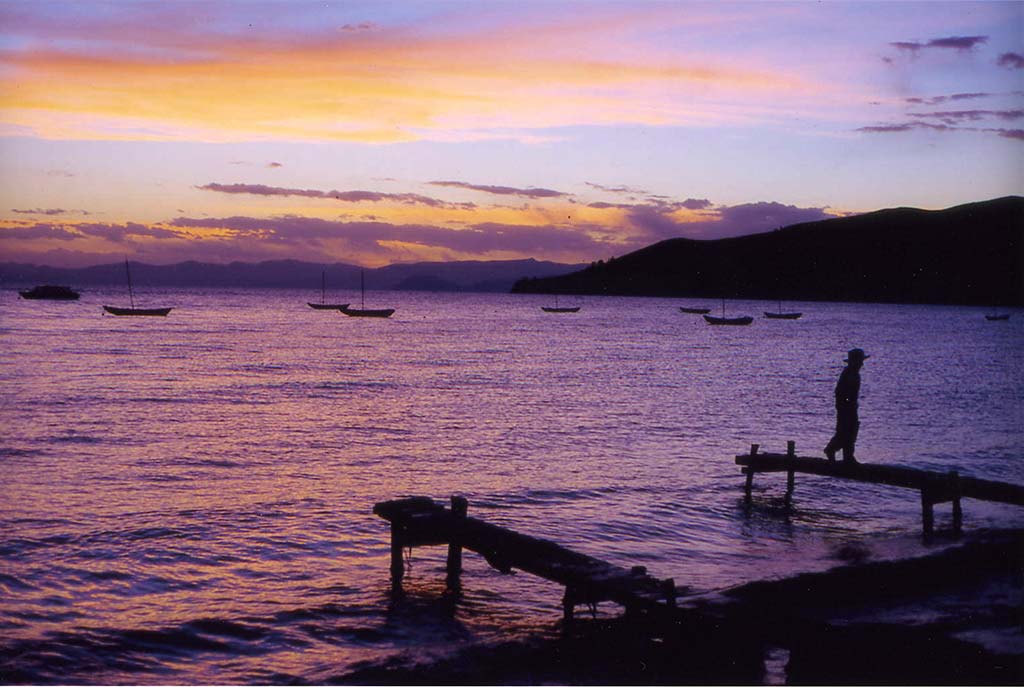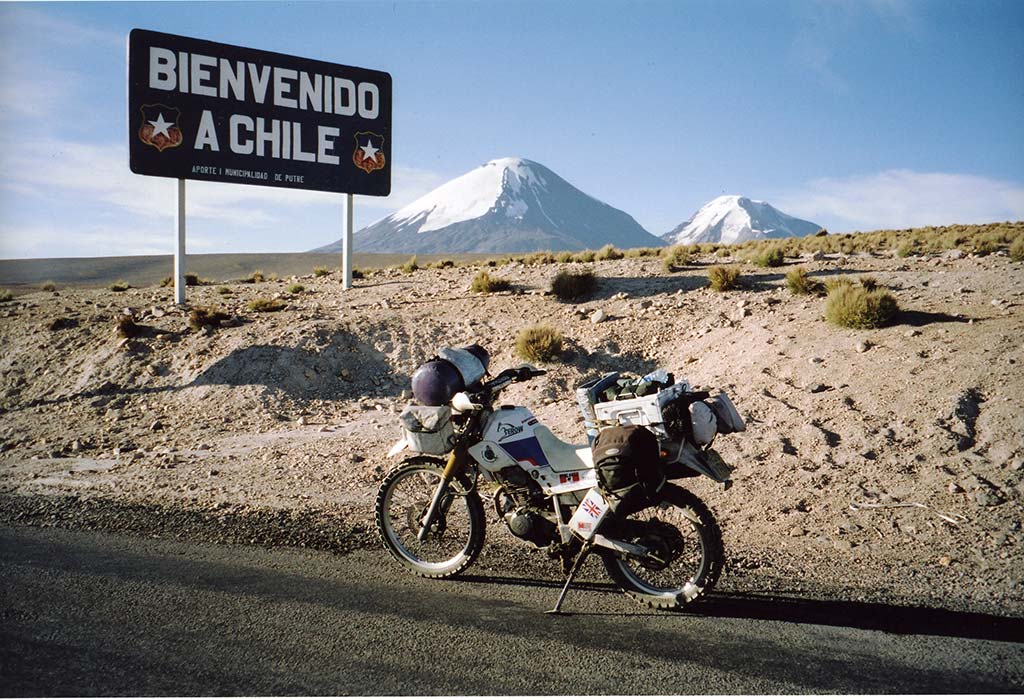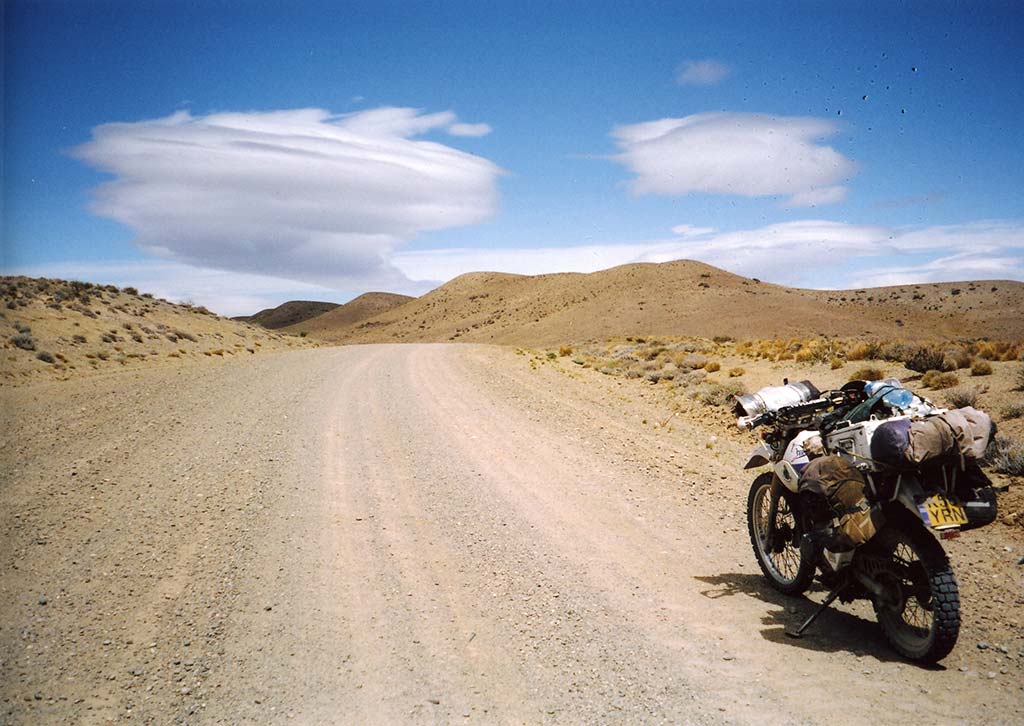 Mind the gap
In Panama, all Pan-American Highway travellers are forced to a temporary halt. The highway ends just north of the Colombian border and starts again 70 miles south on the other side, in the Colombian town of Turbo. This is the Darien Gap.
Known locally as El Tapon (The Stopper), the roadless Gap has entered expedition folklore as the most impenetrable place on earth. It's dense jungle, swamp and mountains between Panama and Colombia is infamous for hostile tribes, drug smugglers, and impassable terrain.
The Darien Gap has seduced and defied many overland travellers over the years and only a few motorcyclists have made it through. In 1959, Danny Liska sent his bike ahead by plane and crossed the Gap on foot, which is challenging enough. But it was over 20 years later that Ed Culberson (after several failed attempts) became the first person to genuinely ride the entire length of the Pan-Am Highway, hacking his way through the Darien Gap on his BMW R 80 GS. But what are the options for us mere mortals riding the Pan-American Highway nowadays?
You have two choices, sea or air. When I reached Panama in 2003, the ferry services weren't running so I put my bike on a cargo plane, which was straightforward to arrange at Panama City airport. But taking a boat is way more fun and in recent years a few Pan-Am riders have hopped aboard small private sailboats to get around the gap.
This method is generally unofficial so it's a case of making your way to the port and chatting up the captains. All going to plan, you'll be dropped off in the Colombian Caribbean port city of Cartagena where all the thrills of South America await you down the road.
South America
After the claustrophobic feeling of the Central American jungles, South America opens up ahead of you like a giant adventure playground. If you're sticking with the Pan-American Highway, you'll be yo-yo-ing up and down from sea to sky as you travel through Ecuador and Peru, baking in the desert in the morning, and riding through mountain snowstorms by the afternoon.
One detour worth taking is into Bolivia to travel around the shores of Lake Titicaca, and a mind-blowing ride across the legendary salt flats, the Salar de Uyuni. At this point, with just Chile and Argentina left on the list, it's easy to think you're on the home stretch, but the fun's not over yet. The last few thousand miles of the Pan-American Highway are the most challenging of them all. Firstly, you have got to cross the Atacama Desert, the driest place in the world, and that goes for petrol as well as water, so make sure you carry extra of both.
Southern Chile's stunning lake district is known as the Switzerland of South America and it's worth taking some time out to explore along the Carretera Austral, one of the most stunning rides in the world. After that you're on the long straight haul all the way to the bottom on the infamous Ruta 40.
Known in cycling circles as `The Unrideable One, this 1,000-mile gravel highway is gradually being paved, so if you want the full, painful experience, move fast. By now you're in Patagonia, the flat, barren tip of the continent, inhabited only by anteaters and a few truly hardy souls. The Andes have dwindled away now, leaving nothing to block the fierce winds blasting in off the Pacific at speeds of up to 100mph.
Coupled with the deep gravel and almost total lack of infrastructure, this is a true test of (wo)man and machine. So, when you do finally arrive in Ushuaia, you will definitely deserve that cold cerveza. Stop, take a deep breath, look out to sea towards Antarctica, and make sure you tell someone, anyone, everyone, that you've ridden all the way from Alaska.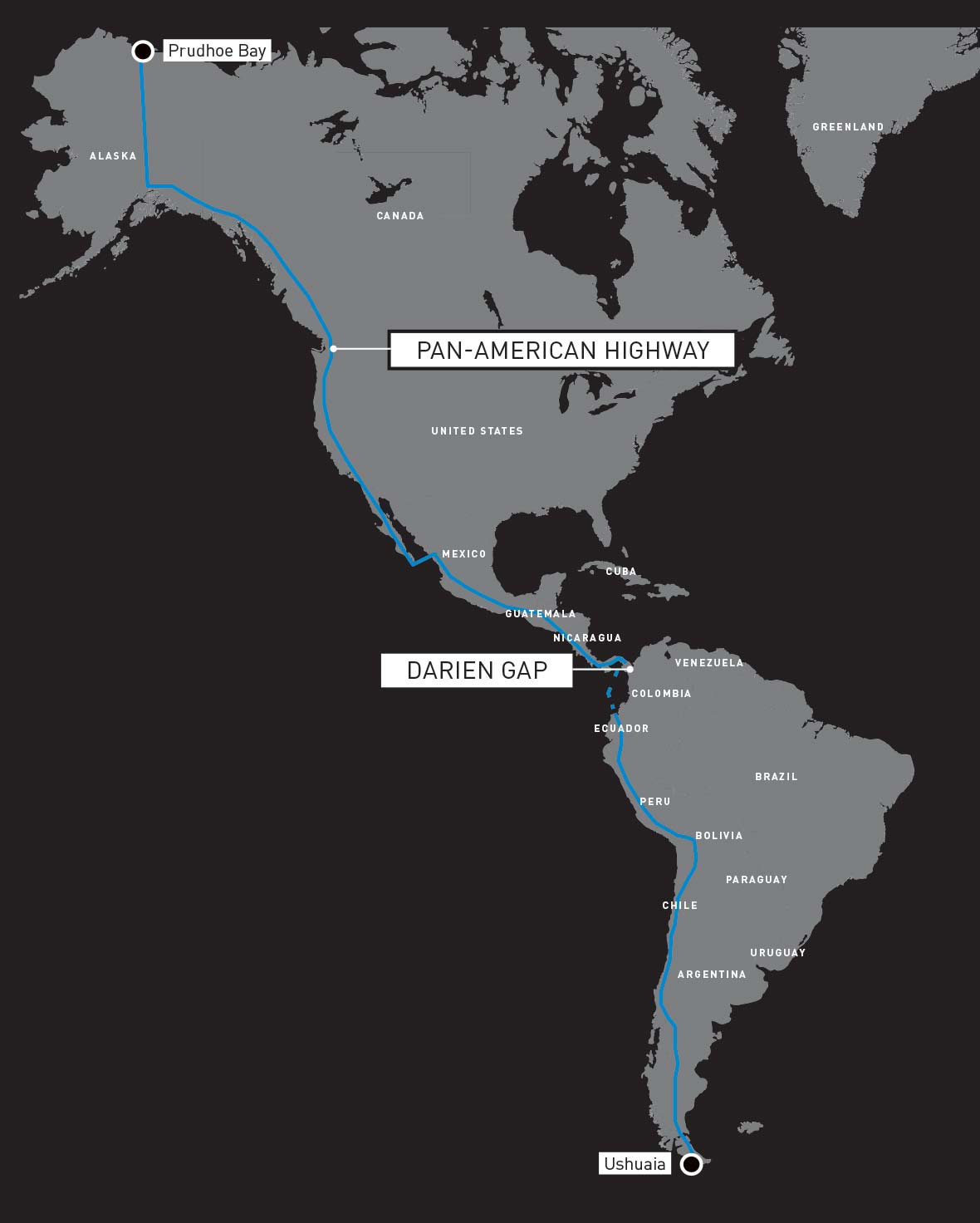 WANT TO RIDE THIS?
WHAT BIKE?
You can ride the Pan-American Highway on any bike. People have done it on Harleys, Yamaha R1s, Honda C90s and everything in between. I rode it on a Yamaha XT225 Serow. It all depends on whether you're in a hurry and how much off-road action you want along the way. Even if you're not planning on seeking out every track and trail, it certainly makes sense to have some off-road capability and semi-knobbly tyres, as even major routes south of the border are not necessarily paved or in good condition. In other words, be ready for everything.
WHAT KIT?
One of the biggest challenges of this route is that you also need to be prepared for every extreme of climate and temperature. You will be baking hot, freezing cold, and soaking wet, sometimes all in the same day. Breathable, removable layers and easy on/off waterproofs will help with the huge variations. The main problem I had was carrying all the clothing for every eventuality. Be prepared to chuck out and give away as you go, and buy as you need.
WHEN TO GO
Due to the huge variations in climate and seasons, and the sheer length of the trip, it's hard to plan this route without ending up somewhere at the wrong time. If you start in Alaska, you've got a pretty small window for comfortable riding, but as you head south you will inevitably find yourself in the desert regions in mid-summer, and then hitting the end of the rainy season in Central America. In the southern hemisphere, the seasons are reversed so you want to arrive in Ushuaia in December or January. Another good reason for this timing is that there's a regular New Year's Eve party of overland travellers in Ushuaia, so that's something to aim for.
IMPORT/EXPORT
British and European citizens can organise tourist visas, usually for three months in each country, and temporary vehicle importation upon arrival at the borders. You'll need to get your visas in advance and there is no need for a carnet de passage.