BRYN DAVIES Reviews The K 1600 B, The Bagger Version Of BMW's Luxury Tourer
What is the most important feature of a long-distance touring bike? I suppose the answer would depend on who you asked. Some would say it would need to be lightweight and easy to fix. Others that it needs to be sporty and fun enough for you to be able to tear up the twisties when you reach your destination.
Me? I'd say the number one thing a long-distance touring bike needs to have or offer, reliability aside, is comfort.
It doesn't matter where you're riding in the world. If you're always thinking about how numb your arse is or how achy your shoulders are, you're not going to enjoy the road or the scenery as much as you could. And if you don't go touring to enjoy yourself, why do you go?
So, it's with this in mind that I decided to check out the BMW K 1600 B. As luck would have it, there was one available to borrow for a couple of weeks when I reluctantly returned my S 1000 XR long-termer.
The K 1600 B is the 'bagger' version of BMW's high-end luxury tourer, the K 1600. If you're not familiar with the American term, a bagger is essentially a cruiser with panniers that are designed to eat up the miles.
In this instance, BMW has taken the front end of its touring bike and remodelled the rear, lowering the subframe and saddle by 60mm, and making the panniers slimmer and more streamlined. The screen is also lower (though it's electronically adjustable) and the handlebars sit a bit more over your knees, giving the K 1600 B a more cruiser-style seating position than the 'normal' K 1600.
I could have hardly picked a worse two weeks to have the K 1600. From the moment I picked it up in Farnborough to when BMW collected it from me in Stratford, I could count the hours of sunlight I saw on one hand. Mental images of me cruising along sun-kissed promenades, the wind in my hair and the radio blasting, were about as far away from reality as could be.
When the K 1600 B was released in 2016, BMW said that "the interpretation of motorcycling on endless highways, the dream of freedom and independence, and the embodiment of 'Grand American Touring' now becomes a reality in the form of the new K 1600 B bagger."
My endless highways, freedom, independence, and embodiment of Grand American Touring came in the form of a cold, wet ride along the M25 and up the M40, before a couple of weeks of commuting in sub-zero temperatures. It was hardly putting the bike to the test in the conditions for which it was designed, but if it could impress me in this instance, then it would blow me away in optimal conditions, I'm sure.
I was riding the LE version of the bagger with the Comfort pack and SOS Emergency Call system fitted, which is the top-spec model with all the bells and whistles. While the standard K 1600 B will set you back a cool £19,435, the model I had will cost you £22,645. For that, you get an up and down quick-shifter, engine bars, floorboards, LED fog lights, an audio system, an electric screen, cruise control, self-cancelling indicators, heated grips, heated seats, keyless ride, central locking on the luggage, and an anti-theft system.
The bike's powered by a monstrous 1,649cc in-line six-cylinder engine that pumps out 160bhp at 7,750 rpm. This makes cruising at motorway speeds totally effortless, and the smoothness provided by the six cylinders is unlike anything I've experienced on another bike. It purrs like a luxury sports car, and when you open it up, it sounds sensational.
With all of that power, and a ridiculous amount of torque, the K 1600 B feels like it could tow a caravan, and while it's not as rapid as you might expect a 1,650cc bike to be, it'll shift, especially in Dynamic mode.
That power is needed to haul the 336kg bike down the road. This is no lightweight tourer by any means, but it's so well balanced at low speeds. Like the GS, which is almost impossibly stable at crawling pace, the K 1600 B handles like a bike half its weight.
Don't let that fool you into thinking that you won't notice the bulk of this beast though. At some point, you will. And it'll likely be when you're wheeling it in or out of your garage. If you do drop it, you'll probably need the help of the neighbours to get it back upright. It's fortunate, then, that the bike comes with a reverse gear.
During my time with the K 1600 B, I decided to look at it with the traditional ABR Verdict in mind, and here's what I discovered:
As A Commuter
Buying the K 1600 with the sole purpose of using it as your commuter would be like Aer Lingus chartering an Airbus A380 for its Birmingham to Dublin flights. It'll get you there with ease, and you'll be comfortable, but it's a bit over the top.
That said, the majority of my time on the K 1600 B was spent riding to and from the ABR office. My route contains a nice mix of fast A-roads, twisty B-roads, and a section of riding through the often-busy town of Stratford upon Avon.
On cold mornings, the amount of weather protection on offer makes things a lot more tolerable. The heated grips and seat provide a lot of warmth, while the fairing and screen will keep the worst of the road crud and rain off you. There's also plenty of room in the panniers (more on these later) to carry your work and gym gear, and it's nice to be able to listen to the radio while heading into the office.
Now that I've said it, if you don't have to wrestle with other traffic on your way to work and you're not too fussed about fuel economy (the bike returns around 40mpg), commuting on the K 1600 B is a pleasure. All it needs is a cup holder and a cappuccino dispenser, and it'd be perfect.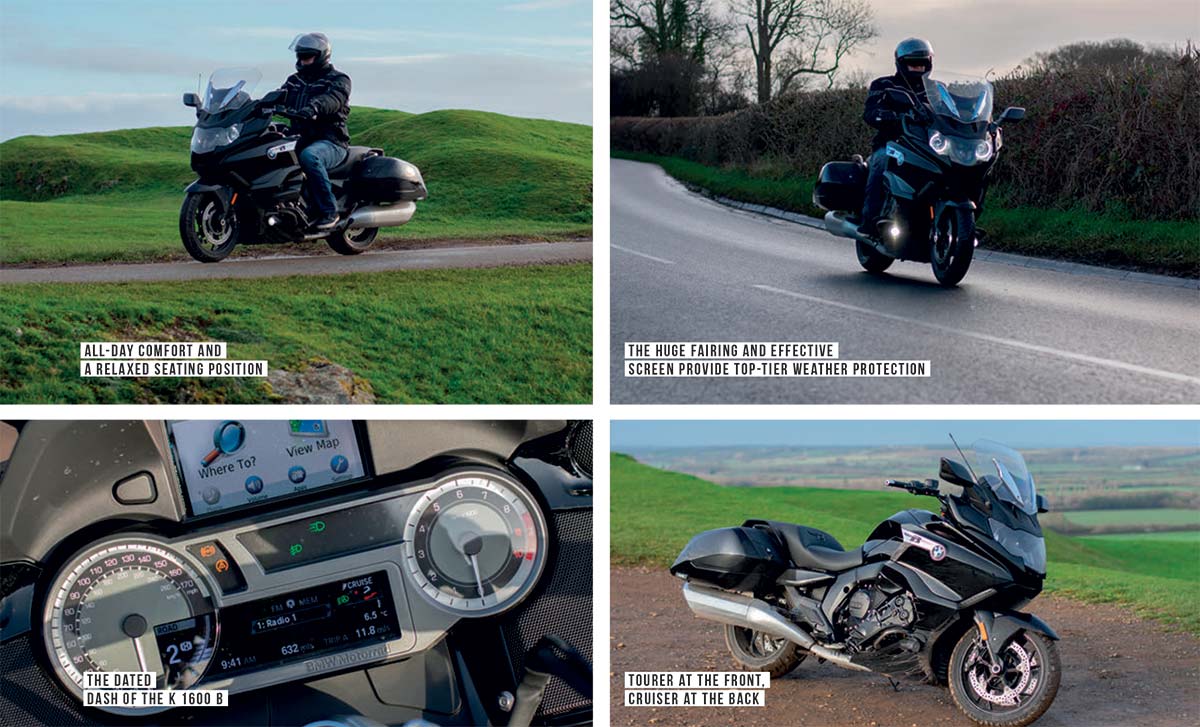 As An Off-Roader
Next question, please… If you buy a K 1600 with the intentions of taking it off-road, you're mad. But I'd love to see the pictures.
As A Weekend Tourer
Here, the K 1600 B shines. Throw your overnight bag in the panniers, point your front wheel where your heart desires, and don't stop riding 'til sundown (though you could go throughout the night thanks to the bike's exceptionally bright headlights).
The bike's designed to munch miles with ease, particularly on the motorway, so all of a sudden, the more distant reaches of our island are within comfortable reach.
Once you've got the motorway miles out of the way, the K 1600 B will handle twisty A and B roads competently. BMW's Dynamic ESA (semi-active suspension) soaks up bumps and jolts, giving the K 1600 B a magic carpet-like ride.
To say the bike's 'nimble' would be overexaggerating. If you're coming from a sportier, smaller bike, you'll notice the bulk and the way it almost lolls into corners, but considering its weight and size, it handles very nicely.
As A Continental Road Tourer
Now we're talking! My time with the bike made me sad. Sad because I was imagining just how incredible it would be to ride onto the next ferry at Dover and spend a few weeks pass-bagging in the Alps on the K 1600.
The 26.5-litre fuel tank gives the bike a range of around 240 miles, and long-distance riding is just so stress-free. The smoothness of the engine and its ability to cruise at 70mph without breaking a sweat means that long slogs across the continent to the Alps would be easy.
On top of that, rider fatigue is massively reduced thanks to the effectiveness of the screen when adjusted to its highest point (it deflected wind over my head, and I'm 6'2), and the fairing provides a phenomenal amount of protection from buffeting.
In fact, from the saddle to the dash, there's so little air movement that you could put the cruise control on and ride down a French autoroute building a house of cards on the tank.
The audio system needs some updating, though. At low speeds, the clarity is fine, but when you reach anything above 40mph, it's difficult to hear. Harley-Davidson has nailed motorcycle sound systems, so BMW should look there to see how it's done. It's also a shame that there's no ability to stream music on the bike via Bluetooth, leaving you with either the radio or an aux port in the pannier, which is a faff.
As An RTW Overlander
If riding around the world involved meticulously kept tarmac roads and a good and reliable network of mechanics who could work on such a technology-packed machine, why not?
As A Pillion Carrier
My nearest and dearest gets the chance to ride pillion on every bike that I ride home. To date, the Harley-Davidson Ultra Ltd has been unrivalled from a pillion's perspective. There's a very good chance that the K 1600 would beat the big cruiser had I not been riding the bagger version.
The perch is plush, the grab rails are large and easy to find, and there's plenty of room for a pillion to move about, but by its bagger nature, it lacks a backrest. If a pillion is a regular feature of your riding, the K 1600 Grand America would be a more suitable choice, and you'd then have one of the best two-up bikes around.
From a rider's perspective, you could have Andre the Giant sitting comfortably with room to spare, and the bike's mannerisms wouldn't change one bit. The cavernous luggage (37-litres per pannier), which features central locking (press a button on the switchgear and your panniers lock), would also swallow up a couple of his t-shirts and a spare pair of pants with ease.
On the subject of the luggage, it's exceptionally well designed. The cases fit with the design of the bike, and they're surprisingly streamlined considering how large they are inside.
Far from the glamour of packing my overnight bag on the sun-kissed Pacific Coast Highway, I was relieved to discover that I could fit a 20-litre bag of cat litter in one pannier on my way home from work one evening.
So, would I recommend the bike if you regularly carry a pillion? Absolutely. The non-bagger would be more appropriate, but the K 1600 B is still more than up to the job.
ABR Conclusion
My time with the K 1600 B was brief, but I've been left wanting more. I didn't get a chance to let the bike show me what it's truly capable of, though I have no doubt in my mind that it would be a sensational long-distance tourer.
It has a delectable blend of comfort, style, performance, and luxury. Everything that would make mile-munching pleasant. And once you've eaten up the motorway miles on the way to your destination, cruising around the twisties would be a delight.
Sure, it doesn't offer the nimble and flickable handling of a smaller, lighter bike, but I found myself not really caring about that. The ride is simply so velvety smooth that it's impossible not to be impressed by it.