Following Ewan And Charley's 13,000-Mile Ride Up The Americas On Harley-Davidson LiveWires, JAMES OXLEY Assesses The Electric Bike's Touring Credentials
This feels like being in a horror movie. The world is shrouded in a thick curtain of fog which is reflecting my headlight beam back at me and obscuring my vision even further. Visibility is down to a couple of bike lengths at most. There's a light drizzle in the air making the tarmac slick as I glide along a narrow country lane, taking care to avoid patches of mud and gravel that litter the road.
The scene is so eerie, I wouldn't be surprised if a headless horseman came galloping towards me out of the trees. And, is it my imagination, or do the curls of mist hanging in the air look like fingers beckoning me towards an ungodly demise?
Ok, I may have read too many Stephen King novels, but they're genuinely is a creepy atmosphere to the world I'm riding through. I've no doubt that feeling is heightened by a lack of engine noise coming from the electric Harley-Davidson LiveWire I'm riding.
What I can hear is subtle: The sound of tyres caressing the road, the rolling of a belt-drive, and an electric whir from the bike's powertrain. But alongside those delicate sounds, my ears pick up the wind gently whipping past my helmet, the rustle of the trees lining the roadside, and even the wing flaps of a startled pheasant that doesn't hear me approach.
Of course, all these sounds would usually be drowned out by the din of an internal combustion engine, but without it, I feel more exposed to the environment I'm riding through than ever before. I can imagine on a warm summer's day this would be a liberating, perhaps even life-affirming experience.
But as I plough forward into nothingness, it's all rather unnerving. It's not a feeling I've experienced on a motorcycle before, but then I'm not riding just any bike. The Harley-Davidson LiveWire is the first all-electric machine to roll off a major motorcycle manufacturer's production line, and in doing so, it caused quite a stir.
What A Surprise
To be honest, I would have bet money on any one of the big players in the motorcycle industry releasing an electric bike before Harley-Davidson. After all, this is a company that has long traded off its rich heritage of building American muscle, bikes whose lineage (and technology) can be traced back decades.
They're loud, they're brash, they shake, and they rattle. In short, Harley-Davidson motorcycles are old school, but boy, they do good things for your soul.
However, Harley executives know that relying on nostalgia and an ever-ageing customer base won't sustain motorcycle sales indefinitely. So, in an effort to avoid becoming a relic of the past, the manufacturer took a shot at the future.
The result was the LiveWire which, when it was announced, created plenty of excitement, curiosity, and a fair amount of derision from bikers throughout the world. Harley-Davidson had ripped up the form book in a bid to reposition itself as a brand and, in doing so, take electric motorcycling into the mainstream.
Well, sort of. You see, the LiveWire I'm riding on a cold, wet, misty December afternoon in the Cotswolds will set you back £29,245. While I know a price can't be put on the joy of motorcycling, you're going to need deep pockets to invest almost £30,000 in what is likely to be a second bike for most buyers.
That will certainly be the case for adventure bikers, many of whom value the ability to travel long distances in a short amount of time on their motorcycles, something electric bikes can't do… yet.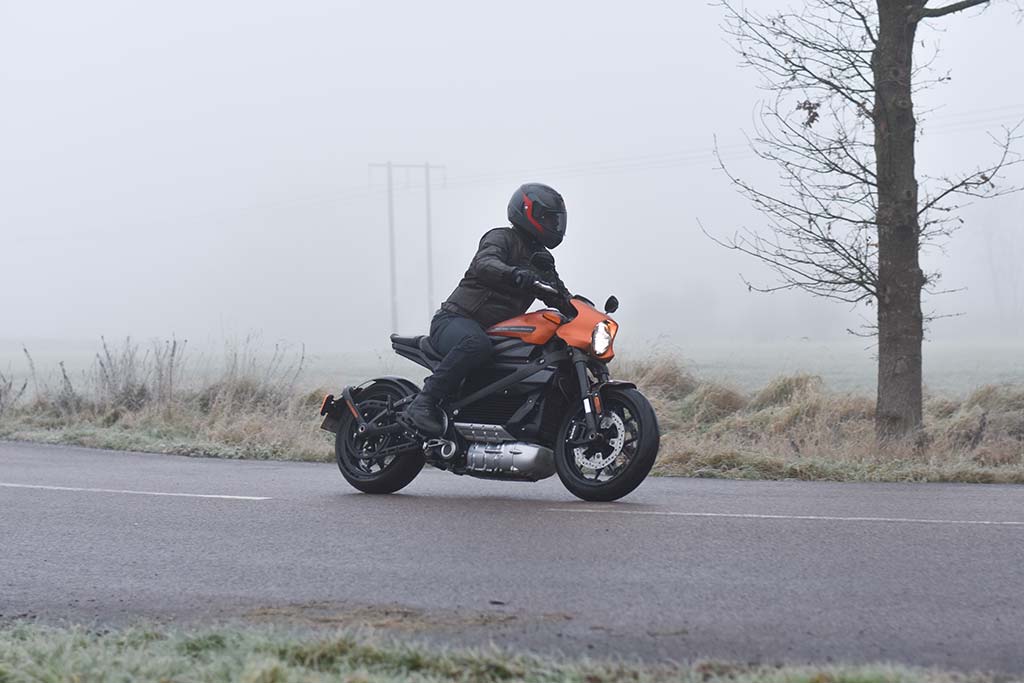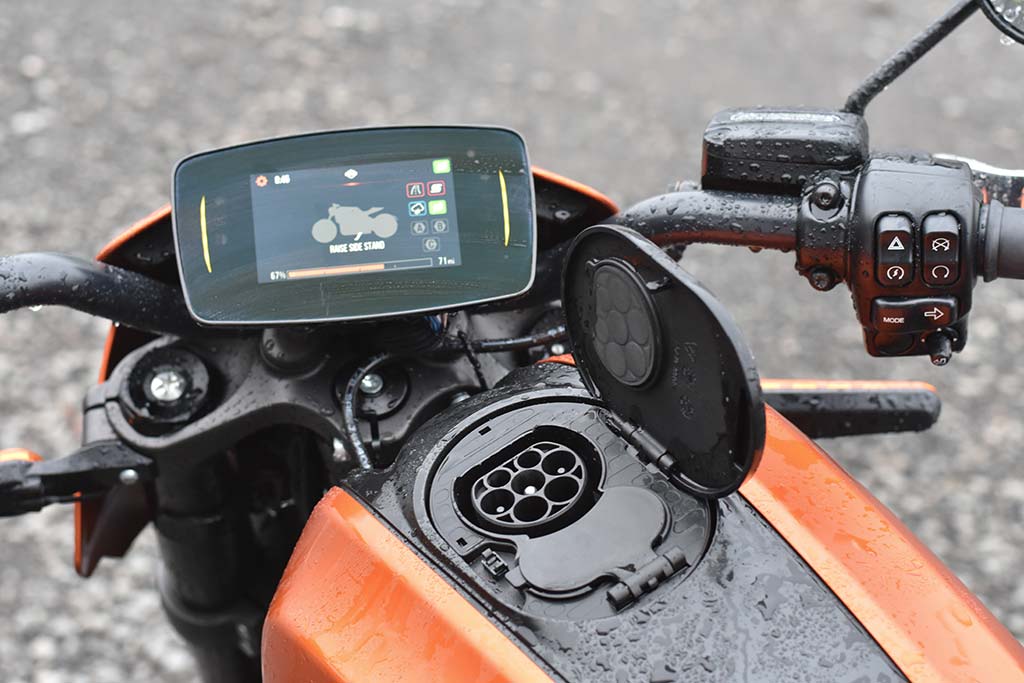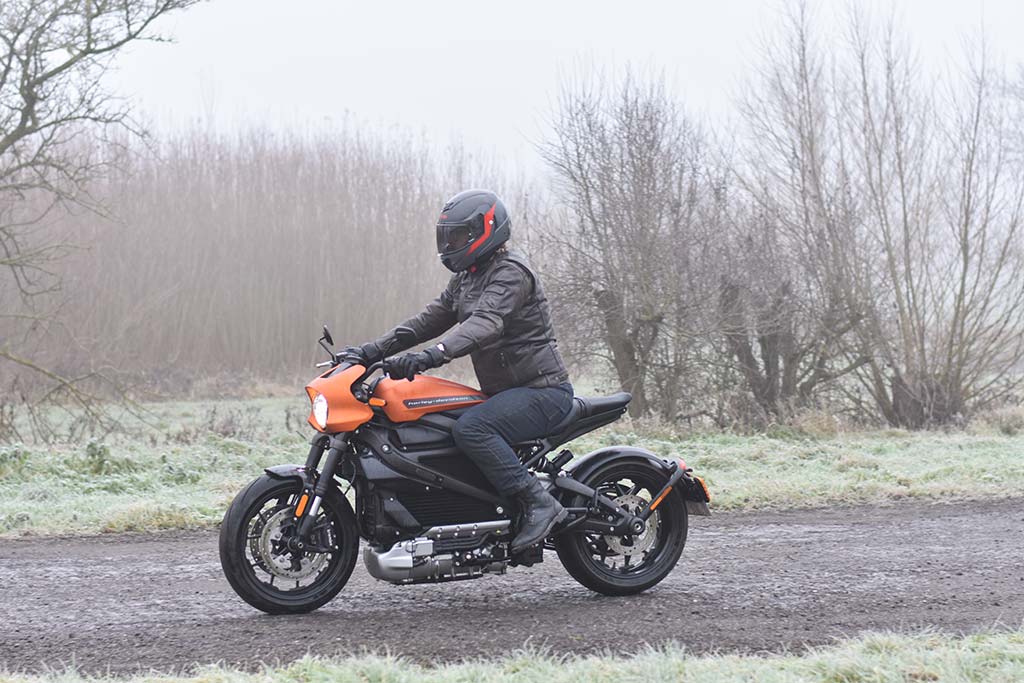 Any Bike's An Adventure Bike, Right?
At this stage of proceedings, I imagine you're wondering why you're reading about a motorcycle in Adventure Bike Rider which, for all intents and purposes, is a naked sports bike. It's a good question to ask and one the ABR editorial team discussed at length when we were offered the chance to ride the LiveWire.
The answer to your questions lies with two chaps who decided to ride from the tip of South America to Los Angeles on, you guessed it, Harley-Davidson LiveWires. No doubt you're already aware of Ewan McGregor and Charley Boorman's two-wheeled adventures, but for those of you who aren't, here are the cliff notes.
Hollywood actor Ewan and his best mate Charley made a television show in 2004 called Long Way Round, which saw them ride two BMW GS Adventures around the world from London to New York. It was a huge success and helped bring the niche activity of adventure biking into the mainstream. It also helped make the GS the icon it is today.
Ewan and Charley soon followed up that first trip with a second, Long Way Down, in which they rode from Scotland to Cape Town in South Africa, again on BMW adventure bikes. But we had to wait 13 years for the pair to unite for a long-rumoured third instalment, called Long Way Up, which premiered on Apple TV in November 2020.
A little like the launch of the LiveWire, the duo's decision to ride electric motorcycles on their latest long-distance journey sent plenty of eyebrows shooting skywards. Surely, without a comprehensive charging infrastructure in place to keep their wheels turning, they couldn't possibly ride 13,000 miles through some of the most remote places on Earth, could they?
Handily, Ewan and Charley have an almost equally famous support crew and the pair managed to complete their journey with a little help from their friends, by using a combination of electric vehicle charging points, plug sockets in hotels and restaurants, and a diesel generator carried on the back of a truck as a last resort. Oh, and a bus ride as well.
So, if Long Way Up taught us one thing, it's that it is possible to enjoy a transcontinental overland adventure on an electric motorcycle, but you'll need plenty of support to do so, and the charging infrastructure isn't really in place yet to make it a reality for those of us without a support crew as backup.
Despite this, my lasting impression of watching Long Way Up was the footage of the LiveWire being ridden over the Andes mountains and across the Bolivian Salt Flats. In short, it looked like a proper adventure bike.
Sure, Harley-Davidson engineers had prepped the bikes for the trip. This included increasing the suspension travel, raising the handlebars, and adding a screen, among other tour friendly adaptations, but at their core, Ewan and Charley were riding LiveWires similar to those on sale at your local Harley-Davidson dealership.
So, when a thoroughly nice chap from H-D offered to lend one to ABR for a week, after some discussion, we said yes. Sadly, swinging my leg over one of Ewan or Charley's specially modified bikes wasn't on the cards, but as a truck arrived at the ABR offices to drop a standard LiveWire off, I couldn't help but imagine riding Ruta 40 and the Carretera Austral.
In the three days following the bike's arrival, a combination of ice, rain, and a looming deadline for this issue of ABR, meant I'd had little opportunity to go for a proper blast. But, one Saturday morning, there was a break in the weather so I took my chance. Starting an electric bike up is an underwhelming experience for one simple reason, there's no sound. As motorcyclists, we're used to hearing engines explode into life, but when you hit the LiveWire's power switch, and then the starter button, you're met with silence
You do, however, see the 4.3", touchscreen-friendly, TFT display come to life with a smart-looking Harley logo. It's bookended by two strips of light which shine yellow or green, depending on whether the bike is ready to ride or not. All this, along with the bike's refined-looking switchgear that gives good tactile feedback, makes interacting with the LiveWire a premium experience. The ignition is keyless, although you need to use a key in the steering lock.
There are four pre-programmed rider modes: Road, Sport, Rain, and Range. These noticeably change the characteristics of the bike's power delivery, throttle response, traction control, and regenerative braking (which acts like engine braking on a petrol bike while adding a charge to the battery to increase range).
Sport mode provides a sharp throttle response and fierce power delivery, while Road offers an excellent compromise between power and control. Rain mode restrains the throttle and allows high levels of intervention from the LiveWire's onboard computer to prevent wheel slip. Range mode dulls acceleration and employs plenty of regenerative braking to squeeze more miles out of the battery, up to a claimed 146 miles per charge.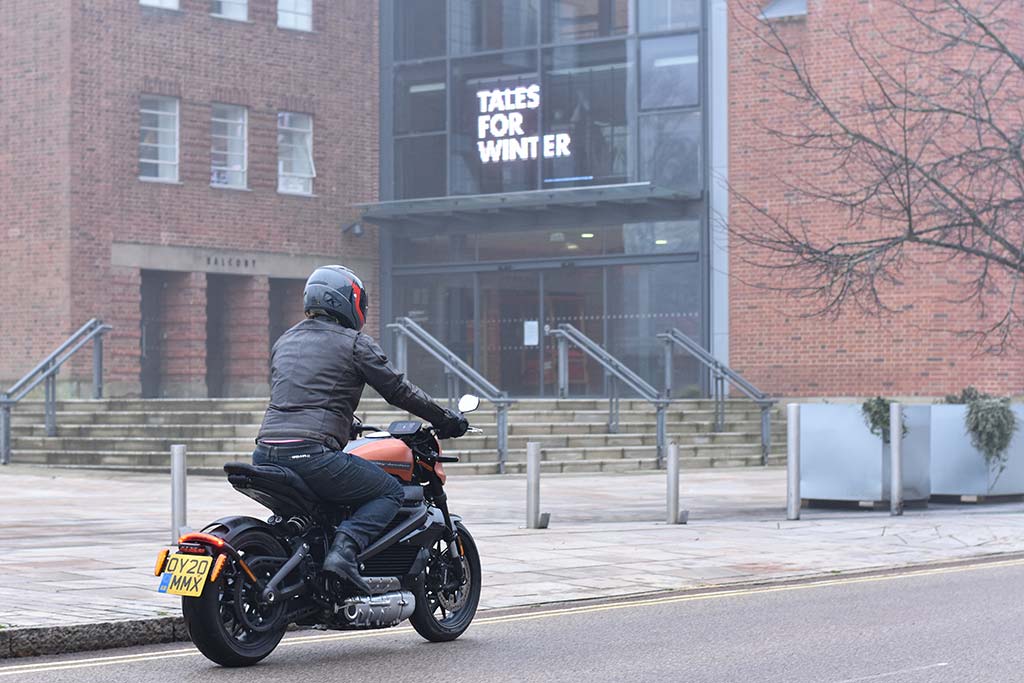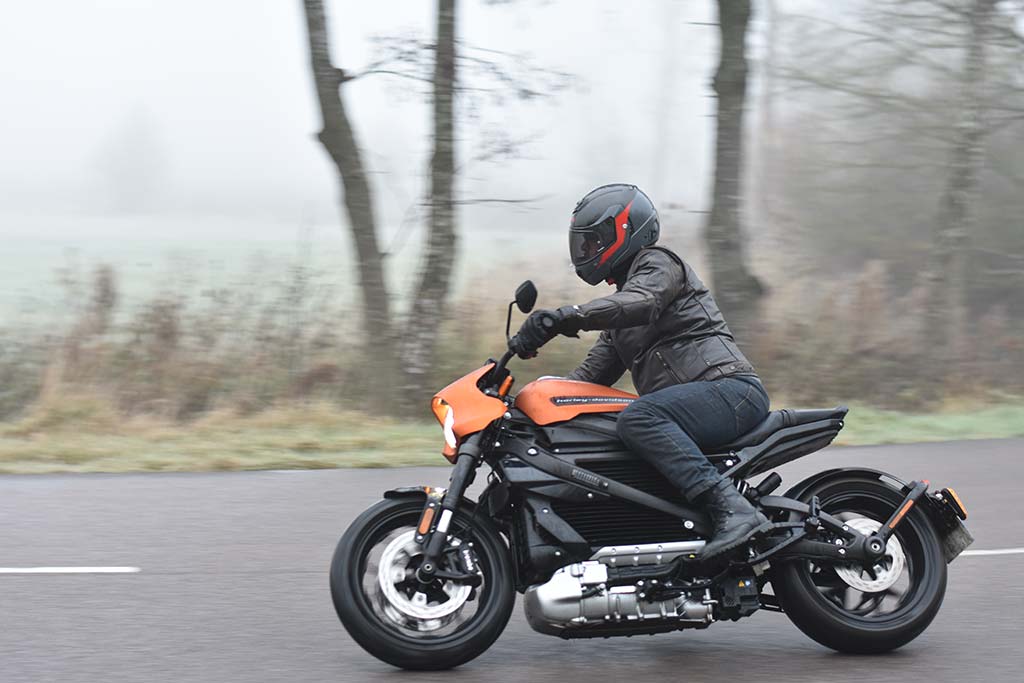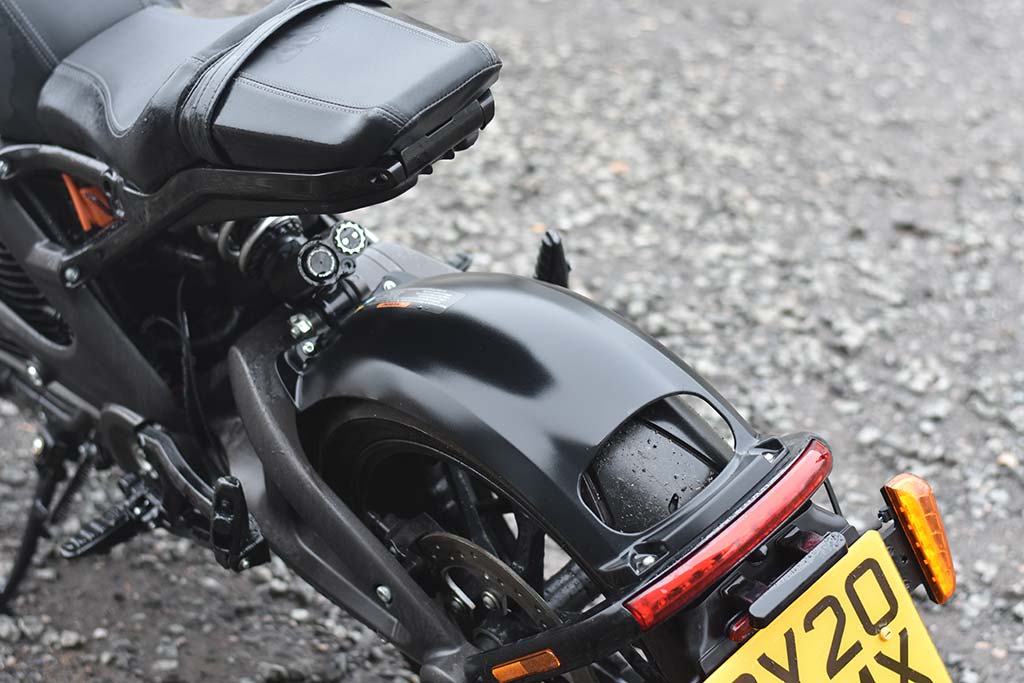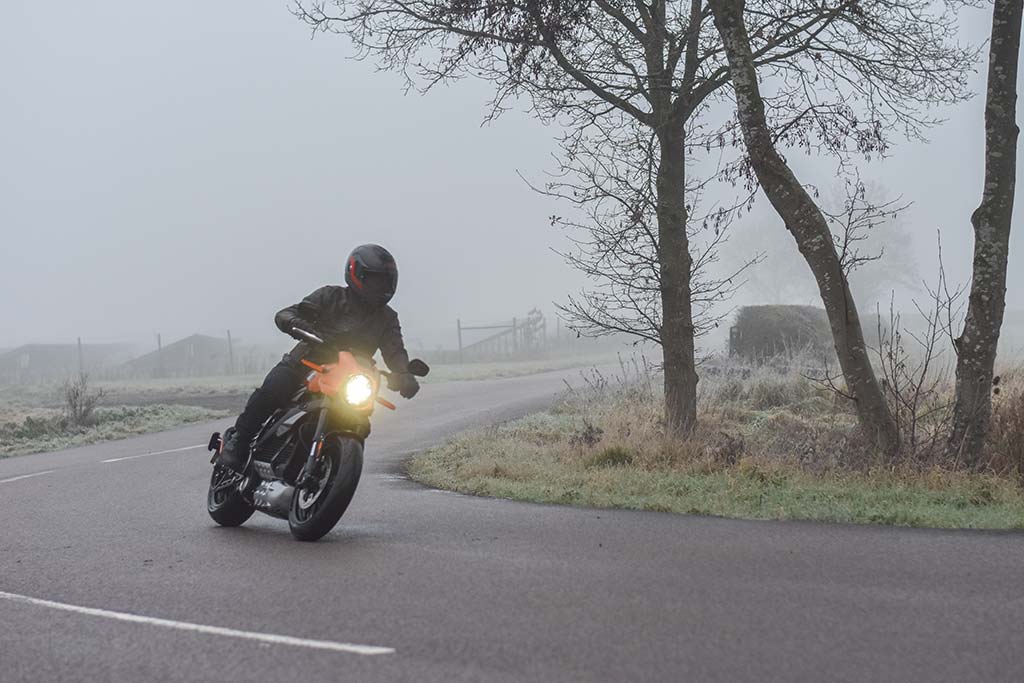 Strong Connection
Pulling out of my driveway in Road mode, it's immediately clear that Harley has nailed the throttle response on the LiveWire. The connection between my wrist movements and the rear wheel is perfect. This comes as a relief on a bike with no clutch, or indeed gears, to feather the power delivery at slow speeds.
If you've ridden petrol motorcycles with automatic transmissions before, you'll have experienced the frustrating jerkiness that slow-speed manoeuvres can entail, but there isn't a hint of this on the LiveWire. In fact, it's the most exact throttle response I've ever encountered and it feels like a small evolution in motorcycle engineering.
As I cruise along suburban streets at 30mph, I'm impressed with how easy the bike is to ride. Simply twist and go. It feels a bit like an oversized toy scooter. I defy anyone who can reach the pedals not to be able to jump onto a LiveWire and cruise down the road, even if they've never ridden before.
Beneath me, the bike emits a subtle whirring sound. It's not loud enough to drown out the sound of the tyres rolling on the road, but it would be wrong to say the bike is silent. Before releasing the LiveWire, Harley's engineers put a lot of effort into designing the bike's sound, knowing this is an important part of the motorcycling experience.
However, as I pull away from a set of traffic lights, I can't help but be reminded of the sound the old electric milk floats used to make as they whirred past me on my way to school.
This all changes when I hit my first fast road. I put the LiveWire into Sport mode with the press of a button and rip open the throttle. Instantly, I'm hit with a slug of gut-wrenching acceleration accompanied by a howl of delight from the electric powertrain. And there's no respite.
Because there are no gears, the bike doesn't need to stop for breath. Instead, it just keeps accelerating on and on as I cling on to the handlebars and crouch forward in an attempt to escape some seriously vicious wind blast. The bike will continue accelerating to its top speed of 110mph if you let it.
By combining this raucous acceleration, with the momentum of taking a hefty 251kg of metal from a standstill to warp speed in the blink of an eye, I get one of the most exhilarating experiences I've ever had, on or off a motorcycle.
Powerplay
All that power is delivered by the H-D Revelation electric powertrain which produces 105bhp, and a hefty 116Nm. Harley says it delivers 100% of that torque instantly and, riding the bike, I can quite believe it. The powertrain makes very little heat and no noticeable vibration but it is heavy, which is the main reason why this relatively diminutive naked sports bike weighs so much.
However, top marks to Harley for placing the electric motor below the battery to lower the centre of gravity and make all that weight and power feel fun and manageable. Well, that is unless the bike begins to topple over while you wheel it backwards out of your garage.
Yes, I admit it. I dropped the £29,000 Livewire. Its weight caught me unaware and it was a hell of a job picking it back up again. Thankfully, no damage was done, so let's move on, shall we?
As I make my way into the Cotswolds and delve into a myriad of country lanes, the bike feels planted and the handling neutral. While it's certainly precise enough to fling around in the twisties, it's not as light or flickable as you might imagine a motorcycle with such sporty looks to be. Sure, you can ride the LiveWire aggressively if you're determined to, but I feel like I've found its sweet spot as I flow along narrow country lanes building up a smooth rhythm, rather than jerking open the throttle and clutching a fistful of brake at each new turn.
That is, of course, until I hit a straight section of road and I can't resist twisting my wrist hard to hear the glorious wail of the electric motor yet again. I admit, it's not as satisfying as the roar of a motorcycle with a petrol engine in full flight, but it's an intoxicating experience all the same.
As you can imagine, such a hefty mix of power and weight needs a handy set of anchors to bring it to a stop. To do the job, Harley has furnished the LiveWire with Brembo Monobloc callipers up front that bites down on two 300mm discs, and there is a single disc, dual-piston set-up at the rear. Stopping 251kg of bike isn't easy, and under hard breaking, she did get a little squirmy.
However, I was pushing the LiveWire harder than I usually would to find its limits, and under 'normal' riding conditions, the front brake, in particular, felt smooth and progressive, so much so I was operating the lever with just one finger for much of the time.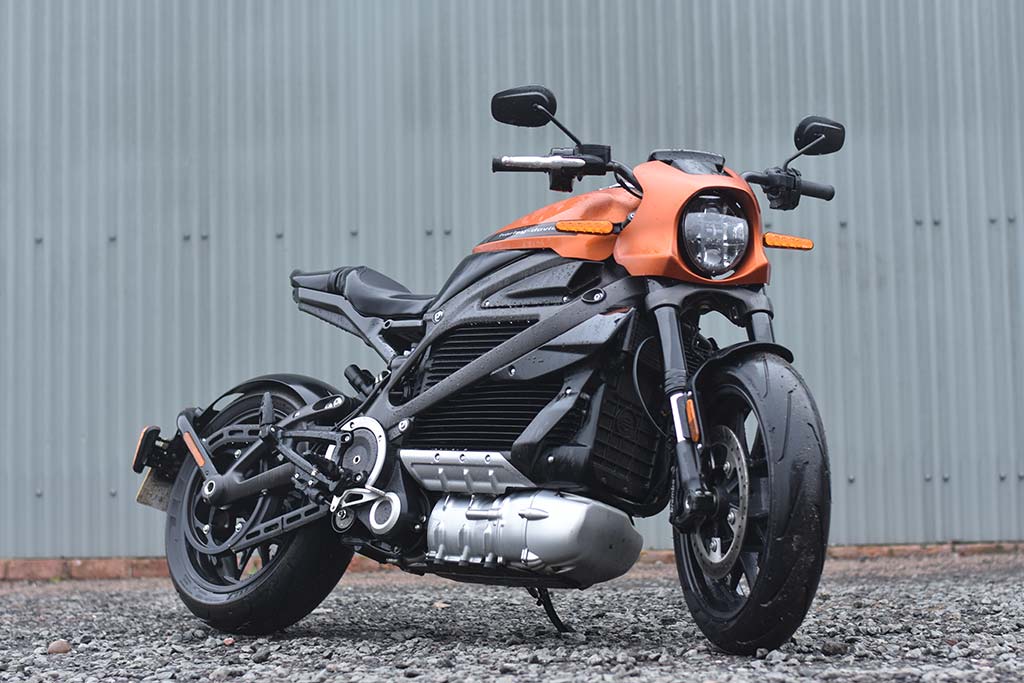 Twists And Turns
The Showa front fork and rear mono-shock suspension give a sporty ride which feels tight and confidence-inspiring, but it also sends a jolt through my bones when I ride over potholes. The suspension is adjustable, but this is a naked sports bike after all, so I need to remind myself the ride is never going to be as plush as the adventure bikes I'm used to.
The seating position is also very different to those upright adventure bikes but, despite being leant further forward than usual, the LiveWire feels a good fit for my 6' frame. My arms have a natural reach to the bars, and there is a comfortable amount of leg bend.
I certainly don't feel any undue pressure on my wrists despite the aggressive lean angle. True, after about an hour of riding my back does begin to ache a little, but overall, I'm impressed with how comfortable the LiveWire is. And, with a seat height of just 780mm, I could easily plant both feet firmly on the floor with plenty of leg bend to spare.
As I carve my way up Fish Hill, which is the closest road the Cotswolds has to an Alpine pass, I find myself fully immersed in the electric motorcycle riding experience. The bike is a blast to ride and the Michelin Scorcher tyres provide plenty of grip as I lean into a short sequence of turns. But, as I head off the main road towards Broadway Tower, a local landmark perched high up in the Cotswolds, the magnificent views of the countryside I expect to see are obscured by fog. I think about turning back but decide to plough on to see if the mist clears further up the road.
It doesn't and I spend the next hour riding through an eerie environment, startling wildlife and enjoying the experience of getting lost in the fog. That is until the battery level on the TFT display hits 50% and suddenly my range anxiety kicks in.
Without a SatNav, I don't know how far I am from home. If I double back the way I came, in theory, I should use up the remaining 50% of my battery, shouldn't I? In reality, I reckon I must be about 30 miles from home, which means I have more than enough range. But paranoia kicks in and I start retracing my tyre tracks.
I could connect the bike to an electric charging station, if there is one nearby, using a DC fast charger. This would provide an 80% charge in 40 minutes, and a 100% charge in an hour. However, I don't fancy waiting around in the cold, so I make my way home, knowing I can plug my LiveWire into the bog-standard, three-pin power socket in my garage and charge it for a few hours overnight, with one hour of charge equating to about 13 miles of travel.
The LiveWire has a claimed range of up to 146 miles, although I imagine you'd need to be light on the throttle to achieve this. More likely is the 95 miles that Harley quotes as the bike's 'city range' of combined stop-and-go and open road riding. This second figure closer to what I was achieving on the bike.
Until The Next Time
The week after my jaunt through the Cotswolds, I commuted to the ABR offices every day on the LiveWire and it proved to be a comfortable and capable winter hack. I also saved myself a few quid by not visiting a petrol station. I did, however, find two niggly gripes with the bike.
Firstly, the vision provided by the mirrors is poor. They provided a great view of my arms and little else despite my near-constant fiddling to adjust them. Secondly, Harley cut out a sizeable hole in an otherwise substantial rear mudguard. This resulted in my back and helmet needlessly getting splattered with a layer of road crud every time I rode.
These niggles aside, the more time I spent on the LiveWire, the more I enjoyed it, which begs the question, would I follow in Ewan and Charley's footsteps? Would I choose to ride Harley-Davidson's electric motorcycle instead of a conventional bike on my next summer tour. The answer is no.
While the LiveWire is a capable daily commuter and an absolute blast on a weekend ride, its limited range, and the lack of charging infrastructure in place for electric vehicles in general, would take all the fun (and sense of freedom) out of exploring the world by motorcycle. Battery technology simply hasn't developed enough yet to make an electric adventure bike that can go toe-to-toe with the likes of a BMW R 1250 GS or a Ducati Multistrada 1260 on tour.
Despite this, I was genuinely sad when I gave my LiveWire back to Harley. I miss the precision throttle response, I miss the euphoric howl of the motor, I miss the smoothness of the electric powertrain, and I miss riding a bike that turned heads wherever it went. I never thought I'd say this, but I miss riding an electric motorcycle. Well done Harley-Davidson.
ABR VERDICT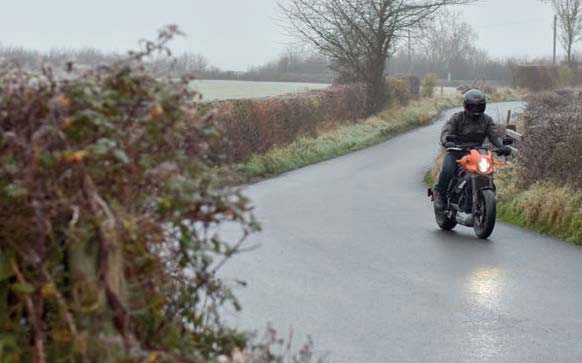 AS A COMMUTER
My week of commuting on the LiveWire was a pleasurable experience and it was also light on my wallet. Excellent slow speed control made filtering through busy traffic a breeze, and it was a blast to ride to work on fast A-roads.
It was just a shame I arrived with my back covered in road crud each day thanks to the gaping hole cut out of the mudguard.
AS A WEEKEND TOURER
I was getting about a 100-mile range from the LiveWire which brings it into the realms of being a viable weekend tourer, as long as you don't stray too far.
It's certainly comfortable enough for an overnight jaunt, and it's a huge amount of fun to ride on twisty country lanes. Tie an overnight bag to your pillion seat and give it a go.
AS AN OFF-ROADER
Yes, Ewan and Charley covered some pretty challenging terrain on their bikes, but they had been specially adapted for the trip. The standard LiveWire is a naked sports bike with just 130mm of ground clearance. It belongs on the road, so best keep it there.
AS A CONTINENT AL ROAD TOURER
If you have plenty of time to hang around charging stations, you could technically take a LiveWire across Europe, but the reality is the limited range and underdeveloped charging infrastructure would turn your annual summer tour into a chore. Electric bikes aren't quite ready yet, but they're getting closer.
AS AN RTW OVERLANDER
If you've watched Long Way Up, you'll know the challenges Ewan and Charley faced charging their LiveWires in less developed countries. They made it, but with the help of a support crew.
Someone will end up riding a LiveWire around the world at some point, I'm sure, but if you're planning your own trip of a lifetime, I'd stick to petrol power for now.
AS A PILLION CARRIER
It's clear pillion comfort wasn't at the forefront of the LiveWire's designer's minds. The passenger seat is small and there are no grab rails to hold onto.
The hole in the mudguard also means your pillion's back will get splattered with rain and road crud if you ride in bad weather. The LiveWire is a 'me' bike, not a 'we' bike.