ABR readers get in touch to tell us all about their two-wheeled adventures…
The Camaraderie Of Adventure Biking
The adventure bike community has transformed my riding life. I was a scooter boy in my youth, before graduating to sports bikes and sports tourers that better suited my commutes, and the odd European tour.
After returning to the UK in 2018, I bought myself a BMW F 800 GSA, my first adventure bike, and a bike I still own today. Initially, I bought it as a commuter until I found the confidence to attend the Great Christmas Escape event put on by the Wiltshire TRF. I was a little unsure of what to expect as a lone rider, but I joined the big bike group and spent several enjoyable hours sliding around in the mud.
It turns out the rest of my fellow riders were all friends. Despite being dotted around the country, they stayed in touch through WhatsApp and social media and regularly organised rides together. I joined the guys as they grabbed a coffee after the ride and we got chatting about the Taffy Drwg, a fun, non-competitive rally that runs in the Brecon Beacons each year. However, you have to be in a team to enter. As a military man living in a new area, where I knew almost no one, it seemed that my dream of entering it would have to wait another year.
That was until the group offered me a place on their own team. I managed to fit in several rides with the guys before we headed to the Taffy for a freezing cold weekend of riding, breakdowns, and plenty of beer. Since then, we've ridden together regularly and grown our numbers, recruiting anyone who has the patience and sense of humour to put up with our near-constant banter.
Taking the time to write this up has reminded me how lucky I was to end up meeting them on that cold, muddy day. We share a brilliant community.
JAMES WILLS
Love for the ABR Calendar 2021
Just a quick note to say that your new calendar arrived here today in Spain and it's great. It's even better than 2020's, so thank you very much. My wife and I are looking forward to the ABR Festival in June, and we hope to meet some of you guys then. In the meantime, keep safe and well, and keep up the good work.
CHRIS MENNEM
A Father And Son Trip To Scotland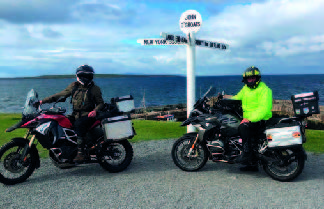 Despite some of the negatives of 2020, a big positive for me was getting to do a bike tour in Scotland with my son, Michael. He was actually the reason I got back into biking 10 years ago after I'd spent 30 years away from bikes. We were sat together in the pub after he'd passed his test and his enthusiasm rubbed off on me. Sadly, over time, the combined pressures of life, relationships, and a mortgage meant his bike had to go, but recently he decided to follow his dreams, buy a bike again, and hit the road.
Originally, his plan was to travel last summer. His house was sold and he had a new life travelling the world to look forward to. Then the pandemic came and everything was put on hold. Perhaps he'll realise his dreams of global travel in 2021 but, in the meantime, we got to spend some quality time together during our tour of Scotland.
CHRIS SOUTHCOMBE
(Ed. We're primed and ready for some adventures in 2021 too Chris. It would be great to see you both at the Adventure Bike Rider Festival in June.)