After a year plenty of us would prefer to forget, it's time to make up for lost time by making 2021 your year of adventure. With this in mind, we've compiled a list of incredible tours and events to help you do just that.
Join us at the Adventure Bike Rider Festival 2021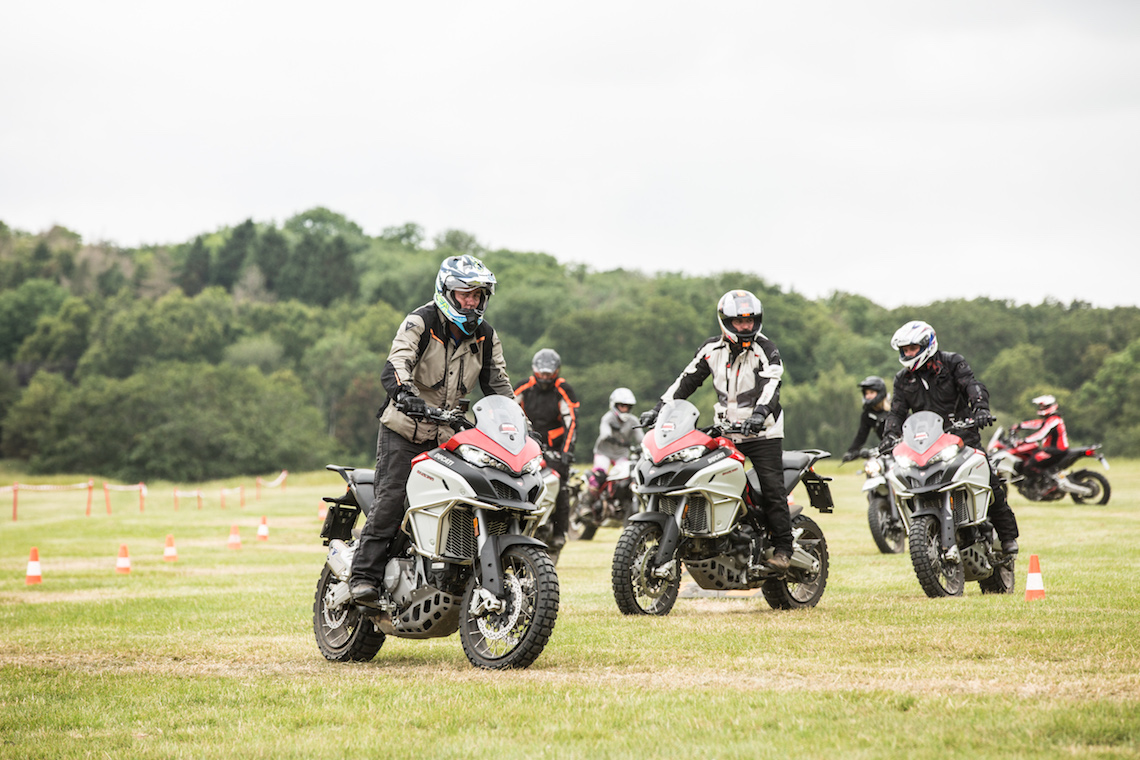 What is it?
The largest celebration of adventure biking imaginable. From 25-27 June 2021, thousands of bikers will flock to the grounds of the magnificent Ragley Hall Estate in Warwickshire for a weekend like no other. In fact, there'll be so much adventure biking action happening, your biggest challenge will be deciding what to do next.
Test ride the latest and greatest adventure and touring motorcycles from the world's leading manufacturers, and learn how to ride off-road with world-class tuition from a selection of skills schools. Then, put what you've learned into practice as you ride the on-site, 20km-long AX41 Adventure Trail. You can also explore the beautiful Cotswolds on guided green lane tours led by the TRF and during road-based ride-outs alongside new friends.
Get inspired by iconic guest speakers from the world of adventure biking, like Elspeth Beard and Austin Vince, and take a stroll around the Adventure Village for advice on the best motorcycle gear to take on your next tour.
Indulge in delicious street food around a roaring campfire as you listen to your favourite motorcycle travellers and authors tell tales from the road. Or grab a beer from the Bridgestone bar and enjoy live music on a beautiful summer evening in a spectacular setting located in the heart of England.
There will be something for everyone to enjoy, from novice riders just getting into adventure biking to seasoned two-wheeled travellers who want to enjoy a superb weekend with like-minded riders in a friendly and relaxed atmosphere.
And, because our days of roughing it are far behind us, there'll be plenty of top-quality festival facilities on site, including posh toilets and hot showers, to make the entire weekend a five-star festival experience. Tickets are guaranteed to sell out, so book today to avoid missing out. 
How do I get involved?
Click HERE to get your tickets. Previous years have always sold out and this year will be no different, so get yours today to avoid disappointment. Ticket holders are fully protected by our No Faff Coronavirus Money Back Guarantee.
Ride off-road on Portugal's Silver Coast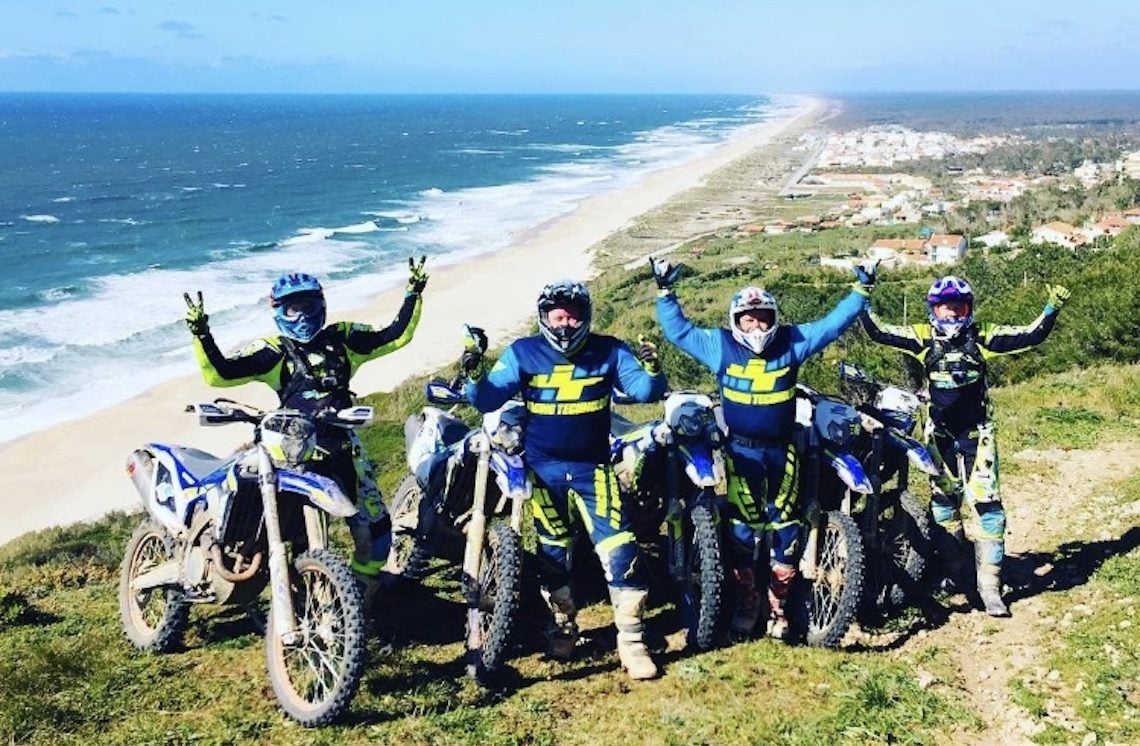 What is it?
Choose from one, two, or three-day riding tours that allow you to tackle the network of dirt and sand trails that criss-cross Portugal's Silver Coast. There's something for everyone in this dirt riding paradise, whether you're an occasional green laner, keen off-roader, or even a Dakar hopeful.
A three-course lunch will be provided on the beachfront during each day's ride and, in the evenings, you'll return to your base in the small city of Figueira da Foz for a cold beer and team debrief.
Why should I do it?
Portugal is an ideal location to sink your knobbly tyres into during a long weekend away. It's suitable for year-round riding, with a milder climate than neighbouring Spain, while the laws governing trail riding are some of the most relaxed in Europe.
Each day, you'll find yourself with a choice of four-stroke dirt bikes to ride that are ideally suited to the terrain you'll be travelling through. Protective off-road gear will also be supplied. Your local guide will know all the best trails in the area and will adapt the route to your skill level, allowing you to focus on the thrill of riding off-road.
How do I get involved?
Contact Steve at Intrepid Trails at [email protected], or click HERE.
Discover India's lost world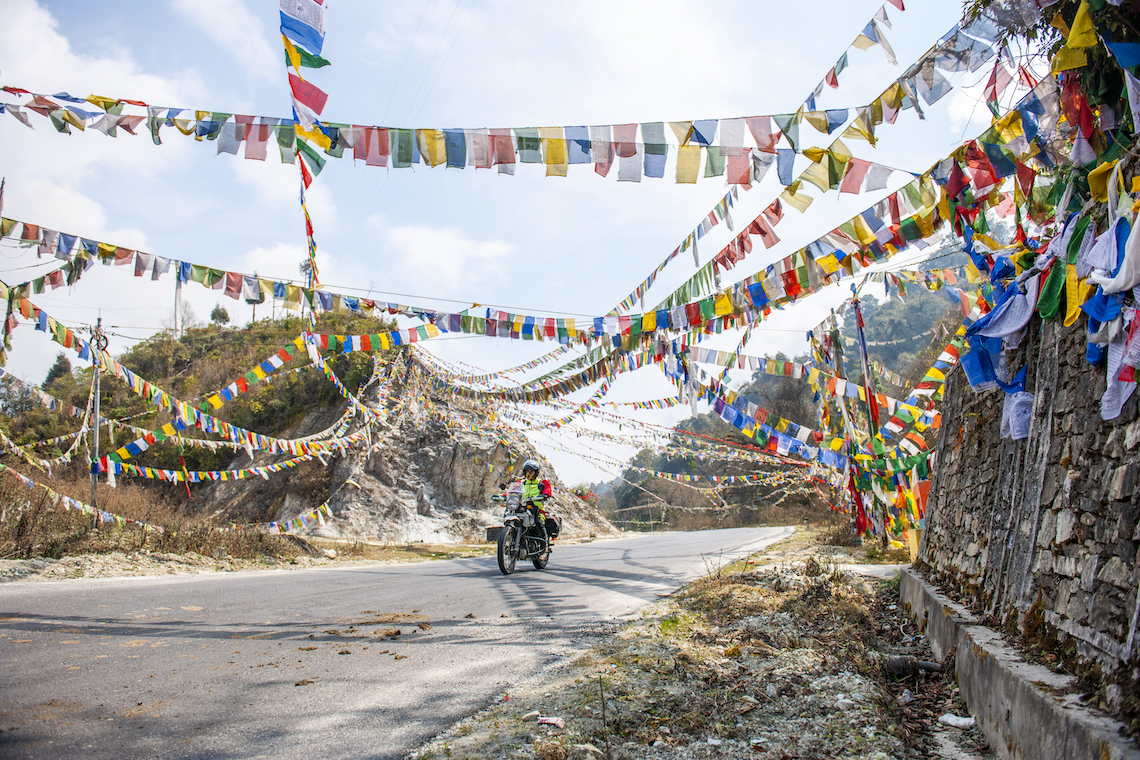 What is it?
Travel through wild and remote North-East India on a 14-day tour astride a Royal Enfield motorcycle. Keep an eye out for tigers as you ride over jungle-covered mountains, past plunging waterfalls, and along roads rarely travelled by tourists.
By day you'll explore all of India's Seven Sister States, secluded areas that were historically closed off to outsiders due to their turbulent pasts and remote locations. The region is populated by hundreds of local tribes with rich and diverse cultures, including former headhunters.
You'll also cross the mighty Brahmaputra River and discover the stunning Gaden Rabgye Ling Buddhist monastery. By the end of the journey, you'll have travelled almost 1,400 miles and experienced some incredible motorcycling.
The riding is challenging, but nothing worth doing is ever easy, right? Saddle up and head into the jungle, and prepare yourself for a culture shock in the very best sense of the term.
Why should I do it?
If you're looking to immerse yourself in a diverse and remote world, where modernity takes a back seat to ancient ways of life, and where nature is on show in all its glory, then this is the adventure for you.
How do I get involved?
Get in touch with Alex Pirie HERE to start your Indian adventure. 
Explore the beautiful Baltics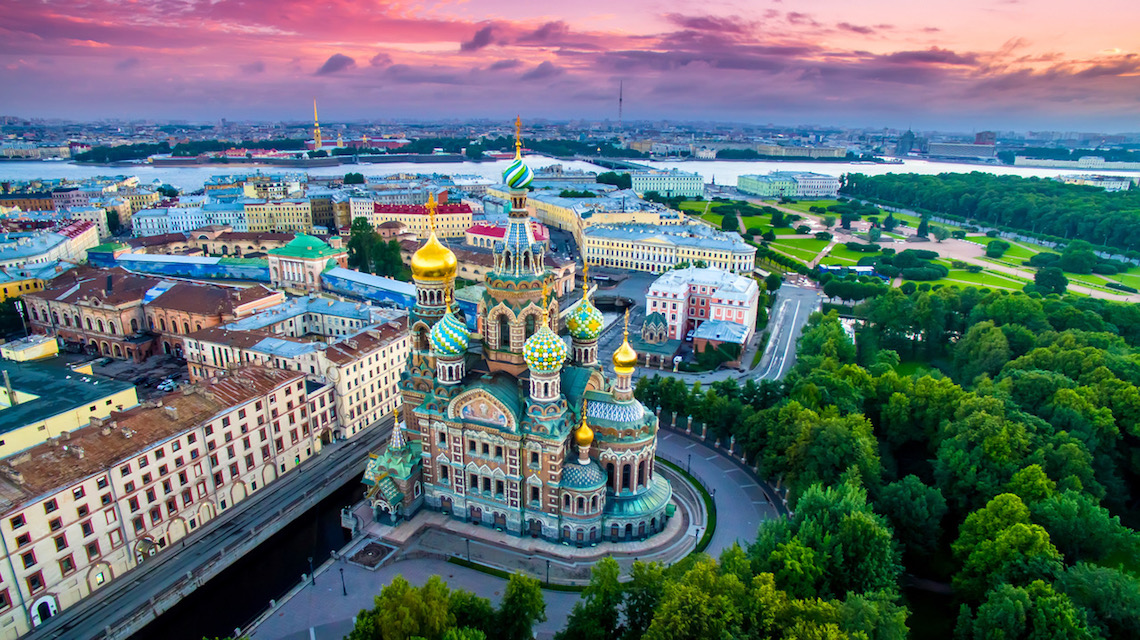 What is it?
Discover the delights of the Baltics during a three-week tour of North-Eastern Europe. Beginning in Poland, your tour will take you through Lithuania, Latvia, and Estonia before you cross over into Russia to visit St Petersburg.
As well as indulging in some of the best riding the region has to offer, you'll soak up plenty of city culture along the way, including exploring the three lesser-known Baltic capital cities of Tallinn, Riga, and Vilnius.
You'll wander the streets of some of Europe's most exquisite cultural gems while delving into the fascinating history of this part of Europe and the breakup of the Soviet Union.
Why should I do it?
In this region of Europe, adventure is in plentiful supply in and out of the saddle. After all, there's nothing quite like thrill of exploring multiple countries in a short space of time, all with their unique cultures and histories. This tour provides that opportunity five times over by letting you discover five European countries in one action-packed adventure.
With bike rental, accommodation, meals on riding days, and a number of guided tours all included in the price, there's nothing to think about other than enjoying yourself.  
How do I get involved?
Click HERE to begin your Baltic tour.
Ride British Columbia, a biking paradise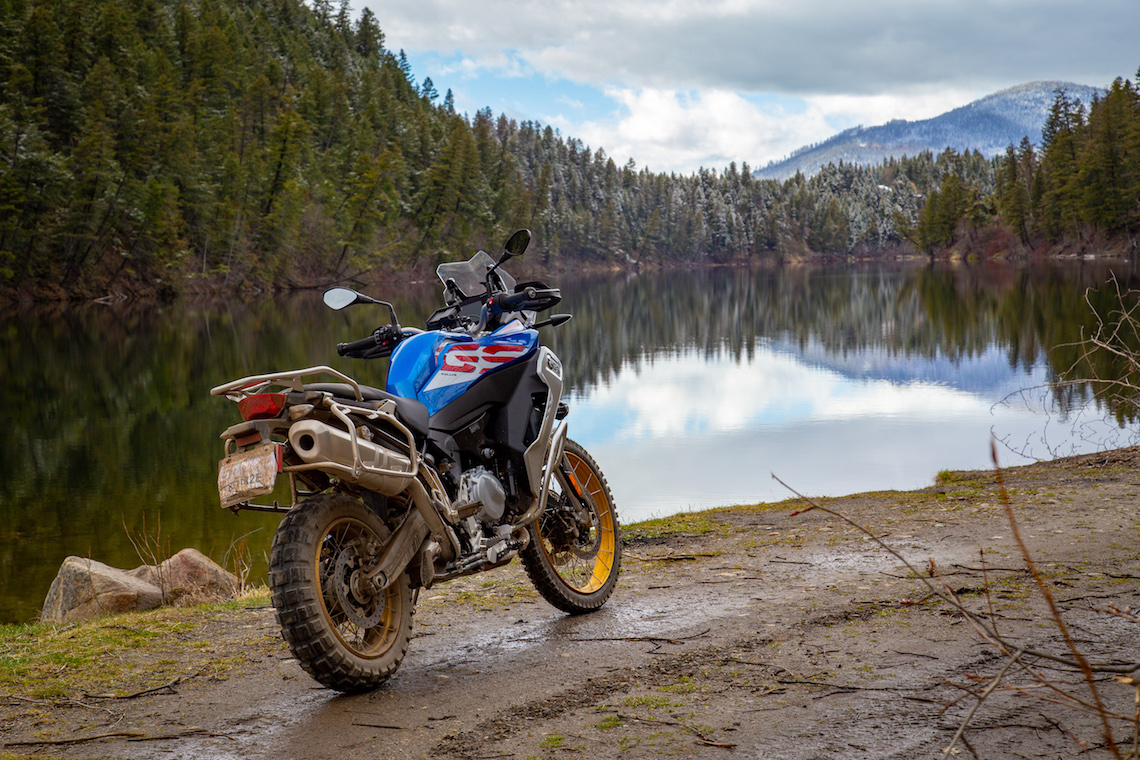 What is it?
Venture into the heart of Canada's rugged western province, British Columbia, on this eight-day tour that takes you on and off-road. During the first half of the journey, head for the hills on a three-day, self-guided ride as you and your BMW adventure bike carve along twisty roads.
Then link up with your knowledgeable local guide and leave civilisation behind as you spend three more days riding the myriad of trails that run deep into the BC backcountry. Keep an eye out for moose, elk, and even bears as you pass glacial lakes and climb remote mountain tracks.
Why should I do it?
Experience the best of both worlds with a tour that provides both guided and self-guided sections. You'll be given a BMW F 850 GS adventure bike to ride, and you can march to the beat of your own drum during your time on the tarmac, which will provide ample time to soak up the friendly local hospitality.
Then head off-road with the support of your guides who'll ensure you experience the best riding this part of the world has to offer. Finish your tour at a lakeside resort nestled high in the mountains, and kiss goodbye to any riding fatigue as you relax in a spa.
How do I get involved?
Get in touch with the team at Canadian Motorcycle Adventure Tours by emailing [email protected] or visit its website HERE.
Take a journey to World's End in Patagonia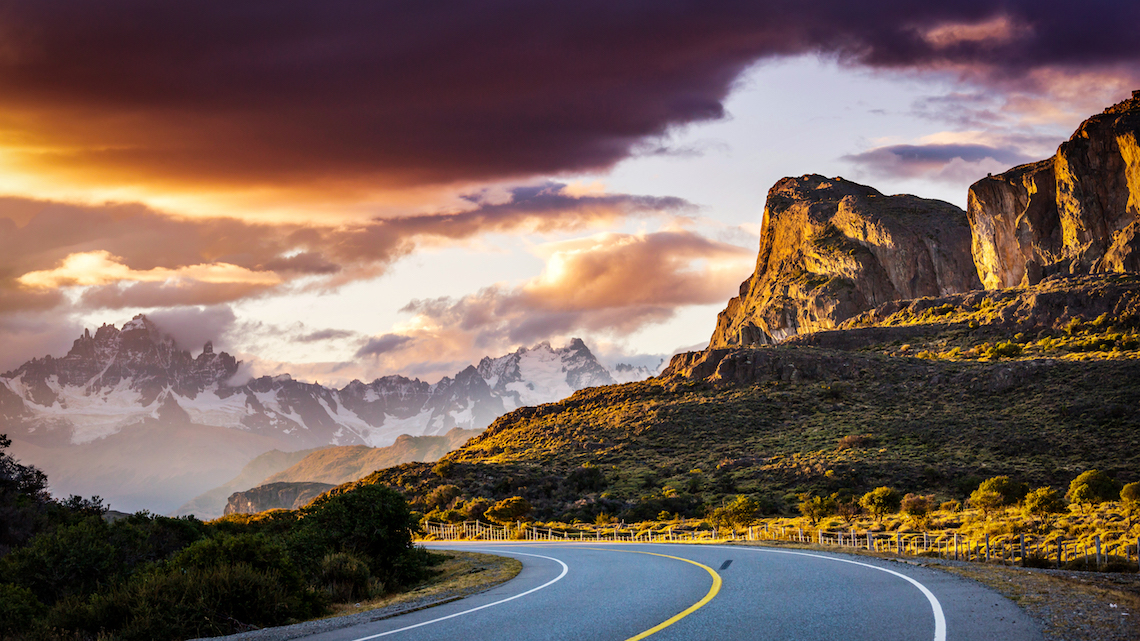 What is it?
Watch civilisation disappear in your rear-view mirror as you strike out into the remote wilderness of Patagonia on this 19-day guided expedition. Flit between Chile and Argentina as you travel through this sparsely populated region, which lies isolated at the southernmost tip of South America.
Ride along Ruta 40 and the Carretera Austral, two of the most iconic adventure biking roads in the world, before spending your evenings in traditional haciendas while soaking up the local gaucho culture, best known for its warm hospitality. Finally, arrive in Ushuaia, the world's southernmost city, and celebrate your achievement at world's end.
Why should I do it?
Patagonia is one of the world's ultimate adventure bike destinations and a trip through the region will leave you with memories that will last a lifetime.
See the towering peaks of the Paine Massif in the flesh as you cross through the stunning Torres del Paine National Park, kick up dust on some of the region's famous gravel roads, and sink your teeth into juicy Argentinean steaks in the evenings.
How do I get involved?
Head HERE to get involved or email that team at [email protected].
Kick up the dust in Southern Spain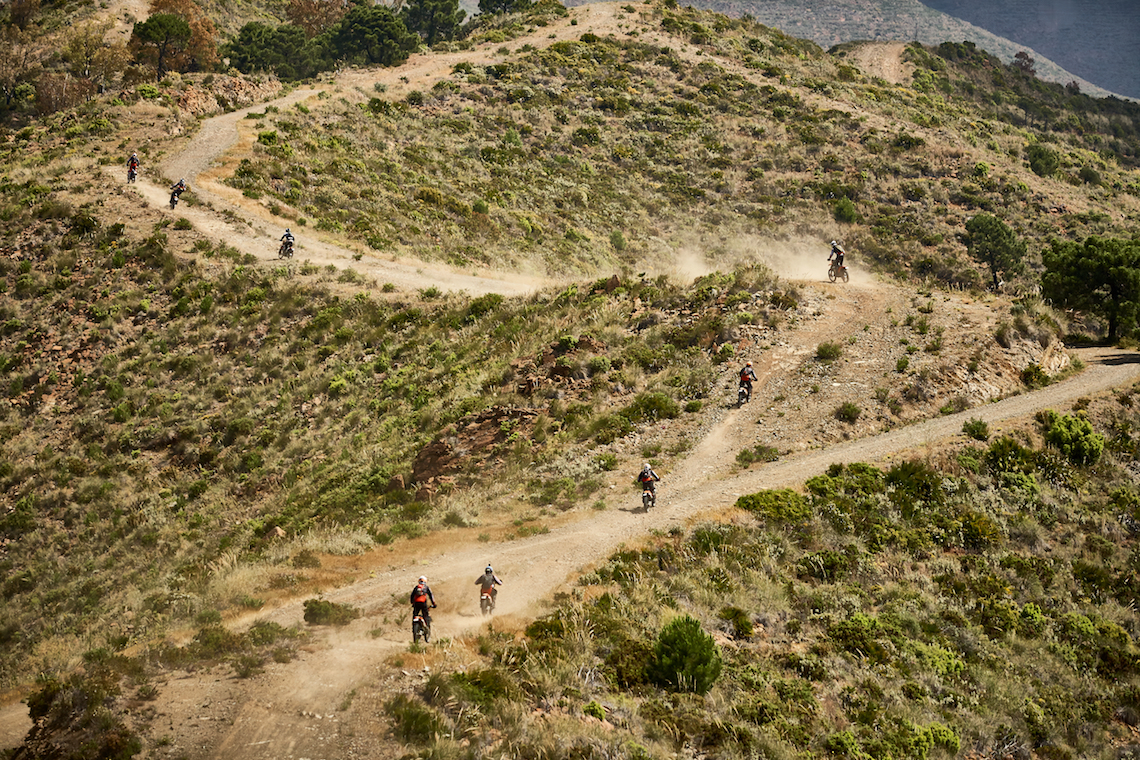 What is it?
Carve up the trails in Andalusia, Spain, on KTM enduro bikes. Scramble up technical trails in the Sierra Blanca mountains, then drop down to the vast El Chorro lakes, stopping only to admire the vast gorges chiselled into the sun-baked rock. Enjoy a complimentary lunch during the day, before treating yourself to a cold beer at your luxury accommodation each evening as you flick through photos from a cracking day's riding. 
Why should I do it?
Let's face it, off-roading in Spain sure beats green laning on a soggy British Sunday. With a choice of one, two, or three-day off-road adventures, these tours are suited to riders who want to squeeze some two-wheeled action into their busy lives. Whether you're looking to enjoy a long weekend with your mates in the winter sun, or simply a day away from the kids during a beach holiday to Spain, Dust Devils has a tour that will allow you to get the most out of the time you have.
It's team are experts when it comes to riding off-road. Most are enduro and motocross racers keen to share their riding knowledge. They can tailor tours to suit your skill level, whether you're a total beginner or an experienced rider.
How do I get involved?
Email [email protected] or click HERE.
Relax on a biking holiday in France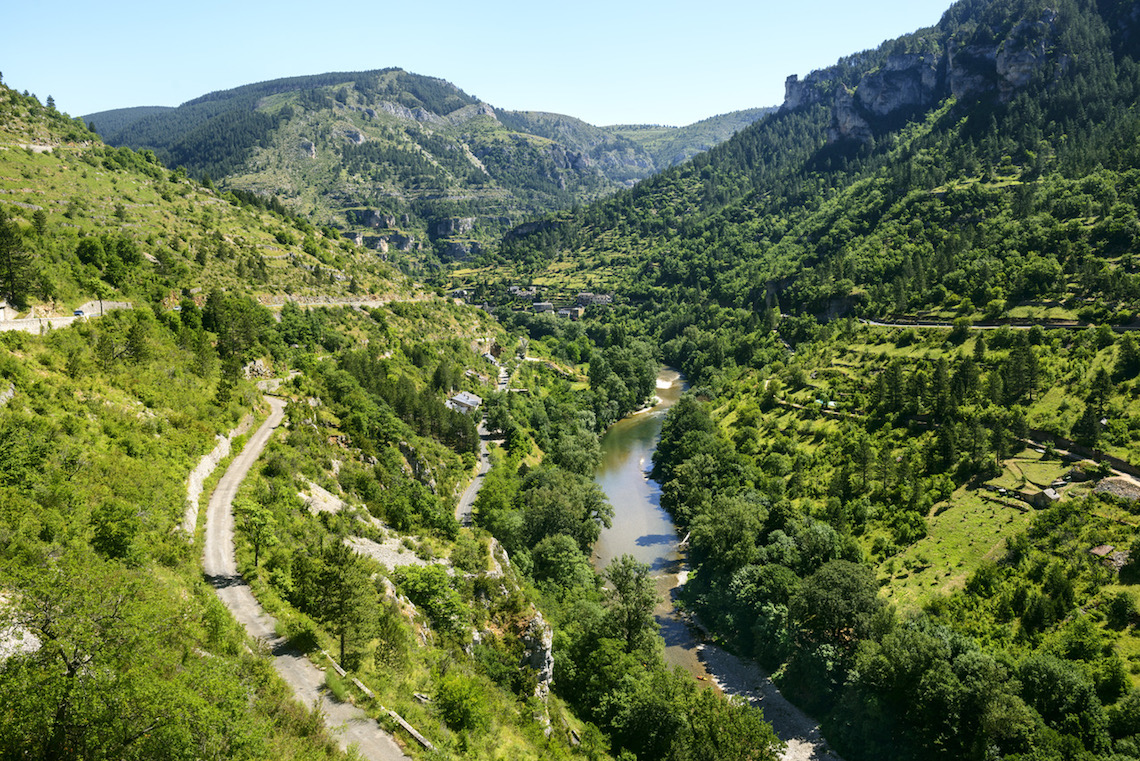 What is it?
This is a tour for those who enjoy the finer things in life. Unwind in stunning surroundings and enjoy a leisurely pace during this seven-day motorcycling holiday in South West France.
By day you'll ride with an expert local guide on the sun-kissed tarmac that twists and turns around the famous Dordogne, Lot and Tarn rivers, including the glorious Tarn Gorge. You'll also explore the hills, valleys, and medieval villages that make this region such a perfect location for motorcycle touring.
In the evenings, return to your rustic 12th century French farmhouse for a dip in the pool, a glass of the local vintage, and a delicious home-cooked dinner.
Why should I do it?
The South of France is the perfect place to share your passion for motorcycling with your better half. With an emphasis on relaxed riding during the daily guided ride-out, combined with a luxurious rustic experience in the evenings, it's a great way to combine a holiday and bike tour in one.
Of course, should your pillion passenger want a day off from riding, you can enjoy a guilt-free day on your bike, safe in the knowledge that they'll be relaxing as they unwind by the pool.
How do I get involved?
Get in touch with Mad Hatter Motorcycle Adventures at [email protected].
Venture off the tourist trail in Greece
What is it?
A 12-day guided adventure discovering the delights of central and northwest Greece. Leave the tourists flocking to the coast behind and head for the hills to explore the natural wonders and scintillating roads inland Greece has to offer.
You'll ride twisty mountain roads and conquer the country's highest paved mountain pass, the Baros Pass, which tops out just below 2,000m. There will also be visits to natural wonders, including the vast Vikos Gorge, the second deepest in the world, and the limestone pinnacles of Meteora.
Stay in a mix of boutique and traditional guesthouses, a mountain resort and a luxury hotel.
Why should I do it?
Greece is a popular country with sun-seeking tourists, but away from the golden sands lies a paradise for adventure bikers. This tour allows you to fly in and explore the country on a rented adventure bike.
Your experienced guide will ensure each day is packed full of sightseeing and epic riding, and the entire trip will fit into two weeks of annual leave. All you need to do is book your flights and get riding in the sunshine.
How do I get involved?
Email the MotoGreece team at [email protected] or head HERE to get involved.
Enjoy the craic on the Emerald Isle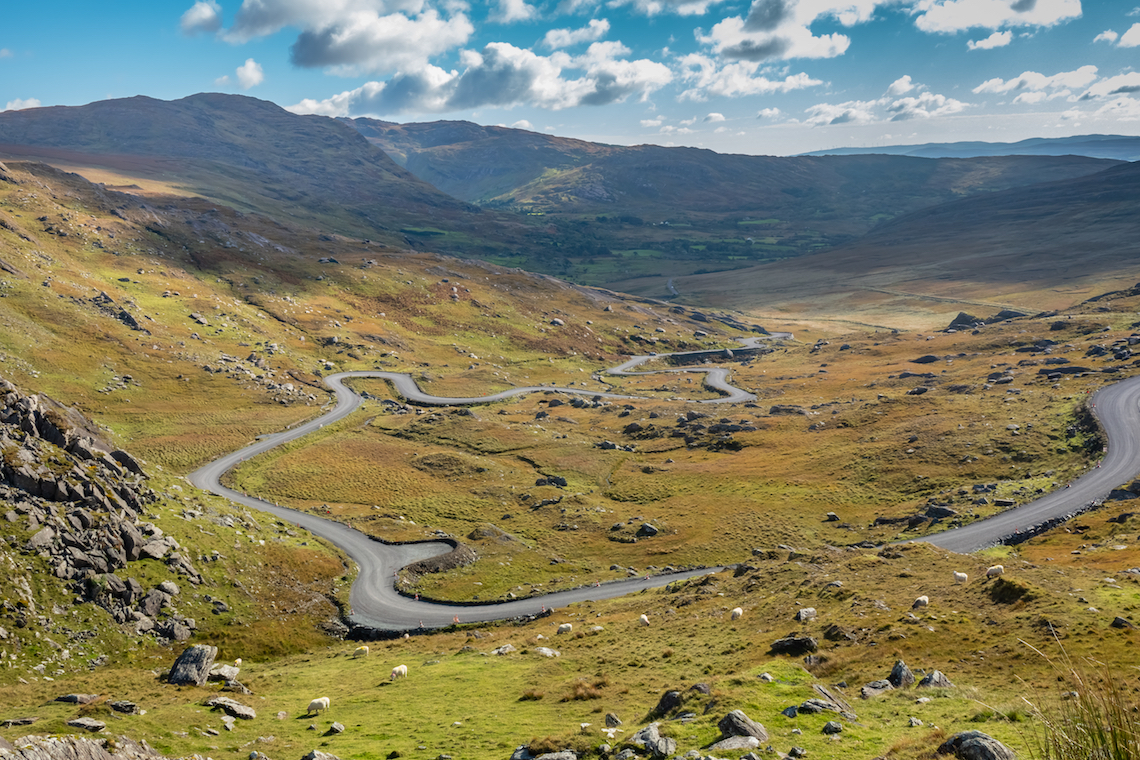 What is it?
A six-day ride along Ireland's beautiful southwest coast, experiencing the many delights of the Emerald Isle. Starting in the picturesque fishing village of Kinsale, you'll head west along the rugged Atlantic coast led by an expert guide every step of the way.
During your trip, you'll explore the rocky peninsulas that jut out into the ocean and are home to some of the best roads to ride in the area, including the Ring of Kerry, Healy Pass, and Conor Pass.
You'll stick to the coast as it curves northwards where you'll also be able to stop and admire the imposing Cliffs of Moher, before spending an evening in the city of Galway for a final night of fun and merriment
Why should I do it?
Ireland has a near-mythical lure that calls motorcycle travellers to its shores. It's home to a fascinating history, welcoming locals, and you'll be sure to find some great craic in the evenings that will keep the adventure coming long after you step out of the saddle. Your bed and breakfast will be arranged for you each night, as well as each day's route, allowing you to simply soak up the atmosphere, the magnificent roads, and a pint or two of Guinness each evening.
How do I get involved?
Head HERE to find out more about touring Ireland.
Explore the best that Wales has to offer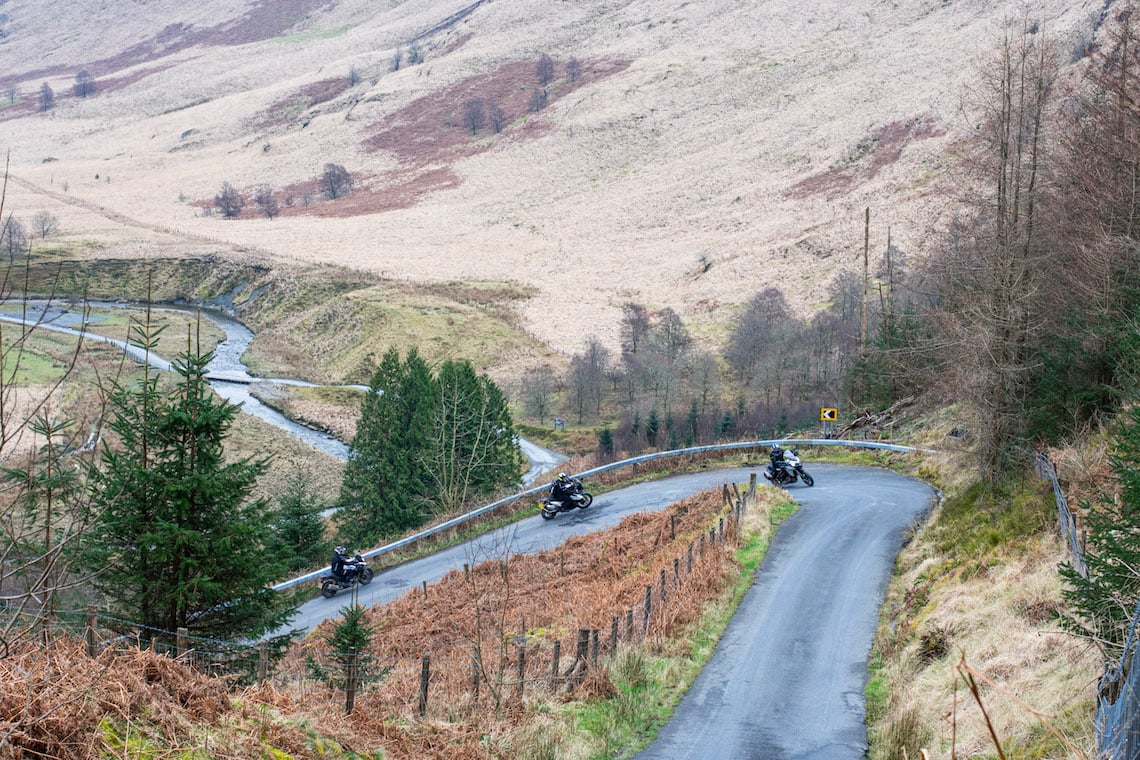 What is it?
Ride through some of the best scenery Britain has to offer on this six-day guided tour of Wales. Drop into the Valleys and climb lofty mountain passes in Snowdonia, before cruising along the scenic western coastline. Then head back inland to the magnificent Brecon Beacons, stopping off along the way to learn more about the history of the communities you're riding through.
Each day, your expert guide will take you on the best roads in the area you're riding through, including plenty of hidden gems. At the end of the day, spend your nights relaxing in four-star hotels as you tuck into a delicious meal and discuss the day's ride.
Why should I do it?
We're firm believers that adventure doesn't have to be found in far-flung locations, there's plenty to enjoy right here in the UK. Wales is one of our favourite places to ride in the British Isles, with plenty of exquisite roads and stunning landscapes to savour. Under the guidance of an expert, you'll experience the best the country has to offer without the hassle of worrying about finding food or accommodation. Simply enjoy the ride.
How do I get involved?
Send an email to [email protected], or head HERE to find out more about this Welsh adventure.
Enjoy a luxury all-inclusive tour in Spain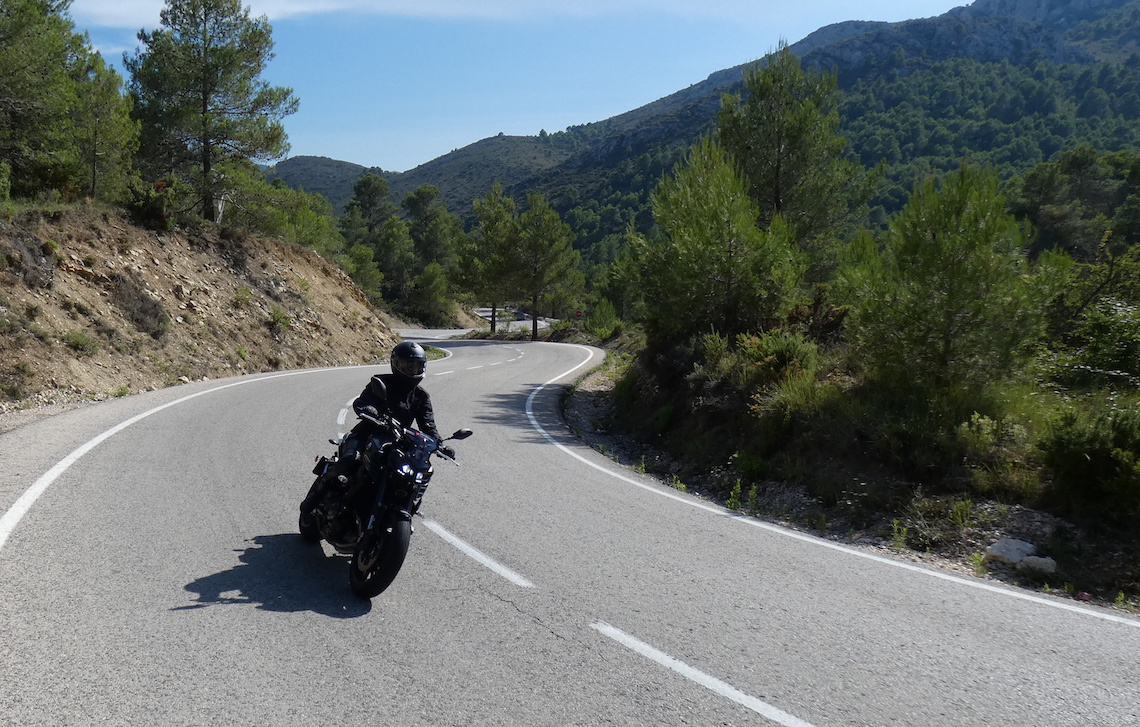 What is it?
Explore one of Europe's most popular riding destinations on this week-long, all-inclusive tour of Valencia and Spain's east coast. Soak up the local scenery as you cover mile upon mile of magnificent Iberian tarmac, with the help of an expert local tour guide.
Then, as each day winds down to a close, return to your own rural estate to take a dip in the pool and watch the sunset with a glass of red in hand as a delicious dinner is served.
With an emphasis on relaxation and enjoyment, this tour offers six riding days, although the organisers are flexible should you want to spend some time out of the saddle. This makes it ideal for couples travelling two-up who want to enjoy their time on and off the bike
Why should I do it?
You don't have to rough it to enjoy a fantastic two-wheeled adventure. This is a luxury tour for riders who enjoy the finer things in life.
You'll have your own room in a vast Spanish Finca, which also has an on-site pool, while your expert local guide will tailor each day's riding to your own requirements. With meals, drinks, bikes, airport transfers, and even gear provided, all you need to do is book your flights, turn up, and ride.
How do I get involved?
Click HERE, or email [email protected] to get started.
The ride of a lifetime in New Zealand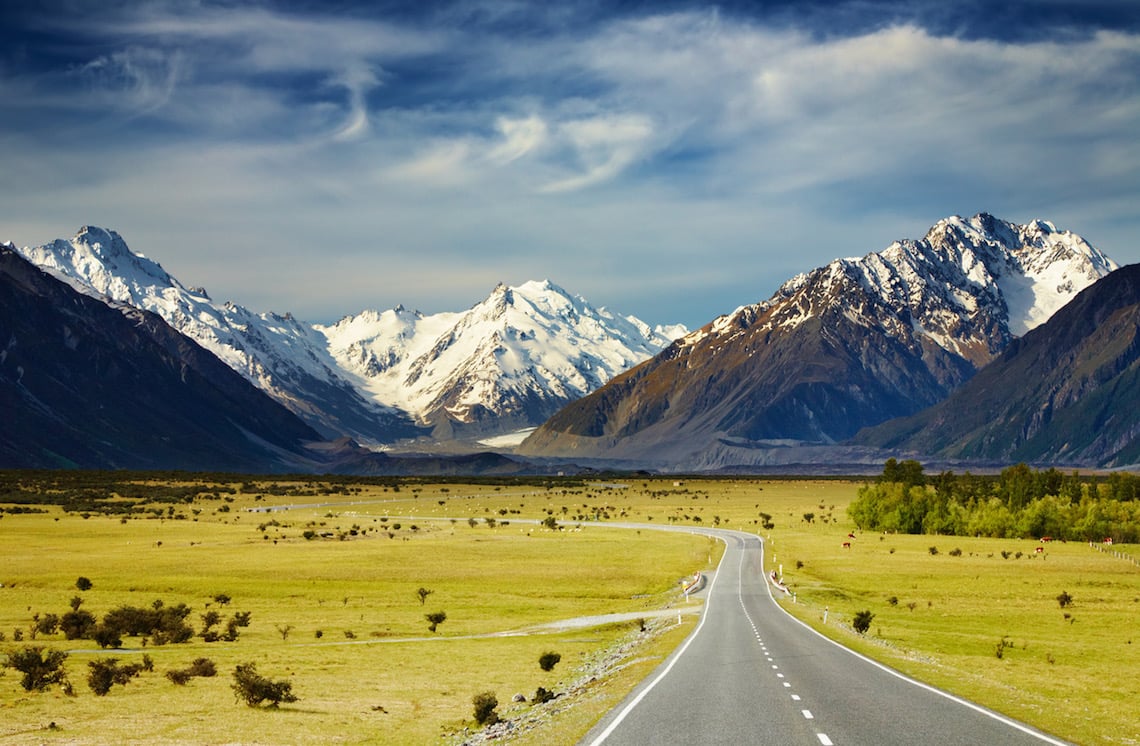 What is it?
Visit one of the most alluring motorcycling destinations in the world with this two-week guided tour of New Zealand's North and South Islands.
Highlights of this incredible trip include riding the snaking mountain passes of the Southern Alps, filling your camera with images of some of the world's most awe-inspiring landscapes as you go. You'll explore the thermal reserve at Whakarewarewa, stopping to marvel at bubbling pools of hot mud as geysers fire steaming water high into the air. And, you'll ride the towering fjords of the South Island, one of the famous filming locations that appeared in the Lord of the Rings movies.
In the evenings, you'll get to enjoy New Zealand's small cities and experience a demonstration of Maori culture at Rotorua.
Why should I do it?
Tucked away in the southern hemisphere, New Zealand is an adventure biker's paradise and one of the most beautiful countries on Earth. With the help of your experienced tour leader, you can be sure you'll see the best New Zealand has to offer with all your accommodation arranged for you.
How do I get involved?
Contact Orange and Black/H-C Travel, a UK-based, ATOL bonded tour operator, HERE.
Embark on an expedition in Ecuador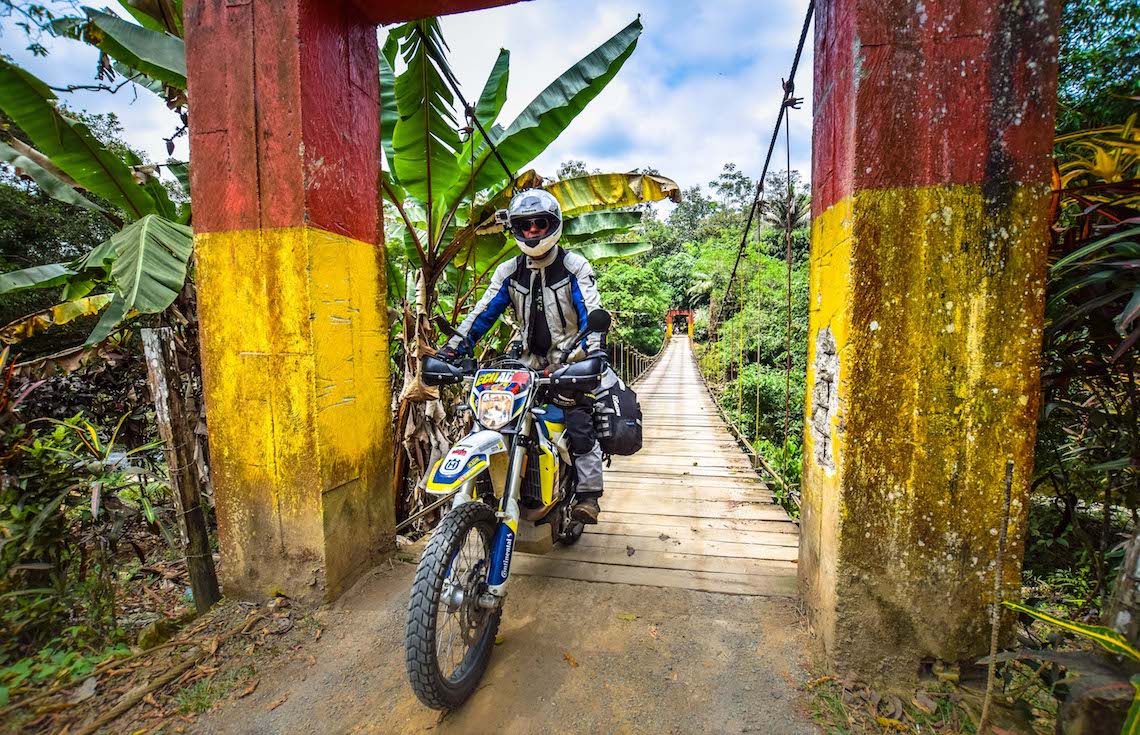 What is it?
Leave the tarmac behind and take the road less travelled through Ecuador on this six-day guided expedition. You'll spend around 80% of your time off-road as you ride through the changing landscapes of the equatorial country, including tropical rainforest.
Journey into the mountains, where you'll reach altitudes of over 4,000m as you take in views of the majestic Cotopaxi, one of the world's highest active volcanoes. Then, carefully descend along rugged balcony roads clinging to valley sides, before skirting vast crater lakes caused by historic volcanic eruptions.
Along the way, sample local delicacies at coffee plantations and moonshine breweries. This is two-wheeled travel at its most adventurous and certainly isn't for the feint of heart.
Why should I do it?
Located on the equator, and split by the vast Andes mountain range, Ecuador enjoys a number of different climates and landscapes. You'll have a chance to explore the very best with the support of a local guide across six riding days, with all meals, tolls, accommodation, as well as your bike for the trip, provided for you.
How do I get involved?
Start you adventure by emailing [email protected], or visit Freedom Bike Rental's website HERE.
Ride the Adriatic Coast
What is it?
Ride Croatia's sun-kissed Adriatic coast on this 12-day tour. You'll travel the region's stunning coastal roads while immersing yourself in Croatia's rich culture and history along the way.
The country's diverse geography makes it a delight for motorcycle travellers, with vast inland mountain ranges quickly dropping away to sandy beaches lapped by the ocean. It's also a landscape that boasts a stunning network of world-class biking roads.
Highlights you'll discover on this tour include riding the Velebit mountain range, the largest in Croatia, and a visit to the stunning Plitvice Lakes, a UNESCO World Heritage site. The adventure continues off the bike as you learn about Croatia's history, from the rule of the Romans to the Austro-Hungarian Empire.
Why should I do it?
Croatia's distance from the UK (around 1,000 miles) makes it tricky to squeeze a visit in as part of an annual bike trip. Instead, this tour saves you time by having you fly into the country and riding rental bikes to explore this incredible corner of Europe, with an experienced local guide showing you all the best bits. Tours can be shortened or self-guided.
How do I get involved?
Email the Moto Tours Europe team at [email protected], or visit their website today.
A two-day adventure tour of Wales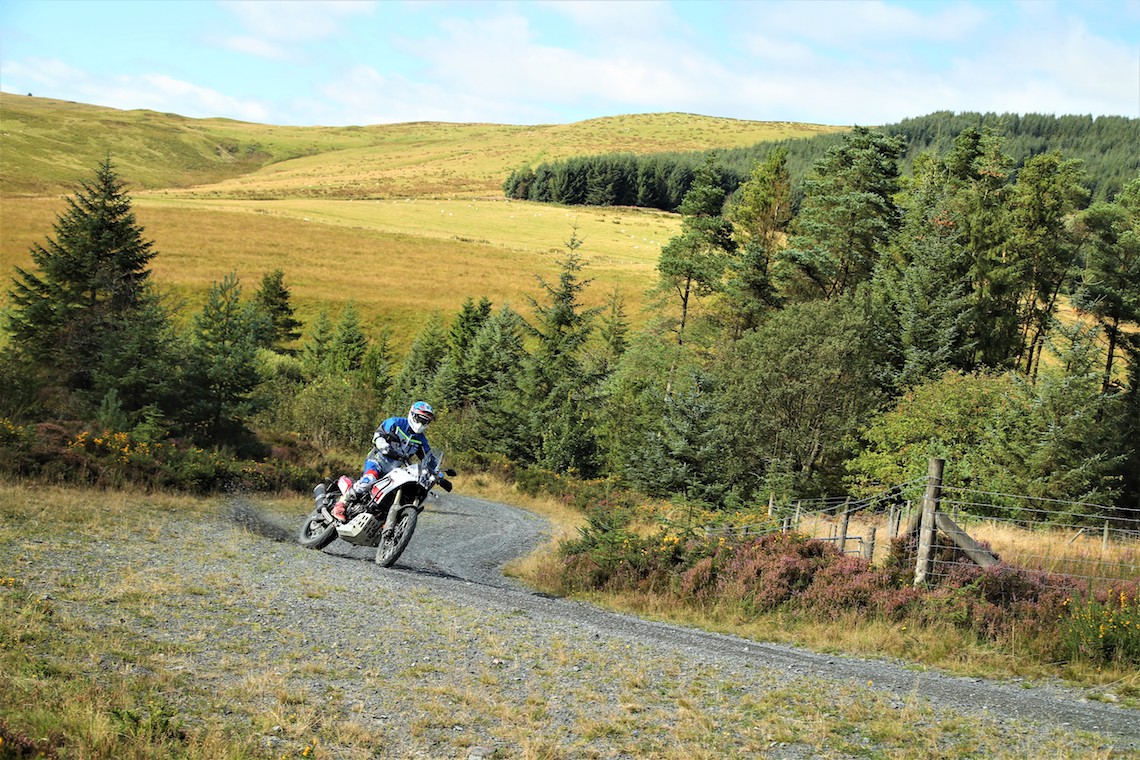 What is it?
Put a Yamaha Ténéré 700 to the test on and off-road during this two-day guided tour of Wales. Follow your guide through remote parts of the Welsh countryside on a selection of gravel tracks, private trails, and smooth tarmac. Then tackle a handful of Wales' highest paved and unpaved mountain passes, stopping to admire the views and catch your breath, before you continue on to conquer technical rocky sections and river crossings.
Why should I do it?
I can think of few better experiences than having a backcountry adventure, covering tarmac and dirt in equal measure, on a bike that excels in both settings. However, embarking on such a tour in Britain can be a tricky affair as we try to figure out which trails we can legally ride.
With pre-arranged access to private land and local knowledge of the best byways in the area, your local guides remove the hassle that comes with planning your own tour. Instead, you can focus on navigating the terrain ahead which will be both rewarding and challenging. This Go Beyond Tour, run by the Yamaha Off-road Experience, is my kind of adventure.
How do I get involved?
Discover the full range of experiences available HERE.