Ollie Rooke rounds up the latest and greatest biking kit
NEDPLEX TFT ANTI-THEFT PROTECTION FOR BMW R 1200/1250 GS/GSA
£40
www.adventurebikeshop.co.uk
What is it? A bracket to protect your TFT screen from theft.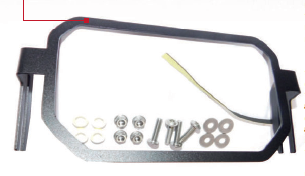 Do you own a BMW R 1200 GS/GSA or an R 1250 GS/GSA with a TFT screen? If you do, are you aware of how easy it is to steal? Sadly, it's a lot easier than you might think and we've heard a few reports of riders getting them pinched. We won't go into the details of how to do it here for obvious reasons, but it can take a thief in the know a matter of seconds to whip a TFT display out of a bike and walk off with it in their pocket. So, whether you park up outside your place of work, leave your bike out of view in a car park when you stop for a coffee or stay overnight while on tour, your TFT display could be vulnerable to theft.
Not only is this an irritating crime that leaves you riding a bike without a visible speedometer or tachometer, but it's also expensive for the victim. A replacement display can cost in the region of £1,200.
This is where motorcycle accessories company Nedplex comes in. After hearing about reports of thefts from GS riders, it released a product called the TFT Anti-Theft Protection device. The stainless-steel bracket, costing £40, is finished with a black powder coating, and can quickly be secured over your TFT display. Once fitted, it's a fiddly and time-consuming task to remove the bracket, keeping opportunistic thieves away and acting as a deterrent to anyone considering targeting your bike.
NEXX X.VILIJORD
£469.99
www.factoryagencies.co.uk
What is it? Nexx's premium flip-front adventure helmet.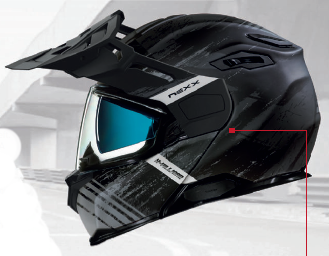 Portuguese helmet manufacturer Nexx started life in 2001 and has quickly become known for producing high-quality lids that are packed full of useful functions, with designs that stand out from the crowd. The Nexx X.Vilijord flip-front adventure helmet, which I've been wearing over the past few weeks, is no exception.
The X.Vilijord looks aggressive with sharp lines and an attractive matt black/grey colourway. Slipping the helmet on for the first time is also a pleasant experience. The inner fabric is soft against my skin and the fit feels reassuringly secure. The entire liner is removable, washable, and features X-Mart Dry technology which Nexx says makes the fabric dry twice as fast as cotton.
The Portuguese manufacturer says the X.Vilijord was designed to be it's 'go anywhere, do anything' helmet, and the sheer number of features packed into the lid back that claim up. As an adventure biker, I was pleased to experience plenty of ventilation from a large chin and forehead vents which combine well with two rear exhausts to channel plenty of cooling air through helmet. There is also a sun shield, mounting points on the main visor for a Pinlock insert (included), and a peak extender for those who spend more time off the road than on it.
Nexx has also included vortex generators in the chin area to reduce aerodynamic buffeting and noise while you're on the go. This all sounds rather scientific but they seem to work a charm as wearing the helmet at high speeds is a comfortable experience.
My only gripe with the X.Vilijord is that, at 1,923g, it is rather heavy and did cause me some neck ache on longer rides.
MOTOCLEAN CARE BUNDLE
£29.99
www.motoclean.co.uk
What is it? A motorcycle care bundle to keep your bike in showroom condition.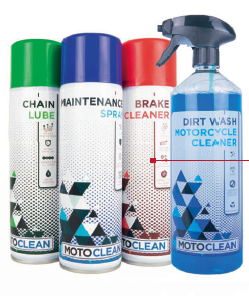 During winter, it's important to keep your bike in tip-top condition. Whether you ride daily through the worst the weather can throw at you, or you enjoy the odd crisp Sunday morning ride, road salt and general muck can transform your pristine bike into a corroded eyesore. That's where the Moto-Clean Care Bundle comes in, with four separate products to help keep your bike looking good.
The one-litre bottle of motorcycle cleaner features a gel formula that foams up when sprayed and clings to grease and grime on your bike. Simply coat your bike in the foam, give it a few minutes to sink in and bind with the dirt, before scrubbing any particularly mucky patches with a bristled brush and rinsing the rest off. Once washed off, the foam leaves a noticeable glossy, dirt-repellent finish.
Once your bike is dry, you can then give the exposed metal parts a coating with the multi-use protective maintenance spray. It provides a protective coating which repels moisture, preventing rust and corrosion from setting in between rides. Finally, it's time to give the two most important parts of your ride some attention with the dedicated brake cleaner and the all-weather chain lube. The brake cleaner gets rid of dust, carbon, and oil which can build up over time, while the chain lube helps to keep your chain in good working order.
SHERPA ANNAPURNA JACKET
£190
www.sherpaadventuregear.co.uk
What is it? An insulated mid-layer to keep you warm in the saddle.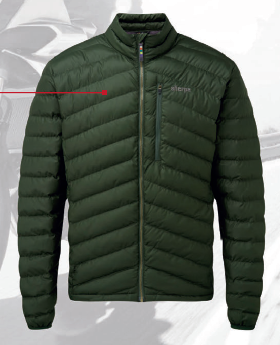 Have you ever noticed that the insulated liner included with your motorcycle jacket doesn't keep you as warm as you'd hope? Mine doesn't which is not entirely surprising. The perfect insulated mid-layer is something that experts in the outdoor industry spend years perfecting, whereas most motorcycle clothing brands often prioritise areas such as rider safety and waterproofing above insulation when it comes to designing their jackets.
While this is understandable, it is disappointing when you have to layer up with jumpers just to stay warm on colder rides. It can also be dangerous. The extra layers add bulk, which can make it difficult to relax and move about freely in the saddle, impacting your ability to make those all-important shoulder checks and react in case of an emergency.
That's why we've looked outside the regular motorcycle gear manufacturers for an alternative. Step forward the Sherpa Annapurna Jacket. Although it wasn't designed with motorcyclists in mind, it's an excellent mid-layer to pair with your weather-resistant, protective outer jacket. I started wearing it this winter and it's done a great job of helping me stay warm in the saddle.
Using innovative 3M Thinsulate featherless down insulation, the Annapurna Jacket traps plenty of heat under my riding jacket. When I've paired it with a heated jacket, I've been able to ride all day in cold temperatures, well at least until my feet get chilly.
The Annapurna Jacket also packs down into a small sack to about the size of half a loaf of bread, so it's been perfect for storing into a pannier or top box. Unlike many inner liners included with motorcycle jackets, it's also been nice to wear out of the saddle too, with a DWR water-repellent outer that's kept me dry in light showers and a stylish finish that hasn't looked out of place on strolls around town.