Techniques: Riding With A Pillion
Sharing your passion for motorcycling with your better half can be a joyous experience, but with it comes a huge responsibility. Misti Hurst explains how you and your pillion can ride in perfect harmony
Taking a passenger on the back of your bike is a big deal. You are now responsible for that person's wellbeing. They have trusted you with their life so you'd better do everything in your power to take care of it. But, before your passenger steps onto a foot peg, there are a number of checks you should make to ensure your motorcycle is ready for a pillion passenger.
Firstly, make sure the bike's suspension is set up for the combined weight of the rider, pillion, and any luggage or gear that you might have. Get this wrong and the extra weight at the rear of the bike can make the front end feel light and vague while steering. You also risk bottoming out the suspension if you don't adjust it. In fact, it's always a good idea to do a quick health check of your bike before you set off to make certain everything is in good working order, such as checking your brakes, lights, and tyre treads.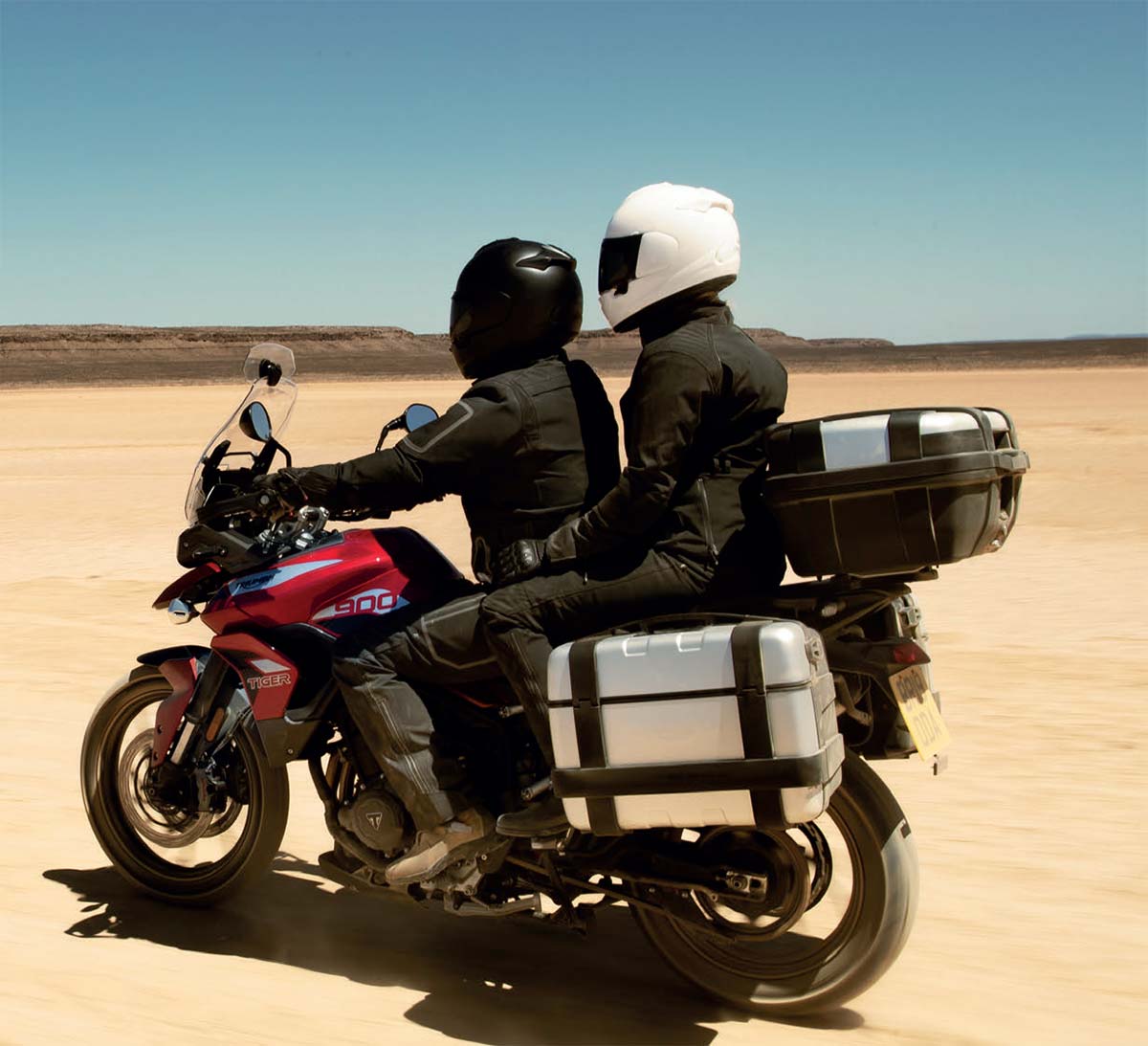 All the gear
It's important to ensure your passenger is wearing proper riding gear even if you have to give them your own jacket or gloves, although this isn't an ideal situation to be in. It infuriates me when I see a rider all decked out in leathers, boots and gloves, while their passenger is on the back in shorts and a T-shirt.
Your passenger should also be wearing good quality gear including a motorcycle jacket, trousers, boots and gloves, as well as helmet that fits properly and meets your country's regulations. Buying a cheap helmet in a large size just so you have an extra one lying around is not going to be any good for a passenger with a small head if you crash. Helmets need to fit snugly and properly for both rider and pillion.
Learning the ropes
Before you take a passenger on your bike for the first time, it's important to educate them about being a pillion rider. Tell them where to put their hands and feet and where the hot surfaces are (I've been burnt on an exhaust before). Also explain how to safely and smoothly get on and off the bike without the both of you tipping over, and tell them to make sure that you are ready before they climb aboard or dismount. A little pat on the seat to indicate he or she can get on can be a helpful way to communicate.
Teaching your passenger how to hold onto the motorcycle when you are riding is very important. Their options are either to take hold of the grab rails or to use your waist. Either gives them something solid to push against under braking when their body tends to slide forward. It also ensures they don't jerk back under hard acceleration either. Make sure you explain that they should never hold onto your shoulders or arms because that will interfere with your ability to steer the bike.
Come up with some basic hand signals so you can communicate while riding and be sure to check in with your passenger regularly to see how they are doing. Thumbs up or down is super easy, or if you are planning on doing a lot of riding with a pillion, investing in a helmet-to-helmet communication system is a good idea.
Adapt your riding style
When you ride with a passenger your bike will be heavier and it will steer and manoeuvre differently, so take the time to learn the new characteristics. You'll need to be smoother with all your inputs such as rolling on and off the throttle, applying and releasing the brakes, gear shifting, and steering. If you're too jerky, you'll be bonking helmets the entire ride.
Explain to your passenger that the best thing they can do while on a motorcycle is to remain relaxed and neutral and to go with the bike. Doing so is going to make the motorcycle handle and perform at its best and it is important that your passenger knows this. Tell them to look over your inside shoulder in a corner and not to lean away from the bike or fight against which way you're leaning. And certainly, make sure they know not to make any sudden movements.
Learn about the bike
To help your passenger feel more comfortable, and to prevent them from tensing up in situations that are out of the ordinary, talk to them about how the motorcycle works. Show them how you steer the bike and how it leans into a turn. Tell them what you are looking at when you ride through a corner, and teach them how to look far ahead into a corner and not to target fixate on things they are nervous about. Show them how you roll on the gas in a corner and how you shift gears, and then talk about the different situations that could come up that would require sudden or unexpected actions.
An excellent way of helping your passenger stay relaxed on the bike in all situations is to practice making emergency stops and sudden avoidance manoeuvres in a car park before heading out for a long ride. Then ride some tight turns and longer sweeping bends so your passenger can work on going with the bike. After all, pillion riders should try and become one with the motorcycle and rider, as if they aren't even there at all.
Practise makes perfect
The more you practise together, the better you will be able to read each other and work together as a team. In my work as a motorcycle instructor, I always talk about educating the rider and how practise makes perfect. The same certainly holds true for two-up riding. Educate your passenger and practise together so that you both know what to expect on the road. That way, sudden manoeuvres won't seem so sudden and you'll know how to communicate together effectively. This will increase the enjoyment of riding for both of you.
It is an amazing feeling when two people on a motorcycle are able to metamorphosis from rider and passenger into a unified team. Follow this advice and prepare for some very happy two-up travels throughout the world.
Photography: Cream Of The Crop
Simon Thomas explains how cropping a photograph to improve its composition can turn a good image into something spectacular
I was talking to an online class of photography students recently after I'd been asked to critique their images and suggest improvements. When I mentioned to two students that their images could be improved in terms of composition by cropping their photographs, there was an uneasy pause. Then one of the students asked: "What's cropping?" So, this installment of ABR's Photography Masterclass is going to focus on this simple but powerful post processing technique.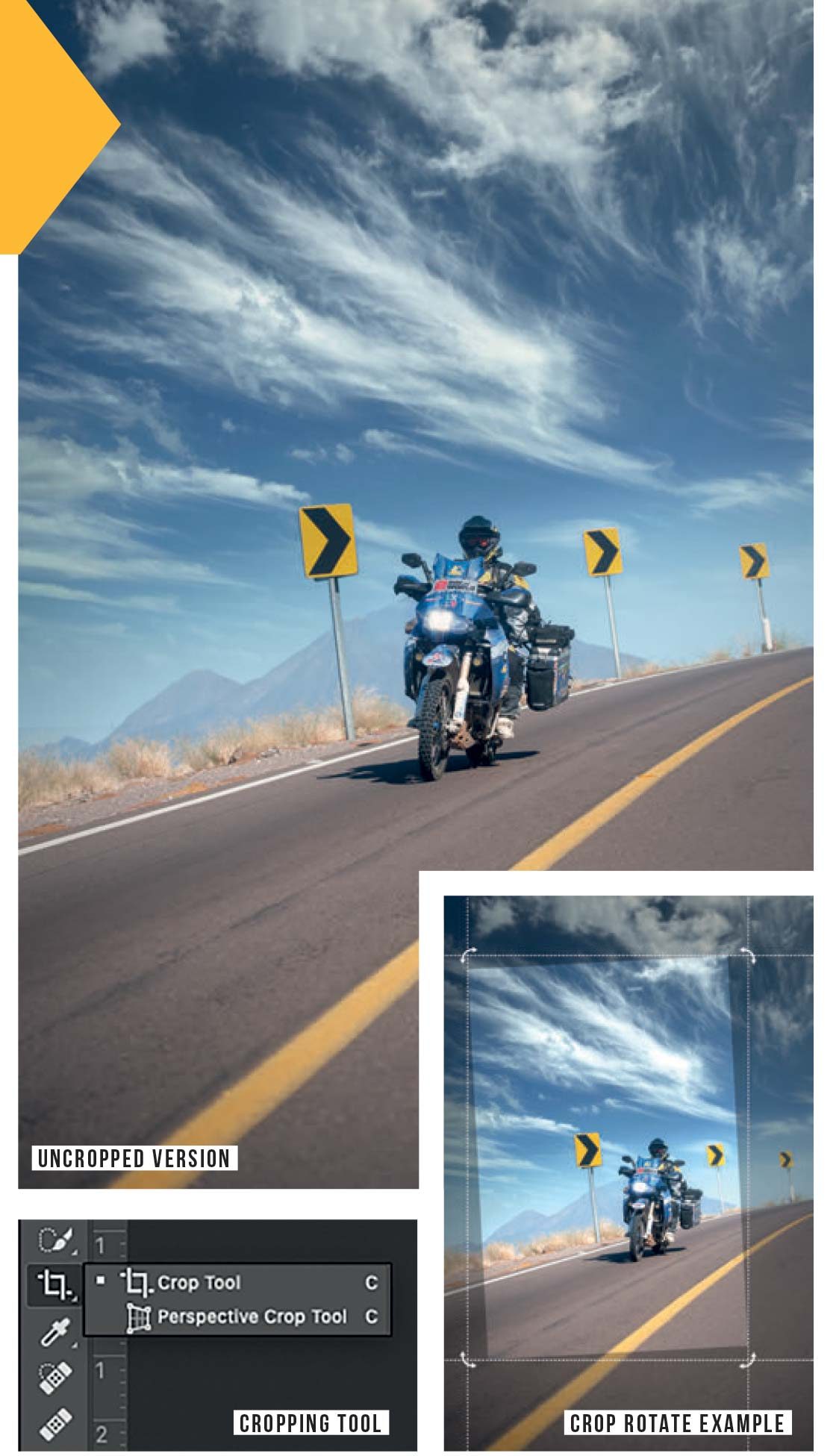 What's cropping?
In simple terms, cropping an image simply means using an editing program like Photoshop to reduce or edit the overall dimensions of an image and the pixels that are displayed. Yep, that's it.
But why?
It's a fair question. It can seem counter intuitive to spend a small fortune on a smartphone upgrade, or a new high megapixel camera, only to later choose to remove pixels and reduce the size of an image. However, this is the very reason some professional photographers actually choose to shoot with high megapixel cameras in the first place.
Let's face it, it's not always possible to grab the perfect shot. Shooting a moving motorcycle and capturing the perfect composition is tough. Improving the composition of the elements in your photo is the main reason that photographers crop an image.
Take the photo in this article for example. The actual image captured has Lisa riding her BMW F 800 GS in Baja Mexico. Sure, it's nice enough, but there are some issues with it. Lisa is bang in the middle of the image and there is no real balance between the foreground and the sky. The three chevron signs are also distracting when I really want the shot to focus on Lisa and her bike.
Here's the info for the image:
Camera body: Nikon D3
Lens: Nikor 70.0-200 mm f/2.8
Focal L ength: 75.0 mm
Focus Mode: Manual
Aperture: f/4
Shutter Speed: 1/4000 seconds
Exposure Mode: Auto
Exposure Comp: -1
Metering: Spot
ISO Sensitivity: ISO 320
White Balance: Standard
Speed light/Flash: Did not fire
P icture profile: Warm
Sharpening: +1
Contrast: -1
Brightness: 0
Saturation: +1
Hue: 0
Processed With: Luminar 4 & Photoshop
Cropping success
Check out the cropped image. Although the change is subtle, it works much better. By cropping the image, I've removed extraneous sky, road, and one of the distracting chevron signs that didn't add anything to the shot. The crop also places more emphasis on Lisa because proportionally she is now a bigger part of the photo.
By cropping the image to the left, I've also placed Lisa and her bike to the right of the new composition which gives her somewhere to ride through the shot. By cropping closer into Lisa and her bike, the volcano in the background has also become a more integral part of the shot. Lastly, I also rotated the image clockwise which increases the sense of Lisa leaning into the corner. Proportionally and compositionally speaking the new cropped image works much better.
Most photo editing programs, even the free ones, offer the crop tool as a standard feature and it's simple enough to use. I'll use Adobe's Photoshop, one of the most common pieces of editing software, in this example to show you how simple the process really is to complete
Open Photoshop
Click 'open' from the file menu to open your image
From the tool bar on the left, select and click the crop tool
With the crop tool active, simply use your mouse or track pad to drag the corner handles to resize your image
Release your mouse and hit the 'confirm' button at the top of your screen to confirm your edit. That's it, you're done
You can now save your newly cropped image to your computer or external hard drive. Remember to have fun and experiment with different crops on various photographs to see what works best. You'll get some cracking results the more you practise, I promise. If you get a moment, share your favourite images to us at www.facebook.com/2ridetheworld
Legal: Traffic Regulation Orders
What are the rules around complying with traffic regulation orders when you're greenlaning, and what happens if you fail to spot the warning signs. Legal expert Gavin Grewal explains all
Seeing the dreaded sign is enough to make your stomach churn. Imagine it, you ride to your favourite green lane only to find it has been hit with a Traffic Regulation Order (TRO) prohibiting motor traffic from using it. If you ignore the sign you could face a penalty, or could you? The case of Davies v Heatley is the authority for the premise that the sign should be of the proper size, colour, and type prescribed by the regulation.
That is to say, it must follow the dimensions set out within Schedule Two of Traffic Signs Regulations and General Directions 2002. This particular sign can therefore come in five different sizes, as small as 450mm and as large as 1,200mm. The regulations allow a 5% variation on these measurements meaning it is unlikely you will beat a charge by taking your measuring tape along with you on a ride.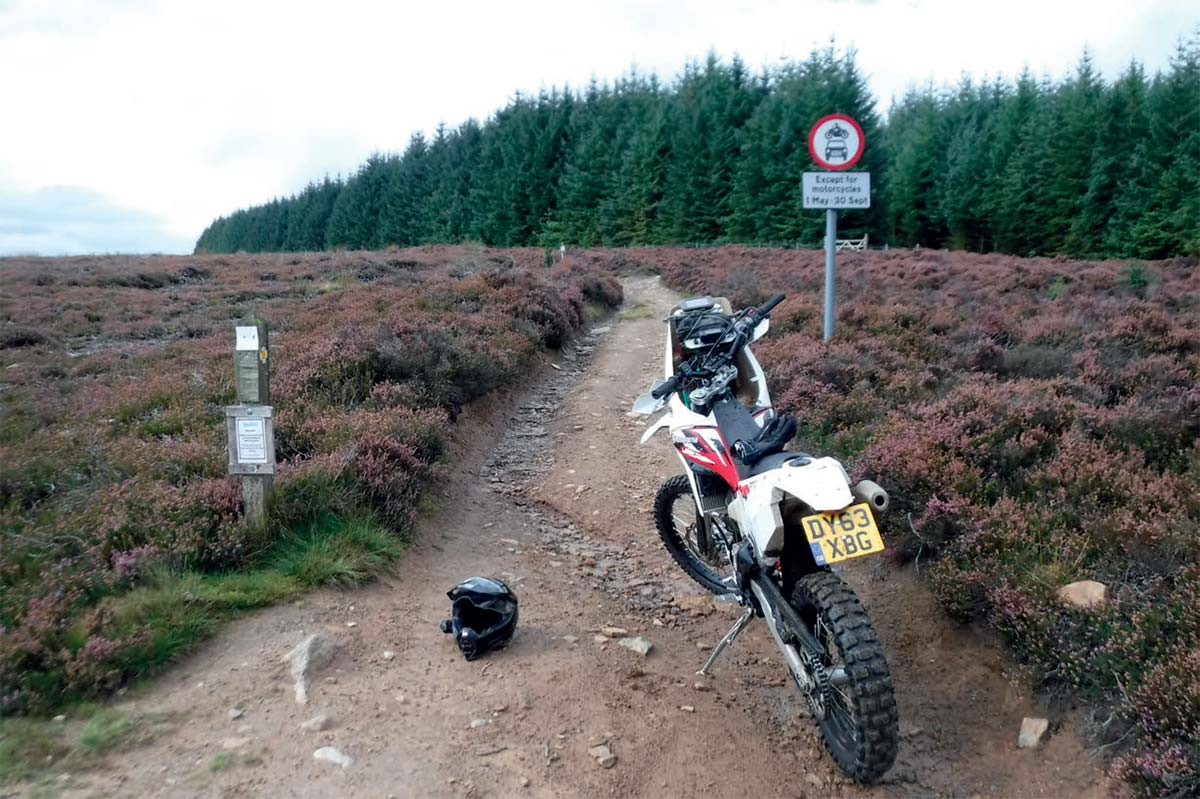 Put bluntly, the local authorities and their suppliers know how to make a lawful sign, at least most of the time. It must be reflective and but not always illuminated. It must be of a white background with a red border and black imaging. If it does not follow these rules, then it is not a sign for which you can be punished for ignoring. Said in another way, the authorities cannot prosecute people who ignore such unlawful signs placed on the highway.
If the sign is covered in lichen and unreadable, it is unlikely to be a bar to prosecution. This may seem very unfair on the face of it but there is no need for the prosecution to prove mens rea (your guilty mind) as you sail past a sign prohibiting motor traffic. If you do pass such a sign, despite it being difficult to read, then the offence is complete. This may give rise to some offence mitigation before the court but nothing more. In the days when I wore a pointy police hat to work, if a motorcyclist ignored a sign nestling in overgrowth and was largely green, I would just give words of advice but the sign would have to be badly obscured before I'd have let this go.
Finally, expect change in this area of law. Not many people will know that the government passed the Traffic Orders Procedure (Coronavirus) (Amendment) (England) Regulations 2020 in May. This makes it easier for local authorities to bring in urgent measures without going through the long and often costly process of consultation, publication in the press, and finally, the making of an order and erecting of signs.
However, the Trail Riders Fellowship (TRF) has got a number of these pulled down as there were attempts to close routes for motorcyclists but no one else, and these were withdrawn without ever troubling a High Court Judge.
What does this mean? Well, it allows local authorities to potentially prohibit traffic on your favourite green lane, but if they are prohibiting just motorcycles, then they have a problem. It is more commonly being used in response to the coronavirus in England and Wales, but it will bring about change in the way these consultations are published, with more going online, and less being published in the newspaper.
These 2020 regulations are only valid for 12 months but you may find orders for traffic regulations, whether temporary, experimental, or permanent, being fast tracked. Be sure to keep an eye on your local byways open to all traffic (BOAT) and local authority website for any such publications. We need to keep our lanes open and not allow local authorities to take advantage of a change in the law. Unless there is a justifiable reason, these should not and cannot apply to motorcyclists alone.
Ask Dave
ABR's expert of all things two- wheeled answers your questions
Hi Dave
I recently had a near miss when I was riding home from work. I didn't get hit, but it shook me up and made me think I could be doing more to be seen. What would you recommend?
Cheers
Scott
Good question Scott. Let's start with your riding gear. It may sound simple, but wearing bright coloured motorcycle clothing, featuring reflective material as part of its design, will help you be seen in the saddle. All black helmets, jackets, and trousers may look cool when you're cruising along in the sunshine, but they don't make you particularly obvious to fellow road users when you ride.
Starting with helmets, there are plenty of hi-vis colour-ways available these days, usually bright yellow. They don't look particularly stylish but they'll make you stand out on the road. However, keep in mind you'll need to add some reflective stickers to any lid, including a hi-vis one, if you want to light up at night. Personally, a white helmet does the job for me because they are nice and visible during the day and I like the way they look.
A hi-vis jacket or waistcoat is a good item to invest in for day and night riding because they are made from bright colours and feature reflective stripes. I tend to use a waistcoat because it slips on and off over my riding jacket quickly and can be taken off and stowed in a top box when daylight comes. After all, we do get the odd sunny day, even in winter.
You can also buy hi-vis gloves and boot covers to get the full effect. How far you go with this will depend on how vulnerable you feel on the road, and how keen you are on the hi-vis look.
But, what about your bike? Lights have been compulsory when the ignition is switched on for some years now, so at least we can't forget to switch them on. And, newer bikes often come with some fantastic LED lights as standard which are very bright and very noticeable, while also giving you plenty of vision of the road ahead at night.
Plenty of people add to their lighting set up by purchasing a set of auxiliary lights for their motorcycle. This is particularly popular among bikers looking for the adventure look. Manufacturers spotlights can be retrofitted by main dealerships at a not unsubstantial price. There are many kits available from aftermarket suppliers that do the job just as well at less cost. Fitting can be tricky and may be best left to the professionals unless you're handy with electrics. Most are LED again and give great road presence.
It's also worth thinking about fitting a secondary brake light, sometimes seen on a top box, to help you been seen from behind, particularly if you're commuting through busy traffic. Most other vehicles on the road have a high-density rear light, or fog light, for when light levels drop and visibility is poor, but not bikes. Why not? These again can be retro fitted to help you become less vulnerable from traffic behind.
I hope this has been some help, and remember, the most important thing is to stay alert and enjoy the ride.
Got something to ask dave?
Send in your bike related questions to dave@adventurebikerider.com, and if we publish yours, you'll get a free subscription to ABR.