Mike Beddows details two fantastic green lanes in North Yorkshire and the Peak District
This issue: Dalby Trails in North Yorkshire, and Sparbent in the Peak District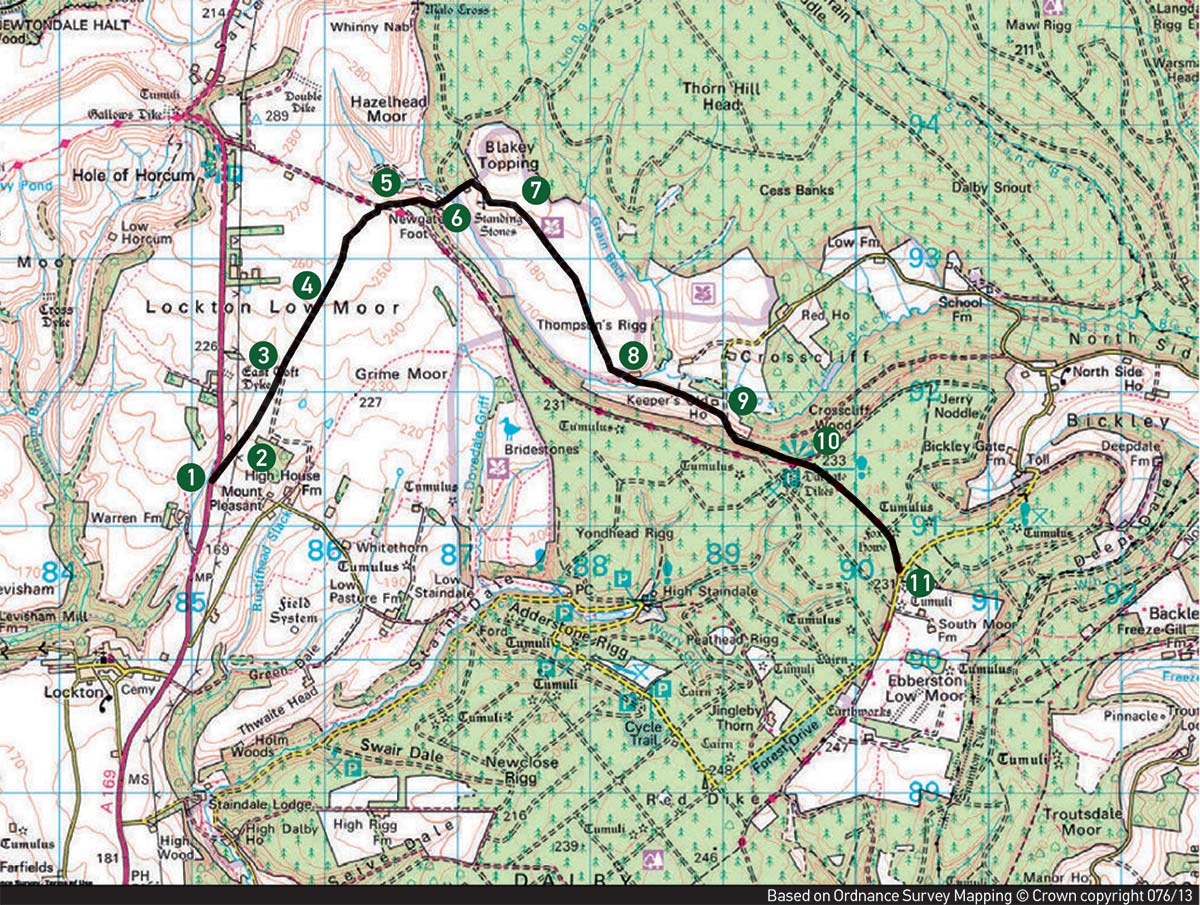 99 – DALBY TRAILS, NORTH YORKSHIRE
Although I've called this route the Dalby Trails, the selection of green lanes doesn't have a collective name. However, they are not to be confused with the Dalby Forest Drive which is a separate entity.
This route has a variety of different terrains to negotiate. None of it is particularly difficult, but it's probably best done in a group due to the number of gates you have to open and close, especially on the first few segments up to point five.
Unfortunately, there is no way around this. At point five, you may look at a map and think left is an option, and even the ground suggests this may be a quick shortcut to avoid the gates as it's a broken tarmac road, but you can't fail to notice the signs stating that this is a no-go route. So, don't do it.
Gates aside, the first part is fun as you ride through fields that obviously get little trail riding use. My favourite section is from six to eight with more field riding and then a moorland track. When you complete the trail, there are plenty of easy and legal woodland tracks in the area. In all, a goods few hours' worth of riding can be accomplished in the local woods. All of them are easily accessible from Scarborough if you fancy a fish and chip dinner on the seafront.
The facts:
 Distance:
5 miles
 Nearest Town: 
Scarborough (east)
 Maps:
 OL27, North York Moors
Start/End grid reference:
SE851908 / SE903903
 Difficulty Rating:
 2-3
 Wow factor:
 3
 Other trails: 
 South through Dalby Forest, east into Wykeham forest, and north into Broxa Forest. Some navigation is tricky in sections, so take a map and SatNav. Most are easy forest tracks with one or two trickier sections to ride.
THE ROUTE
1-2
Leave the A169. Take care if you're coming from the north as there is a sharp left turn into the entrance. It isn't obvious where this is. There are no signs and it's easily missed, so have your SatNav zoomed in and trust it.
Proceed through the first gate. It's obvious straight away this trail doesn't get much use, especially this first section. It's nice and grassy and isn't carved up. Follow some light, overgrown, grassy ruts and head through the next gate. You are now in a farmer's field. There is no obvious track but keep the fence, wall, and bushes on your right and you will stay on the legal route. Head through the next gate.
2-3
Through the next gate, it's more of the same, like riding through a virgin field untouched by trail bikes or 4x4s. Continue on keeping the fence on your right, then through another gate and another field. There were some cows in this field when I was there so watch out for livestock.
3-4
The route changes slightly here. Go through another gate and now travel an obvious track. The overgrown grass is evidence that it isn't used often other than by local farm traffic. The riding is easy and pleasant as you follow some shallow ruts as you progress.
The trail runs straight as you head for the woods in the distance. A couple of hundred meters into this section the trail becomes hard-packed gravel. With the wood on your right, go through another gate. It becomes fairly fast riding now over wide, shallow ruts. Continue between fields bordered by fences, then through another gate, and then another two gates in quick succession.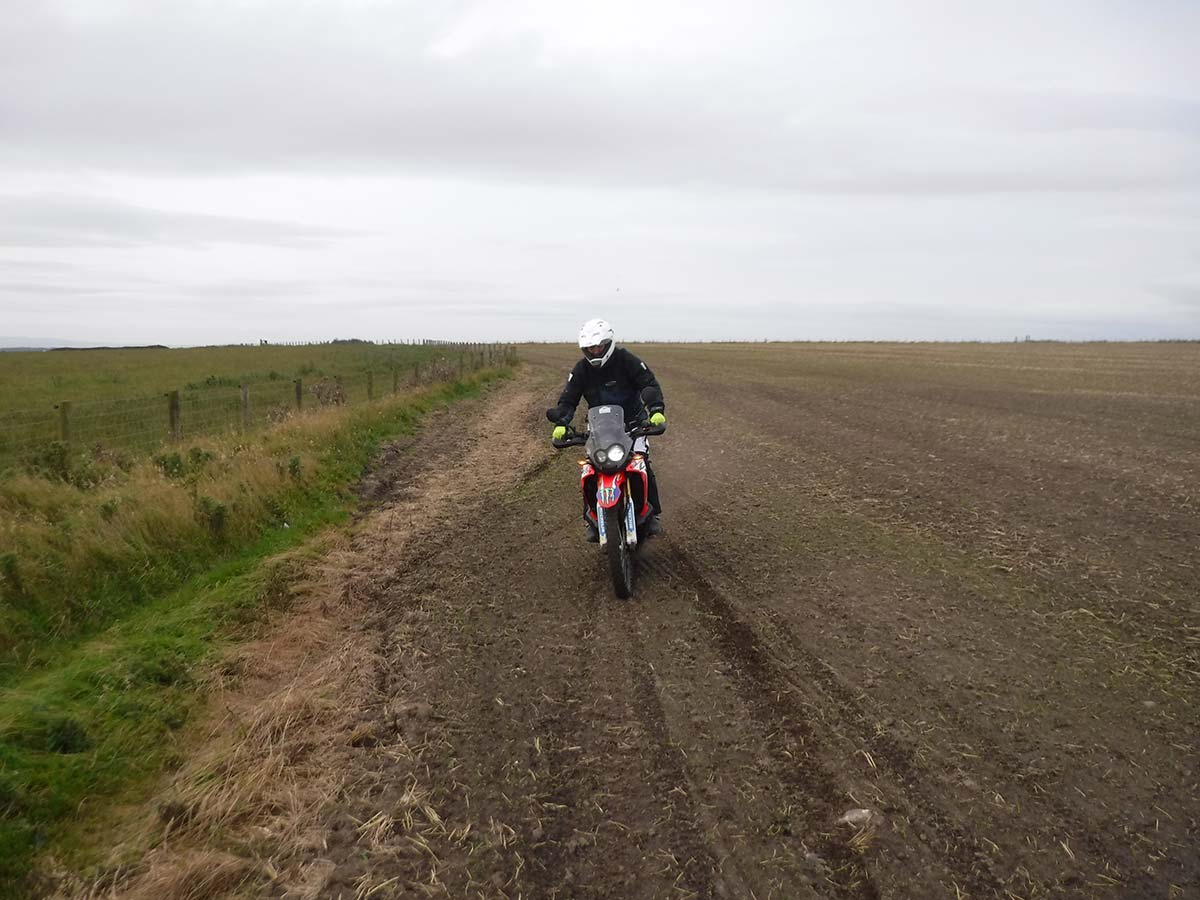 4-5
The trail surface changes as you travel through a field with crops growing all the way to its edge. I hate seeing this on byways because it means there is no defined path to follow. Just keep the fence on the right and head straight ahead.
After a couple of hundred meters the track is obvious once again when it dips into a gully. Here there are grassy ruts to follow in a sunken lane section. Go through the next gate.
5-6
Turn right onto the compacted gravel road. Turning left would be illegal and there are a few signs stating as such. Luckily, the worst of the gates are now behind us. Follow the road to the left and downhill, past the farm buildings at the bottom and go left before the farmhouse. It becomes a gravel track now. Head towards the gate.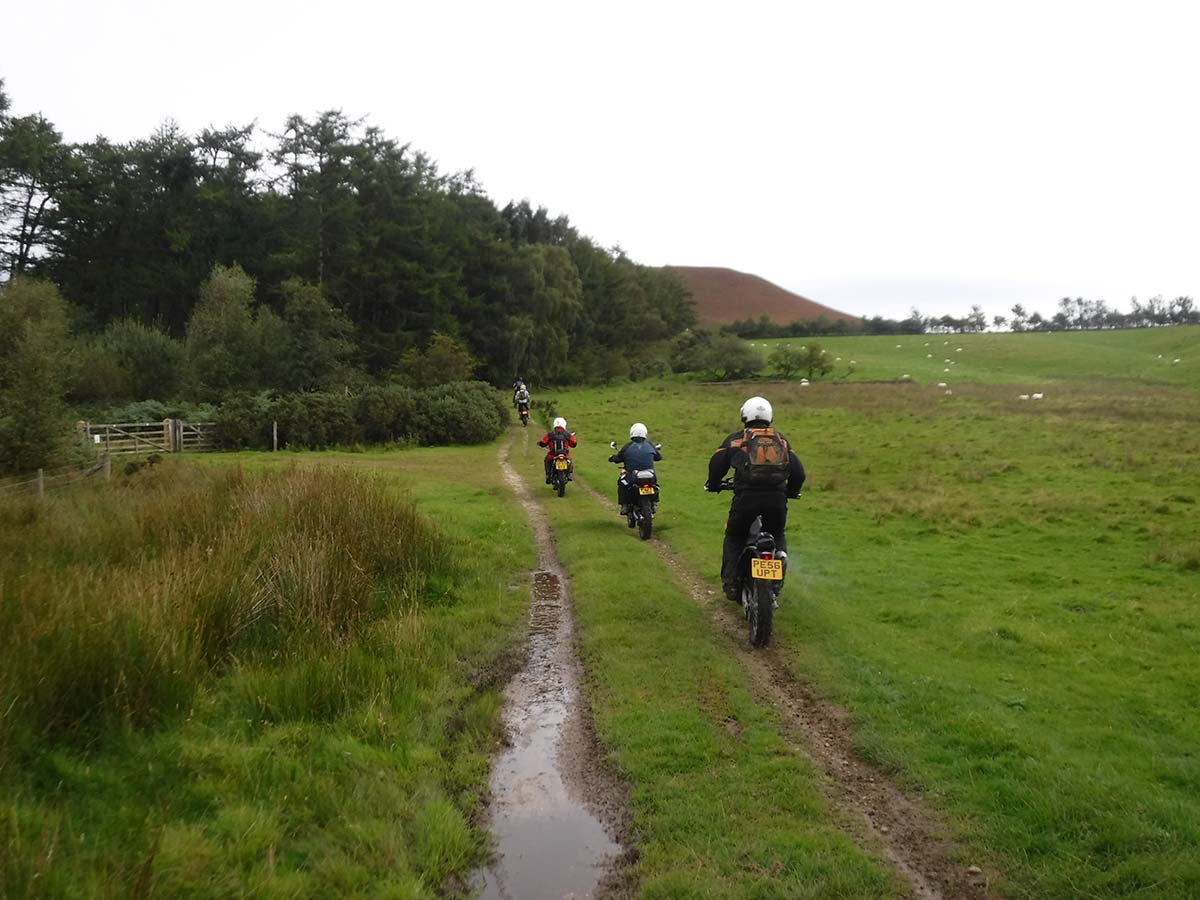 6-7
Go through the gate and uphill slightly. Don't be tempted to go left. The track is a mix of stones, grass and ruts and is easy riding. At the top of the field, it turns 90 degrees and follows the field's edge. Just keep riding until the track veers left, it's pretty obvious.
7-8
Head through two gates in quick succession and you'll see the route changes again. You are now riding an open moorland track. It's thoroughly enjoyable riding along a nice and fast stony track. There is another gate at the end of the moorland section.
8-9
Go through the gate and along a well-used track past a barn and a house. Continue along the track, then ride through a small ford and head uphill slightly. It's pretty easy riding through rolling countryside with views all around, so make sure you take a moment to enjoy them.
9-10
At the junction, head right. Left leads to a farm and it's not legal to ride. Go through another gate and travel uphill along a forest track. The surface is well-graded and easy riding beneath trees. You'll come to a crossroads but you can only go straight on as there are barriers either side.
10-11
At the next junction, take the left fork (straight on) and then it's an easy ride to the finish.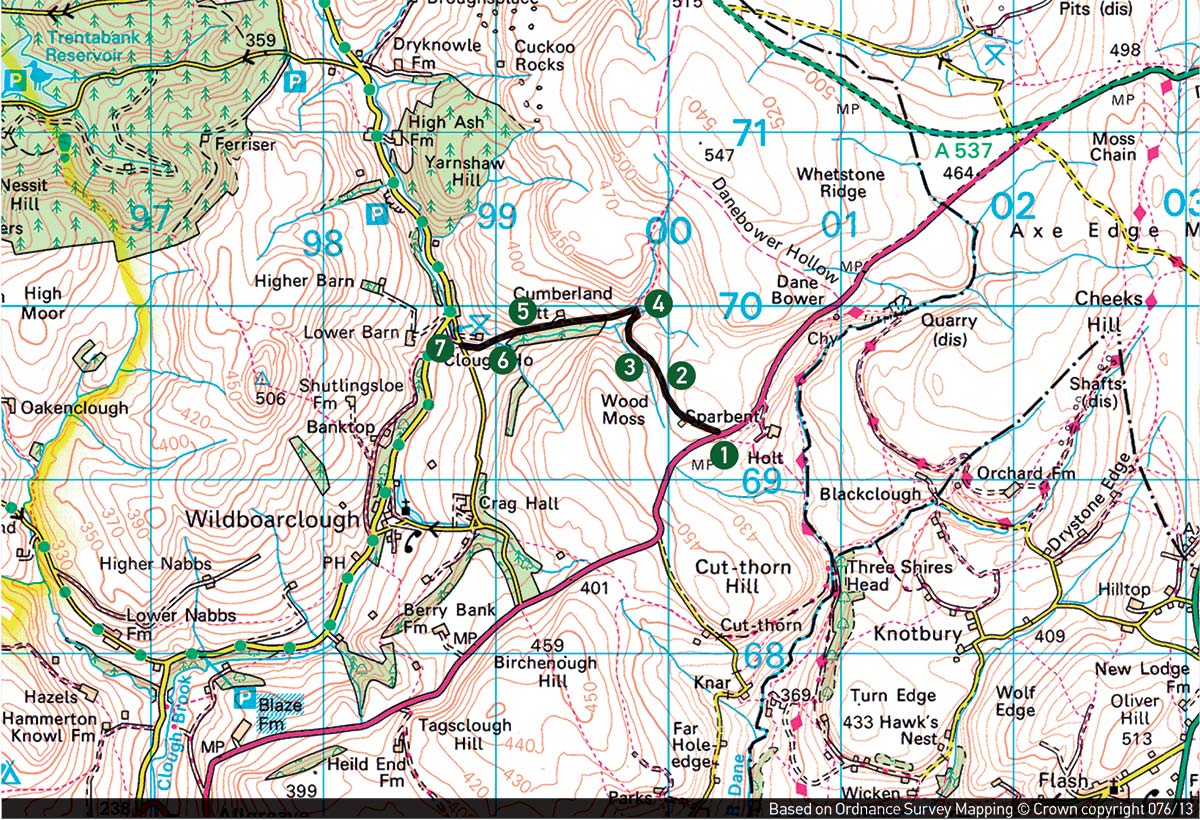 100 – SPARBENT, PEAK DISTRICT
I've recorded this route east to west because that's the way I was travelling on the day I rode it. However, it's a relatively short green lane, so once you've completed it, I'd recommend turning around and having a crack at it in reverse. It presents a different challenge but the ride is just as pleasurable, I assure you.
The rocky climb to start with is great fun and try and do it without dabbing. Your arms will really be pumping by the time you reach the waterfall halfway along the trail. Take extra care when fording the stream. It isn't deep but the entry and exit are tricky. Be confident and commit. Any dithering and the bike will be down, I've seen it happen.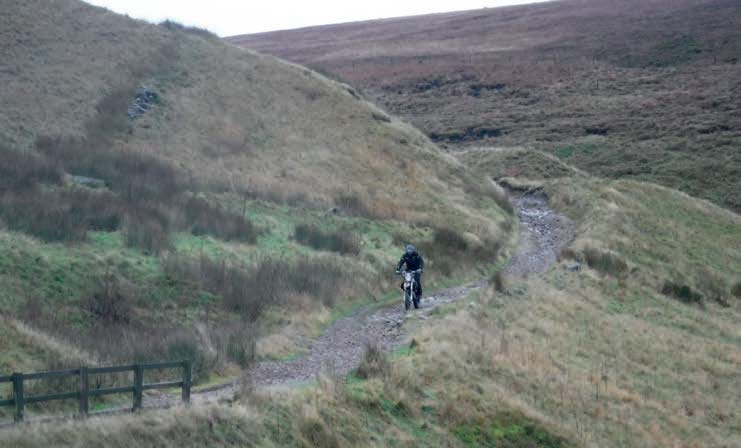 The facts:
 Distance:
1.5 miles
 Nearest Town: 
Macclesfield (west), Buxton (east)
 Maps:
OL24, Peak District, White
Peak area. Start/End grid reference: SJ988697 / SK00690
 Difficulty Rating:
 3
 Wow factor:
 4
 Other trails: 
There are fantastic trails in the Peaks, such as Rowland (issue 11), Three Shires (issue 15), Chatsworth (issue 25), Charity Lane (issue 38), Houndkirk Moor (issue 48), Eyam (issue 58), Pindale (issue 58). Unlock them all with an ABR Digital Library membership.
THE ROUTE
1-2
Leave the A54 but be careful as it's a very fast, busy road. If you are approaching from the south, it's a sharp 180-degree turn into the lane and you may need to swing out into the road to complete it. Proceed through a gate. The track is fairly wide and littered with loose stones. Head slightly uphill and the track soon narrows to a single track with mud and puddles surrounded by grassy moorland.
2-3
Head downhill. The track becomes a bit wider and more rocks appear as you ride. There is a stunning view of the Peak District ahead. The going is still fairly easy and there is plenty of scope to pick the best line through the loose rocks. You soon approach another gate.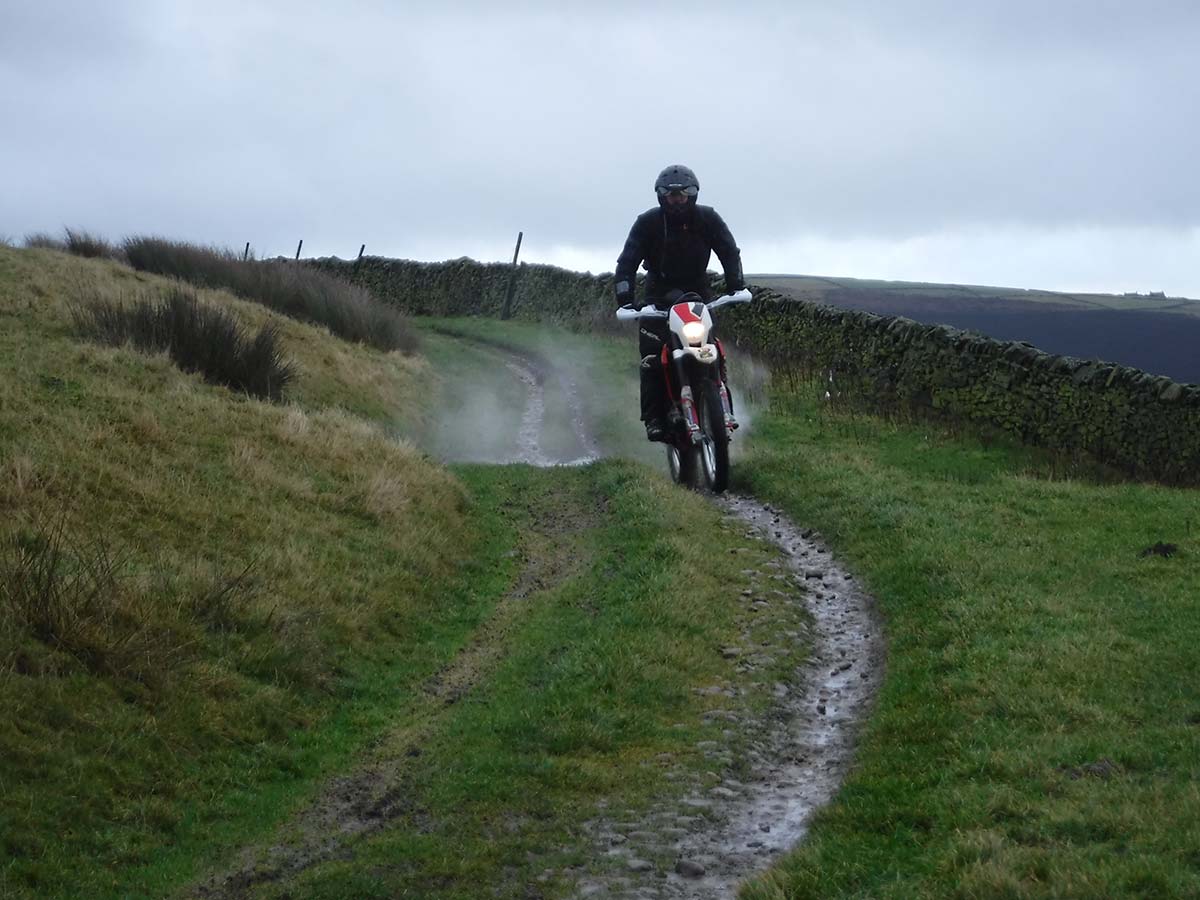 3-4
There's a steep drop off to the left. Take care. The trail becomes washed out now and it is constantly changing. Some deep channels come quickly so pick your route very carefully. I wouldn't fancy dropping into some of the washouts there.
It really is fantastic riding. There is a rocky descent with a few steps to bounce down. In fact, there are lots of loose rocks as big as a fist all over the place. The trail then becomes easier as you get to the bottom. Head through a small ford with a little waterfall down to the left. Go through another gate.
4-5
The riding is easy until you reach the trees where there are lots of roots to contend with. The trail gets very technical with loose rocks everywhere and a few drainage channels. Be aware of the drop into the woods to the left.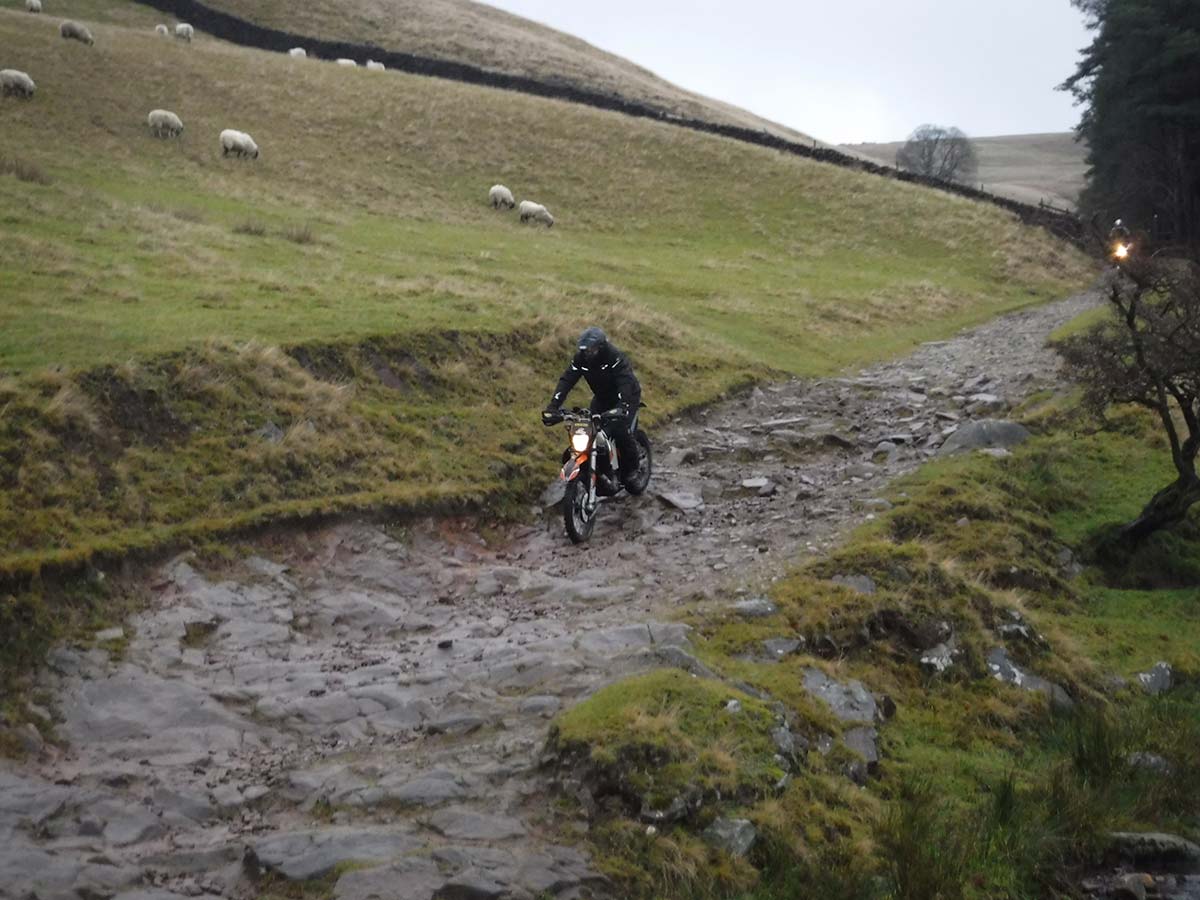 Go through another gate and head down to the ford.
6-7
There are a number of awkward rocks you need to navigate on the way down to a ford. Crossing the ford is easy enough and it is fairly shallow before you ride to finish through a gate and onto a tarmac road.