What are the rules around complying with traffic regulation orders when you're greenlaning, and what happens if you fail to spot the warning signs. Legal expert Gavin Grewal explains all
Seeing the dreaded sign is enough to make your stomach churn. Imagine it, you ride to your favourite green lane only to find it has been hit with a Traffic Regulation Order (TRO) prohibiting motor traffic from using it. If you ignore the sign you could face a penalty, or could you? The case of Davies v Heatley is the authority for the premise that the sign should be of the proper size, colour, and type prescribed by the regulation.
That is to say, it must follow the dimensions set out within Schedule Two of Traffic Signs Regulations and General Directions 2002. This particular sign can therefore come in five different sizes, as small as 450mm and as large as 1,200mm. The regulations allow a 5% variation on these measurements meaning it is unlikely you will beat a charge by taking your measuring tape along with you on a ride.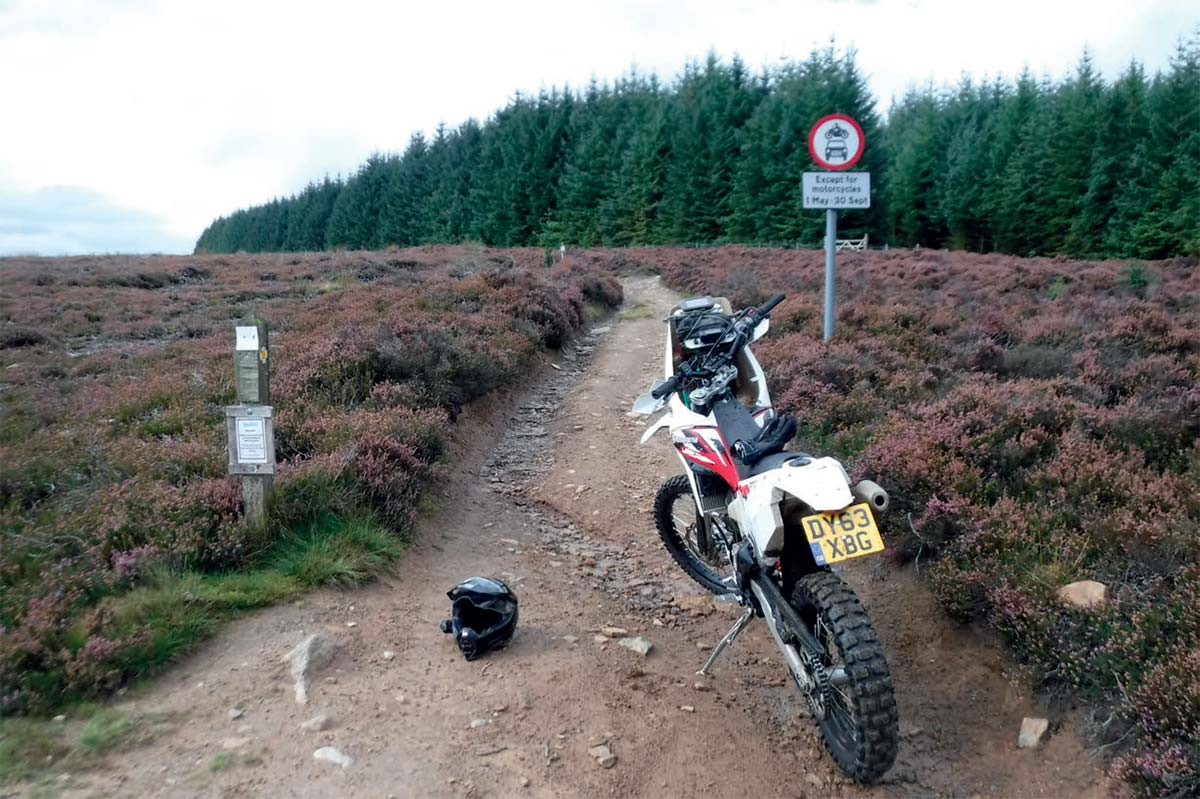 Put bluntly, the local authorities and their suppliers know how to make a lawful sign, at least most of the time. It must be reflective and but not always illuminated. It must be of a white background with a red border and black imaging. If it does not follow these rules, then it is not a sign for which you can be punished for ignoring. Said in another way, the authorities cannot prosecute people who ignore such unlawful signs placed on the highway.
If the sign is covered in lichen and unreadable, it is unlikely to be a bar to prosecution. This may seem very unfair on the face of it but there is no need for the prosecution to prove mens rea (your guilty mind) as you sail past a sign prohibiting motor traffic. If you do pass such a sign, despite it being difficult to read, then the offence is complete. This may give rise to some offence mitigation before the court but nothing more. In the days when I wore a pointy police hat to work, if a motorcyclist ignored a sign nestling in overgrowth and was largely green, I would just give words of advice but the sign would have to be badly obscured before I'd have let this go.
Finally, expect change in this area of law. Not many people will know that the government passed the Traffic Orders Procedure (Coronavirus) (Amendment) (England) Regulations 2020 in May. This makes it easier for local authorities to bring in urgent measures without going through the long and often costly process of consultation, publication in the press, and finally, the making of an order and erecting of signs.
However, the Trail Riders Fellowship (TRF) has got a number of these pulled down as there were attempts to close routes for motorcyclists but no one else, and these were withdrawn without ever troubling a High Court Judge.
What does this mean? Well, it allows local authorities to potentially prohibit traffic on your favourite green lane, but if they are prohibiting just motorcycles, then they have a problem. It is more commonly being used in response to the coronavirus in England and Wales, but it will bring about change in the way these consultations are published, with more going online, and less being published in the newspaper.
These 2020 regulations are only valid for 12 months but you may find orders for traffic regulations, whether temporary, experimental, or permanent, being fast-tracked. Be sure to keep an eye on your local byways open to all traffic (BOAT) and local authority website for any such publications. We need to keep our lanes open and not allow local authorities to take advantage of a change in the law. Unless there is a justifiable reason, these should not and cannot apply to motorcyclists alone.