KTM has unveiled the first prototype of the eagerly anticipated 790 Adventure R. Revealing the bike at Milan's Eicma show, the company says that the bike is "exactly what the hardcore adventure crowd wants it to be".
Details of the new machine are sparse, but it's known that the middle-weight adventure bike will make use of KTM's new 799cc LC8c parallel-twin engine, which is debuting in the 790 Duke in 2018.
When announcing the potential addition to its adventure range, KTM said: "The adventure community has been eagerly awaiting a lightweight, compact midrange travel enduro with outstanding cross country ability. The wait is almost over, for at the Eicma 2017, KTM proudly presents the prototype of such a super lightweight adventure bike designed all around the brand new 2-cylinder LC8c engine.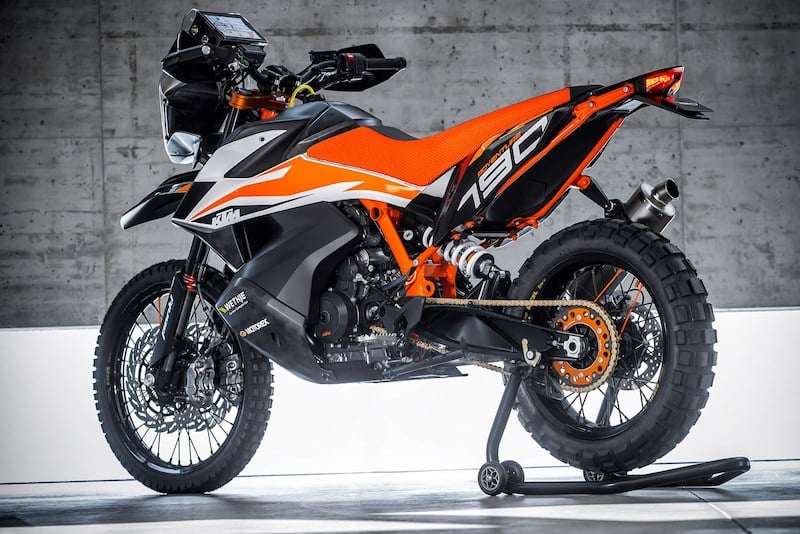 "The KTM 790 Adventure R Prototype is exactly what the hardcore adventure crowd wants it to be: a true KTM to close the gap between the enduros and the larger bikes of the Adventure series."
From that, we can deduce that the 790 Adventure R is likely to live up to KTM's 'Ready to Race' motto, by offering a level of power and performance that you'd expect from a bike with a larger displacement. KTM even went as far as saying that the 790 Adventure R will be the most "performance-focussed mid-weight travel enduro of its class".
The reveal of the bike will be exciting news for those who are looking for a more off-road focussed adventure machine, though I can't help but think that this year would have been a perfect time for a manufacturer, such as KTM, to launch such a bike. With the news of Yamaha's XT660Z replacement not being available 'till next year, there's a group of riders waving their money in the air and waiting for someone to take it! Perhaps BMW's new F750GS or F850GS will fill the gap?