With a new year comes the promise of new motorcycles and 2016 has not let us down. There's a whole host of new machines coming our way so we've gone ahead and compiled a list of all the new metal in the adventure and touring sectors this year.
BMW F700GS (£7,770)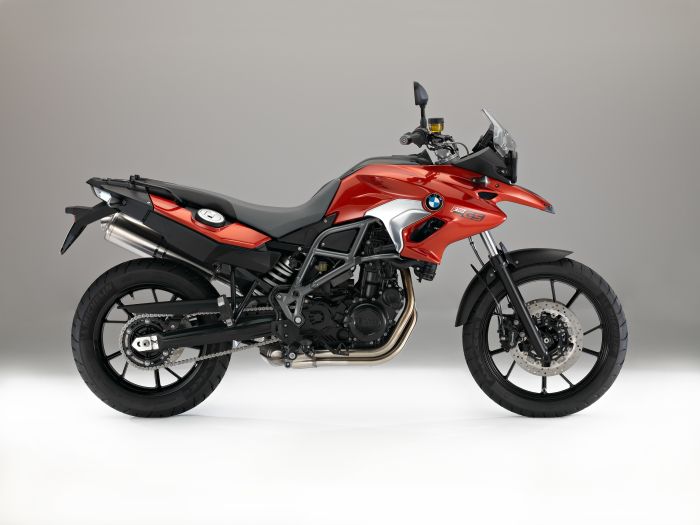 The updates to both BMWs represent a refresher rather than a significant upgrade with changes predominantly being made to the aesthetics of both models. The F700GS will be available in a new 'Style 1' variant which comes in a white, non-metallic finish with a red frame and hand protectors. There will also be an orange metallic finish and a grey metallic finish with grey frames on offer.
Beyond that, BMW will now be offering five possible seat heights across both models resulting in an extended height range while the option of a lowered suspension will also be of interest to some. All new models will also feature a two-tone, grey and black seat.
BMW F800GS (£8,850)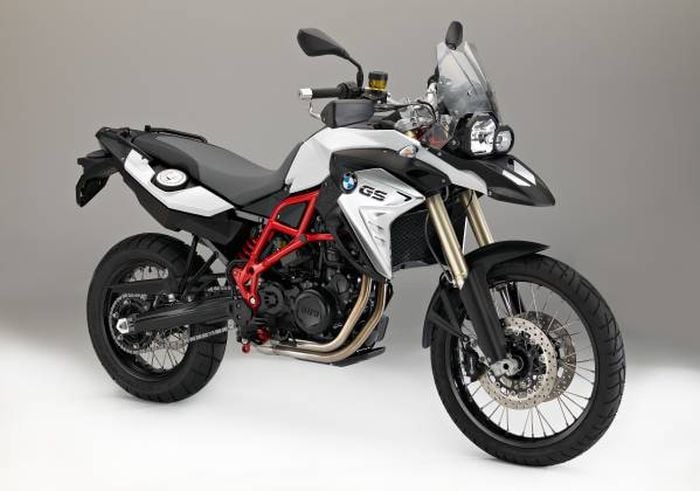 The new F800GS will see a 'Style 1' option coming in non-metallic white with a red frame and spring strut. This model will also feature hand protectors while a 'Style 2' option will offer a black metallic finish with grey frame and white spring strut.
Both the aforementioned versions will feature hand protectors while 'Style 2' will also see the inclusion of a tinted windshield and LED indicators. There will be a basic variant available in blue. For more information on both new BMWs click here.
Ducati Multistrada 1200 Enduro (£16,890)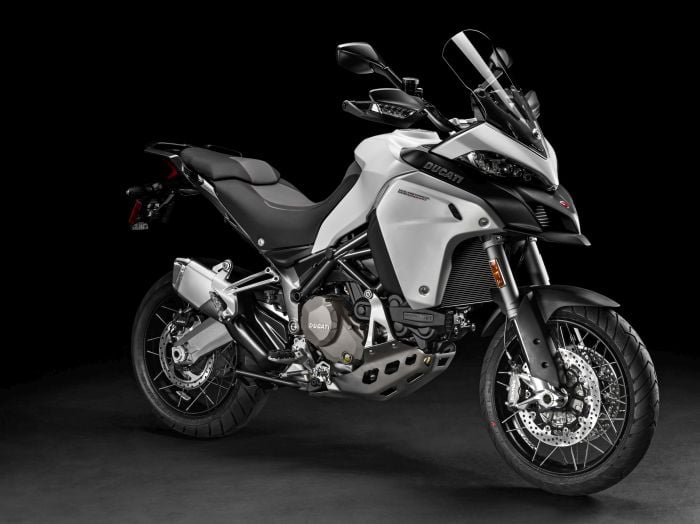 Ducati's new Multistrada 1200 Enduro is probably one of the more unexpected arrivals for 2016 and is certainly one of the most interesting. The Enduro has been developed as the standard Multistrada's more adventurous brother and as such sees the addition of spoked wheels (19" front, 17" rear), a 30-litre fuel tank and aluminium sump guard.
Many other modifications have also been made to make it more manageable off-road including a re-worked riding position with higher handlebars and a narrower seat. Performance comes courtesy of the same 1198cc, 160bhp Ducati Testastretta DVT engine as can be found in the standard Multistrada. For a more detailed preview click here.
Honda NC750X (£6,499)
As with Honda's other crossover models, the NC750X has been revisited and a series of alterations have been made. It will still be sporting the same 745cc parallel twin engine but will now feature a larger windscreen and LED lights both front and rear.
Other upgrades include an increased storage area, new LCD instruments and revised front fork damping. Expect software upgrades on the DCT version designed to help the rider cover a wider range of riding scenarios.
Triumph Tiger Explorer XC/XR (£TBC)
The arrival of 2016 also brings with it six new and updated Tiger Explorer models from Triumph. There will be three variations of both the road-biased XR model (XR, XRx, XRt) and the more off-road capable XC version (XC, XCx, XCa). All versions are to feature the same 1215cc inline engine with shaft drive.
Both entry level models (XC and XR) will have switchable ABS and traction control while the rest will benefit from more advanced cornering ABS and traction control. Similarly, the basic models will get WP adjustable suspension while the rest will feature Triumph's semi-active suspension system. Find out more here.
Honda CRF1000L Africa Twin (ABS: £10,499; DCT: £11,299)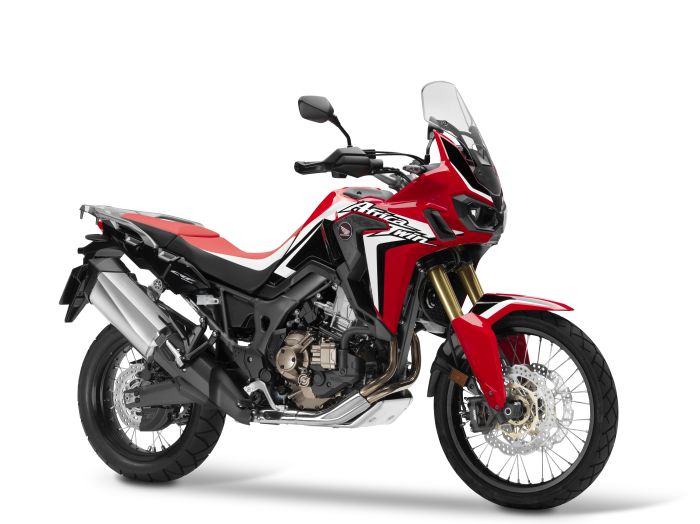 This is the big one. The Africa Twin has been on the tip of everyone's tongue for what seems like an eternity now but the time has finally come and the eagle has landed. There's probably not much we can tell you about the Africa Twin that you don't already know. It features an all-new 998cc, parallel-twin engine that produces 94bhp and is available for order now.
Honda has made two options available; one being the ABS version and the other featuring Dual Clutch Transmission (DCT). You can see what we thought and get the full low-down in the latest issue of ABR, available here.
Husqvarna 701 Enduro (£7,999)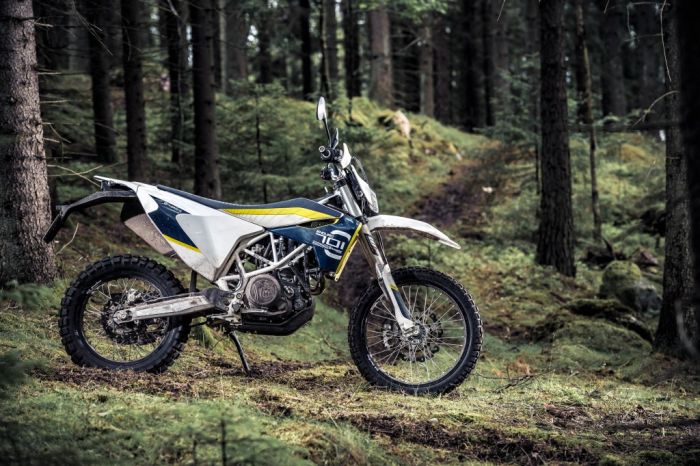 The 701 Enduro features a 690cc single-cylinder engine which produces 67bhp, has selectable engine maps, ride-by-wire throttle and a double spark plug ignition. You can also expect fully-adjustable WP rear shock and closed cartridge WP 4CS forks at the front with 275mm of travel.
Additionally, the wheels (21" front, 18" rear) are supplemented with Continental TKC80 knobblies and there's a 13-litre fuel tank. A2 licence holders will be happy to know that the 701 Enduro also has a specific engine map limiting the bike's power to 35kW.
CCM GP450 RS (£9,488)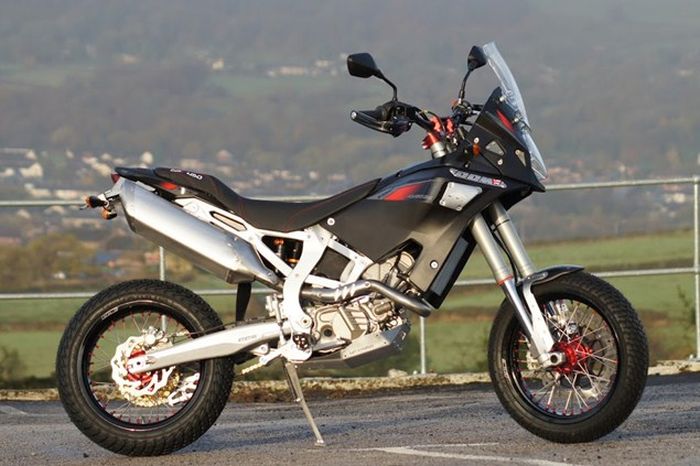 The latest offering from CCM sees a more road-biased version of the GP450 Adventure. To make it so, the GP450 RS gets an extra set of 17" supermoto wheels (along with the 21" and 18" wheels of the standard GP450 Adventure) complete wish cush drive.
This means owners can choose to switch wheels depending on their needs. The RS model will also be getting WP forks to accommodate the wider road wheels.
KTM 1290 Super Duke GT (£15,999)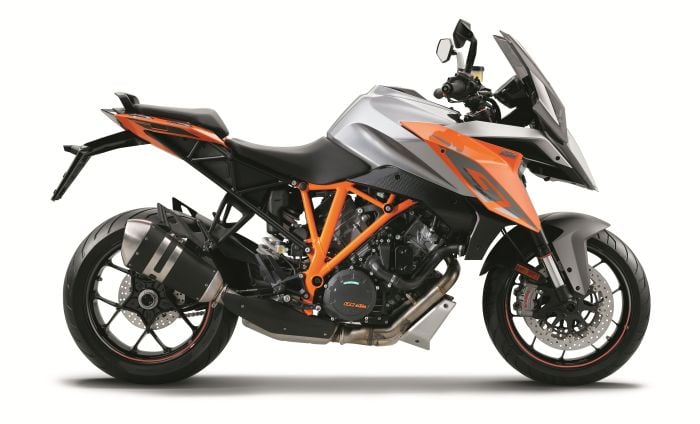 Equipped with the impressive 173bhp, 1301cc V-Twin engine, KTM's new 1290 Super Duke GT might just be one of the most powerful sports tourers to reach market. Touring capabilities have been improved thanks to an improved fuel capacity of 23 litres a new fairing and an adjustable screen for better protection.
It will also feature a stronger frame to accommodate hard panniers and there will also be a comprehensive electronic package on offer including LED cornering lights, lean-angle sensitive traction control, cornering ABS and optional Hill Hold Control. More info available here.
Honda CB500X (£5,499)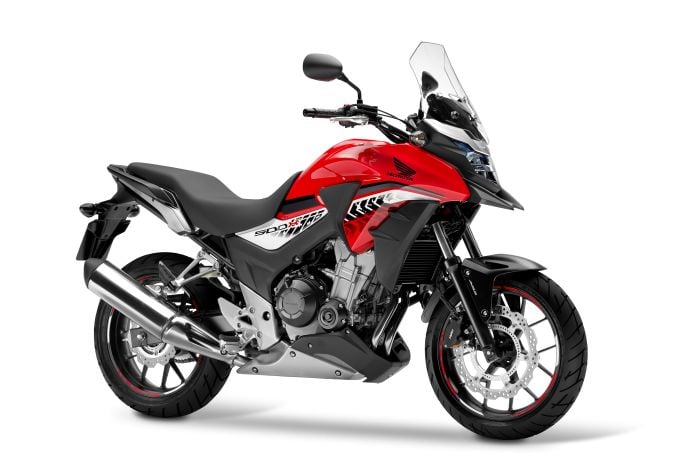 As with many other machines in this list, the CB500X is seeing more of a revision than a revolution. Updates include a taller windscreen for greater wind protection and LED lights for both front and rear.
The 2016 model will also feature pre-load adjustable suspension, an adjustable brake lever and a revised gear change mechanism for a smoother experience. A slightly larger fuel tank, redesigned seat and 'wave' style ignition key rounds off the changes.
Benelli TRK502 (£TBC)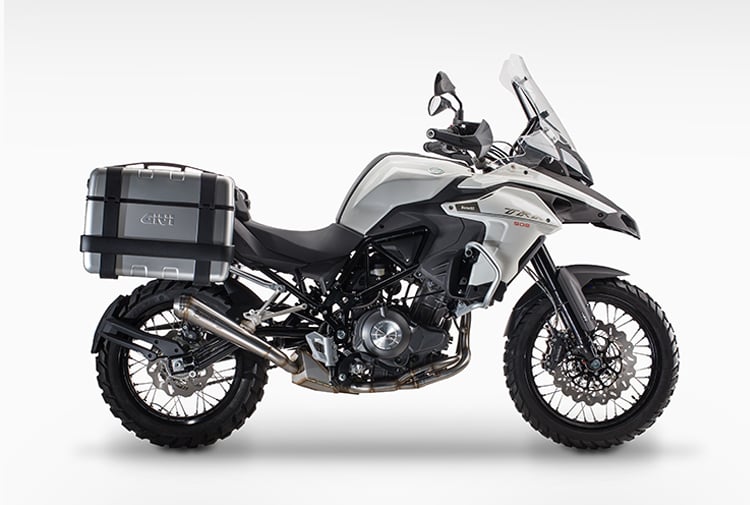 The new TRK502 is Benelli's offering in the mid-range adventure motorcycle sector and, on first impressions, it certainly looks the part. It features a traditional Benelli steel trellis frame and a twin-cylinder four-stroke liquid-cooled 500cc engine which pumps out an A2-friendly 47bhp (35kW).
A 20-litre fuel tank should allow for a reasonable range while you can also expect a hydraulic clutch, 150mm of suspension travel and 17" wheels (an off-road version is available with a 19" wheel at the front).
AJP PR7 (£TBC)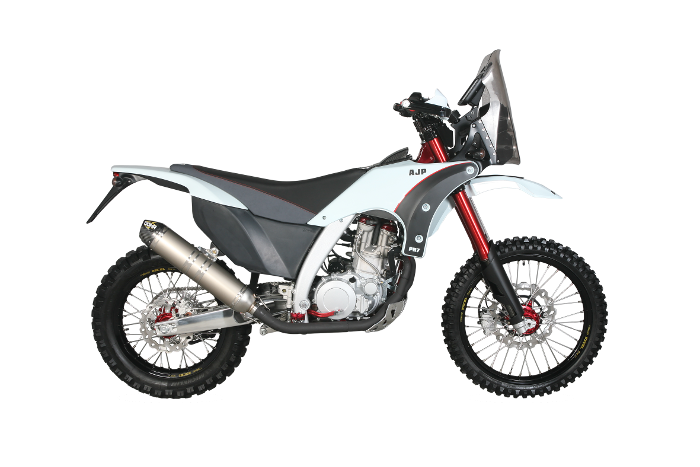 An off-road bike at its core, the PR7 has been designed for adventure motorcyclists with off-piste plans at the forefront of their mind. It features an all-new 600cc single-cylinder liquid-cooled engine (48bhp) produced by SWM, with a six-speed gearbox and fully-adjustable front forks.
Expect the traditional off-road wheel sizes (21" front, 18" rear), a 17-litre fuel tank and an estimated wet weight of 165kg. Pricing and release date are yet to be confirmed.
Honda VFR1200X Crosstourer (£TBC)
Like its siblings, the VRF1200X Crosstourer sees a series of small revisions that have been designed to enhance practicality. It will feature an easily-adjustable windscreen, 12V socket and three levels of 'S mode' in the DCT version.
The seat has also been modified to improve rider comfort while a new special edition colour of two-tone red will also be available.