After a good few years of being absent from the market, KTM has revealed its all-new 690 SMC R and 690 Enduro range at EICMA in Milan. These new models will replace the older versions that were discontinued in 2017.
Announced alongside the KTM 790 Adventure and KTM 790 Adventure R, the new 690's were unveiled to the public for the first time on Tuesday. Two models with very similar architects, however each is aimed at a very different audience. Starting with the KTM 690 SMC R, this bike is focused on street riding, with its lightweight and more agile build. Whereas the 690 Enduro R has been designed using the same specification but with off-roading in mind.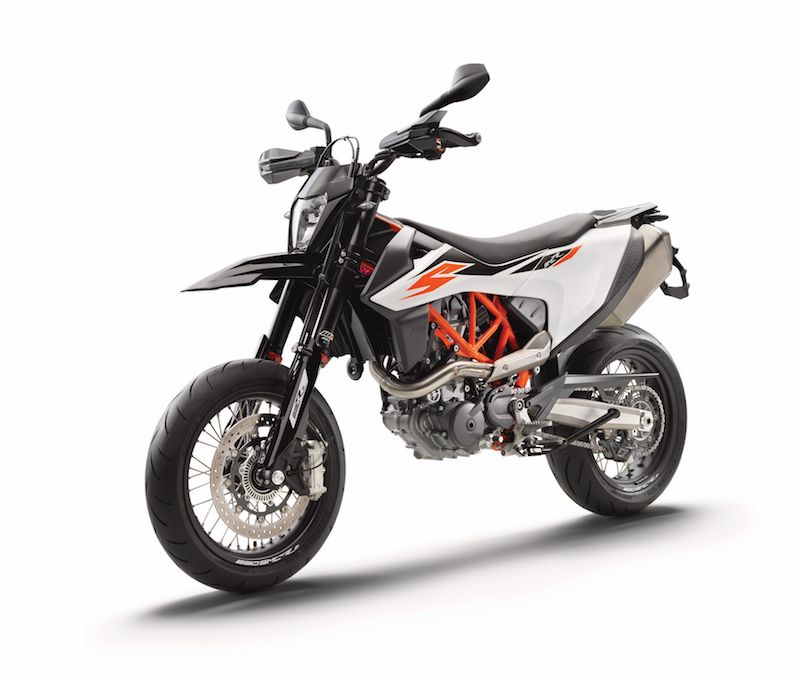 KTM 690 SMC R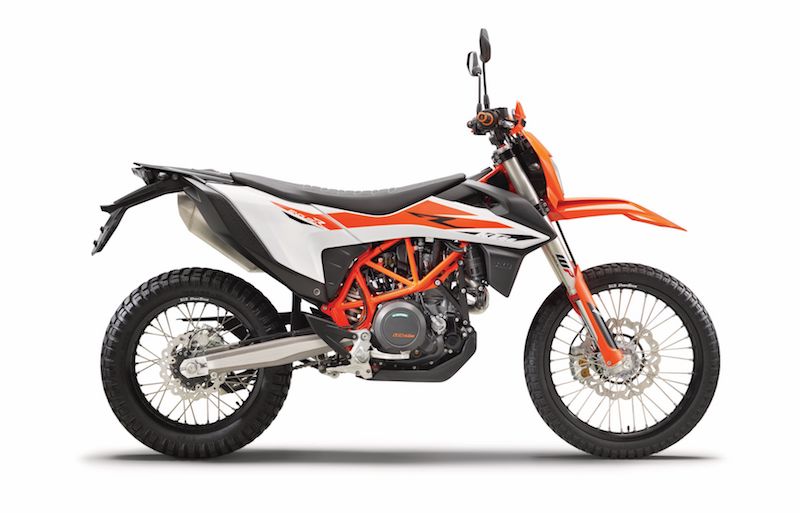 KTM 690 Enduro R
Nicknamed the 'Street Slayer', KTM believes the SMC R will raise the bar for street riding, due to its enhanced handling brought on by the company's fully-adjustable WP APEX suspension. Continuing, KTM revealed other upgrades to the bike by saying:
'The revised chassis and styling are boosted by the latest 690 LC4 motor and an updated electronics package, so whether you express your tarmac-sliding talent on mountain roads or on the track, you'll be drifting into the future with a maxed-out grin and your veins coursing with adrenaline.'
Both the SMC R and Enduro R arrive with the same engine, that is capable of 74hp. Even more interesting is that KTM claims the engine is the world's most powerful production single-cylinder, which is a bold statement to say the least. Besides this, the pair's fuel tanks are capable of holding 13.5 litres each.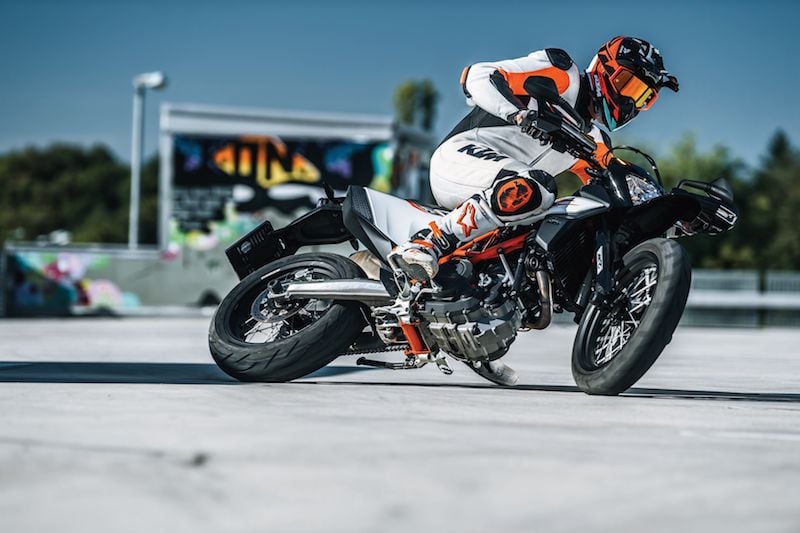 Concentrating on the SMC R for the minute, it has been confirmed to be packaged with two rider modes – Street and Sport. On top of this, it's backed up by performance-enhancing electronics like corning ABS, lean angle-sensitive motorcycle traction control (MTC), motor slip regulation and the new Quickshift+. The chassis has been updated too, with sharper and slimmer bodywork incorporated to fit all the updated parts.
KTM outlined its vision for the off-road Enduro R via its website:
'Designed to be confidence-inspiring with ease of handling, it is ready to tackle everything from easy trails to extreme off-road obstacles as well as being a competent every day street bike. Endless enduro without the need to ever trailer to the trails.'
Currently, no price has been given for either model, though the duo are expected to make their way to dealers sometime in 2019. What are your thoughts on both motorcycles?
KTM 690 SMC R and 690 Enduro R Specs
Engine: LC4 single-cylinder
Displacement: 690cc
Power: 74hp
Suspension front: KTM SMC R – 215mm/KTM Enduro R – 250mm
Suspension rear: KTM SMC R – 240mm/KTM Enduro R – 250mm
Bore: 105mm
Stroke: 80mm
Wheels: KTM SMC R – 17″ rims/KTM Enduro R – 21″ and 18″ rims
Dry weight: KTM SMC R – 147kg/KTM Enduro R – 146kg
Seat height: KTM SMC R – 890mm/KTM Enduro R – 910mm
Fuel tank: 13.5L