The suggestion that KTM is planning to produce a small capacity adventure bike is nothing new. In fact, these rumours have been circulating for several years now and regularly come to the fore before settling down again.
Well, it seems as though it is time for them to come to the surface once more. As is usually the case, the rumours are being circulated by websites in India that make pretty big claims about a small capacity adventure tourer coming to the Indian market.
They suggest that a source "close to KTM and Bajaj Auto" has admitted that a new adventure tourer will be powered by a new 250cc liquid-cooled, single-cylinder engine. Though, strangely, in the same article it also suggests that the engine will in fact be the same 250cc unit that powers the Duke and RC 250 motorcycles.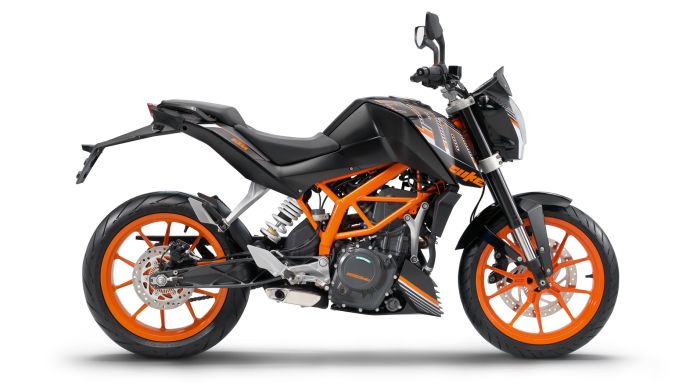 Alternatively, rumours have also been suggesting that this new dual-sport model would be based on the Duke 390 platform with its 373cc single-cylinder engine – especially with the anticipated second generation compact Duke platform on the horizon.
The suggestion is that the new machine, widely dubbed the 390 Adventure, would follow styling cues from the 1190 Adventure and the rest of KTM's dual-sport family.
All of these rumours have not come from thin air, though. Back in April 2013 KTM CEO Stefan Pierer suggested in an interview with Cycle News magazine that the manufacturer would be producing a dual-sport model based on the Duke 390 platform, but this subsequently failed to materialise.
Only a year later KTM's press and PR coordinator in Austria is quoted elsewhere as saying: "From a strategical point of view KTM always considers new developments and for this reason: never say no. But currently such models are not foreseen."
The most recent rumours mainly focus on the "390 Adventure" arriving in the Indian market, a move which wouldn't be too hard to believe following the launch of the Royal Enfield Himalayan.
The question now is whether or not these rumours are true. And if they are, will we be getting it in the UK?
What do you think of a potential "390 Adventure" model from KTM? Is it something you would buy into? Let us know on Facebook, Twitter or in the comments below.