If you ever bump into the ABR team while we're on a ride-out around the UK, the chances are at least one of us will be wearing REV'IT! gear.
The Dutch manufacturer has built a reputation for producing premium gear that delivers that holy trinity of style, performance, and value-for-money, and it's kept us dry, protected, and comfortable on tours across Europe for many years.
So, when I heard that the brand had lifted the lid on its all-new DIRT series, a range of fully CE-certified gear targeted at riders who love to stray off-piste in search of adventure and thrills in the saddle, I couldn't wait to see what was on offer for us adventure bikers.
We caught up with the team from REV'IT!, who explained that the new series was designed to be modular, with the focus on riders mixing and matching kit from the collection to create their own outfit that's perfectly suited to how and where they plan to ride, rather than simply buying an off-the-shelf suit.
I'll explain that idea a little more as we check out the kit, so let's take a look at what's on offer.
REV'IT! Component H2O jacket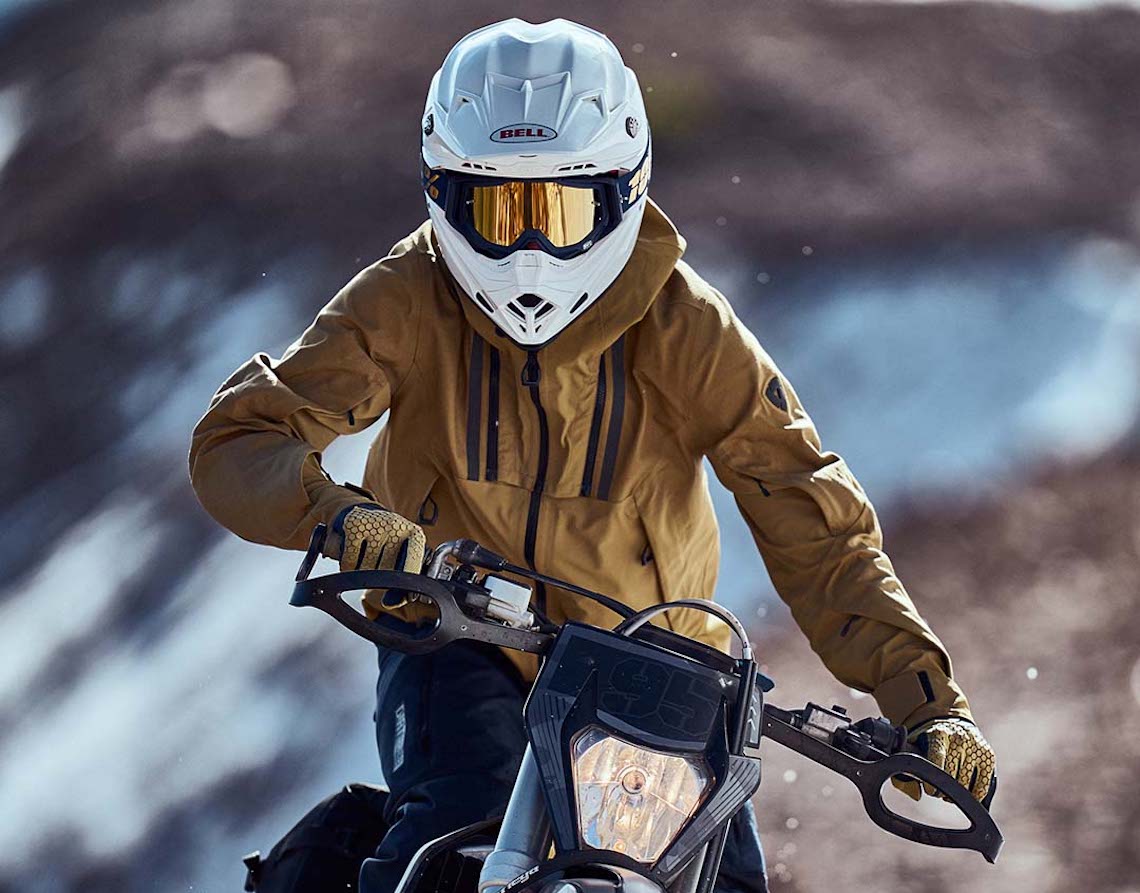 First up is the Component H2O jacket, a unique bit of biking gear that looks a little like a casual parka, with a detachable hood and smock look.
This is no high-street jacket though, behind the casual looks lie plenty of features to ensure the jacket excels in the saddle. For starters, the laminated hard shell outer is made from a flexible and waterproof ripstop fabric, which should protect riders from the elements while also allowing plenty of movement while riding.
In an off, Cordura reinforcement at the shoulders and arms provides abrasion resistance, while REV'IT!'s own SEESMART CE-level 1 protectors can be found at the shoulders and elbows to provide impact resistance.
There's also ventilation to help cool you down as you work up a sweat off-road, with zippers at the upper and lower arms designed to drag in air and circulate it around the jacket, while the hood and storm collar can be removed and stored in the rear pocket on warmer days too.
Territory jacket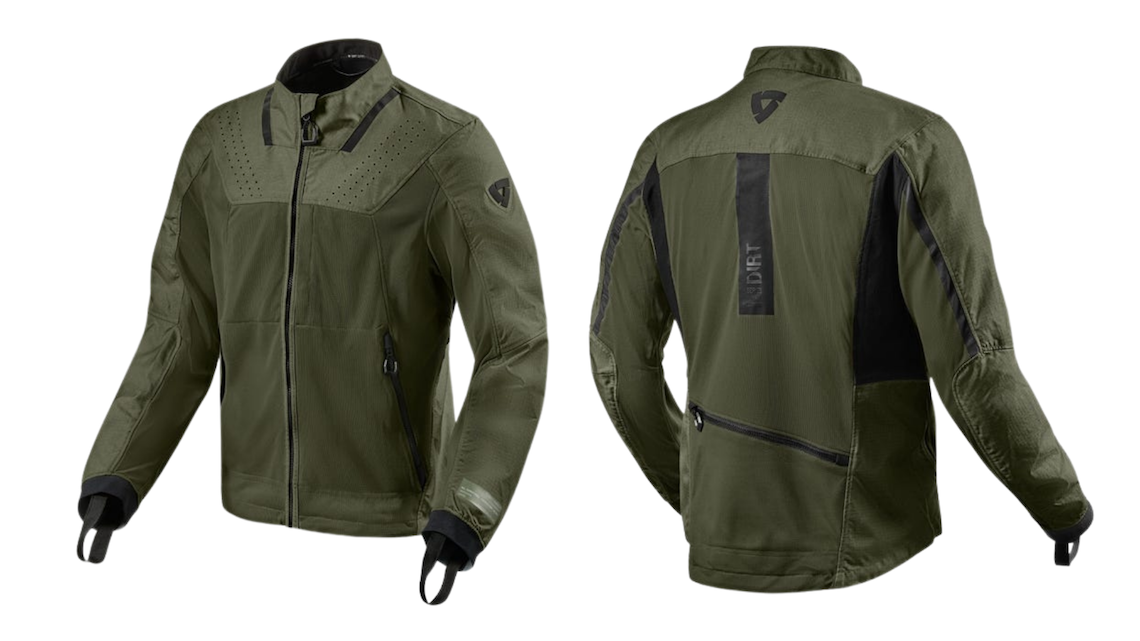 One of my favourite pieces of biking gear is a ventilated mesh REV'IT! jacket, which I bought during my pre-ABR days. From experience I know that when you're looking to keep cool in the peak of summer, there's simply nothing better than a full mesh jacket. Now, in 2021, the brand looks to have improved on what was already a pretty damn good jacket with this, the Territory.
The single-layer mesh outer remains and is reinforced with Cordura fabric and SEESMART CE-level 1 armour at the elbows and shoulders, promoting maximum airflow in the saddle without compromising on safety in an off, while the thumb loops at the end of each sleeve are also designed to keep them from riding up and exposing your arms in a slide.
Two waist pockets and a rear map pocket also provide plenty of storage on those balmy summer ride-outs.
Barrier smock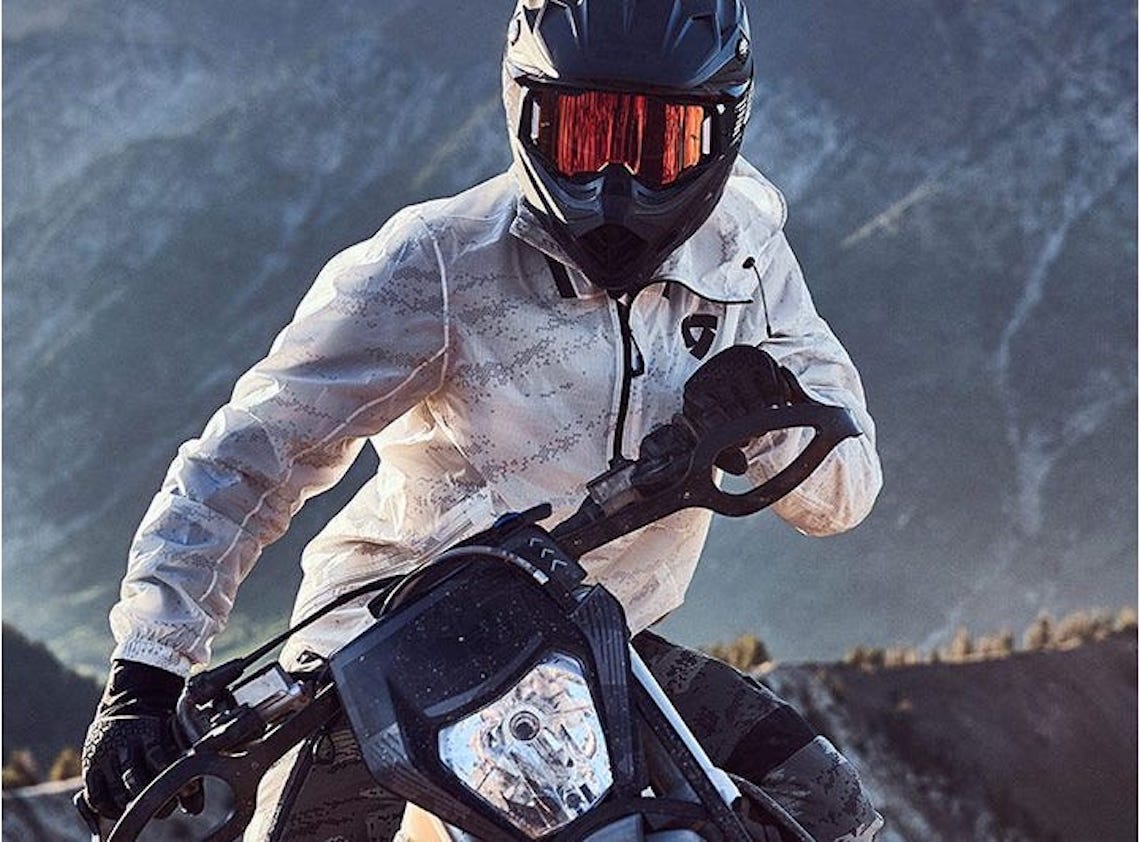 Of course, a fully ventilated jacket in summer is a great idea, right up until the moment you get caught in British thunderstorm. That's where the Barrier smock comes in handy.
Made of REV'IT!'s lightweight and waterproof hydratex layer, the Barrier is easily packable for storage in a pannier or tank bag when it's not in use. It also features an extra-long zipper down the front so you don't even need to take off your helmet to get it on when the rain starts falling.
Caliber gloves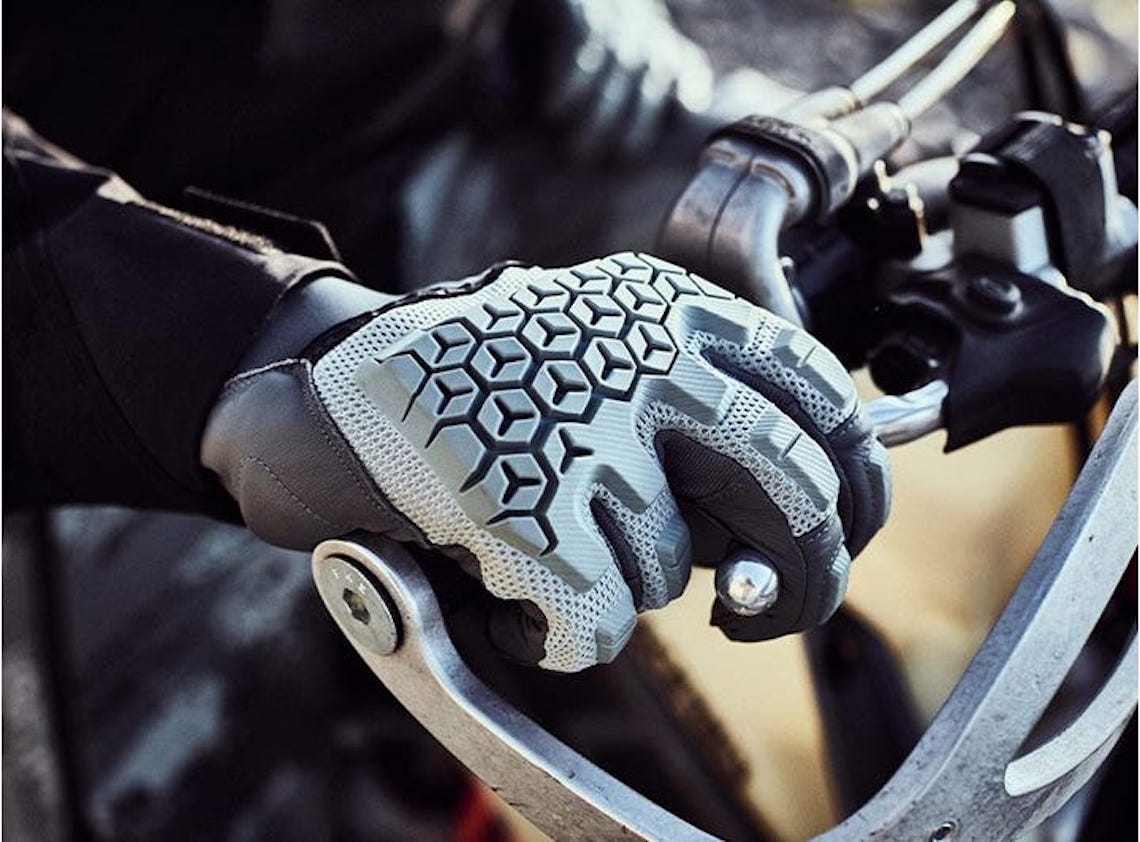 Finally, for your top half, we have the Caliber gloves. Designed to excel both on and off the tarmac, they're constructed with a combination of leather and mesh textile to provide abrasion resistance and protection in an off, as well as ventilation when the mercury rises.
To protect your hand from branches on the trail there's flexible TPU protection over the top of the hand, knuckle, and fingers, while there's also a reinforced palm protector for added impact resistance in an off.
The Caliber gloves also feature a touch screen-compatible fingertip on each index finger to allow you to control your phone, SatNav, or TFT, without having to pull your gloves on and off at a stop.
Adventure biking trousers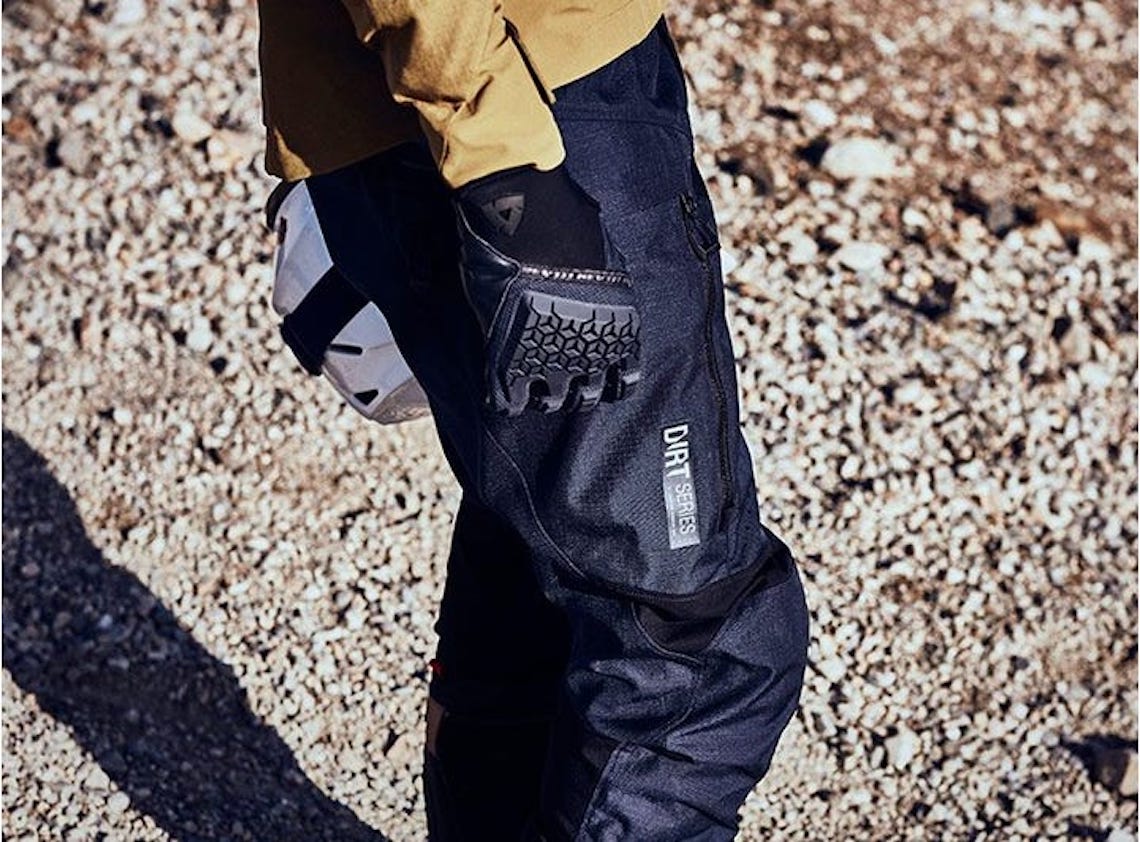 There are also a range of off-road ready trousers in the Dirt series. For adventure bikers there are two over-the-boot trousers, the Continent and Component H2O pants.
Both are made of a rugged, Cordura-reinforced ripstop fabric for abrasion resistance, with leather patches inside the leg to help grip onto your tank while stood up off-road.
The Component H2O pants are also laminated to provide waterproofing and come with a removable thermal liner for colder weather. Both trousers come with spacious cargo pockets for storage and zippers to channel through airflow when the temperature rises.
For off-road focussed riders, who ride with their trousers tucked into their boots, REV'IT! also produces the Peninusla pants, and all three pairs come with REV'IT!'s SEESMART CE-level 1 armour at the knees and hips.
Protection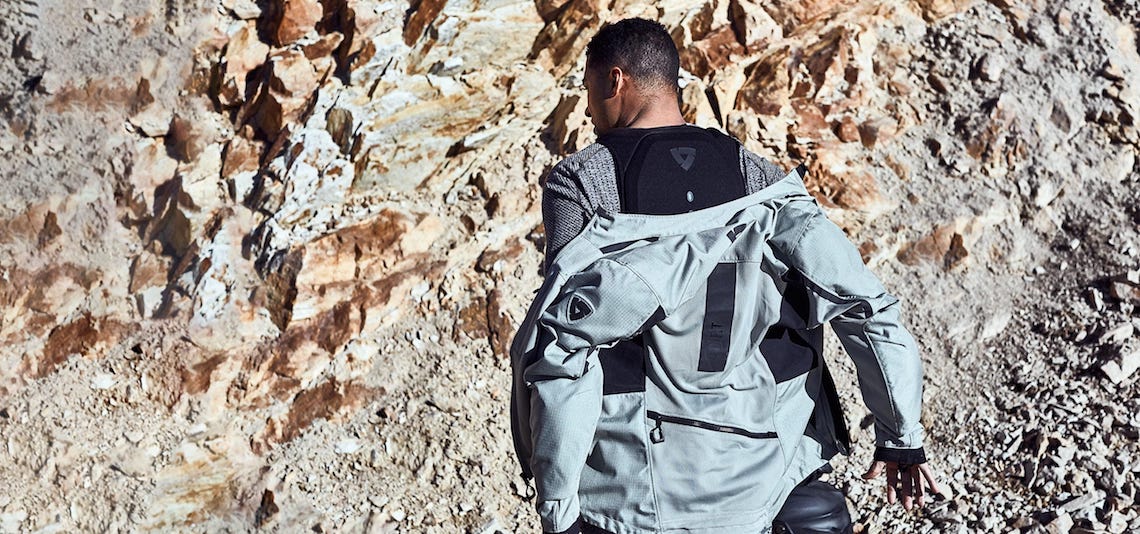 All of the jackets and trousers in the series have built in CE-level 1 protection from REV'IT!'s SEESMART armour but, if you're looking to up the protection when riding off-road, the brand has also released a range of CE-level 2 protective layers that goes hand in hand with the Dirt series modular concept.
They're designed to be comfortably worn underneath all of the abrasion-resistant clothing in the range, once you pop the existing level 1 armour out of them. The range includes the Proteus protector jacket, which features elbow, shoulder, back, and chest armour, the Slingshot back protector, and the Scram knee protectors, while there's even a neck brace for serious off-roading.
REV'IT! Dirt series
So, there we have it. A range of kit to keep you dry, ventilated, and protected while you're out on two wheels this autumn.
We'll be getting our hands on REV'IT!'s new DIRT series soon to put it to the test, but for now find out more about the range on the Dutch manufacturer's website.