Ask any biker, hiker, or mountaineer the secret to withstanding brutal conditions in pursuit of their passion, and they'll tell you that it's all about layering.
It's a simple concept: by combining layers of technical clothing, each designed to fulfill a specific purpose, you'll be protected from whatever Mother Nature decides to throw at you.
Now, including bikers alongside those that climb mountains may seem a little extra. But consider that riding at motorways speeds on a 4C day could see you enduring a wind chill approaching an eye-watering -10C (the average summit temperature on Mount Everest during summit season is -19c). Make no mistake, us bikers need top protection from the weather.
That's why we've joined forces with British motorcycle clothing brand Oxford Products, who has just released its new Advanced Layers collection, to produce this short guide to layering.
Below we'll help you understand layering, banish some layering myths, and explain what to look for when buying those layers. Let's get started.
What is layering?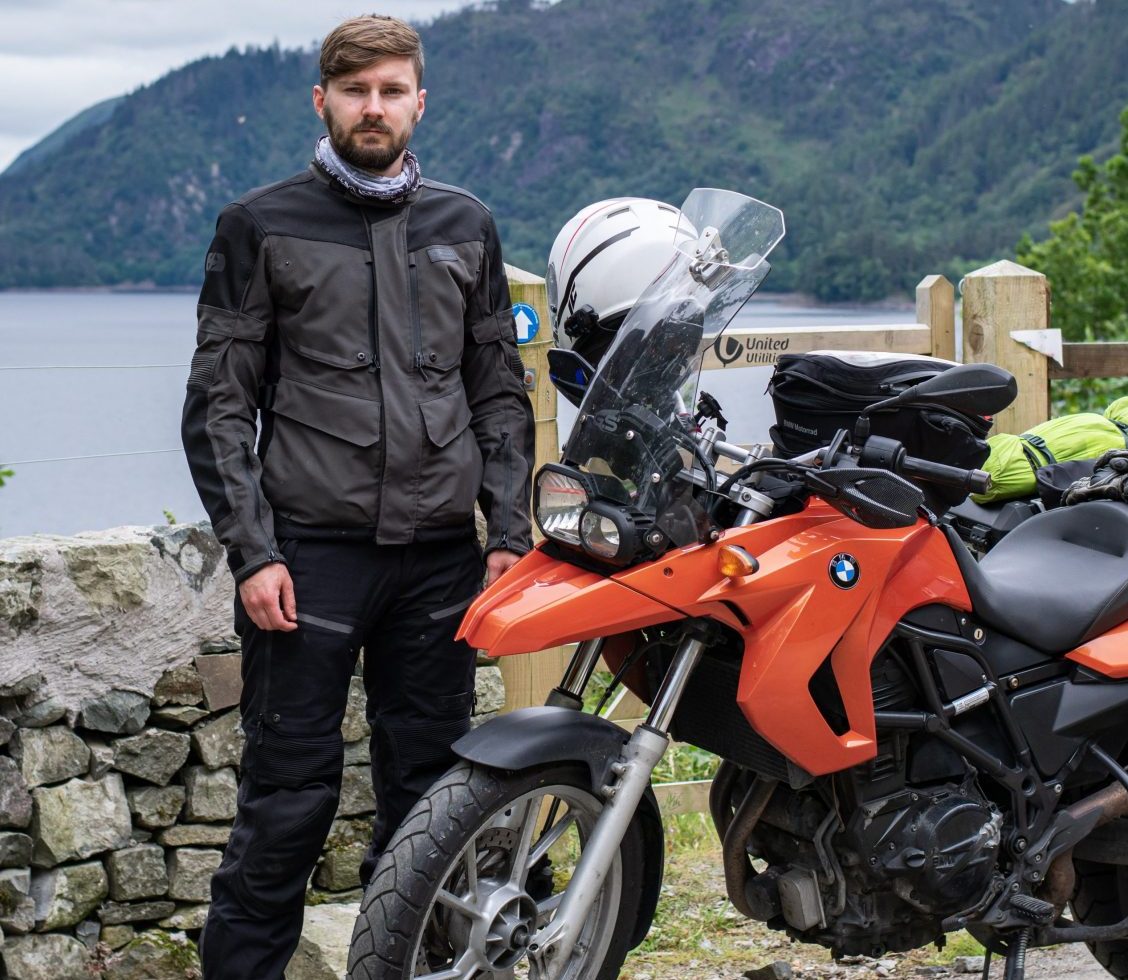 The layering principle is pretty simple. By layering up specific items of clothing, you can keep yourself protected and comfortable in every type of weather imaginable, from freezing gales to blazing sunshine. Generally there are three layers to the system. The base layer, the mid-layer, and the outer layer.
The base layer is designed to keep you comfortable and dry, and should wick away sweat from your skin without getting sodden. The mid-layer is your insulation, and provides the crucial role of keeping you warm in the saddle. Finally, the outer layer provides wind and water resistance, and protection in a crash for us bikers.
Now, before we go any further and look at these three layers in more detail, it's worth debunking a common myth.
Layering is not chucking on three cotton T-Shirts, two fleeces, and a jacket before you hop in the saddle. Instead, that's just a recipe for a seriously uncomfortable day on the bike, as you'll get sweaty and damp very quickly, which will then make you cold for the rest of your ride.
Let's take a look at how you can layer up properly.
The base layer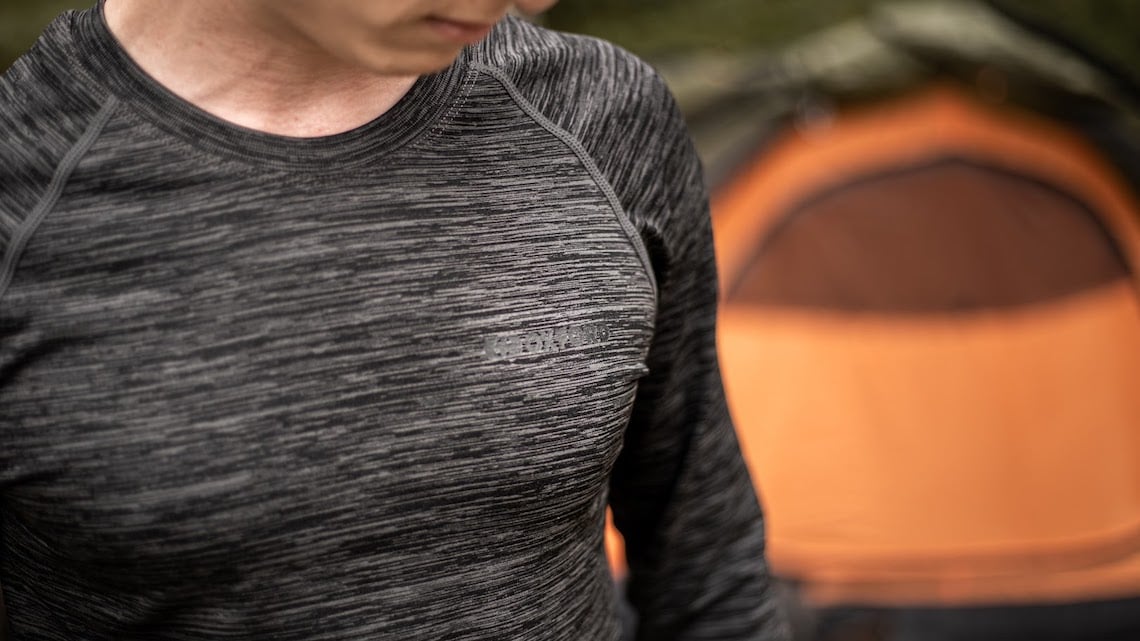 As your last line of defence against the elements and the first thing you put on when getting ready for a ride out, your base layer is pretty important for a few reasons.
Firstly, it'll help keep you warm when it's cold out, so look for something with long sleeves that offer full coverage. When it's warm outside, it'll also help to regulate your body temperature and wick away sweat to keep you from getting soggy.
Wicking away sweat is also important in the winter, because a wet T-Shirt combined with a draught can make you seriously chilly. When it comes to material, look for polyester, as it's very effective at wicking away moisture, or merino wool.
Merino wool is naturally antibacterial, so it'll keep bad smells at bay for long, and remains warm when damp. Avoid cotton. It's cold when wet, retains moisture, and gets smelly quickly.
Oxford's Advanced Base Layer Top offers all of this, with a close-fitting, long-sleeved design that'll keep you warm and wick away sweat during your rides.
The mid-layer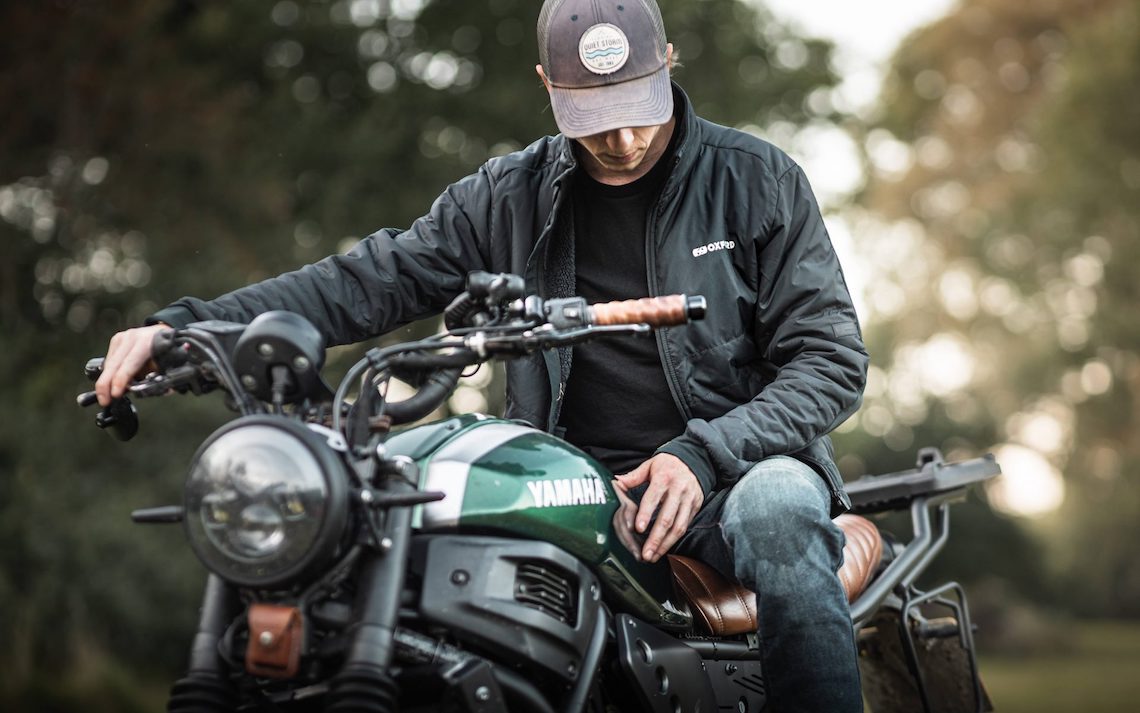 While the base-layer plays an important role in the layering system, your mid-layer is what keeps you warm in the saddle.
Most motorcycle jackets offer zip-in thermal liners, but these typically don't offer the coverage or insulation to cope with cold temperatures. That's why we recommend investing in separate insulated mid-layers.
There are two options when it comes to mid-layers. You can invest in an insulated jacket, whether it's made with down (the stuff underneath duck or geese feathers) or synthetic fill.
These are lightweight, compressible (perfect if you want to take it off and stuff it away in a pannier), nice to wear casually out of the saddle, and very warm.
Alternatively, fleece mid-layers are cheaper and still do a good job in mild temperatures. And if it's seriously cold, you can double up a fleece and insulated mid-layer for a seriously cosy ride.
The Oxford Expedition Mid Layer offers a nice mix of both. The full length jacket is made with synthetic insulation and a four-way stretch material to make it comfortable and slim-fitting in the saddle, while the front is also lined with fur-fleece to add comfort and warmth on your rides.
The outer layer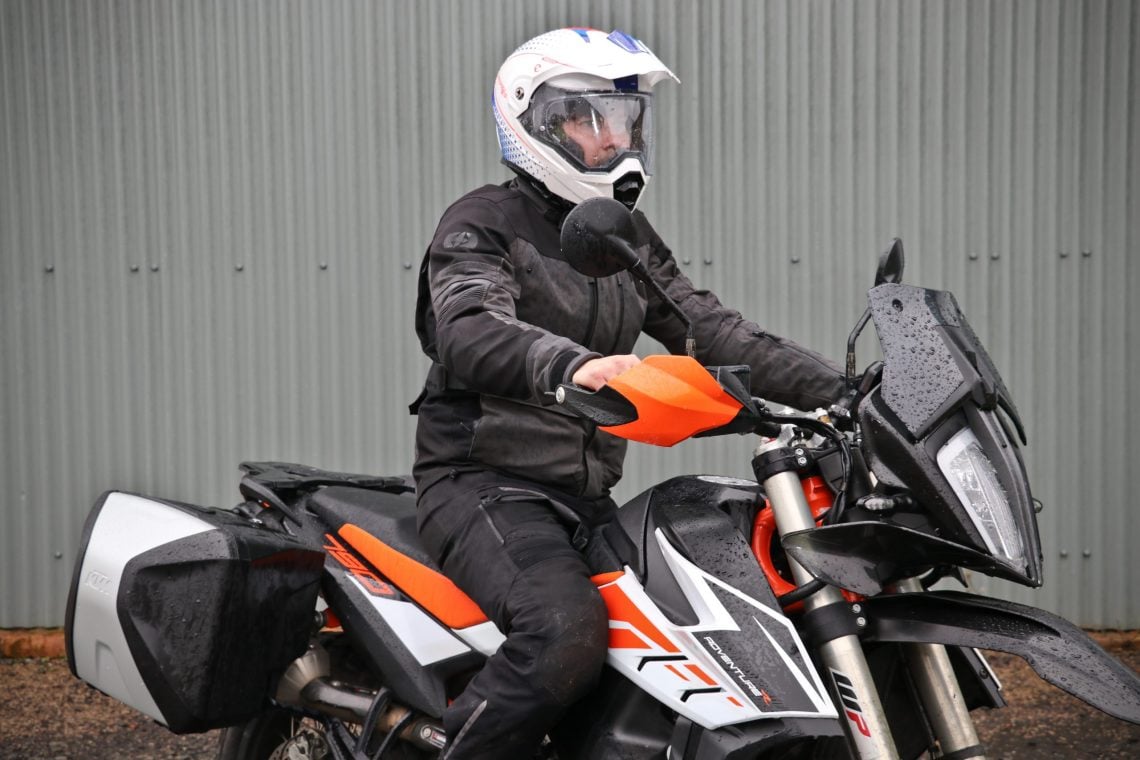 Finally, there's the outer layer of the layering system.
With your base layer and mid-layer providing warmth and comfort, your outer layer should be a motorcycle jacket capable of providing wind and water-proofing, as well as protection in an off, and even ventilation in warm temperatures.
When it comes to waterproofing, we recommend laminated jackets (which have a waterproof layer bonded to the outer textile) over three-layer jackets, which feature an internal removable waterproof liner.
Oxford's Advanced Mondial laminated jacket is a good example of a laminated jacket that performs well and is very easy on the wallet. Find out more by reading our long-term review of it.
Oxford Advanced Layers
So, that's how to nail layering to stay comfortable on your next ride-out. Now it's time to get your riding wardrobe ready to put the theory into practice.
That's where Oxford's new Advanced Layer collection comes in. Check out its full range of competitively-priced mid-layers, base layers, and motorcycle jackets over on the Oxford website today.