As the adventure bike market has boomed, with versatility a key selling point of the bikes on offer, the accessories market has followed the trend.
From flip-front helmets to luggage sets that convert into rucksacks, at every turn there's another product offering convenience on and off the bike.
This has never been more evident than in the adventure suit category. A four-season suit that can do everything (stay warm in the cold, cool when its hot, and dry in the wet) is worth its weight in gold. Sadly, some manufacturers have taken this all too literally, with plenty of offerings from big brands costing £1,000 or more.
For some of us, especially those starting out riding or touring, this cost can be prohibitive, especially when you factor in all the other gear you need to buy, such as a helmet, gloves, and luggage.
Inexpensive laminated suit
Entering the ring to compete with these 'heavyweights' is the Oxford Mondial Advanced suit. At £249.99 for the jacket, £199.99 for the trousers, it's Oxford's top-of -the-range suit. In the grand scheme of the industry though, it looks like an absolute bargain. Especially when you learn they feature a laminated waterproof membrane that is bonded to the material to protect you from the elements. This is a feature usually seen in more expensive motorcycle gear and forgoes the need for a separate waterproof layer. 
So, a laminate outer protects you from wet weather, while removable thermal liners keep you warm. And, if it gets too hot, you can open up the ample vents to allow cooling air through. And all of that for under £450.
The real question is, does a four-season suit at this low price point perform? I actually bought the jacket and trousers myself back in January of 2019 and I have put it through its paces since, riding in everything from heavy rain and cold winter mornings, to boiling Spanish afternoons.
Initial Impressions
From the outset the Mondial looks the real deal. There are four colour options for the jacket, I opted for the 'Tech Green', while the trousers come in black or a bright combination of grey/blue/red.
Most impressive is how the suit doesn't look or feel particularly bulky when worn, it's lightweight and unimposing. In fact, it fits like a dream, covering my lower back when sat on the bike with no snagging points or tight spots.
And while you won't be wearing it on the catwalk, the muted colours and styling subtly capture the adventure touring look without screaming 'Long Way Round' in your face. This isn't to say you're camouflaged while on the bike; reflective strips on the arms, chest, back and legs ensure you're still visible to traffic when the light starts to fade.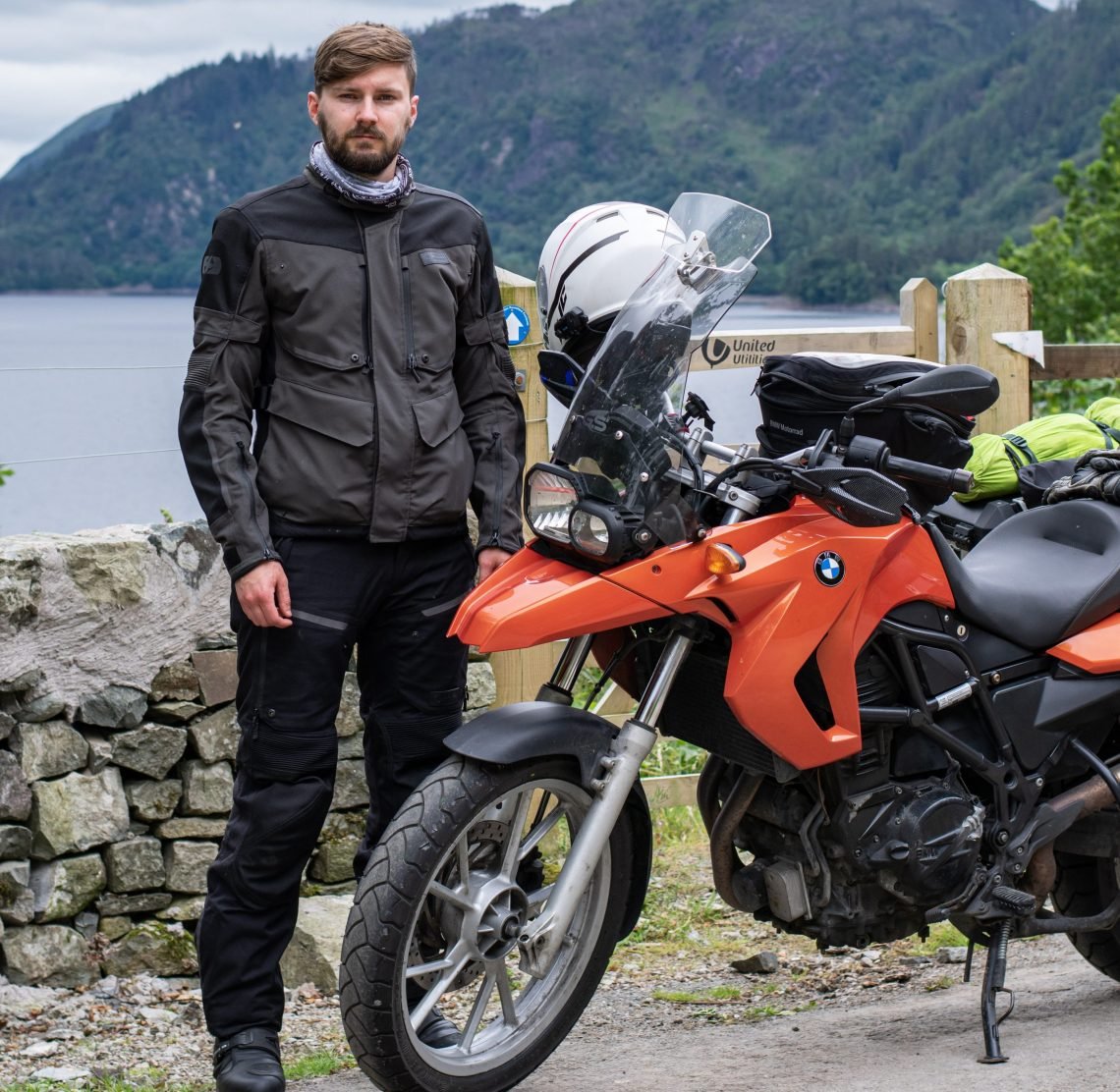 Features
The suit comes with CE-level one elbow, shoulder, hip and knee protection and a pocket for a back protector, supplied separately. Fortunately I've avoided putting the armour to the test, but it's comfortable enough when worn and doesn't impede your flexibility while on the bike. 
The Mondial offers ample storage too. Two deep, waterproof front pockets provide the bulk of space with smaller hand-warmer pockets hidden behind them. A map pocket at the back, as well as two smaller mesh ones inside, also provide more stash spots. 
Straps, velcro and zips in key places (ankles, waist, midriff, biceps, cuffs and neck) also ensure it's easy to adjust the fit. The zips are water-resistant too, and combined with the velcro securings for the ventilation flaps have held out the rain throughout the year.
The velcro used on the cuffs, waist and biceps feels surprisingly secure too, after a year in the suit they haven't failed me. The cuffs are quite tight and it can be tricky to get gauntlet gloves under them quickly, although the velcro closing offers some adjustability. The trousers come with a set of zip-able braces. They work well, although I've noticed the securing at the back seems to unzip itself to halfway on longer rides. It's never undone when on the bike, but I do consciously check it whenever I stop.
The only other real issue that stands out is with the collar. On both the jacket and the thermal liner it's just not quite high enough on its own, and I need to pair it with a buff to keep the wind out and off my neck. A higher collar or detachable storm collar would be a welcome addition, though the fit of the jacket is good enough to ensure I've never had rain dripping down the front or back of my jacket.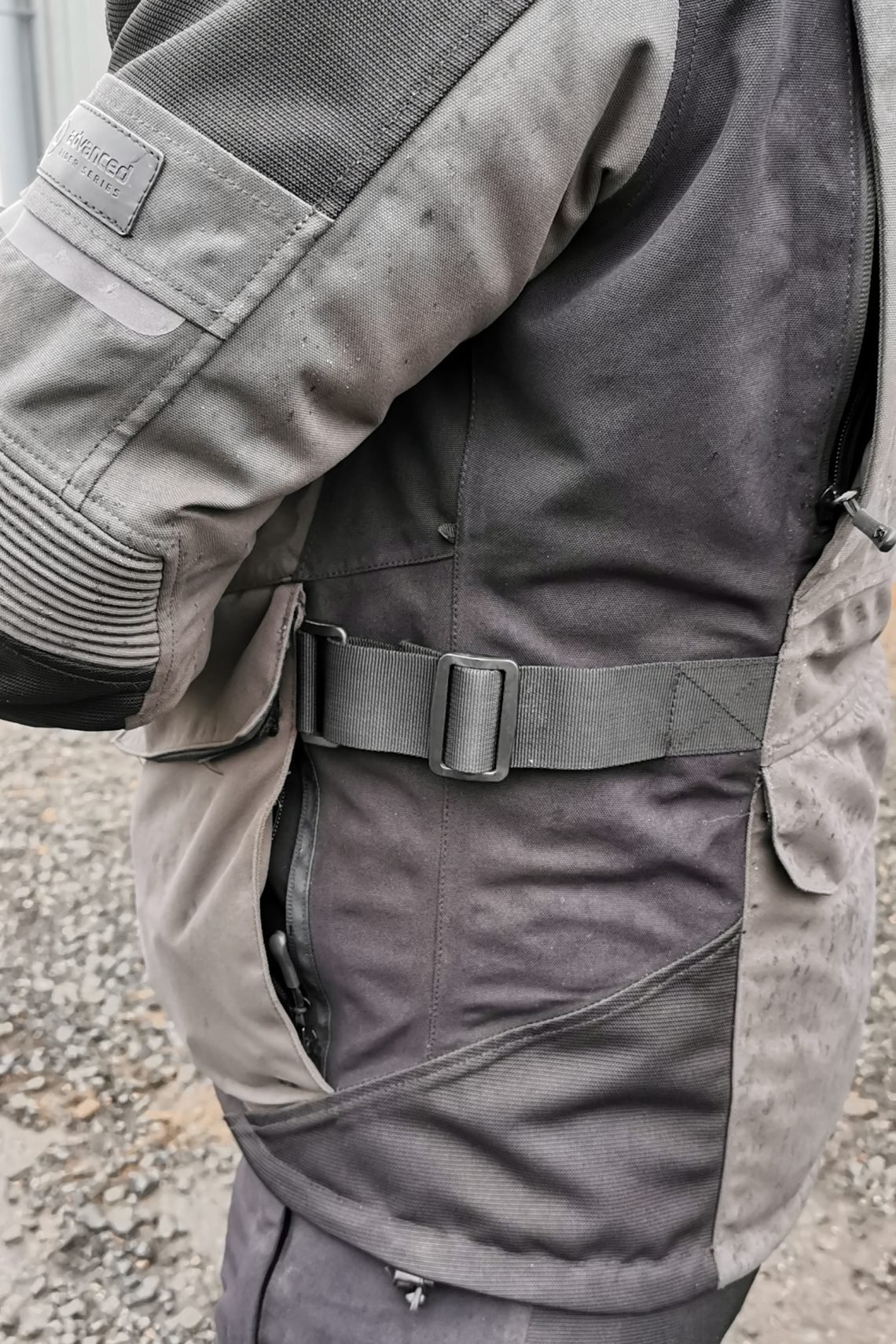 Tackling rainy riding
The increased prices involved in manufacturing laminated suits and jackets tend to lead to them costing you back an arm and a leg, but in my book they're worth it, especially if you're riding in changeable weather (find out more about why we recommend laminated gear here).
Despite it's low price, the Oxford Mondial Advanced does what any good laminated jacket should. It keeps out the wind and the rain, and not just when exposed to a light shower. After a seven-hour day spent riding through Northern Spain in torrential rain, my top half was bone dry, with the seams and closed vents not letting a drop through.
The Mondial also does a fantastic job of keeping out the wind with all the vents closed. There's not a single spot that feels exposed or draughty, something that you quickly appreciate at higher speeds in winter.
You may have noticed how I switched from talking about the suit to just the jacket there. Unfortunately, I discovered that the trousers, which had withstood a fair few hour-long showers, began to leak after about three hours in that same Spanish rain. They haven't been the same since and have started to leak during shorter rides in areas I'd rather they didn't, sometimes leaving me in the office with awkwardly soggy boxers after a rainy morning commute.*
Disappointingly, and surprisingly, they fall short of the lofty standard set by the jacket. And while they are comfortable and nice to wear in any temperature (as long as it's dry), I'll certainly be replacing them with something else before I go touring again.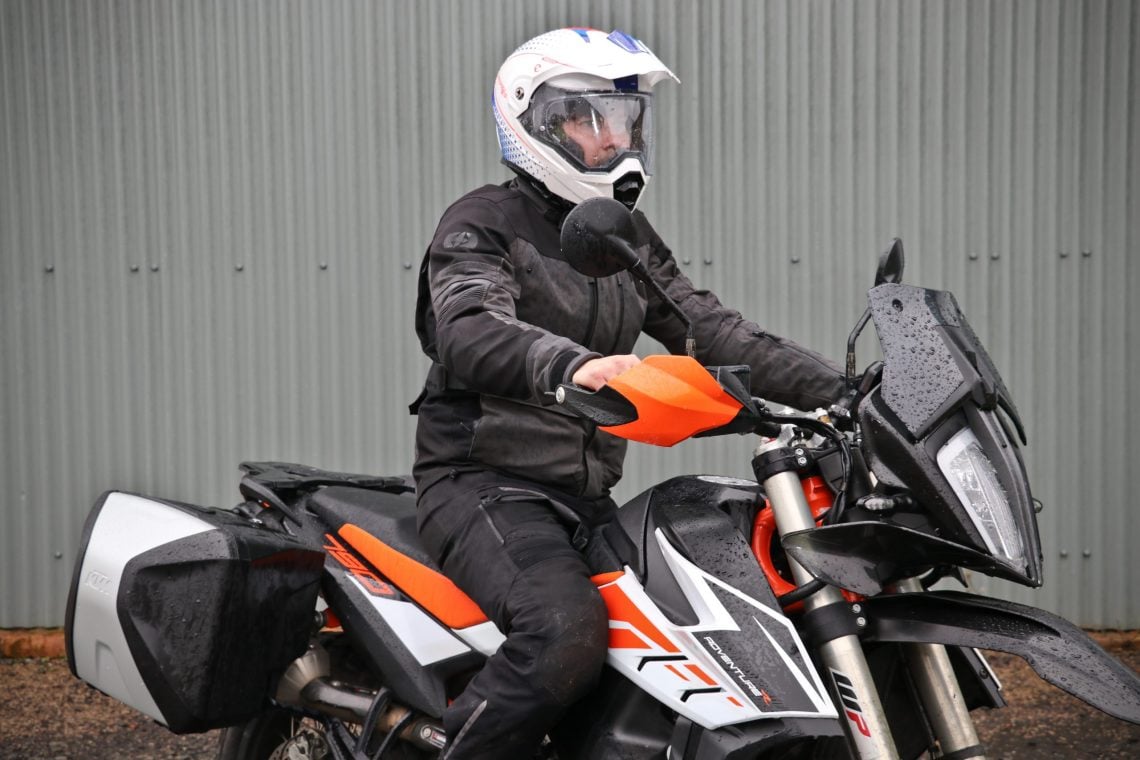 Handling winter and summer
One concern I had was how would this riding suit, that felt quite lightweight, fare in the depths of a British winter. I needn't have worried.
It's remained cosy and warm in cold temperatures over short blasts, although I do find I need to couple it with a heated vest or mid-layer when tackling longer motorway miles, although the same can be said of most four-season suits. This was a very pleasant surprise, because I really did expect winter to have it on the ropes. It's replaced another 'dedicated' jacket in my riding wardrobe, leaving my old winter jacket gathering dust.
When it comes to riding in hot weather, two large chest and back exhaust vents allow direct ventilation to your body, with the air comfortably flowing through without leaving the jacket billowing in the wind, while large lower sleeve and thigh vents keep your limbs cool as well.
The gaping sleeve vents were particularly effective at channeling air up the length of my arms. And, while the black trousers can get hot when you're not moving, at any speed you'll feel the effects of the vents.
In fact, the Mondial Advanced performed so well, that once again it made a 'dedicated' piece of my riding wardrobe redundant. I gave away my fully vented summer jacket because I just didn't need it anymore. This is a huge win for Oxford; they've created a very competitively priced suit that you really can wear all year round.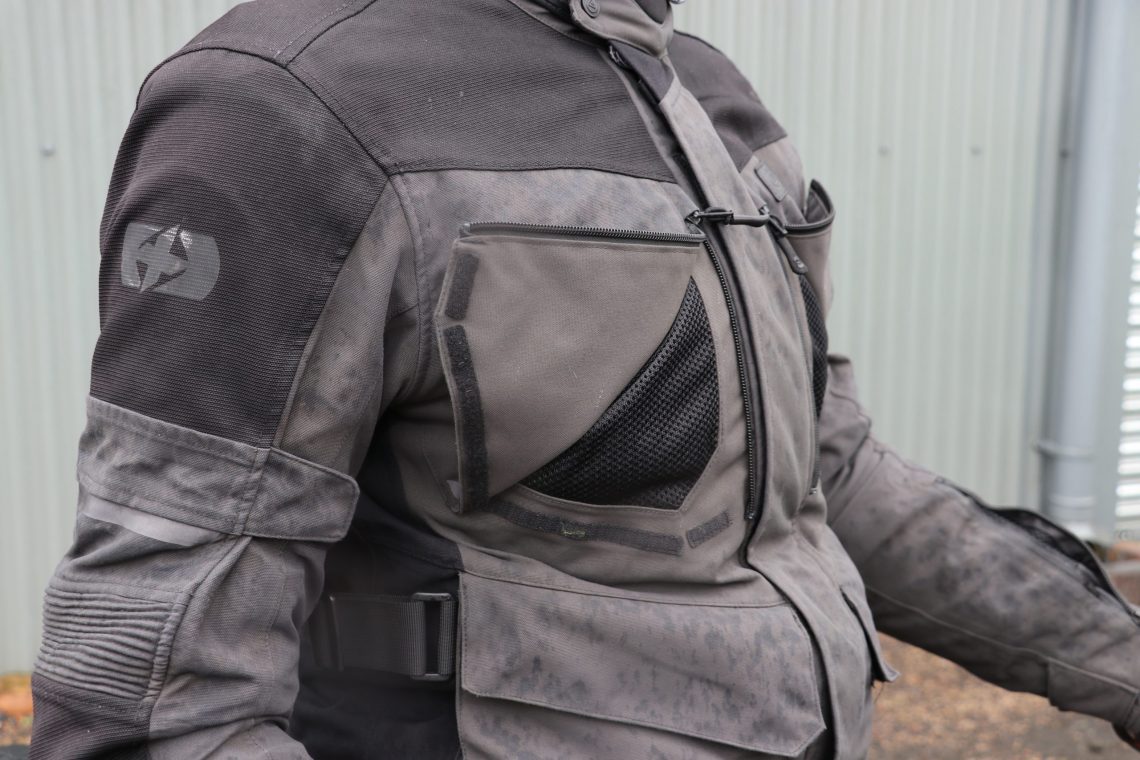 Punching above its weight
With the Oxford Mondial Advanced suit you have an affordable laminated suit option that punches well above its weight and is able to compete with more expensive gear on the market. 
For me, it's held up well throughout the past year I've been wearing , and while it's probably better suited to spring/summer/autumn, I've had no complaints riding throughout winter with it on, as long as I add another mid-layer for longer journeys.
It's at this point that I will just reiterate the distinction between the jacket, which has hugely impressed me, and the trousers, which probably fit in more with their lower price point. It's a shame that Oxford have produced an excellent jacket and then paired them with trousers which don't perform to the same level*. With this in my my ratings below are only for the jacket.
But all in all, I think it says a lot that, despite working in an office filled wall-to-wall with motorcycle gear, the Oxford Mondial Advanced jacket is the one that I zip up each day for my ride home. I'm not the only fan either, it's became Oxford's biggest seller ever within six months of launching.
A lightweight contender for the heavyweight crown? It just might be.
*Shortly after going live, Oxford reached out to me asking if I'd be happy to send the trousers back to them. A tiny minority of the first season's stock of trousers had a small failure, which is likely to be what mine were affected by. They were also covered by a 2 year no-quibble warranty. They're going to pull them apart and  confirm while I use a pair of their 'Continental' trousers in the meantime. An impressive commitment to ensuring they're continuously improving their product.