When it comes to travelling the world on two wheels, or even just enjoying a short Sunday morning blast, there's nothing more important than the bike between your legs and the clothing you've got protecting you from the elements.
We expect those bikes to be capable of overcoming anything that it comes across on our travels and the gear we're wearing needs to offer that versatility too, especially when rain starts falling or temperatures start to rise. That's where REV'IT!'s new globe-busting range of adventure biking gear, the Dominator 3 GTX and Defender 3 GTX, comes in.
It's no secret that the team here at ABR HQ has long been fans of the Dutch manufacturer's offerings, which typically blend quality, good looks, and sheer practicality in a premium package. So, when I heard about the two new ranges, I decided to take a closer look at what was on offer.
REV'IT! Dominator 3 GTX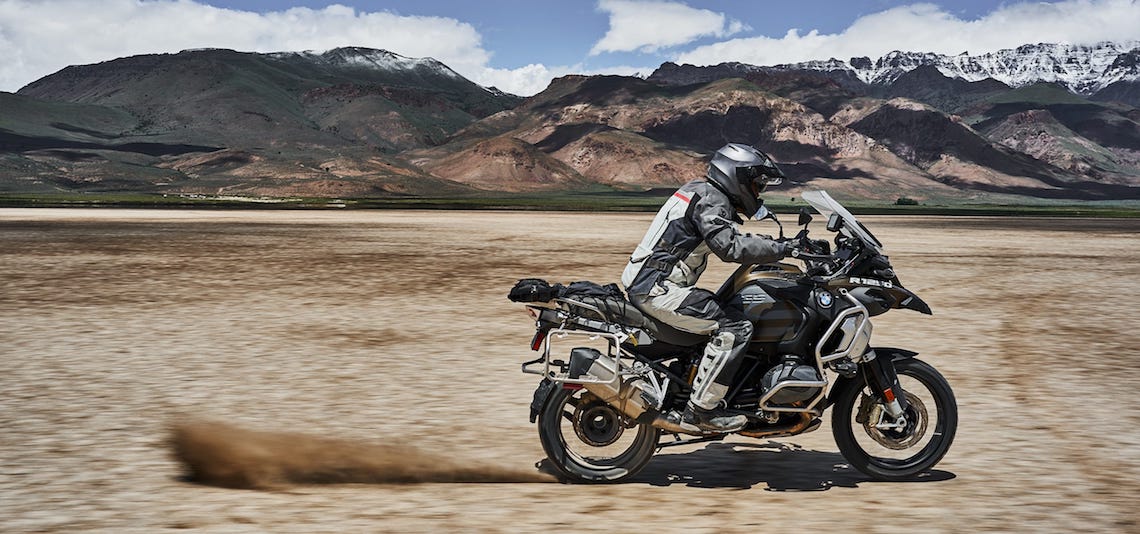 First up is the new Dominator 3 GORE-TEX laminated jacket and trousers, and premium leather waterproof gloves. REV'IT! calls the Dominator 3 GTX it's top-tier adventure outfit, and it's not hard to see why.
The jacket and trousers feature a GORE-TEX Pro membrane, which is laminated to the outer shell to provide wind and waterproofing without needing the layers associated with non-laminated gear. There's also a removable storm collar on the jacket to cope with the heaviest of deluges.
The trousers also come with a detachable bib which has been included to enhance their performance in cold and wet weather. This bib forms a protective barrier against the elements and helps keep you warm and comfortable in challenging conditions.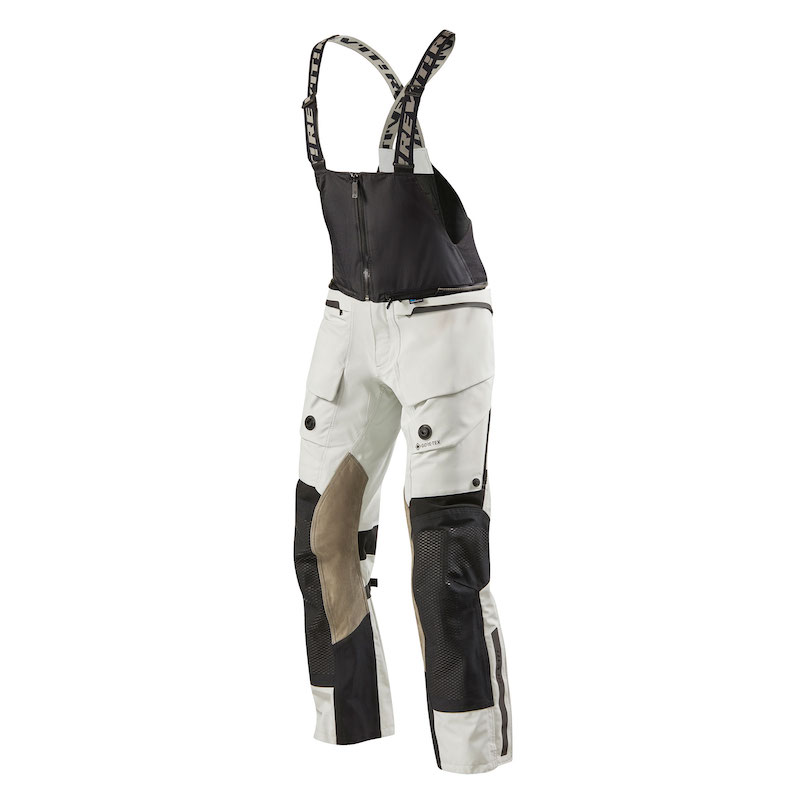 A particularly nice touch is the soft micro-grid backing fabric which comes with the Pro membrane, which should keep things comfortable if you're just wearing a T-Shirt underneath. The Dominator 3 GTX gloves also feature a GORE-TEX membrane to keep your hands dry while you're in the saddle.
On the flipside, when temperatures start to rise cooling air can be pushed through the jacket by opening up a number of built-in vents, which are waterproof when closed thanks to REV'IT!'s patented Aquadefence rain gutter system.
These are located at the chest, behind the central zip, and at the lower and upper arms on the jacket, with two exhaust vents to help air flow past your body when you're in the saddle. There are also two large vents that can be opened on the thighs to improve airflow around your legs.
Protection in an off is provided by SEEFLEX CE-level 2 armour at the elbows, shoulders, and knees, a SEESOFT CE-level 2 back protector, and SEESMART CE-level 1 armour at the hips.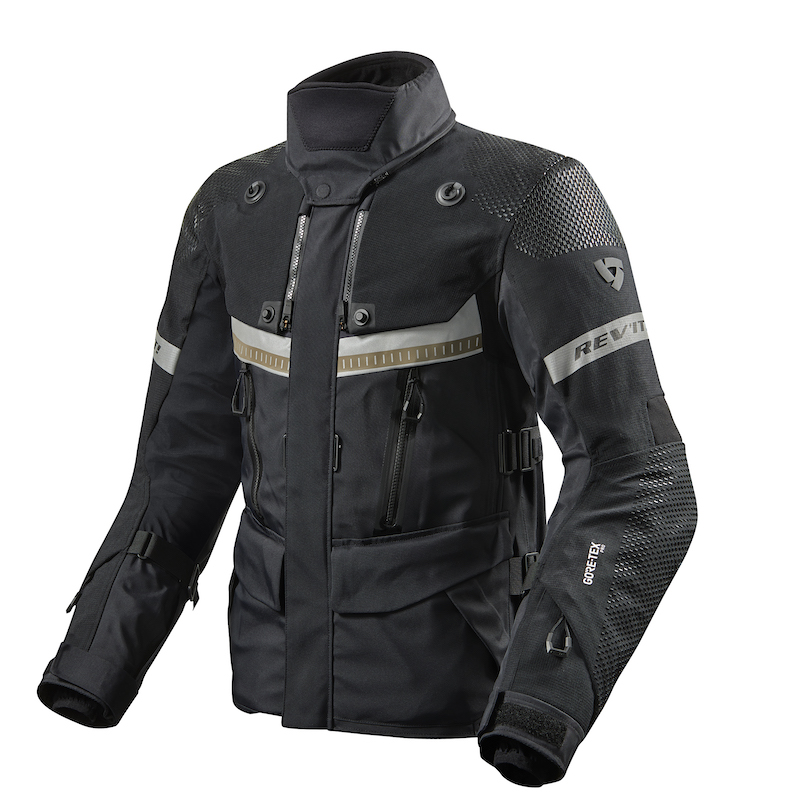 There's also a detachable kidney belt inside the jacket, which can support your lower back during longer rides, and room to fit extra chest protection too.
The Dominator 3 GTX gloves also feature moulded knuckle protection and a palm slider, which is something I always look out for when buying a pair of gloves.
Defender 3 GTX range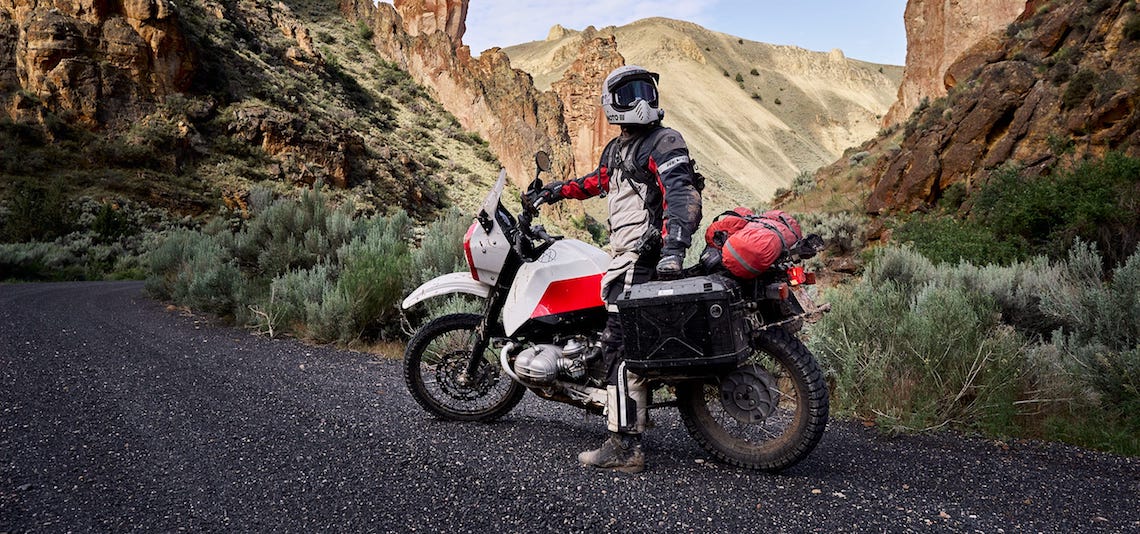 While the Dominator 3 GTX range delivers top-tier protection from the weather and the road, the new Defender 3 GTX range offers a little more versatility for those who stray further off-piste on their travels. Let me explain.
While laminated gear is the ultimate solution to keeping you dry and protected during rough weather, that waterproof membrane can cause you to heat up quicker when you're working up a sweat.
For example, if you're riding hard off-road for extended periods of time, you'll want a jacket that can breathe freely and allow massive amounts of cooling air to flow through, a goal that's at odds with something designed to be water and windproof.
That's where REV'IT!'s three-layer approach with the Defender 3 jacket and trousers comes in.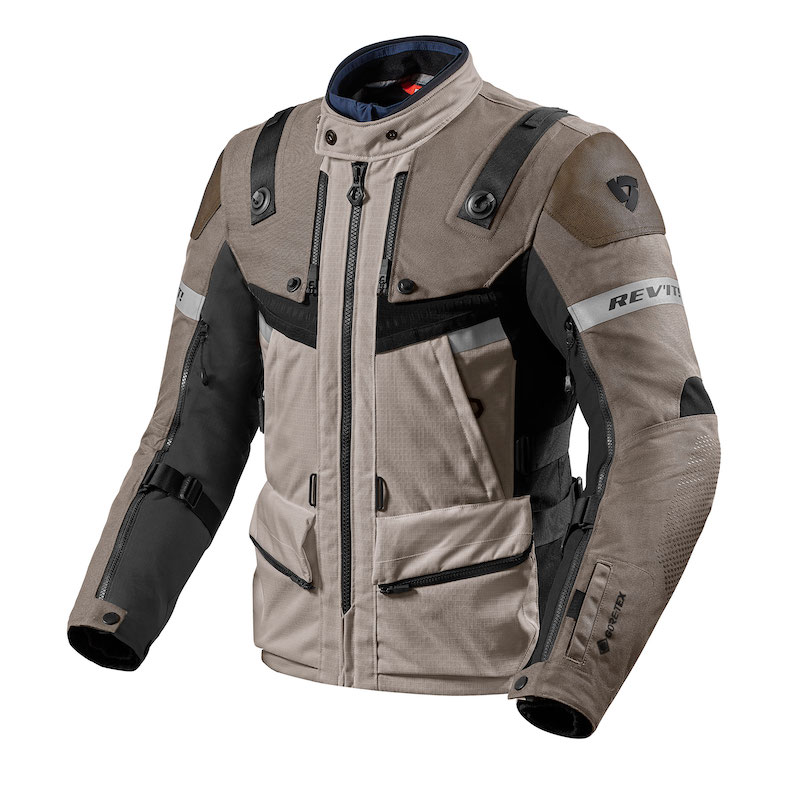 A removable GORE-TEX waterproof liner, the jacket version of which is stylish enough to be worn around camp or town in the evenings, and a separate removable thermal liner can both be zipped inside the jacket and trousers, giving you the option of scaling your weather protection to match the conditions during your ride.
Both of them can also be rolled up and stored in the expansion pocket at the back when you're not wearing them, which is pretty handy when you don't fancy rummaging around your panniers at the side of the road.
With these removed the outfit should be noticeably lighter and cooler, but to aid even more ventilation REV'IT! has included chest vents, extra large zippers on the sleeves, a mesh insert behind the main zipper, and two exhaust vents, as well as large vents on the upper thigh of the trousers.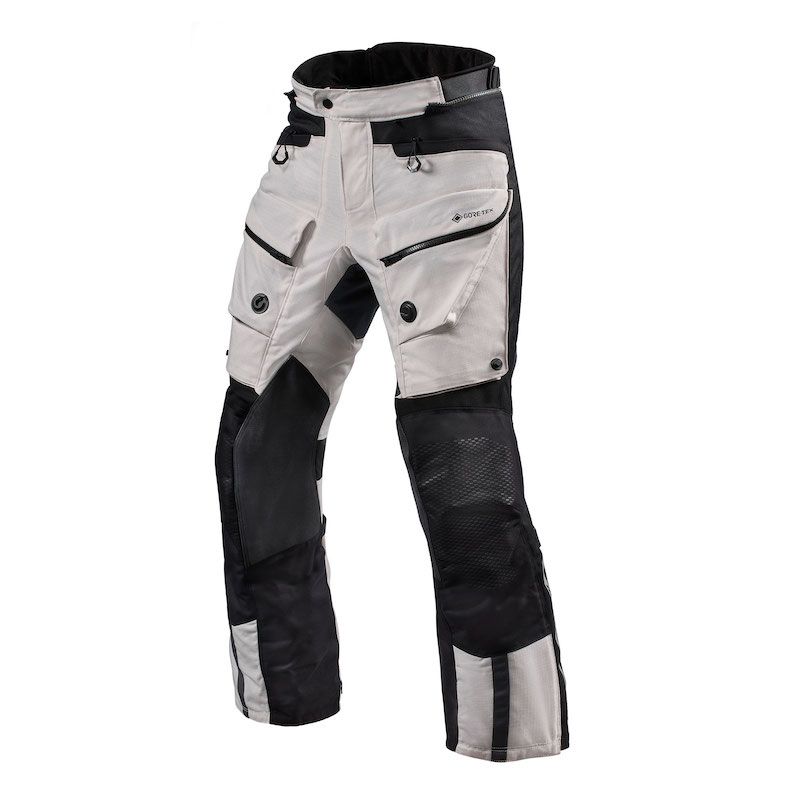 If you take a tumble during your off-road adventures, impact protection comes from SEEFLEX CE-level 2 armour at the elbows, shoulders, and knees and SEESMART CE-level 1 armour at the hips, alongside a rugged outer textile designed to provide abrasion resistance in a slide.
There's also room for back and chest armour in the jacket, and fixing points for REV'IT!'s Segur neck brace if you're getting stuck into some seriously gnarly riding.
REV'IT adventure biking gear
So, there we have it, two new suits and a set of gloves that look set to help you conquer that RTW journey you've always dreamed of, your annual summer tour with a group of mates, or even your regular Sunday ride-out.
To find out more about the new REV'IT! adventure biking gear head to the Dutch manufacturer's website.