James Oxley embarks on a one-person bike launch through the south of England  for this KTM 390 Adventure review.
One of the great pleasures of working for Adventure Bike Rider is having the opportunity to attend motorcycle launches abroad. The thrill of flying to a foreign land and being among the first people in the world to ride a new adventure bike never ceases to put a big, silly grin on my face.
Throw in a collection of snaking mountains passes and remote dirt trails, plus the odd fancy hotel, and you've got a recipe for what could arguably be called the world's best work trip.
However, bike launches can also be exhausting experiences, with multiple flights, presentations, road testing, video, and photo shoots all crammed into a couple of action-packed days. Afterwards, I find myself back at my desk wondering if it was all just a wonderful dream.
And, as I pore over hastily scribbled notes made from the roadside, I sometimes wish I could take the new bike in question away by myself for a few days to gain a better understanding. Maybe I'd ride through France to the Alps to test its touring credentials. Or perhaps, I'd strap on a tent and spend a weekend exploring green lanes in the UK.
KTM 390 Adventure review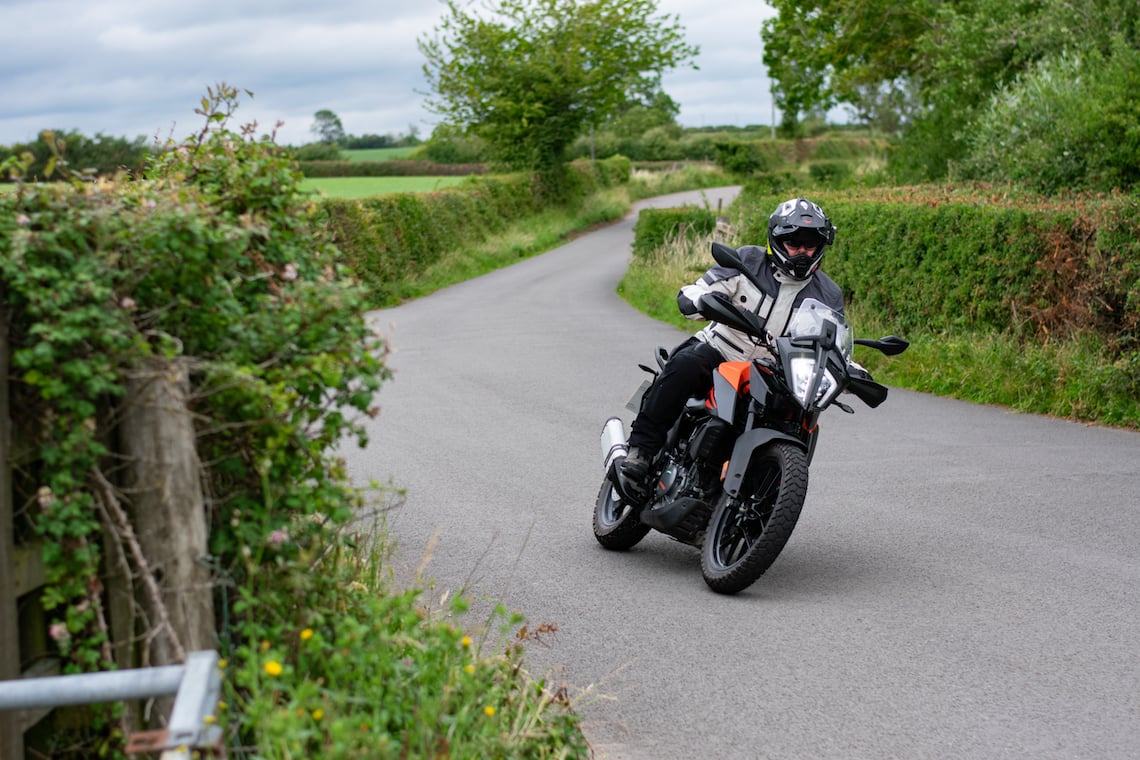 Well, they say be careful what you wish for, because that's exactly the opportunity I got when I received a phone call from ABR Editor Bryn a few weeks ago. He'd arranged for me to pick up KTM's new 390 Adventure from the Austrian manufacturer's UK headquarters at Silverstone.
The bike hit dealerships earlier this year, but a planned press launch on the Spanish island of Tenerife was cancelled due to the coronavirus pandemic. After having spent the previous three months stuck at home in COVID-19 lockdown, I was overjoyed to be testing a new bike once again.
Sadly, travel restrictions dashed any dreams I had of riding through France to the Alps on the 390 Adventure, but Boris and his pals had recently eased movement restrictions here in the UK, which meant an overnight stay was now on the cards.
A regular press launch abroad would involve a night or two in a fancy hotel, perhaps overlooking the ocean, but lockdown rules and my expenses budget prohibited this, so I did the next best thing and called my mate in Luton. He was happy to play host.  With overnight accommodation sorted, I set off from home in the far South West England and crossed the River Tamar, which marks the border between Cornwall and Devon, for the first time in months.
Five hours of motorway riding later, I arrived at KTM's headquarters slightly weary but excited to swing my leg over the 390 Adventure. I'd ridden there on the bike's bigger brother, the KTM 790 Adventure, which is one of the most capable all-round adventure bikes I've ever ridden. The little bike certainly had a lot to live up to.
First few miles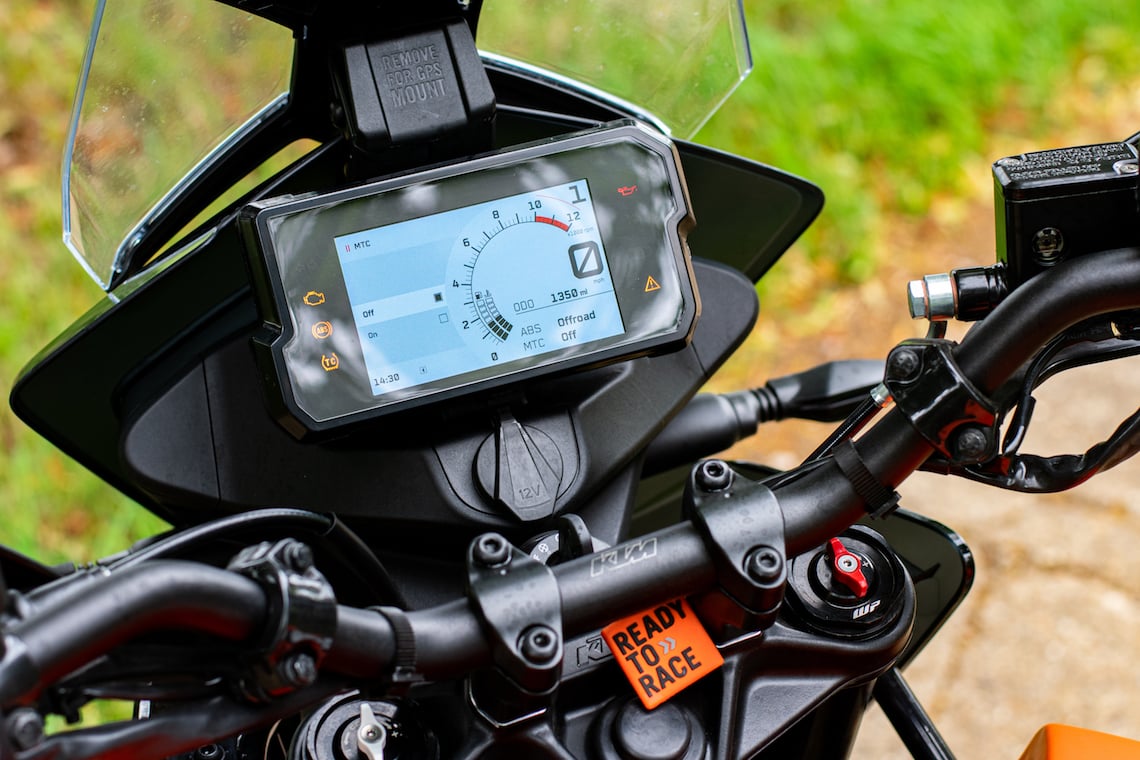 Leaving KTM's offices behind, I did as I would on any new bike launch and dedicated the first few miles to familiarising myself with the bike's ergonomics and controls. While it's not a physically large motorcycle, the 390 Adventure manages to feel relatively substantial. So much so that I could only just about plant both feet flat on the floor, despite being 6' tall.
In fact, the 390 Adventure's seat height is 855mm. While, this is on the tall side among small adventure bikes on the market, it's not excessively high compared to many motorcycles. However, the seat itself is quite wide which contributed to my flat-footing struggles. It's certainly something to bear in mind if you're a shorter rider.
In terms of comfort, I found myself relaxing into an upright riding position. In fact, the magical hands, backside, feet triangle wasn't a million miles away from some of the larger motorcycles I've ridden lately, the KTM 790 Adventure, and Triumph Tiger 900 included. I didn't experience excessive knee bend and there was a relaxed, natural reach to the bars.
The tapered aluminium handlebars, mirrors, switchgear, and LED headlight, all look like they'd been taken from more expensive bikes in KTM's range, but most impressive was the crystal clear TFT display shining brightly in front of me.
I wasn't expecting such a luxury on a bike costing just £5,499. It provided an early sign KTM hasn't scrimped on quality. The information was displayed clearly, and the menus were simple and intuitive to scroll through with the use of a keypad on the left handlebar.
Light and flickable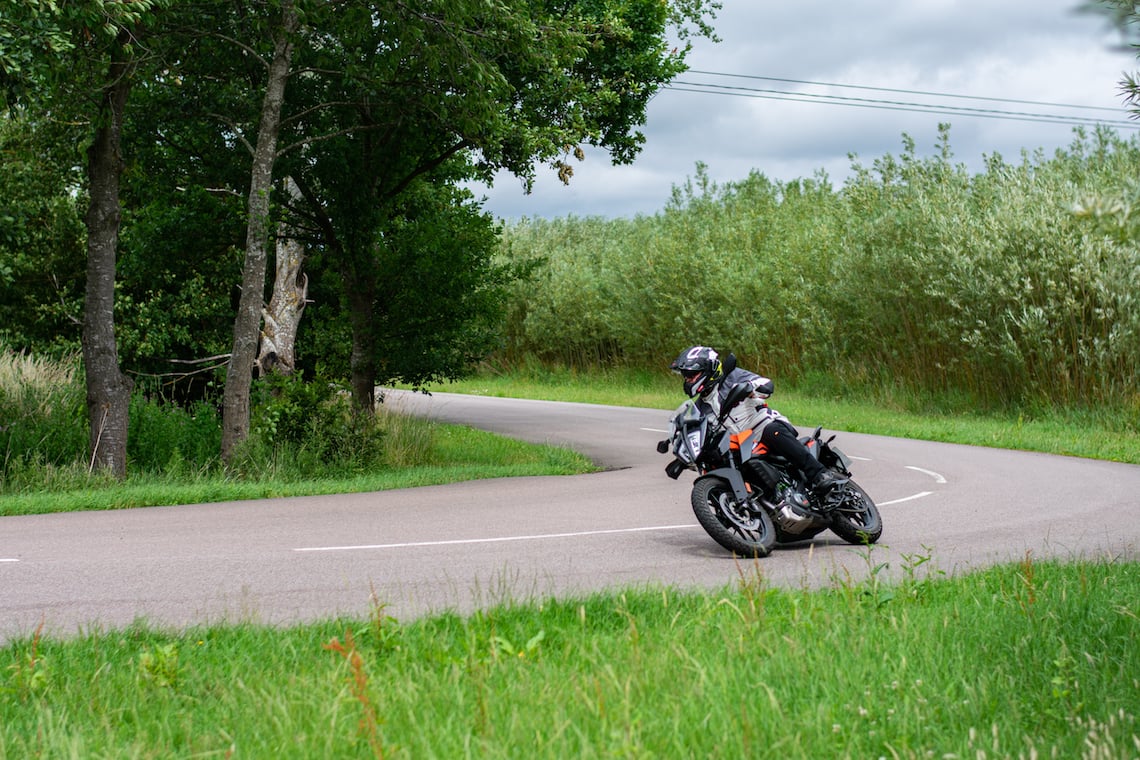 I soon plunged into a network of leafy English country lanes and was immediately reminded just how liberating it feels to ride a small bike on tight, twisty roads. With less weight and power to be concerned with, I could flick the 390 Adventure around with a carefree abandon I wouldn't dare to replicate on a heavier, more powerful machine.
A nudge of counter steer had the bike eagerly darting into corners, and I soon found myself leaning further and further over as I flicked the 390 Adventure between turns.
The bike felt so tight, compact, and nimble, it would have been a waste not to push a little harder and faster at each new bend, at least that's what I told myself, particularly as the single-disc front and rear brakes, while not fierce, provided more than enough stopping power to slow the small machine.
Beneath me, the bike's single-cylinder, liquid-cooled engine was in its element. I may have hit the throttle stop a few times, but the 43bhp powerplant provided more than enough perky bursts of acceleration to dash between corners. True, you'll find yourself working the gearbox more than you would on a more powerful machine, but if you're willing to put the effort in, the rewards are certainly there, evidence of which was written across my face in a huge smile.
Around 70 very happy miles later, I pulled up next to my mate's Yamaha Ténéré 700 in Luton. His bike looked every inch the adventure-ready machine with crash bars, soft luggage, and a smattering of dirt from local green lanes. While the 390 Adventure was clearly the smaller motorcycle, it certainly wasn't dwarfed by the Ténéré.
Small bike with plenty of presence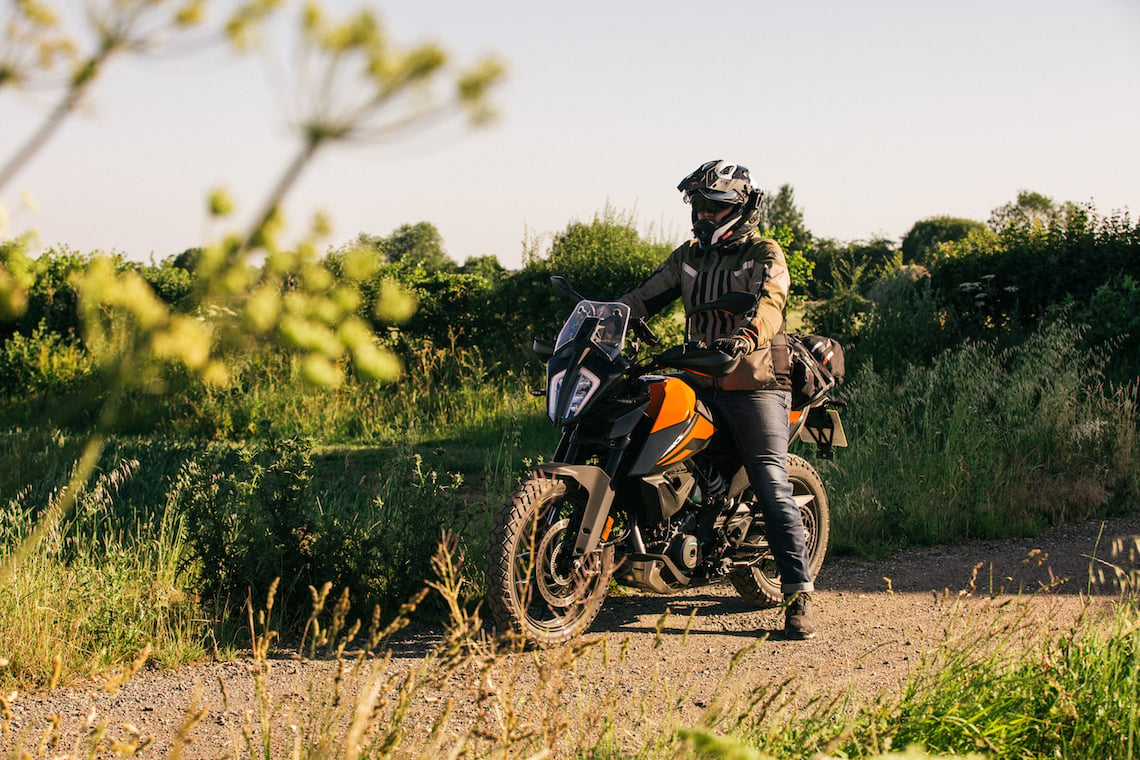 Plaudits should go to KTM for building a smaller capacity machine that doesn't make a grown adult look and feel like they're riding a clown bike. My mate soon joined me and we spent the next hour stood next to the bikes, pointing out features, and generally ruminating about the wonderful world of motorcycles, before heading inside for dinner.
Usually, at this stage of a bike launch abroad, the wine and beer would flow freely among the assembled motorcycle journalists as we discuss the merits of the new bike we're testing, and that night, I can confirm my mate and I didn't let the side down.
Only feeling a little worse for wear the next morning, I set off on my 270-mile journey home. In my book, any adventure bike worth its salt needs to be capable of travelling long distances in relative comfort, so I plotted a route on the SatNav that purposefully took in motorways and fast A-roads. Yet again, I was impressed.
Comfortable for cruising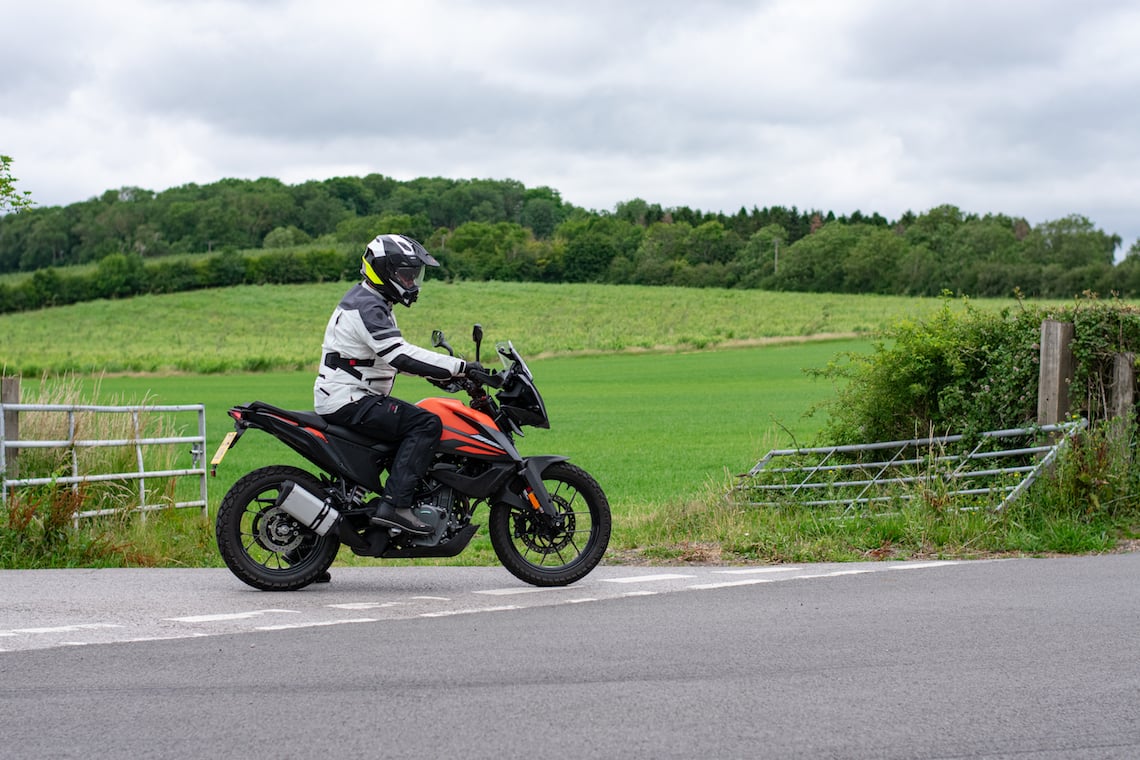 At 70mph, the bike sits comfortably at 7,000rpm with only minor vibration coming through the bars and footpegs from the single-cylinder engine. While accelerating from 70-80mph certainly isn't rapid, it's fast enough for overtakes as long as you do a little planning, but when you get to 80mph, those vibrations become more prominent, adding to the fatigue of a long journey.
As will the stubby stock screen which barely pokes its head above the LED headlight. While the screen is adjustable to two positions using of tools, they are best described as tiny and tiddly, Riding at anything above 50mph will result in a torrent of wind, bugs, and rain in your face. 
This was a shame, because the 390 Adventure's smooth ride and comfortable ergonomics mean I'd be happy to sit at 70mph all day, but certainly not with the standard screen. So, it was with some a relief I reached the off-road section of my one-man bike launch a couple of hours later at Salisbury Plain.
KTM 390 Adventure review: Off-road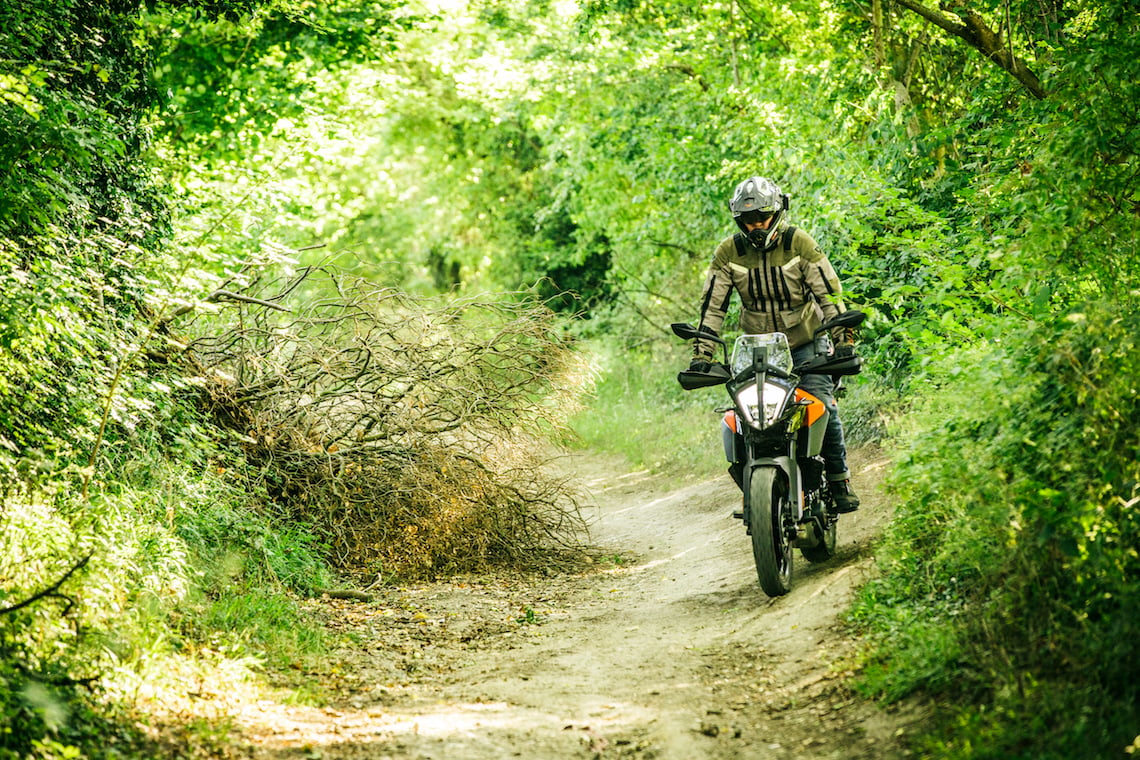 The area is used by the military for training, but handily for us adventure bikers, it is also home to network of green lanes that the folks in camouflage are happy for us to explore, as long as we give way to their tanks!
While it's clear the 390 Adventure is a road-focused bike with some light off-road capabilities, KTM has put plenty of thought into making that light off-roading as pleasurable as possible.
Most noticeably, the bike comes equipped as standard with the excellent Continental TKC 70 dual sport tyre, the WP suspension has a respectable 170mm of suspension travel at the front and 177mm at the rear (both of which can be adjusted for rebound and compression), and little touches like the use of rubber inserts on the footpegs which can be removed for trail use, all gave me high hopes the 390 Adventure would be handy in the dirt.
Adjustable off-road modes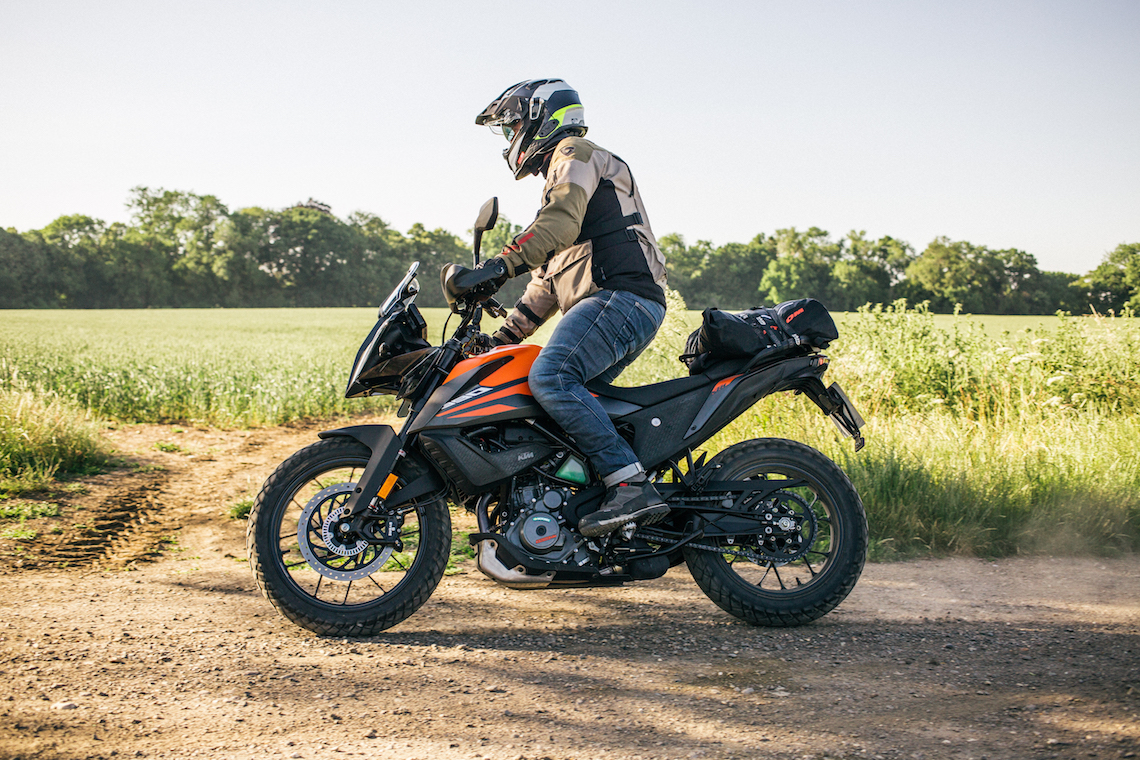 Thumbing the control pad, I switched to off-road ABS, turned off traction control, and made my way onto an overgrown green lane. Just as I'd relished riding the lightweight 390 Adventure on twisty country roads, taking the little KTM off-road provided the same liberating feeling.
The bike danced along the trail, the suspension soaking up the ruts and bumps easily. It does feel on the stiff side but I didn't bottom out once. Well, that was until I came onto one of the wide chalk trails Salisbury Plain is famous for and hit a hole in the trail.
I heard a clunk as the suspension reached its limit which acted as reminder that this isn't a dirt bike and I needed to take more care. However, slow things down, and the 390 Adventure will conquer most obstacles in its path, thanks in part to a long first gear, which is ideal for climbing steeper sections of trail.
The KTM comes equipped with 19" front and 17" rear alloy wheels, which aren't optimal for off-road use, but they're more than capable of indulging in the light off-roading I was enjoying. My only gripe was with the standing position which felt a bit cramped, forcing me to bend my knees and lean further forward than I usually would. To be honest, I expected this to be the case on a small adventure bike, and while it didn't stop me having fun for a couple of hours on Salisbury Plain, it's not a position I'd want to spend an extended period of time in.
Ideal for cutting through traffic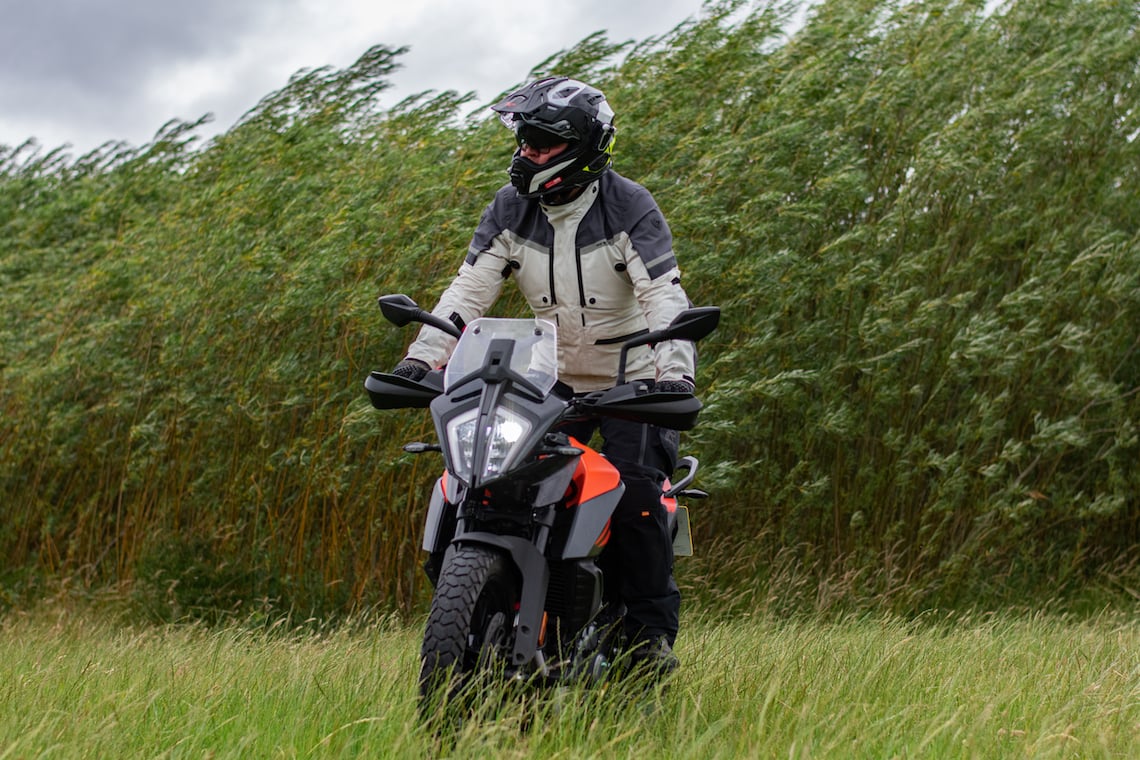 Reluctantly, I returned to the asphalt for the final leg of my one-man bike launch back to Cornwall. Along the way, I found myself amid slow-moving queues of dawdling vehicles which the 390 Adventure made quick work off.
In fact, I can't think of a better bike to scythe through city traffic on during a commute to work, thanks to its narrow profile, agile handling, and an upright seating position that provides plenty of vision of the road ahead. It'll also be easier to slip into crowded motorcycle parking bays than a larger machine.
Leaving queues of bored drivers in my mirrors, I made my way onto the A30 and rode the final miles home. Overall, I'd been hugely impressed with the performance, comfort, and quality of the 390 Adventure. It's a little bike with big ambitions that has raised the bar in a small adventure bike sector yet to produce a stand-out motorcycle. Time and sales will tell if the 390 Adventure is that bike.
By providing big bike quality on a small machine, for just £5,499, KTM is offering a very tempting package and great value for money, especially when you consider I achieved around 200 miles between fill-ups of the 14.5l fuel tank. But the question I keep asking myself is who would choose the 390 over the glut of outstanding mid-size and big adventure bikes available?
KTM 390 Adventure review: Final verdict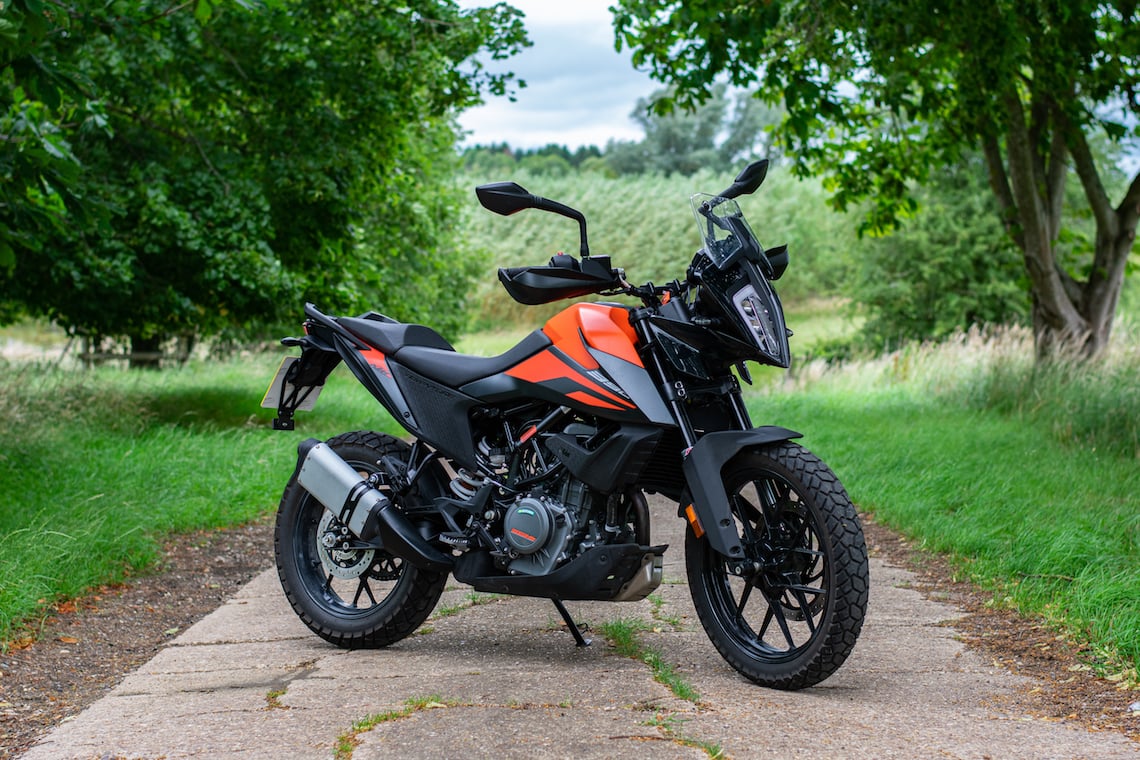 Well, if I was a new rider looking to build confidence on the road, or I was limited to an A2 licence, I would seriously consider snapping one up. I'd also be tempted to part with my cash if I was in the market for a second bike, perhaps to commute to work on through busy city streets, so I could save my big adventure bike for weekend blasts and summer tours.
But, would I recommend the 390 Adventure to an older rider looking to downsize from a larger, heavier machine? The answer is a reluctant no. But, that's no reflection of the quality of the KTM. It's just 20bhp or so short of the performance I would want, especially at motorway speeds, if I was stepping down from the likes of a BMW R 1250 GS, or a KTM 1290 Super Adventure. In this situation, the more powerful yet very manageable 790 Adventure would be a better choice.
However, a week or so after my one-man bike launch, I found myself faced with a similar choice. I had the option of commuting to work on a Honda Africa Twin Adventure Sports, or the 390 Adventure. You'd think the powerful, sexy Africa Twin would be the obvious choice, but every time I went to the garage, I found myself walking straight past the big Honda and riding off the on the KTM 390 Adventure.
It was just so easy to wheel out of my garage, so quick to zip through traffic, and so much fun to throw into turns. The 390 Adventure is certainly a little bike with a big heart, and it has won me over.
Specs at a glance
Price

£5,499

Engine

Liquid-cooled, single-cyclinder, four-stroke

Capacity

373cc

Gearbox 

Six speed

Maximum power

43bhp

Torque

37Nm

Suspension

Front; WP APEX 43mm upside-down fork, 170mm of travel, adjustable for compression and rebound. Rear; WP APEX shock, 177mm of travel, adjustable for preload and rebound

Brakes

Front; 320mm single disc with four-piston radial fixed calliper. Rear; 230mm, single-piston floating calliper

Weight 158kg (dry)
Tank capacity

14.5l

Fuel Consumption

84mpg (claimed)

Seat Height

855mm