JOHN NORRIS explores snow-capped mountain and lands scorched by bushfires during a journey of extremes in Australia
My journey began amid the fine drizzle and dawn chill of an Australian summer's morning. Yes, you read that correctly. Despite the fact record temperatures and rampant bushfires were regularly making the headlines Down Under, my fingers were frozen in the pair of lightweight summer gloves I was wearing. In fact, it was such a chilly start to the ride that I pulled over and bought a pair of leather work gloves from a hardware store to combat the cold.
With my hands better insulated, I struck out once again into a grey suburban sprawl of car dealerships, petrol stations, and furniture stores peppered with gaudy placards for fast food outlets. This was not the Melbourne I had seen in the tourist brochures. However, it was an unavoidable hinterland that I had to pass through before I abruptly found myself among the more aesthetically pleasing vineyards of the Yarra Valley.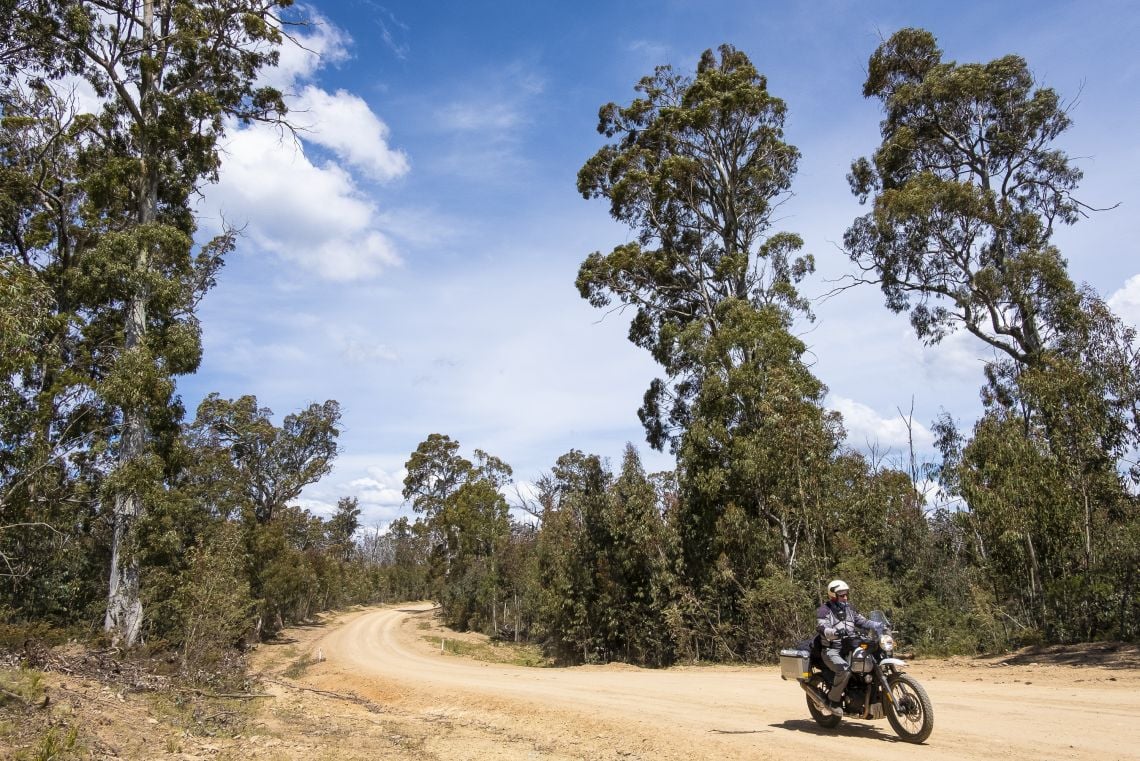 I'd left my wife Anne behind in Melbourne. We'd both flown out from the UK to spend a month visiting family in Australia (all 24 of them), including Anne's 92-year-old mum Betty. It's always a pleasure to spend time with family but, in between games of Scrabble with Betty, I couldn't resist the temptation to borrow a Royal Enfield Himalayan and explore what lay beyond the city limits.
Taking advantage of the lack of traffic, I pressed on through the town of Healesville, taking a road that is often listed as one of the state of Victoria's most scenic roads, Black Spur Drive. It's a popular route and it's easy to see why. The immaculately surfaced road winds though a steep-sided gulley lined with magnificent tall mountain ash trees and giant tree ferns.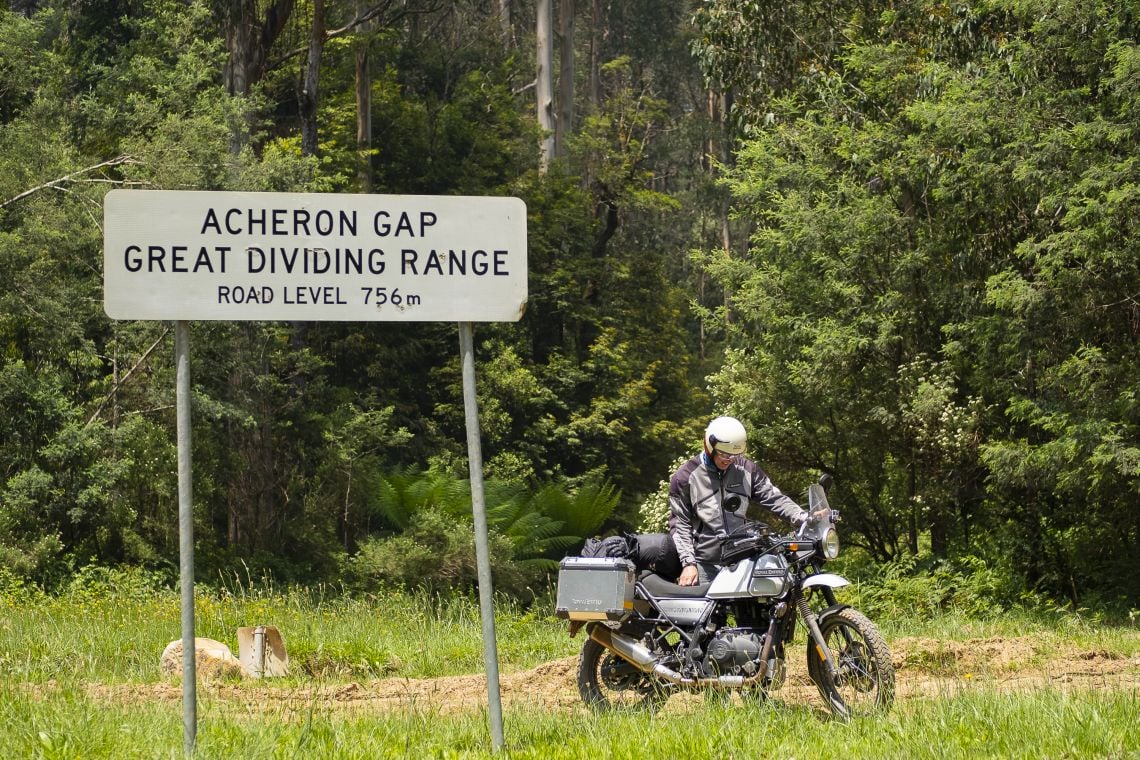 After stopping for breakfast, I rode a series of backroads for 40 miles that make a wide arc around the south of Lake Eildon to the town of Jamieson. I later discovered that this route is something of a mecca for local motorcyclists and for good reason. There is a complete lack of traffic, a perfect road surface, and possibly the most relentlessly twisty road I've ever ridden.
I rolled into the pretty town of Bright where I planned to stay that night, finding a place to set up camp by the river that runs through the town. Bright was a bustling community by day, but by 9 pm, I was the only soul left out on the streets. I suspected this was because it is a regional centre for outdoor pursuits, so folk get up early to be active before the heat of the day. With all the shops and restaurants closed, I had little choice but to turn in for the night.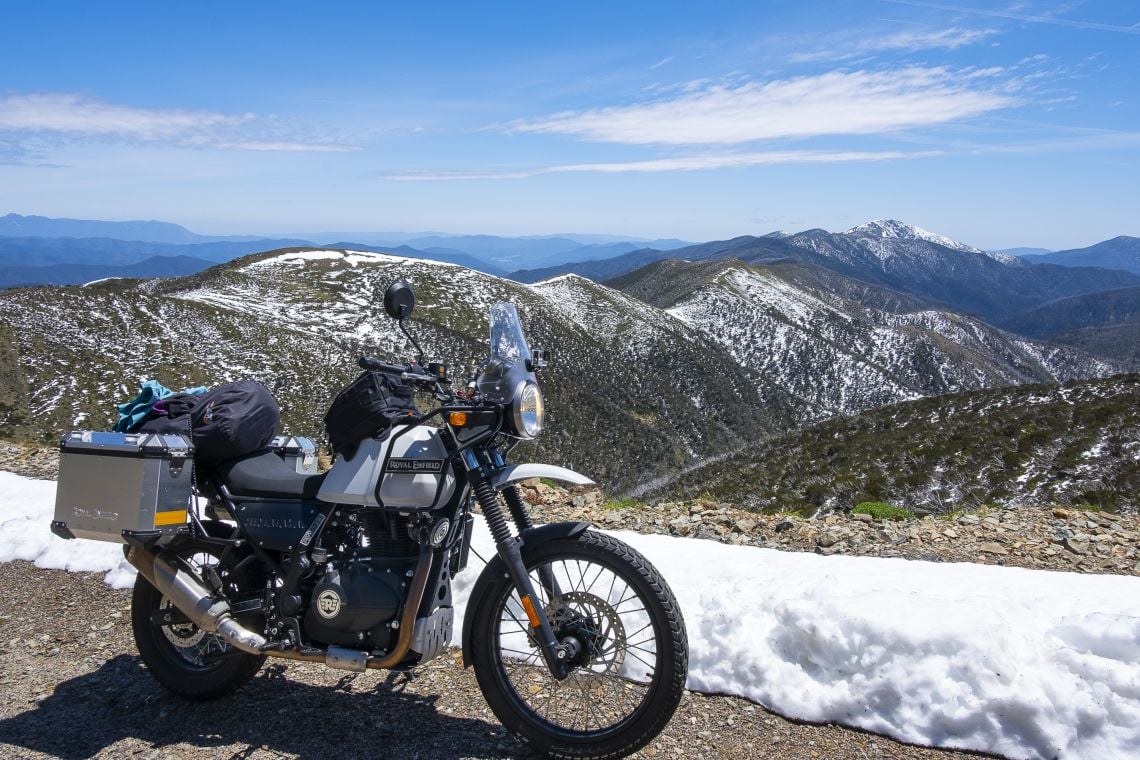 The next morning, I was greeted by stunning sunshine with no sign of the previous day's greyness, but the temperature was still cool. My plan for the day was to ride the famous Great Alpine Road, which is Australia's highest year-round accessible sealed road. It stretches for around 200 miles from the town of Wangaratta in the north, right through the heart of the Victorian Alps, southwards to Bairnsdale. I planned to follow a section of it through to the alpine ski area of Mount Hotham.
From Bright, I rode along a lush green valley to Harrietville, after which the road immediately began a long, winding climb up and around the mountain. There were significant bushfires here in 2003 and the bleached white trunks of dead trees still scarred the hills. The climb was another classic motorcycling road following the contours of the land as it rose through bend after sweet bend until it finally topped out. It was bitterly cold up high but any discomfort I felt was more than compensated for by crisp, clear views of the surrounding mountains.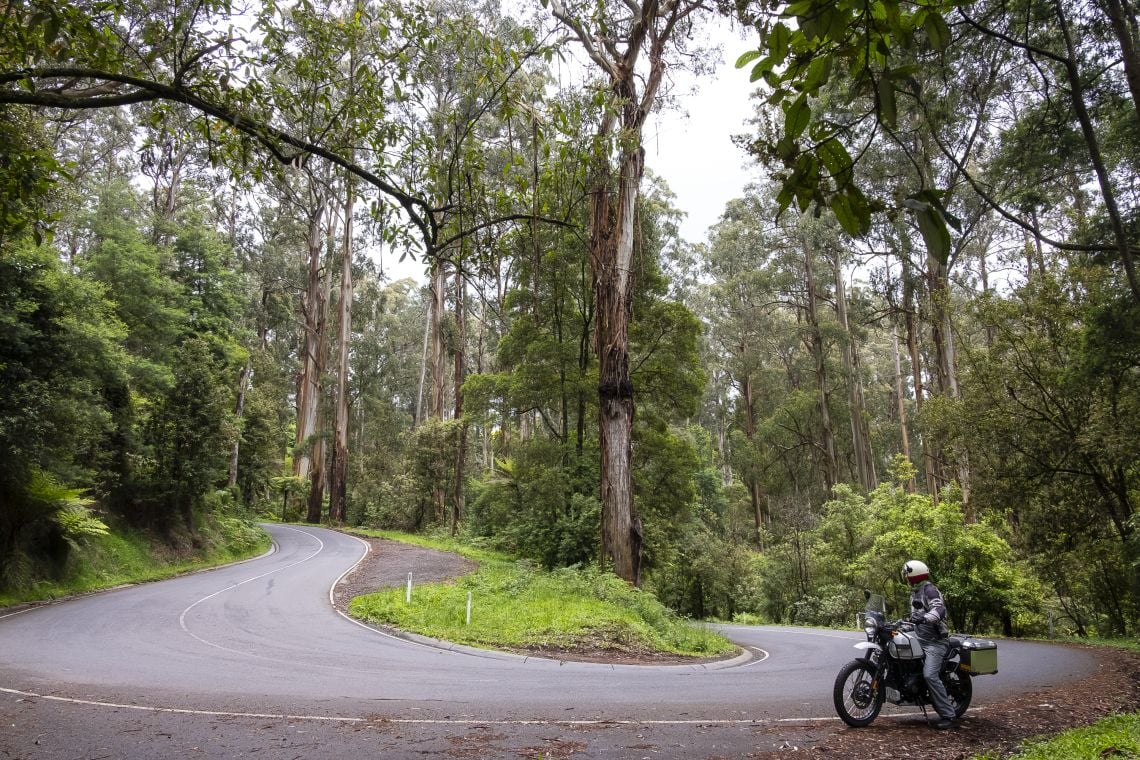 I have skied mid-winter powder through the snow gum trees of Mount Hotham a few times over the years. Here I was in summer, on a motorcycle trip, but feeling freezing cold with fresh snow by the roadside and wearing thermals and a down jacket. The sight of fresh snow would soon seem all the more bizarre in the light of the record-breaking high temperatures that were about to sweep across the country.
I doubled back from Hotham looking for a minor turn-off and found it near a sign to St Bernard Hospice. I was at the northern end of the Dargo Track which I planned to follow for more than 40 miles of dirt road bliss. After a steep, rocky descent, the track followed a ridgeline for some distance, giving awesome views across the high country with fold after fold of blue and green hills disappearing into the distance.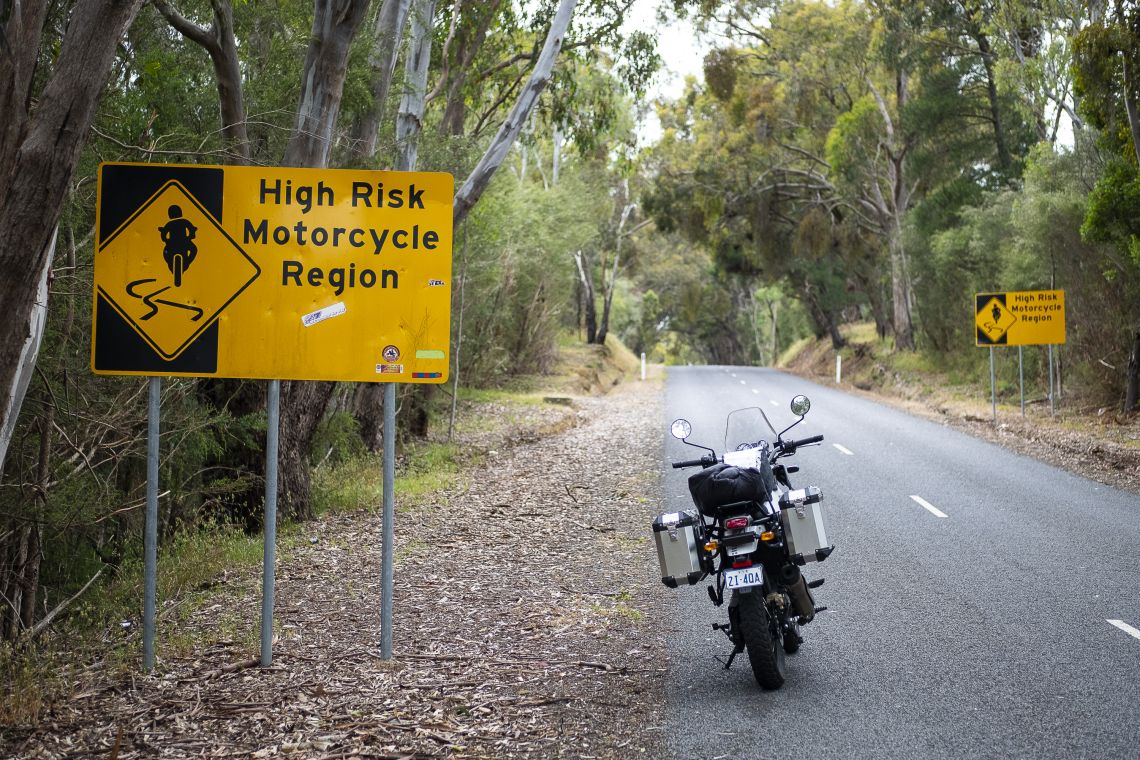 I was cutting across the Great Dividing Range which is one of the longest mountain ranges in the world, stretching almost 2,000 miles from the northern tip of Queensland to the Grampians in Western Victoria. The day was heating up and a shimmering haze rose from the track ahead.
I had this spectacular corner of the world entirely to myself until a four-wheel-drive vehicle appeared around a bend with thick clouds of dust billowing in its wake. I pulled over and adjusted the buff over my mouth before being enveloped completely as it passed. I waited for the dust to clear and continued picking my line along the dirt road, stopping occasionally to take photographs, when I spotted a Yamaha Ténéré coming towards me.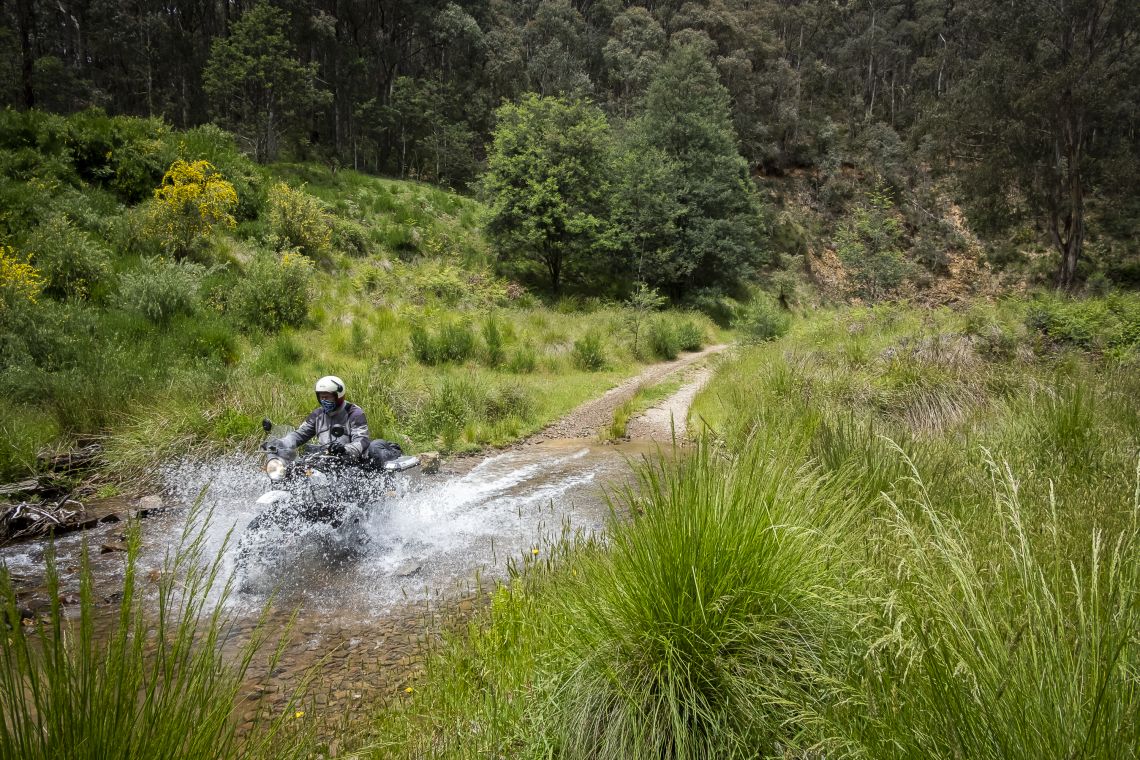 The rider, Kevin, had ridden from Perth right around the north and east coast of Australia, clocking up more than 12,500 miles. He was heading in the same direction as me in order to catch a ferry to Tasmania, so we set off together. However, our bikes were kicking up so much dust that following another rider was out of the question, so I dropped right back and gave him a 10-minute head start. I waited for the dust to settle and continued down the road.
When I reached the old gold mining settlement of Dargo, my first stop was the traditional pub built from weatherboard and corrugated iron. The name Dargo Hotel was painted in bold white letters on the roof. Inside, the walls and ceiling were lined with stubby holders and memorabilia vaguely themed around dirt bikes. There was even a dirt bike hanging above the fridges behind the bar. Kevin was already propping up the bar with the locals when I walked in.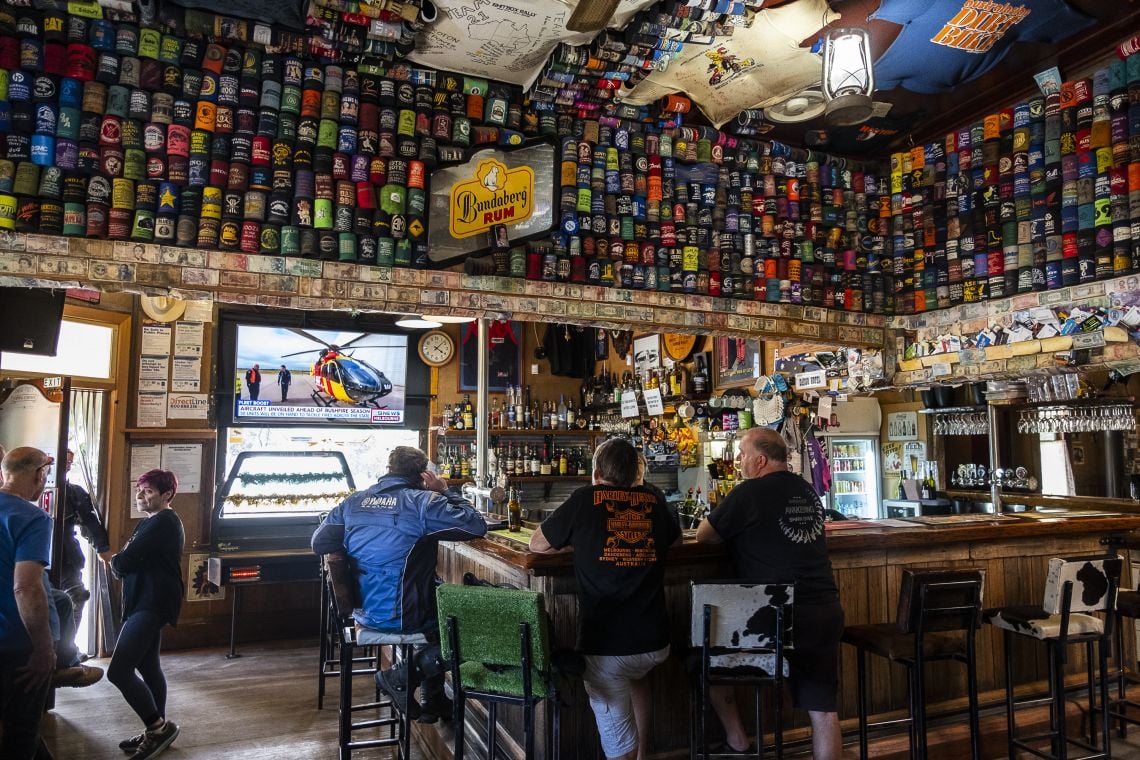 They were all absorbed watching TV news footage about the bushfires. Not so long ago, fire had swept through this region so naturally, people want to stay well informed. I was tempted to stay in the free camping field behind the pub, but I needed to push on as I'd arranged to meet an old friend further down the road.
By the end of my day's ride, I reached the coastal town of Lakes Entrance. I found somewhere to camp behind Eastern Beach on the outskirts of town, before meeting up with my old friend Andy, who is a photographer. We had a great evening catching up and shooting pictures of pelicans and the sunset over what is Australia's largest network of natural inland waterways.
It would have been nice to spend more time in Lakes Entrance with Andy but I had more riding to do. I needed to be back in Melbourne in two days to catch a flight to see my brother in Adelaide.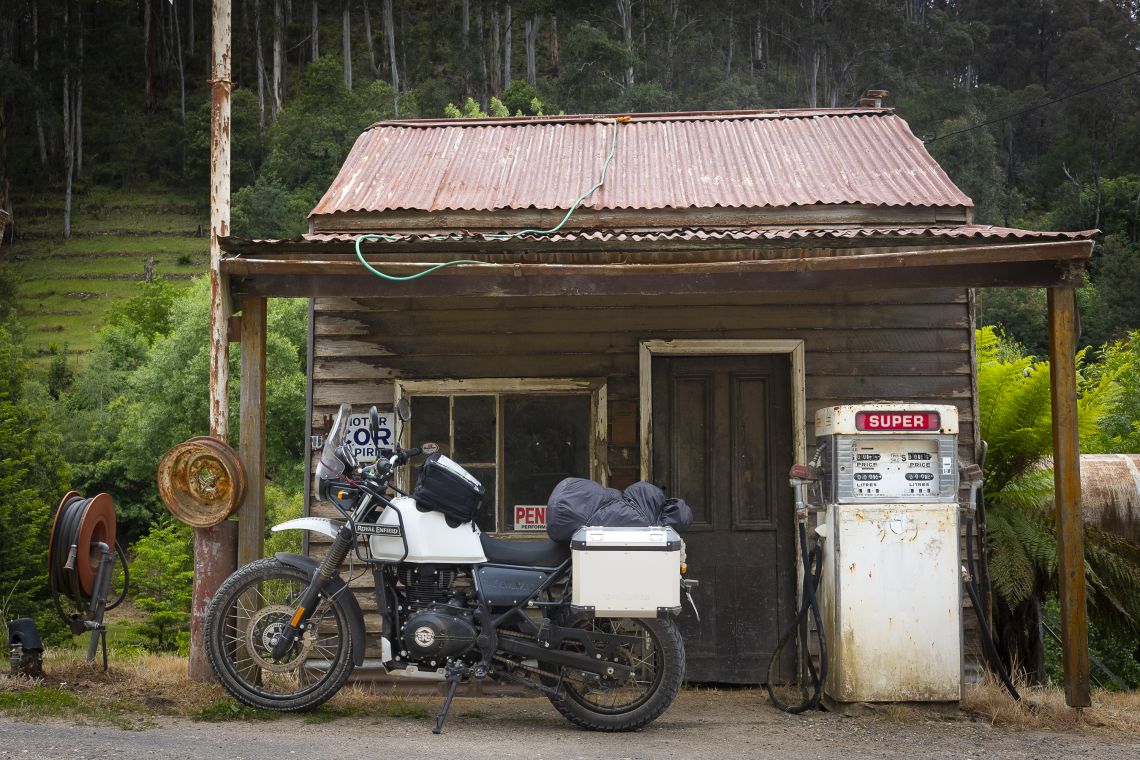 I figured I had just enough time to visit Walhalla, another old gold mining settlement, before riding north through the Alpine National Park. Walhalla lies in an isolated valley in the hills. Somehow, many of its historic buildings have escaped the bushfires that raged in the surrounding forests in recent years.
In early 2019, fires were lapping just metres away from the town's historic wooden buildings that were built in the 1860s, but a combination of torrential rain, courageous firefighters, and a change in the wind helped save the town from certain destruction. I set up camp by the roadside and ate at The Wally Pub, later wandering back to my tent down an empty street under the stars.
A cacophony of birdsong woke me the next morning. Stirring to the sound of magpies singing is a delight of camping in the bush. I packed up and rode to Thomson Dam which has created a vast reservoir in the wilderness. A dirt road picks its way north through uninhabited land except for a couple of tiny hamlets dotted along its length. At Matlock, I turned right towards Woods Point at the only main junction along the 45-mile track.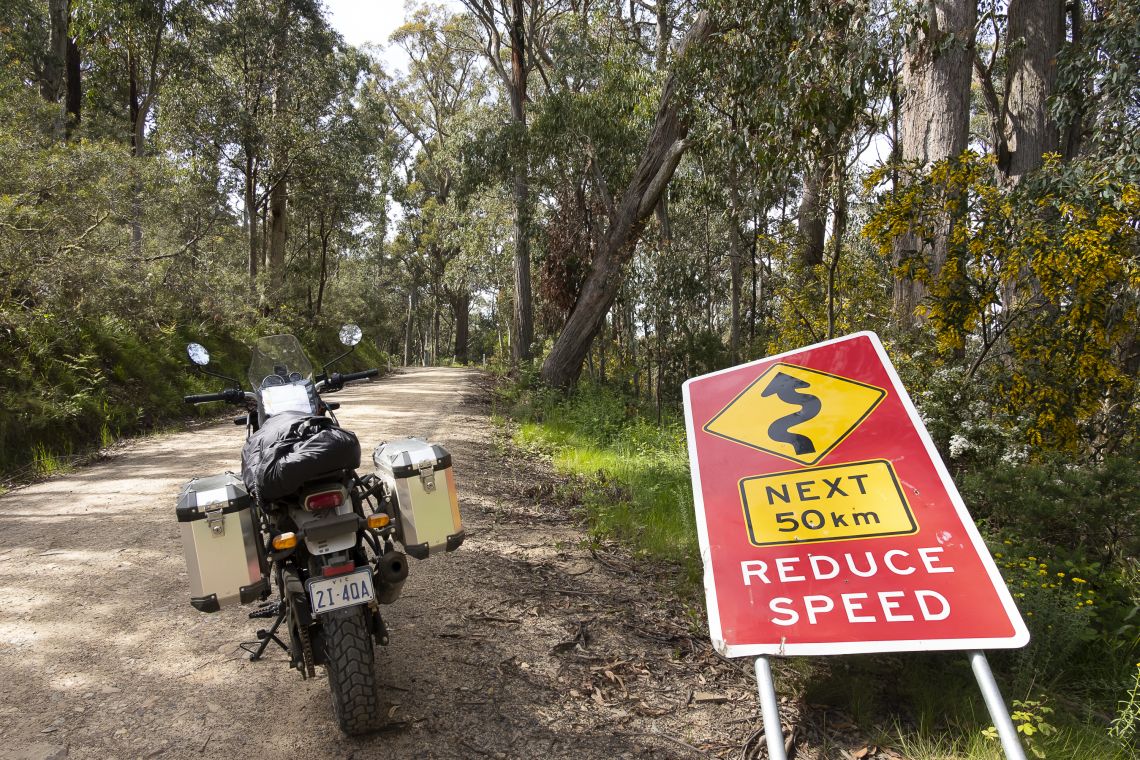 The experience of riding a bike through the Australian forest is unique. It's not just about the magnificent and diverse native trees, or the groves of ferns in the understory, or even the flashes of exotic red and green birds darting ahead of the bike. For me, having grown up in an over-populated England, the appeal is being completely away from buildings, crowds, traffic, and noise. When you pull over and kill the engine you hear only birds, the wind in the trees, and perhaps running water. I found it addictive.
At Woods Point, which is simply a sleepy collection of buildings in a clearing, I stopped for a coffee at a wooden shack by the road. It was one of about three buildings that had escaped destruction by past bushfires when they ripped through the settlement. The owner, Graham, was thinking of leaving after spending years scratching a living. It turns out he was an avid collector of vintage cars which he could never drive. The roads in those parts were just too rough for them. While a degree of eccentricity might be a useful quality when living miles from anywhere, I did wonder if wood carving might have been a hobby better suited to his situation.
The ride out towards Jamieson was memorable. The road follows the clear waters of the Goulburn River running north from Snakes Reserve, not the most temptingly named camping area but beautiful nonetheless. In fact, all along the next stretch, there were free campgrounds in idyllic spots. Soon after the track became tarmac, I paused for a well-earned coffee and something to eat at Deb's Jamieson Café. The tiny hamlet felt like civilisation, a feeling that became stronger as I rode the three hours or so back to Melbourne in time to catch my flight to Adelaide.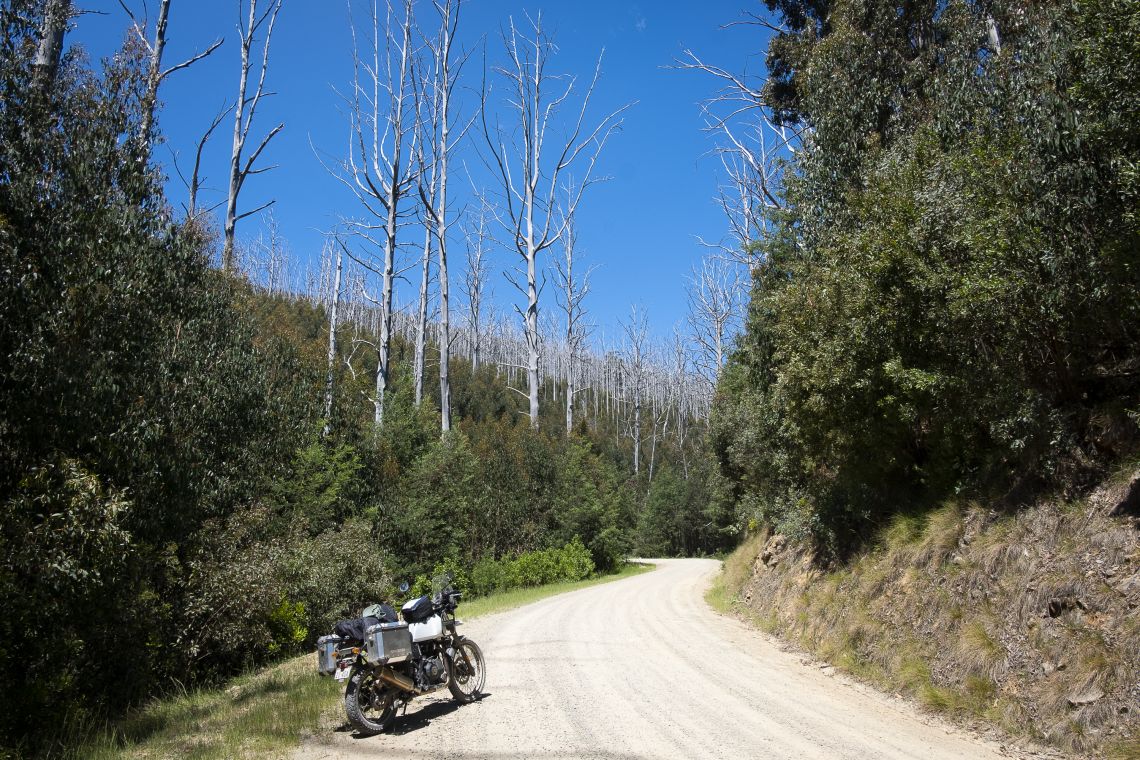 A week later, I was back in Melbourne with a few days to spare before Christmas, so I rode out again on the Himalayan to make another loop on a mix of tarmac roads and dirt trails. Once again, I rode through Healesville but this time I turned east towards Mount Donna Buang, which stands at 1,250m in the Victorian Alps. Twisting and climbing on perfect tarmac, the road switches to gravel after a short while. A wallaby bounded lazily in front of me and disappeared into the undergrowth.
I took a short spur road to the summit where there is an impressive fire lookout which stands at a height of 21m. It should have provided 360-degree views across miles of hills and forest but instead, I was greeted by the sight of smoke laying in a dense brown layer across the land obscuring distant hills. Wildfires had spread in earnest to Victoria and neighbouring South Australia and were being rated as 'catastrophic'. With temperatures rising to the upper thirties, it was a sobering sight.
I left Mount Donna Buang behind and took a left turn onto Acheron Way. This was an excellent stretch of dirt road that cut a winding route across remote terrain. I didn't see another vehicle in 25 miles. I rode through Marysville and then east towards Cambarville to connect with a dirt road that runs for another 40 glorious miles of uninhabited forest, finishing up on the curiously named Snobs Creek Road. I'd been riding for more than 12 hours so I took some time to eat and drink at Four Ways Café-Diner in Thornton. I ate surprisingly good fish and chips and drank loads of water near a large archaic electric fan that sounded like a 747 aeroplane taking off. The lady who served me recommended a free campground nearby in the Rubicon Valley.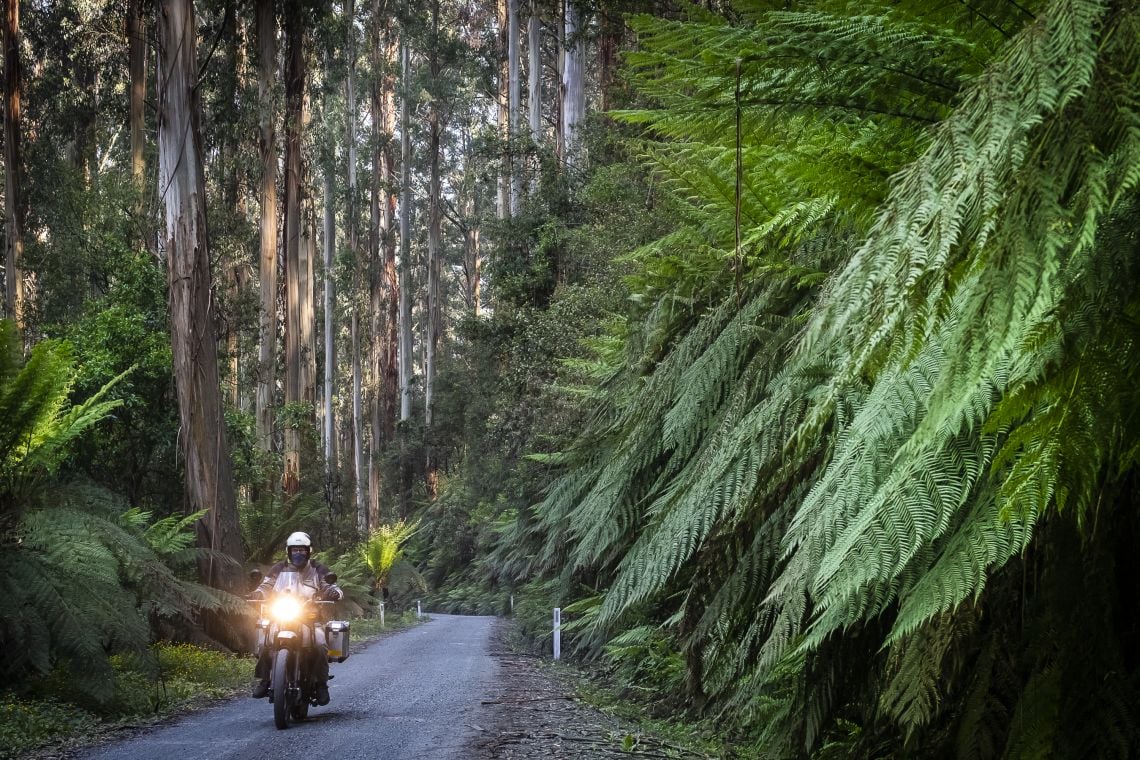 I hadn't even unpacked the tent when Ian, a guy from a nearby camper van, came over and asked me "beer or coke?" In Australia, there is only one correct answer to that question and the beer helped dull the aches and pains of my long ride. Rubicon Valley is set among hills and forest with a river running by the campsite. At 4 am, when nature called, I was treated to a brilliantly starry night sky framed by dark silhouettes of eucalyptus branches. It was a sight made all the sweeter by the fact that, during most of my trip, the sky had been jaded by smoke from distant bushfires.
The next morning, I arrived in Cathedral Ranges State Park. In front of me were four miles of jagged, rocky ridgeline rising up out of the plains against a clear blue sky. The roads in the park are all gravel and dirt and the route south climbs so steeply it is only suitable for four-wheel-drive vehicles and motorcycles with some off-road prowess.
The road topped out below Mount Sugarloaf and, despite the soaring temperature, I decided to park the bike and climb to the summit. From an information board, I chose the 'challenging scramble' route. The view from the top was panoramic and a cool breeze alone made it worth the climb. Once back on the bike, it was a long, hot descent to the valley and I lost track of time as you do when concentrating on every loose patch of gravel and rut in the road, but enjoying every moment.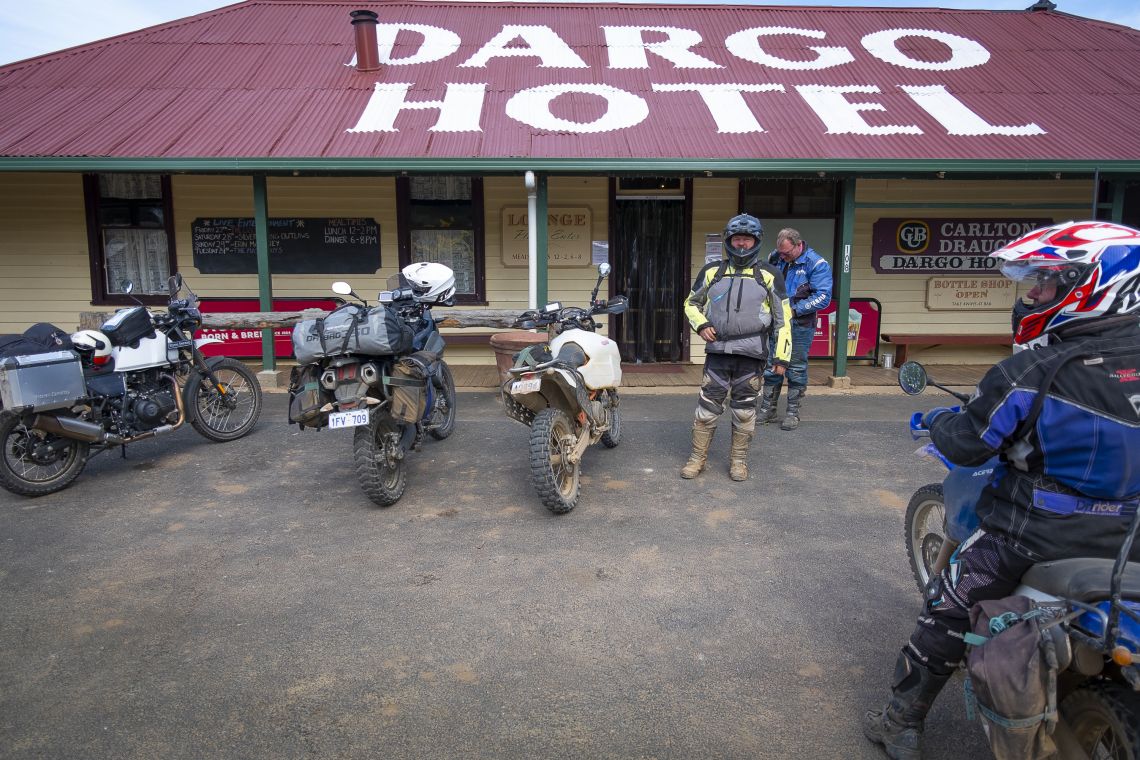 I figured I had just enough time to explore a bit further before getting back to Melbourne in time for a big family Christmas. I made my way onto Lady Talbot Drive feeling somewhat duped by the leisurely sounding name because it turned out to be one of the roughest stretches of track I'd been on. This area was badly affected in 2009 by the most lethal bushfires in recent Australian history, known as Black Saturday.
It was shocking to see the scorched apocalyptic landscape while knowing that many more bushfires were burning across several Australian states as I rode. However, it was also fascinating to see how the forest was regenerating 10 years on from the disaster. Flowering shrubs, ferns, and small trees were creating a vivid coloured carpet at the base of a monochrome forest of dead trees as far as the eye could see.
I'd almost reached the end of the 29-mile track when, rounding a bend, I came upon a huge fallen tree across the road. With a vertical bank on one side and impassable scrub on the other, a chainsaw might have been handy. There was no way I wanted to go all the way back, so I found a few lengths of deadwood and built a ramp on either side of the fallen tree. Gunning the Royal Enfield, I rode up and over it. The suspension linkage dragged a bit but it worked and I was on my way again.
As I came to the end of Lady Talbot Drive, it was time to complete my loop and head back to Melbourne a few hours ride away. I made it back to the city after sunset and it came as a bit of a shock to be riding through residential suburbs at twilight after exploring such remote areas. However, it was a timely end to my journey. Tomorrow was Christmas Day and I had a Scrabble rematch to play with Betty.
The Bike
One of the criticisms made of the Royal Enfield Himalayan is its lack of power, especially at cruising speeds. However, this was not an issue that troubled me. Most speed limits in Australia are 100kph (62mph) or lower which is well within the bike's comfort zone even loaded up with camping gear.
My trip was mainly on surfaced backroads and dirt or gravel tracks that occasionally got pretty rough, but were often fairly well graded. In these situations, both the suspension and the torquey, non-aggressive power delivery of the Himalayan engine were well suited to the job and were an asset on loose gravel corners.
Want to ride in Victoria?
I flew to Melbourne via Doha on Qatar Airways for around £700 return from the UK. The baggage limit was tight but I'd left a stash of camping gear in Melbourne with my wife's family some years ago, so that helped. Australia can be expensive but I was camping or staying with friends and relatives for some of my time, and their generosity helped hugely.
A typical cafe meal cost $15-20 (£7.55 – £10) and a coffee set me back around $4 (£2). Campsites varied from free to $40 (£20.12) just for a bike and tent. I used a lot of free sites and most people in villages or small towns could point me to these. They usually had a toilet and running water and were often in lovely settings. It was easy to wild camp in wilderness areas too.