What happens when your motorcycle trip of a lifetime is thrown into chaos by a global pandemic?
EGLĖ GERULAITYTĖ speaks to a collection of intrepid adventure bikers around the world to discover how they've overcome the confusion, uncertainty, and loss of freedom caused by the coronavirus crisis.
Earlier this year, I was leading a motorcycle tour in Ecuador, South America. Among the riders was Paul, a medical professional from Hong Kong. Paul was the life and soul of the party. Even when he was tired, or we'd seen some bad Andean weather, he would always find something to joke about or tell us yet another fascinating story from his adventures around the world as a doctor.
However, when Paul first mentioned COVID-19, we didn't even register it despite the fact he told us it was going to be "the next big thing." I guess we were too busy riding the Andes and the Amazon, enjoying our bikes, and having too much fun to pay attention to some obscure new virus in China.
Fast forward a few months and we've all been living under a lockdown or in quarantine conditions, regardless of whether we were in Ecuador, Europe, or North America. Closed borders, social distancing, and the uncertainty of what's to come have been eating away at all of us, although thankfully, restrictions put upon many of our daily lives are now easing.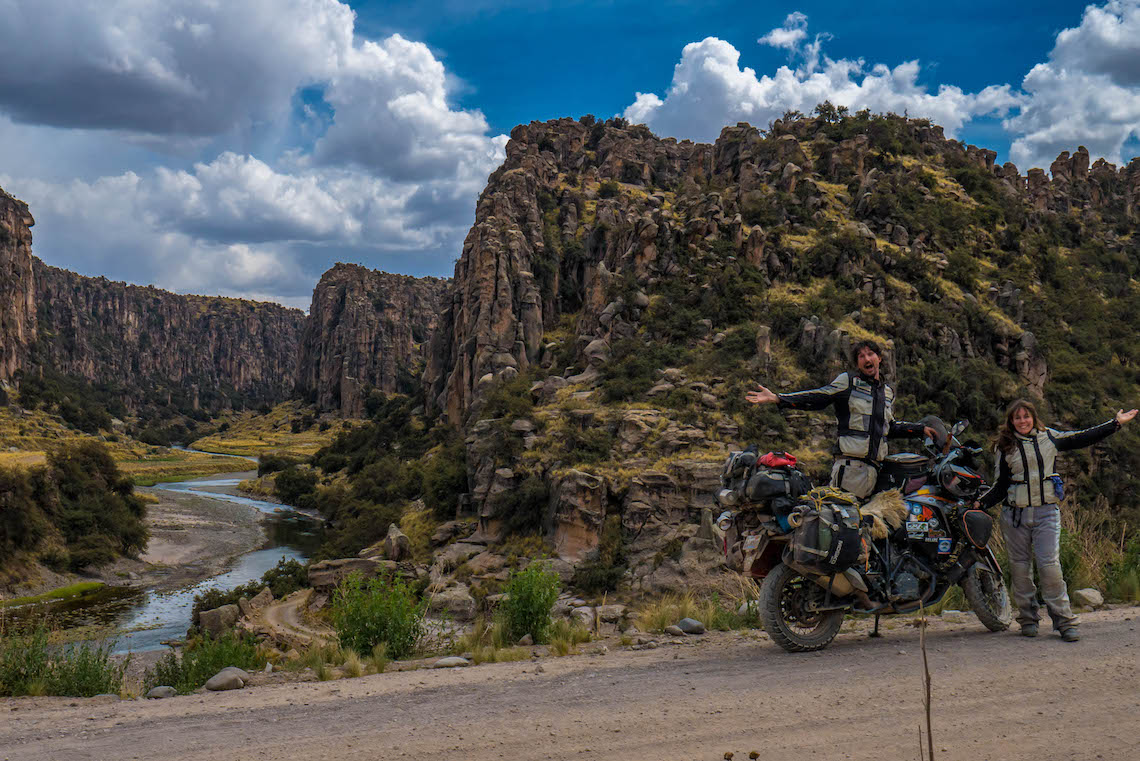 For me, coronavirus represented the first time in years that I've spent more than a month in my home country of Lithuania. I've been living life on the road since 2016, so cabin fever has been in full force. However, I count myself lucky because I managed to get home. Many other riders did not. Coronavirus hit suddenly and a lot of adventure motorcyclists remained stranded all over the world unable to go home as borders closed. To stay connect- ed with fellow travellers, I started The Quarantine Diaries, an online video project aimed at connecting riders stuck in foreign countries during the COVID-19 chaos.
Amazingly, people began sending in their videos as soon as the project launched, and I now have a collection of dozens of stories from around the world. Some adventure travellers decided to stay with their bikes and wait the storm out, while others left their motorcycles behind and made a dash to fly home before borders closed. Some still face uncertain times in countries they are stranded in, but all are hopeful they'll be back exploring the world again soon. These are their stories.
Stranded in Uganda
Having already travelled from North to South America, Tim and Marissa Notier shipped their KTM 1190 Adventure to Africa and were planning to ride around the entire continent before heading to Europe. However, as coronavirus hit, Tim and Marissa got stranded in Uganda where they rented an apartment on the outskirts of Kampala in the hopes of waiting it out.
Tim said: "Going home was never part of our plan. We don't even have a home any longer. We live on our motorcycle, and frankly, staying in Uganda is just a lot cheaper than trying to get ourselves and the bike back to the US. We didn't want to take five different flights and then be in close contact with our relatives. It just seemed like an unnecessary risk.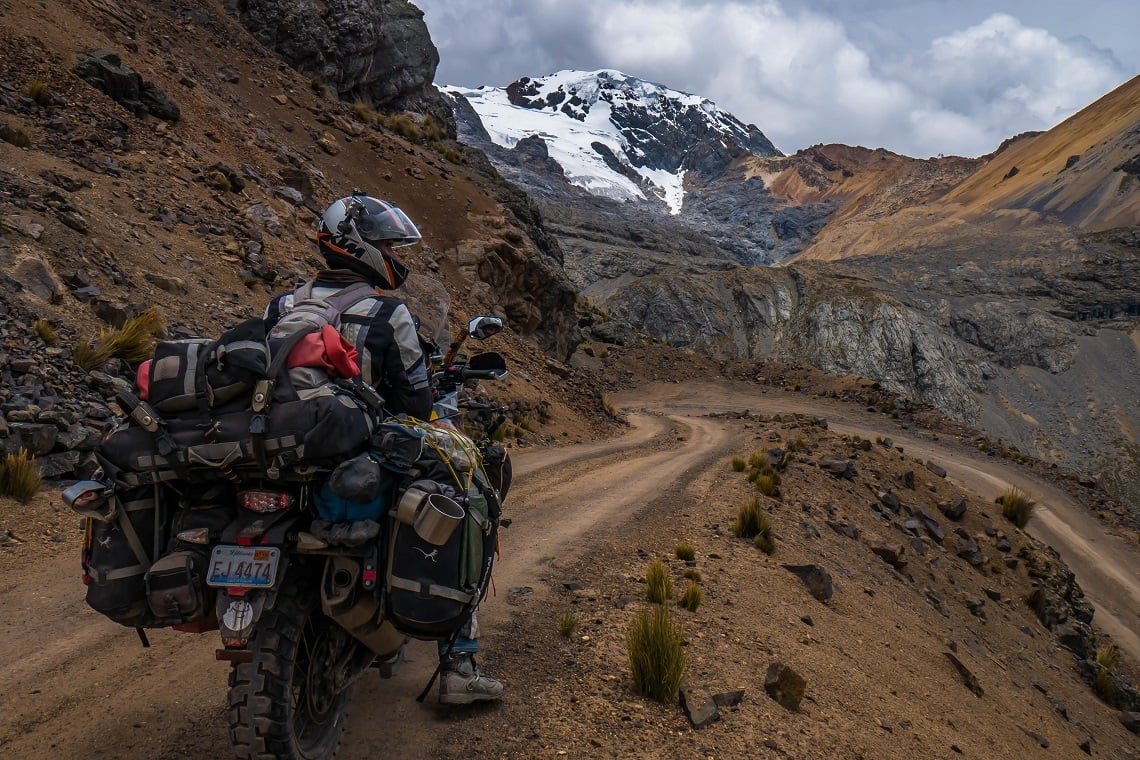 "On the one hand, Uganda seems to be managing and preventing the spread of the virus quite well right now. On the other hand, should one of us need hospitalisation, for example, things could go wrong quickly. This is a beautiful and incredibly welcoming country, but it is also a very young country, and the healthcare system just isn't as developed.
"The not knowing of when we'll be able to move again is worrying, so we're trying to mentally budget for the fact that we may need to live in Uganda for some time to come, if it comes to that."
Marissa added: "At the moment, the situation is still quite calm and relaxed in Uganda, despite the closed borders. We don't know what the situation will be in the future. Right now, we just don't have a lot of cases here.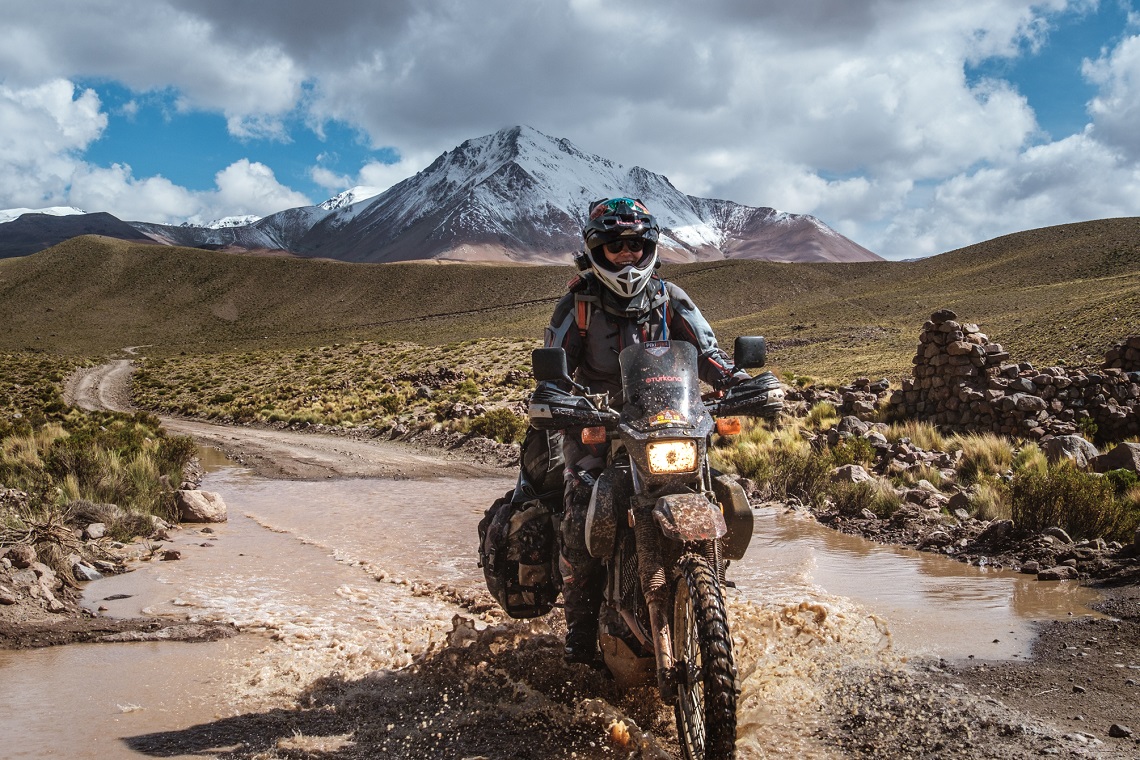 "The locals are still very friendly towards us and, since we're in this closed-off compound, we feel perfectly safe. We wouldn't want to be in Egypt, Sudan, Ethiopia, or Kenya right now, but Uganda is just so nice and friendly, and it's also still quite cheap."
For now, Tim and Marissa are hunkering down and catching up on their online content, and Tim is thinking of writing another book.
Tim said: "Right now, we don't know when the borders will open again, there's really just no telling of what's going to happen, so we'll just take it day by day and try to make the best out of it."
Hunkering down in Bolivia
Michnus and Elsebie Olivier, a South African couple, have travelled the world and lived off their motorcycles for a decade. When COVID-19 hit, Michnus and Elsebie were travelling in Bolivia on their Suzuki DR650s. As Bolivia began implementing restrictions on travel and entered a lockdown, the couple were forced to hole up in the city of Sucre. Like many other stranded travellers, Michnus says they're planning to simply wait it out until the borders in South America open up again.
He said: "The thing with us is we travel really slowly. We've already been in South America for a couple of years and we were planning to stay here for another year before shipping our bikes to Europe, so we were never in a mad rush to get anywhere, and we don't feel that staying put for a little will have a big impact on our travels.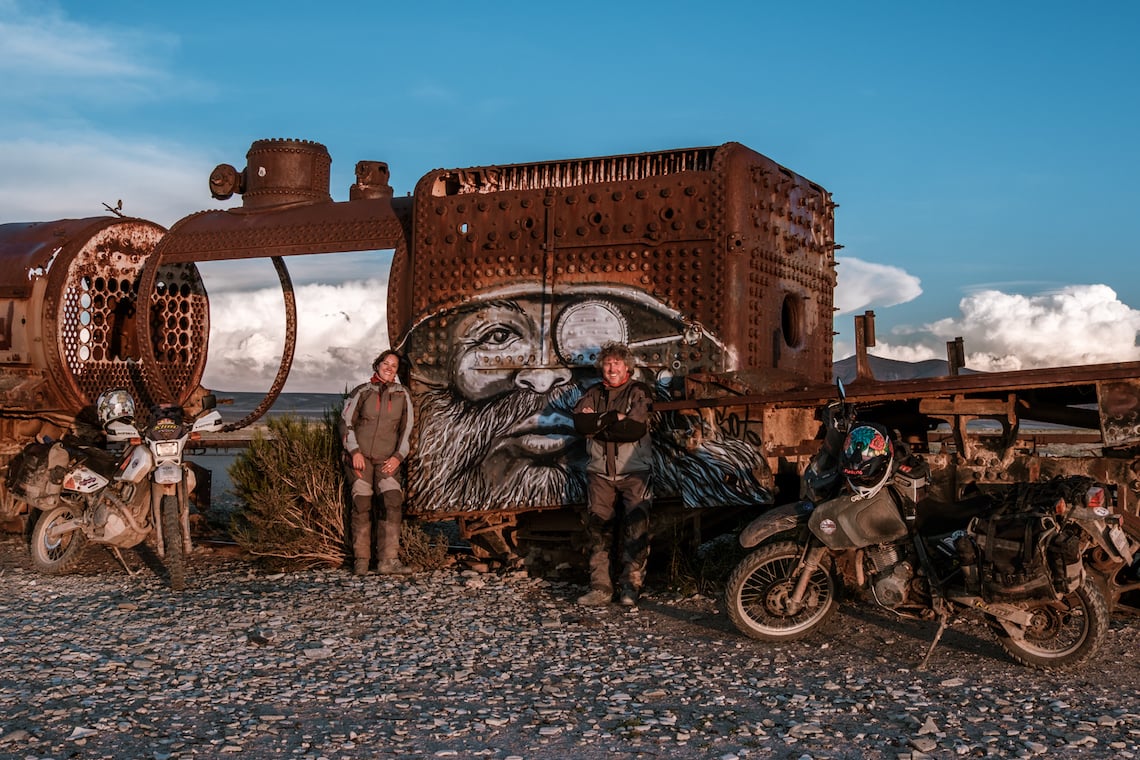 "Of course, the situation is unprecedented and, although technically we could still get out and about, we were advised to stay put as the locals get a bit upset when they see foreigners still travelling, understandably so. At the same time, we're really grateful to the local motorcycle community here. We've received a lot of help from the locals and that's absolutely wonderful.
"We're a little concerned about extending our visas and the permits for our motorcycles, but let's see. For now, we're just staying here. The nearest South African embassy is in Lima, Peru, so they won't be much help. Besides, there's still so much we want to ride and see here in South America that we just don't want to panic and try to ship our bikes or fly back home.
"So far, we're seeing the adventure biking community really coming together and helping each other out, which is amazing, and we're just staying positive and optimistic that the situation will get better soon".
Running out of funds
Daniel Byers is an American traveller exploring South America on his bike. He shared a concern that dwindling funds might become an issue if the lockdowns continue for an undefined period of time.
He said: "At the moment, me and a German traveller I met on the road are hunkered down in a small Brazilian town. It's OK for now, however, we're worried that if this situation continues, we'll face the issue of running out of resources. Neither of us planned to stay in South America for a prolonged period of time, so this is becoming a concern."
Raphael, a French traveller who became stranded in Patagonia, told me there is a growing tension among locals who have been viewing foreigners with suspicion.
He said: "Travellers used to be viewed with a lot of warmth and hospitality in Argentina, but now, they're seen as the cause of coronavirus. Strict travel restrictions closed hotels and hostels, and restrictions on movement are all now making life difficult for adventure motorcyclists."
A Race to Dakar
Sinje Gottwald, a German rider travelling around Africa solo, was in Mali when she realized the COVID-19 situation was getting serious.
She said: "I knew I needed to get to Dakar, Senegal, as quickly as I could before they shut down the borders and the airports if I wanted to make it back to Germany in time. I had to do a mad 430-mile run through a scorching-hot desert in just one day, and I was especially worried as I felt feverish. They were already taking people's temperature at the Senegalese border and I was concerned they wouldn't let me in. Turns out, I merely had a mild heatstroke but it was a very stressful ride and challenging border crossing, for sure."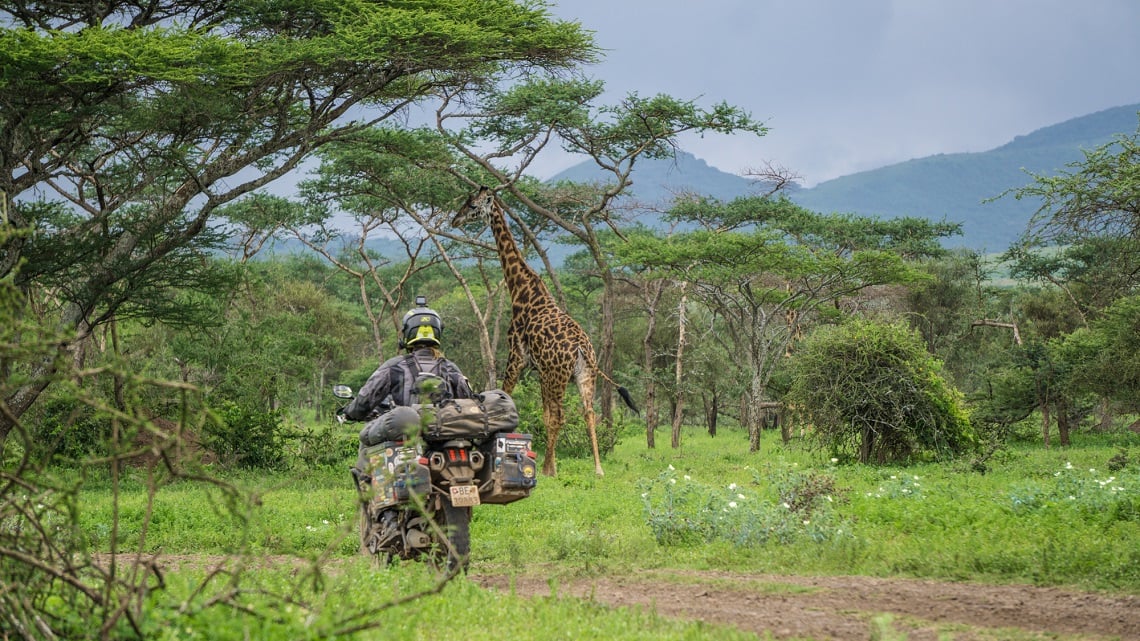 Sinje made it to Dakar in time, left her bike behind, and got on the last flight back to Germany in the nick of time.
She added: "I'm incredibly grateful to all the people who helped me make this happen. There was a very real chance of getting stranded in Dakar and I just didn't want that at all. Local people were already getting quite hostile to travellers, and I'm just happy I made it out".
Escaping Ethiopia
Xenia Sägesser and Martin Strebel, a Swiss couple riding their Yamaha XT660s around the world, were in Ethiopia when they found out about COVID-19.
Xenia said: "We immediately realised we needed to get ourselves and our bikes back home. Staying in Ethiopia during a massive health crisis just didn't seem reasonable at all. However, finding a cargo plane that would take our bikes, then finding flights for ourselves proved to be a difficult task. For one thing, we were asked to pay in cash which was difficult as local ATM's wouldn't accept our cards. We had to ask our relatives to wire us some money just so we could get the cash.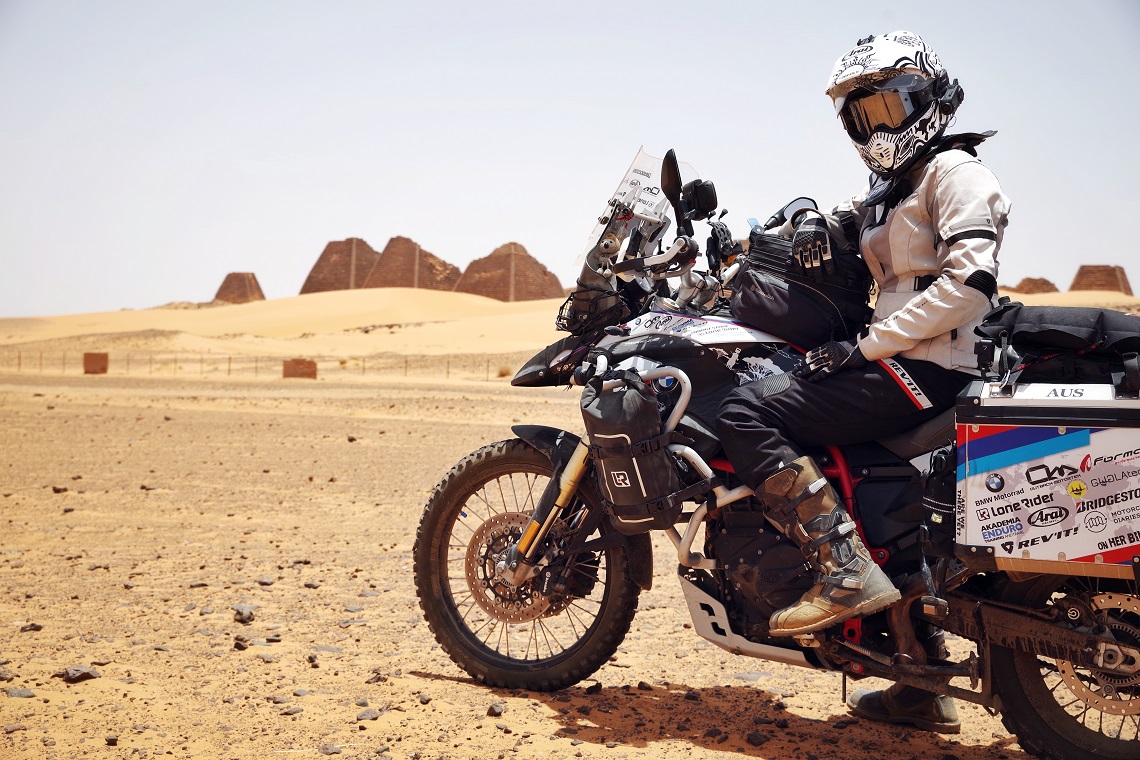 "Then it turned out we needed less than we were initially told, but the problem is, Ethiopian currency isn't worth much outside of Ethiopia, so we had to find some sort of local currency exchange or we would have lost money. Last-minute running around and dealing with local black markets was beyond stressful, especially as locals were getting very suspicious towards travellers and would yell "corona" while pointing at us. It was very unsettling"
Luckily, the couple managed to pack up their bikes and fly the motorcycles and themselves out just in time. Having returned to Switzerland, they plan to continue their trip as soon as it is safe.
Waiting out the storm
Although many adventure riders made it home safely and are hoping to wait out the coronavirus crisis in their native countries, the uncertainty of the situation is on a lot of travellers' minds right now.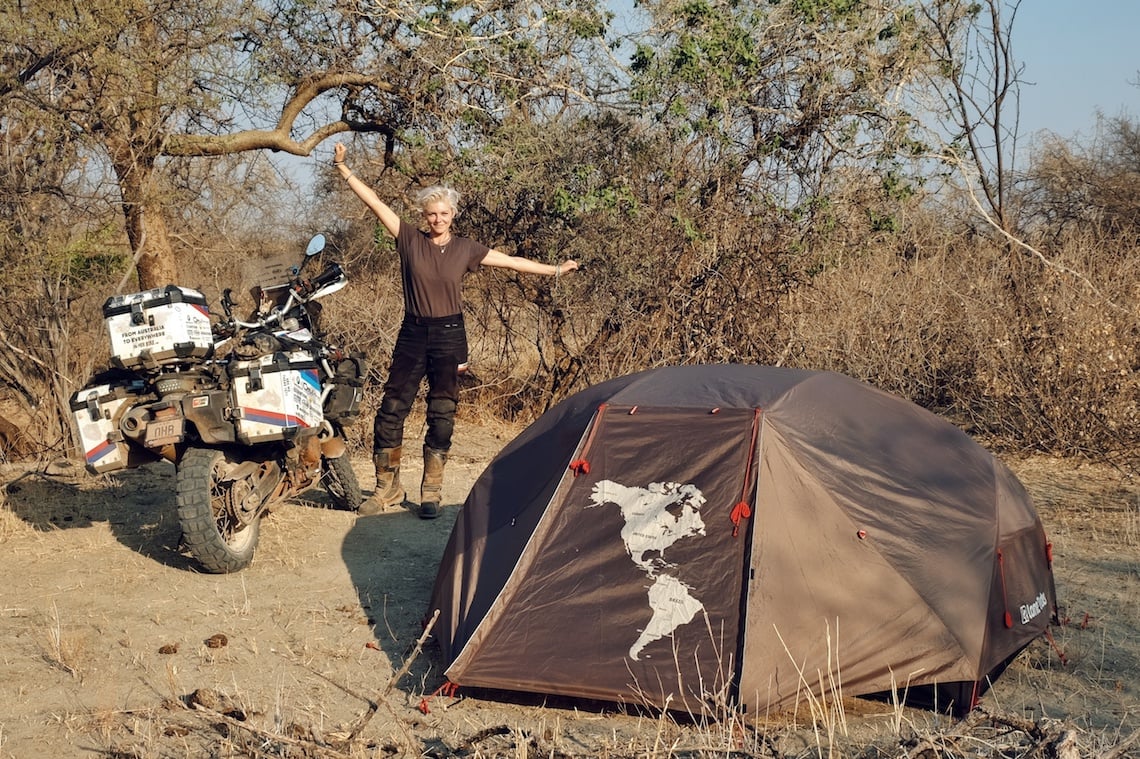 Kinga Tanajewska, the world traveller behind the popular On Her Bike Youtube channel, said: "In a way, I was very lucky. I had planned a minor surgery back in Warsaw months ago, so I'd already booked my flights well in advance and faced no issues coming back to Poland from Mozambique, leaving my bike there. I'm staying with my sister and, once the mandatory quarantine is over, I'll be able to go outside.
"For now, I'm trying to stay positive and, while the not-knowing is hard, I'm focusing on things I can do to stay productive and hopefully help the community, too."
Staying connected
As the messages of hope flooded my inbox, mixed with anxiety about the near future and the world that will emerge once the COVID-19 threat is over, I tried to make sense of all that was happening. As most of the world is still living under lockdown and the borders are shut, I'm wondering when will we be able to ride again and, once we do, will we be travelling differently? Will there be a shift in priorities, perspective, and perhaps, a renewed sense of belonging and community?
Time will tell. And in the meantime, as we all adjust to this new reality, staying connected might be the most important thing of all.