Simon Thomas explains how the use of filters and phone apps can help you capture stunning photographs of sunsets on your motorcycle travels
Plan your Sunset
I've lost count of the number of times I've pulled out the camera to photograph a spectacular sunset, tapped in the right settings, pressed the shutter release button, only to look at the image and realise that it's total crap. I know, it's not the most inspiring start to a photography masterclass, but does it sound familiar? These days, my sunset photo success rate is way better than it used to be thanks to some great tricks that I've learned along the way and that I want to share with you.
Plan your sunset The majority of my photography is spontaneous. I'm generally somewhere new and not sure what to expect. I ride to a new location and pull out the camera if something I see excites me. But over the years, I've learned that investing a little time in planning sunset shots pays huge dividends. These days, there's an app for everything and that includes photography planning. I regularly use a number of apps that update us about the weather, sunset times, and atmospheric pressure. Some even help you choose the correct camera settings for the conditions.
Here are a few of the apps I use:
The Photographer's Ephemeris: This incredible little app shows you the position of the sun and moon at any given location on the planet.
PhotoPills: It provides detailed information about where the sun and moon will be at any given time, and it will also help you plan a journey to the best locations to shoot spectacular photos.
Google Maps: I use Google Maps to pinpoint great locations and then share those with friends and other photographers.
SkySafari: If you've ever wondered how I find just the right location to shoot the Milky Way shots that I've shared in ABR over the years, I use apps like SkySafari which provide real-time data about star and galaxy positions.
Invest in filters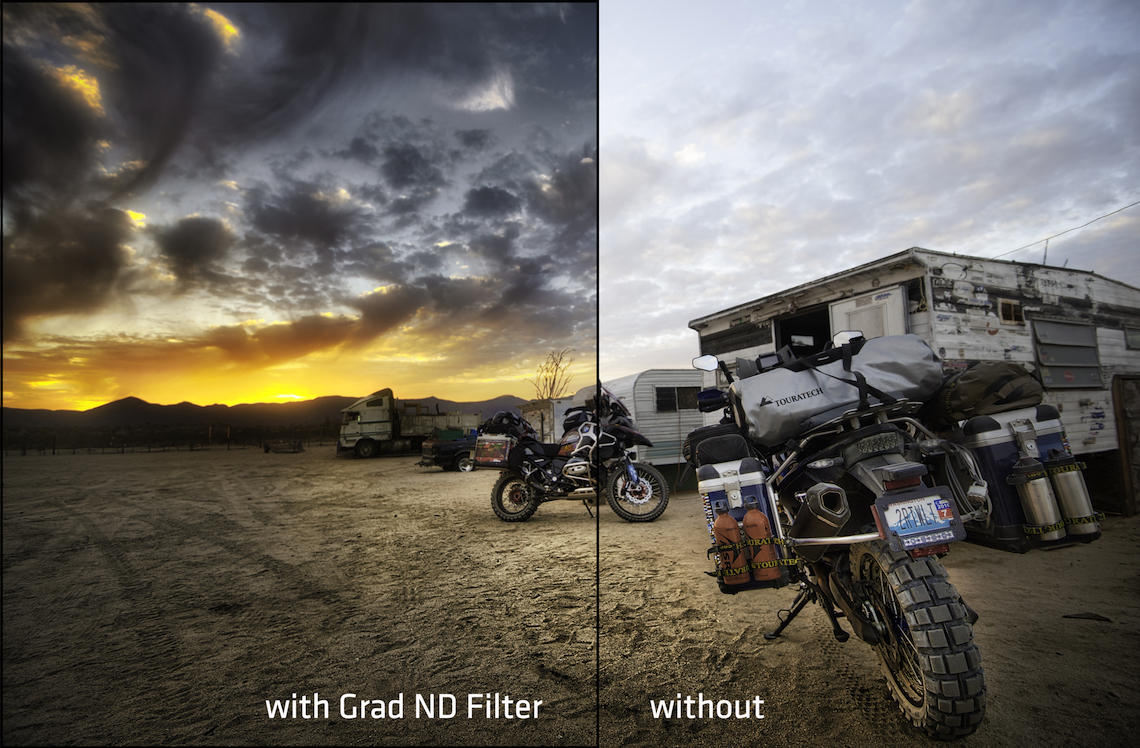 I used to think that if you used filters on your camera you had to be a professional photographer. This is not true. A filter is simply a tool that helps you capture what you see. The issue with photographing sunsets is that your camera is having to deal with both very bright and very dark areas in a single scene. Investing in a neutral density (ND) filter is a great idea if you've got your heart set on capturing stunning sunsets.
Think of an ND filter as a pair of sunglasses that you place over your camera lens. They are pieces of glass that are clear at one end, and gradually become darker towards the other end. With the darker end placed over the brighter part of the sunset, the camera can better correctly expose your shot and capture the colour and detail in both the sky and the foreground of your image.
To guarantee a shake-and-blur-free image, take a tripod. They pack down small and can easily be strapped to your bike.
Change your sunset composition
During my early photography years, I was guilty of getting so caught up in the camera settings that I simply left the camera in one spot. I just clicked the shutter button for the duration of the sunset and expected to capture stunning images.
Don't make this mistake. The light, colour, and temperature will change as the sunset progresses, so change your position, lower the tripod to ensure you capture more foreground in the frame, and zoom in and out if you have a zoom lens. All this variety will give you a better chance of capturing a truly stunning sunset shot. Occasionally, the smallest of changes in camera angle can produce startlingly different image results.
Remember, have fun, experiment with these setting, and practise to achieve some cracking results. If you get a moment, share your favourite images with us at facebook.com/2ridetheworld.
---
Here's the info for the Main Image
Camera body: Nikon D3
Lens: Nikor 16-35mm f/4
Focal Length: 16mm
Focus Mode: Manual
Aperture: f/4
Shutter Speed: 1/80 seconds
Exposure Mode: manual
Exposure Comp: 0
Metering: Spot
ISO Sensitivity: ISO 200
White Balance: Standard
Speed light/Flash: Did not fire
Picture profile: Warm
Sharpening: 0
Contrast: 0
Brightness: 0
Saturation: 0
Hue: 0
Processed with: Luminar 4