Small adventure bikes are all the rage these days since the likes of the Suzuki V-Strom 250 and the Kawasaki Versys 300 were launched at EICMA last year. We spent some time riding from Barcelona to Andorra (and back) with the next company that was next to release a baby adventurer – the BMW G310 GS.
The 400-mile round-trip saw us traversing beautifully curvaceous mountain roads and tackling rugged off-road terrain on the small capacity machine. So, after spending some time mulling the bike over in our heads and debating the machine's pros and cons here in the office, we've compiled a list of the six things we love about the new BMW G310 GS.
1. GS styling in a more manageable package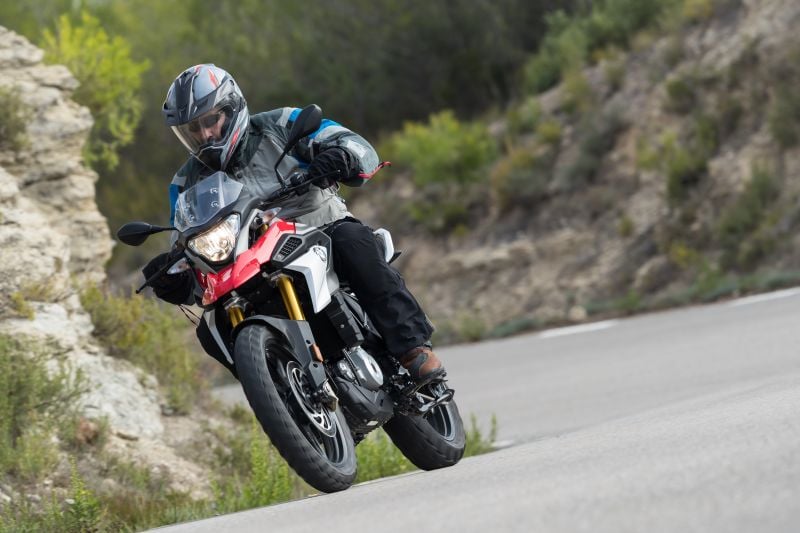 The great thing about the new BMW G310 GS is the fact that is has all the adventure bike styling of its 1200GS brother, but its all tied together in a lighter, more user friendly package. This is ideal for riders who have just passed their motorcycle test and are looking for something small to ease them into life on two wheels, or simply for riders who just don't want to lug around large adventure bike.
2. The bike is very well made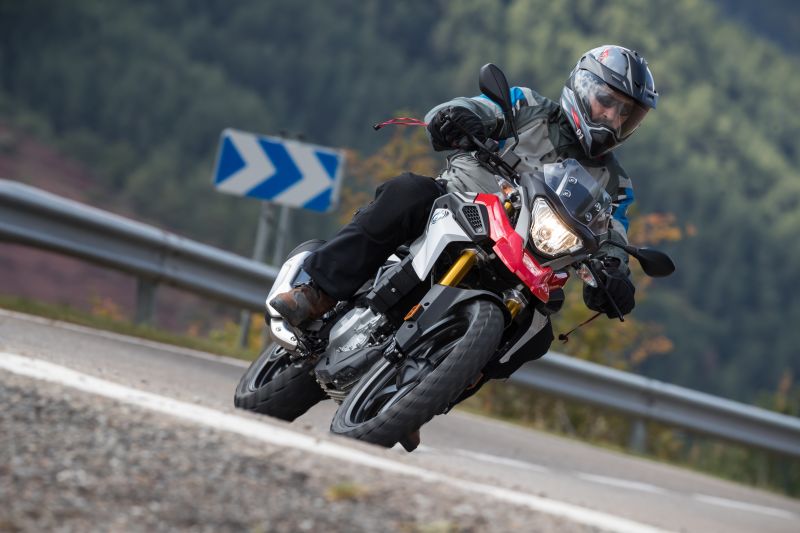 We were impressed with how well the 310 GS has been constructed, with special mention reserved for the quality of the lavish textures and finish which mimic those found on the larger GSs. In the case of the 310, this close-up scrutiny took on more significance than usual, as the baby GS is the first example of an adventure bike that's been designed in Barvaria but manufactured in India.
3. It's super lightweight and comfortable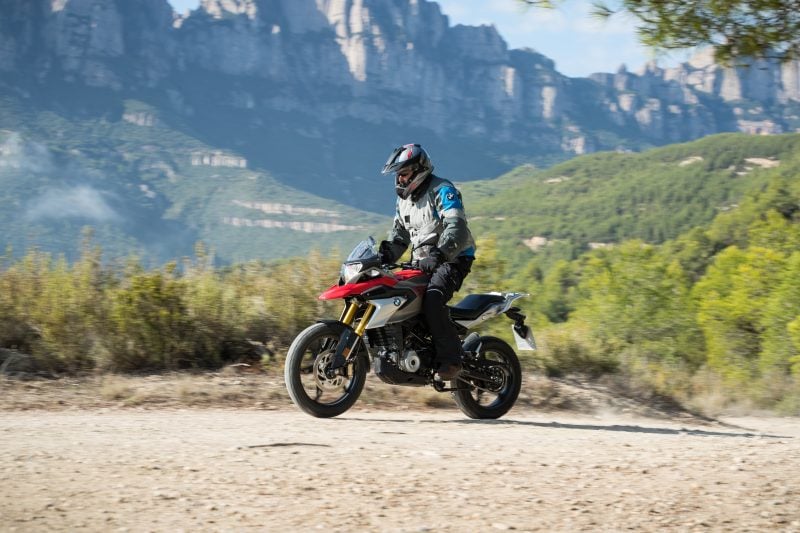 With a kerb weight of 169.5kg, this is one adventure bike that is light on its toes, has a slim profile and is easy to manoeuvre. In fact, setting off through the congested streets of Barcelona, the 310 felt very nimble and is probably the most manoeuvrable adult-sized adventure bike on the market. Throwing a leg over the 310 felt like mounting a feather throne – we were super pleased with how comfy it was.
4. It offers more poke than we thought it would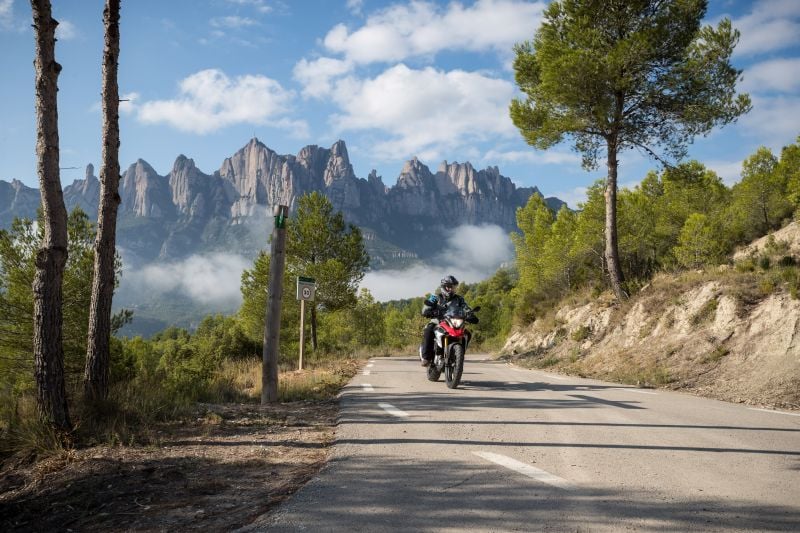 Okay, so it's a baby adventure bike – it's not going to go like its arse is on fire, but we were pretty impressed with the poke that the 310 offered us, and it's bloody great fun to ride. It offers you the compelling opportunity to have a full-on throttle experience and use every last breath of its power. Although the 310 is not going to wow a rider with raw power, the riding experience, should you choose, can be just as engaging as on a larger capacity machine.
5. It handles very well on the tarmac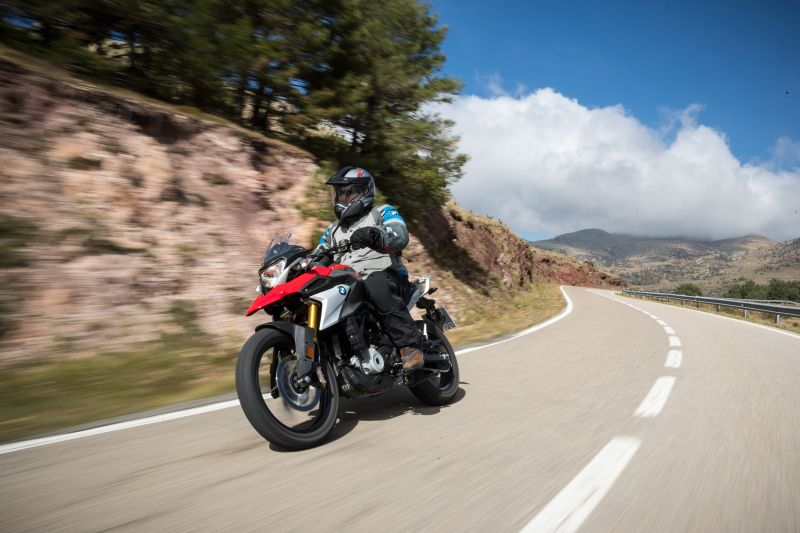 The suspension is on the soft side, which makes the 310 GS a comfortable ride that soaks up the knocks and bumps, however, if you're blasting around gloriously twisty roads you're going to have to keep things smooth. Do so, and the 310 will reward you, as it handles very well on the tarmac.
6. It's perfect for novice off-roaders and green laners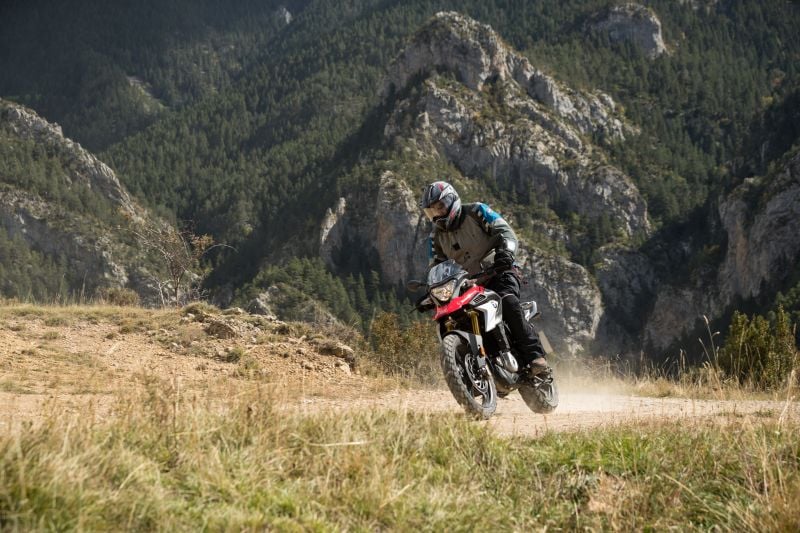 We reckon the bike's low weight, slow speed manoeuvrability and all-round nimbleness would have average adventure bike rider venturing further down a trail than they would on a heavier, bulkier and more intimidating machine. And if you want to tootle your way down green lanes, then this bike will do it. However, it's definitely one for riding slow.
We'll be posting our full review of the BMW G310 GS on our site soon, so keep your eyes peeled!