Back in 1953 the Kronreif Trunkenpolz Mattighofen Company commenced motorcycle production, sometime later they embraced basic marketing principles and became known as KTM.
The orange boys from Austria are the dark horses of European motorcycle production. Having become the largest manufacturer in Europe in 2014, with revenues of 864.6 million Euro, they continue to totally dominate the enduro sector capturing a whopping 54.7% of the market. As a point of interest 2nd place goes to Husqvarna (part of the KTM family) with 16.1%. The rest, as they say, are somewhere in the dust.
The company's extensive 2016 enduro range features 11 machines ranging from ultra-aggressive race ready 2-strokes to the 22hp electric powered Freeride XC. ABR was invited to ride the new range at the UK launch taking place at Seal's Farm near Banbury on a specially laid out enduro track.
What follows is our view on the pick of the range from the perspective of a rider who's aspirations are limited to leisurely green lane and trail riding with an occasional enduro track day. Our competition days are behind us.
It'll pay all readers to note that the KTM range, with the exception of the Freerides, is comprised of competition ready enduro machines rather than 'trail' motorcycles and as such will require a higher level of maintenance. That said, you'll be hard pushed to buy a better quality motorcycle for off-road riding.
Freeride E-XC £10,225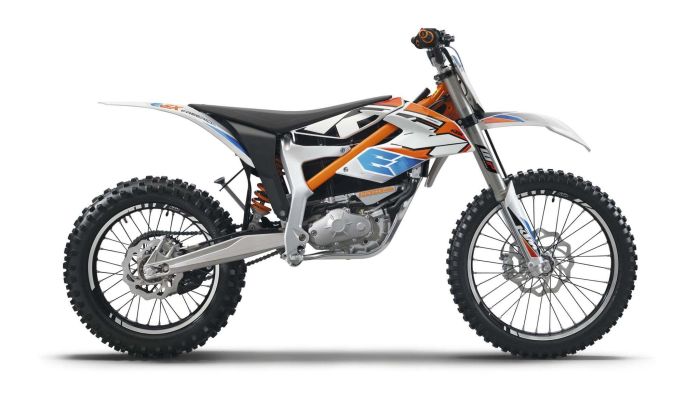 Think mountain bike with a throttle and you've got it. Battery powered, light weight, no clutch, no gears and almost silent running with a 60 min run time and 80 min recharge. It's like a grown up kiddies toy, but one with adult performance and purpose. No He Man exhaust note to scare the locals, but you'll not have the farmer running after you with a shotgun either. Not for me just yet, but I've a feeling I've experienced the future of motorcycling. Weight 108kg.
Best for – Gadget man
Freeride 350 £6,499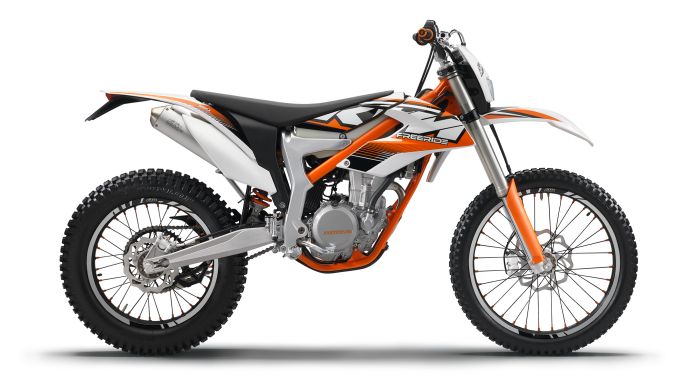 At 6ft 2in tall and approx 17st in weight I have to say that I felt my size over powered this bike. Fantastic on the slower, tighter sections of the course but not so great on faster, rutted and bumpy trails where it was going all out of shape and hard work to ride. I'm sure a bit of tweaking could improve the handling and it wouldn't be such an issue for smaller riders or those who like it slow. Cracking low weight machine for green lane novice. Weight 99.5kg.
Best for – Beginners and slow laners
Freeride 250 R £5,999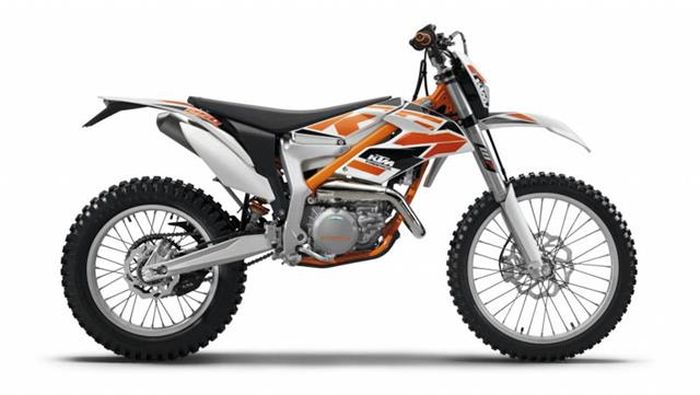 Now here's a surprise, I enjoyed riding this 2-stroke version of the Freeride more than the larger capacity 4-stroke. No where near as ferocious with the power delivery as the 250 EXC making it a far more rider friendly but perky enough and superbly nimble and manoeuvrable – with the same size and weight proviso as the 350 Freeride. A good lightweight option for beginners and bimblers. Weight 92.5kg.
Best for – Beginners
250 EXC £6,849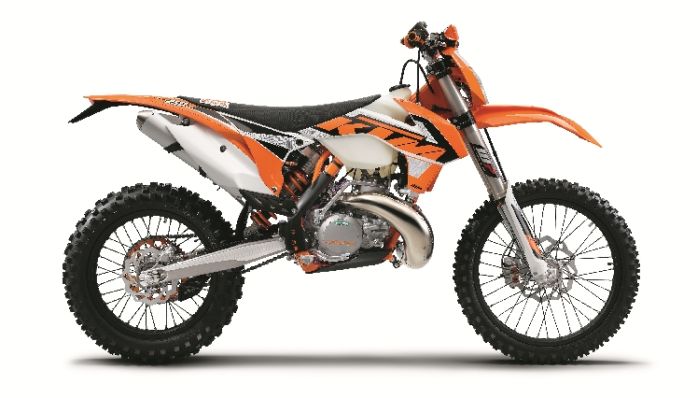 A beast. I just could not get on with this 2-stoke missile. With a more sedate riding style coupled with a tight course it was difficult to connect with the power band without similarly connecting with the nearest tree. On the other hand, this was the most exciting bike to ride but it's not something I'd recommend to any green lane or trail focused rider. Hard work for the less experienced rider though a race winning weapon in the right hands. Weight 101.9kg.
Best for – Enduro racers
250 EXC – F £7,299
The gentler manners of this 250 4-stoke are in direct contrast to the violence of the KTM 250 2-stroke. The EXC-F is the bike I'd like my son to ride whilst the 2-stroke version is the one I'd like to ride if I were 30 years younger and out to win an enduro competition. Comes equipped with all the quality components found on the larger capacity machines and a top choice for beginners and all green lane leisure riders. The sensible KTM for trail riders. Weight 105.5kg.
Best for – Beginners and experienced
350 EXC – F £7,499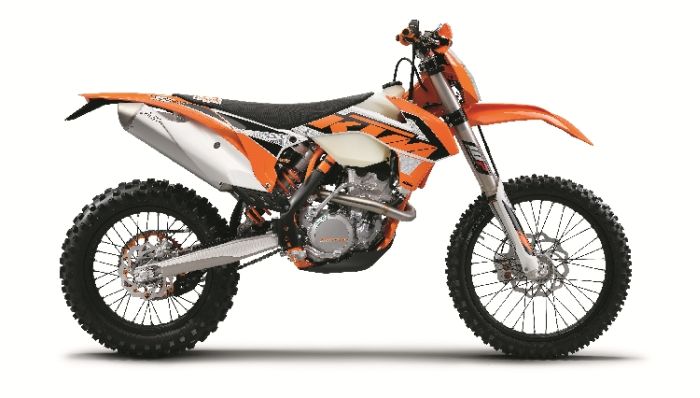 The perkiest of the 4 strokes with the sharpest throttle response. Not as relaxed a ride as the 250 or the 450 and 500 come to that. Definitely a machine better suited to those who want to win an enduro rather than just compete. For that reason I'd rule it out for all but the most enthusiastic of trail riders with top end enduro aspirations. Weight 107.2kg.
Best for – Enduro racers
450 EXC £7,599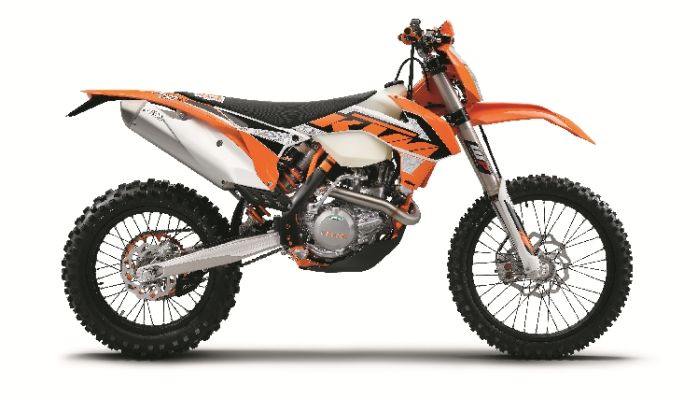 I threw a leg over the 450 just after riding the Freeride and the difference was immense. I was able to lap the circuit over twice as fast with no extra effort required. Superb handling, suspension and power delivery and enough poke to keep any trail rider happy. The 450 is probably more suited to the experienced rider looking for extra zip but it's also happy enough just chugging away at a more sedate pace. Weight 111kg.
Best for – Experienced green laners and enduro competitors
500 EXC £7,699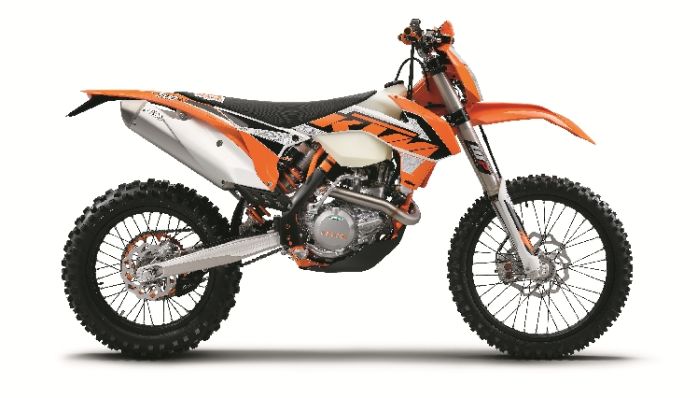 The extra grunt of the 500 is so nice to have on hand. Even on the tighter sections of the course I had less need to worry about which gear I was in than on any other machine. It's simply a case of open the throttle and let the big torque stick do the work. There's more than enough power and speed when needed but this is also a surprisingly easy and stress free bike to ride and only 6kg heavier than the 250. Weight 111.5kg.
Best for – Experienced green laners and enduro competitors
Which would I buy?
I'm going to pass on all the Freeride models simply because I prefer a bike more in tune with my size and weight, that's not to say you should, these are very capable and easy to ride machines. Similarly, KTM 2-strokes whilst being very exciting to ride have a competition focus and that's not what I'm after. Ditto the 350 EXC-F.
So, for green lane and trail riding I'm left with the 250 EXC-F and the 450 and 500 EXC – all 4-strokes. In truth I'd not be disappointed with any of the afore mentioned bikes. They are top spec green lane and trail machines capable of delivering considerably more than just a leisurely bimble through the UK countryside, for example, race winning enduro performance comes as standard. As the company says, all KTM's are Ready to Race.
The gentler manners of the 250 has great appeal and would be my sensible choice. However, as I'm not quite sensible enough just yet, it's the extra grunt and power of the 450 or 500 that enthuses me most and with little to choose between price or weight….it's the KTM 500 EXC for me.
What's the most popular KTM enduro in the UK?
KTM expect the top three best sellers in 2016 to be…
1. 350 EXC-F
2. 300 EXC
3. Joint 250 EXC-F and 450 EXC