The guys and girls based over in Triumph HQ know a thing or two about making great adventure bikes, they produce the iconic Tiger after all. But, the Hinckley-based manufacturer is also pretty handy at producing top-notch motorcycle gear, and it's just released a brand-new range of textile adventure/touring clothing, called the Affix Series, that has caught my eye.
Now, before those of you who don't ride a Triumph close this page, hear me out. The branding is so subtle you wouldn't know it came from a manufacturer, the prices are competitive, and there's plenty on offer to tempt even the most passionate advocate of a rival manufacturer.
Below I've taken a first look at some of the stand-out jackets on offer in the Affix Series for adventure bikers. Keep an eye out for future reviews after we get a chance to put it all to the test further down the line.
Alder Gore-Tex jacket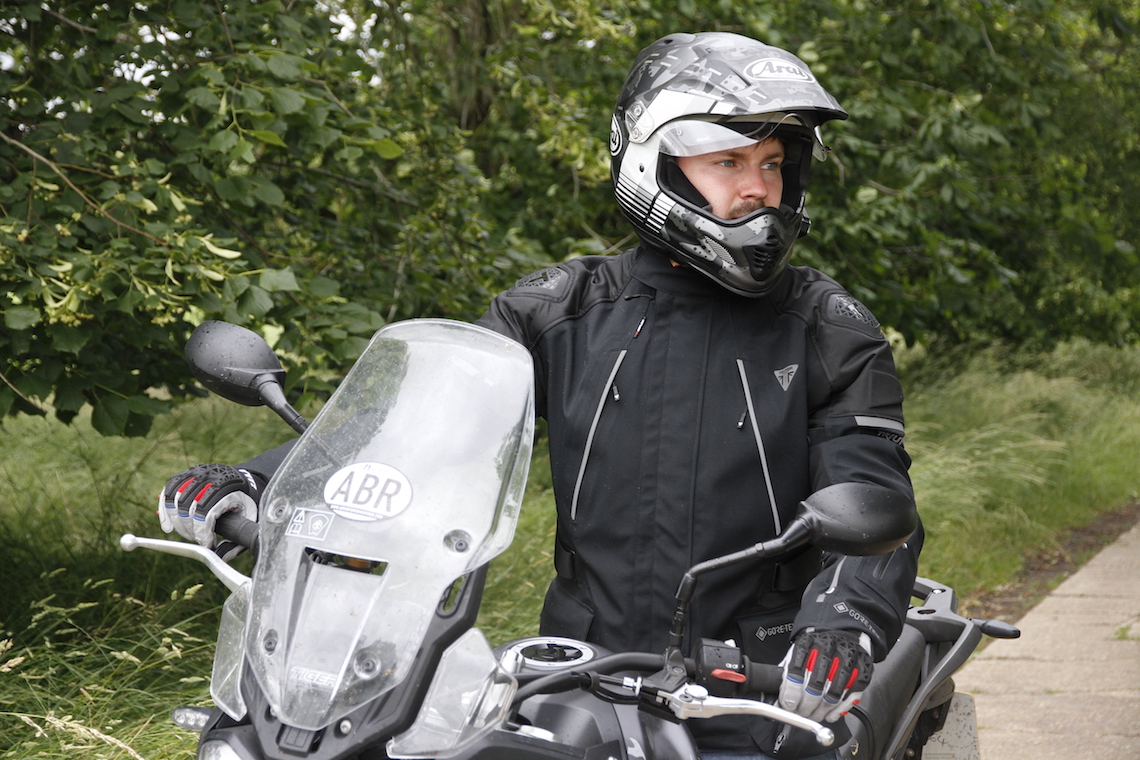 First up is the Alder Gore-Tex four-season touring jacket. It's the top end piece of a kit in the range, which Triumph says is designed to tackle near enough every weather condition riders could encounter in the saddle.
On first impressions, it certainly looks capable of it. The Gore-Tex laminated outer layer of the jacket is a clear commitment to keeping us dry and reducing wind chill when the heavens open, while there's also a removable thermal liner and down-filled storm collar to keep you snug in the saddle on chilly mornings.
When the mercury rises, two direct-to-body vents on the chest channel air into the jacket, and two exhaust vents at the back encourage a steady flow of air that will help cool you down.
I'm also a big fan of the storage options included in the jacket. There are two handy outer pockets (slightly offset, which Triumph says is to ensure they don't bunch up on your lap in the saddle) as well as two waterproof mini pockets, one on the arm and one actually on the outside of the left outer pocket. Two inner pockets finish off the collection of stash spots.
Finally, there's a D3O back protector, as well as elbow and shoulder armour, and even shoulder sliders included as standard, providing plenty of impact and slide protection in an off. The Alder will set you back £650, which is good value for a high-quality, Gore-Tex four-season jacket.
Cranbourne jacket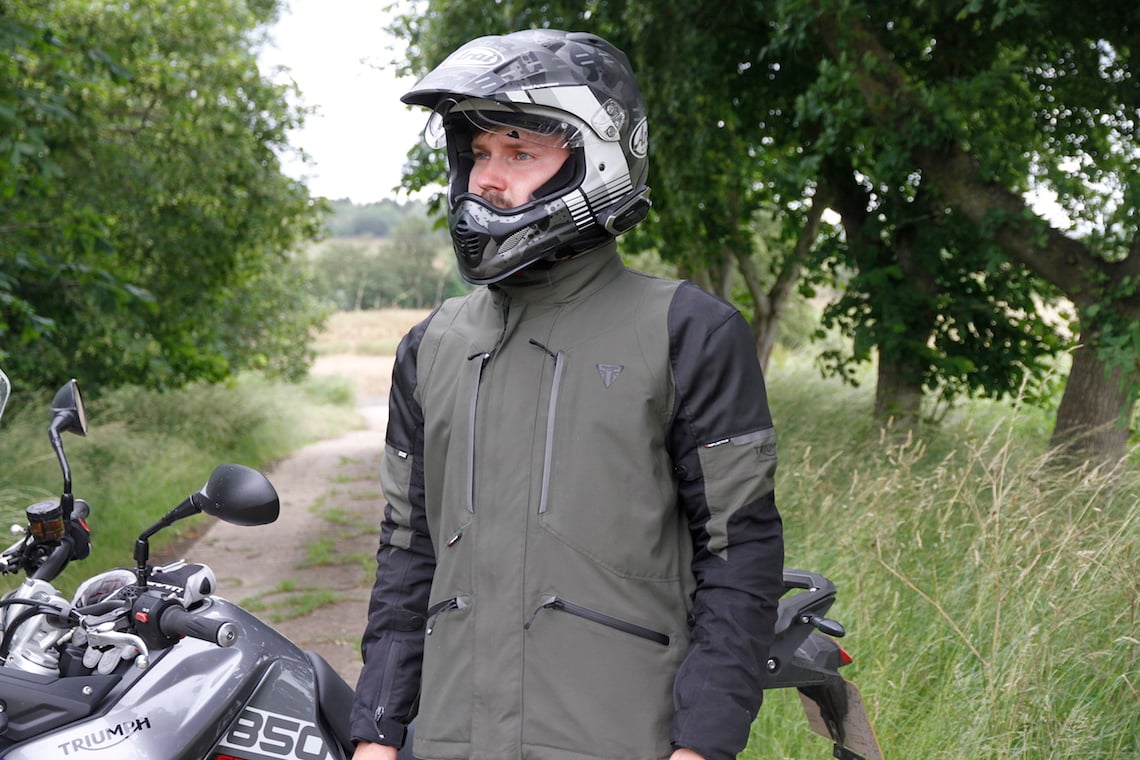 Next up is the Cranbourne jacket, which is my personal favourite in the range. It's more lightweight compared to the four-season Alder, and is best suited to touring on warmer days: think cruising through Spain's Picos de Europa in the height of summer.
However, that's not to say it's lacking in weather protection. The outer shell is laminated and formed of Triumph's TriTech membrane to keep the rain out during wet rides, while two vast air vents at the chest combine with a couple of exhaust vents on the back, and a mesh inner, to channel cooling air around your body on warmer rides.
There's also plenty of storage options to stash your keys, wallet, and documents when you're on tour, including two pockets on the front of the jacket and three inside. On the protection front, there's D3O elbow and shoulder armour, as well as a back protector.
The Cranbourne is available for £320, which is a very competitive price for a laminated jacket packed with so many features.
Leith jacket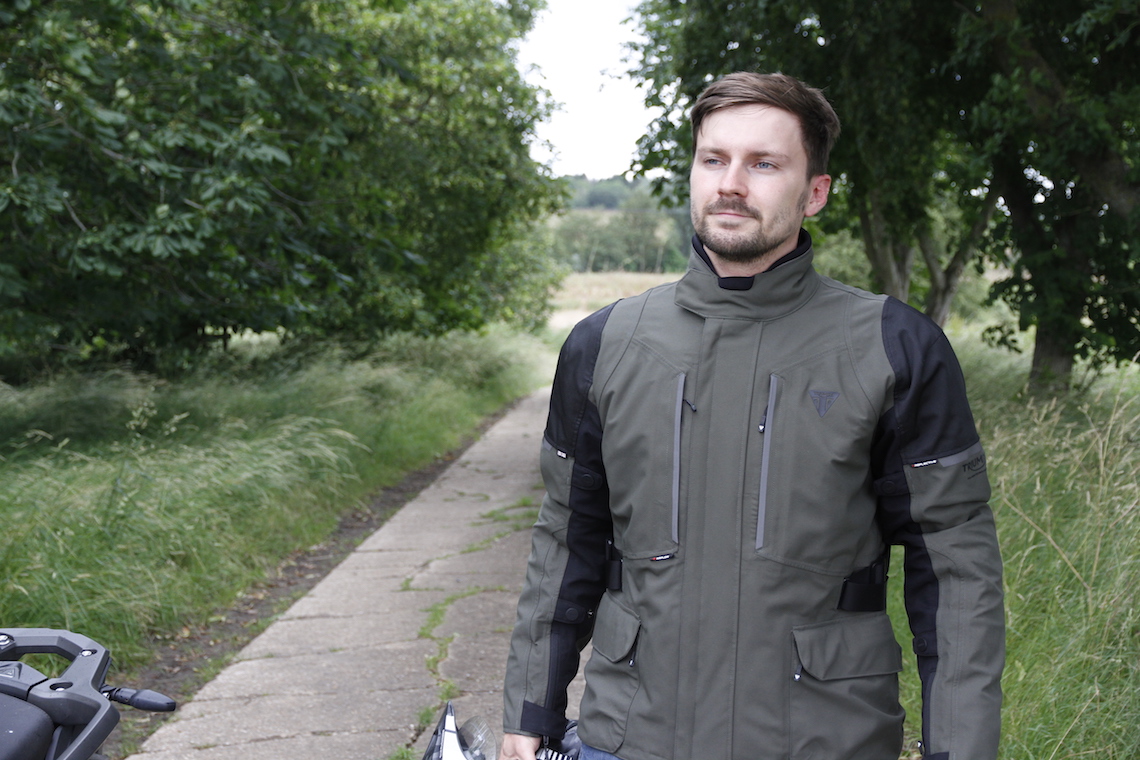 Finally, we have the three-season Leith jacket. Like the Cranbourne, the Leith comes with a lightweight laminated outer shell formed of Triumph's TriTech membrane for rain protection. There's also a removable inner thermal liner to keep you warm on chilly mornings when the weather begins to turn. Two air vents on the front also work alongside a couple of exhaust vents at the rear to promote airflow.
Like the Alder, there are also waist adjustment straps, two front storage pockets, and inner stash spots for your phone and wallet. Like the other jackets in the range there's also D3O armour in the back, shoulders, and elbows, as well as an optional slot for a chest protector. The Leith comes in at £450.
Triumph's Affix motorcycle gear
So there we have it, three textile adventure jackets that could be very tempting options for adventure bikers, and not just those riding a bike made by Triumph.
There's more on offer for adventure bikers in the full Affix Series too. The entire range is designed to offer riders total choice when it comes to buying gear that reflects the riding that they do.
To do this, Triumph has also released three different packable mid-layers and base layers, designed to be worn underneath the textile jackets in the range, to give riders the option of swapping them out when the temperature changes on the road. There are also women's sizes and a range of unisex trousers, which zip into the jackets listed above.
Take a look at the full range Affix Series HERE.