It's finally here. After months of teasing us with glimpses of its new adventure bike, Triumph has revealed all the details about the new Tiger 1200. And the big news is there will be an off-road focused version sporting a huge 30l fuel tank, designed to rival the mighty BMW GS Adventure
The new Tiger 1200 is an all-new motorcycle that's been redesigned from the ground-up. And it's about time too as the model, while proving a comfortable touring machine, was certainly showing its age. In its place is a premium motorcycle designed for people looking to own the pinnacle of adventure riding performance.
So, what are the headlines?
Five new Tiger 1200 models, from the base spec GT all the way up to the GT Explorer and Rally Explorer
All powered by the same triple-cylinder, 1160cc engine
148bhp and 130Nm of torque at 7,000rpm
Wet weight from 240kg, and up to 25kg lighter than the previous models
20l fuel tank on GT, GT Pro, and Rally Pro
30l fuel tank on the two Explorer models
New frame with bolt-on aluminium subframe and pillion hangers
Brembo brakes
Showa semi-active suspension setup
Introducing the Triumph Tiger 1200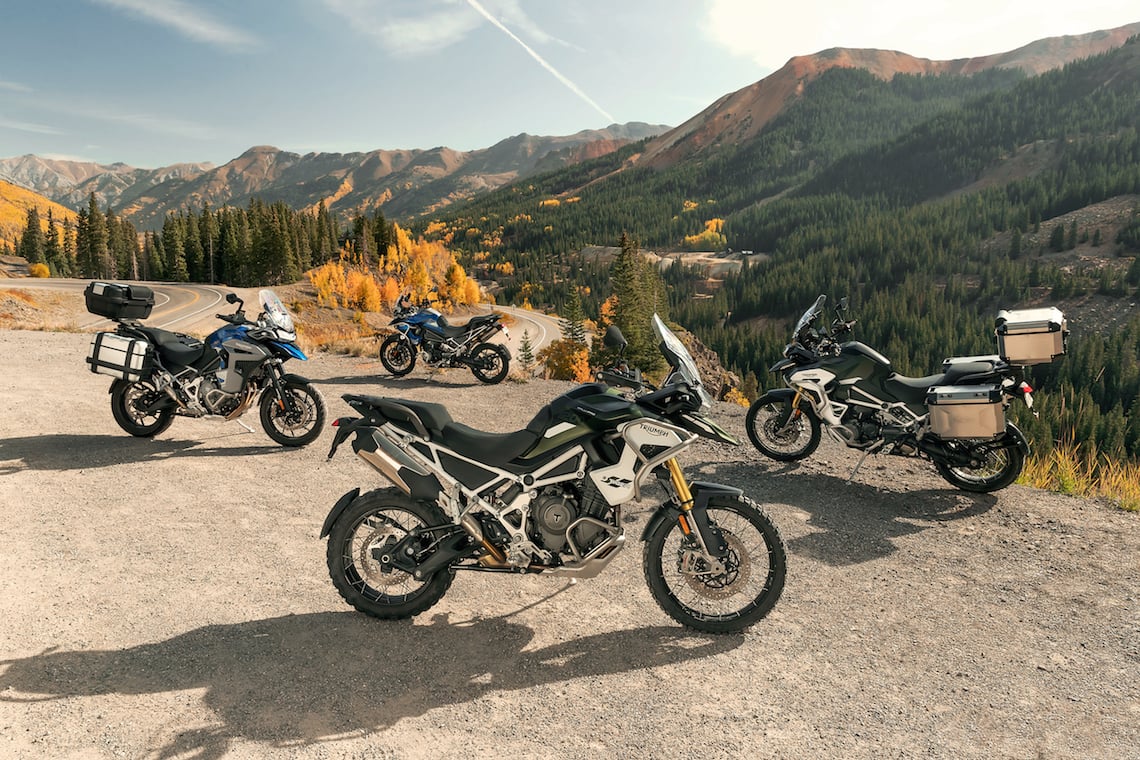 So, what's new? To start with, Triumph has announced there will be five versions of the bike.
There will be three models in the road-going GT range, with the base spec GT, GT Pro, and GT Explorer (the Explorer comes with a 30l touring tank, heated seats, and a tyre pressure monitoring system, as standard). Alongside that, there's an off-road ready Rally Pro and Rally Explorer, with the Explorer once again receiving a 30l touring tank and all the extras.
All bikes come with Brembo Stylema monobloc brakes, and Showa suspension, although it's slightly tweaked between the GT and Rally models. The GT models get 49mm upside-down forks with semi-active damping and 200mm of travel at the front, while the Rally models get 20mm more travel, up to 220mm, to help them cope with the rough stuff.
At the back, all bikes get a Showa monoshock, with the GT models again receiving 200mm of travel and the Rally models 220mm.
The Rally models also come with 21″ front hoops and 18″ rears for off-road capability, while the GT versions differ with a 19″ front to aid life on the black top. Styling is subtly different between the models too, but all have undergone a facelift compared to the old bike, with an updated look for 2022.
At first glance it looks like Triumph has spent the last two years (since the Tiger 900 was revealed) putting one of the mid-capacity bikes to work in the gym, and the result is a beefy, aggressive looking big brother.
Triumph has done a cracking job, particularly with the Rally Explorer model with its white frame, knobbly tyres, and crash bars. There are a variety of colours on offer too, with just a few pictured above.
Three cylinders and a shaft drive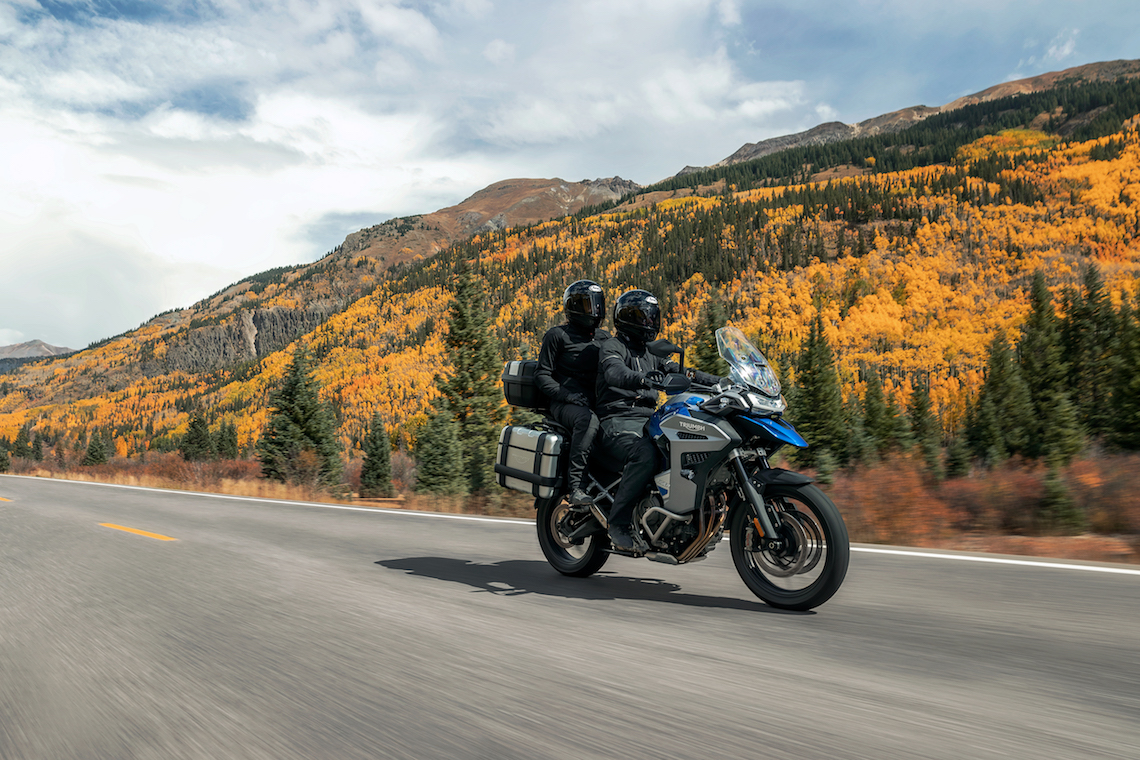 Beneath the paintwork, all five bikes are driven by the same triple-cylinder, 1160cc engine. It produces 148bhp and 130Nm of torque at 7,000rpm, which is about 9bhp and 8Nm up on the previous engine. A lot of hard work has also been done to cut weight and reduce the bike's centre of gravity, a key piece of feedback from owners of the old top heavy Tiger 1200.
There's also a shaft drive, a popular feature for those looking to tour on their big adventure bikes, and a new silencer that Triumph says is designed to be as lightweight as possible.
Speaking of cutting weight, there's a newly designed frame, which is 5.4kg lighter than the previous one. This time around it also features a bolt-on aluminium rear sub-frame and pillion hangers, something Triumph says has been implemented following customer feedback to ensure that bending the sub-frame or pillion footpegs won't write off the entire frame.
All that weight saving has resulted in a reduction of up to 25kg compared to the previous model, with wet weight starting at 240kg for the base spec GT model. It's a step in the right direction as the previous bike was a hefty beast, and we're keen to see how this translates when we test ride the Tiger next year.
The seat height is 850mm or 870mm on the GT models and 875mm or 895mm on the Rally models. These figures do sound pretty high, but Triumph claims that a new slim seat will help shorter riders reach the ground with confidence. Again, we'll have to put that to the test next year.
Teched up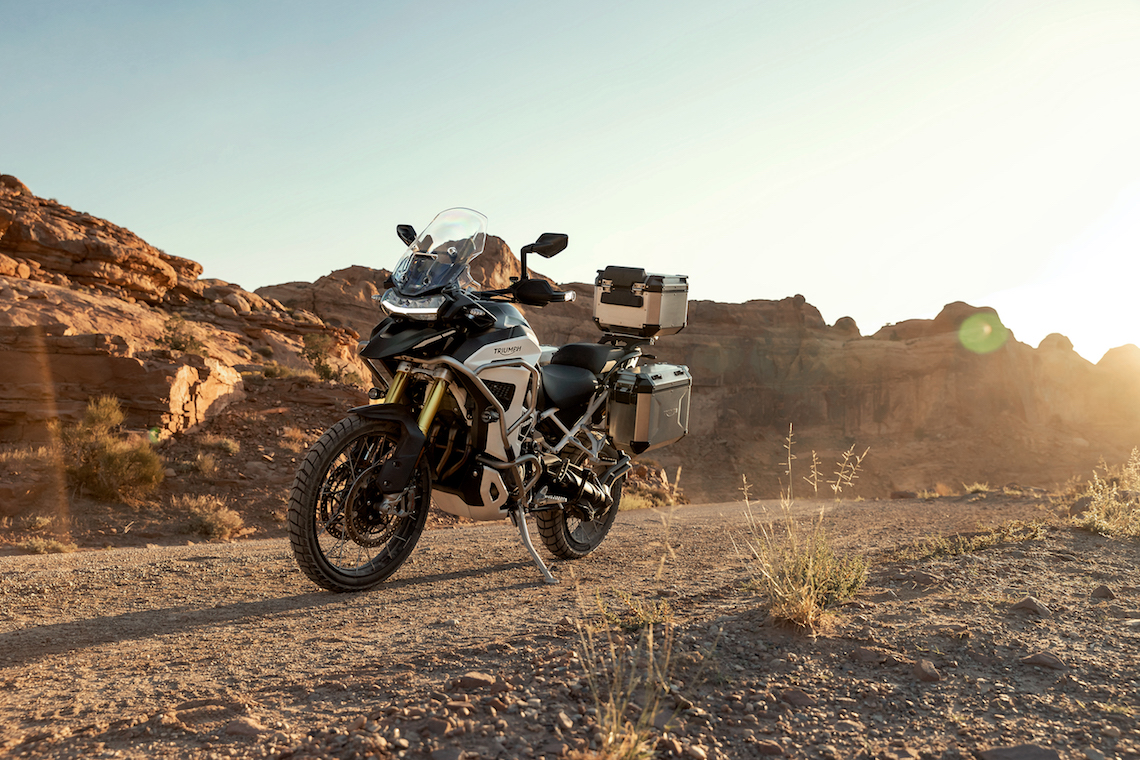 Triumph has long been a fan of adding plenty of rider aids and comfort extras on their big adventure bikes (we still remember the warmth of the previous models heated seats) and the new Tiger 1200 is no different.
An inertial measurement unit controls cornering ABS on all models and there are a multitude of riding modes, from Rain, Road, and Sport on the base spec GT, all the way up to Road, Rain, Sport, Rider-configurable, Off-Road, and Off-Road Pro on the Tiger 1200 Rally Pro and Rally Explorer.
Each also gets a 7″ TFT screen which comes with My Triumph connectivity, handguards, and LED headlights. Every bike except the base spec GT model also gets a quickshifter, heated grips, hill hold control, cruise control, and a centre stand as standard.
And a particularly snazzy piece of tech is the new rearward-facing radar system (standard on the Explorer models), which powers a blind spot detection system and lane-change assist.
So, how much is the Tiger 1200, and when will we see them in showrooms?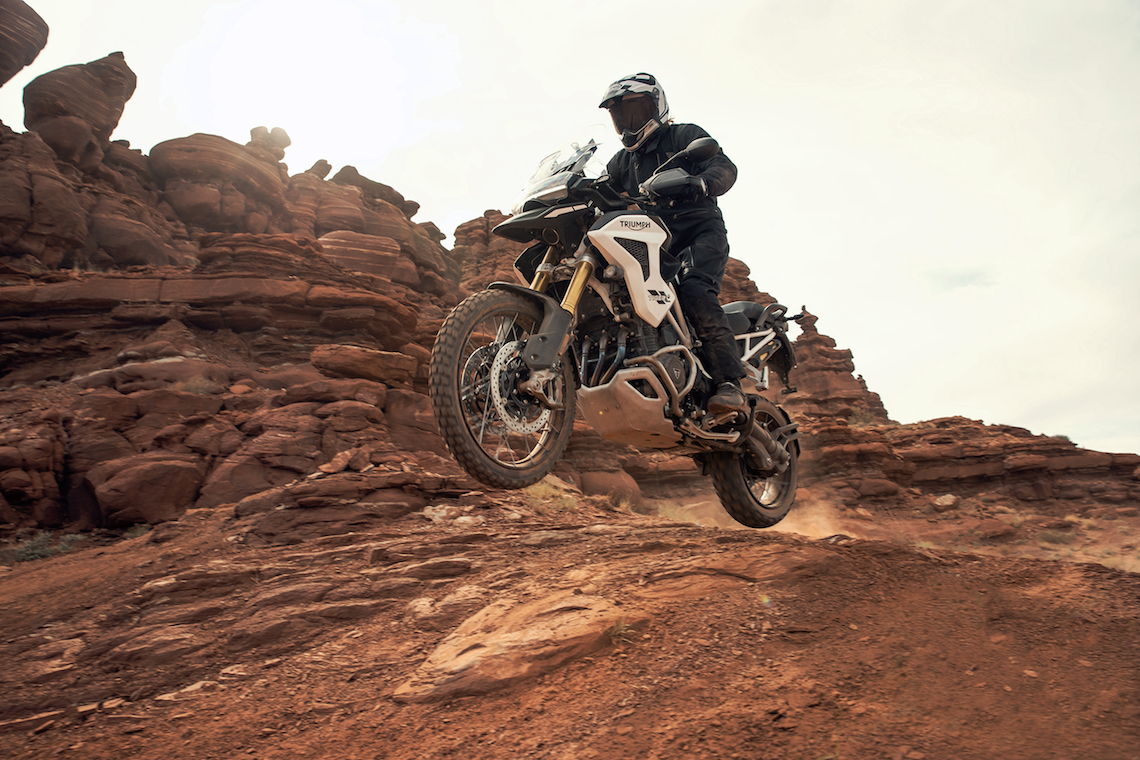 Prices start from £14,600 for the base spec GT model, rising to £19,100 for the all-bells-and-whistles Tiger 1200 Rally Explorer, and they should be appearing in showrooms by spring 2022.
So, what do you think of the new Triumph Tiger 1200? Let us know in the comments.
Stay up to date with the latest adventure biking news and stories
Want to get a weekly digest of adventure biking news, stories, routes, and much more delivered directly to your email inbox?
Sign up to the ABR Bulletin on the right of this page (or below if you're reading on your phone) to find out everything you need to know each week.