Okay so we're going for the big time here and we're going to make an attempt to create the perfect adventure bike (unfortunately just as a concept). As much as one man may love his BMW GS and another will swear by their Honda Africa Twin, there always seems to be those little things that annoy you more and more.
In fact, you only need to take a look at the reaction to the new Honda Africa Twin to realise just how disgruntled people are starting to become. The groans could be heard across the country as people saw a wet weight of 228kg on the standard model. Likewise, it was clear that some people are starting to become frustrated with how horsepower seems to be becoming more important than range.
Hearing all of these grumblings got us thinking, what would we want in our perfect adventure bike? Well that's the question we are going to set out to answer. At this point, it's worth recognising that there are many different types of adventure bike riders out there.
Would a blend of the Yamaha XT660Z Ténéré and the KTM 640 Adventure be ideal?
Some spend the majority of their time on paved roads, taking on the best that the British weather has to throw at them and making a break for pristine Alpine passes whenever they can. While other riders will undoubtedly be looking for a bike that is at home off-road and can handle any sort of terrain or situation thrown at it.
In the interest of making it worthwhile for all, we're going to aim for somewhere in the middle. We're trying to think up a bike that will be comfortable on the roads while also being able to tackle odd trips to Africa or more rugged destinations. As ever, we'd love to hear what you would change too. So let us know on Facebook, Twitter or in the comments below.
For now though, here's what we think should be in the perfect adventure motorcycle.
Conservative engine sizes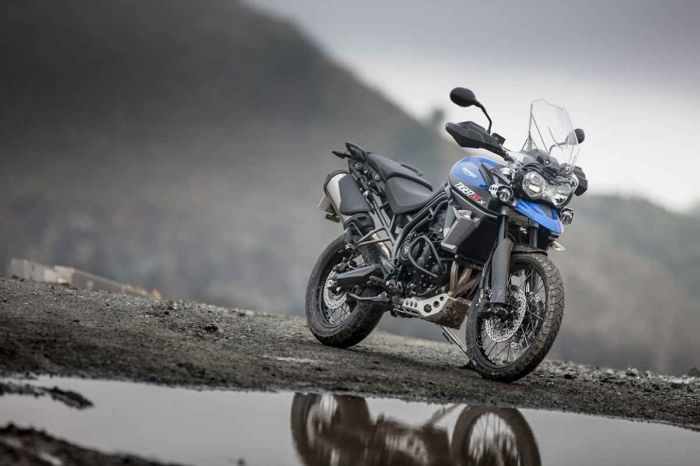 The Triumph Tiger 800XCx proves you don't need a massive engine.
Manufacturers seem to prioritise production of the larger, higher capacity adventure bikes on the market with upwards of 1000cc models being the norm. Sure, they cater for pillions and panniers full of luggage and are perfectly comfortable on the motorways, but they aren't so great when the environment changes.
We're thinking that manufacturers should put more effort into making machines in the 600-800cc range. They'll still have plenty of flight and be comfortable with panniers, but they will also be much lighter, easier to handle and more nimble − ideal for twisty mountain roads. Sure, this move would make trips with a pillion a little less comfortable, but an 800cc machine will still take the load in its stride while offering greater versatility and improved fuel economy.
Larger fuel capacity and range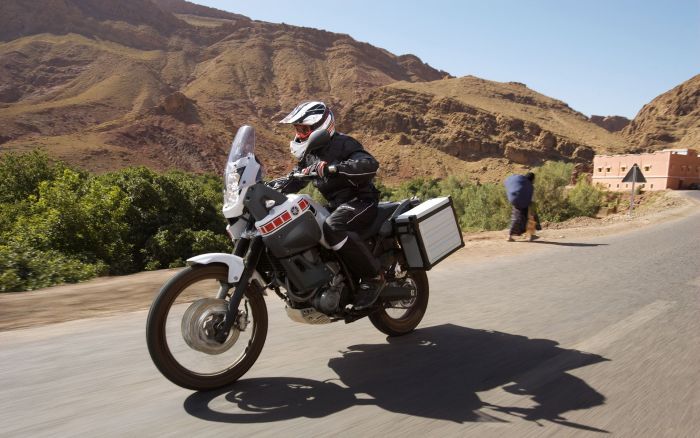 The Yamaha XT660Z Ténéré shows that a decent range is possible.

On balance, these two points seem to dominate the criticism of new adventure bikes coming to market. Motorcycles are considered too heavy and very rarely offer the desired range. Obviously, these points are vital and need addressing.
Depending on mpg ratings, a 20-25l tank should offer a high enough capacity to allow for a range well in excess of 200 miles. Ideally, we'd love it to reach the heights of between 250-300 miles which should be doable considering the Yamaha XT660Z Tenere can do similar.
Weight savings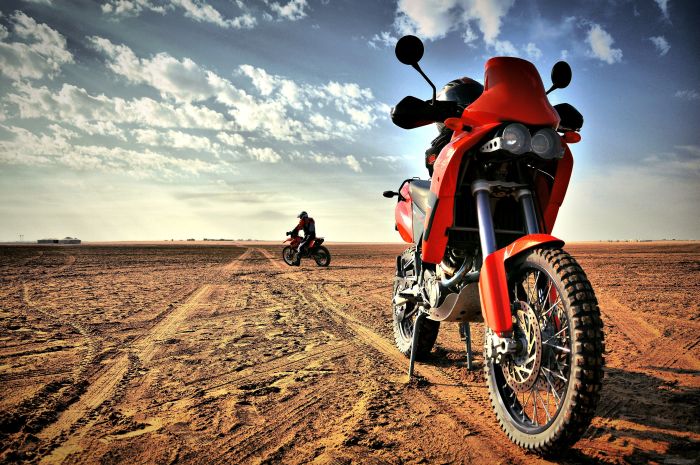 Adventure bikes don't have to be ridiculously heavy as shown by the KTM 640 Adventure.
Another of the big problems people have with new adventure bikes is the weight they carry and this is something we completely understand and agree with. A wet weight in excess of 200kg means that fully loaded the machine is going to be a handful, especially off-road.
If a manufacturer were to go sub-200kg they would be making a lot of ABRs happy. With a wet weight of approximately 181kg, the KTM 640 Adventure is proof that it can be done. We understand that a lot of mod cons add to weight, but come on, we're living in 2015 and we want a lighter motorcycle!
Real multi-terrain credentials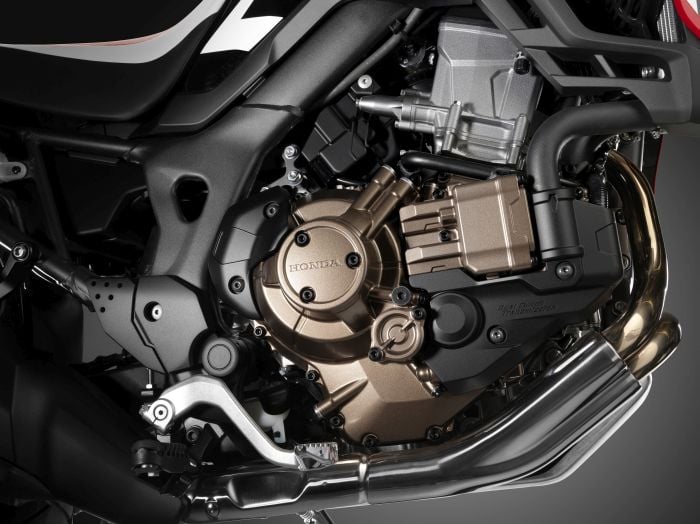 A comprehensive sump guard is essential to protect the engine.
We don't all have the desire to cross the Sahara or hit the trails, but we do at least want a bike which would be capable if we wanted to. Even those of us who tend to stick to more solid ground have to deal with poor quality roads so it's only right that adventure motorcycles are prepared for it.
In this regard, we'd want the bike to come out of the factory with a decent sump guard, adjustable suspension and the right balance of ground clearance that won't make you feel on stilts but will clear debris on the ground. Of course, it would be great too if there was a more adventure ready model with spoked wheels and tubeless tyres for those who want to go off the beaten track.
Improved comfort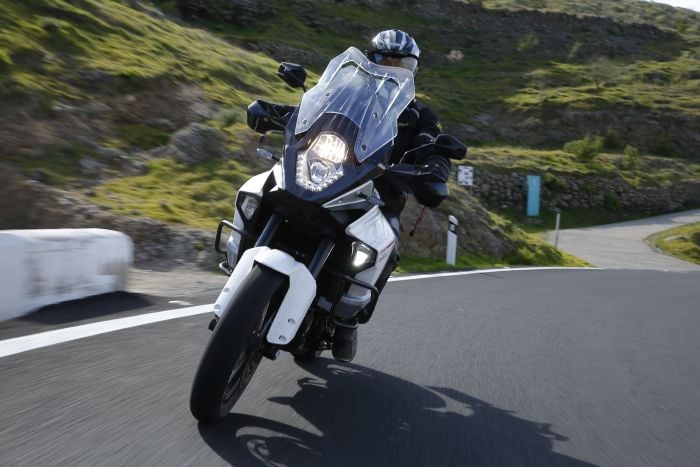 A substantial wind shield is necessary to reduce wind buffeting.
As ever, comfort is also at the forefront of our minds as there is nothing worse than having to sit on an uncomfortable seat while being buffeted by the wind. So this bike is going to need a super comfortable, fully adjustable seat for starters. Some of you have also suggested adjustable foot pegs so we'll throw that in for good measure too.
A comprehensive windshield is also a must while a decent fairing would also be appreciated. We also love our heated grips, so they'll come as standard along with hand guards. If this is truly going to be a machine capable of travelling on a multitude of terrain then we want vibration dampeners too for those long bone shattering stretches.
The extra mod cons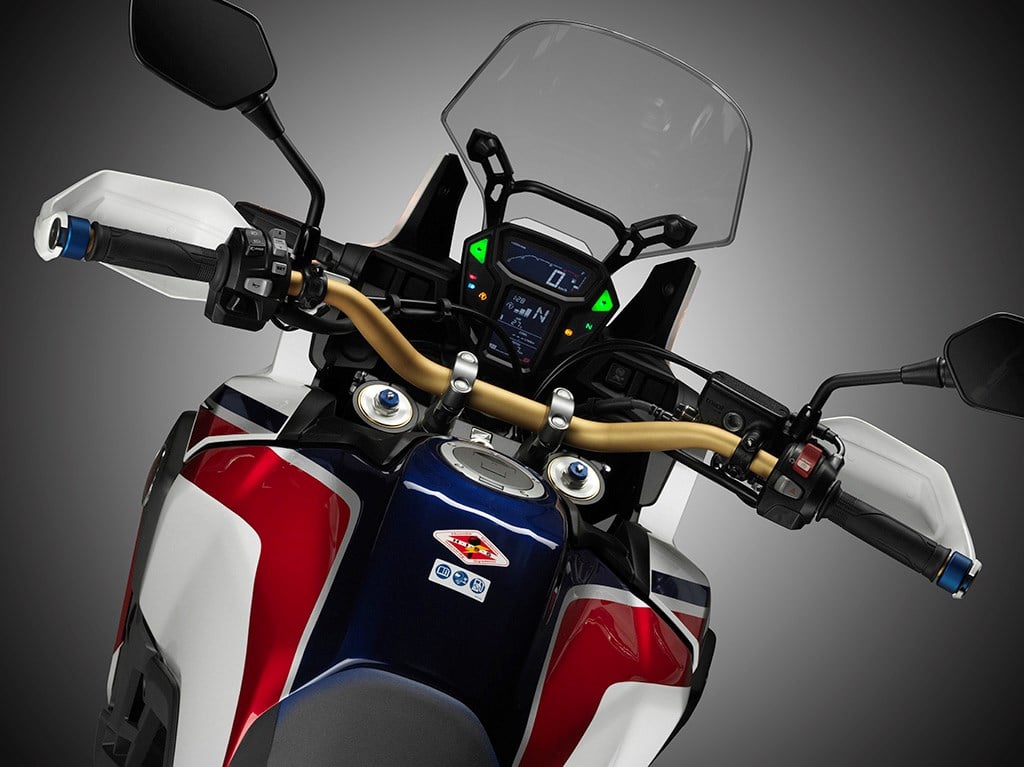 Surely an integrated sat nav would make sense?
Everyone uses sat nav so it makes sense for manufacturers to integrate it into the dash. The inclusion of offline maps would also be very welcome for times when you are off grid. ABS should come as standard and we think it should also feature traction control which can be turned off at the touch of a button.
A beak and comprehensive headlights are essential while extra auxiliary power sockets with good output would also be ideal. Perhaps controversially, we'd also like the option of automatic transmission similar to Honda's DCT. Less technical but equally as important, a light weight but sturdy frame is needed for panniers. On that note, it would be great if a bike manufacturer would actually include decent panniers for a change…
And now for the less serious of suggestions…
A tardis (from Doctor Who) for when you have had enough on the road but it also gives you the opportunity to return when you choose to. Steve Kennett, Facebook.
A bacon butty dispenser (good shout). Steve Owen, Facebook.
Elle Macpherson (not sure the missus will be on board with this one). Mark Cadogan, Facebook.
A coffee maker. Robert Jason Collier, Facebook.
Built in video cameras and an assistant to edit the output. Our own Alun Davies, Facebook.
Do you agree/disagree? What would make up your perfect adventure bike? Let us know in the comments or on Facebook and Twitter.