Whether you are new to adventure motorcycling or if you are just on a tight budget, navigating the world of bike gear can be a challenging task. There are countless brands offering many different products at a range of prices. But how do you know if that cheap gear is going to be any good?
To help you out, we've trawled back through all of our group tests and have selected the best budget motorcycle gear to form our comprehensive guide. For each major category there are two options so if the cheaper item lacks the quality you desire, you can make a step up to something a bit more suitable.
Of course there will be better gear out there, but it also comes at a price. The aim of this guide is to find a compromise between price and performance rather than just finding the best or the cheapest. Remember, if you want to view all of our previous group tests, you can access them with a membership to our online library.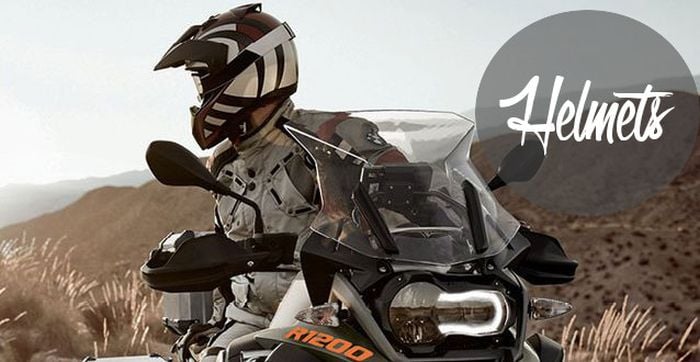 Undoubtedly, helmets are the most important piece of kit any motorcyclist will ever buy. Not only are they a legal requirement but they also protect one of the most vital organs, the brain. Adventure styled helmets tend to have extra ventilation, an extended chin guard and a peak.
Stealth HD 009 – £84.99
www.stealth-helmets.com
At £84.99 for the plain design or £89.99 for the graphic design the HD 009 is a bargain. It's at the cheaper end of the scale for any helmet but also features a peak, removable comfort liner and is well ventilated. There's a decent amount of padding but the chin pads do feel a bit too big for the helmet, so make sure it fits. It scored 8/10 in our group test and offers superb value for money.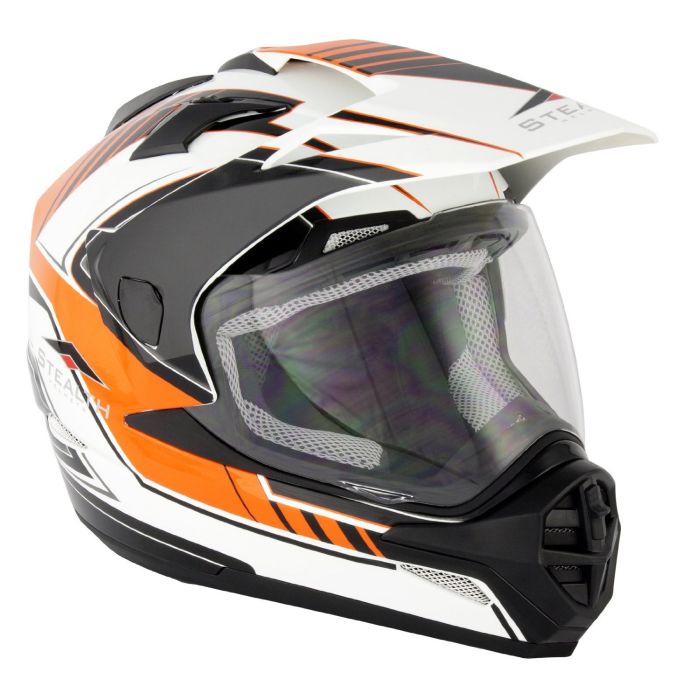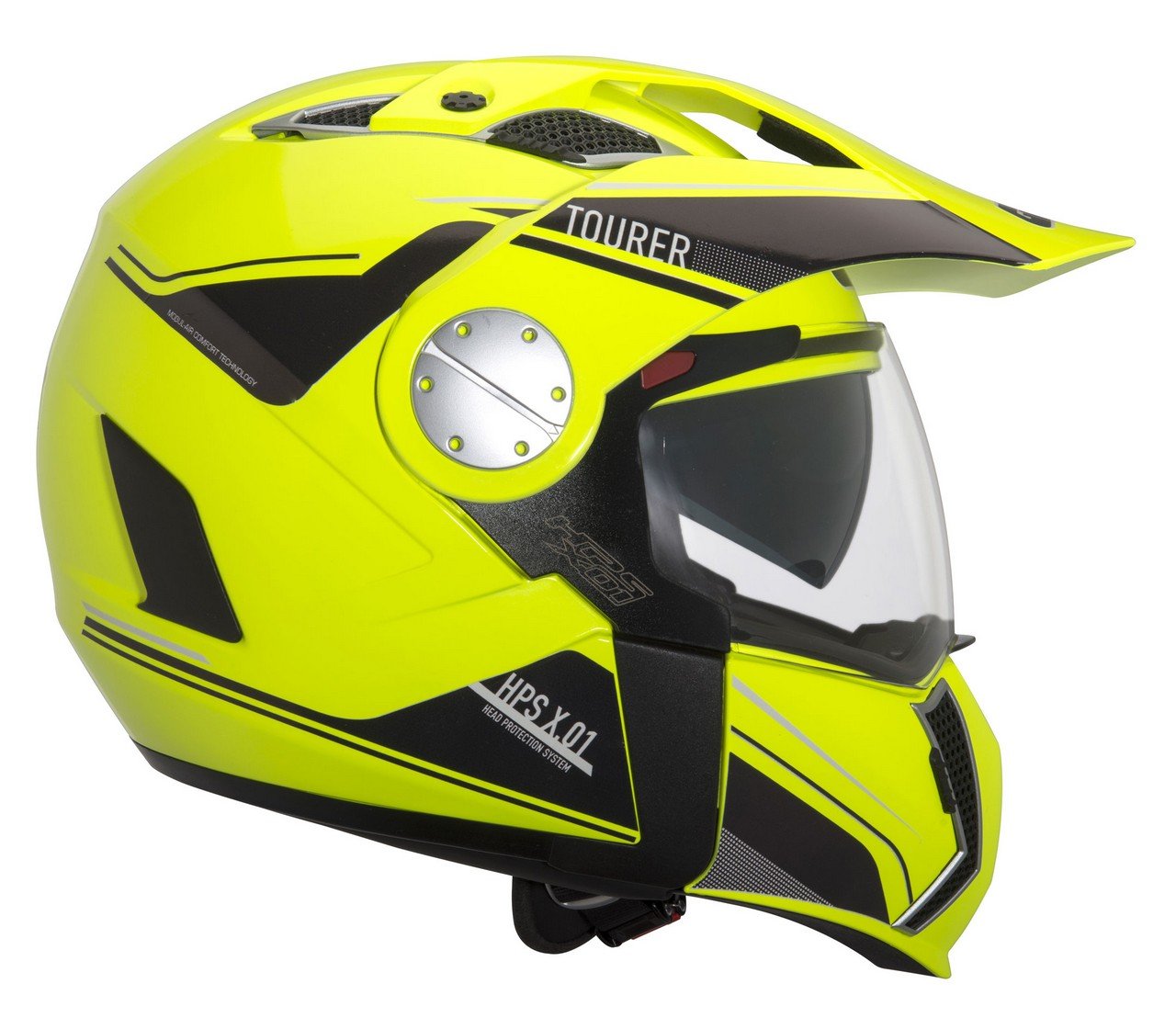 Stealth (left), Givi (right)
Givi X.01 Tourer Helmet – £169.90
www.givi.it
Those who have a bit more money to burn and want a more well-known name should consider Givi's X.01 Tourer Helmet. At £169.90 it is still affordable and its ventilation offers great performance in warmer climes. A removable chin bar means the helmet can be converted into an open faced jet style if it is super warm. It's not the most comfortable, but it is solid and can be bought in luminous yellow making it ultra-visible. The X.01 Tourer scored 8/10 in our group test and is best for warm weather riding.
To see the full reviews as well as all of the other adventure styled helmets we tested, click here.
When looking for boots, it is vital to make sure they fit well as comfort ultimately trumps all else. Adventure boots should provide grip in off-road conditions, have shin guards and ankle inserts for protection and be fully waterproof.
W2 4 Dirt Adventure Boots – £159.99
www.tramam.co.uk
They're not the cheapest boots on the market, but at £159.99 they are hardly going to break the bank and if you went much cheaper you would be sacrificing performance and protection. The W2s are well-constructed, durable, comfortable and they look the part too. For your money you're getting a tried and tested Vibram sole, a fully waterproof membrane and injection moulded shin protectors. With an ABR rating of 8/10 the boots are well worth the money.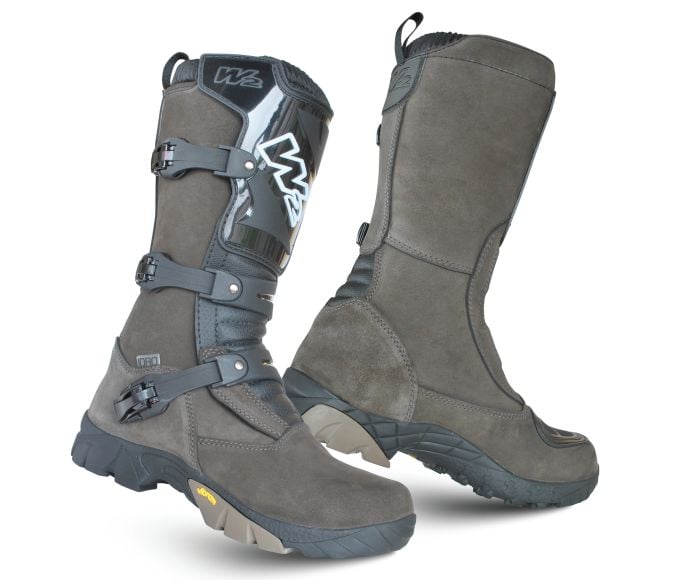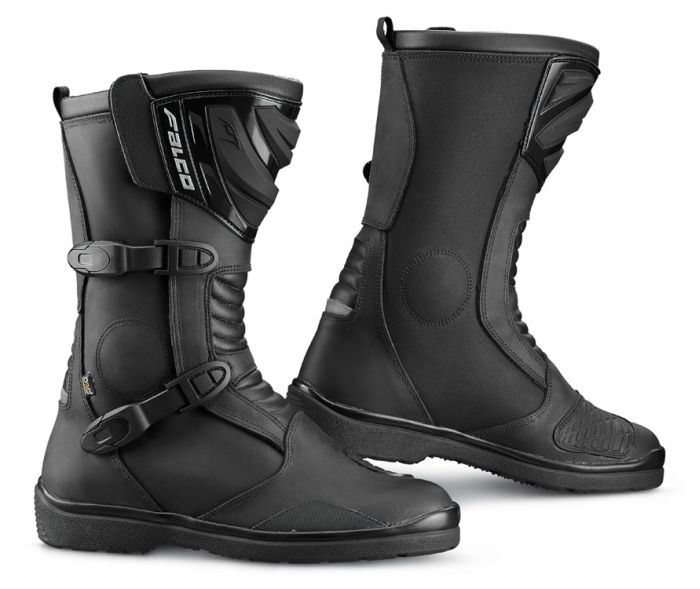 W2 Dirt Adventure Boots (left), Falco 411 Mixto (right)
Falco 411 Mixto – £169.99

www.tri-motive.com
Just a smidge more expensive at £169.99, the Falco 411 Mixto are not quite as well-equipped for off-road, but they are insanely comfortable both on and off the bike. They are extremely waterproof, the fit is spot on and they are well-protected thanks to D30 armour inserts in the ankles. Extra protection comes in the form of stiffened toe boxes, heel cups and a plastic shin guard. They are a good choice for all but the most serious of off-road riding and come with an ABR rating of 8/10.
To see the full reviews as well as all of the other adventure boots we tested, click here.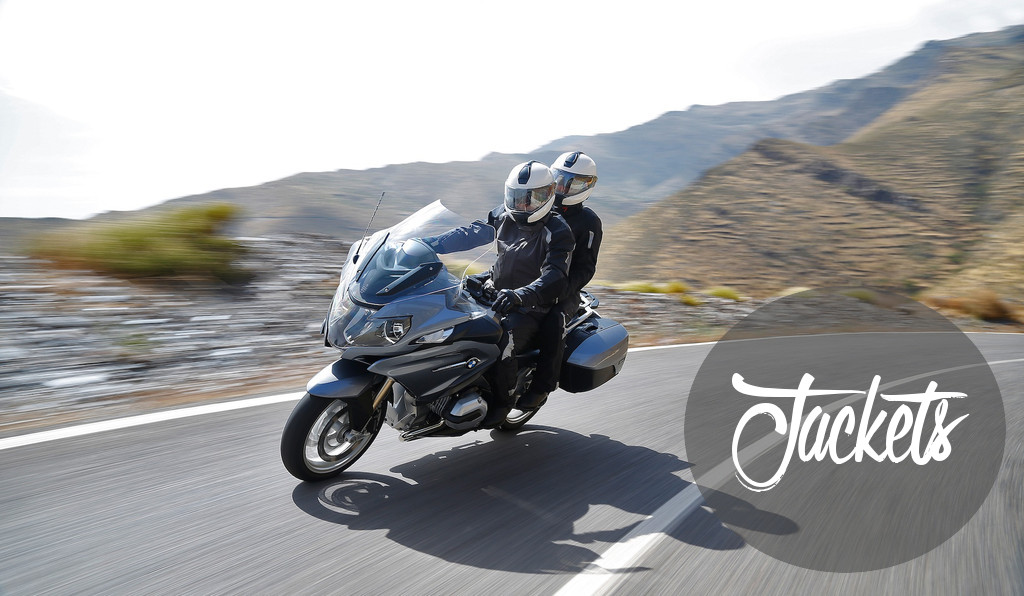 Textile jackets are commonly acknowledged to be the best option for adventure bike riders. This is because they keep all four seasons out, are breathable and also offer a good amount of protection and abrasion resistance. You'll want to look out for fully weatherproof materials, CE approved armour and a tough shell. Oh, and make sure the jacket is comfortable in the riding position!
ARMR Kiso Jacket – £100
www.tri-motive.com
Despite being a relatively new kid on the block, ARMR has done well with this one. Costing only £100, the Kiso features a fixed weatherproof membrane and DWR (durable water repellent) treatment that helps keep the water off, though it will need to be re-treated from time to time. The outer shell is tough and durable with 1680D ballistic fabric used on the main impact zones of the shoulders and elbows as well as CE approved armour too. It has several vents for breathability, plenty of waterproof pockets and a detachable quilted liner for added warmth. It got a rating of 7/10 in test making it a real bargain.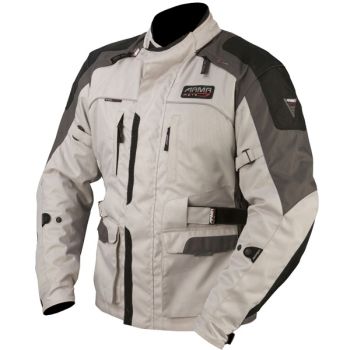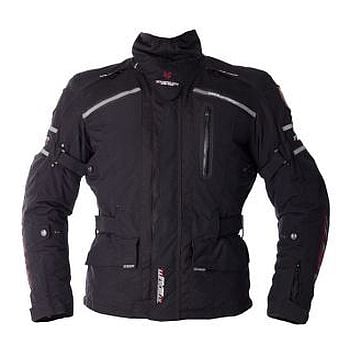 ARMR Kiso (left), Wolf Titanium (right)
Wolf Titanium ¾ Textile Jacket – £229.99
www.wolf-moto.com
So this jacket is a bit more expensive, but we wanted to include a better option for those new riders with a bit more cash. At £229.99, it is still relatively cheap and is a great jacket for all seasons. The outer shell of the jacket is constructed from a strong abrasion resistant fabric with a DWR finish to repel rain. Inside, a Sinaqua waterproof and breathable membrane should keep you completely dry. It is well ventilated, fits well and has CE approved armour in the shoulders and arms in case of an off. The heavily featured jacket is comfortable, looks great and with an 8/10 ABR rating, it may just be worth a punt.
The full group test was published in issue 19 which can be viewed if you have a membership to our online library or have the issue lying around in the garage.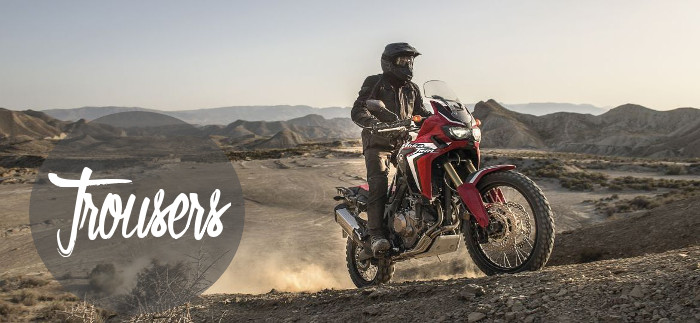 It goes without saying that textile trousers are the best option for adventure bike riders. They are versatile, suitable for all seasons and offer a good level of protection. The tick list for trousers is rather similar to that for jackets with weatherproofing and protection the priorities. Keep your eye out for hip and knee armour, ventilation and adjustments at the waist and leg openings.
Spada Explorer Trousers – £109.99
www.feridax.com
Representing excellent value for money at £109.99, the three-layer Explorer Trousers are able to cope with both hot weather tours and the cold, wet commutes in the winter. They are made from 600D high abrasion resistant polyester, have adjustable CE approved knee armour and hip protection too. Ventilation works well if the liners have been removed and there are plenty of adjustment points to get the fit right. They Explorer Trousers scored 9/10 on test.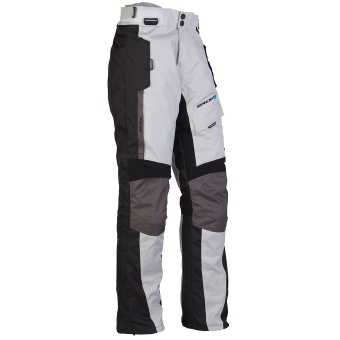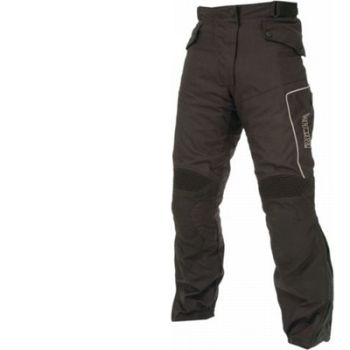 Spada (left), Richa (right)
Richa Monsoon Trousers – £119.99
www.richa.eu
Reasonably priced at £119.99, the Monsoon Trousers are a basic fixed membrane pant with a detachable thermal liner and a breathable and waterproof Dintex membrane. The outer fabric is a hard wearing polymide with good abrasion resistance and it is supple enough to be comfortable when riding. Protection is taken care of with double layered impact zones, CE approved knee armour and padded hips. The trousers do however suffer from a lack of ventilation. If you can get past that, these trousers are tough, versatile and scored 8/10 on test.
The full group test was published in issue 20 which can be viewed if you have a membership to our online library or if you are a proud owner of the print copy.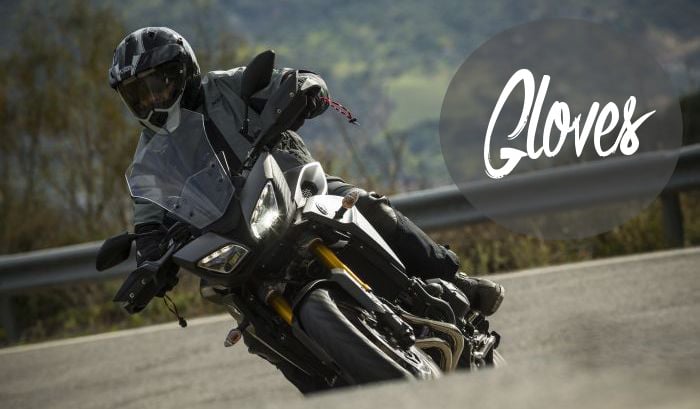 If you're covering a lot of miles, having a good pair of gloves makes the ride that much more comfortable. Not only that, but they provide much needed protection from flying debris and any impacts in case of an off. Check for use of leather for abrasion resistance, mesh for ventilation and knuckle pads. Breathability is also key in summer gloves.
ARMR SHL 240 Glove – £39.99
www.tri-motive.com
The SHL 240 glove is a mix of leather and mesh-style fabrics that provides a high level of abrasion resistance and ventilation for only £39.99. The leather makes up the majority of the glove and covers the palm and inner finger areas entirely while the heel of the hand features double layer protection. Armour can be found on the knuckles and a heel pad will help reduce any impact injuries in the case of an off. A Keprotec lining and a mixture of Cordura, aramide (Kevlar) and polyurethane textiles will all add to the abrasion resistance and wicking properties.  With an ABR rating of 8/10 they are well worth considering.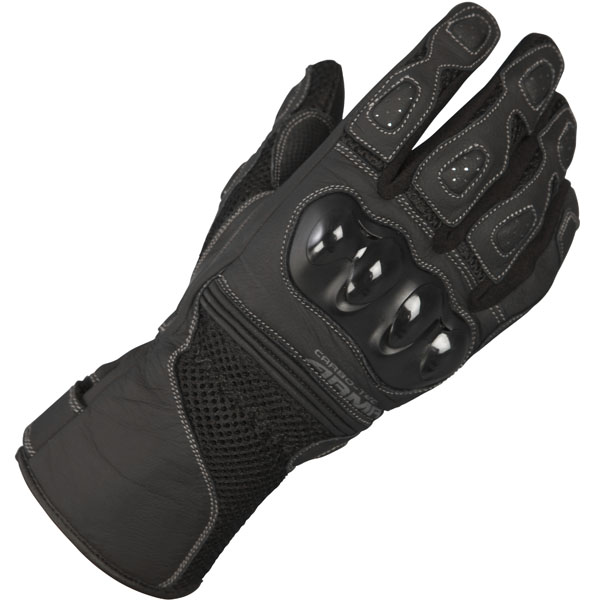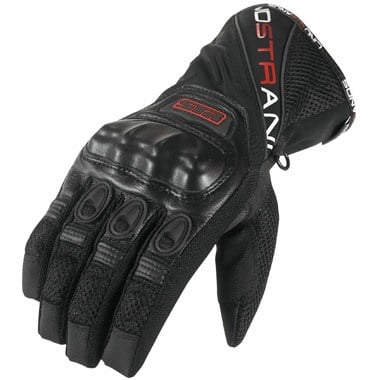 ARMR (left), Lindstrands (right)
Lindstrands Comet Glove – £59
www.jofama.se
If you're prepared to pay a bit more, the Comet Glove offers a high level of protection, is lightweight, slim and keeps your hands dry. All that does cost a bit more though with the gloves retailing at £59.For that price you will get a mesh-type glove with a breathable but weatherproof membrane and good abrasion resistance thanks to leather across the palm, fingers and back of the hand. It also features a hard, pre-formed knuckle guard, Hi-Art (a type of Kevlar) on the palm and fingertips as well as stretch panels allowing a good range of movement. They fit well, perform well and got an ABR rating of 9/10 on test.
The full group test was published in issue 16 which can be viewed if you have a membership to our online library or if you're lucky enough to have the print copy.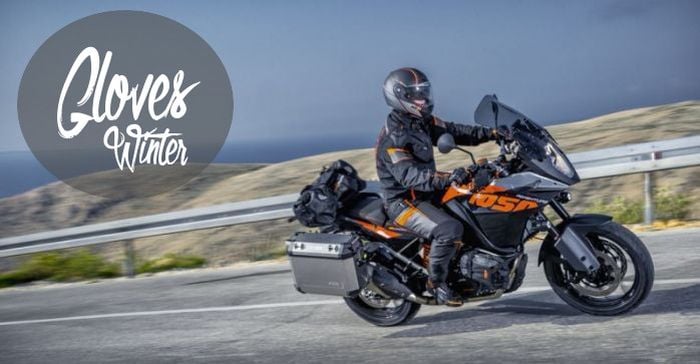 In a winter glove you are looking for the same protection as the summer options that comes from the use of leather and the inclusion of knuckle pads. In addition to that, it is imperative to find a glove that is both warm and waterproof. Otherwise you may endure some very depressing trips in the saddle.
Spada Enforcer WP – £64.95

www.spadaclothing.co.uk
At £64.95, these are the cheapest winter gloves we have tested which make them ideal if you're starting out. They feature a decent amount of armour and reinforced areas with a floating knuckle made out of moulded carbon. Despite a waterproof liner the gloves are not 100% waterproof with water eventually entering through the fingertips. A 3M Thinsulate fill helps to provide warmth which should get you through the winter. With an ABR rating of 6/10, these gloves suit the most budget conscious riders.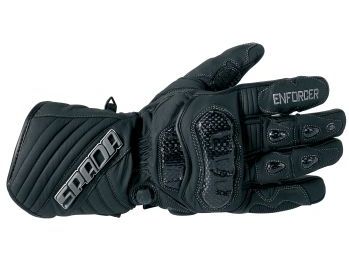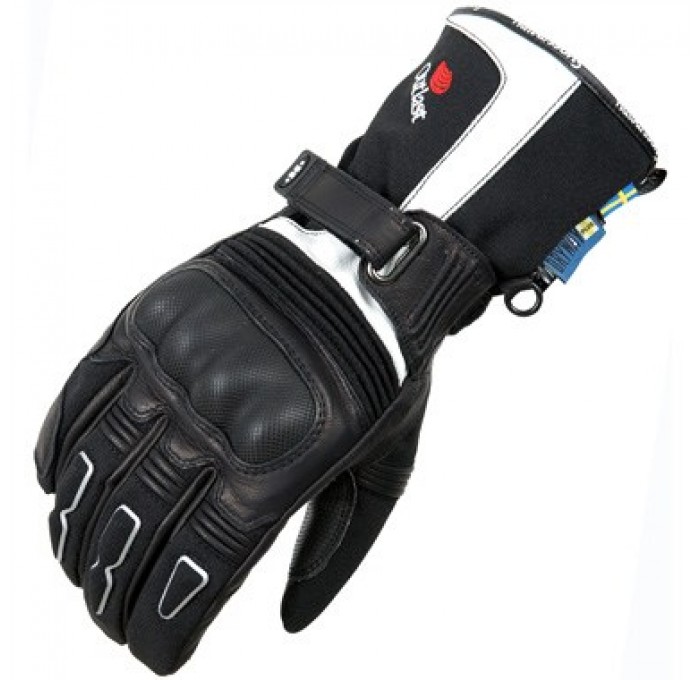 Spada (left), Halvarssons (right)
Halvarssons Advance – £104
www.jofama.se
The Advance gloves represent a significant step up from the Enforcer gloves and that tells with a cost of £104. You get what you pay for though and the Advance gloves are close fitting, fully waterproof with substantial insulation and a great amount of dexterity. A Thinsulate liner is coupled with Outlast technology, a material that is also used by NASA to protect their astronauts. It absorbs heat from your body before releasing it when the temperatures drop. They are comfortable, offer great protection through the use of hard knuckle protectors and Hi-Art textiles and are generally a great winter glove. With an ABR rating of 8/10 you can't really go wrong.
The full group test was published in issue 26 which can be viewed if you have a membership to our online library or if you can steal the print copy from a mate.
Want to make sure you are kept up to date with all the latest gear reviews? Click here to find out how you can get your hands on all new issues and the complete back catalogue of Adventure Bike Rider magazine.