Motorcycle helmets represent the most important piece of kit you'll ever invest in for riding which is why it's so important to make the right choice when purchasing a new one.
Of course, that's easier said then done with the huge variety of options that are on the market, so to help you out we spoke to Martin Brown, director at motorcycle clothing and accessories store Bike Stop in Stevenage, and found out everything you need to know.
ABR: Is it true that you get what you pay for with helmets and if they all pass safety standards isn't a £60 lid going to be just as effective as a £300 one when the times comes for it to do its job?
Martin Brown: Some helmets will pass the European EC22.05 standard by just a whisker and others will far exceed it. There's also the government 'SHARP' test which assesses helmets and rates them on a scale of 1-5 stars (www.sharp.direct.gov.uk). The US standard is Snell, and some top level lids will pass both EU and US standards. Other factors that affect the price will be the quality of components used, the addtional features such as drop-down sun-visors, the ability to change/remove cheek and crown padding and the inclusion of an anti-fog visor.
The materials used to make the shell will also play a large part in the final price. Plastics will be the most basic, then fibreglass/composites and as you move up the price range there's the addition of Kevlar or even helmets made of pure carbon. It really is the most important piece of kit that you can buy and should be a sigificant part of your budget. There's certianly some truth in saying you get what you pay for.
ABR: What are the main thngs I should look for when buying a helmet?
MB: The first thing you should look for is the EC22.05 approval. It's strongly recommended that you never buy a used helmet as you don't know its history. It is also worth noting that some lids are designed to fit the standard head shape of the region they're sold in (US, Europe or Asia), so it's important to make sure that you're buying from an authorised dealer.
Then getting a comfortable and correct fit is crucial. Even the most expensive product will not be effective in the event of an accident if it does not fit correctly. Not all lids have the same internal shape and all heads are shaped differently so the key is to try a number of different ones to ensure both the size and fit are correct. Some helmets have removeable cheek and crown padding allowing thinner/thicker ones to be fitted to get the best fit possible. Finally, once you've decided on the one for you, its important to leave it on for at least 10 minutes to make sure its comfortable for a longer period of time.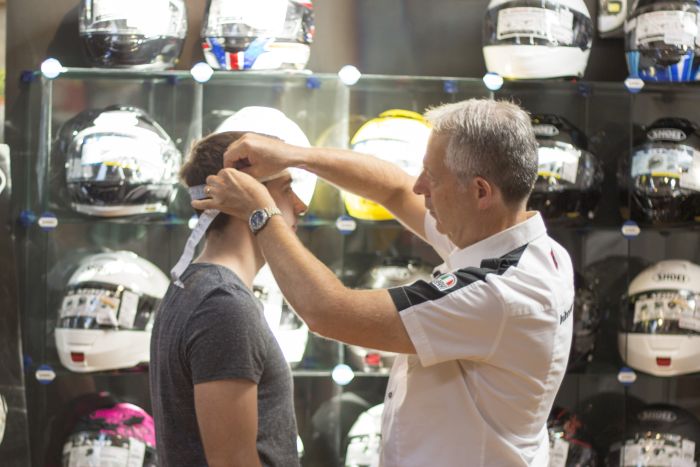 ABR: If I drop my helmet is that game over? Do I need to buy a new one?
MB: This is a tricky question that we often get asked. The bottom line is, as we have already said, a helmet is your most important piece of safety equipment. You've invested significant money into it – do you want to compromise that protection in any way? We can check it to see just how much damage has been done to the shell and the liner but it's often then subjective and ultimately has to be your decision. Most manufacturers say that any impact renders the helmet unusable. In more severe cases, like an actual accident when the impact is harder, it is normally easier to see damage to the EPS (expanded polystyrene) liner as it's normally painted black and damage shows as white.
ABR: Is there anywhere I can get my helmet checked over to make sure it's still going to do it's job right?
MB: Yes, we (Bike Stop) are trained by all the suppliers of helmets that we sell (for example we are an 'Arai Technical Pro Dealer' and 'Shoei Assured Dealer') and are happy to help. Some manufacturers offer a specific period where a customer can return the helmet for up to five years for regular inspection and/or maintenance. To try and help we also carry a large stock of spare parts and if we don't have it, we're able to order quickly from the suppliers.
ABR: What is the average lifetime of a helmet? When should I buy a new one?
MB: The key factor is the life of the EPS (expanded polystyrene) liner which deteriorates between 2-4% a year, so after five years that could be as much as 20%! The linings, cheek pads and straps can also become worn and with high mileage users this will happen more quickly. Most manufacturers say the life is five years and many will come with a five year warranty, but it can range down to around two years. As we have said, in some helmets, the linings can be replaced and we can do that in store, but with straps in particular these would have to be reurned to the supplier for replacement.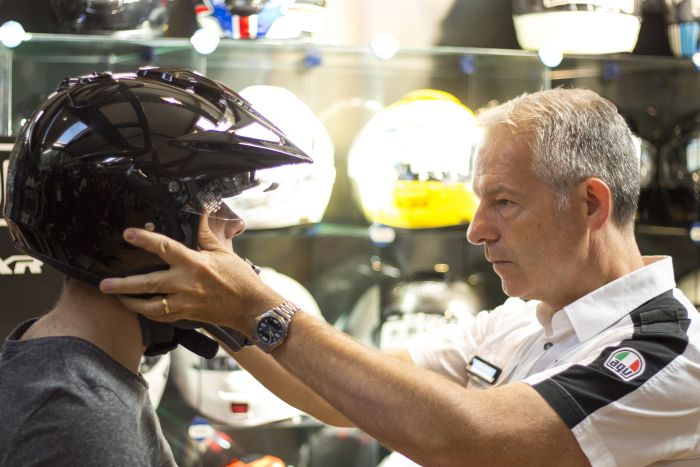 ABR: When I'm in a shop deciding on a helmet, how do I ensure that I'm getting the helmet that fits my head best? Is there a procedure I can do to check the fit of a helmet?
MB: We are trained to help but even before you ask us, the fit wants be be snug but comfortable. The cheek pads should be pressing firmly on your cheeks and there should be no discomfort anywhere. The padding is all brand new and will only bed in over time, so it's important that it's right from the start. We always ask our customers to hold their heads still and we try and firmly rotate the lid left/right, up/down to make sure that only very minimal movement of the helmet is possible with the head staying still.
ABR: What are the benefits of a peak on an adventure helmet, especially if the helmet has an integral sun visor?
MB: The benefit of a peak is to try and give shade to the eyes versus the sun visor, which works more like a traditional pair of sunglasses. We have met customers that appear to be particularly light sensitive and they need this additional help. There's also a certian style to these adventure helmets, but then that's down to personal choice!
ABR: Are there any differences in women's helmets, or they just smaller shells?
MB: There are actually only a very limited number of helmets designed specifically for ladies. Our example is the Schuberth where they account for what they call, a 'slighter smaller facial structure' and an anti-bacterial microfibre interior prevents staining from make-up sand a size range down to XXS.
BIKE STOP has over 30 years experience in the world of motorcycle clothing and accessories with a wide range of helmets in stock and regularly trained and knowledgeable staff on standby. For more information visit www.bikestop.co.uk/ask.