Icon motorcycle gear is unashamedly aimed at the urban rider. It's developed to tame gritty (and leafy) streets, turning heads with alternative and sometimes aggressive styling.
The American firm caters for the biker who wants to stand out from the crowd. Those who like to reflect their own personality and flare in their riding gear, whether that's a smidgen of gold flake on a helmet, or brazen colours on a jacket design.
And why not? The simple fact we are motorcyclists differentiates us from the rest of society. Let's revel loudly in the fact we choose to risk it all for the freedom to filter through lines of snarling traffic in the urban sprawl, or accelerate swiftly and loudly for all to hear between junctions.
Street and touring use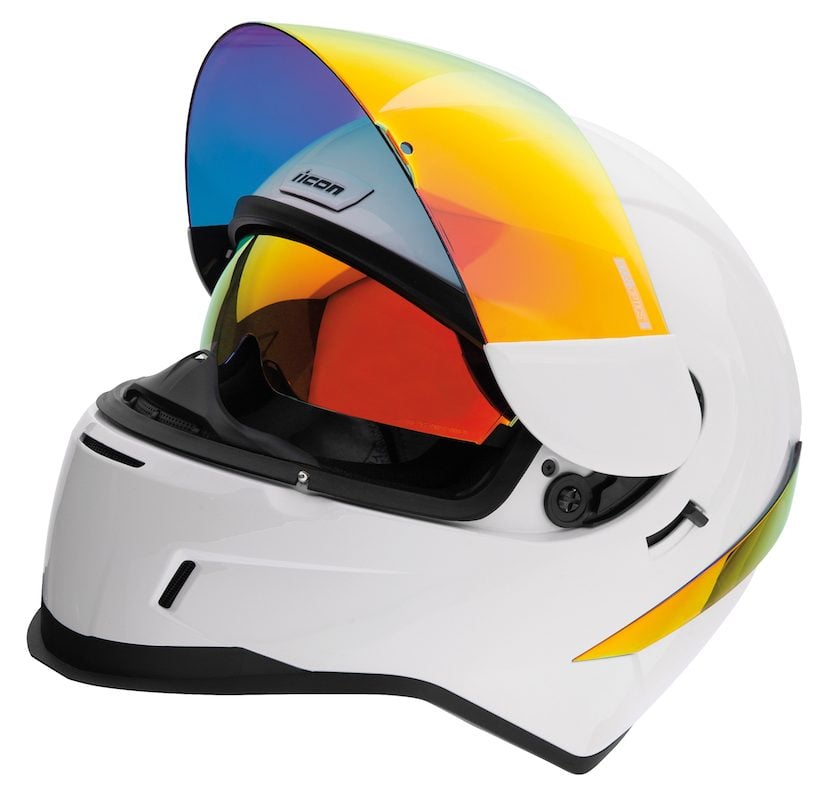 Features like a sun visor and well-performing venting make the Airform a helmet you could tour in.
Ok, so we're not about to trade in our BMW R 1250 GS to pop wheelies on a Honda Hornet in Tesco car park anytime soon. But the thing about good street biking gear is it can also be great for the adventure rider who sticks to the blacktop.
The daily ride for most of us isn't the Road of Bones or the Pamir Highway. Instead, it's more likely to be a blast up an A-road or motorway, followed by a crawl through town as we commute to work.
In this scenario, Icon's new Airform helmet is in its element. I've been wearing it on the road for this review and I've been impressed by the quality and performance you get at such an affordable price. There are also certain features that raise it up in my estimation into a helmet that could be considered for your next tour.
With this in mind, there are five main things I look at when buying a new helmet – safety, fit and comfort, looks, price and features, like a sun visor or speaker pockets. The Icon Airform ticks alls those boxes and more.
Safety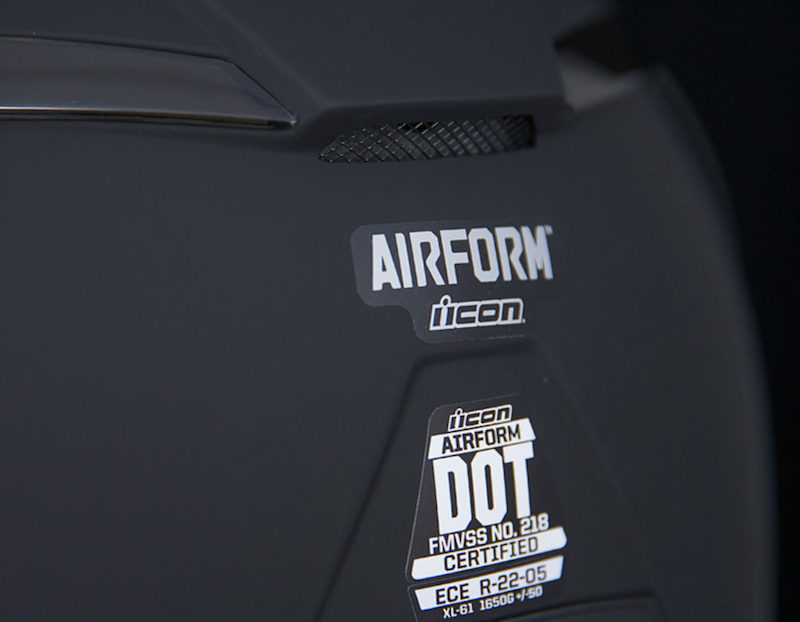 European and USA safety standards have been met.
In terms of safety, the Airform has an EPS foam liner to absorb energy in the event of an impact. The shell is an injection moulded polycarbonate, which is a strong and durable material commonly used in helmets at this price point and higher.
The Icon Airform features the European ECE and American DOT certificates, so it has met the safety standards of those bodies. And it features a double D-ring chin strap fastener, personally my favourite for its simplicity and effectiveness. We're never going to be able to test a helmet's safety in a crash scenario unless we get very unlucky, but there is every reason to think the Airform will protect your head in the event of a spill.
Fit and sizing

Designs and colours for those who want to stand out in the crowd.
The helmet has been designed to fit heads with an intermediate oval shape. This means it is a little shorter from front-to-back, and a bit wider from side-to-side. Icon says the intermediate oval is the most common helmet fit shape, so it should fit more heads than not. And it is available in seven sizes, ranging from XS to 3XL.
This is important because our heads come in all different shapes and sizes and it is vital you purchase a helmet that fits yours. Make the wrong choice and a helmet will feel uncomfortable and eventually painful to wear if it's too small. Too large, and it will move around on your head, letting more wind in which results in extra noise. A helmet that is too large also won't be as effective on impact and may even come off in a worst case scenario.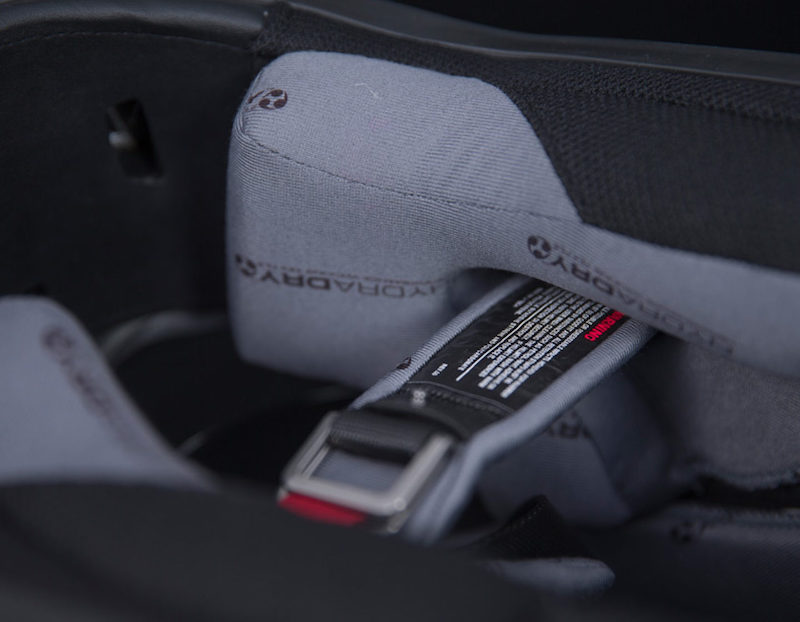 A plush padded interior wicks moisture away from your skin.
Icon Airform comfort
In terms of comfort, the Icon Airform slipped over my head and ears with ease, which isn't the case with all motorcycle helmets. I have an oval-shaped head that measures 60.5cm around. I opted for an XL. The fit was perfect. The helmet nestled firmly around the crown of my head with no tell-tale pressure points in my temple that would eventually lead to an aching skull. The cheek pads pushed firmly against my face. When I grabbed the chin bar with both hands and did the usual side-to- side motion to check for slippage around my face and head, there was none.
Weighing in at 1.67kg, the Airform feels light to wear while riding and overall boasts a reassuringly firm but extremely comfortable fit. For a helmet at this price range, I also found there to be minimal wind noise when riding at lower speeds. This did inevitably increase as I travelled at 60-70mph and beyond, but the noise was similar to helmets I've worn costing double the price.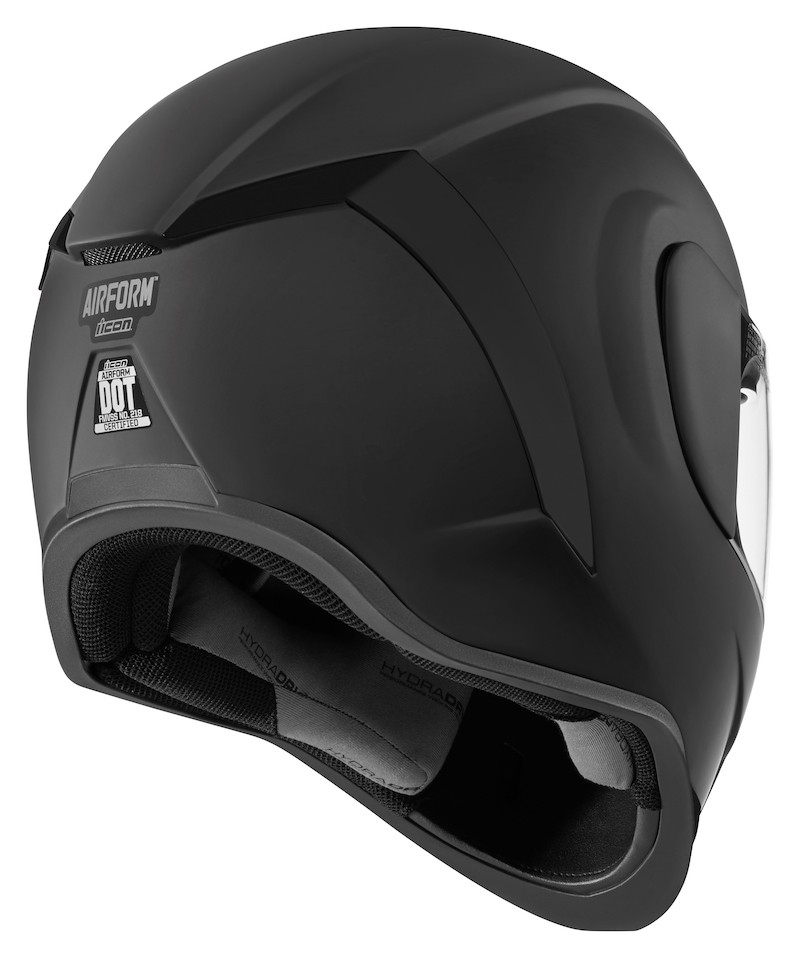 A contoured neckline raises at the rear to reduce jacket interference.
The Icon Airform's neckline is contoured, raising up in a shallow arc at the rear which Icon says was designed to reduce 'jacket interference'. This may not benefit every rider, but it would certainly help me in winter when I wear a jacket one size larger in order to fit a number of warm layers underneath. In these circumstances my jacket often rides up when I sit down, pushing the collar annoyingly upwards against my helmet. The Airform's contoured neckline would solve this.
Features
The helmet features five vents, three on the chin bar and one at the rear, which are always open. There is also a vent in front of your forehead. This one can be opened and closed by moving the Icon logo. I tested the Airform on a cold, rainy day and the vents worked effectively, helping the visor to stay fog free without the need crack it open. I didn't get the chance to test the helmet in hot weather, but the large grooves cut into the ESP liner to promote airflow lead me to believe it would perform well and stay cool when temperatures rise.
The visor itself didn't come with a Pinlock anti-fog insert. Instead, Icon says its Optics line of visors are fog-free. I was initially sceptical, having used Pinlocks for years, but the Airform visor and vents worked perfectly together to keep my vision clear. I even tried breathing absurdly heavily on the inside of the visor while riding in an effort to fog it up, but to no avail.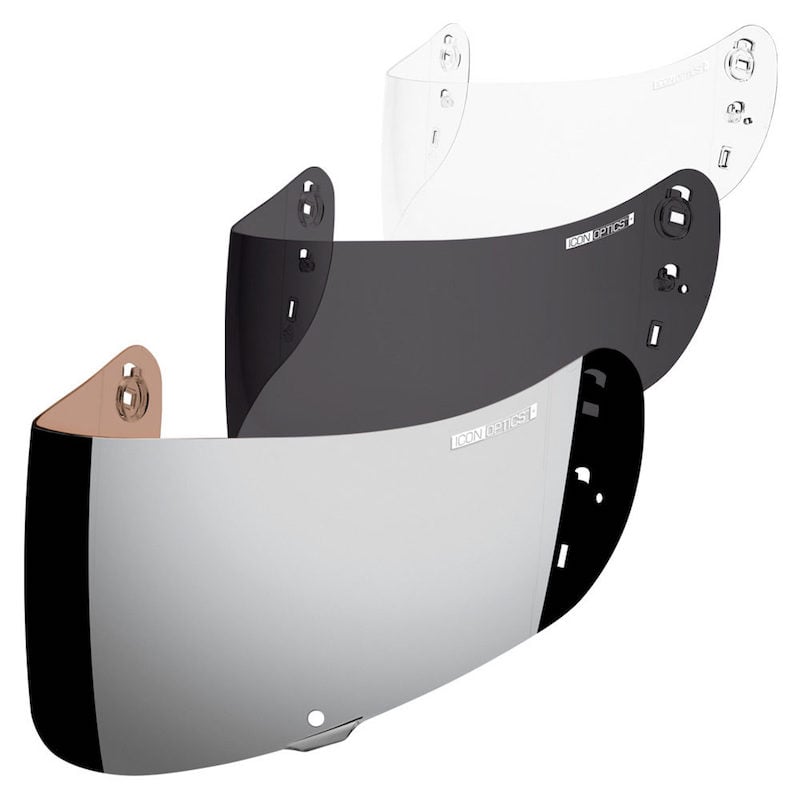 Anti-fog lenses don't require a Pinlock.
Other features include an internal drop-down sun visor which is operated by a simple slider on the left side of the helmet. And the Airform also has cut-outs in the EPS liner to fit speakers for a communications device, a must for me on those sometimes mind-numbing 400-mile days on French toll roads while on tour.
The internal padding is made from a sweat-wicking textile material called Hydradry which is designed to wick moisture away from your skin. This padding was easy to remove to enable you to wash it if it starts to pong.
Looks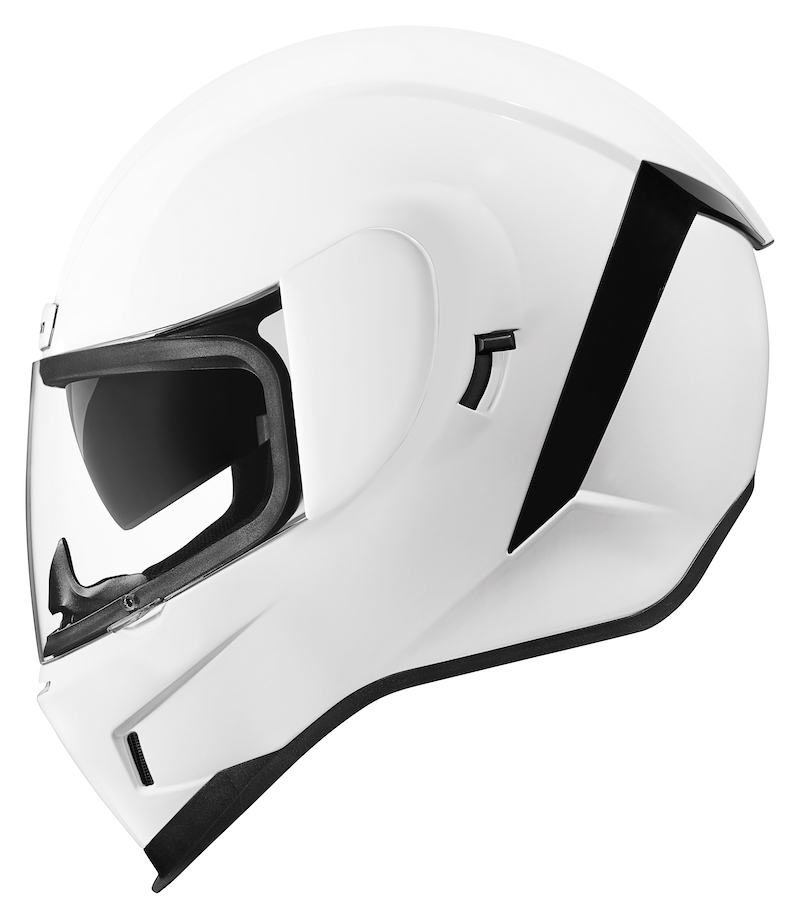 A classic helmet design with a hint of Icon panache
When it comes to looks, ICON differentiates itself from the competition with its own approach to biker style. Personally, I love the look of some of its standout designs like the off-road focused Variant helmet, or the angular Airflite. However, the design of the Airform is more classically stylish than attention grabbing, which I can see appealing more to adventure bike riders.
However, the Airform's unique selling point is the ability to customise the visor and two rear spoilers in a variety colours to match your bike or clothing. It's not something I've ever thought about doing on a helmet before, but I admit to having a big silly grin on my face when I looked at myself in the wing mirror sporting a reflective silver visor and matching spoilers. It's a fun novelty and adds a little individualism to your helmet.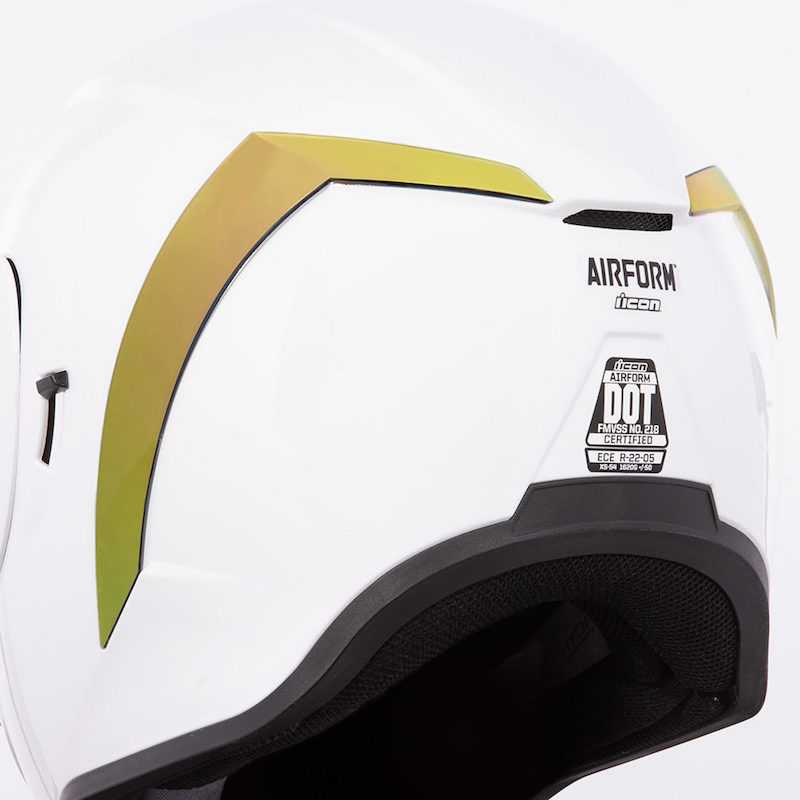 Chrome your dome with changeable spoilers.
I tested a gloss white version of the Airform, but it is also available in a gloss and matt black. If you're looking for splash of colour, there are red, white and black versions featuring a design called Sacrosanct. Icon describes this as 'one-part wizard spell and the other part alien crop circles'. It's one for those who like to stand out in the crowd.
Conclusion
Overall, I was very impressed with Icon Airform. At £136, it represents excellent value and you get a lot of helmet for your money. I would happily choose the Airform for my daily commute. However, its comfort, relatively low wind noise, good venting and features like a drop-down sun visor and speaker pockets, tip it into touring helmet territory for me. If I was regularly riding off-road in hot countries, then I would reach for an adventure-style helmet, but the Airform would be in contention for a trip sticking to the asphalt.