What is the SHARK EVO-ES? SHARK Helmets' unique dual homologated modular touring helmet
Price: From £269.99
SHARK Helmets is a French brand with over 30 years worth of experience creating high quality lids that cater to a range of motorcycle disciplines, from sport-bike riders to off-road enthusiasts. For those of us looking for a versatile helmet to take on tour, the EVO One range in particular has proved increasingly popular with its dual homologation, meaning riders can wear it as a full-face or open face helmet.
New for 2020, SHARK has built upon this success, introducing the Shark EVO-ES, and I've been lucky enough to wear this touring helmet while I've been riding of late.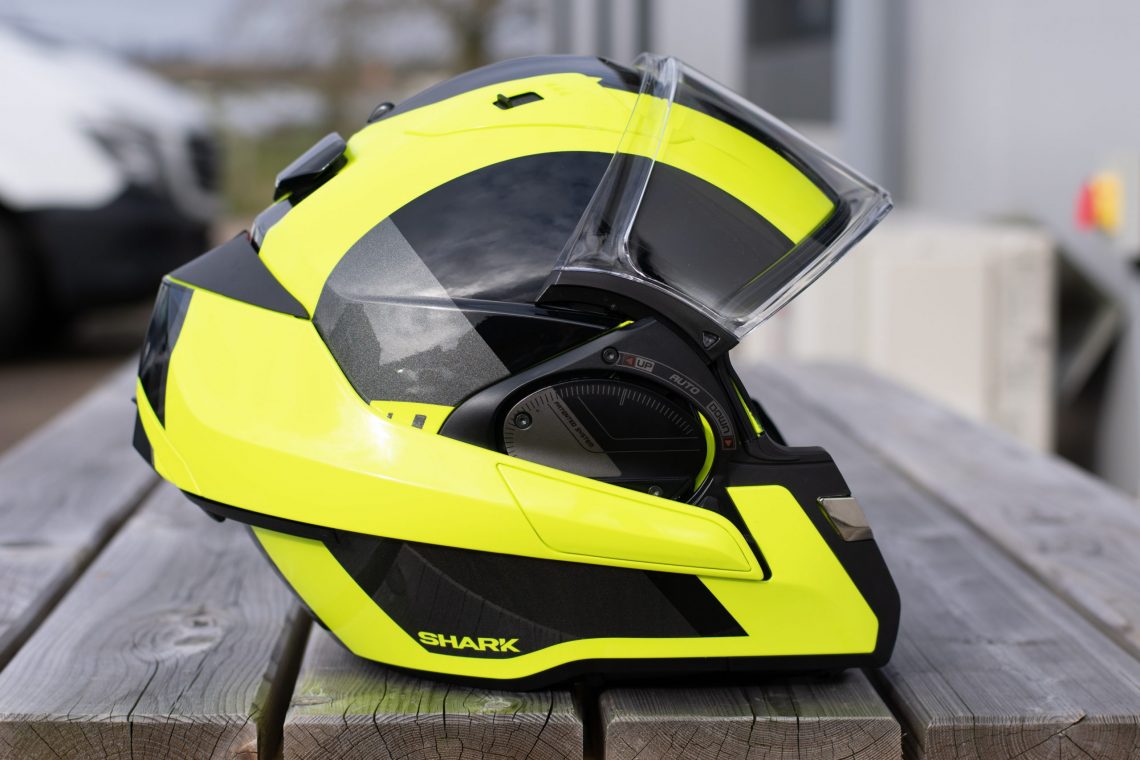 Flip-front
Flip-front helmets are a popular choice among motorcycle tourers and commuters alike, providing versatility and comfort. SHARK has taken a unique approach to within its helmets, with its patented 'Auto-up/Auto-down' system. The visor automatically lifts up when you raise or lower the chin guard up and over your head, where it locks at the back of the helmet rather than on top like most other models. The EVO-ES is dual-homologated, so it can be legally, safely and comfortably used in the open and locked position, and it is fastened using a quick-release chin strap.
The EVO-ES weighs in at 1.65 kg which, for a dual-homologated helmet, is not too heavy and SHARK says it invested in aerodynamic testing to ensure that the helmet is comfortable when riding for long periods of time. My early impressions are that SHARK has done a good job, with the helmet proving comfortable to wear at motorway speeds and I've experienced no neck aches or pains.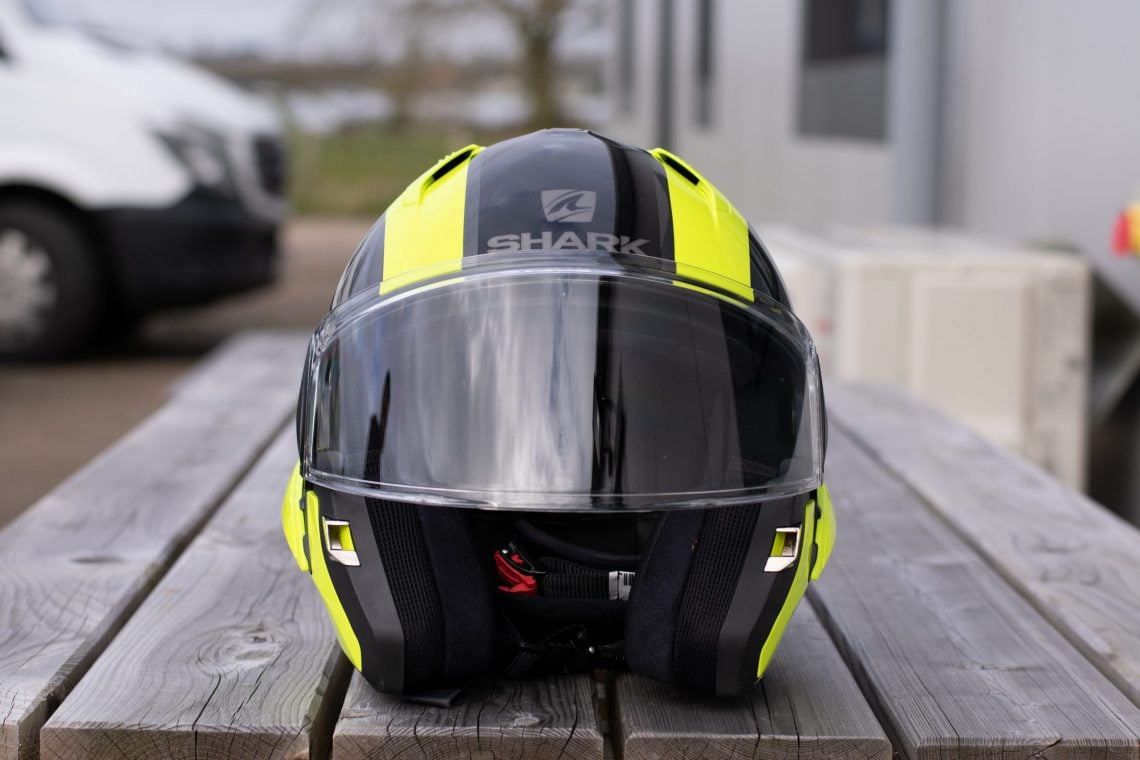 Touring-friendly features
SHARK'S patented Auto-Up system, that I touched on earlier, quickly becomes a handy little feature that you take for granted. It's a nice inclusion that reduces the amount of fiddling you have to do when opening the chin bar at a petrol station or photo stop.
There are also a number of other features that make life more comfortable when you're on the road, including an internal sun-visor which is accessible with either hand by operating the slider on the top of the helmet. This is easy to use whether the chin bar is in the open or shut position. The clear, anti-scratch, visor can quickly be released, and it is treated with an anti-fog coating instead of making use of a Pinlock. There's also a handy magnetic and retractable breath guard.
When the temperatures start to increase, a chin vent and two large scoops on top of the helmet let in plenty of air, while two exhaust vents hidden in the rear spoiler help to draw it out and circulate it through the helmet.
The plush inner of the helmet is both comfortable and removable for machine washing, another nice feature that will be much appreciated when you're riding through sunny Spain on a July tour.
There is also built-in space to house the SHARKTOOTH Intercom system, but it's also handy if you want to slot in the speakers of your current intercom system as well. The SHARK Easyfit System also makes life easier for riders with glasses, with dedicated recesses set into the helmet's padding designed to stop the arms of glasses digging into your temple. It's another nice touch with all-day comfort in mind.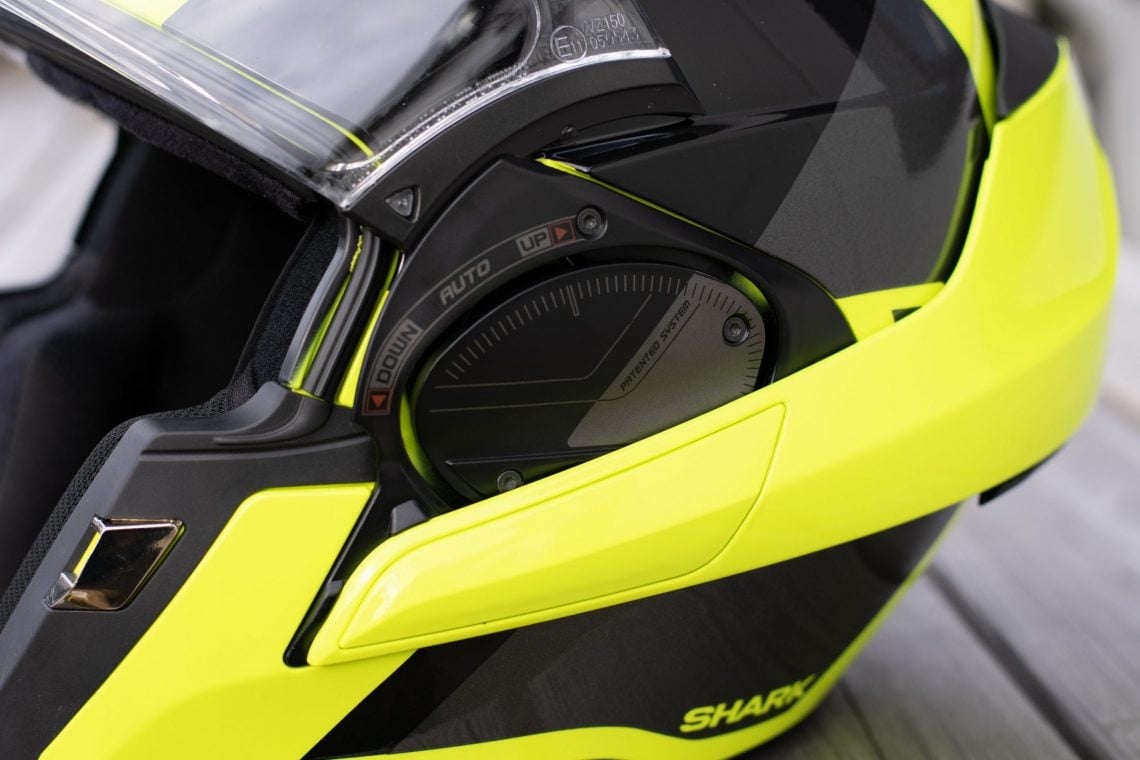 SHARK EVO-ES
You can find out more about the Shark EVO-ES and find your local authorised dealer here, and keep an eye out for a full review on the ABR website in the months to come.
Available in sizes XS-XL, with two shell sizes, prices range from £269.99-£309.99 for the EVO-ES. The eye-catching yellow/black helmet I've been wearing comes in at the top end of this range at £309.99.