Just a day's ferry crossing away from England's south-coast lies a riding paradise. Blessed with sun from early spring to late autumn, it has become a pilgrimage for many British motorcyclists. We're of course talking about motorcycling in northern Spain and Portugal.
I was lucky enough to spend a few weeks riding around the Iberian peninsula last year where I enjoyed some of the best riding of my life through the likes of the Picos de Europa, the Pyrenees, and beyond. It was an incredible journey and one I'd highly recommend to any biker with a thirst of adventure.
If you fancy riding in Spain and Portugal yourself, make sure you don't miss out on the seven mind-blowing roads listed below that are all within reach of those handy ferry ports. I also got in touch with local expert Brian Watson of McTours Ltd, who has spent months based in the region riding every road he could find to build the perfect tour.
With years of knowledge under his belt Brian has pointed out some deviations from these busier roads that I'll certainly take next time I head over, these are guaranteed to put a smile on your face.
BP1103, BP1121: The road to the monastery at Montserrat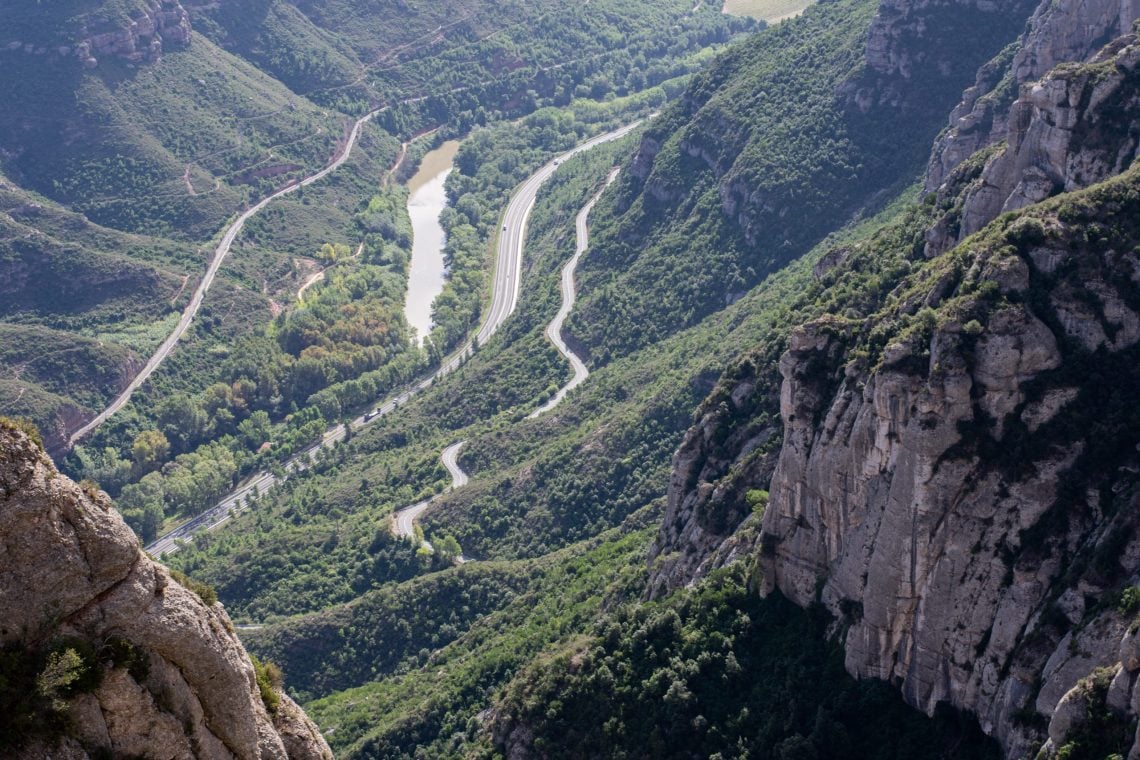 Starting in the bike-mad city of Barcelona, head back inland to discover some great roads. I'd recommend stopping at the famous monastery at Monserrat, perched high above the surrounding countryside.
While most people will take the train or a tour bus, the steep ascent, coupled with typical billiard-table smooth Spanish blacktop, makes for a great road for motorcyclists. Parking for bikers at the top is also free for 30 minutes, which is plenty of time to snap some photos of the stunning views before heading back down and towards the Pyrenees.
Brian's tip: While the views from the top are great, you can be unlucky and encounter tour buses while on this road. If you're in the area, on your way back down from the Monastery the BV-1122 is a lovely, narrow stretch of road with no solid white lines and relatively little traffic that just begs to be ridden.
N260: From Biescas heading East through the Pyrenees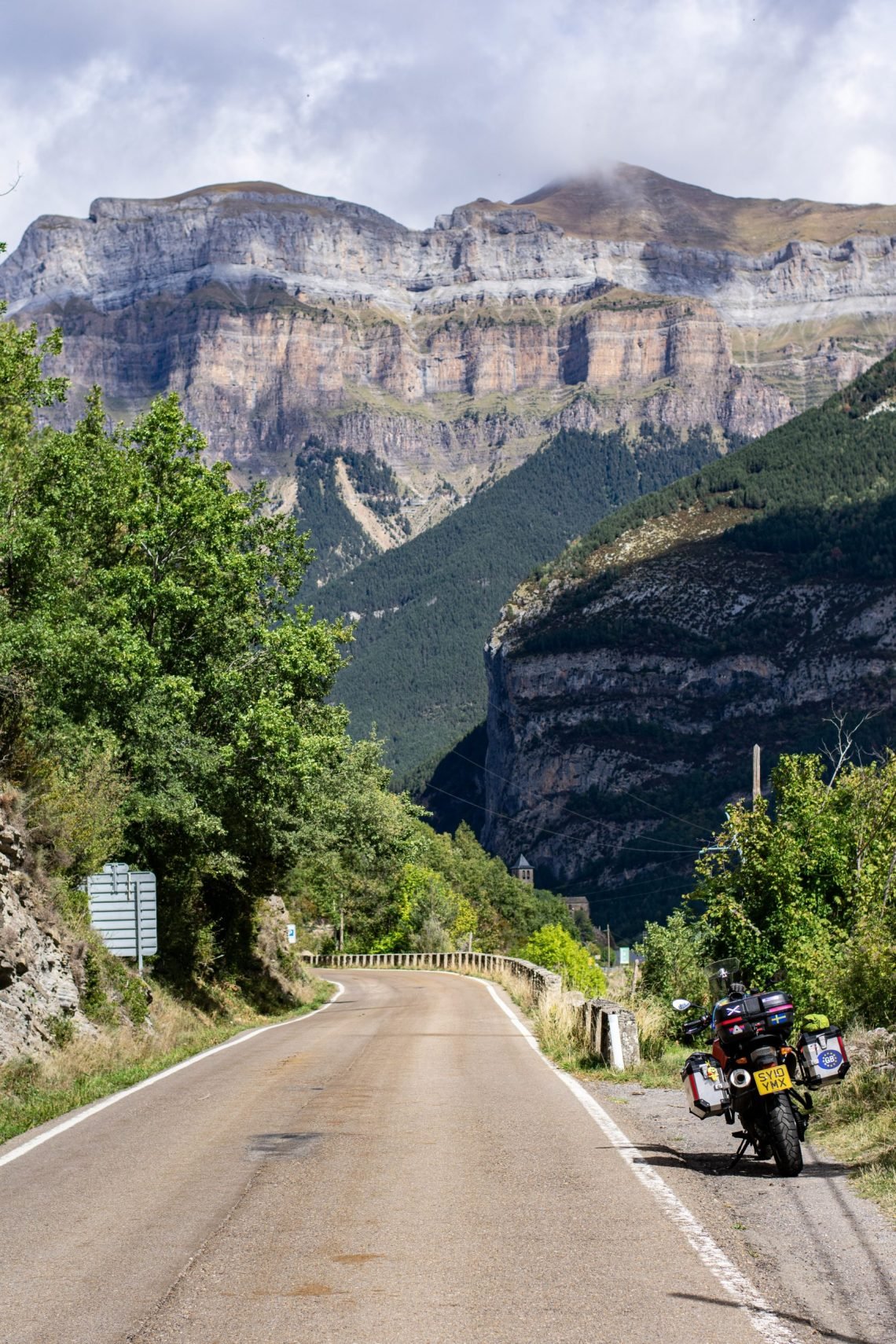 Whittling down the list of brilliant roads I'd ridden during my time in the Pyrenees was pretty hard, but one stood out amongst the many, the N260.
Perhaps it's because I virtually had the road to myself when I rode it, or perhaps because of the peaceful, yet awe-inspiring scenery that I managed to capture in the photo above. Either way, it is a fantastic road and a must-ride if you're in the region.
As I rose and fell through the hills and valleys, I found myself sandwiched in between steep cliffs to one side and long drops covered in sprawling forestry to the other, while constantly in the shadow of the Pyrenees mountains. I felt that I'd stumbled across one of the best roads in the world. Simply epic.
Brian's tip: The N260 is a long road, with many great parts, a stand-out favourite is the section from Ripoll towards Llivia. Brian will deviate off the N260 on his tours; both the LV-5134 and the L-511 prove popular with his clients.
LV/BV-4241: A squiggle through the Catalonian countryside.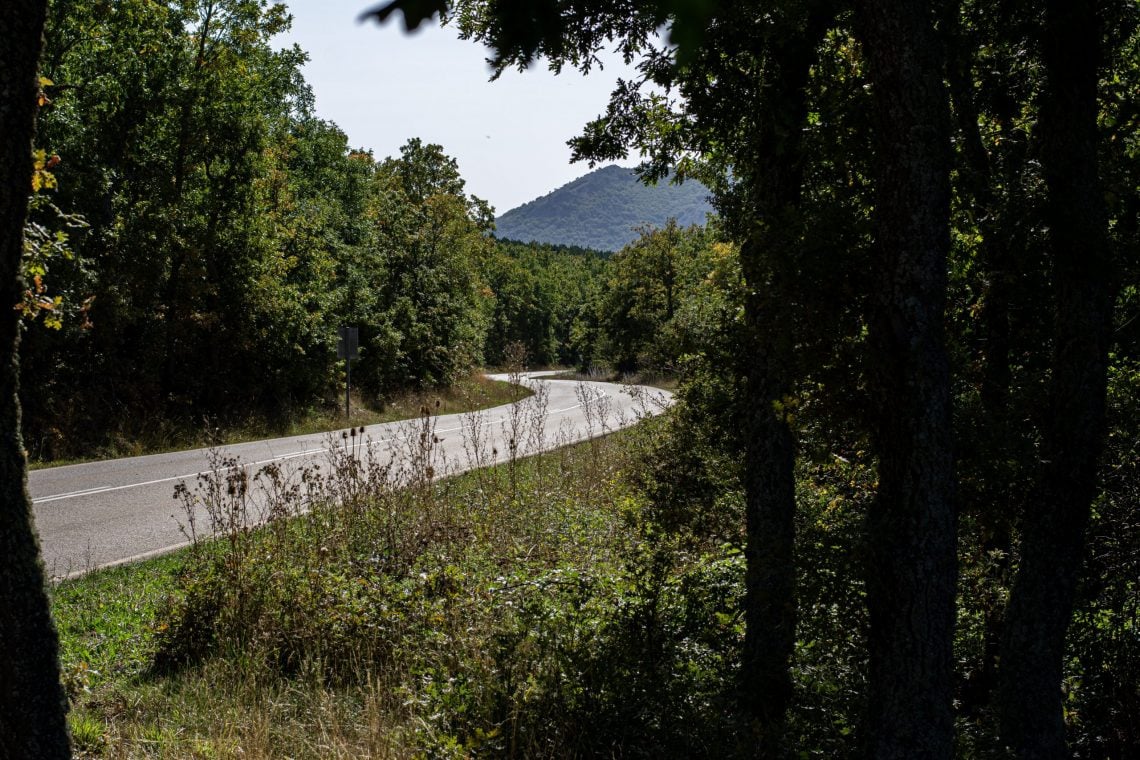 When designing roads linking small villages in the Catalonian countryside, I'm convinced Spain's chief road planner (should they exist) left their map briefly unsupervised, giving their toddler enough time to sneak in and scribble a wiggly line across the page. Not noticing this had occurred, the map was sent off, the roads were built and the BV-4241 came into existence.
Perhaps I'm letting my imagination run wild, but the BV-4241 is so unrelentingly twisty that it almost defies logic. It writhes through the hills, a never-ending succession of hairpins, undulating dips, twists and humps, before spitting you out above the town of Berga.
Not one for the fainthearted, it's a white-knuckle ride that should be taken at a comfortable pace. With so much focus required on the road, I honestly couldn't tell you too much about the surrounding countryside or views, an indication that this is one for the riding purists.
Brian's tip: A great, twisty ride, while the more technical B-400 running just north of this road competes for the title of best road in this region.
N621: The Potes Triangle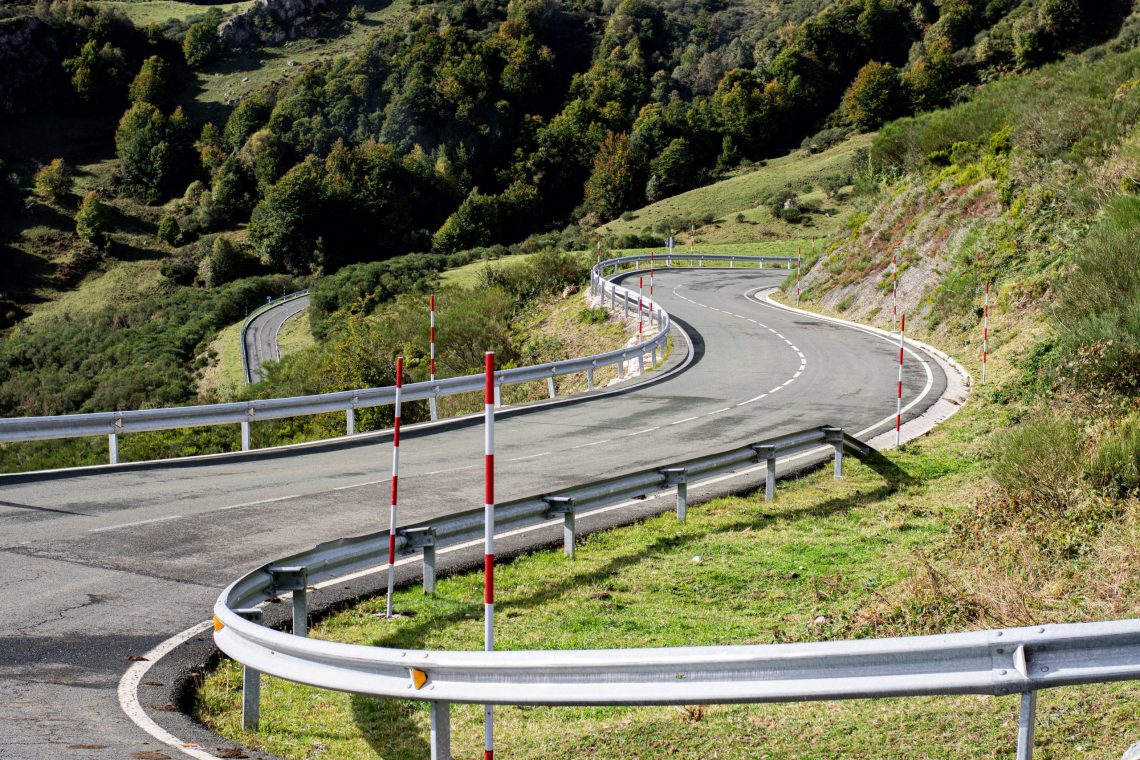 The magnificent Picos de Europa mountain range needs no introduction, but the N621 might. Part of the Potes Triangle (named after the small town of Potes which is a great place to base yourself on a tour), it's a phenomenal road to ride into the heart of the Picos, with great viewpoints throughout.
Ask any local biker for advice on where to ride in the area, and chances are they'll tell you to follow the 'Triangle' for a day's ride. Starting on the N621, you'll go up past a statue of an ibex and a turning to a monument of a white bear. Stick on the road for a while, before taking a right at Riaño onto the N625, before looping back around to Potes on the AS114.
If you fancy something even more exhilarating, after taking the right at Riaño onto the N625, take the first left onto the CL-635. Continue on this road, staying right at the fork, and enjoy the numerous tight hairpins as you begin your descent. Follow the road to its end, and you'll find yourself close to Gijón, a nice stop on the coast.
Brian's tip: A well-known and popular route, the 15-mile stretch south of Potes is bound to excite but you can improve the 'triangle with' deviations onto the quieter LE-2703.
N222: Douro Valley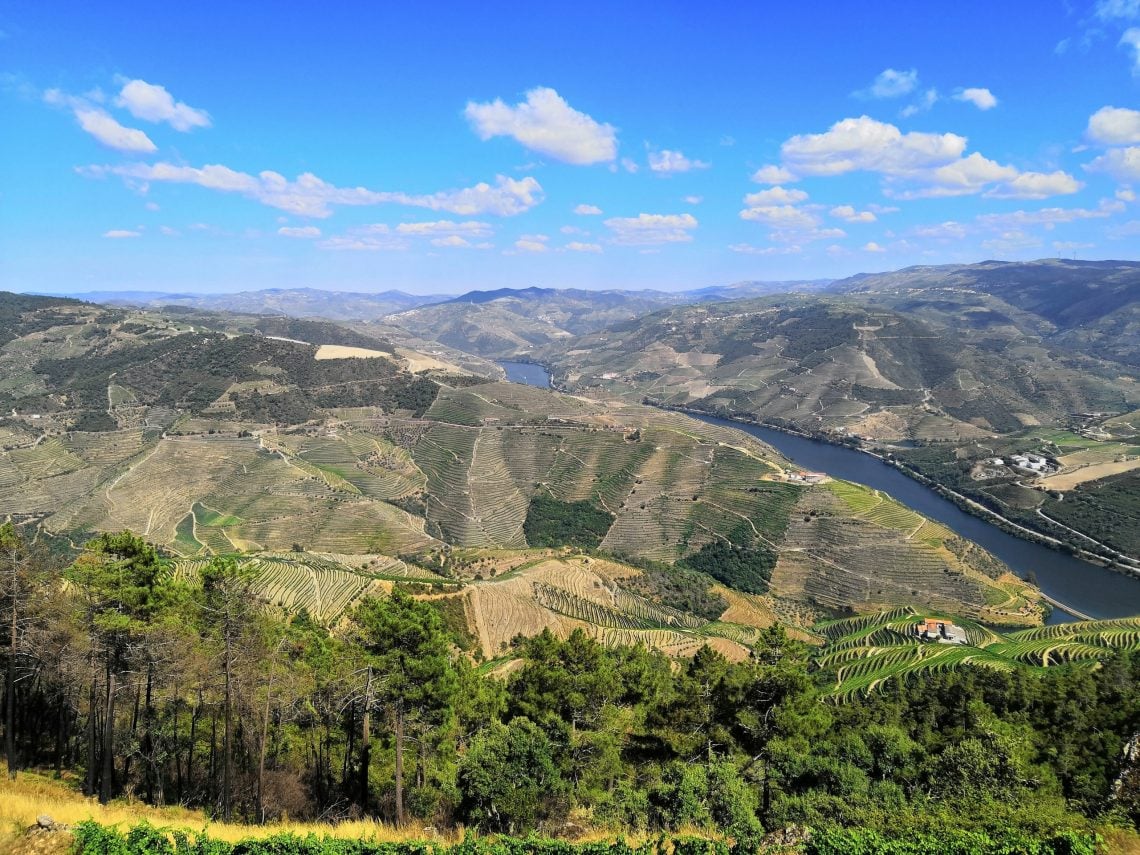 Named the Best Road in the World in 2015 by car rental firm Avis, the N222 is an absolute must when visiting Portugal, or even the Picos. It's also not too far from some of our other roads, starting half a day's ride from the beautiful town of Salamanca in Western Spain.
The road takes you through 17.5 miles of the wine region of the Douro Valley, a UNESCO World Heritage Site. It largely sticks to the course of the Douro river, allowing you to follow its smooth contours as it flows amid the hillsides and terraced vineyards rising above you.
You'll come out near Porto, an absolutely beautiful city and one I'd thoroughly recommend staying a night or two in.
Brian's tip: A picturesque route, but his tours will take some of the minor roads that climb higher to command a better view of the valley stretching ahead of you, ideal to catch that perfect photo.
N232: Over the mountains from Manteigas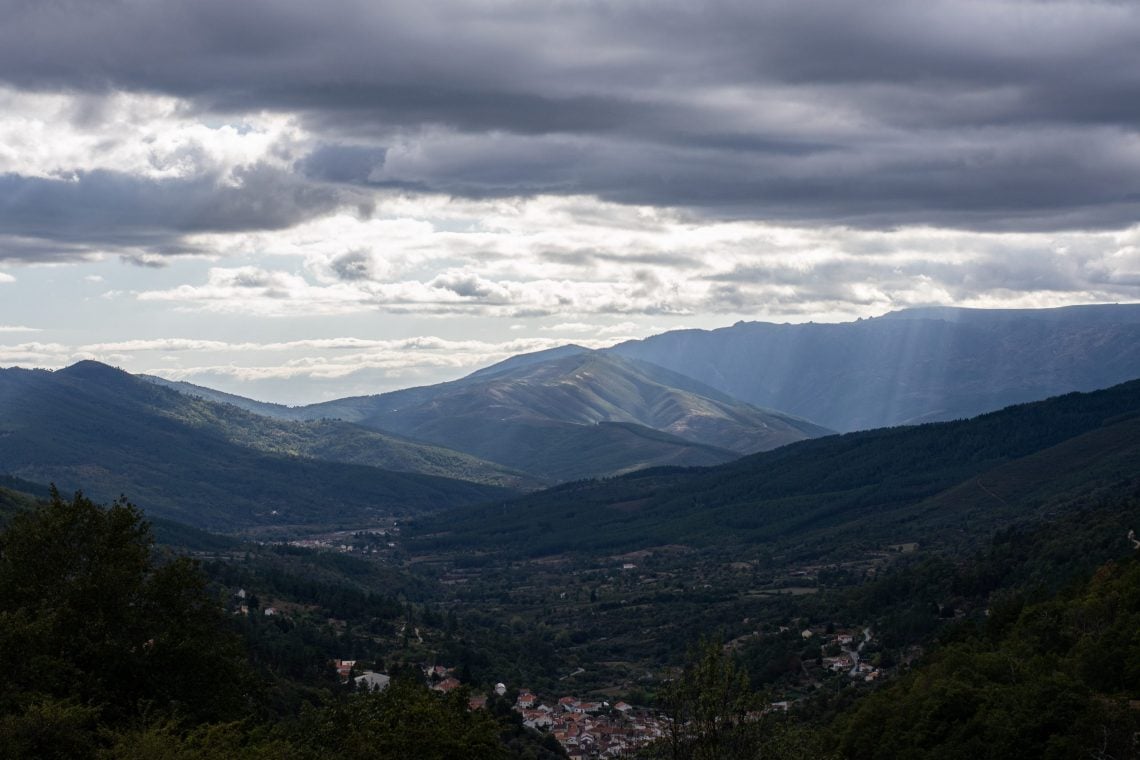 Finally, we have the N232 in the Serra de Estrela National Park, in central Portugal. Ok, we may have strayed further afield from the ferry port by this point, but it's yet another memorable road that you'll be sure to tell your mates about when you get back home.
This brilliant stretch of tarmac rapidly climbs into the mountains, bringing you out at around 1,500 m above sea level. It's a glorious collection of tight, blind hairpins and switchbacks that keep you fully focussed at all times. At one point while riding, I stole a quick glance to my right and was rewarded with a perfect memory, a bird's eye view of the tarmac weaving its way back down to the town of Manteigas below.
Brian's tip: The section around Manteigas is a great ride, although once up and over the mountains you'll want to turn off before the route opens up for more of a challenge.
Ride these roads for yourself
If you fancy riding any of the roads, get in touch with Brian at McTours Ltd.
With an almost unparalleled wealth of local knowledge and experience Brian had me kicking myself as he suggested some lovely alternative routes that I missed out on. Although, I suppose, it's just a great excuse to head over again to make sure I tick them off!
With a number of upcoming tours to get you motorcycling in northern Spain and Portugal, you'll be sure to find a tour that Brian is offering that's right for you. And with bespoke options for those who want to fine-tune their holidays, there's no reason you can't tick off all six this summer. Safe riding!