What is it? SHARK Helmets' premium sports-touring helmet, the Spartan GT Carbon
Price: £409.99
With over 30 years of expertise in the manufacture of motorcycle helmets, SHARK Helmets is a French brand known for producing high-quality products for motorcyclists. And from the moment you pick up the Spartan GT Carbon, SHARK's premium sports-touring helmet, all those years of expertise are evident in the design and quality of the lid in your hands.
The sleek lines, aerodynamic features, and small touches such as 'SHARK Skin Technology' (more on that later) all add up to create a helmet I'd take on tour in a heartbeat, and it's become a firm favourite in my riding wardrobe since it was delivered to the ABR offices a few weeks ago.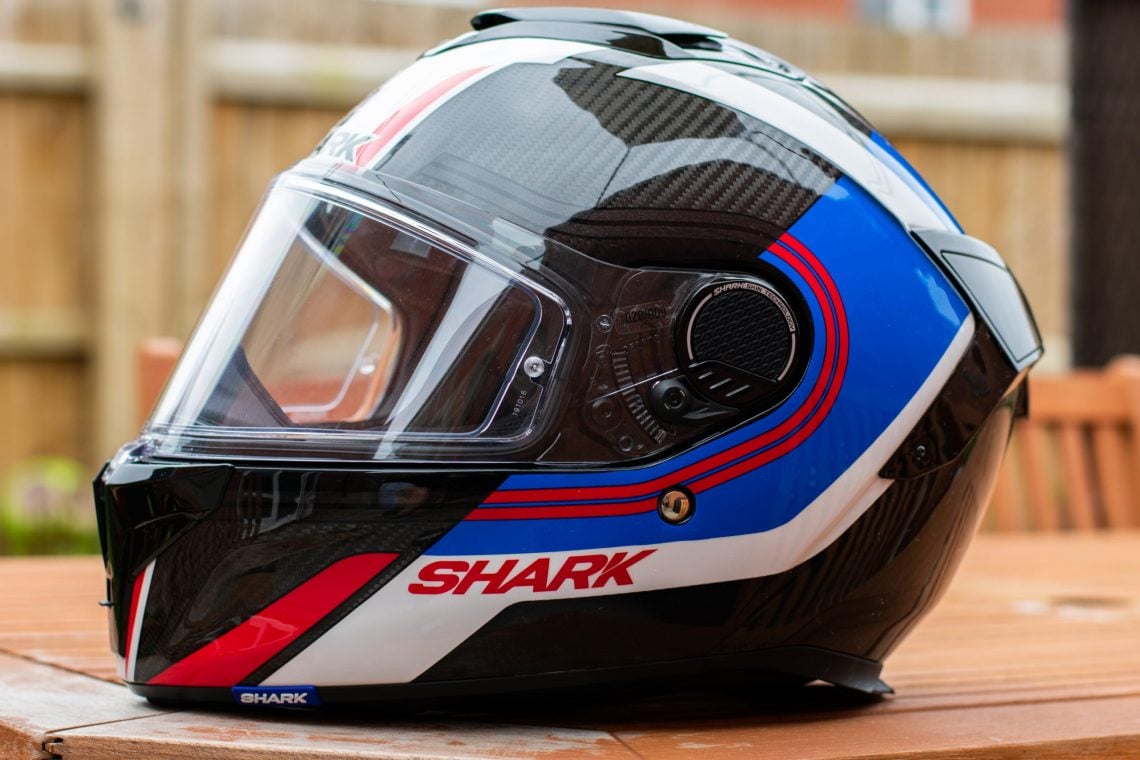 First impressions
In an office full of helmets with aggressive adventure peaks, extended chin-bars, and oversized vents, the Spartan GT Carbon stands out with its smooth, aerodynamic lines and angular features. Clearly, this is a helmet designed to stay firmly on the blacktop. This doesn't mean it's an unattractive lid though. While it doesn't have the same striking look as an adventure helmet, the colour option I have, the Tracker DBR, is eye-catching and with a a hint of a retro look.
Moving on from looks, once you pick the helmet up the quality is clear. All the sliders and vents feel bullet-proof and well-constructed, while the visor, which comes Pinlock ready and with a Pinlock insert in the box, also feels secure. Rest assured, there's no disconcerting rattling or cheap feeling plastic here.
High quality
This quality is even more evident when you slide your head into the snug interior, which is fully-removable and washable. The ALVOTECH lining fabric is designed to keep it fresh throughout the day, even in warmer climates and the inner itself is plush and comfortable. Overall it feels like a helmet that will provide all-day comfort on a tour.
The Spartan GT Carbon (size medium) weighs in at 1440g, an average weight for a full face helmet, but that weight feels exceptionally well balanced. This is noticeable when you're riding. It feels very lightweight when worn and those aerodynamic spoilers and foils ensure it is comfortably stable at speed, even when carrying out lifesavers.
SHARK say this is down to their work optimising the shell's shape through 'Computational Fluid Dynamics design studies', and that extra effort certainly pays dividends.
The visor, which is inspired by SHARK's racing helmets and features a Class 1 optical rating, gives a crystal clear view of the road ahead. This is down to SHARK incorporating variable thickness throughout the visor to ensure there's no distortion regardless of where you're looking.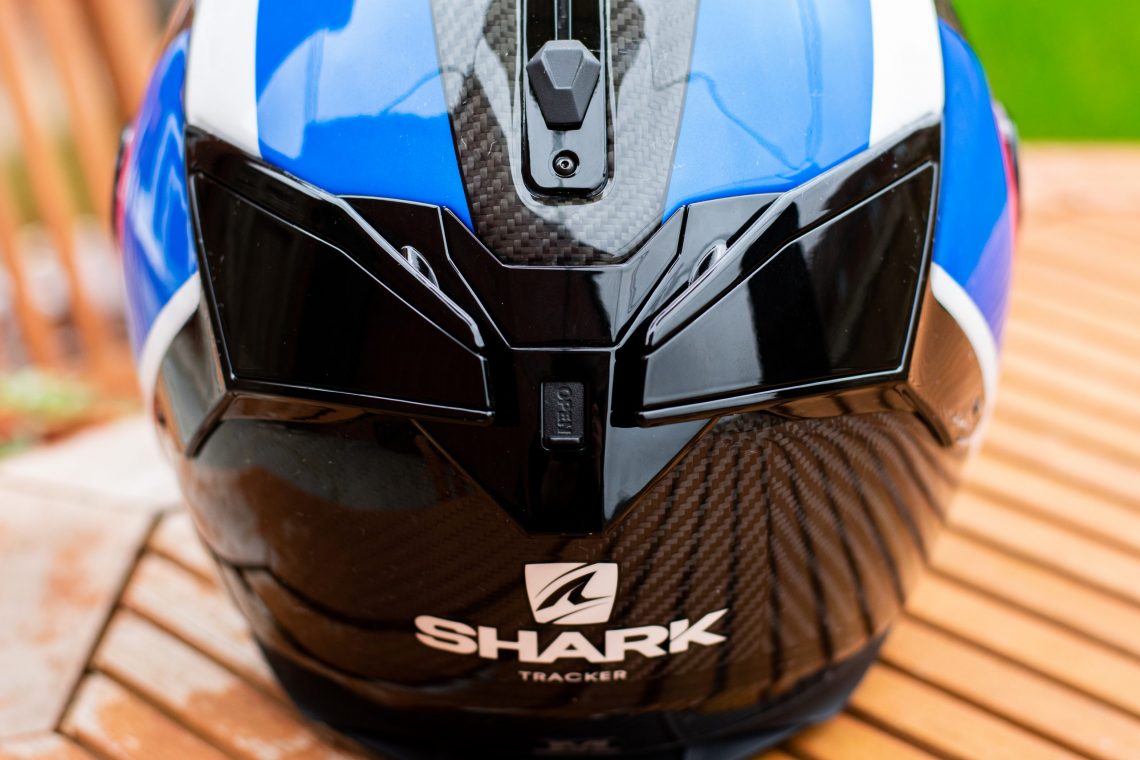 Features
Comfort is only one of the elements that make the Sparton Carbon GT an ideal touring helmet. It's also packed full of useful features to make rides a pleasure, no matter how long.
Two air inlets at the mouth and top of the head combine with two exhaust vents to ensure a constant flow through the helmet. It also comes with an internal sun-visor, easily operated by either hand using a slider located at the top of the lid.
The visor features what SHARK calls an 'ultra-soft visor notching system'. It's a nice touch that gives you plenty of options for when you want to crack the visor open a tad, while a secure clasp locks it in place should you want it fully shut. The visor is easy to release and can be done with one finger.
As seen on other helmets in the range, SHARK also utilise its 'SHARK Skin Technology' at either side of the visor. This is designed to reduce wind buffeting, and therefore noise, when you're riding along and it seems to work, because the Spartan GT Carbon is a very quiet helmet. Although it's true that noise is relative and different for every rider, I've found it so quiet I now often find myself riding without ear-plugs, something I don't do with any other helmet.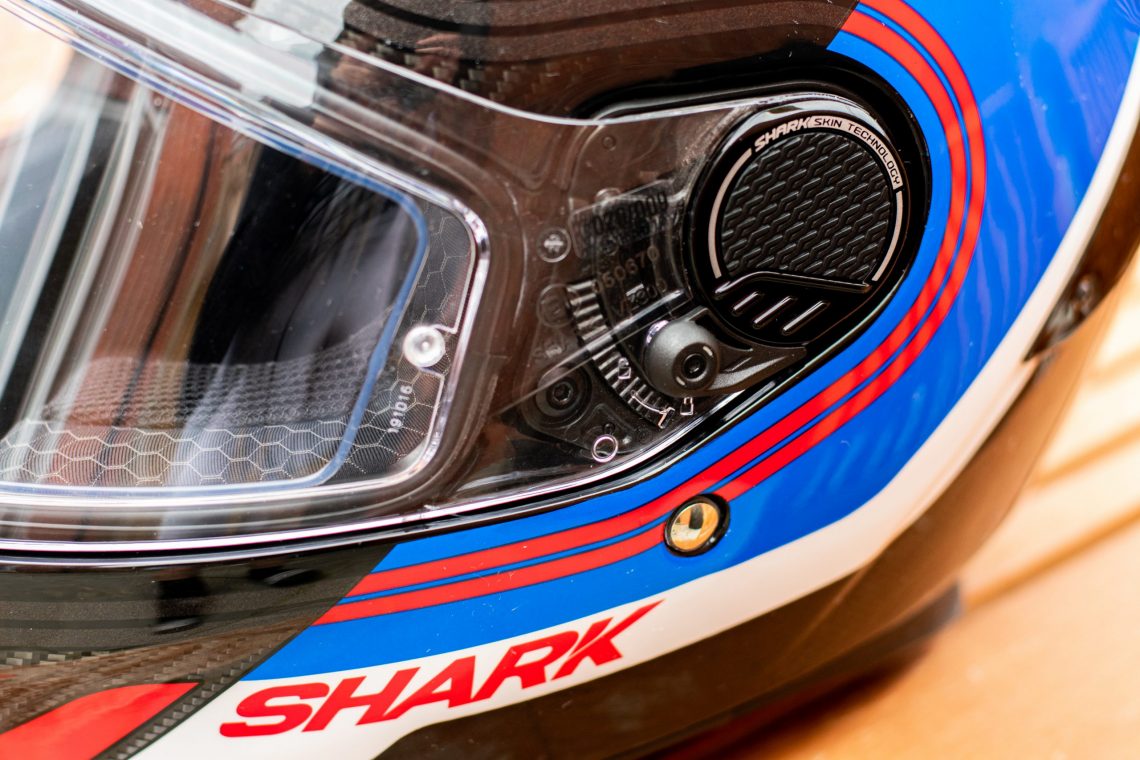 Safety
On the safety front, the shell comes in two sizes and consists of multiple carbon fibre and multi-axial fibreglass layers covering the multi-density EPS foam. SHARK say this provides the wearer with the highest level of protection and, while I'm fortunately yet to test this claim, there's little to suggest they're not telling the truth.
The 'SHARK Emergency Removal System' allows for quick release of the helmet interior in case emergency removal is required. It's another confidence-inspiring feature, although I hope to never use it. Finally, a double-D ring strap secures the helmet around your neck.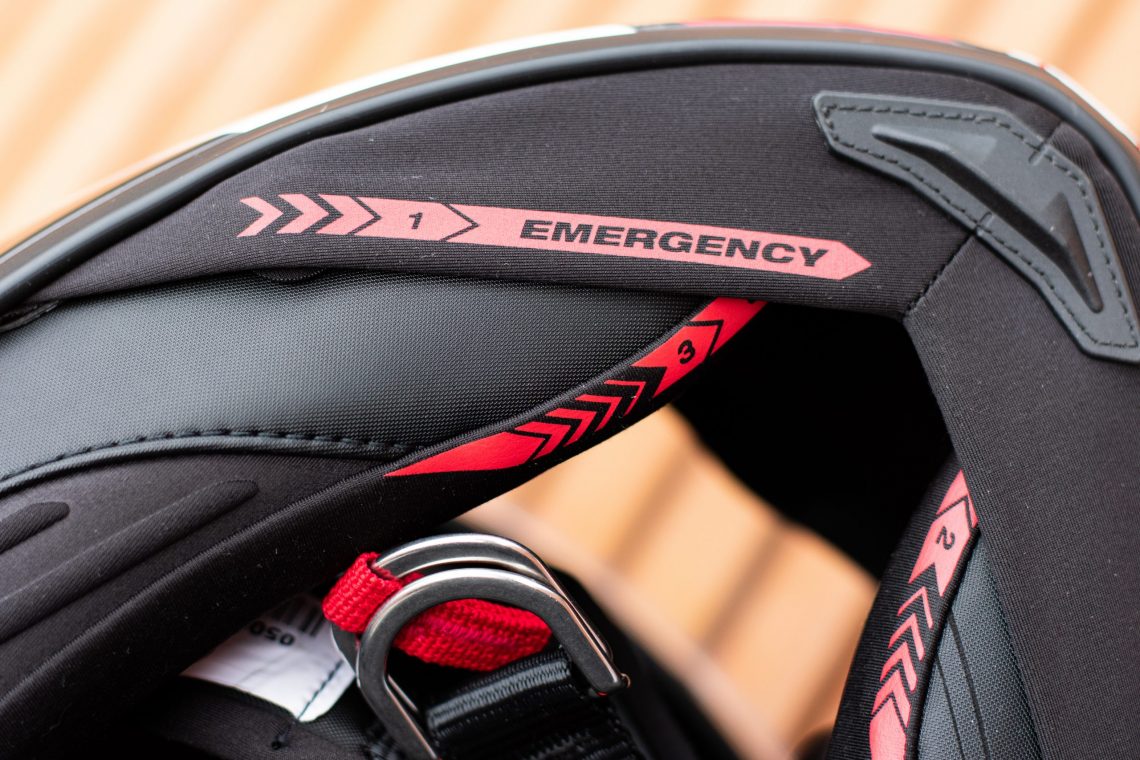 SHARK Spartan GT Carbon conclusion
All in all the SHARK Spartan GT Carbon is a brilliant lid. It offers day-long comfort, a host of useful features for touring, and feels lightweight and well-balanced even at high speeds.
While it may not appeal to riders tackling unpaved military roads in the Alps during the summer, if you're sticking to the tarmac and have the money this would be the ideal touring helmet to invest in.
Find out more about the Shark Spartan GT Carbon and find your local authorised dealer here. Sizes range from XS-XXL and there are a number of different colour schemes available.