Relatively new in the helmet industry, Scorpion has made a name for itself producing high quality, stylish helmets across a wide ranging price-range. The Scorpion ADX-1 Horizon remains their only foray into the adventure bike world though, with most of their other products aimed at the sport bike/street-fighter markets.
With this in mind I was intrigued to try out Scorpion's self-styled adventure-touring helmet. Since picking up the attractive white/blue/red peaked lid over a month ago, I've been wearing it almost daily in an effort to put this reasonably priced (£239.99) offering through it's paces.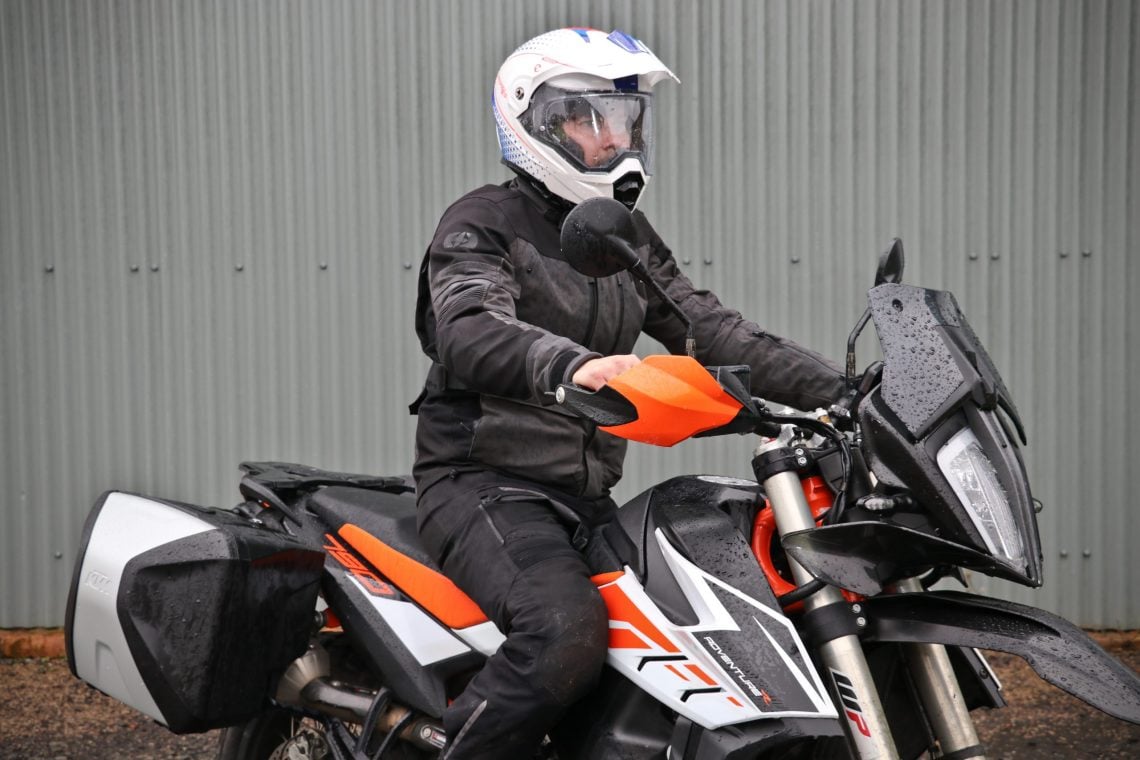 Features of the Scorpion ADX-1
Let's start off with the headlines. The Scorpion ADX-1 is a flip-front, peaked helmet with a visor that offers a huge field of vision, as well as boasting an internal drop-down sun visor. It's also vented and comes with a Pinlock insert.
That's a lot of features crammed into a small helmet, and credit to Scorpion for ensuring they all work well alongside one another.
Flip-front helmets are a bit like heated grips for me, once I've been blessed with them in my life it's hard to go back riding without. The Scorpion's flip-front is easy to use open and close, even with bulky winter gloves on, although you can't ride with it in the open position, as it's not locked at the top. Perfect when stopping for petrol, photos or even a swig of water.
The internal sun-visor is also very useful, although the switch to operate it is positioned awkwardly right behind the left-side fixing for the peak. With winter gloves on it's hard to tell which is which, leaving me scrabbling around trying to operate the slider during my first weeks wearing one.
The visor comes Pinlock ready with an insert included, and I'd recommend fitting it straight away as mine did fog up without one pretty quickly, albeit during cold early January riding.
The peak itself is fairly small compared to some other adventure-styled helmets, although this does help at higher speeds where I'm yet to notice much instability or drag, even during lifesavers at motorway speeds.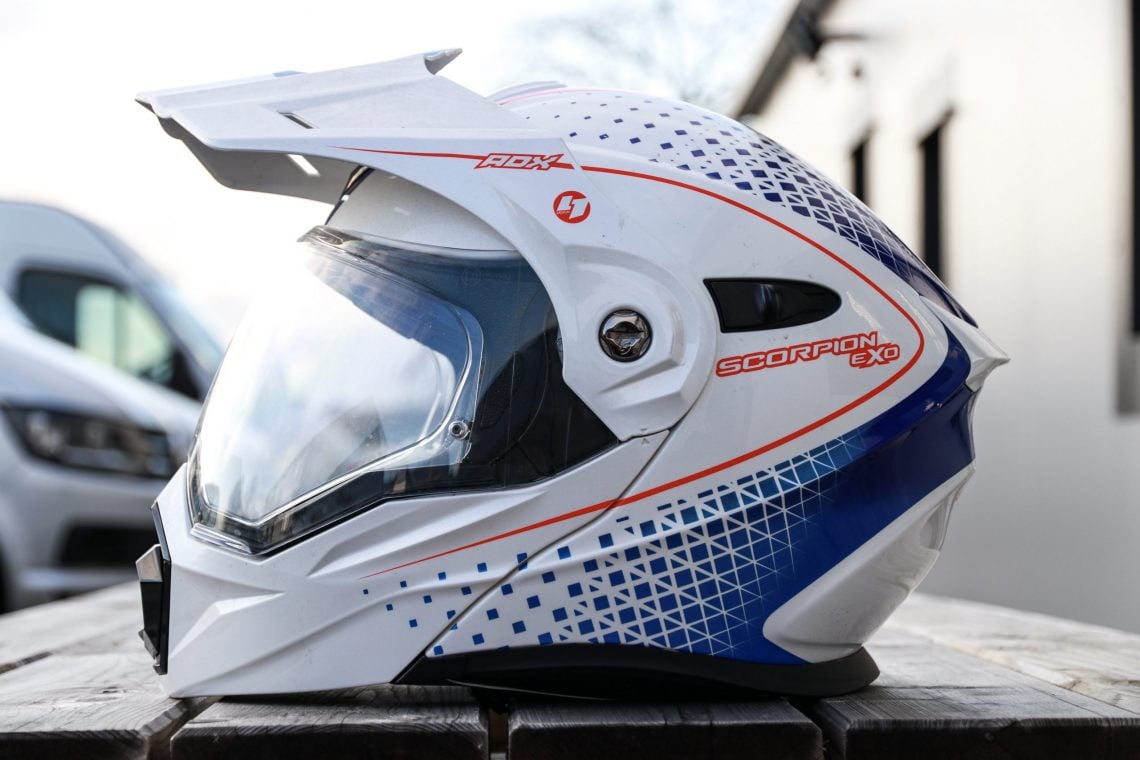 Adventure-touring
However, it has to be said that I'd put this helmet heavily, and almost exclusively, on the touring side of the adventure-touring category. Sure, the peak, removable-visor and notches in the back give the impression that you could slap on a pair of goggles and take this off-road, but it would make for a hot and sweaty experience if you did.
The chin-bar is slightly extended (a chin-skirt is included for winter riding), but does little to divert air up to your face, while the ventilation scoops on the chin and top of head offer little airflow either. Indeed, it's been comfortable and warm during winter with them both open… In summer I think it'll get quite warm even on the blacktop, let alone on the trail.
Comfort and noise
The fit of a helmet is very important. As someone who usually wears a medium I found myself in a large Scorpion ADX-1 Horizon, so it's worth bearing in mind when trying one on for size.
It also felt a little uncomfortable on my first few rides, but after persevering with wearing it this stopped being a problem. This could be down to the way it fits my head of course, and we'll always recommend trying a helmet on in person before committing to a purchase. Since that early wobble I've spent full days wearing the ADX-1 and found it comfortable and easy to wear.
Unfortunately the combination of adventure styling and flip-front convenience combine to form the perfect storm when it comes to that big bad monster that sends shivers down the spine of helmet designers across the land. Noise.
The Scorpion is pretty noisy. Up to 60mph it's just an annoyance, but above it becomes pretty intolerable for long stretches. I usually ride with earplugs anyway, but when you find yourself popping them in for short blasts you know you've found a loud helmet. This is fairly typical of this style of helmet though; although more expensive brands on the market tend to find ways to lower the volume ultimately for the price point and the style of helmet, something has to give.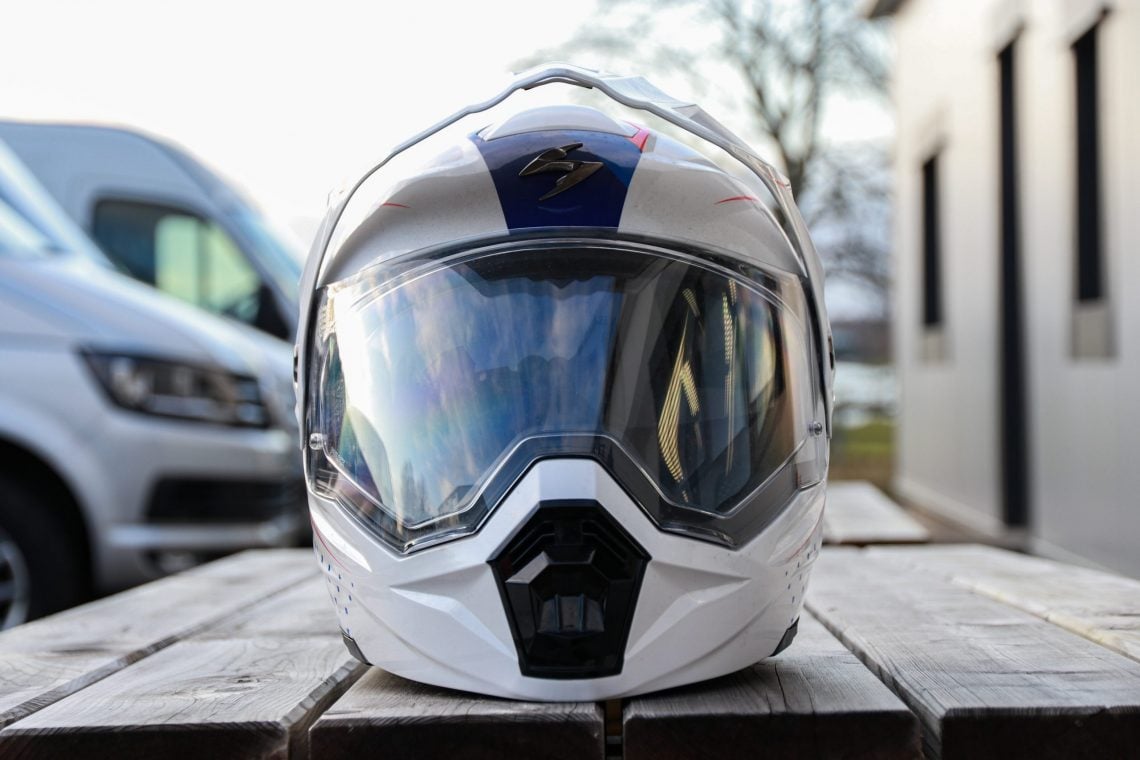 Safety
Scorpion have created three shell sizes made of Advanced LG Polycarbonate and dual density EPS. The result is a helmet that is both strong and fairly lightweight at 1.8kg. Sure, there are lighter out there, but for the price point I'm pretty impressed.
On the impact protection front it's passed testing to be legal for sale in the UK and America, so it's certainly going to offer protection in an off or crash. However, looking at the SHARP independent helmet testing for Scorpion helmets, I'm slightly more concerned.
The three flip-front helmets that have been reviewed (sadly Adventure helmets aren't tested by SHARP…) perform fairly averagely in their tests. Most concerning is the relatively low (around 80-90%) percentage of impacts that the latch remains locked through. Of course, until SHARP test the ADX-1 we won't have a definitive picture of safety, but it's worth being aware of.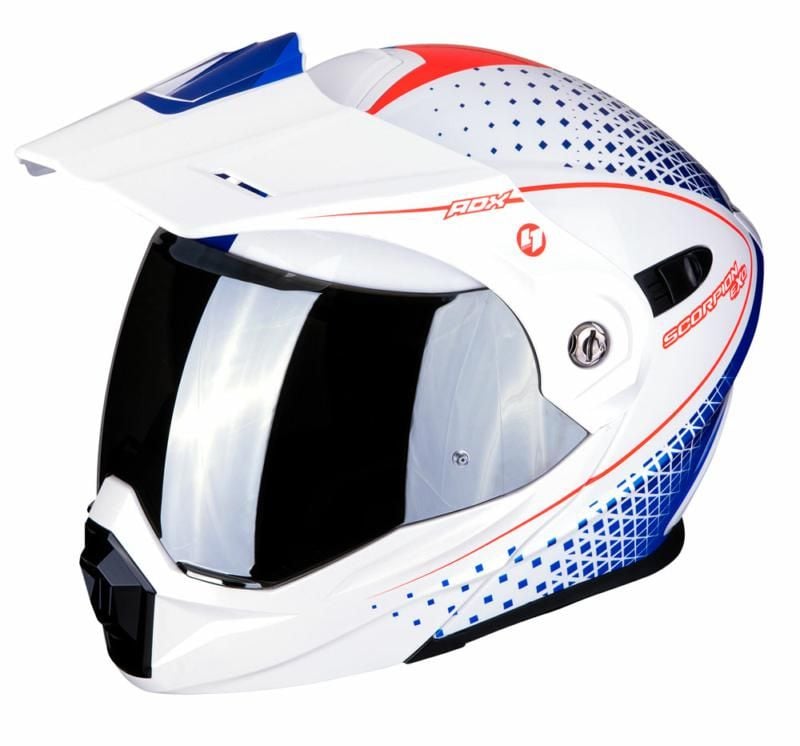 Jack-of-all-trades, master of none
In the Scorpion ADX-1 Horizon, you can find a helmet that really does cover just about every base an adventure bike rider would want it to. Sure, there are better helmets out there for off-road riders and better lids for road riders, but those clearly defined categories are clearly not where the ADX-1 is aimed.
Instead, it's there as an affordable option for riders who want the versatility of a helmet that straddles the on and off-road camps. They also want a bag-load of really handy features for a price that won't make their eyes water. And the Scorpion does that and more.
Would I take it on tour? Certainly (although I'd search for the best earplugs I could find before doing so). Despite the short-comings it offers a convenience that leads me to grabbing it over my full-face helmet the majority of the time I head off on my bike.