Bell has an excellent reputation as a helmet manufacturer. They have wide range of lids to match any style of riding, from custom cruising to a knobbly-equipped dirt biking. For those of us in the adventure bike world, it has released the Bell MX-9 Adventure MIPS priced at £189.99. The new addition, MIPS, stands for Multi-directional Impact Protection System, a safety feature designed to reduce rotational forces on the wearer's head, which we'll touch upon later.
It's not the first time we've seen those sharp, aggressive lines on the road. The MX-9 Adventure originally came out in 2015. Sadly, and surprisingly given it was coming from a manufacturer with such a reputation for quality, it came up short in a few areas including the peak, ventilation and how loose the visor was with the peak removed.
To its credit, Bell took the criticism onboard and, with the MX-9 Adventure MIPS, sought to address some of the issues that had plagued the original iteration of the helmet. I've been wearing it to see how this new and improved helmet holds up.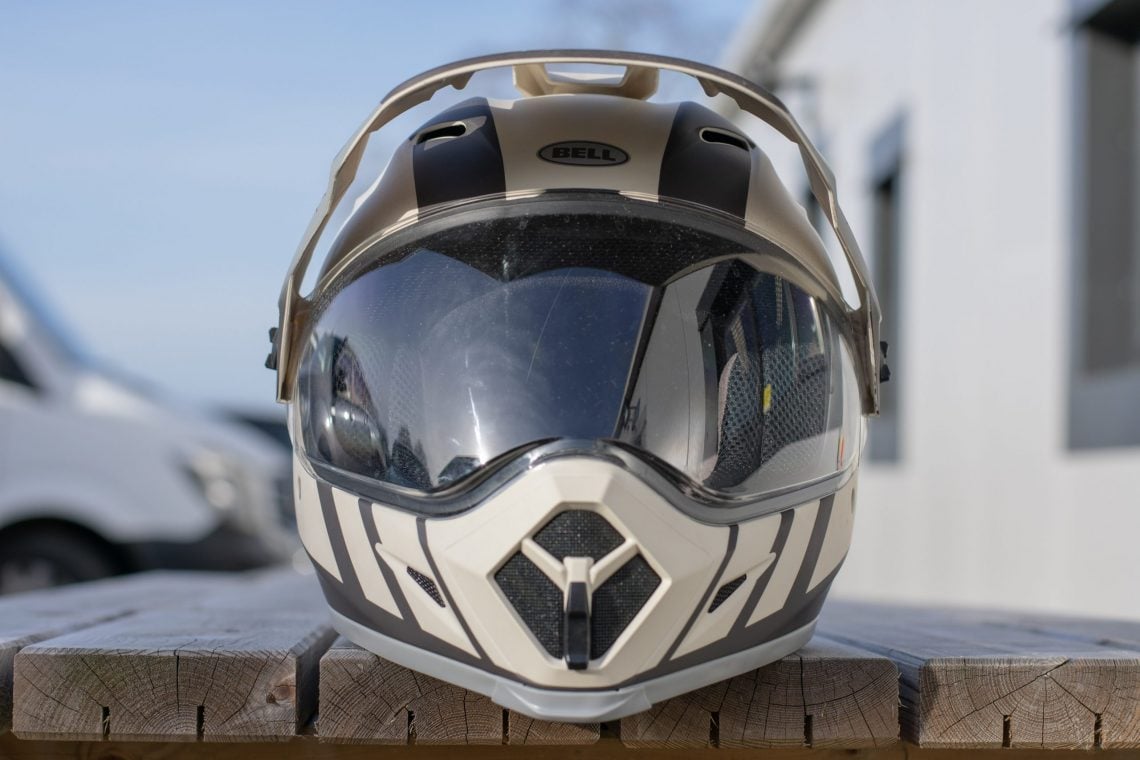 First impressions
First impressions are good. While the age-old adage that 'looks aren't everything' certainly holds true when it comes to protection for your noggin, it also doesn't hurt to wear something that looks good. The MX-9 Adventure certainly does. I'm a sucker for what Bell call the 'dash matt sand-brown-grey' colour scheme, although it comes in a range of others depending on your preference.
The big peak and gaping mouth vents give it that sharp, aggressive look that convinces many of us to opt for adventure helmets. Speaking of the peak, it does a great job of blocking at the sun and it's adjustable between two settings, or can be removed entirely if you'd prefer.
This is good because it does catch the air more noticeably than competitors at high speeds on the road, particularly when turning your head to perform life-saver checks. Weighing in at 1.69kg, it's also not the lightest adventure helmet out there. Combine wind-buffeting with a fairly heavy weight and long days in the saddle became quite fatiguing.
If you're planning to travel any sort of distance, I'd advise removing the peak, which is thankfully easy enough to do by hand without the need for specific tools, a really handy feature.
Comfort and ventilation
The fit is fairly comfortable. The removable, washable and anti-bacterial liner feels plush, and while it isn't the softest helmet on the market, I didn't feel it needed much time to break in. Wear it all day and you'll start to wish it offered a bit more padding though.
Ventilation is provided by the aforementioned mouth vent, as well as two open ones either side of this and two more on the top of the helmet, with four rear exhaust vents. The extended chin bar also channels a huge amount of air up past your face, making this helmet extremely well-ventilated and perfect for summer riding, green-laning or trail riding.
Disappointingly, only the mouth vent is closable. Wear this in winter or in the rain and your head will be getting cold, wet, or both. This ample venting and aggressive styling also makes it a pretty noisy lid, although it's nothing a set of earplugs can't fix. Still, I probably wouldn't be taking this on tour with these things considered.
The visor is vast, giving you a welcome huge field of vision. You can also pair the helmet with a set of goggles when riding off-road by leaving the visor fully open. It doesn't come Pinlock ready though, with Bell instead relying on their own anti-fogging technology… more on that in a second.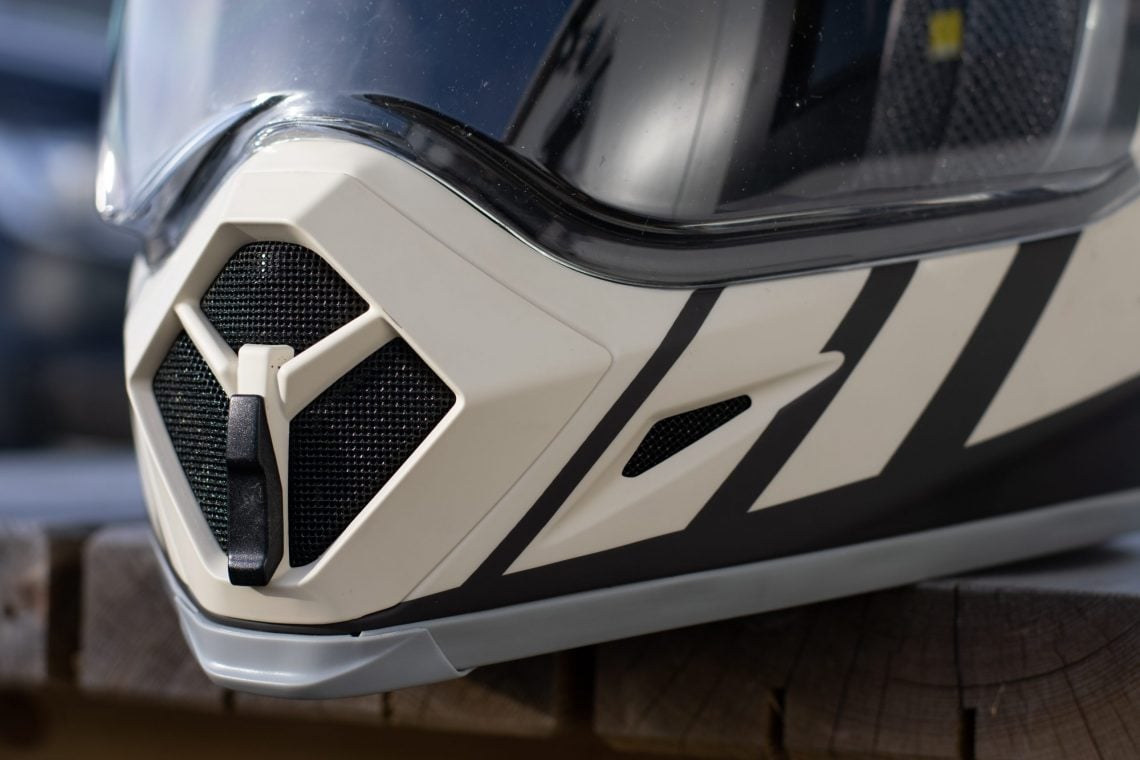 Safety
Bell helmets perform consistently well when put under the microscope by SHARP, the government-funded motorcycle helmet safety testing scheme. Building on this solid reputation, Bell have equipped the MX-9 Adventure with MIPS technology, standing for 'Multi-directional Impact Protection System'.
It's a low-friction membrance between the helmet liner and the EPS that allows a small level of rotation, reducing the rotational forces that are passed on to your head. While we can't vouch for it's effectiveness, we have spoken to a US neuroscientist who suggested it would prove worthwhile, and in practice it does nothing to change the wearer's experience day-to-day.
On top of that, the helmet complies to ECE standards and it's been given the ACU Gold approval. It also comes in three different shell sizes to fit a variety of heads, while a double-D clasp secures it at the bottom.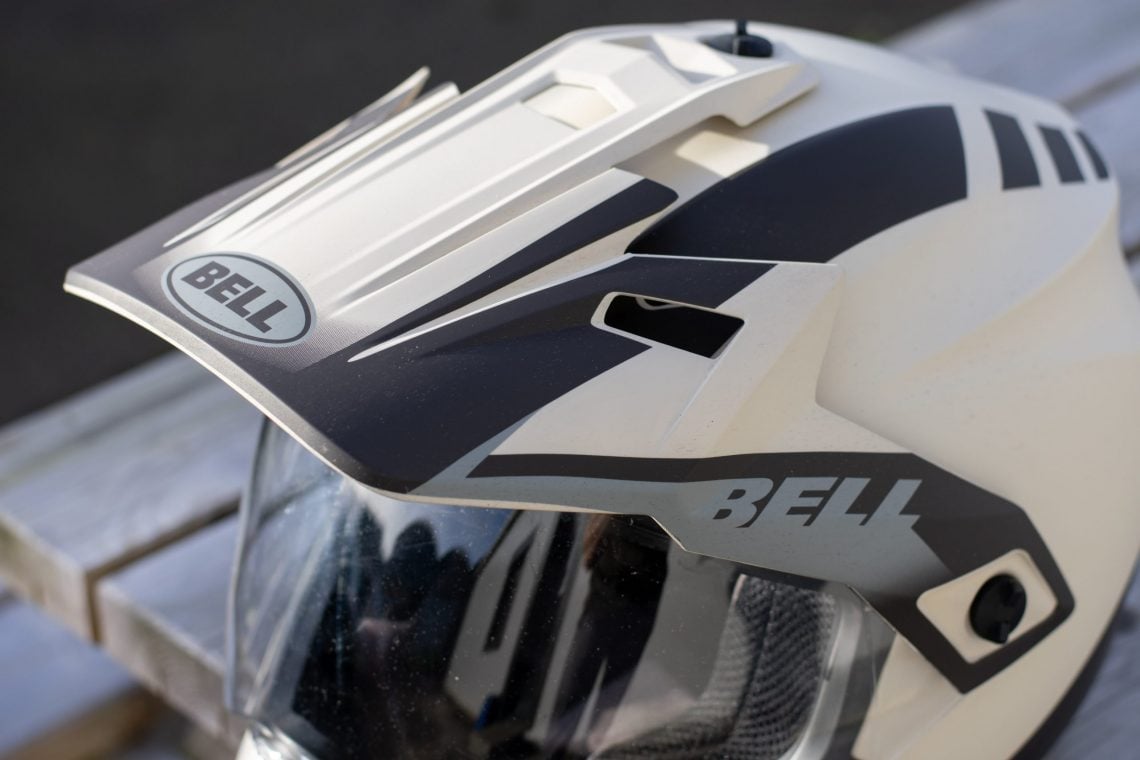 Winter riding
Sadly, I'll now have to revisit the subject of anti-misting. Bell equip their visors with what they call Nutrafog II anti-fog. In theory, this is designed to stop misting and remove the need for a Pinlock, leaving that gloriously wide field of vision uninterrupted. In practice, it stopped me using the helmet.
This anti-fog technology just seemed to cause more harm than good. Rather than air misting up when I'd stopped and then clearing as you get riding, as it does with untreated helmets and which it would inevitably do with such good airflow, the water vapour seemed to bead on the inside of the visor on a minute scale, and failed to clear when I got moving again.
On my first ride I noticed this occurring as the beaded water created a vague fuzz around car lights. Slowly it seemed to get worse and worse, causing everything to be rendered out of focus. Finally it became unusable during a dark, wet ride home where I was forced to open the visor completely on the motorway in order to see. Not ideal.
Pinlock-ready visors are available online, and I would strongly suggest picking one of these up alongside this helmet if you were to opt for it, particularly if you're riding in the cold or during winter.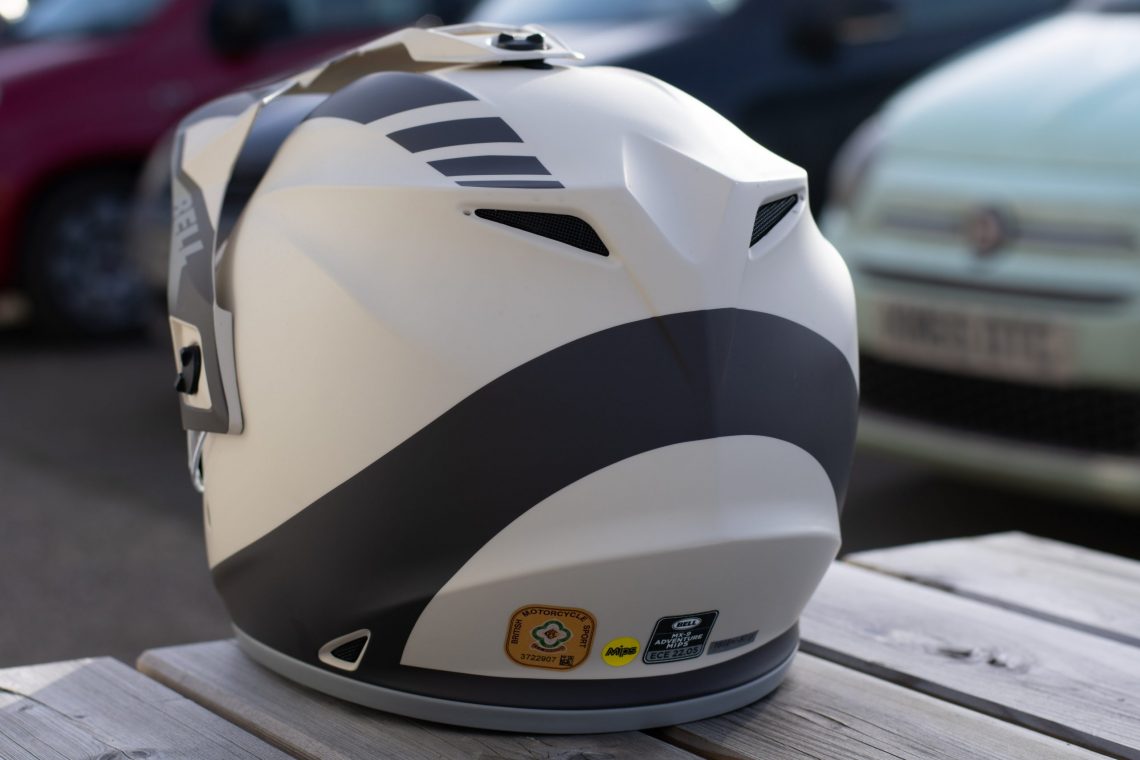 Conclusion
Ultimately, in the Bell MX-9 Adventure MIPS you have a helmet that doesn't like to sit on the fence. It performs either very well or really quite poorly in certain conditions.
It would be perfect to use on a hot summer's day. Head over on a short, and slow, blast to the trails, lift up the visor and pop a pair of goggles in and make full use of that excellent ventilation. But if you're touring or riding through winter or in the rain the downsides of this helmet start to add up pretty quickly.
Coming in at that middle-of-the-road price of £189.99 it would sit well as a choice for riders who own a few lids, but it's unlikely to be your go to choice for daily riding.